The Reintroduction of the Airstream Bambi and Caravel
What RV owner hasn't dreamed about buying an Airstream? We both have. Repeatedly. The Airstream name is iconic and evokes a spirit of freedom, adventure, and the open roads of the American West. Just a few weeks ago, the Ohio based manufacturer announced the reintroduction of the iconic Bambi and Caravel nameplates. Both were originally launched back in the early 1960s.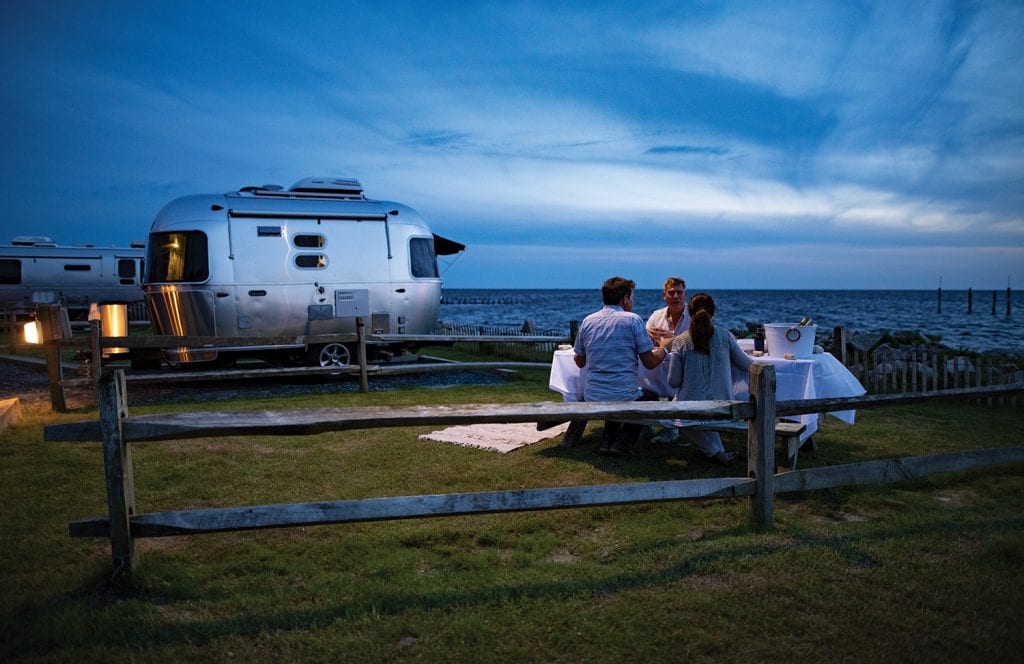 The Bambi name has a somewhat complicated history. In recent years it has been used as a nickname for any single axle Airstream. The Caravel name reemerged once or twice (with a slightly different spelling), but had largely disappeared in recent years. These two brands now both offer four repeating floorplans (the 16RB, 19CB, 20FB, and 22FB). The major difference between the Bambi and the Caravel is that for 12K more the Caravel offers about 100 additional features. These features include the Quietstream ducted air conditioning system, electric hitch jack, and heavy duty rock guards in the front. The 16RB Bambi has a regular rectangular rear window, while the 16RB Caravel has a stunning panoramic rear window.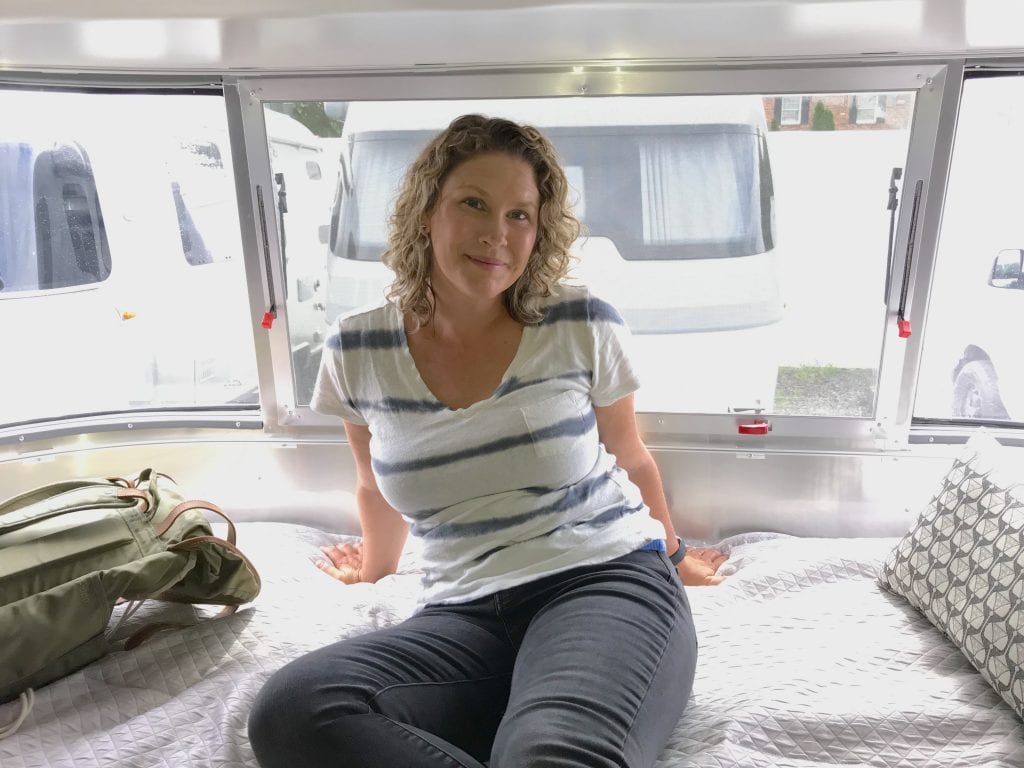 The Bambi 16RB starts at $48,900 and the Caravel 16RB starts at $60,900. The Difference in pricing between standard matching floorplans in the Bambi and Caravel lines is easy to understand. The Caravel versions are all 12K more than their Bambi brothers. Easy Peasy.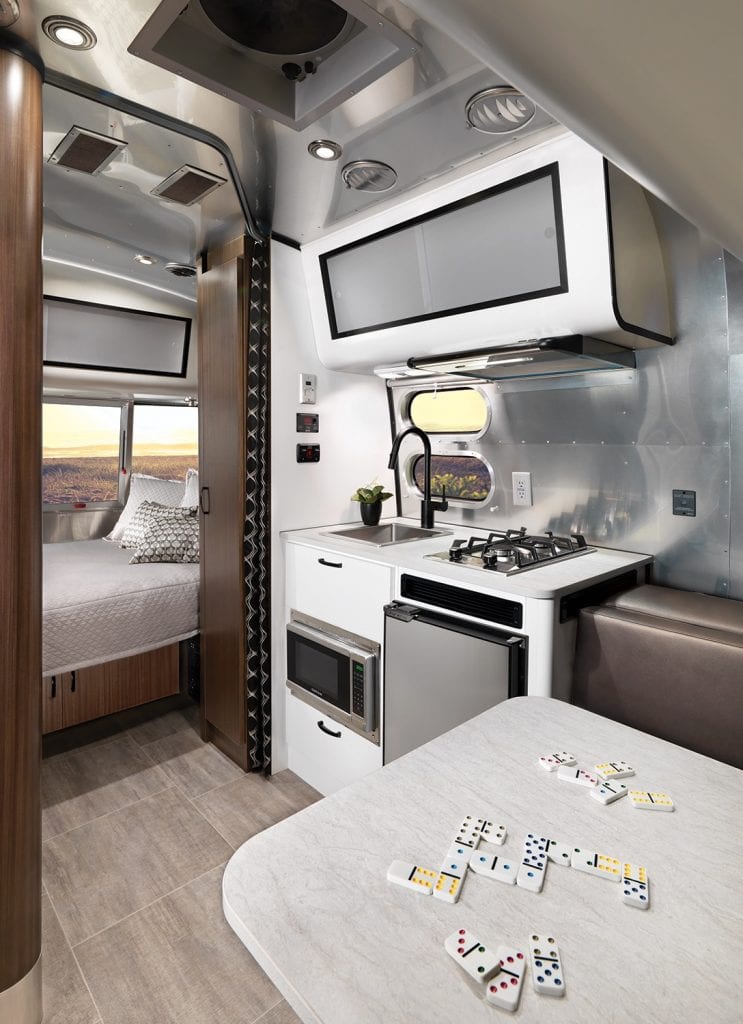 Patrick Botticelli and Colonial Airstream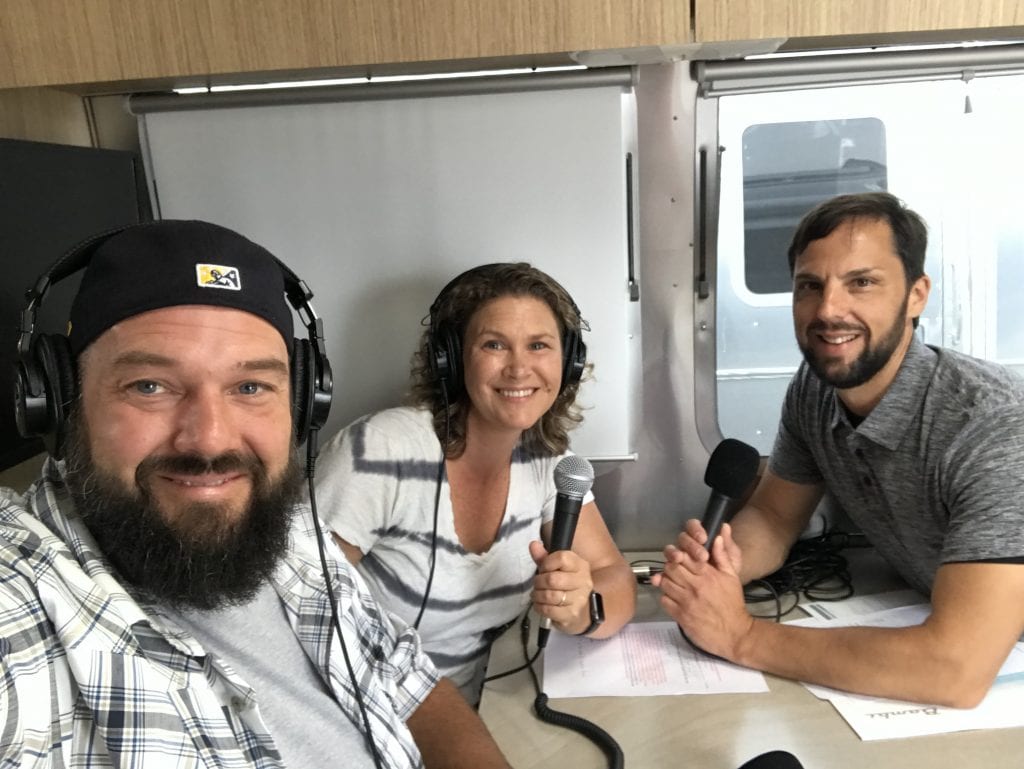 When Stephanie heard about the rebirth of the Airstream Bambi and Caravel she knew that she wanted to invite an expert onto the podcast to tell us more. Thankfully, we share a local coffee shop with an Airstream superstar. Patrick Botticelli is a master certified Airstream salesman who has been with Colonial Airstream (America's #1 Volume Airstream Dealer) since 1997.
He is also the driving force behind Colonial's incredibly popular YouTube channel. Their channel is an absolute favorite for current and future Airstream owners and fans around the globe. Patrick's consistently excellent Airstream walk-thrus and "first looks" have helped Colonial's channel grow to nearly 40K subscribers. With over one thousand videos on their YouTube channel it should be your first stop for Airstream shopping. Dreamers are welcome too…
If you want to hear our in-depth conversation with Patrick about the all new Airstream Bambi and Caravel then sit down, relax, and pour yourself a cup of coffee. Then press play on the media player at the top of this post. Just don't spill your brew on the Ultraleather Dinette Cushions or the Seamless Vinyl Flooring, okay?
You can also subscribe to the RV Atlas podcast in iTunes or wherever you listen to your favorite shows.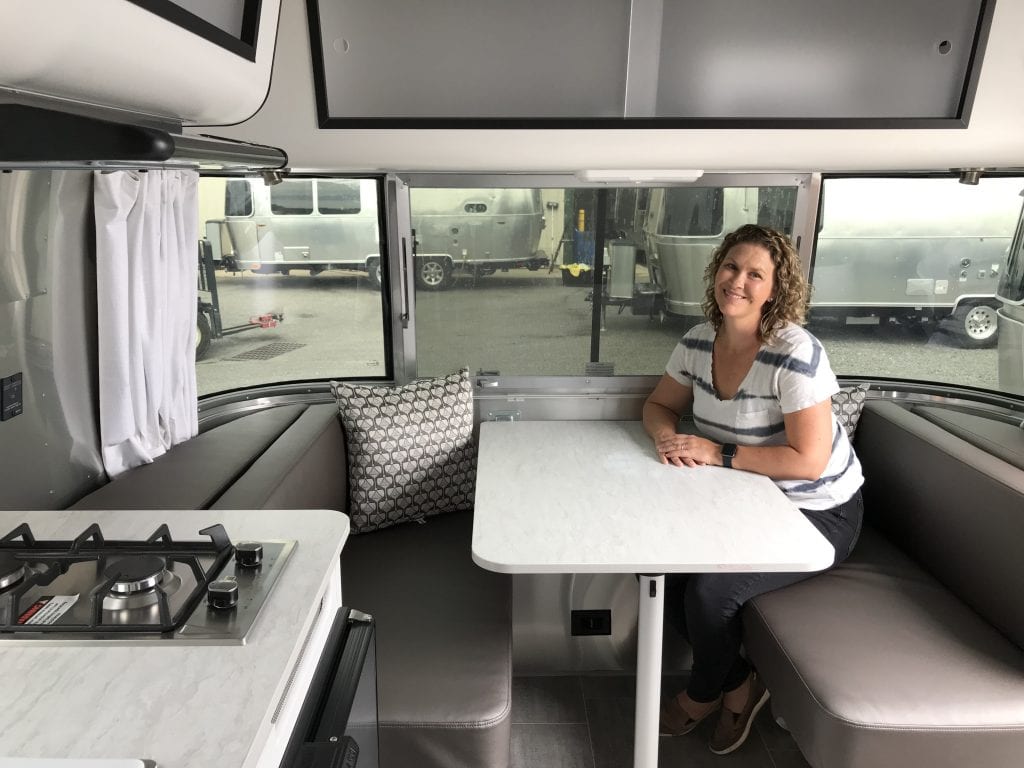 We loved talking Airstream with Patrick. Our interview was particularly special for us because we were able to talk to him at the dinette table of a brand new Caravel. He is an encyclopedia of knowledge about the company's history, and its current product offerings. Patrick loves the Airstream's low profile, towability, durability, and high resale value. He was also pumped up and excited to dish about the new Airstream Bambi and Caravel.
The 2020 Airstream Bambi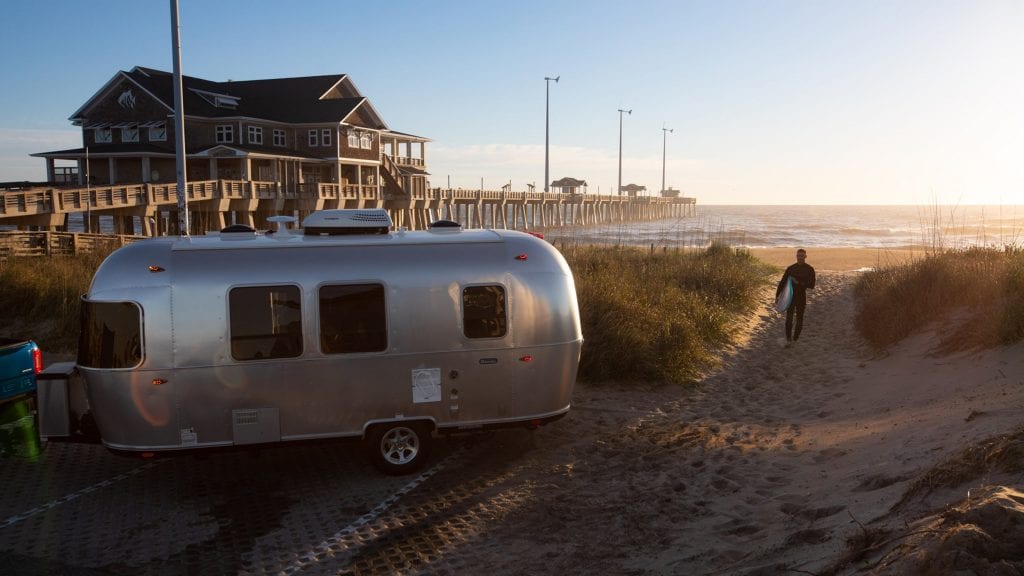 Airstream's founder, the wild and wonderful Wally Byam, introduced the original Bambi in 1961. The original model was a single axle, 16 foot model, that was packed with amenities. He named it the Bambi after "a sure-footed, nimble African deer he admired while traveling on the famous Cape Town to Cairo Caravan." Airstream claims that Byam would be mighty proud of the new Bambi, and we think they're right.
To watch part one of the famous 1959 Capetown to Cairo Caravan click play below.
The new Bambi's nearly 50K starting price may not seem entry level to most RV consumers. But when it comes to the traditional Airstream (Basecamp and Nest have lower starting prices) the Bambi is the gateway drug.  With 16, 19, 20, and 22 foot options the Bambi is easy to tow and maneuver. Many family SUVs, if properly equipped, will do the job of towing these silver beauties. They range in "base weights" from 2,900 to 3,800 pounds. Hitch weights are also SUV friendly. They range from 430 pounds on the 16RB to 540 pounds on the 20FB.
Cargo carrying capacity is slight on the 16RB (600 lbs) but fairly generous (1200 to 1350 lbs) on the other three models. A half ton pickup is not needed to tow the Bambi. But we would still consider one. They would make a mighty nice towing companion because of the additional power and storage space in the truck's bed.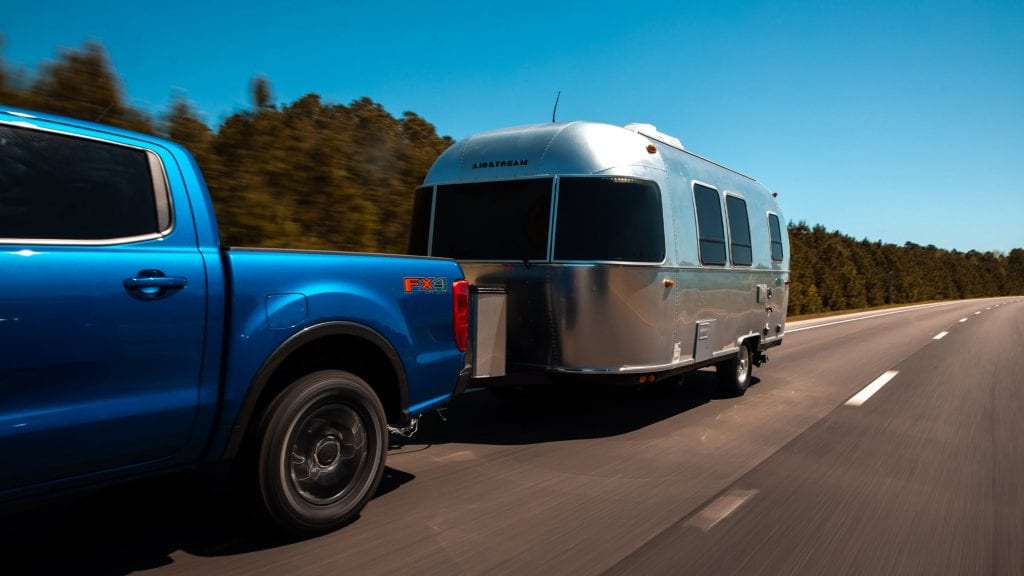 The new Bambi is packed with both exterior and interior features. The outside of the trailer comes standard with a black tank flush, an exterior shower, and solar front window protection. The interior is graced with a handcrafted Italian Cabinetry, seamless vinyl flooring, and panoramic front windows with blackout shades. And those are just a few of the standard features.
To watch Patrick give a "first look" at the Airstream Bambi 22FB press play below….
The 2020 Airstream Caravel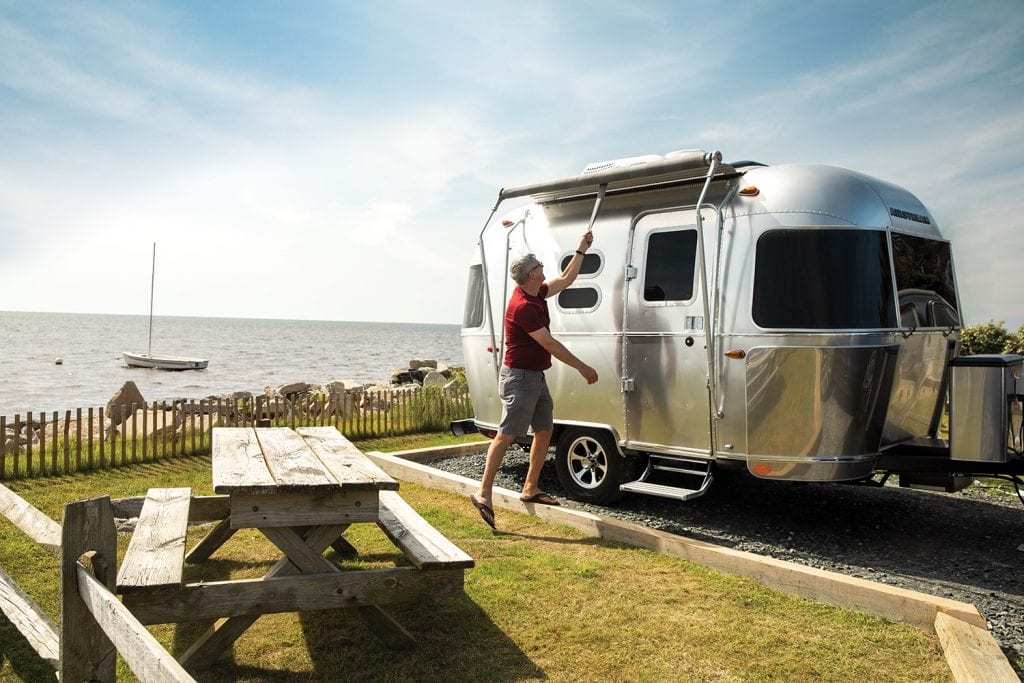 The Caravel originally derived its name from Wally Byam's love of sailing and the sea. During the 15th to 17th centuries a Caravel was a small, but quick Portuguese or Spanish sailing vessel. For the year 2020 a Caravel is a small, but feature packed Airstream that serves as a luxurious step up from the slightly more utilitarian (if you can call an Airstream utilitarian!) Bambi floorplans. The 16RB, 19CB, 20FB, and 22FB floorplans are repeated, but with the previously mentioned additional features and amenities.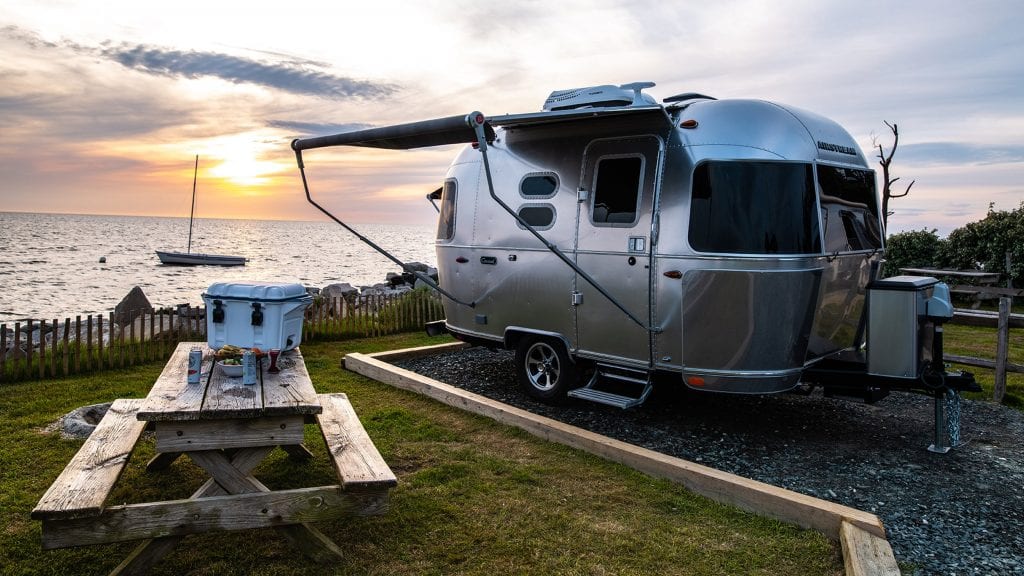 If you can pay the extra 12K for a Caravel, we think it is well worth the extra cash. But if your Airstream shopping on a budget, the Bambi is hardly a compromise. many of the Bambi's standard features are optional equipment on many other travel trailers. And those other travel trailers will never be Airstreams. 'Nuff said, right?
A huge thank you to Patrick Botticelli and Colonial Airstream for welcoming us with open arms and a nice gift basket! We didn't leave with an Airstream. But we did leave with a greater appreciation for this iconic manufacturer and its newest entrées into a marketplace that it has been defining and redefining for almost 90 years.
To watch Patrick give a killer walk thru of the Airstream Caravel 16RB press play below…
We'll see you at the campground,
Stephanie + Jeremy
Podcast: Play in new window | Download