The RV and camping industries have faced an incredibly tumultuous year in 2020, as have many businesses. Last spring many campgrounds and RV manufacturers had to shut down and face a mountain of uncertainty–and then in later spring and early summer their businesses started to boom like never before. Demand for RVs, outdoor equipment, and campsites reached historically high levels. It was an emotional roller coaster ride for business owners to say the least.
Here at The RV Atlas we decided to put together a mini-series of podcasts taking a closer look at how the pandemic affected business owners in several different segments of these paired industries. Our first episode took a look at how the Inn Town Campground is handling the global pandemic. For the second episode of the series we we interviewed repeat guest Josh Winters from Haylett RV about how they were handling the unexpectedly explosive sales that came their way in July and August.
In the latest episode in the series we decided to interview Kent Wilson from RV SnapPad to see how the pandemic was impacting the business of a rapidly growing RV accessory maker that was well positioned for accelerated growth in the early months of 2020.  When the coronavirus hit, RV SnapPad began to have incredibly complicated manufacturing delays that they are still working to overcome today. For a time, they even had to pause sales on their own website so that they could fulfill orders elsewhere.
Use the media player above (or subscribe to The RV Atlas wherever you get your podcasts) to take a listen to our interview with Kent to hear about RV SnapPad's wild and crazy summer and to learn more about this family's background as innovators in the RV accessory space. 
So What is an RV SnapPad?
RV SnapPads are made out of recycled tires and they are the world's only permanent jack pad. They are also easy to install and "snap" into place using a little bit of dish soap around the lip of the pad. We love them because they are one of the few RV accessories that actually reduce the time and work it takes to get set up at the campground. I used to crawl around under the RV on my hands and knees (or have the boys do it!) to put my jack pads in place before auto leveling the camper.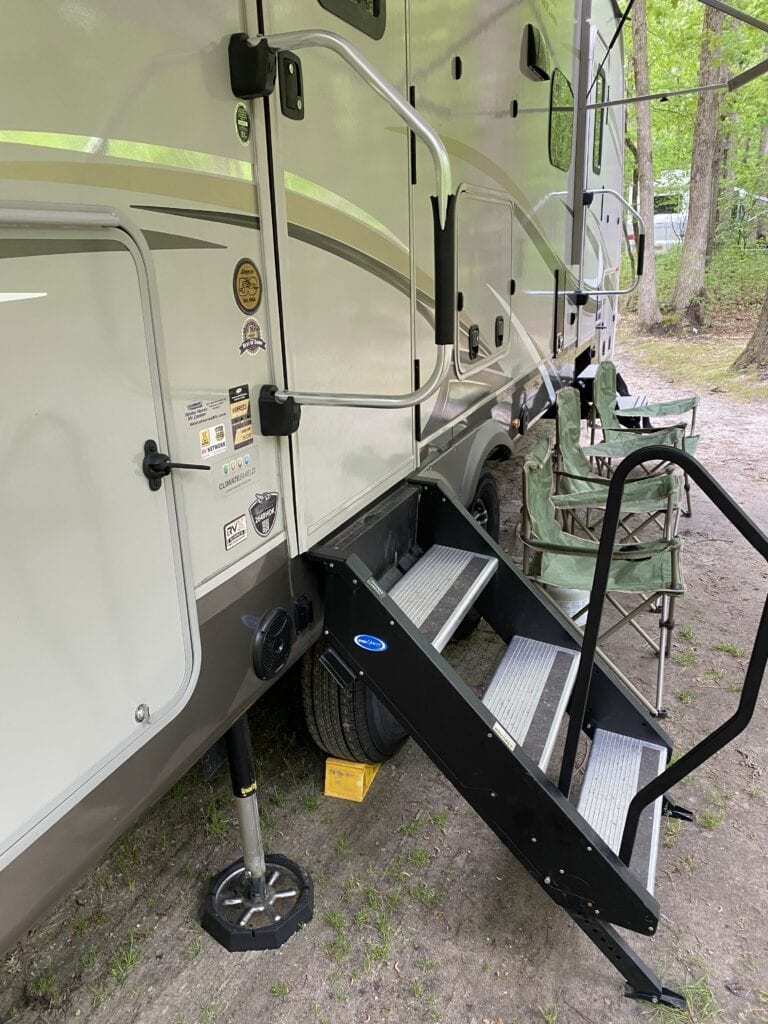 Now that annoying process is eliminated and I can set up camp a bit quicker and easier. We love the SnapPads and would never own a rig without them. They are also relatively affordable and you can't lose them or accidentally leave them at the campground when packing up camp.
To hear about RV SnapPad's complete lineup of products click on the media player above or subscribe to The RV Atlas wherever you get your podcasts!
Or click here to check out their website and order a set for your rig today!
Podcast: Play in new window | Download