We have been obsessed with camping and hiking gear since day one here at The RV Atlas headquarters. Testing and reviewing camping gear and RV gadgets is baked into the DNA of our podcast, and our website. In fact, right now, as I write these words our new two-car garage (at our new home) is being renovated. Thick installation and new sheetrock are being installed so that our garage will be more clean and comfortable for every day use. I plan on being out there testing gear all winter long.
I can't wait to unpack all of my camping and hiking gear and get it organized so its ready to be deployed for our next adventure. Stephanie tends to be more of a camping minimalist. Though she still loves the simple pleasures that a good piece of gear can bring when it is being used as it was intended to be used. I tend to be more of a gear maximalist. I want to test everything new that comes out. As the co-host of The RV Atlas podcast, I consider it to be part of my job to know what gear is worth buying. And I love sharing my top picks with you.
Camping and Hiking Gear that is Perfectly Designed.
The camping and hiking gear that we feature in this blog post and podcast, are, in my humble opinion, perfectly designed. I think that if you tried to improve upon any of their design features you might just ruin them. All of them, except one, are also reasonably priced. Are you are one of the legions of new campers that have discovered the great outdoors and the pleasures of the RV and camping lifestyle in 2020? Then this list will help you put together your own world class camping kit.
If you are a crafty veteran of the RV and camping lifestyle, then you may end up nodding your head in approval, or disagreement, with the following picks.
Let me know your thoughts in the comments below.
–Jeremy
Camelbak CHUTE® MAG 25 OZ (.75L) BOTTLE ($14.00)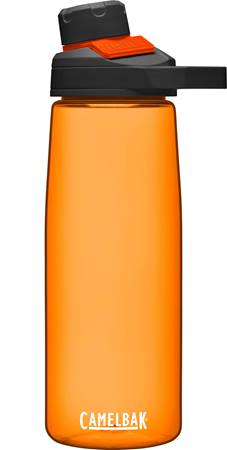 Camelbak Chute water bottles are durable, affordable, and intuitive to use. They also come in a variety of bright and attractive colors that should be easy to match with your favorite daypack or hiking outfit. According to Camelbak, "the universal cap features a magnetic top that stows securely out of the way when open, [and] is leak-proof when closed." We can attest to both parts of this claim. We also love that this bottle is dishwasher safe and BPA free. Camelbak has been refining their water bottles for years, and we think this one is as good as it gets. That's why we own four or five of them. If you are starting your camping and hiking gear collection then getting a Chute for each member of the family might be a great place to start.
Lodge Pre-Seasoned 10.25″ Cast Iron Skillet ($14.88)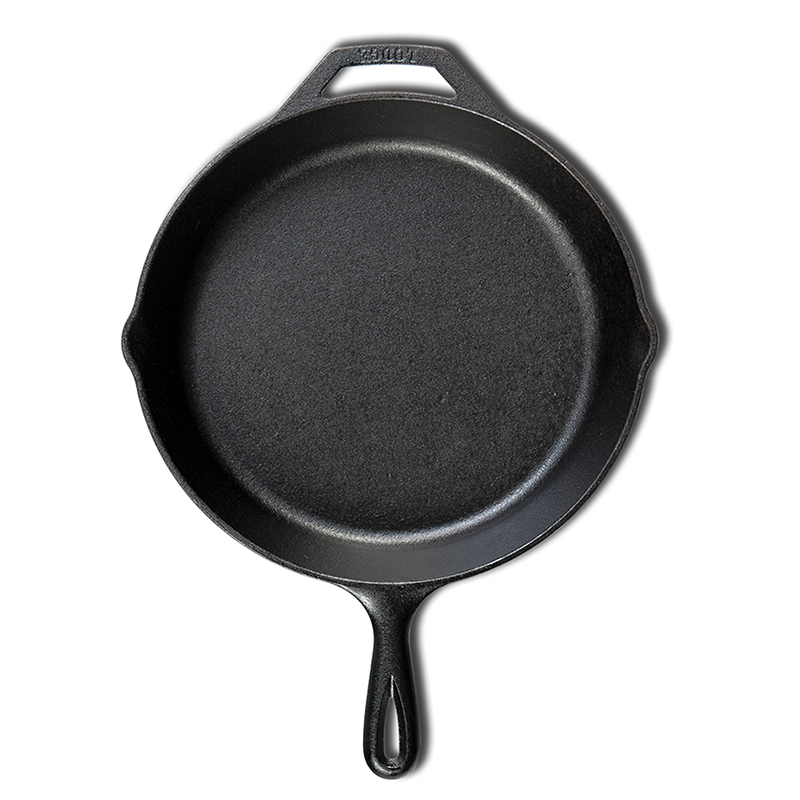 Most of my camping and hiking gear is in storage right now, so I had to go out and buy another 10.25″ Lodge Cast Iron Skillet. Thank goodness they are such a bargain. The sub $15 price point on this iconic piece of cookware is a miracle of American manufacturing. How does Lodge do it? My guess is that they sell thousands and thousands (and thousands more) of them. From a design perspective everything here is done right. The handle is comfortable, and the pour spouts are practical.  Lodge's robust pre-seasoning process also makes this easy for an amateur to use and maintain. What else can you buy for about 15 bucks that will easily last a lifetime?
Luci Color ($24.95)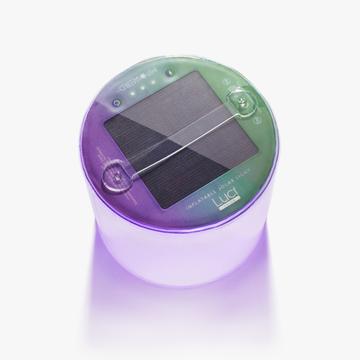 The design team at MPOWERD Inc. makes beautiful solar lanterns. The Luci Color is my personal favorite. This INFLATABLE solar lantern has 8 different colors and can last 9 hours on a single charge. It packs up easily too, so you can bring a few of them to camp without sacrificing much space. If you have a tiny trailer, or you are tent camping and space is at a premium, then this is a perfect light for you. The Luci Color is so adorable and affordable that you might consider gifting them to all of your camping friends. They will want one after they see yours, of that I am certain.
Estwing Fireside Friend Splitting Tool ($29.08)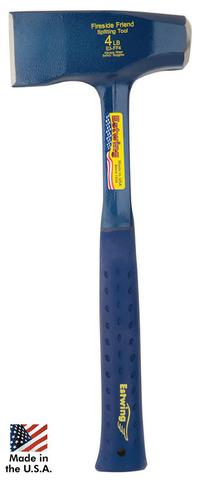 The Estwing Fireside Friend is not just a camp axe, it is an indestructible splitting tool (made of solid American steel) that will help make your campfires burn brighter and warmer. The 4lb. head allows you to split pieces of firewood with ease. Smaller pieces of firewood burn faster too. So your campfire will be up and running in no time. The 14″ Fireside Friend has a hand sharpened edge and is made in America, so there is nothing not to love about it. This is a piece of gear that you can, and should, pass on to your children someday.
Nebo Slyde King Flashlight ($34.88)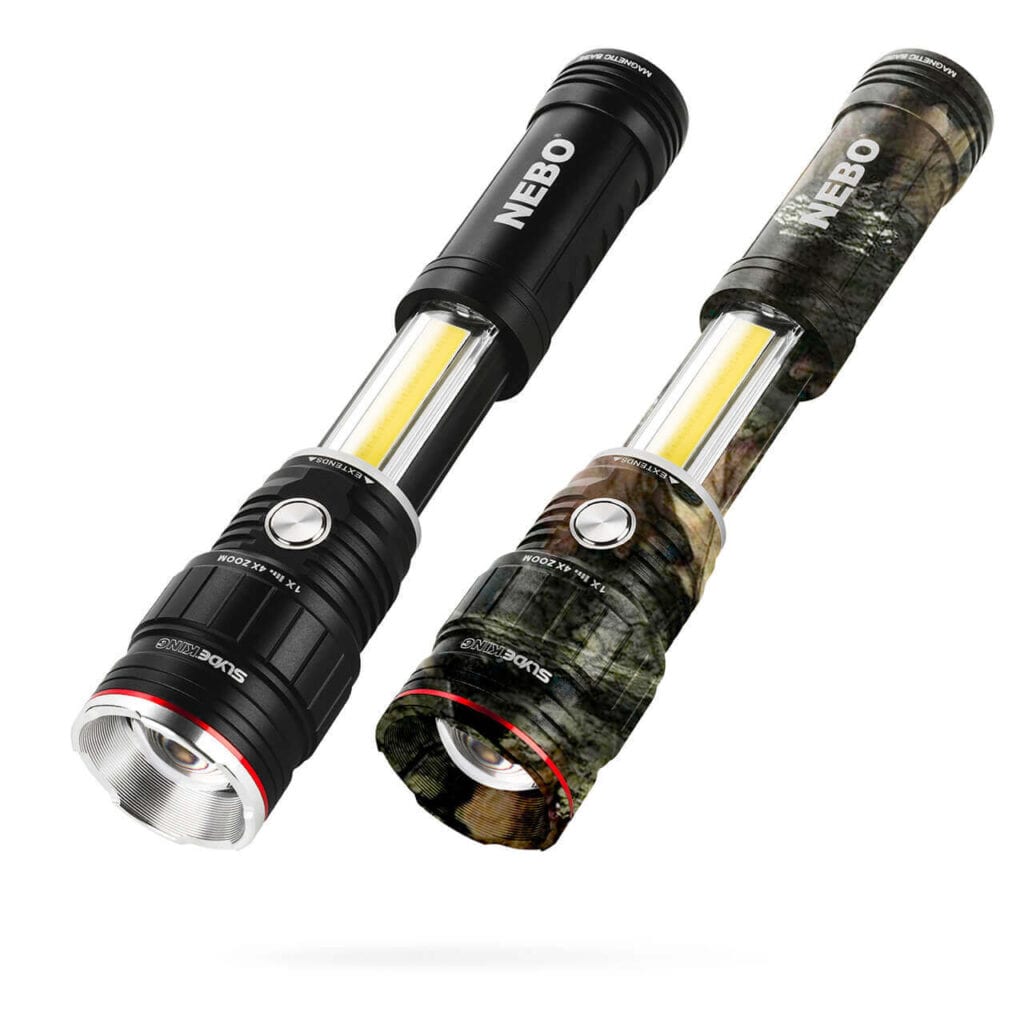 I am a certified flashlight nut and I own over 30 of them. The Nebo Slyde King rechargeable USB flashlight is my favorite of the bunch. So what makes this affordable light a perfectly designed piece of camping and hiking gear? First of all, the aircraft-grade aluminum build is rugged, and its look is aesthetically pleasing and surprisingly high-end for the price point. The main 500 lumen LED flashlight is excellent, but the killer app is the retractable work light that hides inside the flashlight body when not in use. This work light, when coupled with the magnetic base and red hazard flasher, turns this casual flashlight into a powerful tool for roadside emergencies on your way to and from the campground. Keep one in your backpack and one in your car. You Won't regret it.
North Face Recon Backpack ($99.00)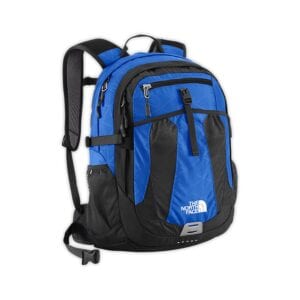 My North Face Recon backpack has been so good for so long, that I sometimes take its performance for granted. My first Recon backpack lasted for over a decade and paid its dues in locations from Acadia National Park to the Great Smoky Mountains before a zipper finally gave out. I probably should have had it fixed but it was getting pretty funky at that point anyway. I bought another one without hesitating or even shopping for another pack. This one is perfectly designed for day hikes because of its meshed front compartment, superior interior organization, and spacious water bottle holders that easily secure two Camelback Chutes. It seems like an easy thing to get right, but so many day backs have skimpy side holders for water bottles that leave them unsecured. The Recon gets this, and everything else, perfectly right.
Leatherman Signal ($119.95)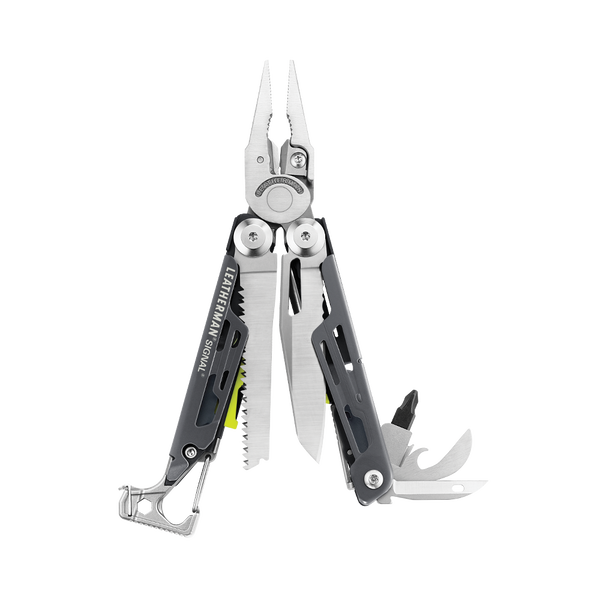 I have owned Leatherman products for years, and most of them come close to being perfectly designed. But the newly released Leatherman Signal takes the cake for me. Why? because more than any other Leatherman multitool this one is designed for those that love the great outdoors more so than for the handy man or woman who loves projects around the house. The signal packs a fire starter, hammer, one-handed blade, and an emergency whistle, a bottle opener, and so much more. If you take your camp kitchen seriously like I do, then make sure to pack a Signal in your kit. It will make your life easier in 19 different ways. The only hard part will be picking your favorite color combo. I went with the one pictured above.
Blackstone 22″ Tabletop Griddle With Hood ($159.99)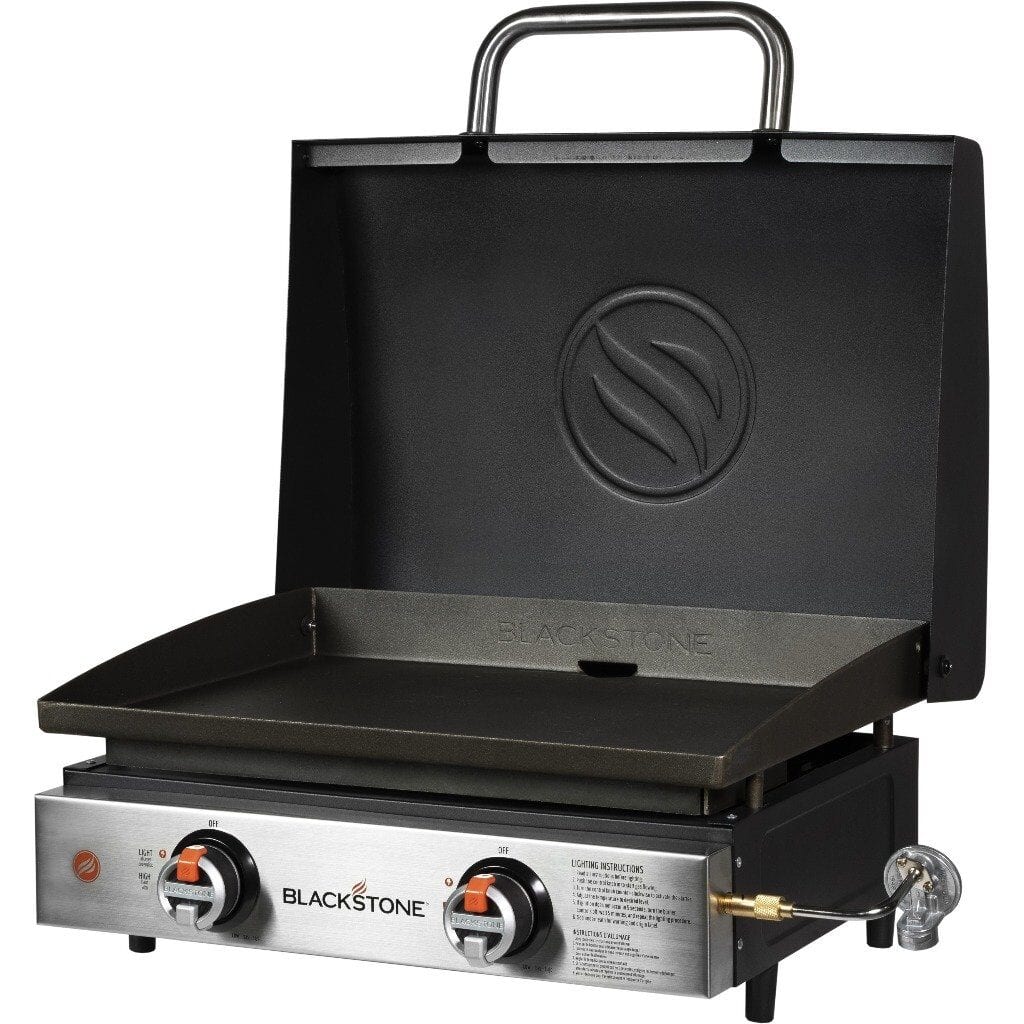 The Blackstone 22″ tabletop griddle may just end up being THE iconic piece of camping gear for my generation. Our camping forefathers and foremothers loved their two-burner suitcase style Coleman stoves that were powered by white gas. And who can blame them–it was a legendary product that withstood the test of time. But most folks don't want to carry a can of white gas to the campground anymore and pump up their fuel tanks to cook breakfast.
The current generation of camping and RVing enthusiasts has fallen head over heels in love with their Blackstone griddles–and we think the 22″ is the most perfectly designed in the bunch. It heats up easily and EVENLY, and it is fairly simple to use and maintain. The two burners allow you to create two cooking zones and the use of direct and indirect heat. The hood makes melting cheese and keeping your food warm easy, but it can also be removed (or purchased without) if you want a more compact and easily stored product.
Yeti Tundra 45 ($299.99)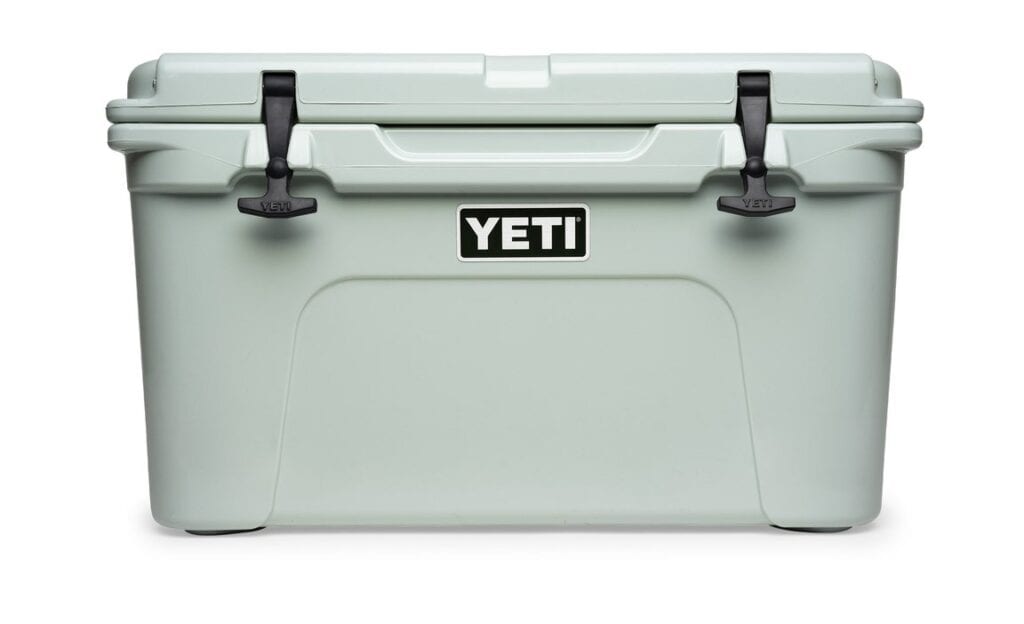 You can bark all you want about the price of Yeti products, but don't complain about the quality. If you do I'll close my ears. Yeti coolers are built to last, and if you pack the ice correctly, they work as advertised. If for some reason it doesn't work, then send it back. Yeti's customer service is legendary and keeps their products top of mind over the imitators that don't stand behind (or anywhere near!) their products in the same way. Yes, you can spend less and get a great cooler. But if you buy a lemon you will probably be stuck.
To listen or read about our comparison between Yeti and RTIC, click here.
The Tundra 45 is Yeti's most perfectly designed product for several reasons. For most people, the size just works. There is also the perfectly proportioned amount of room inside for two cooler shelves and a divider. Mom and dad can keep their lunch on one side and the kid's food and snacks on the other. Yet's latches also perform flawlessly and the size and height make this a perfect bench seat for the beach or for around the campfire.
Podcast: Play in new window | Download