Casita Dean May is back on the RV Atlas for the second week in a row with another jam packed episode! Last week Dean gave us a detailed review of the Townsend/Great Smokies KOA. This week we are packing in a double episode! Dean is here to review the Riverbend Campground in Hiawassee GA, and to tell us about his recent trip there for the Eggs on the Hiawassee River Rally!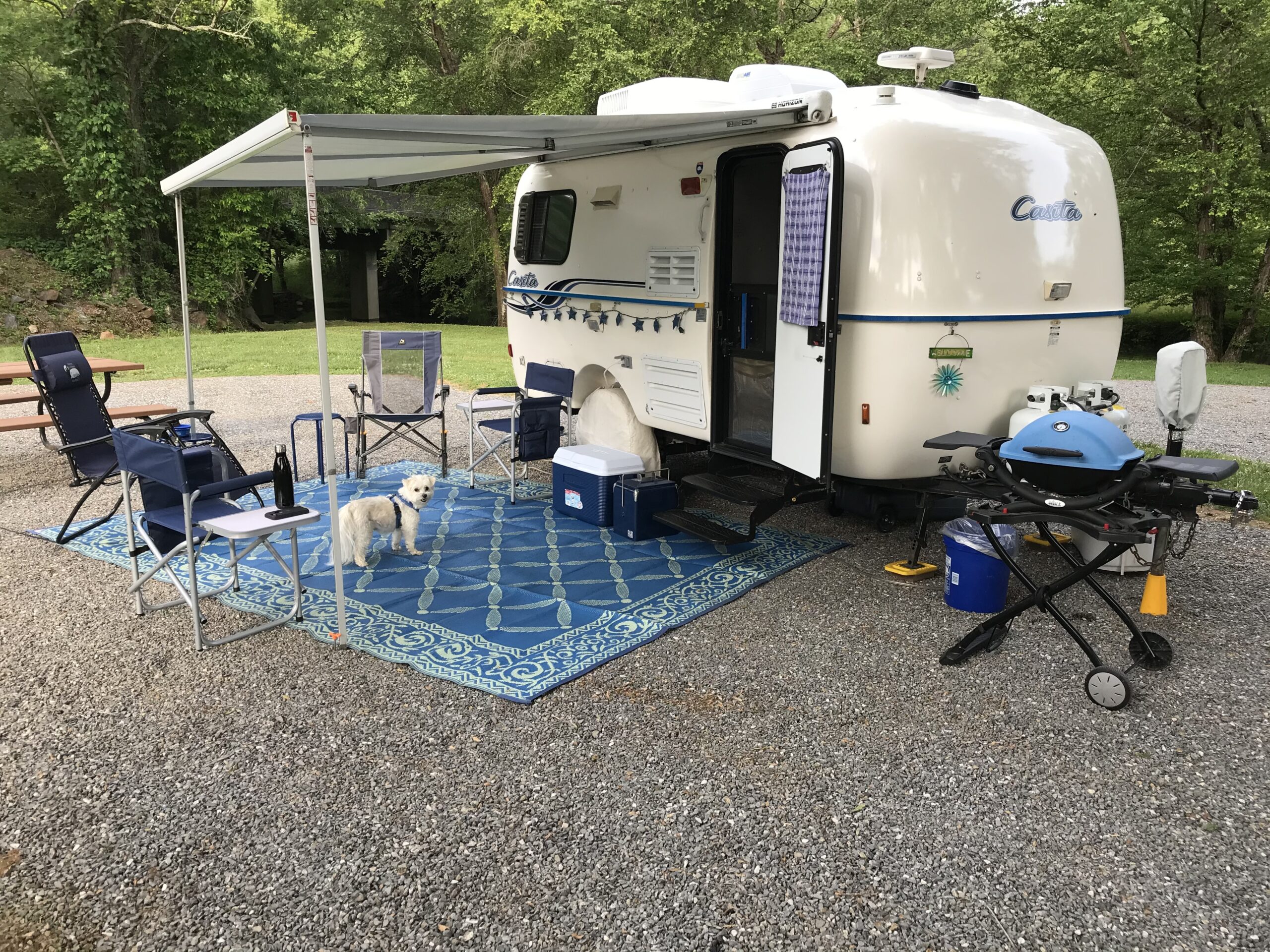 One of my favorite episodes we have ever done on the RV Atlas podcast was CASITA DEAN AND THE INVASION OF THE EGG PEOPLE. It was an amazing episode where Dean broke down the intel on all of the best egg camper makes and models. He also gives a 101 primer class on the egg camper lifestyle. If you are interested in learning about egg campers and egg camper culture, you should take a listen!
On today's episode of the RV Atlas Dean explains why he and his awesome wife Laura are so drawn to egg campers.  Dean and I also discuss why egg camper owners are so rapid and why they have such a cult-like following. After that Dean gives us an awesome review of the Riverbend Campground in Georgia–home to the Eggs on the Hiawassee River Rally that Dean and Laura have attended several times.
Here are Dean's notes for the show!! To listen to Jeremy and Dean's conversation, click on the media player above, or subscribe to The RV Atlas wherever you get your shows!
Location of the Riverbend Campground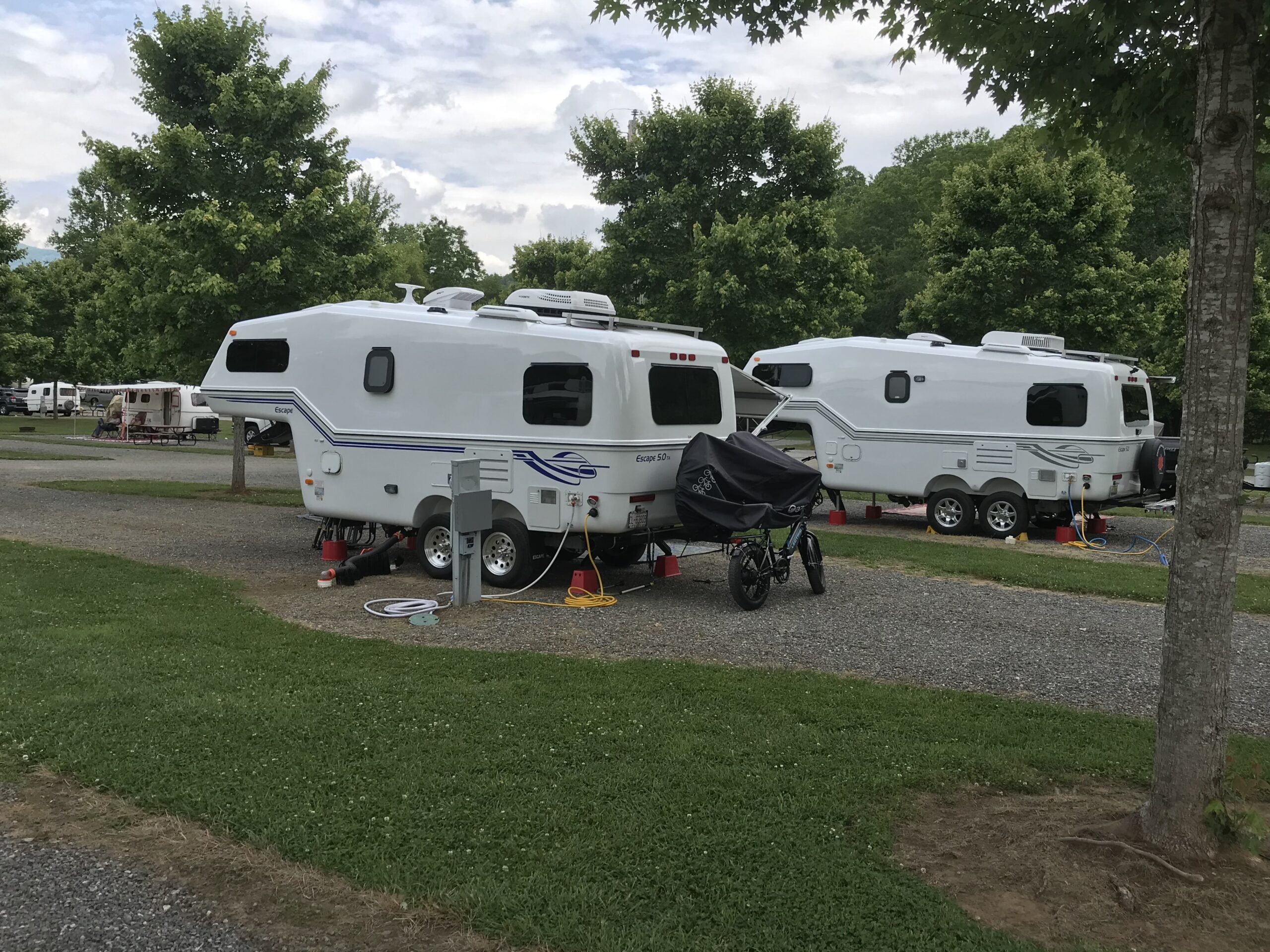 Riverbend Campground is in the beautiful hills and mountains of northeast Georgia.The campground is about 10 minutes south of Hiawassee, GA. Hiawassee is just over 2 hours northeast (107 miles) of Atlanta, GA or just under 3 hours (138 miles) from Knoxville, TN.
Despite only having a population of less than 1,000, Hiawassee is a nice little town located in a touristy and recreational area, so there are ample places to buy groceries, shop, go out to eat, and have fun.
Type of Campground: Private
Size of Campground:165 RV sites with the majority having full hookups and the remaining sites having electric and water.
Physical Appearance of the Campground and Surroundings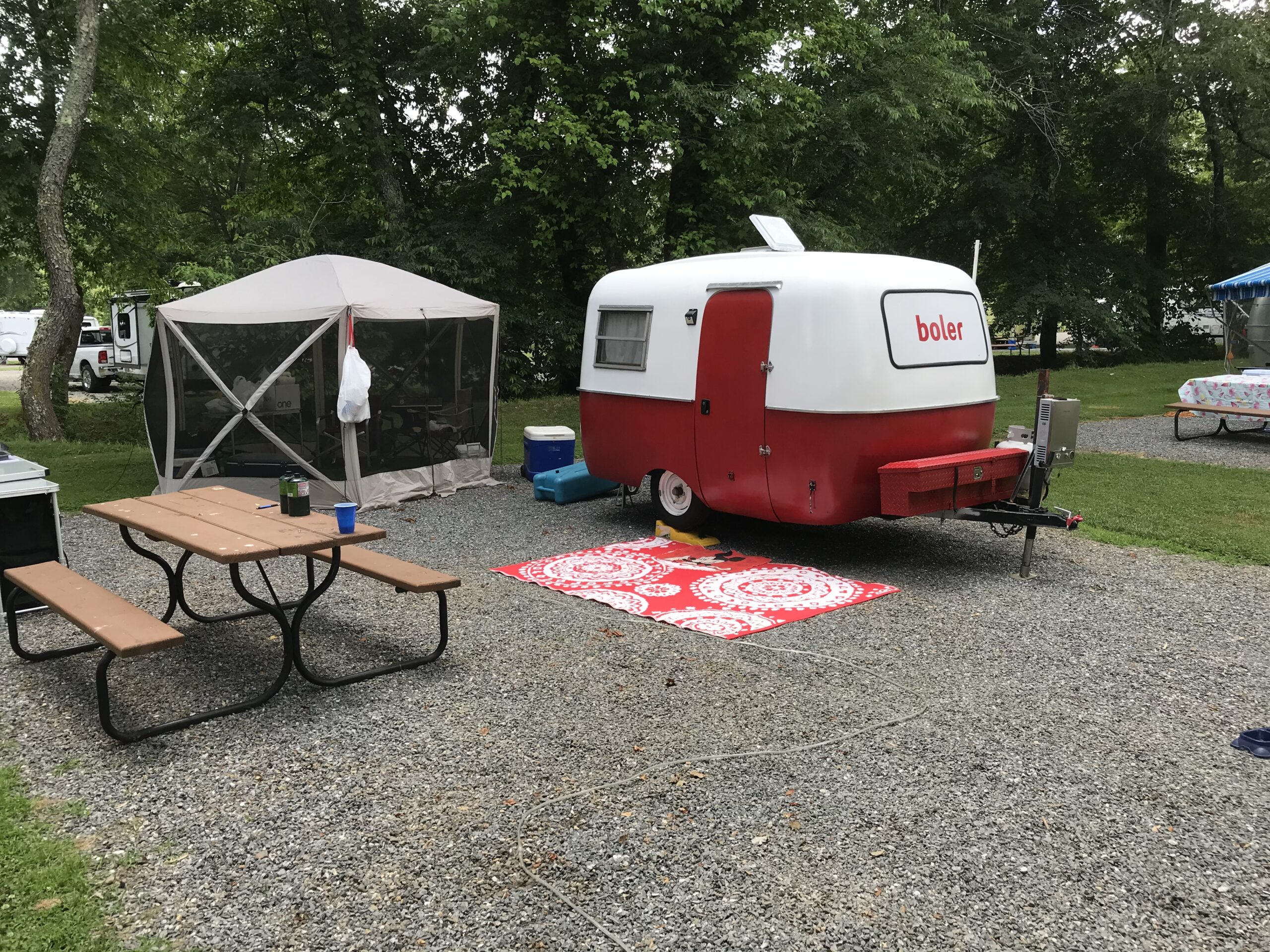 The campground is relatively flat surrounded by green rolling hills and small mountains. The beautiful Hiawassee River runs the entire length of the campground. Many sites have shade trees while the newer sites in the back of the campground have exposure to the sun. Oh, the bathrooms are nice, too!
Price Range and Ease of Booking
Reservations can only be made by phone and/or email. There is no on-line reservation system.Daily rate is $45.00 for RVs and $40.00 for tents.They also offer reasonable weekly, monthly, and seasonal rates.
Site Details at Riverbend Campground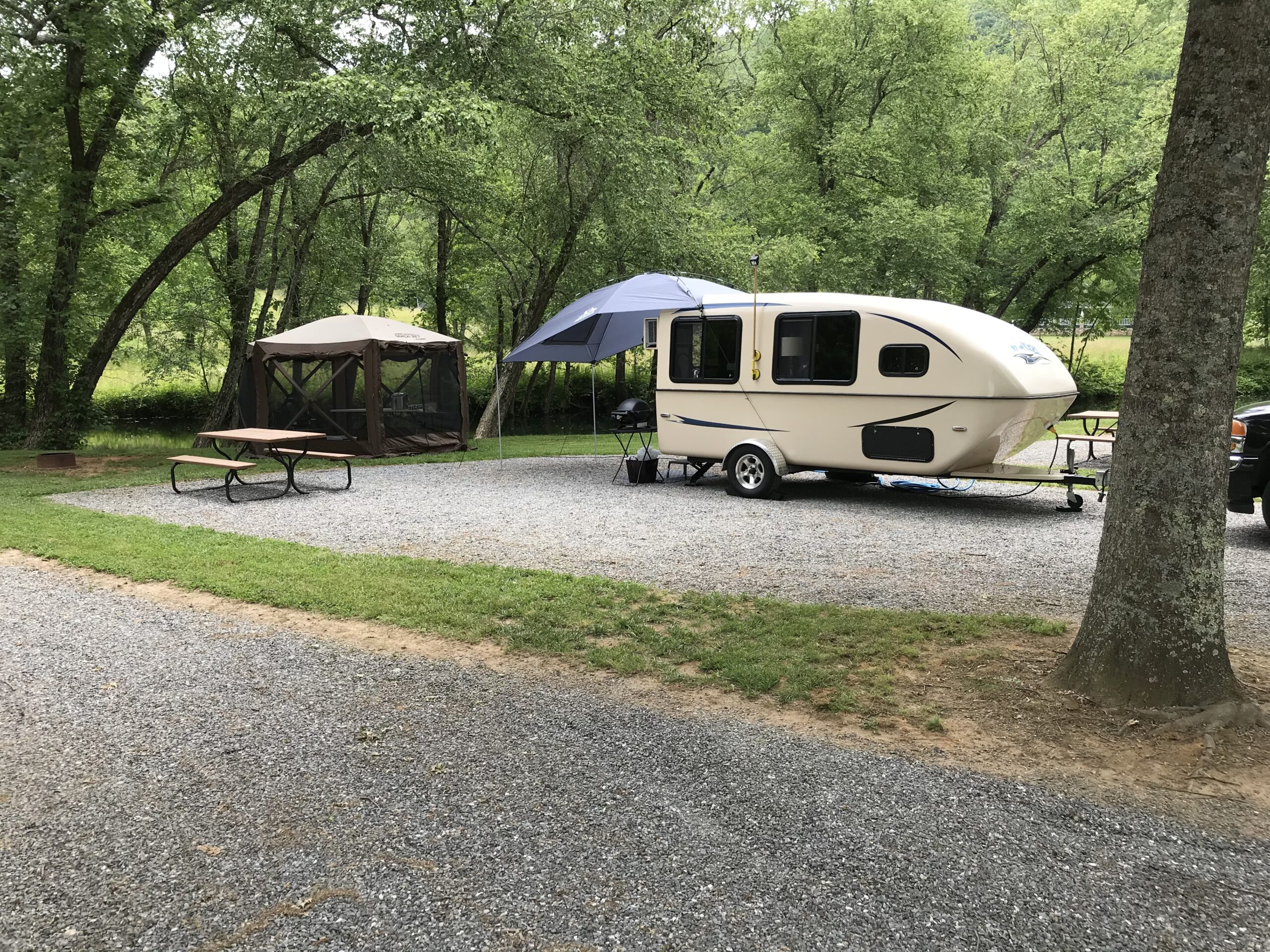 All sites have electric (both 30/50-amp) and water. The majority have sewer as well.The sites are nicely graveled and have fire rings and picnic tables.The sites are well kept and nicely spaced.
*Bonus – The campground offers a free honey wagon service for the electric/water sites. On Wednesdays, they will dump your gray tank. On Fridays, they will dump your black/gray tanks.
Also, there are seasonal sites at Riverbend. They are well maintained, landscaped, and very attractive.
Wi-Fi/Cell Phone Service: Cell phone service is fine.
Wi-Fi in the campground is EXCEPTIONAL. Over the last few years, the campground lost access to cable. After a couple of iterations, they decided to add a Wi-Fi router to EVERY site. The best Wi-Fi we have ever had, perhaps superior to Anchor Down's fiber optic Wi-Fi!
The downside is that there is no cable; however, since Laura and I don't have or want a TV in our RV, we love the premium Wi-Fi service!!!
Activities at Riverbend Campground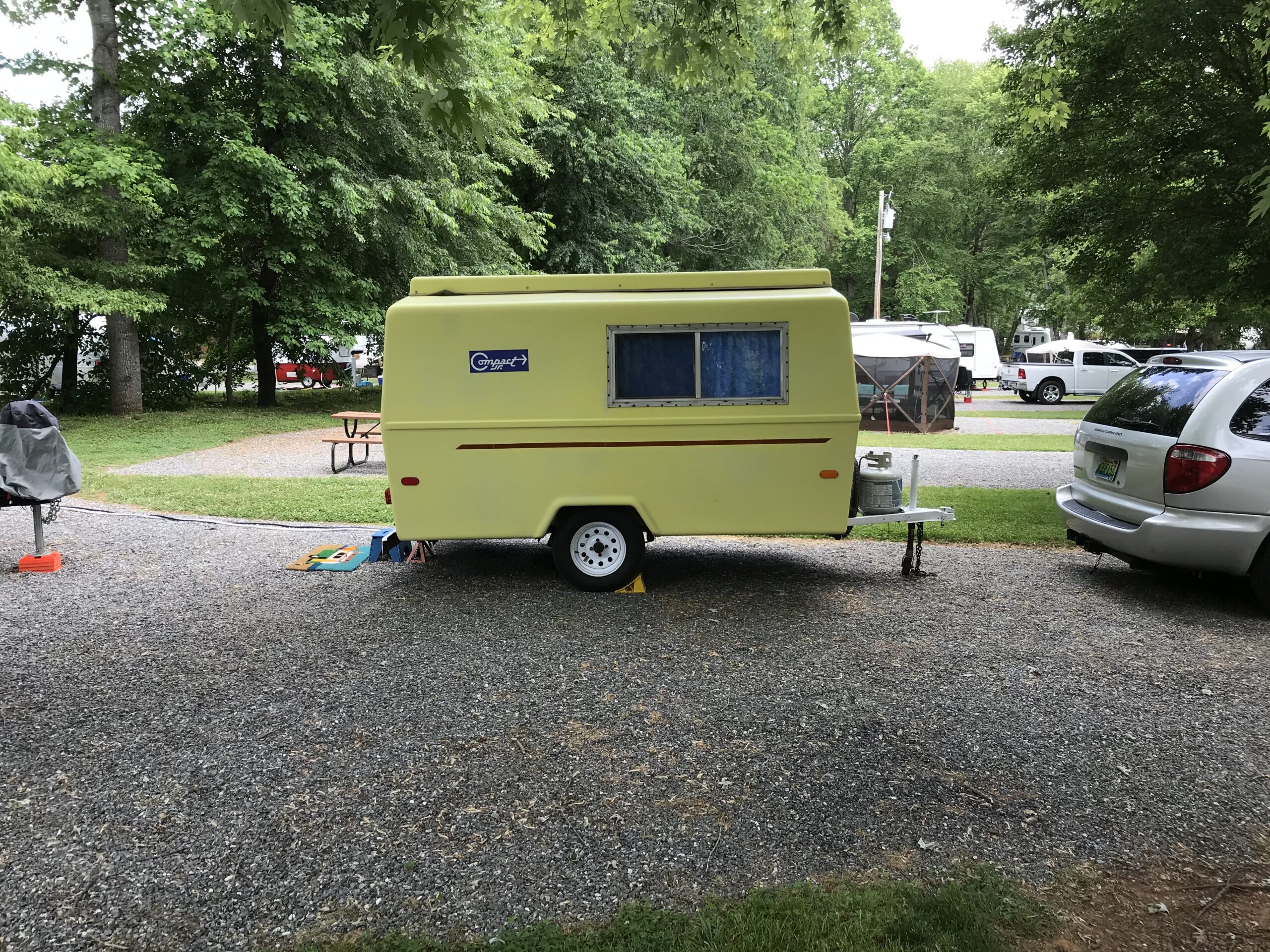 Organized Activities and Recreation (some activities are seasonal): Pool, Fishing, Tubing/kayaking/canoeing on the Hiawassee – provide your own equipment. Playground, Recreation area with a volleyball net.
Holiday event weekends.
Campground Store with rocking chairs and hand-scooped ice cream.
Any Insider Details: Choose a river front site, particularly those closest to the front of the campground.
Regional Highlights and Activities
Local Attractions/Activities
Bell Mountain Park and Historical Site/Hal Herrin Scenic Overlook http://www.townscountyga.org/bell-mountain-park—historical-site.html
Unicoi State Park –  https://www.unicoilodge.com/
Anna Ruby Falls – https://www.helenga.org/directory-item/anna-ruby-falls-visitor-center
Helen, GA (Bavarian village) – https://www.helenga.org/
Brasstown Bald – https://www.fs.usda.gov/wps/portal/fsinternet/cs/recarea?ss=110803&navtype=BROWSEBYSUBJECT&cid=FSE_003738&navid=110240000000000&pnavid=110000000000000&recid=10542&ttype=recarea&pname=Brasstown%20Bald%20Visitor%20Information%20Center
Highest point in Georgia at 4,784
So much to do in and around Hiawassee, including Lake Chatuge, Hamilton Gardens, High Shoals Falls, etc.
Restaurants & Brews
Beer: Bacchus On the Lake (Wine & Craft Beer Shoppe) https://www.bacchusonthelake.com/
BBQ: Hawg Wild BBQ & Catfish House http://www.hawgwildbbqhiawassee.com/
Sundance Grill https://www.ordersundance.com/ Serves breakfast, lunch, and dinner. Casual. Very nice.
Brewery with food (Taco Truck) Hiawassee Brew –  https://hiawasseebrew24.com/ Love their tacos!
Tilted Café – https://www.facebook.com/tiltedcafe/
Eggs on the Hiawassee Molded Fiberglass Camper Rally at Riverbend Campground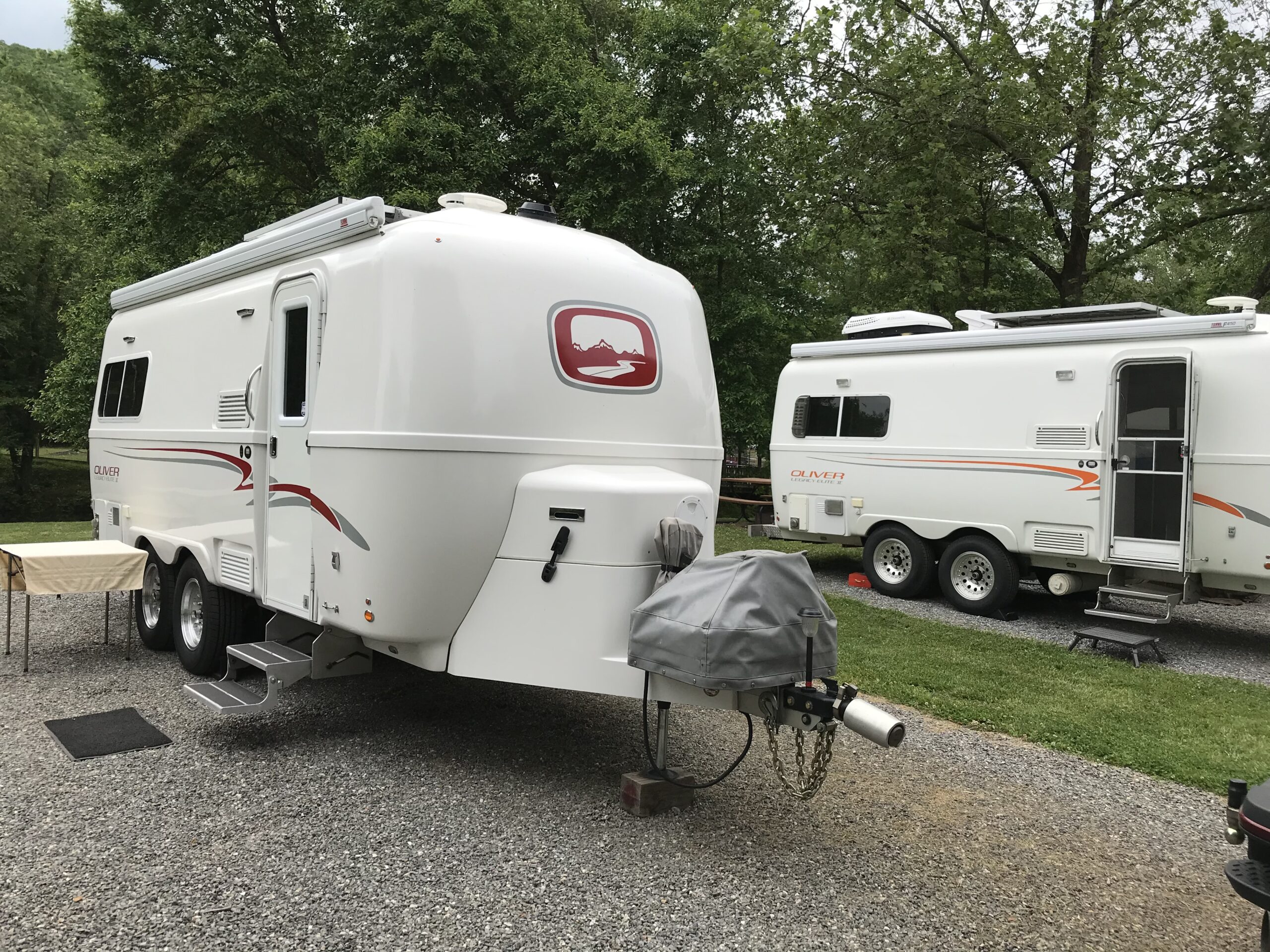 https://www.facebook.com/groups/eggsonthehiawassee/
Hosted by John & Melissa Martin
Much of the rally's success can be attributed to the dedication and hard work of John and Melissa.
Typically, the first weekend after Memorial Day Weekend.
Rally will start on a Thursday and end on a Sunday; however, many campers arrive early and/or stay late with several campers staying a week or so.
2021 was the 6th Annual Eggs on the Hiawassee
Laura and I have attended 4 of the 6 rallies only missing 2016 and 2020.
We have the t-shirts to prove it!
Eggs on the Hiawassee is one of the largest and best rallies that we attend.
This past year, the rally included about 105 egg campers and about 180 people!
Standard activities include:
Fish Fry – sponsored by the campground on Thursday or Friday night.
Potluck – Saturday night.
Camper Showcase
This rally is so large that it takes both Friday and Saturday to show campers. Egg campers in the front half showed their campers on Friday afternoon while campers in the back half of the campground showed their campers on Saturday.
Camper Choice Awards were awarded in several categories.
Bingo, Cornhole & Ladder Ball Tournaments.
Saturday Morning Coffee & Donuts (sponsored – Oliver Travel Trailers) – often includes a presentation. This year it was on Harvest Hosts.
Sponsorship – Rally is large enough that it receives sponsorship from several egg camper manufacturers, RV dealerships, and other RV related companies.
Socializing
Most of the time is wandering from campsite-to-campsite socializing.
Campfires at night.
One morning cooking bacon and eggs, it took me from 9:15 am to 12:45 pm just to fix and eat breakfast due to other egg campers coming by to visit.
Many couples will gather to tour surrounding sights and/or go to breakfast/lunch/or dinner together.
This rally is so popular it will be completely booked for the next year by the end of the current year rally.
Despite our love for this rally and camping in northeast Georgia, we have decided not to return next year for this rally.
We, typically, attend 4 to 7 rallies per year and we have decided to attend the 4B Rally on Lake Shelbyville in Illinois next year.
The two rallies are at the same time.
We will return to Riverbend Campground and the Eggs on the Hiawassee River Rally in the future!
Dean's Closing Comment:
Northeast Georgia is one of our favorite areas to camp. Riverbend Campground is a Top 5 campground for Laura and me. The Eggs on the Hiawassee River Rally for molded fiberglass "egg" campers is one of our favorite rallies. All of this makes for a wonderful camping trip!  
Podcast: Play in new window | Download