On this week's episode of The RV Atlas podcast we are back with part two of our California beach camping series! In episode one our good friend Lauren Eber (from @afamwithavan on Instagram) was our guide and she gave us some incredible campground recommendations from San Diego to Santa Barbara. Along with each campground pick she shared great spots for food, fun, and adventure in those particular locales. Lauren is a California native and she knows the California coast intimately! Her campground picks and recommendations Northern California Beach Camping are absolute perfection. This two part podcast series should be on the top of your list if you are planning a California beach camping trip.
On today's episode Lauren is sharing her top campground picks from Big Sur to just below Crescent City! Jeremy also jumps in at the end of the show with his top two picks from the Crescent City area right outside Redwoods National and State Parks.
This is another great episode of The RV Atlas podcast that you don't want to miss! To listen to today's show on Northern California Beach Camping click on the media player above or subscribe to The RV Atlas wherever you get your podcasts!
For an overview of Lauren's picks check out her show notes below this helpful map that pinpoints the campgrounds that we talk about in part two of our California beach camping series!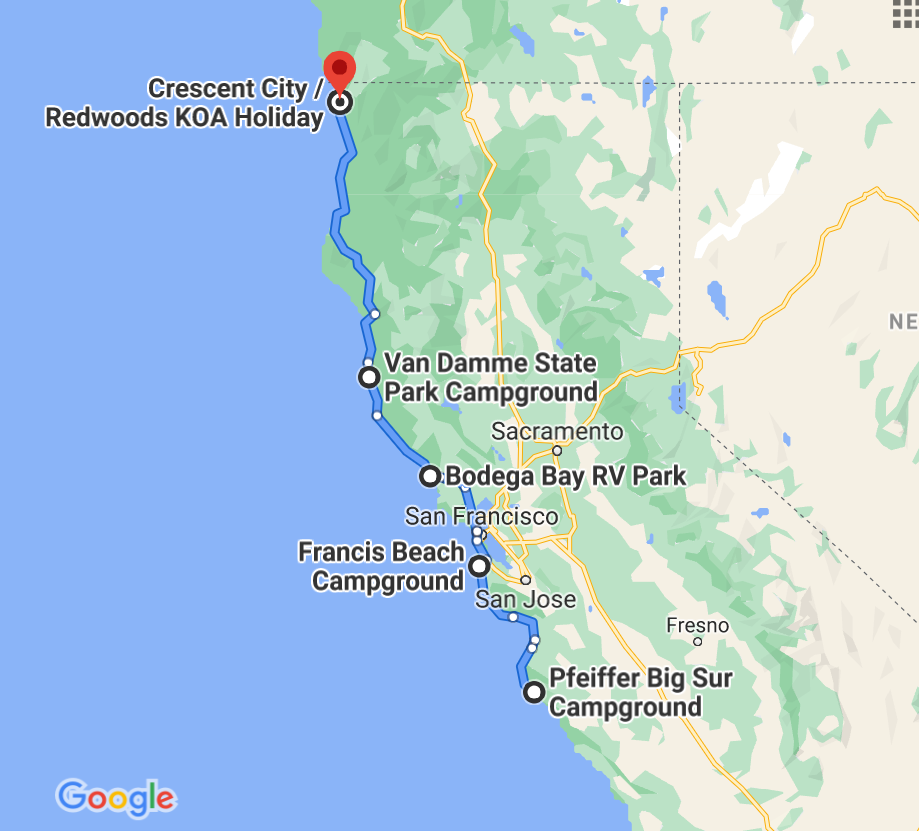 Lauren's Overview of Northern California Beach Camping
Northern California has some of the most spectacular coastline in the world, accessed via the world famous Highway 1, which is on just about every list of America's, or even the world's, best road trips, and with good reason. 

Northern California beaches are very different from the So Cal beaches we covered in our prior episode. NorCal beaches are more about exploring the gorgeous scenery, quaint beach towns, redwood forests, vineyards, and farm-to-table cuisine than sunbathing and bodysurfing. 

Northern California weather is a lot cooler and foggier than SoCal, frequently overcast and windy. Expect 64 and foggy as the norm, rather than 72 and sunny. Dressing in layers is still key. The best months for sunshine are September and October. Lots of dramatic cliffs, rocky shores, tidepools, cold water, the occasional Great White Shark; often too rough for swimming, with a dangerous undertow, so don't assume that "beach" means swimming. Some places it does, but look into it so you know what you're getting. That doesn't mean it's any less fun or relaxing. Just different.
Pfeiffer Big Sur State Park
Big Sur has one of the most dramatic, beautiful stretches of coast in California. Redwood forests up against the towering cliffs above the ocean. The campground has 204 sites for RVs up to 32 feet. Some are in a towering redwood forest. Some are along the Big Sur River. All are incredible. My favorites are some of the sites in the 170s along the river, but it's a real toss up with some of the sites on the opposite side in the 140s, in the redwoods, along a big meadow. No hookups, but lots of amenities. Restrooms with flush toilets and showers, wifi, and laundry. There is also a lodge in the park, with a small grocery store and cafe.
The campground is not actually right on the ocean, and it doesn't have ocean access, but it does have hiking trails with sweeping ocean views, and it is just a short (1 mile) drive to popular Pfeiffer Beach with the famous keyhole arch. If you're up for hiking, don't miss the 2-mile Pfeiffer Falls Trail, which leads to the Valley View Overlook with a tremendous view of the Big Sur River Valley, Pt. Sur and Andrew Molera State Park, and a view of Pfeiffer Falls, a 60-foot waterfall.
Big Sur has some world-renowned restaurants and hotels, like Nepenthe, Deetjen, and the Post Ranch Inn's Sierra Mar. Our level of cleanliness and our family's volume (11) on camping trips usually strikes fine dining off of the itinerary, but we still love good food.  Check out Café Kevah, the more casual café affiliated with Nepenthe and located on an outdoor terrace. Similarly, try Coast, a café with great wine, beer, sweets and a small "picnic style" menu, for spectacular views and a light meal or snack, and an art gallery to peruse once your belly is full. 
Francis Beach Campground at Half Moon Bay State Beach
I couldn't make a list of Northern California Beach Camping spots without at least one campground with sites right on the beach. Many of the NorCal beachfrong campgrounds are either tent only, like the incredible Kirby Cove campground in the Marin Headlands, with a grand total of 4 sites; or hike-in or bike-in, like the bucket-list-worthy spots in Point Reyes or Tamales Bay. But this campground in Half Moon Bay has it all—beachfront sites, quaint beach town, great food, and an agricultural crossroads. The campground has beautiful beachfront sites that accommodate RVs up to 40 feet. No hookups, but there is a good dump station. 52 sites. Flush toilets, pay showers, and wifi. But the highlight is the four miles of broad, sandy beaches. Look at the campground map to see which sites are in the front row along the beach. 
In the campground itself, you can play on the miles of sandy beach, watch the world-famous surfing, or take a walk on the Half Moon Bay Coastal Trail, departing from the campground. Swimming is not recommended, unless you are an expert or experienced surfer. The water is cold and rough.  
Half Moon Bay is an adorable beach town with a historic main street, craft breweries, art galleries, and farm-to-table dining drawing from the local agriculture. Pick up a souvenir at the San Gregorio General Store and browse the eclectic selection at Coastside Books to find your next great read.
One of my favorite things to do in the area is see the massive elephant seal rookery at Ano Nuevo. Tours book up well in advance, so plan ahead if you can. https://www.parks.ca.gov/?page_id=27613 You can hit the Pigeon Point lighthouse (built in 1872) on the way, for a fun stopover. You can also visit the nearby Harley Farms Goat Dairy to play with baby goats and eat amazing cheese. 
You won't go hungry in Half Moon Bay. Do a beer hop of Half Moon Bay's excellent breweries. Half Moon Bay Brewing Company is one of the oldest breweries on the coast, with a great menu, and a big outdoor patio with firepits. Relative newcomer Hop Dogma (opened in 2013) serves up award-winning German-style lagers and pilsners, among many others, and is dog-friendly and kid-friendly. And for the campers who can clean up more than my crew can, there is a Michelin-starred option in the Peruvian La Costanera. You're more likely to find me having a lobster roll on the deck at Sam's Chowder House, or fish and chips at Barbara's Fishtrap.
Bodega Bay RV Park
Bodega Bay is a stunning location on the coast in the world famous Sonoma County, which is much better known for its wineries than its beaches, although both are spectacular. 
Bodega Bay RV Park is one of the oldest RV parks in California, established in 1967. It has 71 sites, 55 with full hookups and 16 with partial hookups. Sites up to 60'. Lots of amenities, including bocce ball, horseshoes, dog park, putting green, restaurant, and small store. The sites aren't huge, so don't expect a ton of privacy, but this spot is all about the central location. The RV Park is about a 30 minute walk from the beach, with easy access to the best that Sonoma has to offer. $66/night for a full hookup site. 
If you are a tent camper or don't need hookups or amenities you might also want to look at the Bodega Dunes Campground in Sonoma Coast State Beach.
The town of Bodega Bay is a charming fishing village. The Bodega Head Peninsula, jutting out from Bodega Bay, is a world-class whale-watching destination in the winter months, so if you want to do some whale watching, pack your warm layers and head out here January through April. It's also a great location for sport fishing and kayaking. Contact the Bodega Bay Sport Fishing Center to inquire about fishing tours available when you plan to travel. And Bodega Bay Kayak rents kayaks and SUPs and provides clinics and suggested routes.
Dining ranges from the Michelin-starred Terrapin Creek Café, to humble, but no less delicious, fishing shacks, like the Spud Point Crab Company, located right down by the working boats of Bodega Bay. Spud Point is famous for its chowder and fresh crab. Plan to bundle up and sit outside at the picnic tables. It's BYOB, so pick up a bottle at Sonoma Coast Vineyards in town, or at any of the myriad wineries nearby.
From Bodega Bay, you can day trip to the incredible Point Reyes National Seashore, featuring rocky headlands, sandy beaches, an old lighthouse, and so much more. Point Reyes is one of my favorite places in the world.
And, of course, Bodega Bay is on the Sonoma Coast, known for its Pinot Noir and Chardonnay. Sonoma Coast Vineyards is right there in Bodega Bay, or head to nearby Sebastopol for an embarrassment of riches, like Littorai, Pax Wines, and Merry Edwards. Or take a gorgeous drive up the coast to Fort Ross Vineyard and Winery on the coast in Jenner.
Van Damme State Park, Mendocino
Situated along a gorgeous stretch of cost in northern California, just outside the charming town of Mendocino. 63 sites for tents or RVs up to 35 feet. No hookups. It's a very pretty campground on an open meadow, with nice tree cover. Short walk from the ocean. Wonderful hiking trails in the park, including the Fern Canyon Trail and the Pygmy Forest. Our older kiddo learned to ride a bike without training wheels riding around this campground loop!
In addition to the beach and hiking in Van Damme state park, there is a ton to do a short distance from the park. Head north to MacKerricher State Park Beach near Fort Bragg for awesome tidepooling. Check out the Point Cabrillo lighthouse and museum on the way. And because I know I'm not the only one who passes the time as a passenger with knitting (this is for you, Ellen!), check out the fabulous Mendocino Yarn Shop in Fort Bragg, and while you are there, stop by the Princess Seafood Market and Deli to admire the day's catch and pick up a picnic.
Back in town in Mendocino, you can grab brunch, coffee, or a pastry at Goodlife Café & Bakery. Café Beaujolais is a good option for a nice, sit-down meal. If you don't have kids in tow, check out Patterson's Pub for "the best stocked bar north of San Francisco" and a classic pub menu to go with it.  For beer lovers, the North Coast Brewing Company Taproom is a worthwhile stop. Fans of their more widely available beers, like the Foggy Day IPA and Scrimshaw Pilsner will enjoy being able to sample the limited reserve beers available in the taproom.
Podcast: Play in new window | Download