Have you wondered what it would be like to dry camp at a major racing event like the Rolex 24 Hours at Daytona International Speedway in Florida? I certainly have, even though I am not a hard core race fan. The idea of camping at Daytona International Speedway sounds very exciting to me. But getting there and getting the whole thing wired sounds pretty daunting to me.
Thankfully, when it comes to insider details about camping at Daytona International Speedway, our friend and correspondent Johann Schnell has got us all covered. Johann has been camping at Daytona since 2014 when he started tent camping there with a group of his close friends. Seven years later the group is still going but they ditched the tents and dry camp in style in their own (or rented) RVs.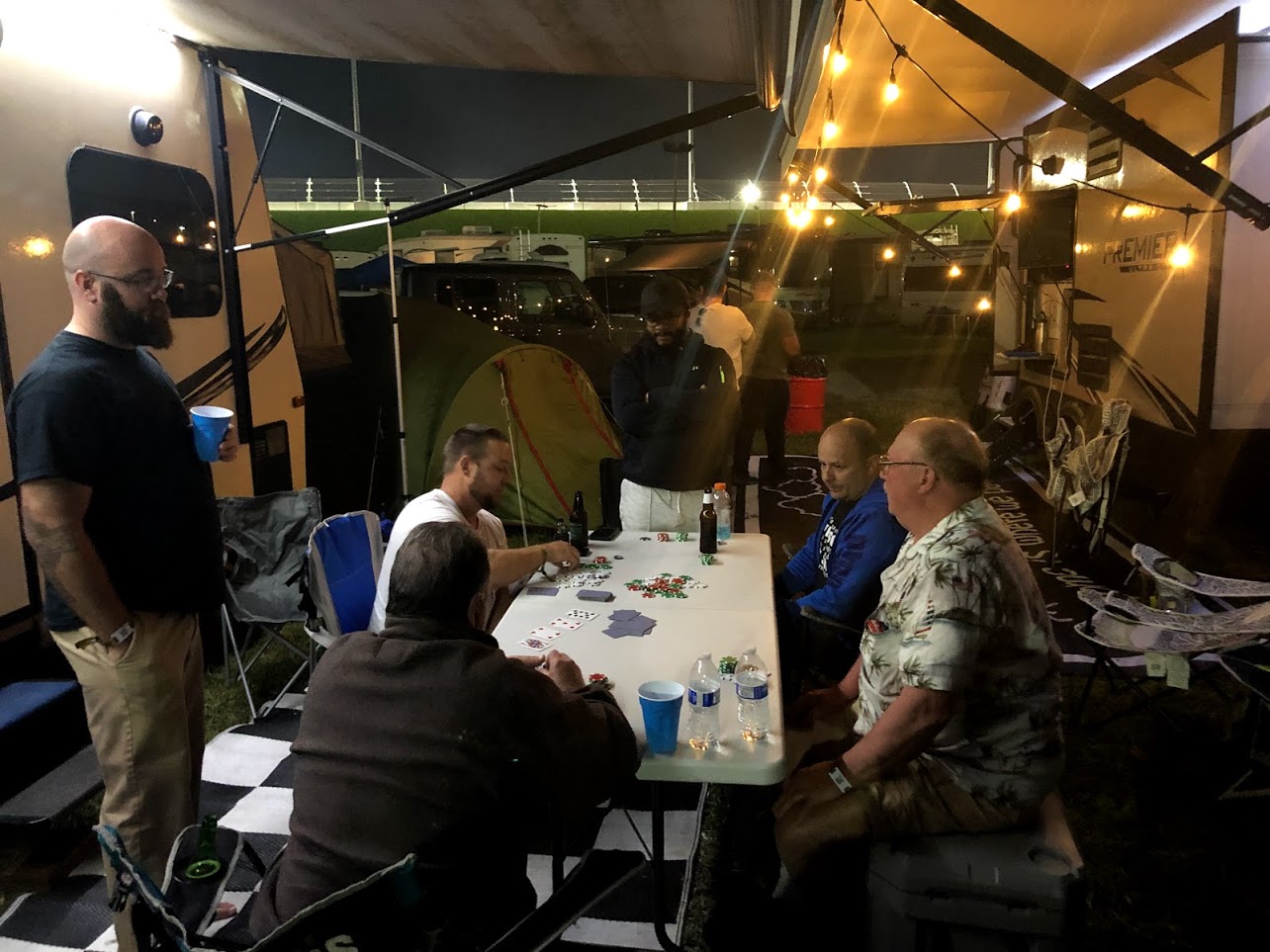 According to Johann….
My group of close friends are car guys. One of them was getting married and instead of typical bachelor party, he asked for something different. We came up with camping at Rolex.

Started in 2014 and the original crew still remains strong. Each year we might have extra friends joining the core group.

We did it in tents for 3 years and when I got my camper, we changed to RV sites. My friends began renting RVs and one even bought an Ambulance and converted it to a camper for this one year.
To say that they love this annual tradition would be an incredible understatement. On the latest episode of The RV Atlas podcast Johann is sharing all of the ins and outs of camping at Daytona International Speedway.
To listen to Jeremy and Johann talk about how to get a site, the pros and cons of each area, and tips for dry camping at Daytona International Speedway, click on the media player above or subscribe to The RV Atlas podcast wherever you get your shows!
Or just take a quick glance at Johann's notes that he used for the show! Thanks to Johann for joining us for another great episode and sharing all of his best insider intel!
Daytona International Events With Camping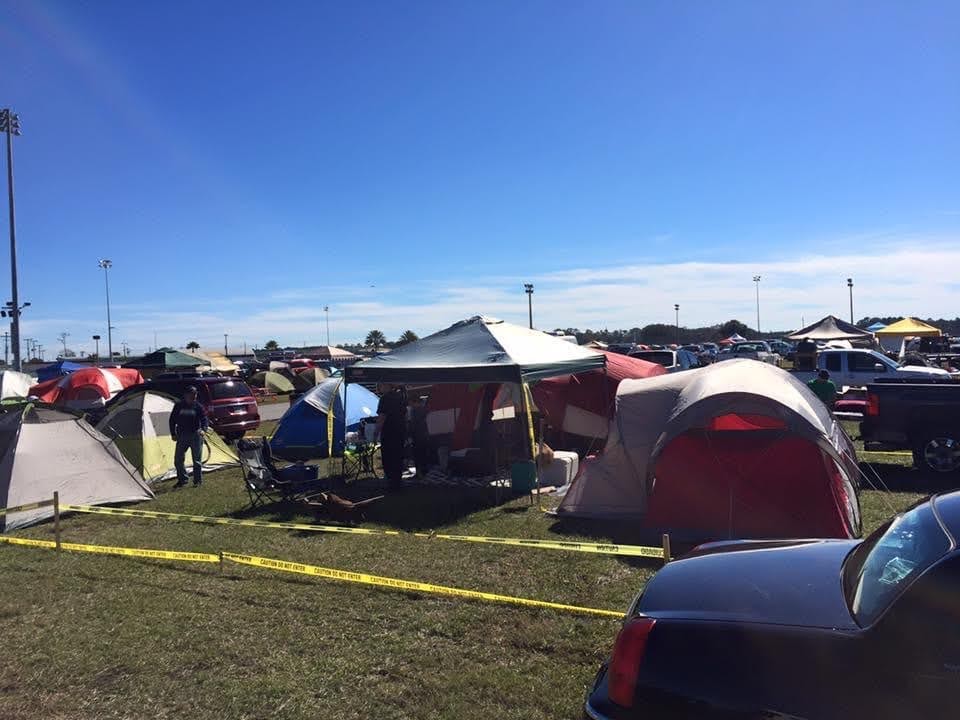 Main events: Rolex 24 hours (January), Daytona 500 (February), Coke Zero 400 (August)

Secondary events: Roar before the Rolex, Daytona 500 Qualifying

Non-racing events: Jeep Beach (National Jeep gathering), Welcome to Rockville (Concert Festival), Challenge Daytona (International Triathlon racing series)

All these events last multiple days, which means camping at the track is part of the fun and super convenient.
Tips for Getting a Site When Camping at Daytona International Speedway
Daytona generally offers a range of options that can be understood as follows:

Inside the track complex – Infield camping

Boardwalk and Park Place to the race

The closer to the track, the more expensive.

They sell them in zones/types, think of neighborhoods. The tent people will be together, the few with electric, the ones near a part of a track  (for example the Horseshoe turn), the ones near Lake Lloyd.

Outside of the track (still within the Daytona Complex) – Geico Park West

A long walk or a tram ride into the infield

Also has zones, for example the ones closer to the tram, or the area for tent camping only.

Daytona provides the right of first refusal to campers that stayed the year prior. This makes it challenging for the first timer, but it allows for groups to know they can book their annual trip. Tickets right now for the Rolex aren't available, because we are in the renewal period for existing campers

They used to limit popups to actual RV sites and not in the tent area, but over the lat 2 years we see more popups among the tenters. Definitely no RVs allowed on the tent and car areas.

Camping is open to the ticket holder from Monday before the race to Monday after the race. Most people really begin showing up on Wednesdays as they are typically 4 day events leading up to the main one.

Infield site are upwards of $900, Geico Park West RV sites range between $150-300 and car/tent site are $40. These prices are for the week. (these prices are Rolex, Jeep Beach camping in the infield cost me $150 for 4 days with electric hookups)

The average RV site is big enough for a fifth wheel and it's truck, or a big motorhome. Tent sites are big enough for a 6 person tent and 1 car to go into the spot.
Pros and Cons of Different Camping Sections
Infield Pros

In the Action

You could build a platform or carefully go up on the RV roof and have great views

More social as many people walking by to and from different corners of the track

Infield Cons

Costly and maybe challenging on selection.

Noise level.

Dealing with traffic to come in and out of the track, particularly the day of the race and the day everyone leaves.

Geico Park West Pros

Affordable and easier to get spots

Less Noise

Easier to go out to the city for food and groceries

Geico Park West Cons

Lots of walking

Diminished feel of being in the race

It doesn't have the views of being inside
Dry Camping Advice for Daytona International Speedway
Get a generator or rent it with the camper if they have that option. Don't worry about noisy ones because they are the majority anyways. Very few sites have electric hookups. Found out the hard way that the electric posts are 50a only (in Daytona)

Don't worry about bringing water because they have water stations that you can fill your fresh tank on the way in. Do bring a container to fill up your fresh tank easily, if you need to.

There are mobile RV repair people and mobile RV dump services. The latter run around $50 for their service.

The track can be windy, careful with the awning and camping mats.

Fire pits are allowed, they also allow to dig a hole and use the hole as a pit.

Bring gas cans to fill up your generator. And bring cables and locks for those and the generator.

If you tent camp, there are mobile shower trailers available for these areas. These are also heated, which is nice in the winter.
Food and Supplies at the Daytona International Speedway
Apart from packing like a regular RV trip, the track doesn't have a camp store so be prepared to run out for supplies

The Home Depot is across from the track's Geico Park West entrance and that is extremely handy. That Home Depot has an endcap dedicated to RV common needs. This was handy when I learned that the electric post only has 50a.

Publix and Walmart are a short drive away, Dick's Sporting Goods and Target are close by, too.

Must eat places: Bethune Grill and their honey sauce wings, it's a must for us when we go there. The Daytona Taproom this was featured on Man vs. Food, great dive.
How Johann Camps at Daytona International Speedway
We book 4 sites that are together (2 and 2) and make a giant square. Sometimes we sublease one of the sites to a friend of a friend.

Most of the time we have 3 campers and then one site for our vehicles. My friends often rent 1 camper and share it between 3 guys.

Campsites open a few days ahead, but we typically come in on that Wednesday and stay through Sunday.

As guys come in, my camper will have the basics for food, we'll go to Publix/Walmart and as a group buy supplies and split the tab.

We'll also go out to eat for at least one meal a day as the track food is what you would expect at a sporting event.

Once the race starts on a Saturday afternoon, they run for 24 hours, so that is when we walk around the track and look from different vantage points.

Sunday morning we'll do breakfast at the camper and then pack up to leave the campers ready and then watch the race some more.
HUGE THANKS TO BROTHER JOHANN SCHNELL for sharing such amazing information about camping at Daytona International Speedway!
Podcast: Play in new window | Download