While the RV selection and buying process can be a little challenging at times, when you get to take that new rig out for its first trip, you know all the stress was worth it. That's the experience our longtime correspondent, Kerri Cox of Travels with Birdy. Her family recently upgraded from a 2012 Jayco 184BH to an 2018 Jayco 244BHS. We invited Kerri on the show to tell us all about the experience of selecting and buying her new RV.
To see a tour of the 2018 Jayco 244BHS, check out this Facebook Live…
The Perfect Starter Rig: The 2012 Jayco 184BH
In the summer of 2014, Kerri and her husband, Russell, found a 2012 Jayco 184BH on Craigslist and knew it was just perfect starter rig for them (this floor plan has been replaced by the 174BH). Over the course of 5 years, Kerri's family hauled this RV over 15,000 miles as they road tripped around the country each summer. They sometimes spent as many as 25 nights in it on a single trip.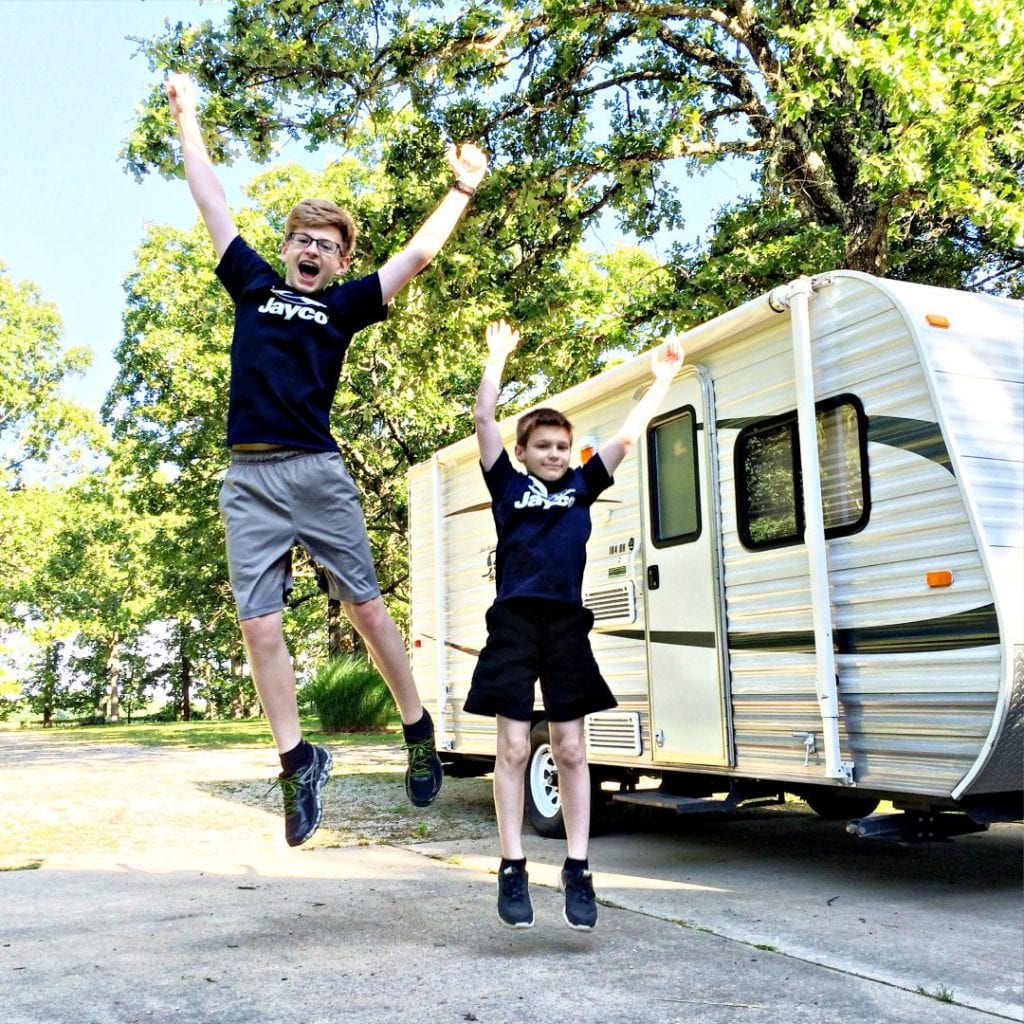 The 184BH, christened Birdy, had all of the necessities their family needed. The floor plan featured a dinette that folded down into a bed, a bench/couch, a basic kitchen and bath, and bunks for their two sons (you can read more about it here). Most importantly, since it was used, the price was very reasonable. The family loved how easy it was to tow and maintain this small, simple travel trailer.
In the five years that followed, Kerri's sons grew from children into young adults, and the space inside Birdy grew tighter and tighter. Kerri said it felt like they were playing Tetris when they got dressed each morning. Each family member had to shift and twist in the tiny space. Plus, there was no way to hang out together comfortably. It was time to upgrade!
The Upgrade: 2018 Jayco 244BHS
Last summer, Kerri's family made the pilgrimage to the Jayco headquarters in Middlebury, IN, for a factory tour. There, she discovered a brand-new floor plan amongst the display models: the 2018 Jayco 244BHS. The quirky floor plan was like nothing the family had seen before. In fact, it was like nothing Josh Winters of Haylett RV has ever seen before. He christened it the "Frankencamper" in his model walkthrough video.
The most unique feature of the 244BHS is the location of the master bed. The east-west setup puts the head of the bed on a side slide with the dinette and integrates it into the living space. This provides a wide-open gathering space for the family. Though there's no couch, there is space to add some comfy folding dorm chairs.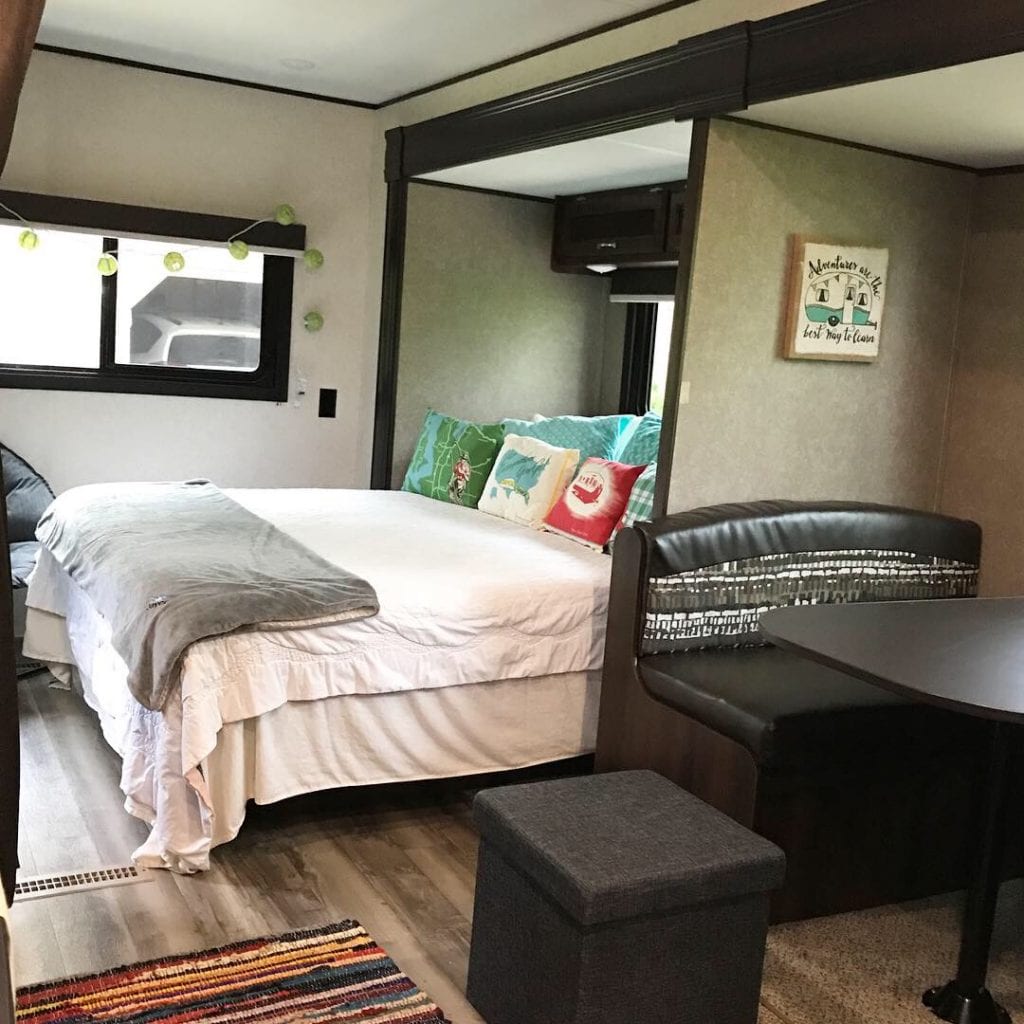 Another feature that especially attracted Kerri to the Jayco 244BHS is the bunk setup. Finding bunks that are comfortable for a 6-foot-tall, 17-year-old teenager boy can be a challenge. However, the bottom bunk on the 244BHS has ample headroom and is wider than traditional bunks. Plus, it flips up to create a cargo bay accessible from a side gear door. 
Kerri especially appreciated that the 244BHS had plenty of floor space and storage, while staying under that magical 30-foot mark. This makes easier to score campsites in state and national parks. Plus, the trailer's light weight ensured it would be easily towed by the family's new 2017 Toyota Tundra.
While the 2012 Jayco 184BH had everything the family THOUGHT they needed, upgrading to the 2018 Jayco 244BHS came with plentiful perks. Power awning? Larger fridge? Usable shower? Tons of storage? Great windows? Yes, yes, yes, yes, and yes! All of this plus a bright, modern decor!
The 244BHS gives Kerri and her family plenty of separate, semi-private space, while also providing a great gathering space. It definitely checked all of the boxes on their upgrade checklist.
The Purchasing Process
Kerri and Russell listed their used SUV and the 184BH on Facebook Marketplace and Craigslist, selling both within a week. Her family was thrilled to sell the trailer for a mere $700 less than they paid for it 5 years ago. This shows that a quality used RV can retain its value over time. Selling outright instead of trading in helped their family get top dollar, too.
While Kerri knew she wanted a 244BHS, finding one was another story. No local dealerships had the unit in stock, and the family didn't have time to wait for one to be ordered in. She took to the internet, searching on RV Trader and Google for dealerships with this model within 400 miles.
A dealership three hours from home had the 244BHS in stock for the best price. Before deciding to work with this dealership, Kerri checked the online reviews. She wanted to make sure other customers were happy with the quality of service for sales and repairs. Trailside RV passed with flying colors.
The sales process went very smoothly once Kerri and Russell decided which unit to purchase. While they didn't get a big discount on the price, Kerri wasn't too disappointed since she knew the dealership had the lowest starting price in a 400-mile radius. They did work to get some added features included in the sale price (and thus, included in the loan). Kerri was also prepared for the financial aspects of getting a loan. She researched rates from various banks and credit unions before accepting the loan terms of the dealership.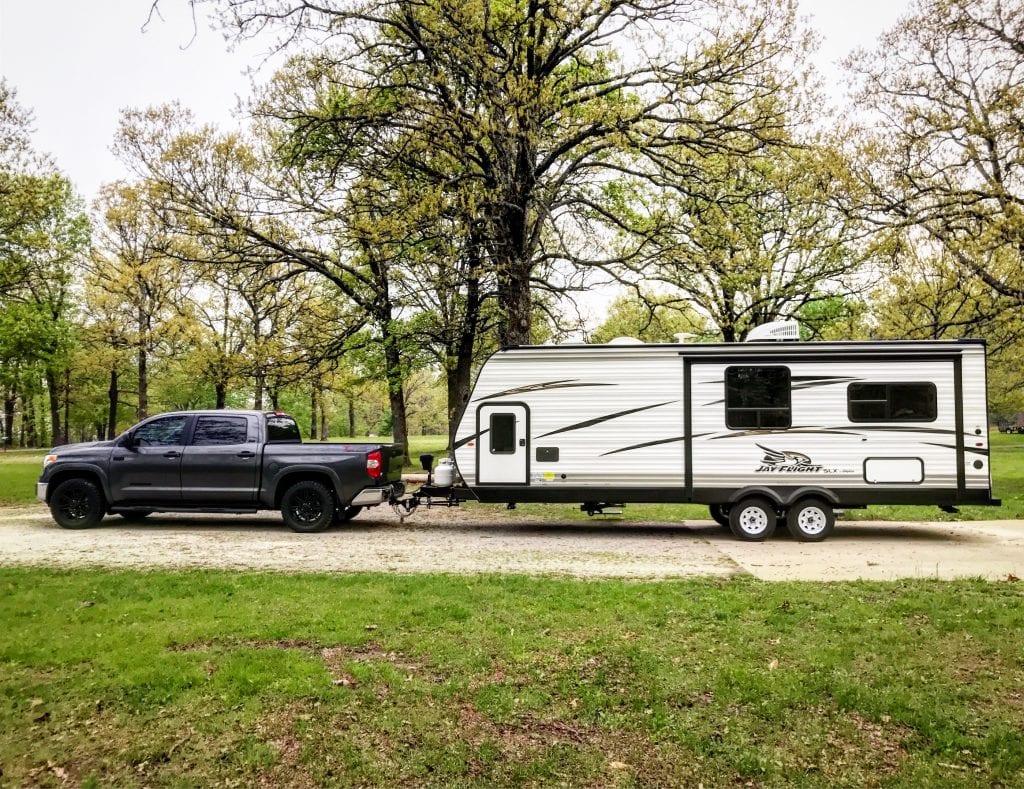 The Shakedown Trip
Russell and Kerri returned to Trailside RV about a week after their purchase to pick up their trailer, doing a thorough walk through and learning how to operate all of the features. The very next weekend, they took it out for a shakedown trip close to home. Luckily, the whole family LOVED camping in it! The Jayco 244BHS is so much roomier and fancier than their previous trailer, leaving no doubt they had made the right decision. After so much research and preparation, it truly was gratifying to have a rig that made everyone happy. 
What did they decide to name their new rig? Birdy 2.0, of course! Now, the family is ready to hit the road again, enjoying more travels with Birdy.
If you're looking to buy a new RV, you might want to check out our posts on the Go RVing blog about the RV purchase process and picking up your new RV at the dealership. You'll also want to check out our podcast on the features that REALLY matter when buying an RV.
And whether you are in a new rig or an old workhouse…
We'll see you at the campground!
Stephanie + Jeremy
Podcast: Play in new window | Download