This guest post about midsize bunkhouse models was written by our friend Kerri Cox from Travels with Birdy. To listen to Kerri and Jeremy discuss this topic click on the media player above, or subscribe to The RV Atlas wherever you get your podcasts! 
We started this bunkhouse roundup series to share inspiration for family-friendly trailers. We started with small trailers back in May. Kerri has roughly categorized trailers under 23 feet as small, those 24-29 feet as medium, and those over 30 as large. We promise this time we won't take a 9-month hiatus before bringing you the next episode! 
The story of going from a small trailer to a medium bunkhouse is one my family knows well. We started with a 19-footer and jumped to a 29-footer after 5 years of traveling. Like many families, we simply outgrew that small trailer. Plus, we knew we loved the lifestyle, and we were ready to make more of an investment.
After buying Birdy 2.0, we've never looked back! (You take learn all about our 2018 Jayco 244BHS and why we bought it here.) It really is like Goldilocks and the Three Bears…sometimes, the midsize is just right.
What Do You Need to Know about Buying a Midsize Bunkhouse?
Length: You might say a midsize bunkhouse is 23 through 29 feet long (there's no clear industry definition).
Weight: You likely need a solid pickup to haul one since they start around 5,000 pounds and can weigh over 7,000 pounds fully loaded. Most have slides, which add to the weight.
Privacy: You may find more privacy in a medium trailer than small trailers. It's possible to get a separate bedroom! But, you won't get a master AND a bunkroom in this size of trailer.
Furnishings: You probably won't get a couch AND a dinette, but it's not impossible to find both, especially if you consider a murphy bed.
Towing: This is still a great size for towing, but may require a little more attention, especially in parking lots.
Campsites: While you may have a harder time getting sites the larger you go, the midsize trailer still fits well in state and national parks and in tight private parks.
Whether you are shopping or just dreaming, let's take a look at some great midsize bunkhouses!
Venture RV Sonic X SN211 VDBX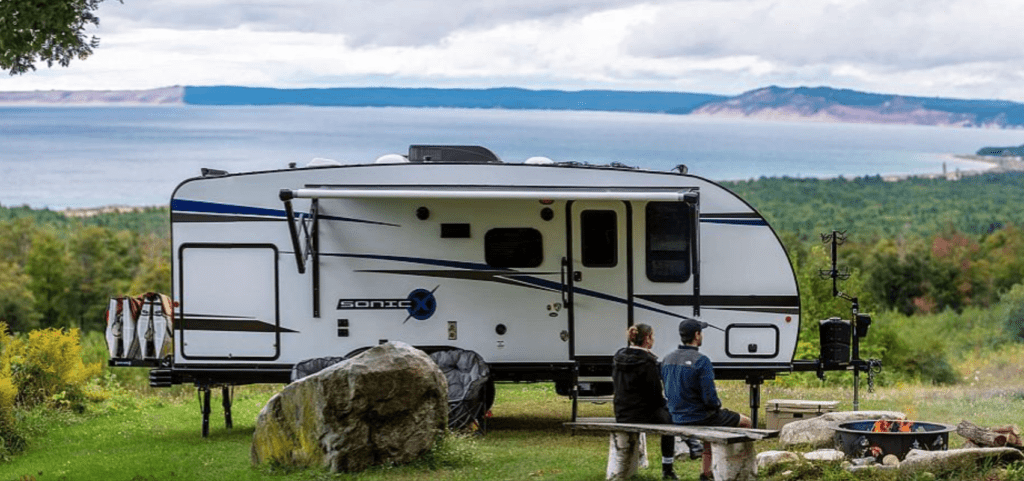 The Venture RV Sonic X SN211 VDBX won the 2020 RVBusiness RV of the Year for its mix of creative design and upgraded features. This trailer is meant to appeal to the modern outdoorsy family.
Main Specs:
Length: 27'6"

Weight: 5,400 pounds (dry) to 7,100 pounds (fully loaded)

East /west double bunks on rear wall

Front murphy bed converts to a couch during the day

Slide with traditional booth dinette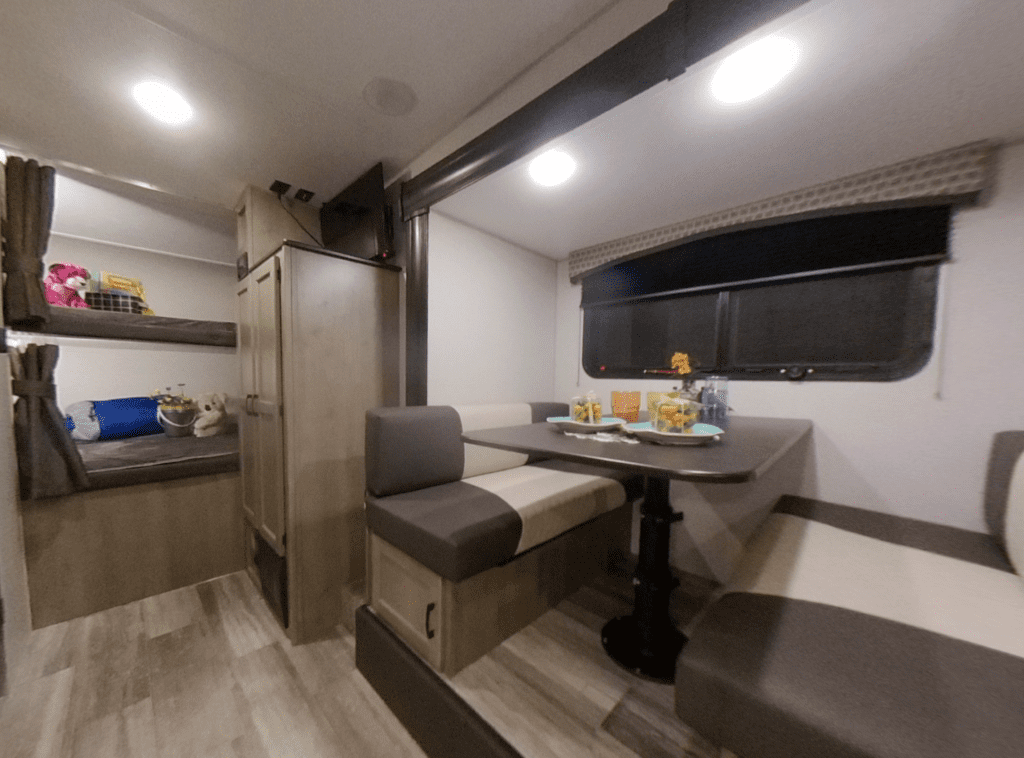 What really makes the Sonic X SN211 a standout, though, is the upgraded exterior features, meant to appeal to those who want to do some off-grid camping. You'll find:
15-inch off-road tires and an enhance brush guard
Built-in bumper rack for outdoor toys (like bikes and kayaks)
GO-Power Solar Package and Boondocker water-filtration system: It doesn't just come prepped for these, it comes with them! The water system can pull water from 75 feet way–impressive!
Enhanced weather protection, including heated underbelly and heat pads for tanks
Keystone Bullet 243BHSWE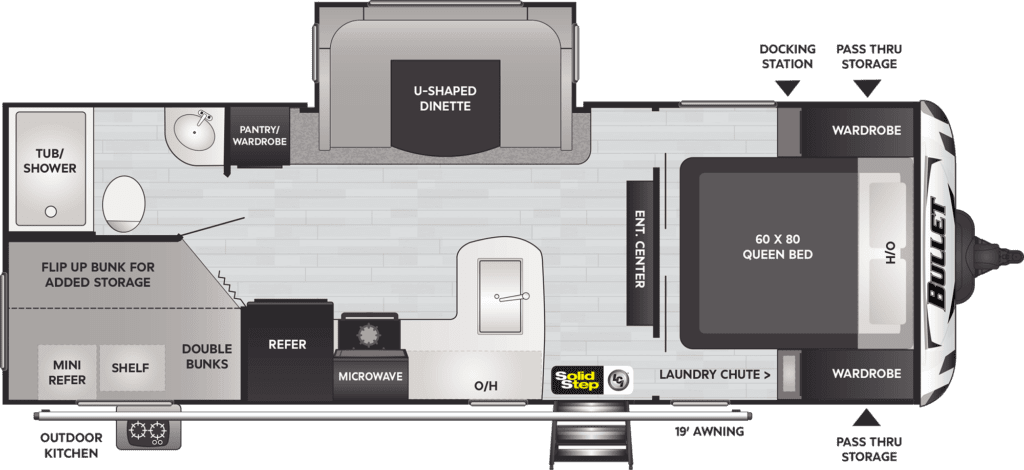 The Keystone Bullet 243BHSWE is a solid choice! It offers a traditional floor plan found across many manufacturers, but I really like the interior design of the Keystone. It looks modern, bright, and airy. The L-shaped kitchen is a stand-out compared to similar models. The family chef will LOVE this counter space!
Main Specs:
Length: 28'10"

Weight: 5,200 pounds (dry) to 6,000 pounds (fully loaded)

Private master bedroom (an HUGE plus for parents seeking some separation)

Corner double bunks

Slide with u-shaped dinette

Outdoor kitchen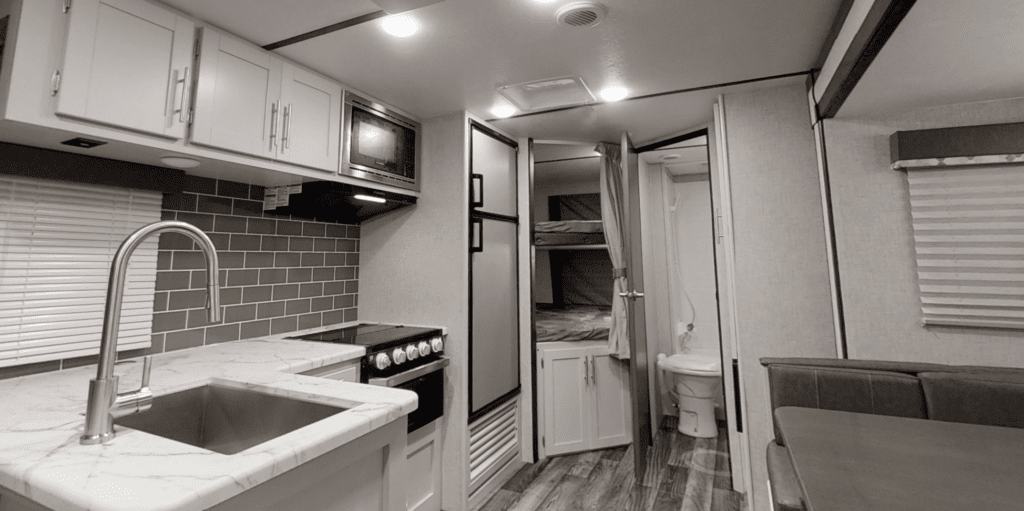 The "breezy cottage" interior package has marble-look countertops, white cabinetry, and a subway tile backsplash. Keystone also has nice upgrades that come standard, like the SolidStep front steps, a built-in laundry chute, and Wineguard Gateway 4G LTE and wifi antenna.
Forest River Ibex 20BHS
The Ibex lineup is a new offering from Forest River. It definitely has the same vibe as the Venture Sonic X and the Winnebago Hike, as it is designed to appeal to modern families that want to get off-the-beaten track. The Forest River Ibex 20BHS is the midsize bunkhouse model in this line.
Main Specs:
Length: 24' 

Weight: 4,600 pounds (dry) up to 7,500 pounds (fully loaded)

Queen bed, open to floor space

Single bunks, open to main room

Slide with traditional booth dinette
It's the little things that make a difference with this midsize bunkhouse. First, Forest River scrapped the built-in speakers (which often get complaints) and includes a JBL Flip portable bluetooth speaker. Another interesting feature is the integrated central vac system. I've never seen that before!
Like the Sonic X, the Forest River Ibex 20BHS also has some off-grid features, like 15-inch off-road tires and heated tanks. Plus, the solar system comes standard. Again, that's an impressive find!
Grand Design 23BHE
I had to pick a Grand Design model because this manufacturer is just so well loved by owners. The reputation for quality is widely known! I picked this model because it shows you what you can get in a midsize bunkhouse without a big slide. The kitchen slides out a little to open up the floor.
Main Specs:
Length: 27'11" 

Weight: 5,300 pounds (dry) up to 7,000 pounds (fully loaded)

Double-over-double corner bunks

Private master bedroom (again, that's hard to find in a midsize bunkhouse)

Outdoor kitchen
A few things especially stand out with the Grand Design 23BHE. First, I really like that the dinette is on the campsite-side of the trailer, right by the front door. Most trailers have the dinette window looking out on your neighbor's campsite. If the neighbors are outside, we always feel weird having our window open. So, a window overlooking your own campsite is a truly underrated feature.
The interior of the Grand Design 23BHE is also a standout. While Grand Design hasn't gone with the on-trend modern farmhouse style, you will find a sleek interior that is more reminiscent of a European caravan or an Airstream or yacht. Plus, Grand Design includes thoughtful additions, like the flip-up counter extension.
Final Thoughts
Which midsize bunkhouse would Jeremy and I pick from this group? We both picked the Sonic Venture X SN211 VDBX! It was neat to see this concept trailer come to market packed with the off-grid features. It really was a game changer for the industry, inspiring many others.
For now, I'll plan to keep Birdy 2.0!
Be sure to check out several more of my model previews over on Trailer Life, where I had a regular feature all about family-friendly bunkhouses.
Thanks to Kerri for walking us through some great midsize bunkhouse choices!  You can find more of her writing on her blog Travels with Birdy, on Togo RV, and in the new RV Magazine (which replaces Trailer Life and Motorhome magazines). Check out the February issue for a picture of her husband in a bathtub (listen to this episode of the podcast to hear this full tale!).
Podcast: Play in new window | Download