Our brand new book, Where Should We Camp Next? A 50 State Guide to Amazing Campgrounds and other Unique Outdoor Accomdations has over 300 total campgrounds recommendations with 5-11 reviews in each state. Our book also offers up a unique badge system to help readers quickly identify campgrounds that have certain very specific qualities. The badge system gives the following stamps to a limited number of excellent "waterfront," "glamping," "romantic weekend," "rustic," and "family," campgrounds. We wanted to give our readers a sample of some of the campground reviews that appear in the book. So on today's episode of The RV Atlas podcast, and here on our blog, we are giving you a small sample of just a few of the campgrounds that earned the family friendly badge.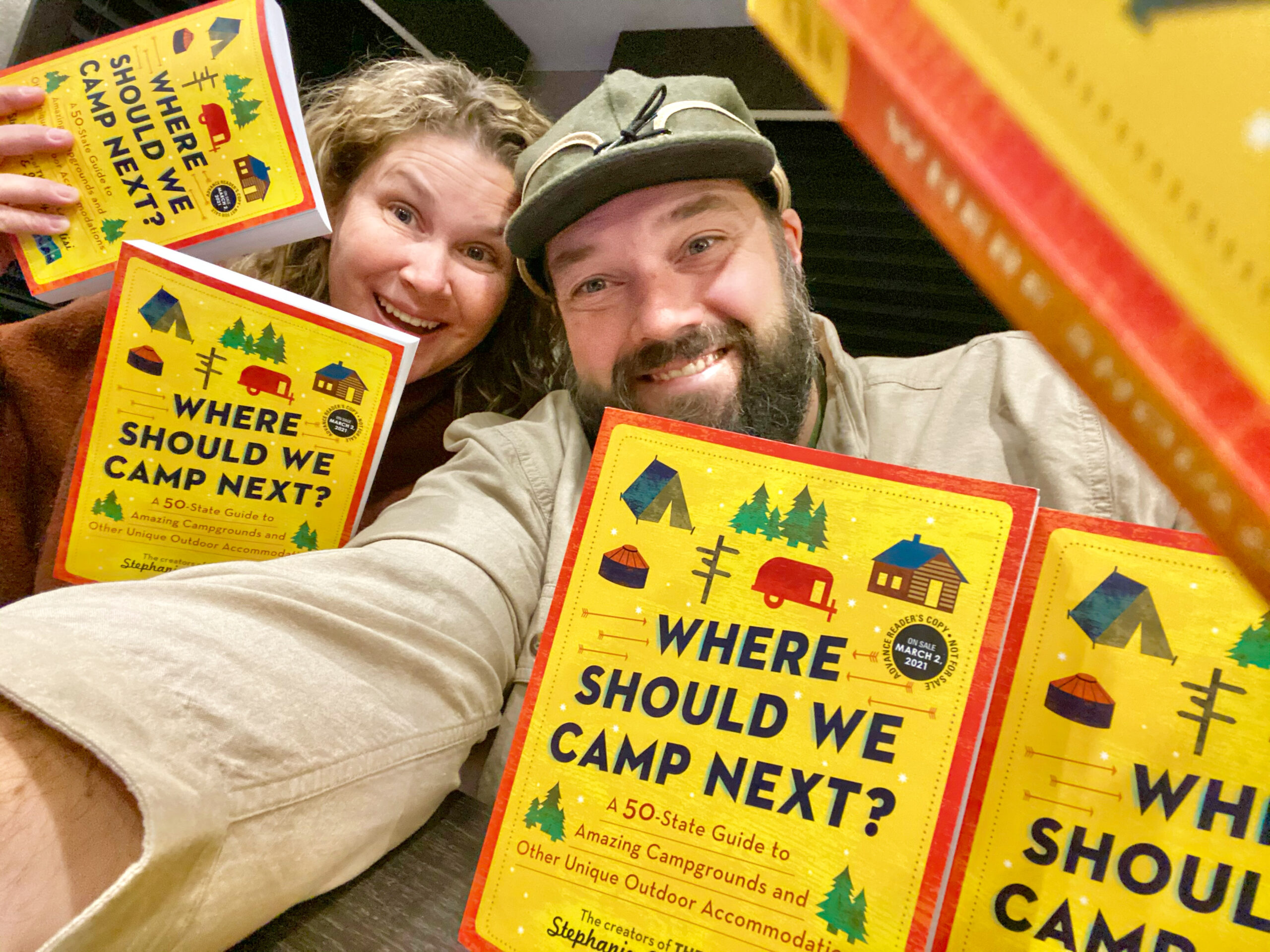 Now you might be thinking that most campgrounds are family friendly, so why give a badge to a small handful? We decided to award this badge to certain campgrounds because they were designed with families specifically in mind. The sample below is excerpted directly from Where Should We Camp Next? and it offers you just a small taste of what the book has to offer!
Without further ado, here are ten of the best family-friendly campgrounds in the country! To find more great picks like these make sure to pick up a copy of our new book! We are sure we will love it and it will help you plan amazing vacations for years to come!
Normandy Farms Family Camping Resort, Foxboro Massachusetts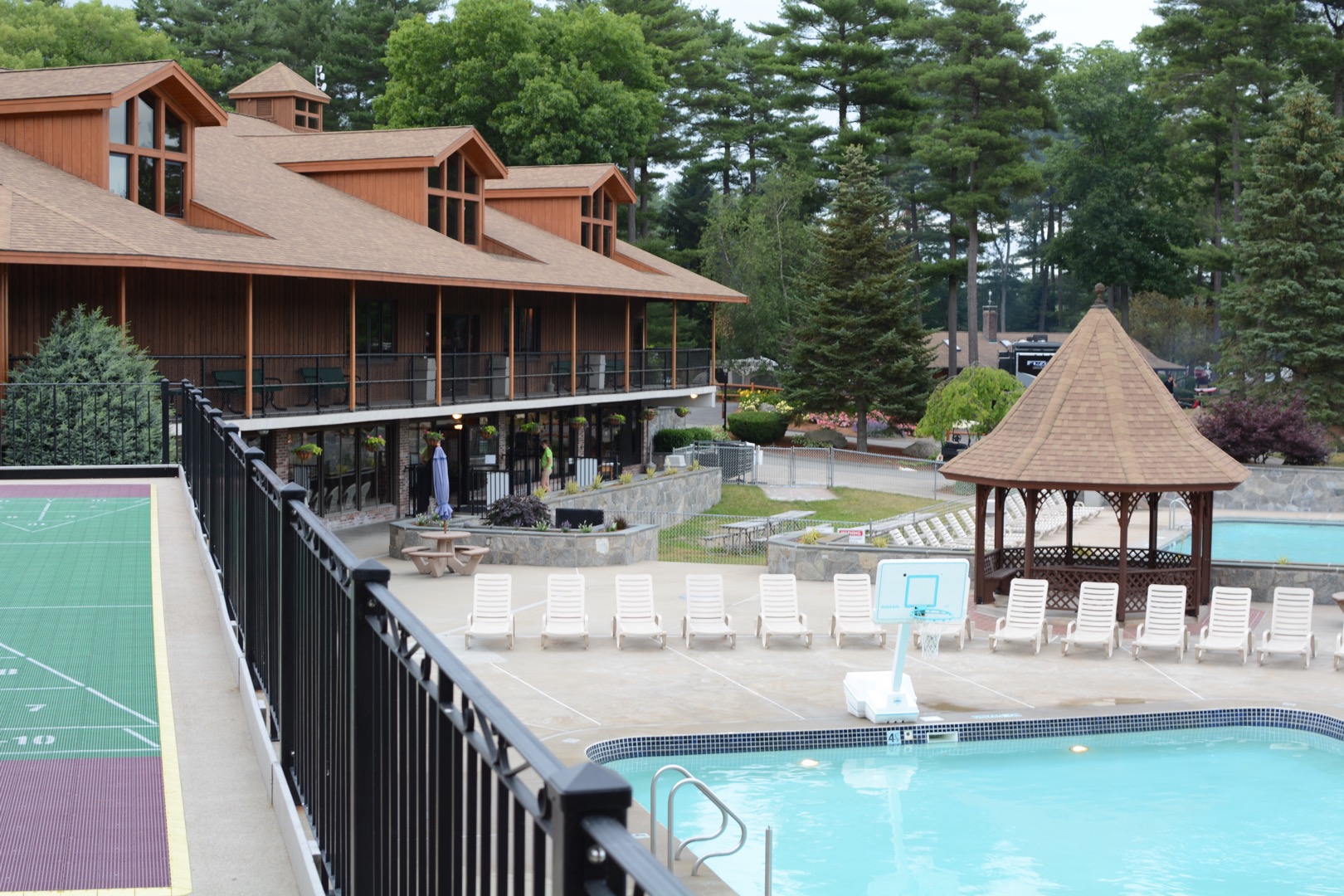 Normandyfarms.com
Cabins, Yurts, Pop-Ups, Safari Tents
Normandy Farms was a clear precursor to the current crop of fashionable luxury RV resorts on the East Coast–and it still might be the best.  This place has everything and it may actually succeed at being all things to all people. They offer seemingly nonstop organized activities for kids and teenagers–like Ga Ga Ball and softball tournaments. And they also offer one-of-a-kind facilities like a challenging Bike Track and a Creative Arts Center for movie nights.  Adults will love working out in the fitness center, getting a massage in the wellness center, and relaxing in the jacuzzi or reading a book in the adult loft.
Four legged camping companions will also love the gigantic dog park, which is the largest dedicated outdoor pet recreation area we have seen in a decade of camping. Everyone will love the four huge pools and the well-trained staff who are present throughout the park. Some RV sites are out in the open, but many are shaded and private. Pop Up camper rentals can be dropped onto your site and the new safari tents are stylish and comfortable.
Lincoln Woodstock KOA Holiday: Woodstock, New Hampshire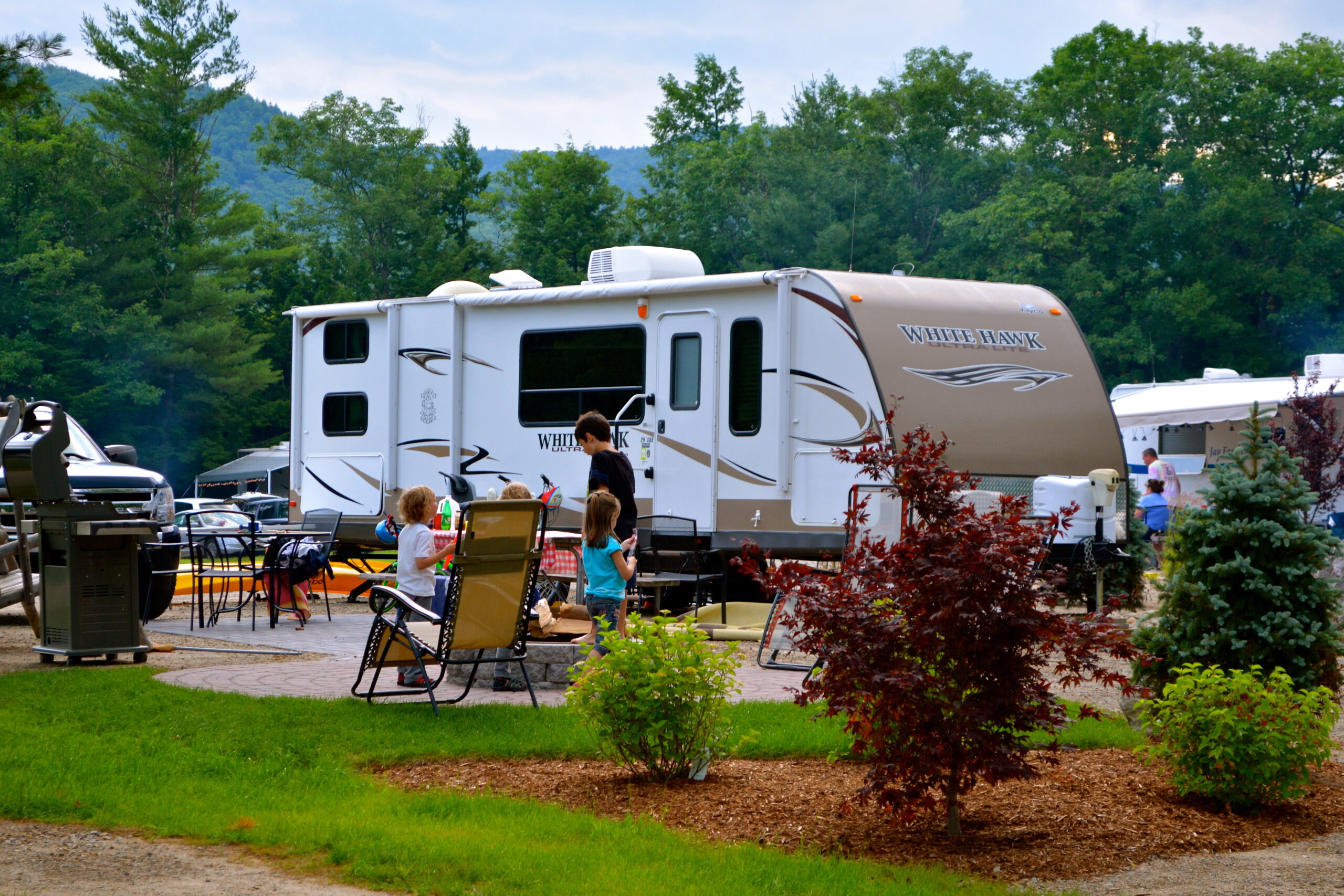 https://koa.com/campgrounds/woodstock/
Camping Cabins, Deluxe Cabins, Safari Tents, RV and Tent Sites
This is one of the best KOA campgrounds in America. The White Mountains are filled with every kind of outdoor adventure imaginable and this delightful campground is a perfect basecamp for your adventures. Our boys loved the huge open field and the fun planned activities, like hayrides, that run most nights during the summer. Owners Rob and Darlene take pride in their park and they can also guide you to the best local hikes and launch points for your kayak or canoe.
The Lincoln/Woodstock is also incredibly pet-friendly. Every KOA has a dog park, but this one is huge and really fun for your favorite furry friend. They also offer kenneling services for those who want to take day trips and leave their pups at the campground.  We visited during the World Cup a few years back and enjoyed watching a game or two in the comfortable common area–and were always made to feel at home. To say that we can't wait to get back would be a massive understatement.  
Holly Shores Camping Resort: Cape May, New Jersey
Tiny Houses, Cabins, Safari Glamping Tents, RV Sites
Holly Shores has been family owned and operated since 1968 and it shows. This resort style campground near downtown Cape May is quirky and filled with one-of-kind South Jersey charm. We love to visit in the fall when the beaches are still beautiful but touristy summer crowds have declined. Holly Shores also stretches out the summer vibes by keeping their pool open until the end of September.
This campground has been making RV owners smile for over 50 years, and now they are welcoming Glampers in their tiny houses and Safari Glamping Tents. After a long day at the beach come back to the campground and cool off in the pool or soak in one of the hot tubs and grab a cold drink at the snack bar. Still have some energy left? Play a game of shuffleboard or grab some ping pong paddles before you head back to your site for a campfire. 
Lake in Wood Camping Resort: Narvon, PA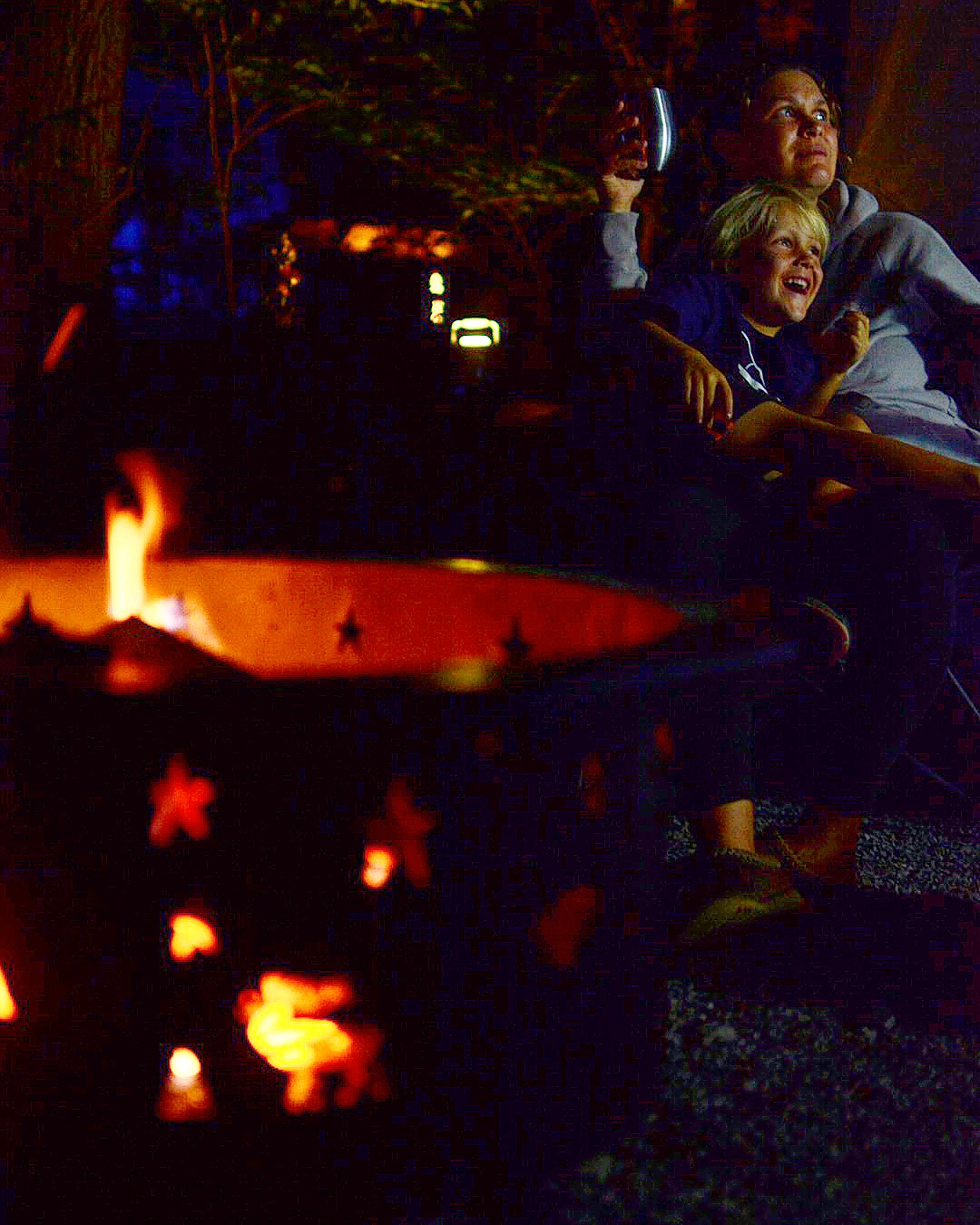 RV and Tent Sites, Tree House, Double Decker Bus, Yurt, Cabins, Caboose
Lake in Wood is one of the best campgrounds in America. We had a seasonal site here a few years back and it was our home away from home. The campground is deeply wooded and filled with shade and rolling hills. Sites are spacious for a private campground and the campground has many distinct sections with different personalities. We loved the clean, heated indoor and outdoor pool area and the huge rolling lawn that winds its way down to the lake. It's a great place for a game of catch.
The lake is small and unremarkable, but the rest of the campground is so charming that you won't care. Lake in Wood specializes in weird and wacky outdoor accommodations–which makes it our kind of place. The only thing our boys ever complained about here was the "no kids in the hot tub rule," which we loved! Don't forget to get a scoop or two of hand dipped ice cream. It's reasonably priced and the kids line up for it on summer nights.
Disney's Fort Wilderness Resort and Campground: 
Orlando, Florida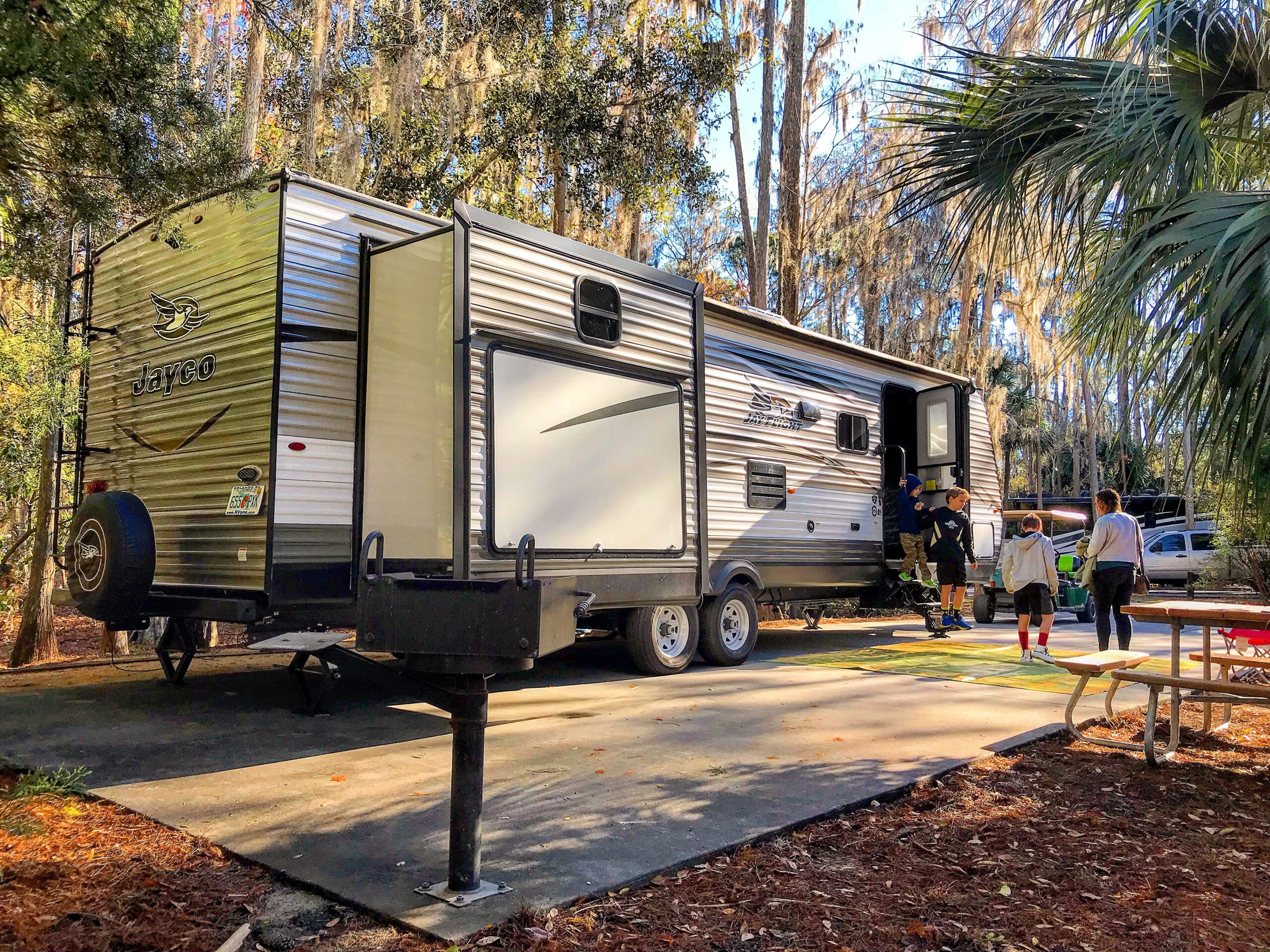 disneyworld.disney.go.com/resorts/campsites-at-fort-wilderness-resort
RV and Tent Sites, Cabin Rentals
You can camp at Walt Disney World? We get this question quite often when sharing our epic Fort Wilderness adventures. The answer is a resounding yes, there is actually a camping resort in Disney World. And Fort Wilderness is as amazing as you would expect a Disney campground to be. We think it is one of the best campgrounds in the country. The Fort (as it is affectionately known by regulars) is located on the Walt Disney World property in Orlando, Florida. The campground borders Lake Buena Vista, which means you can take boat transportation to the Magic Kingdom. You can also easily access the other resorts near the Magic Kingdom. But please know that The Fort  is officially a Disney resort property. So you get all the benefits of staying onsite at Disney World. Including early dining reservations, extra magic hours, and complimentary MagicBands.  There are partial, full, preferred, or premium campsites.
There are also designated pet-friendly loops. The campground's organized around three main locations. The Outpost Depot is the entrance of the resort and also the transportation hub for accessing other Walt Disney World locations. The Meadows Depot is in the middle of the property and hosts a pool and recreation area as well as a trading post. The Settlement Depot is at the other end of the resort and has dining options, entertainment, a trading post, and the boat docks. Fort Wilderness has an incredibly natural feel considering this is Disney World. The wildlife is legendary. Wild turkeys wander through your site, and folks regularly report seeing deep, armadillos, peacocks, and rabbits. There are towering cypress and pine trees on pristinely clean and manicured grounds. This is our happy place, It could be yours too.
Stone Mountain Park Campground: 
Stone Mountain, Georgia 
stonemountainpark.com/Campground
RV and Tent Sites, Safari Tents, Yurts, and RV Rentals
Stone Mountain Park Campground is about 30 minutes from downtown Atlanta (depending on traffic, of course) but it feels like it is many worlds away.  This is no regular state park–it actually feels more like a hybrid between a stunningly beautiful state park and a luxury RV resort. They have sites that can accommodate big rigs and 250 of them offer full or partial hook ups. Additionally, there are almost two hundred other sites that are reserved for tent campers and those with pop ups. Is this Georgia's best campground for tent campers and RV owners? We would answer that question with a resounding yes.
In fact, it is probably one of the best campgrounds in the entire country. Glampers also delight in Stone Mountain's lakefront Yurt Rentals, Safari Tents, and RV Rentals. The amenities at the campground are off-the-hook for a state park. There is a nice pool, horseshoe and sand volleyball courts, and a recently renovated playground–and this is all just in the campground. The State Park proper has dozens of other events and activities that will keep families occupied for days at a time.
Jellystone Luray: 
Luray, VA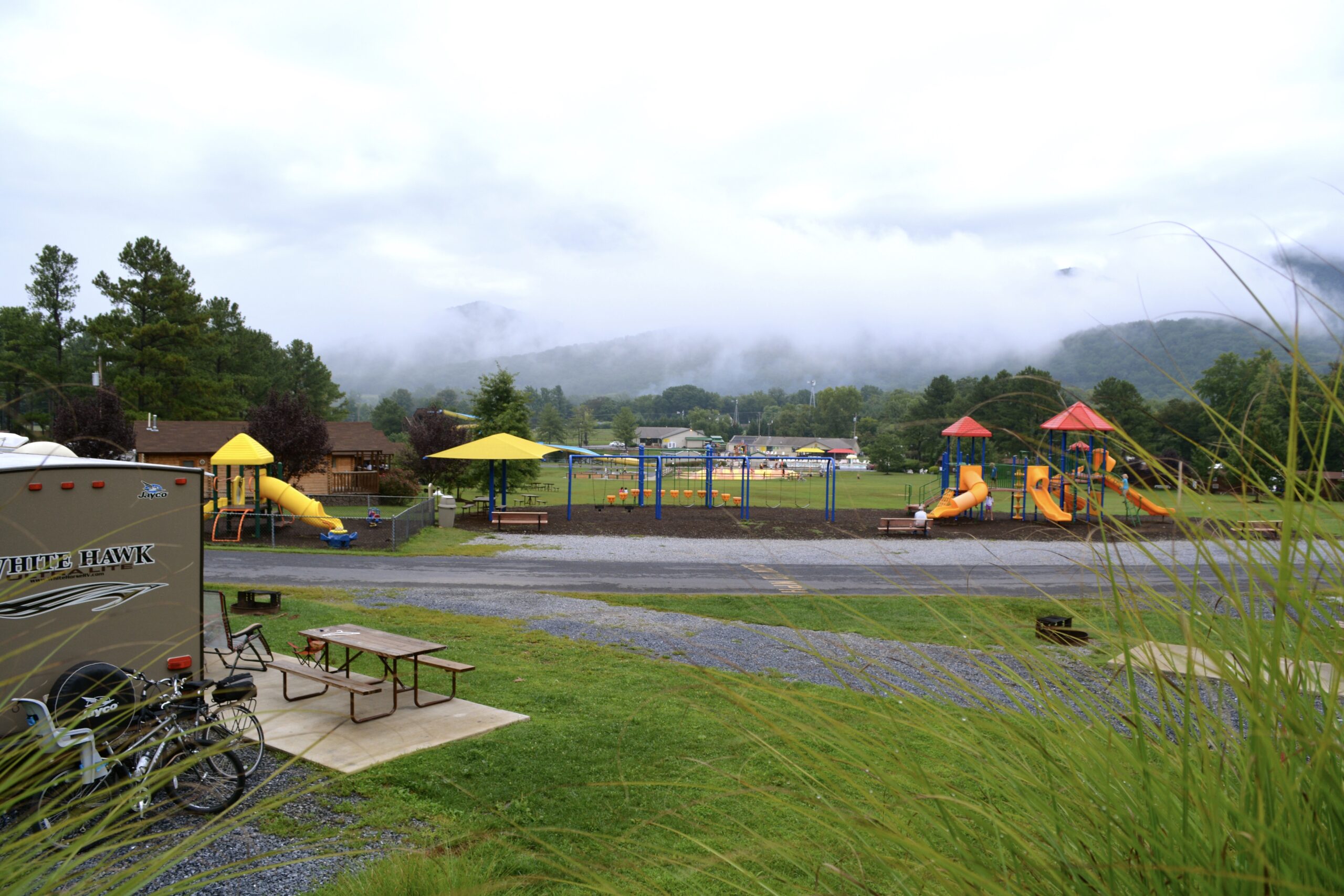 Deluxe and Camping Cabins, Tent and RV Sites
We think that Jellystone Luray is one of the best family campgrounds in the country. The pools and water slides are a blast and most of the campground has stunning views of the Blue Ridge Mountains.  It is rare to find a full fledged resort campground located just minutes from the gates of a National Park. Jellystone Luray is that rare campground. You can spend mornings hiking in Shenandoah National Park and afternoons relaxing back at the pool or bounce pillow with your kids. 
Hey Hey Rides and Photo Ops with Yogi and Friends will charm younger campers, while laser tag and full sized sports facilities will keep teenagers busy for hours at a time.  Spend your evenings relaxing under the stars and enjoying a crackling campfire or watching a movie together in the campgrounds delightful outdoor theater.  Food options at the campground are better than average and mini golf is free. Hey Boo Boo!!!!
San Francisco North / Petaluma KOA: 
Petaluma, California
koa.com/campgrounds/san-francisco
RV and Tent Sites, Camping Cabins and Deluxe Cabins
Located just 34 miles north of the Golden Gate Bridge, this KOA serves as a reasonable base camp for day tripping into the Windy City. It's located right in the heart of Sonoma County's wine country, with Redwood Trees and beaches nearby, and it makes a great vacation destination even if you don't want to visit the city. The campground is large and packed with activities and amenities and kids love the jumping pillow, farm-themed playground, pool, and rock climbing wall.
Your kids will flip when they find the slurpee machine in the camp store. Younger kids will also love the small petting zoo. It can get super busy on the weekends, especially holiday weekends, so those seeking peace and quiet might choose to book a site far away from the action, or visit during the week. Full hook up and RV sites and cabins are not cheap here–but nothing is in this part of California. If you are an Alfred Hitchcock fan make sure you visit Bodega Bay where The Birds was filmed. Just take caution if they start to gather.
West Glacier KOA Resort: 
West Glacier, Montana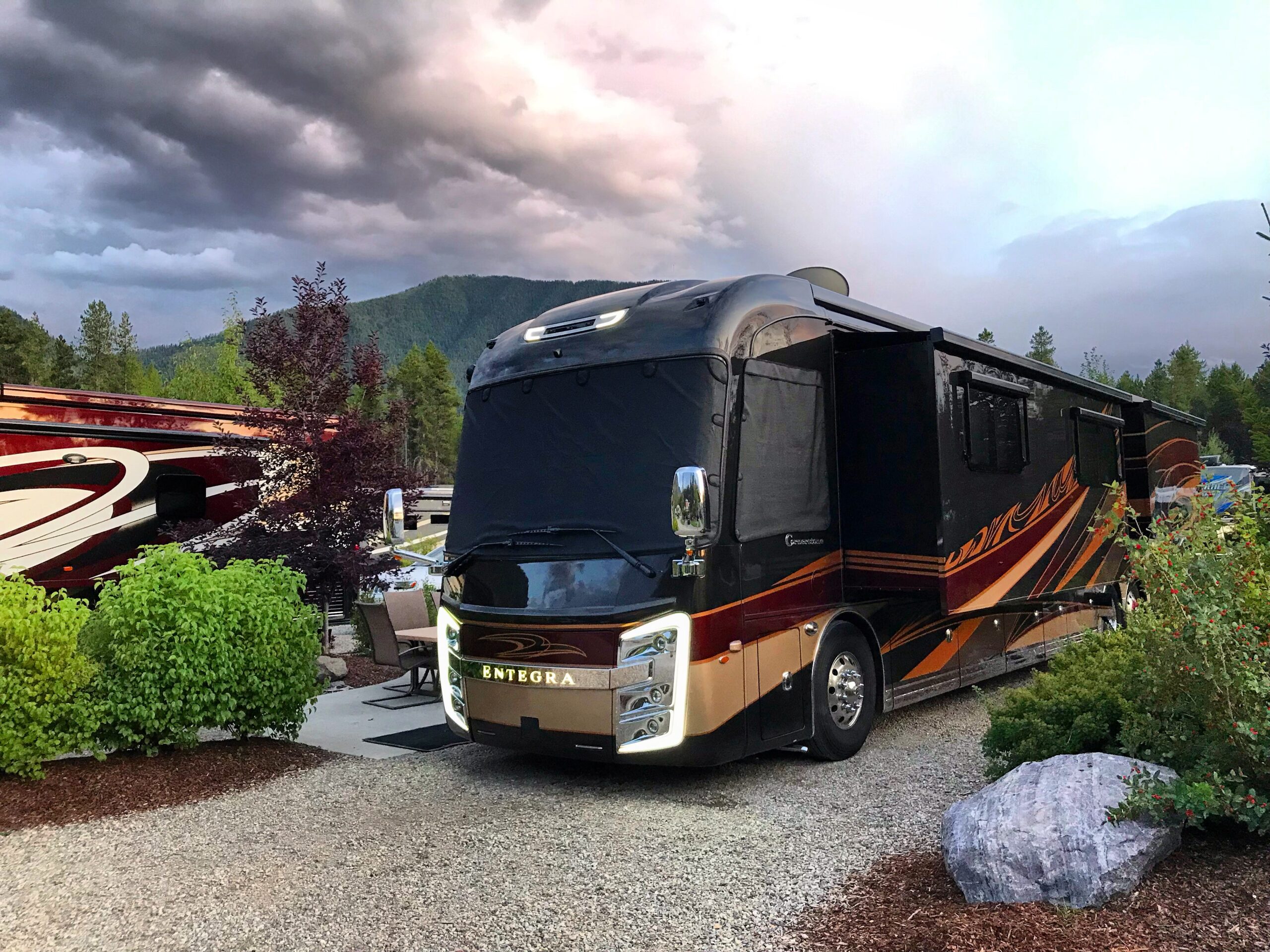 koa.com/campgrounds/west-glacier
Camping Cabins, Deluxe Cabins, Multi-family Lodge Rental, RV and Tent Sites
This West Glacier KOA is one of the most beautiful campgrounds in the country. Period. The smell of pine trees and and the mountain views are ravishing–and so is the hand dipped ice cream at Scoops. Breakfast at the Lazy Bear cafe is also excellent. We ate there just about every morning before heading out for another epic hike in Glacier National Park. We stayed in a charming deluxe cabin (with loft for the boys) with an outdoor firepit and seating area that seemed like it had been ripped from the pages of a landscape design magazine.
Our boys loved the large basketball and Ga Ga Ball courts and they spent hours there each night making fast friends with the rest of the campground kids. We appreciated the "adults only" pool and hot tub area and took turns relaxing and chatting with other adults each night. The RV sites at this campground, particularly those at the bottom of the mountain, are among the most beautifully manicured sites we have ever seen. The West Glacier KOA Resort charges top dollar and they deserve it. Proximity to the West side of the park is also excellent.
Yogi Bear's Jellystone Park Mill Run: Mill Run, Pennsylvania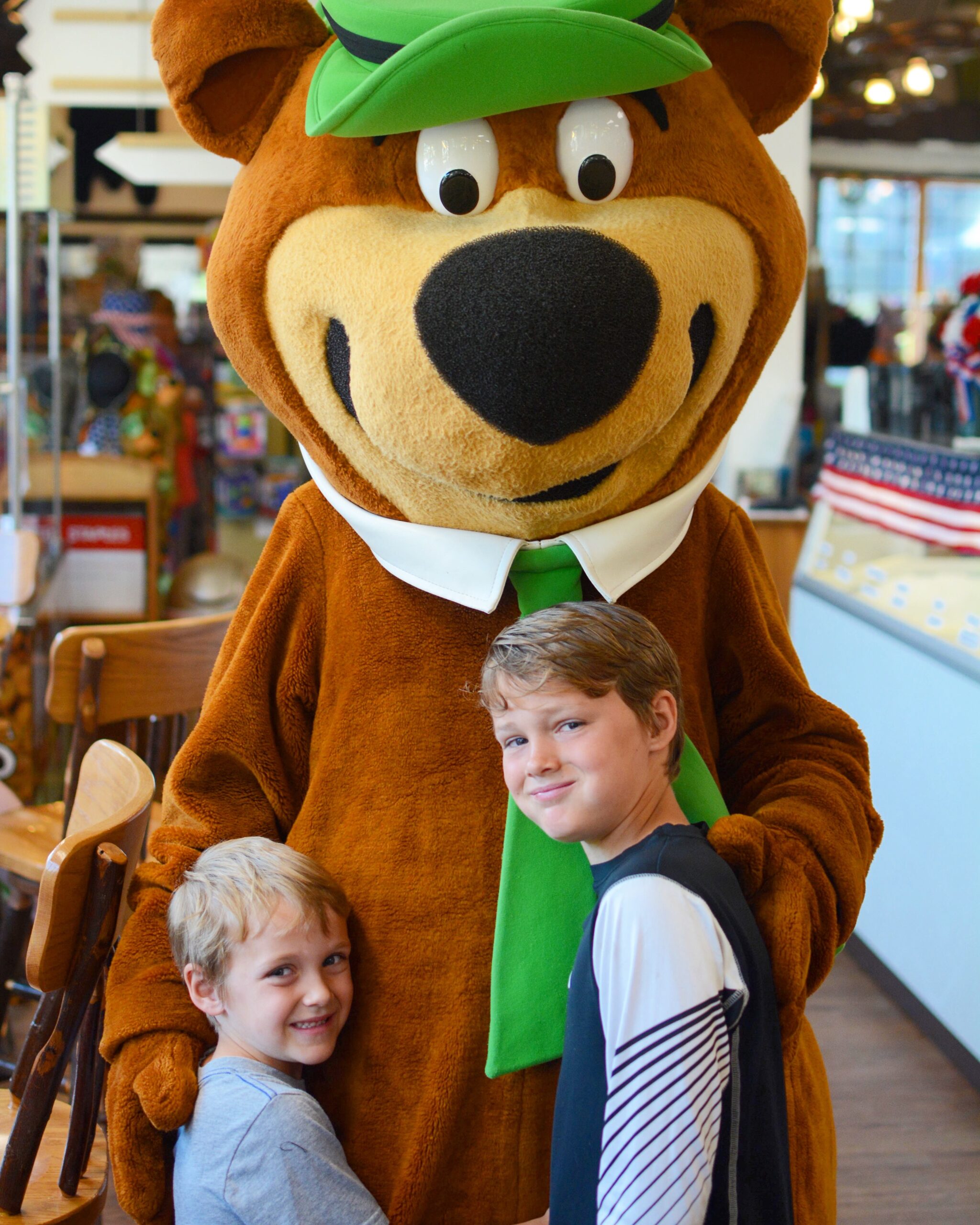 Bungalows, cabins, family lodges, tree house, RV Rentals, RV and Tent sites.
This campground is an absolute treasure. It is nestled into a cozy corner of the beautiful and underrated Laurel Highlands region of Pennsylvania. There is so much to do here that you may forget to leave, but that would be a mistake because Frank Lloyd Wright's iconic Fallingwater is less than four miles away.  We suggest you go and take a tour of this iconic home even if that means ripping your kids away from the waterslides, playgrounds, and laser tag at the campground. Yogi and his friends also appear regularly and you are pretty much guaranteed to see them at Cindy Bear's Kountry Kitchen if you get there for breakfast on a weekend morning.
The food is also legitimately good. Not campground good–but diner or breakfast joint good. We also love the wide variety of accommodations at this Yogi. We stayed in the family lodge that sleeps 16–a perfect place for a family reunion or multi-family trip. RV sites are also nice and there are cabins galore (and a super cute tree house) for those who want a memorable glamping experience.
Podcast: Play in new window | Download