Our camping buddy and RV Atlas correspondent, Phil Travaglia, is back on the podcast today to talk about taking an RV trip to Cape Cod! Last time he gave us an enthusiastic review of the New York City North/Newburgh KOA. This time around he is taking us back to the Cape for an epic RV trip filled with summer fun and outdoor adventure! He starts out by talking about his favorite campground on the Cape, and then shares all of his favorite activities and places to eat.
To listen to Jeremy and Phil talk about Cape Cod and all of the fun things to do in this beautiful region of Massachusetts, click on the media player above, or subscribe to The RV Atlas wherever you get your podcasts! Or to learn a bit more about taking an RV trip to Cape Cod just keep reading! Phil shares his thoughts in the guest blog located just below…
Atlantic Oaks Campground: Phil's Pick for an RV Trip to Cape Cod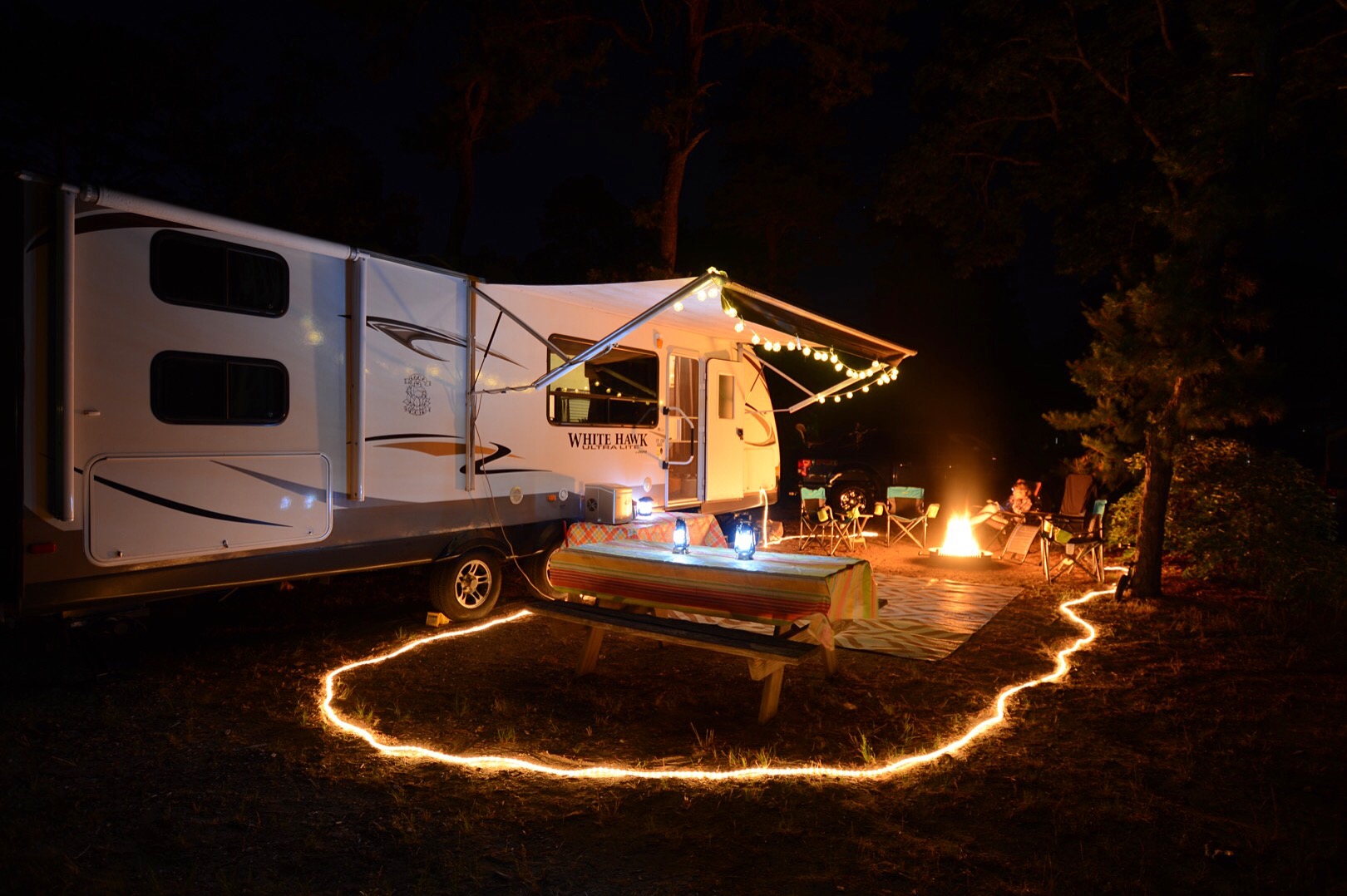 Guest post by Phil Travaglia
Atlantic Oaks Campground In Eastham, Mass. on Cape Cod is one of our family favorites.  This campground is a true gem on the Cape.  The thing that sets this campground apart from any other we've been to is its proximity to the Cape Cod Rail Trail.  The Rail Trail is an old railway that was converted to a beautifully paved bike path that spans the length of the Cape.  This opens up an endless list of possibilities for things to do without ever getting into the car.
The Campground is a very nice, clean campground.  They have excellent facilities.  There are very clean showers and a nice laundry facility.  There is a nice rec. room and the camp store is very well stocked and clean. The campground itself is not the attraction here. The main attraction is the Cape itself.  For this reason, the campground does not have a pool or much else.  There is a small playground behind the camp store, but that is it. The Cape is an incredible place with tons of things to do and the campground is more of a place to come back to at the end of the day.  Instead of being the focus, or the destination.
Of note, an interesting fact about the Cape.  In 1946 there was a major brush fire that decimated over 15,000 acres of the Cape.  The winds on the Cape can be strong and they made the fire spread very rapidly.  It is for this reason that the campground very strictly enforces their fire rules.  The campfires must be out at a certain time and they will let you know if you are tardy. There are very strict town ordinances and they must comply or they can lose the permit to have fires.
Great Food for an RV Trip to Cape Cod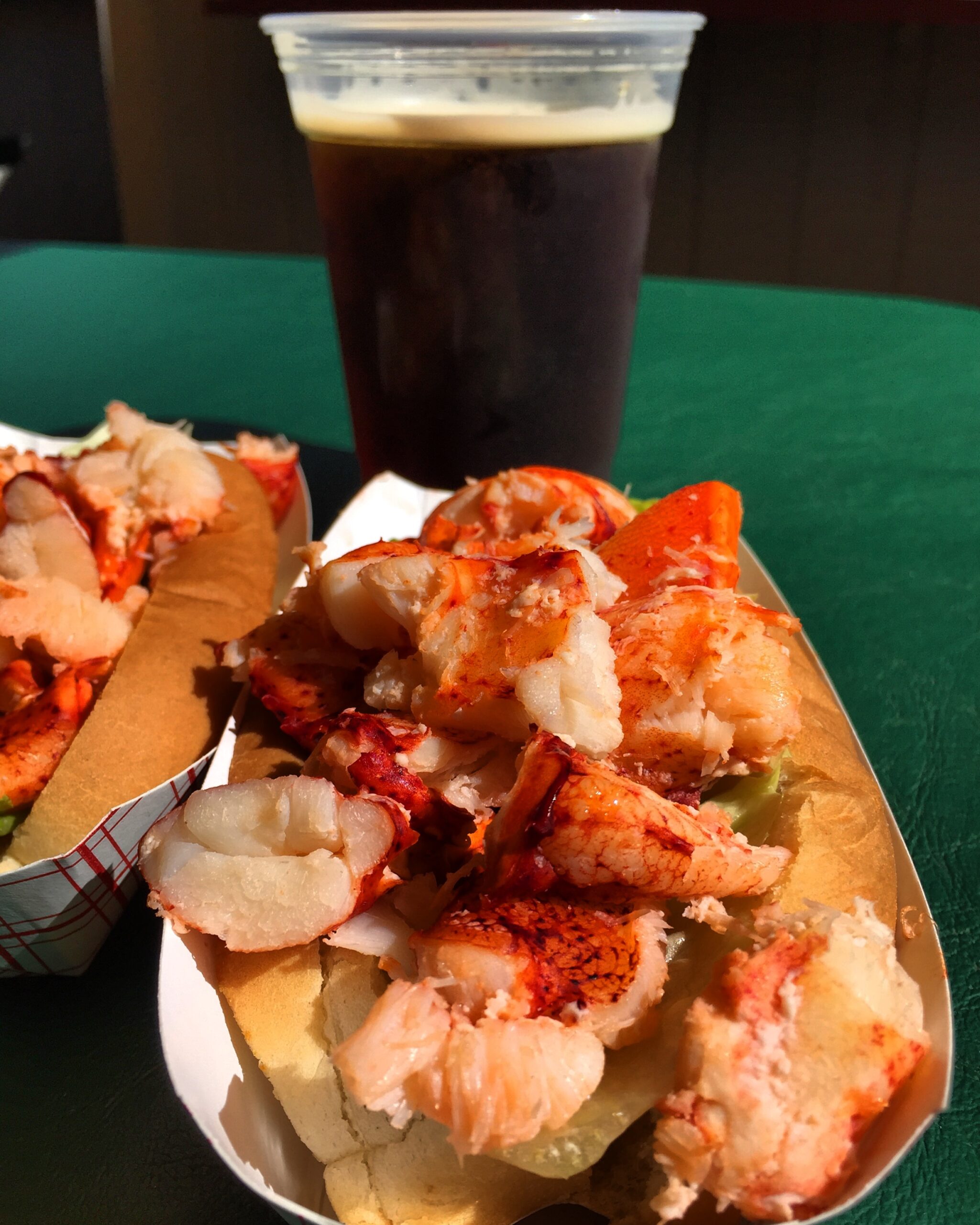 Our favorite place was Arnold's Lobster and Clam Bar.  It is a fun place that has incredible lobster rolls, great pub style food, great craft beers, a fresh raw bar, homemade ice cream and a very fun minigolf course.  The best part is that you can bike there from the campground in under 5 minutes.  Just about every night we would take our bikes for an ice cream at Arnold's. There are too many places along the main strip on route 6 to mention them all. 
However, another favorite of ours is the Hole in One Bakery & Coffee Shop.  This place has some of the best homemade, fresh pastries and doughnuts I've ever had.  There is a line around the store every morning (Do not despair, it moves quickly).  We have coffee and doughnuts from the Hole In One for breakfast a couple of times a trip. 
Another fun and delicious place to take out some great food is Joey's Tacos.  It is a small place that makes great food.  We actually met Joey while we were there and he told us the whole story of how he got started.  It's worth a visit if you're not sure what to eat and you want to take out a meal.
As far as activities go, there are so many things you can do on your bikes right from the campground. 
The Cape Cod Rail Trail abuts the back of the campground and it runs in an East-West Direction for about thirty miles.  It passes through many towns and you can get to beaches, restaurants, state parks etc. all on your bicycles. One of our favorite rides is to the Salt Pond Visitors center at the National Seashore. 
Here you have the Visitors Center which has very helpful staff to get you familiar with the area.  There is a museum, a gift store, and it is a good place to go to plan some day trips and get some information about the local beaches.  There is a bike trail that begins here that leads to a very beautiful and popular ocean beach called Coast Guard Beach.  You can ride your bikes right to the beach.  Every time we have been at this beach, there have been seals in the water.  It is an amazing place.  Another favorite bike ride is to Nickerson State Park In Brewster, Mass.  This is a longer ride ( about 20 miles round trip, but it is worth it.  There is a small lake in Nickerson State park that is like something you see in the movies. There is a small sandy beach and the water is clear and you are surrounded by beautiful scenery. 
There is actually a small campground at the state park.  I think it is dry camping, but it looks very nice.  Last time we went to the Cape, we spent some time with Leslies Aunt Peg and Uncle Geoff who often vacation out on the Cape. They are avid cyclists and we did the Nickerson ride with them and made a day of it.  We stopped for food along the way and found a great brewery on the way back to reward ourselves.  That is the beauty of the rail trail. One other stop on the bike trail we visit every trip is the Bean Stock Coffee Roasters.  This is a small batch artisan coffee company that makes the most delicious coffee.  Before Covid, you could actually go into the warehouse and get a tour of the operation.  They also let you visit a small tasting room where you could sample the coffees.  
During covid, they were taking orders online or over the phone and you could go pick up your coffee. If you are a coffee drinker, this place is a must.  Just note that it is not much to look at from the outside.  It is in an industrial complex and is essentially a small warehouse, but the coffee is so good!
Cape Cod Beaches to Visit During an RV Trip to Cape Cod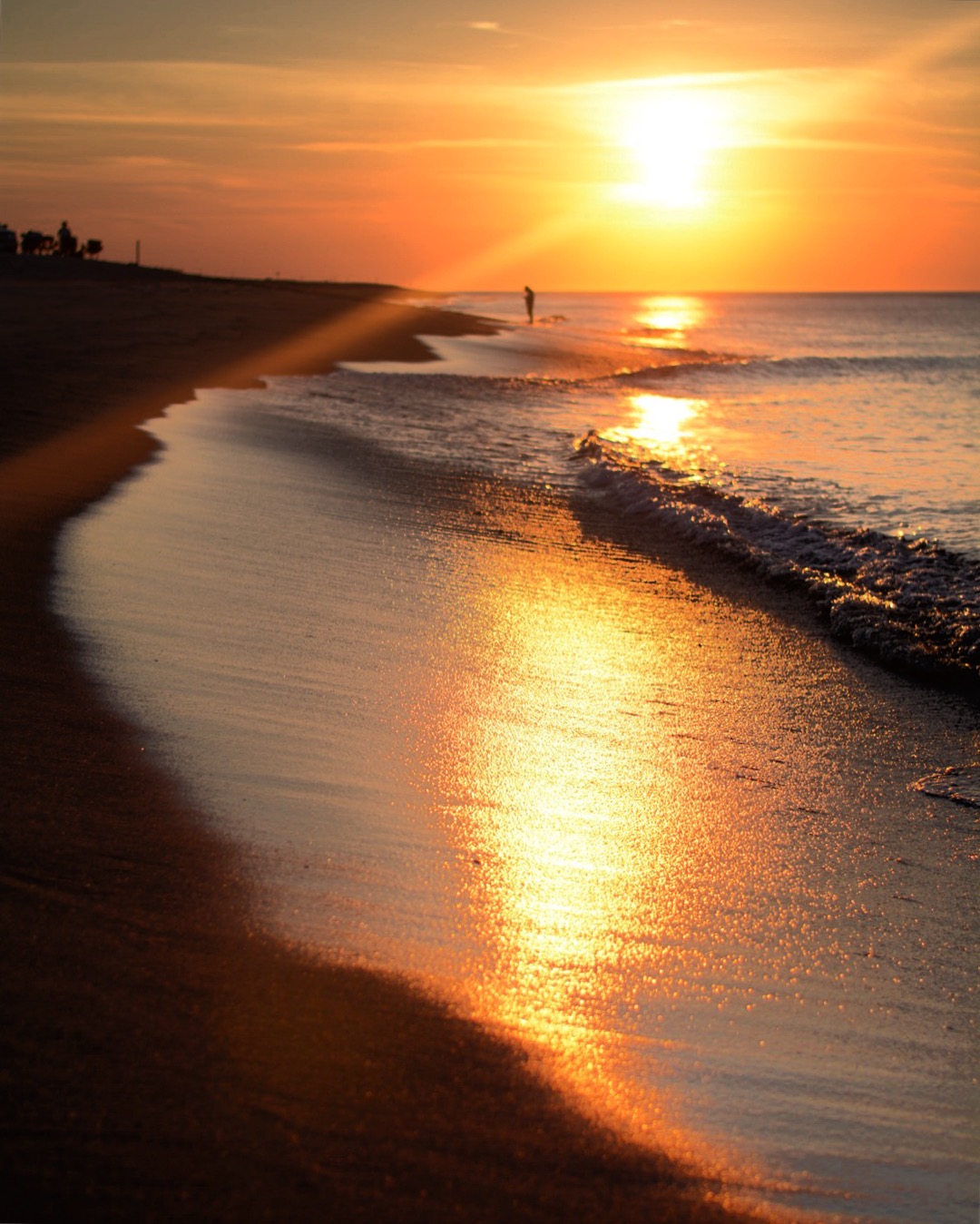 There are so many beaches in and around the area surrounding the campground.  The thing to keep in mind is that the ocean beaches do have a tendency to have shark sightings.  There is signage at these beaches alerting you to this fact.  That being said, there were still plenty of people in the water.  A rule to follow is "If you see seals in the water, don't go in" Seals are natural prey for the sharks and why take a chance.  There are beaches on the inland side of the cape and these are much calmer and from what I understand have very little visitation from sharks.  Here swimming is delightful because the water is calm.  Our favorite beach is First Encounter Beach.  It is a 5 minute car ride from the campground and it is breathtaking. Sunsets at this beach are amazing and the swimming is great. 
This beach got its name because it is the site of the first encounter between Native Americans and the Pilgrims prior to their settling in Plymouth.  It is a great place to visit.
Classic Summer Fun on an RV Trip To Cape Cod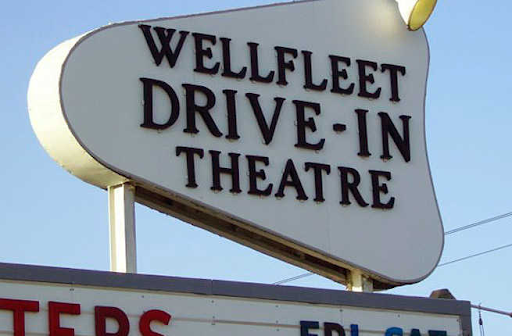 About two miles East of the campground in the town of Wellfleet is the Wellfleet Drive in.  This is a must!! They show double features every night and it is right out of the 1950's.  
 We love it there.  Usually, we pack a meal and drinks and it is a blast.  If you have a pick up you can back in and put the kids in chairs in the back of the truck. The only thing is the chairs need to recline so you do not block anyone's view.  They show classics like Jaws and Grease as well as the new features like the Incredibles.  It is one of the highlights of our trip whenever we get out there.
There is one other place that makes the Cape a special place to visit and that is Provincetown.  The town is a great place to spend the day. There are whale watching tours that leave from there and there are guided dune tours that are available.  We would recommend the Dolphin Fleet Whale watch company.  We have been out with them twice and both times we saw a bunch of whales.  
They provide you with a wealth of information about the local history and ecosystem and you really learn a lot.  
I would also very highly recommend a guided dune tour.  We chose Art's Dune tours.  I would recommend them without hesitation.  They provide such a great experience.  Pre-Covid, we shared a vehicle with two folks we did not know.  Our second trip was during Covid and we had the whole vehicle for our family.  The driver was partitioned off like a cab driver.  So, what is the dune tour like? Well, you are taken in a four wheel drive vehicle on a drive through the dunes of Cape Cod.  It is like being on another planet.
Also, there is tremendous history in the dunes.  There is a collection of dune shacks that have been frequented by many famous artists, and writers like Earnest Hemingway.  The tour guide gives you a very comprehensive and very interesting history of the area.  Ultimately, you end up on the shore line and you get to spend some time on the beach.  I recommend doing a sunset tour.  The sunsets are incredible and you have the whole beach to yourselves. 
 Pre-Covid there was the option to purchase a lobster bake dinner and when you got to the beach they would serve you your meal while watching the sunset.  Our last trip, that option wasn't available due to Covid.  However, you are encouraged to pack a cooler.  We brought wine and cheese as well as sandwiches and waters for the kids.  It is a unique experience that will become something you do every time you visit the Cape.
One thing we were not able to do but have heard great things about is to catch a local semi-pro baseball game.  There is a league that has games all over the Cape and the games are supposed to be a lot of fun.  Unfortunately, we weren't able to catch a game, but it's on our list of things to do when we get back to the cape.
On rainy days if you're looking for something to do, there are endless small towns to visit.  Each with their own New England charm.  These towns have an array of shops and restaurants and things to see and do.  If you are planning to visit the Cape, I would recommend doing some internet searching.  There is so much to do and Atlantic Oaks is a great place to do it from. 
Podcast: Play in new window | Download