Want to do some baking at the campground but don't have a stove? The Omnia Stove is a cool cookware gadget that will let you live your baking dreams. This versatile circular oven is great for campers who don't have a built-in oven, since it is super easy to transport and to use. CEO Gustaf Lundén is here to tell us more about the Omnia Stove.
To hear Gustaf and Jeremy talk all about the Omnia Stove, click play on the media player or find The RV Atlas wherever you find your favorite podcasts. Hear about Gustaf's favorite recipes and find out what else is in the works!
How Does the Omnia Stove Top Oven Work?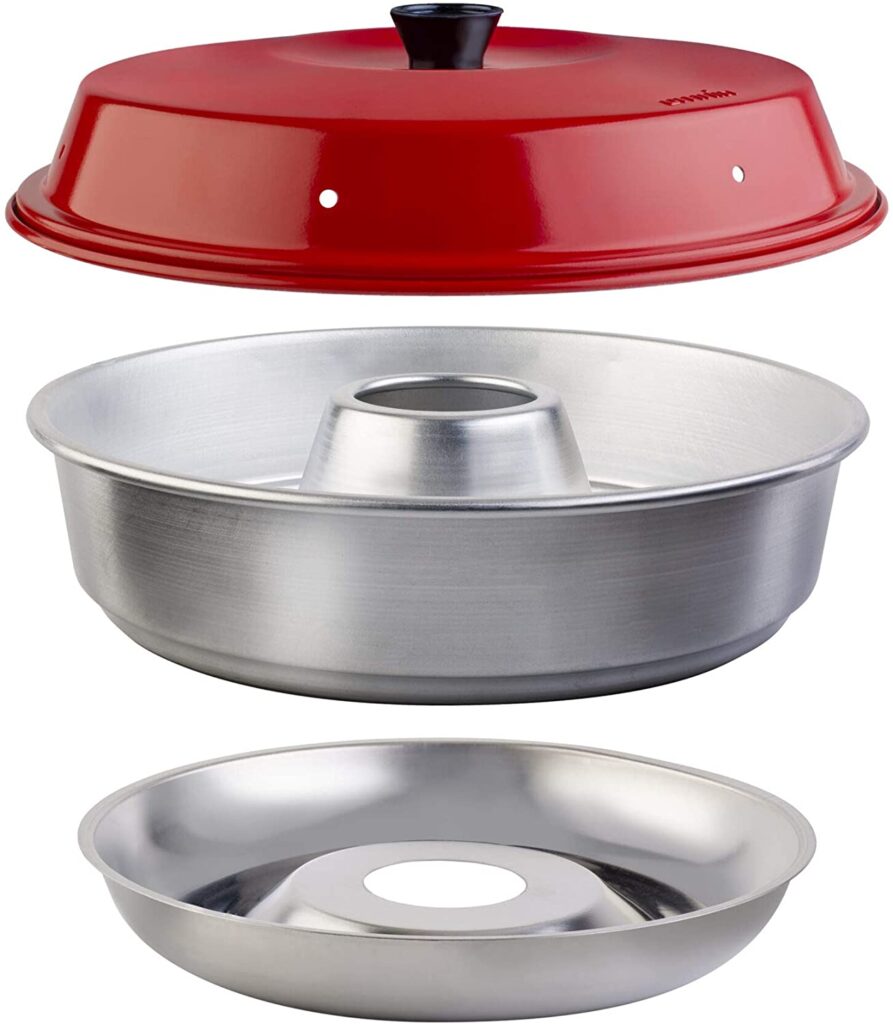 The Omnia Stove includes three pieces: a steel base, which is circular and moves heat around the bottom of the pan; the aluminum Omnia pan, which has special holes to direct the heat upward; and a lid, which pushes the heat back down. This creates a great baking oven. You'll recognize the Omnia by its iconic circular shape and its red lid.
What makes the Omnia special is how evenly the device heats. You can apply heat in a variety of ways–both indoors and outdoors. Just set it on top of your electric or gas burners. It will not work on induction cooktops, however.
Check out this video from our RV Atlas YouTube channel for Jeremy's full review:
What Makes the Omnia Stove Special?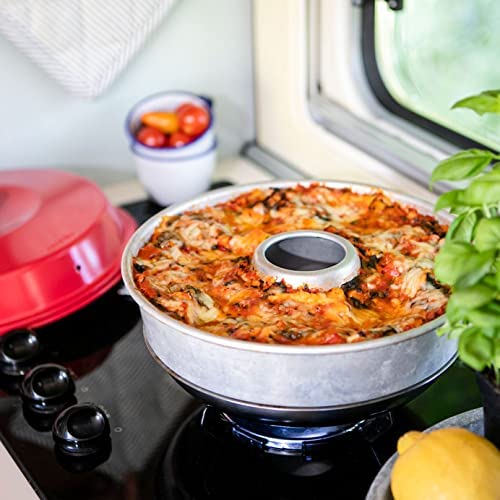 People really love their Omnia Stoves! What makes people such dedicated fans? Mainly, the fact that you can bake so easily without an oven. Plus, the price point is reasonable–this is a cooking gadget that won't break the bank.
Also, Gustaf points out that people are just really proud of their creations! They love finding, creating, and sharing great recipes and new ways of using the stove. Social media is a fun way to share and gather ideas, especially since people use the Omnia Stove in so many places and different environments. Everyone from #vanlifers to international travelers to RVers are all loving this stove! The website also has cooking tips and recipes.
Another thing that makes the Omnia Stove popular is that you can use it to cook dinner and to cook dessert. Just do a quick wash in between, and it's ready to go. Even though it is three pieces, it's not difficult to clean or use, especially if you add the optional silicone mold, described below. Make lasagne, baked potatoes, bread, cakes, brownies, and so much more!
How Do You Use the Omnia Stove?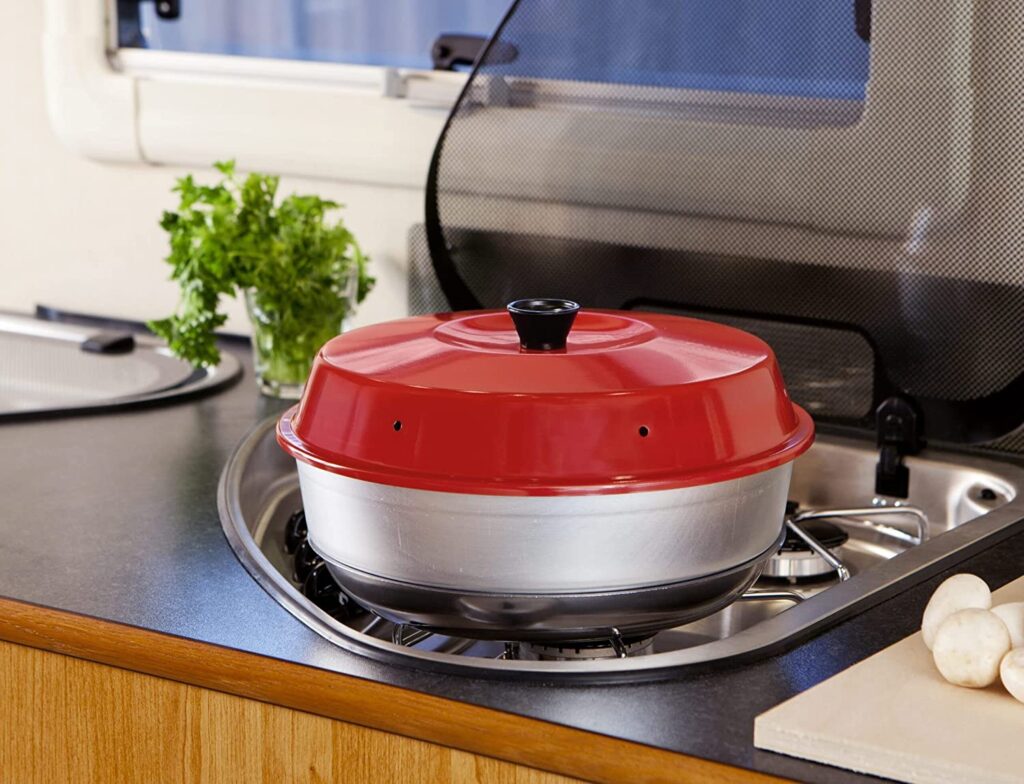 Gustaf said those who are new to using the stove shouldn't be afraid to start with box cake and brownie mixes. It's a great way to learn how everything works. When you cook, you'll need to preheat the stove, allowing a little more time for electric burners to heat. You can start with a higher flame for the 2-3 minutes of preheating. It's honestly okay if you forget this step, too!
Another tip is to cook with a low flame, especially if you are using gas. Gas can get very hot, so bake slow and easy. How do you know how long to bake in the Omnia Stove Top Oven? Basically, you just check it. If it's not done, leave it cooking for a few more minutes. There's not necessarily an exact science for most baking. Follow these tips and you'll build your confidence.
Check out this video to see Jeremy use the Omnia Stove Top Oven for the first time. Will he burn the cinnamon rolls??
What Accessories are Available for the Omnia Stove Top Oven?

Though the Omnia Stove Top Oven comes to us from Sweden, there are American distributors for accessories, so you'll be able to get them quickly. Here are a few of the top accessories Gustaf recommends:
Omnia Oven Rack: Great for biscuits/pastries and for steaming
Omnia Silicone Mold 2.0: This liner makes clean up a breeze
Omnia Foil Baking Dish with Card Lid: Do the prep work ahead of time, freeze your meal in this baking dish, and pop it into the stove when you are ready to heat
Omnia Bag or EVA Case: Buy a soft or hard case for protection while transporting
Non-Stick Omnia Pan: This non-stick ceramic pan also makes for easy clean up!
Omnia Pan Maxi: Cook 50% more — great for families
Cookbooks: Gustaf wants to help you build your Omnia Stove cooking skills with these recipe books
How Can We Take the Omnia Stove Top Oven to the Next Level?
Our family has used our Omnia Stove three times already, making cinnamon rolls and store-bought croissants. While we are still at the basic stage, we are already intrigued by all of the crazy things we've seen others cooking in their Omnia Stove online. Gustaf said he's been impressed with some of the birthday cakes, special breads, and so much more.
Also, you can also buy more than one! We've seen people online with an Omnia Stove for each burner. This can help you feed larger families, do double-layer cakes, or cook dinner and dessert at once.
What is the History for the Omnia Stove?
This gadget actually dates back to the 1940s! The company has existed under various names for decades, with Gustaf's family at the helm for 16 years. He has helped bring it from Sweden to America and to add more accessories.
Nowadays, the campervan market, especially in Europe, has been a steady customer, and it's taking off in the overlanding community. The Omnia Stove really adds versatility to the limited camp kitchens found in these small spaces. Gustaf loves seeing the pictures from travelers and their favorite recipes.
Click play on the media player or download this episode to hear Gustaf share some of the similarities and differences between the American and European camping cultures! Be sure to also check out the company's website to see more.
I want to give a huge thank you to Gustaf for coming on the show and for telling us all about the Omnia Stove. I can't wait to have more adventures with mine!
See You at the Campground,
Jeremy + Stephanie
Podcast: Play in new window | Download