Our camping buddy and RV Atlas correspondent, Phil Travaglia, is back on the podcast today with another great review! Last time he gave us an enthusiastic review of Hither Hills in Montauk, New York. This time around he is taking us to the New York City North / Newburgh KOA–another one of his family's favorite campgrounds.
To listen to Jeremy and Phil talk about this KOA and all of the fun things to do in this beautiful region of New York State, click on the media player above, or subscribe to The RV Atlas wherever you get your podcasts! Or to learn a bit more about the campground just keep reading! Phil shares his thoughts about this campground in the guest blog located just below….
Guest post and photos by Phil Travaglia
The Newburgh/ New York City North KOA has a HOLIDAY designation which means there is plenty to do at the campground, but it usually acts as a base camp.  They are great campgrounds.  There's enough to do if you don't want to leave the campground, but not so much to do that you feel like you're missing out if you go exploring. This is one of our favorite campgrounds because it is located in such a culturally and nature-rich area with so much to do.  The campground has always been clean and well cared for and the staff has always been friendly and accommodating. To us, this campground always has, and always will, feel familiar and comfortable.
This was the first place we went to after my wife Leslie was well enough to travel following her battle with breast cancer and it was the first place we went to when we finally felt ready to venture out with the travel considerations of the pandemic.   
Newburgh KOA Accommodations: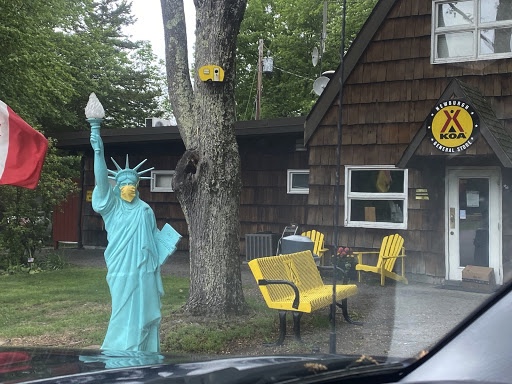 This campground has really everything you could need to support you for a longer vacation and everything you need if you just want a weekend to get away.There are a variety of site types from tent sites all the way up to deluxe cabins and deluxe patio RV sites.  There are areas in the campground that have cabins and RV sites in close proximity, which is great for those people who may want to ask friends or family that don't normally camp to join them for a trip.  There is a small area that is a cluster of five or six cabins offset in a semi-private loop (great for family gatherings and reunions).
 The remainder of the sites are located in two main areas. The first is located in an area behind the main building.  It is a nice mix of tent, RV and cabin sites.  It's nicely wooded with decent shade.  Hammocks have a high probability of getting used here. The second area is located across from the main building.  This area has larger pull through sites and some nice sized back in sites.  The dog walking area is also found in this section of the campground.  Again, these sites are nicely wooded with good shade.  These sites, If I remember correctly, seemed to offer a bit more privacy.  They have a bit more of the state park campground feel to them.  
There are a handful of what appear to be seasonal sites, but you do not get the feeling of being an outsider at all at this campground.  We have stayed at other campgrounds that were heavily seasonal and at times we've felt like we didn't quite belong.  There is none of that here.
Newburgh KOA Amenities
The camp store is a "good one."  They have an area of camping supplies for RVers and tent campers, there is also a decent grocery area with the essentials (milk, eggs etc).  They have great knick-knacks for the kids and they also have some great gifts for the grown ups too (camp casual plates, art work etc.). There are fax and copy services, available and wifi as well.  I can't really speak to the wifi strength as neither Leslie or I are big into the devices, but I don't remember hearing too much complaining from James and Abigail about poor wifi (that has to mean something!).  Another unique amenity is they have on-property RV storage. I do not know exactly what they charge, but it is something to consider if you want to keep your trailer there and make it easier to get away. If you are someone who can only get out on weekends, it may make getting to the campground a lot easier if your camper is already there in a secure lot.
Attached to the main building (camp store/ office), is a great little local wine store. They sell wines from the local vineyards in the region.  The main building also has laundry facilities and an arcade.  
Across the parking lot from the main building is a great snack-shack that has ice cream and serves quick serve type foods.  There are also two pools located in the snack bar area.  The pool areas are clean and spacious and well maintained. On the other side of the snack-shack, you can also find: a rock climbing wall, bounce pad, basketball courts, Ga-Ga ball and a minigolf course.  Across from the pools you will also find a nice playground for the smaller kids.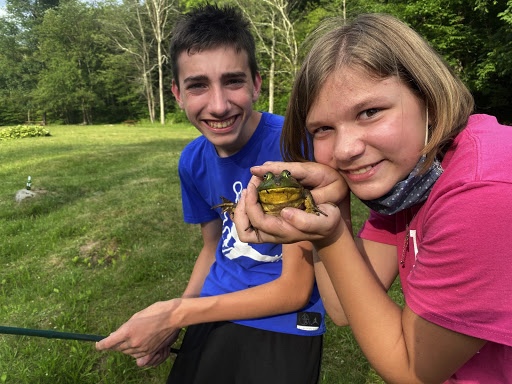 There is also a great little pond where you can fish and there are a ton of frogs to catch.  Truthfully, we've had more fun than I can remember just walking the perimeter of the pond and catching frogs.  There are some nice sized bass in the pond too.  Fishing is allowed and it is catch and release.  You do not need a license to fish here, as this is considered private property.
Things To Do Near The Newburgh KOA
What makes this campground such a great one is it's location.  This campground is located in the heart of the Hudson Valley of upstate New York.  To those who don't live in NY, this is an amazing region.  There is such rich culture, amazing nature and incredible food in this area.  It would take five episodes to cover everything that you could do here.  
There is an abundance of hiking here.  One of our favorite places to go hiking is in Minnewaska Lake State Park. There are well marked trails with great scenery and it's just a great way to get outside and do some family friendly hiking.  To heed your hiking advice, get there early, because the trail heads and parking lots fill up quickly.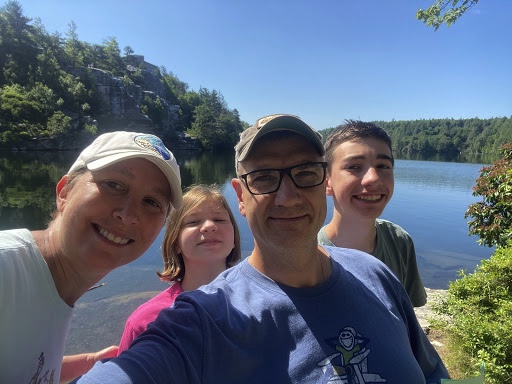 If you are into rock climbing, this region is the home of the "Gunks"  which is known for great rock climbing.  I personally don't do well with heights, so I don't have much to share there. There is the Mohonk Mountain House (Castle) which allows for the public to hike the grounds. It is an amazing place from what I have heard. Personally, I haven't been there but it is supposed to be beautiful.
 There is also plenty of antiquing in the area. I picked up some vintage Coleman coolers the last time we went.  I found them at a great barn sale in the town of Gardiner.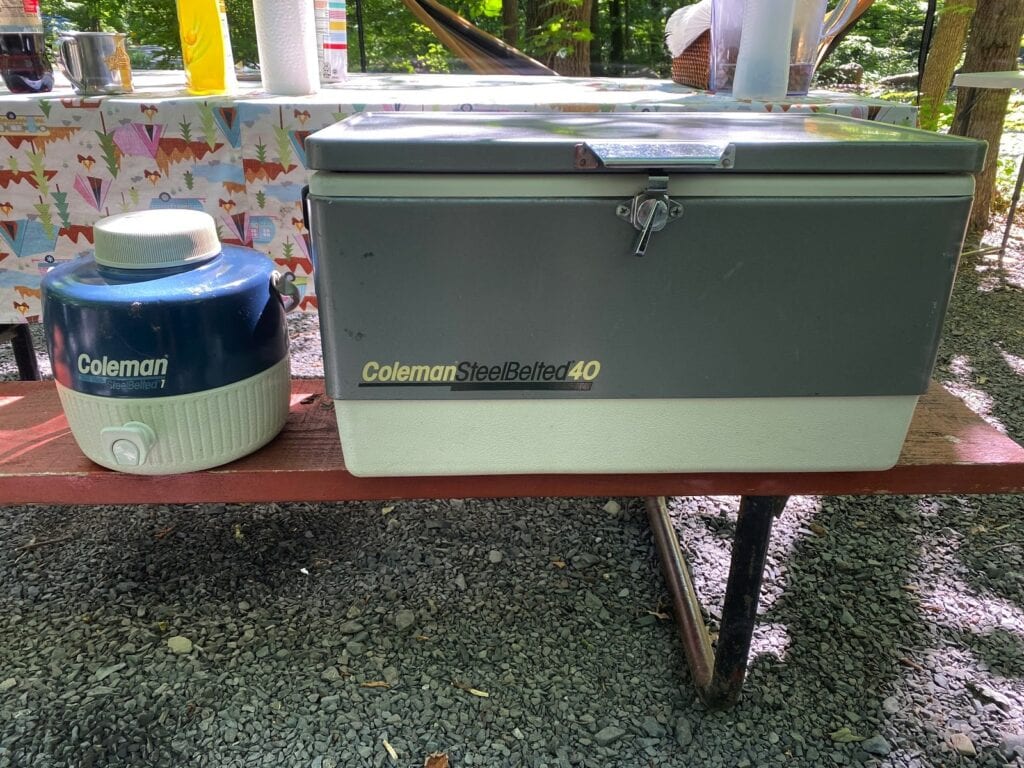 There are also local fairs and festivals.  One of our favorite memories is of the time we went to a cupcake festival one spring with our friends Hector and Laura.  It turned out to be a lot of fun because there was a huge rain storm that turned it into a "mud / cupcake festival"!  It was still great.  Amazing cupcakes, hearty people and just a plain old good time.  
We also enjoy this campground in the fall.  It is great foliage-country and there are many apple picking farms. Our favorite is Hurds Apple Farm.  The FDR home and museum is also another favorite of ours.  You can walk the grounds.  There are guided tours of the house and there is a comprehensive museum that was really great to see.
New York City
One thing that makes this campground great is that they offer tours to NYC that leave right from the campground.  They are full day tours that leave at 7:30 am and take you to several of the major attractions of the city.  The website for the campground is the best place to go for more information on the city bus tours. Truthfully, the campground website is an amazing resource for looking into things to do in the region (all within close proximity to the campground). 
There are too many things for me to list.  However, I can say that there are activities for just about everyone, that cover a wide array of interests.
Covid Safety Measures at the Newburgh KOA
I have not been able to get in touch with anyone at the campground this winter regarding Covid-related changes in usual activities.  What I can tell you is that when we went last May and July, they were very conscientious regarding Covid safety.  
You were required to wear a mask when off of your site.  Only one of the two pools was open and you had to reserve a time for your family to swim (in one hour blocks).  The rock climbing wall was not open and the snack bar had reduced services.  The bounce pad was open and was supervised.  Mini golf was closed.  The basketball courts were open and there were no restrictions for fishing at the pond.  I am sure they have modified their Covid policies, but the take home message is… They were taking it seriously and we felt safe.  I am sure they have expanded their services and are well within safety compliance.  That's just the impression we took away last year.
It's a great campground in a great location with so much to do in the area.  It is a gem just over the bridges and well within weekend striking distance.  For out-of-staters, this is a great home base to explore the Hudson Valley region and get a taste of what New York has to offer.  ENJOY!
THANKS PHIL!
Podcast: Play in new window | Download