The island of Newfoundland didn't officially become a part of Canada until 1949, and between its independent history and its geographic isolation, it feels like a whole different world perhaps more than anywhere else in North America. Visitors can see whales and icebergs without even leaving shore, explore both charming fishing villages and the relatively bustling capital of St. John's, hike the rugged yet accessible northernmost stretch of the Appalachians, and enjoy remarkably close encounters with Atlantic puffins.But planning an epic RV trip to Newfoundland trip can also be a bit overwhelming. My family recently spent five weeks in Newfoundland, so I'm here to share tips on handling the logistical challenges and putting together an itinerary that hits all the highlights of this amazing island.
This is a guest post by podcast correspondent Gretchen Holcombe from Boxy Colonial on the Road. To listen to Gretchen and Jeremy talk about her trip to Newfoundland please click on the media player above or subscribe to the RV Atlas wherever you get your shows.
Planning an RV Trip to Newfoundland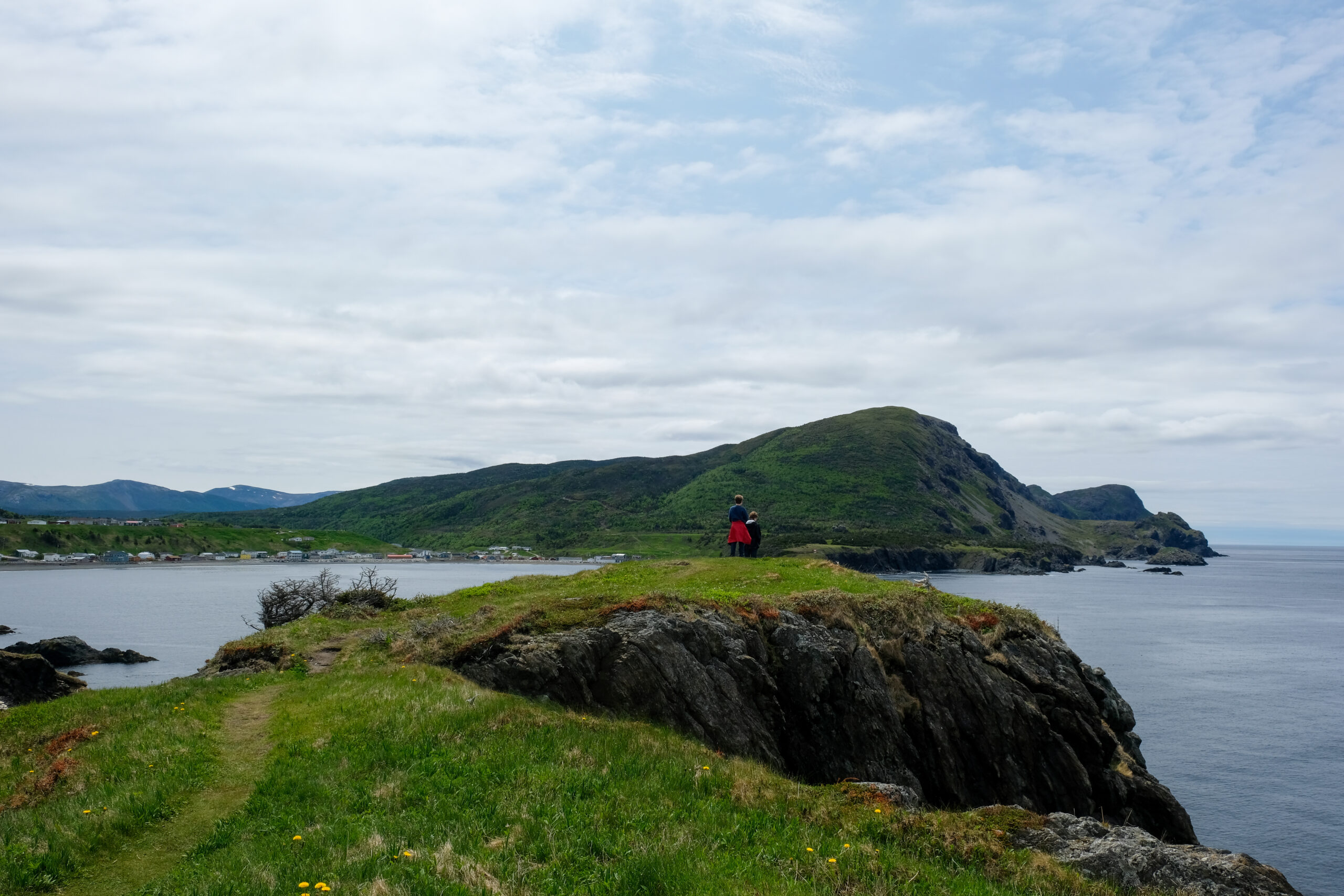 Newfoundland is still something of an undiscovered destination for a lot of people, particularly in the US. I lost count of how many times I told someone we were going to Newfoundland only to be met with a sheepish admission that they had no idea where Newfoundland even was. Planning a Newfoundland trip can feel much more like starting from scratch than planning a trip to a more well-trodden destination does. So I've put together a few tips and Newfoundland details that are good to know in advance to make planning and traveling a little easier.
The tourism folks in Newfoundland put out some of the most helpful marketing material I've ever encountered. They'll send you a very nicely done and extremely thorough printed guide, or you can stick with the handy interactive map on their website. Once you're on the island, there are several visitor information centers scattered around where you can get in-person touring tips from the super friendly staff.
A lot of first time visitors underestimate Newfoundland's size and expect to be able to cover the whole island in a short vacation. But it's actually about the size of Pennsylvania, with so much to see that you could easily spend months exploring and still miss things. If you try to squeeze too much into too short of a trip you risk only seeing things from a moving vehicle. If you only have a week or two to spend in Newfoundland, consider sticking with one area and leaving the rest for another trip.
When Should You Take an RV Trip to Newfoundland?
Finding the best time to travel to Newfoundland is trickier than it might appear. The obvious answer is "summer," but your trip will be quite different depending on which part of summer you choose. June is iceberg season, but the weather is still quite iffy and some of the places that cater to tourists won't be open for the season yet. Whale viewing is best in July and August. We hear the weather in September is lovely, but by then migratory animals like whales and puffins are likely to have moved on. So unless you can stick around all summer, you'll need to think about what you most want to see and pick your dates accordingly.
Summer weather is highly variable. We heard locals refer to June as "June-uary" because it can be so cold and windy, but uncomfortably warm temperatures in late summer aren't uncommon, either. Rain is a frequent occurrence as well. Lots of layers is your best packing strategy.
Campgrounds and Roads in Newfoundland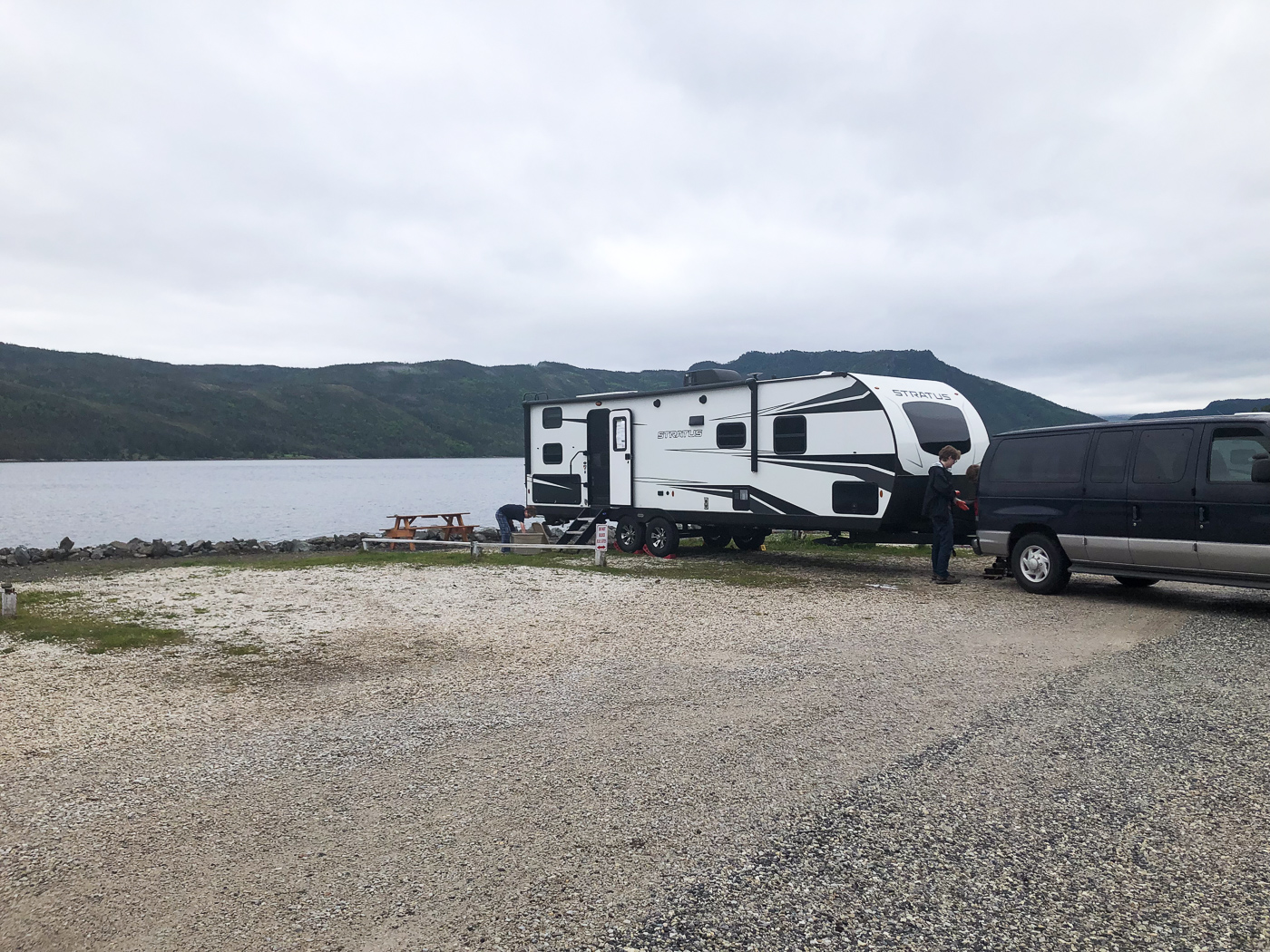 Campgrounds in Newfoundland are cheap, particularly if you're coming from the US and have the exchange rate helping you out. We regularly paid under $30 USD for water/electric sites. Boondocking is also very common and accepted. We didn't do any, but we heard frequently that it's okay to pull over and park overnight pretty much anywhere that doesn't have a sign telling you not to. Gas and food are more expensive than on the mainland, but those low camping fees go a long way in making up for it.
Newfoundland roads are not great. Things are generally fine on the Trans Canada Highway, but secondary roads are plagued with potholes. Be prepared for a rough ride (and to have your alignment checked when you get home!)
Boil water advisories are common, so be prepared to encounter them at campgrounds from time to time (and consider filling up your fresh water when you DO have good water so you can use it when you don't).
Internet access is spotty. We found that we could usually get a signal in towns, even very small ones, but often had no signal at all on the roads between towns (or in campgrounds outside of town). And, of course, if you're coming from the US, you'll want to check with your provider to find out how and if your plan works in Canada.
Newfoundlanders are some of the warmest, friendliest, funniest people you'll ever meet (and they often have really charming accents, too), so make sure to take the time to chat. Most people we encountered were eager to show off their province and share tips about the best places to go and things to see.
Getting Your RV to Newfoundland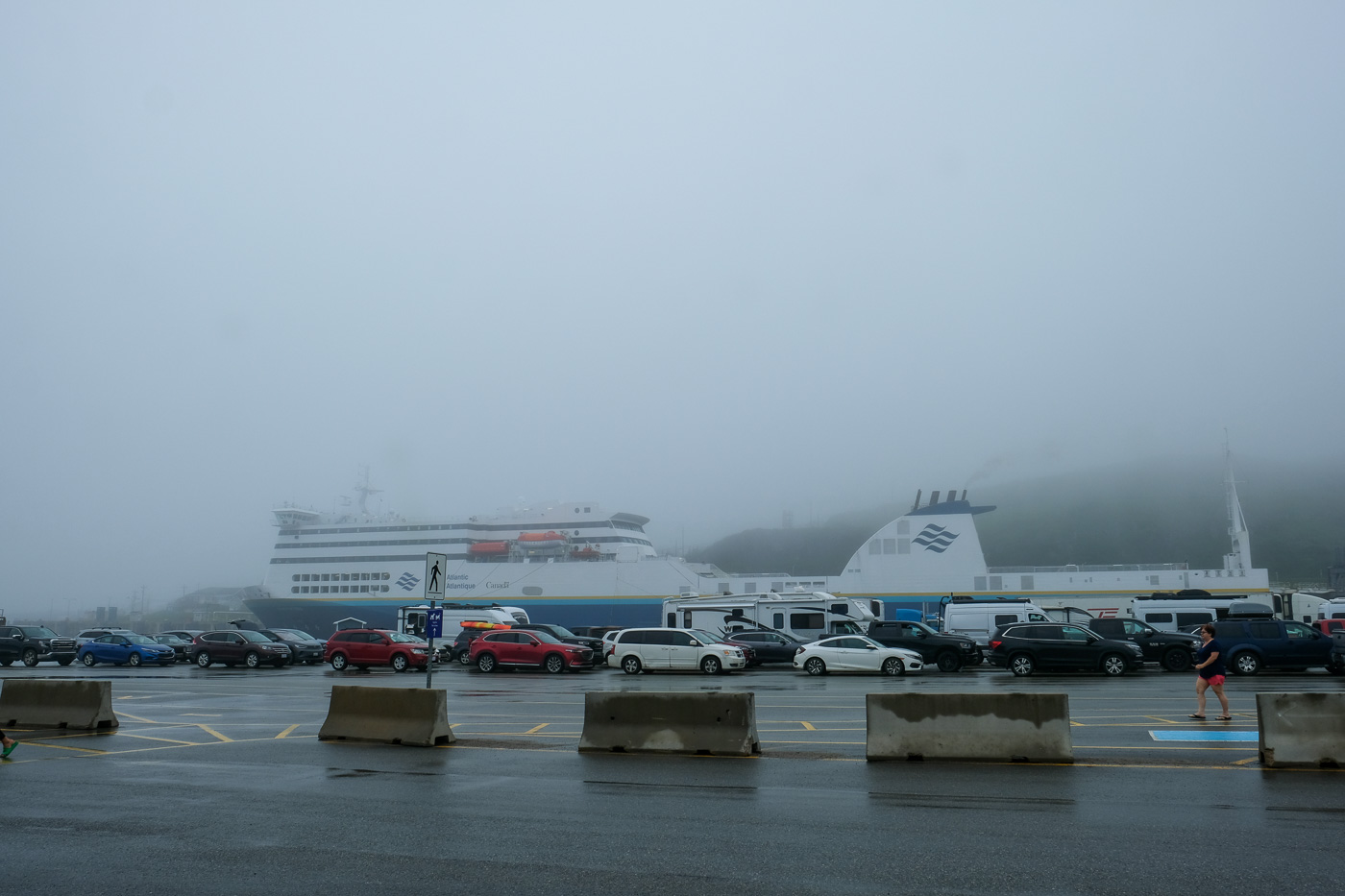 Getting your RV to Newfoundland almost always means booking a ride on a Marine Atlantic ferry from North Sydney in Nova Scotia. The ferry will take you to Port Aux Basques on the southwestern corner of Newfoundland in about seven hours or, during the summer, you can opt for the sixteen hour crossing to Argentia, on the eastern side of the island, about an hour and a half drive from St. Johns. Many people choose to arrive on one ferry, make their way across the island, and leave from the other one. We opted to take the Port Aux Basques ferry in both directions because we were traveling with our dogs and didn't want to subject them to the longer ferry.
Our best tip for the ferry is to book early! Book as soon as you know your dates, especially if you're hoping for a cabin. There's no penalty for cancelling or changing as long as you do it at least 48 hours in advance, so there's no downside to booking early even if you might need to switch things around later. We booked several months in advance but still found that the cabins were already sold out, and we had to get on the waitlist in hopes of getting one for our overnight crossing.
Ferrying Dogs on an RV Trip to Newfoundland
We worried a good bit in advance about how our dogs would do on the ferry, but Marine Atlantic is very used to dealing with pets and provides a number of options for where your pups can stay during the crossing. The most straightforward option is to just leave your pets in your vehicle. We did this on our return crossing and came back to dogs who were happy to see us but showed no signs of distress. It's important to note that you won't be able to return to your vehicle to check on your pet once the boat leaves the dock. There's also a small indoor kennel area on one of the decks; you can reserve a space here (you must bring your own crate) for your dog for a small fee. The advantage here is that you're welcome to visit your dog as often as you like…but the strange space and possible presence of other noisy dogs might make your pet anxious.
The third and newest option is renting a pet friendly cabin. This is when booking early becomes especially important, as these cabins are both limited in number and very popular. We were lucky enough to get off the waitlist for one on our overnight crossing to Newfoundland, and I think our dogs would tell you that this was their favorite way to travel. Dogs have to remain in your cabin (and someone has to stay with them) except when walking to and from your vehicle or going to make use of the little patch of astroturf provided outside on one of the decks.
Best Things to do: Western and Central Newfoundland
We started our trip on the western side of Newfoundland since we took the ferry into Port Aux Basques. Our first campground was Grand Cordoy RV Park, just about a half hour drive from the ferry terminal. It was great that we didn't have to deal with a long drive immediately post-ferry, and the campground is lovely with spacious full hook-up sites overlooking the water. The gift shop sells locally made crafts, and the owners will provide you with a map of a driving tour of the area when you check in.
Gros Morne National Park, about 3 hours north of the ferry, is near the top of any "best of Newfoundland" list you might come across and is worth lingering over for as long as you can. Here you'll find the most dramatic and rugged scenery on the island as well as great wildlife spotting (I think we counted five moose while we were there). We split our stay here between two campgrounds, (NAMES OF CAMPGROUNDS) one on the south side of the park and one on the north, but it's definitely doable to pick one base camp and day trip around the whole park.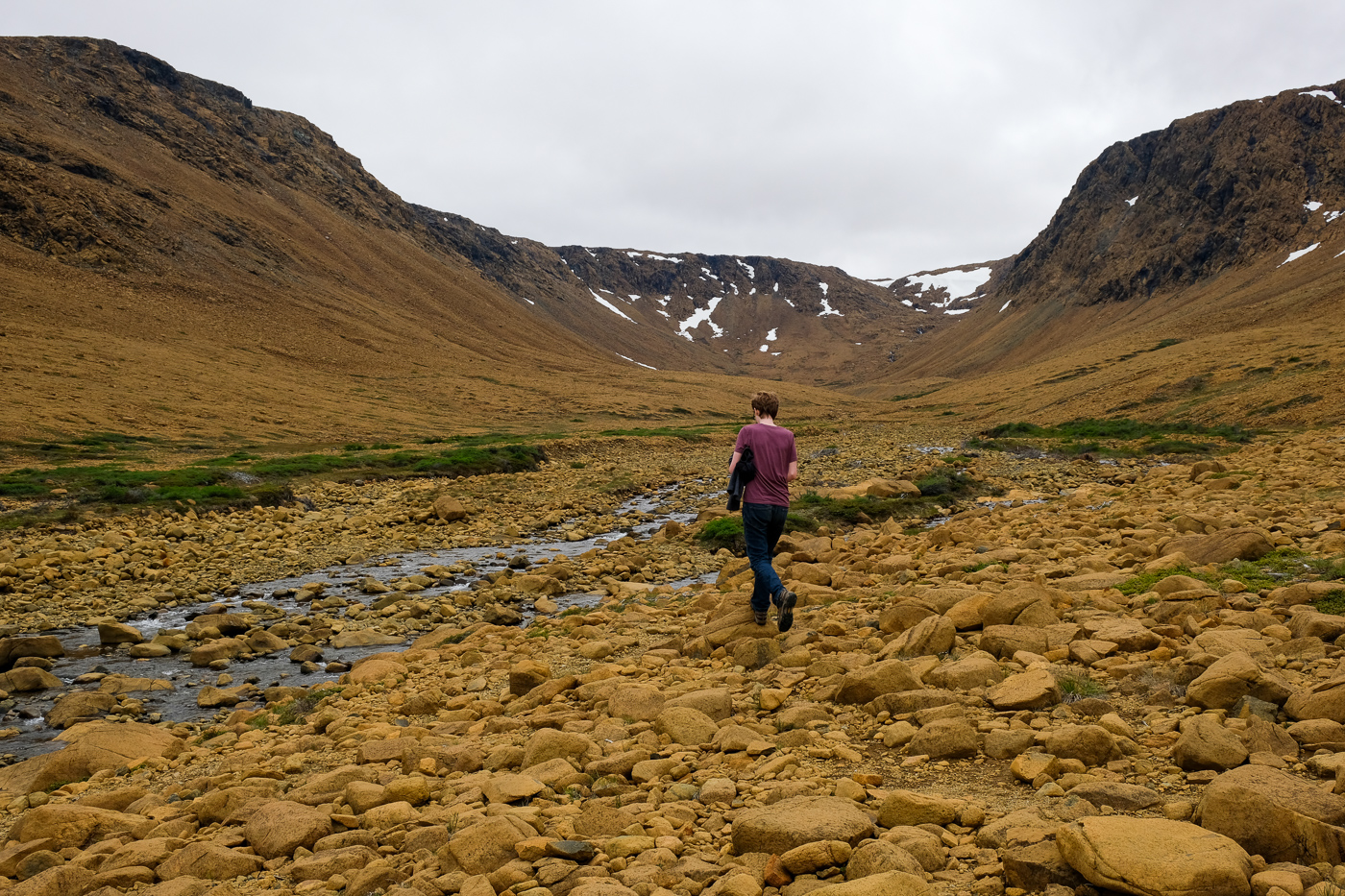 On the south side of Gros Morne, we stopped by the park's Discovery Centre to pick up an Xplorers book for our 10 year old (the Canadian equivalent of Junior Rangers in the US) and learn about the park's geologic history. Then we did the easy 4 km Tablelands Trail to see the geologic history first hand. The Tablelands give you the rare opportunity to walk on rock from the Earth's mantle; it's a fascinating stroll through a beautiful, otherworldly landscape.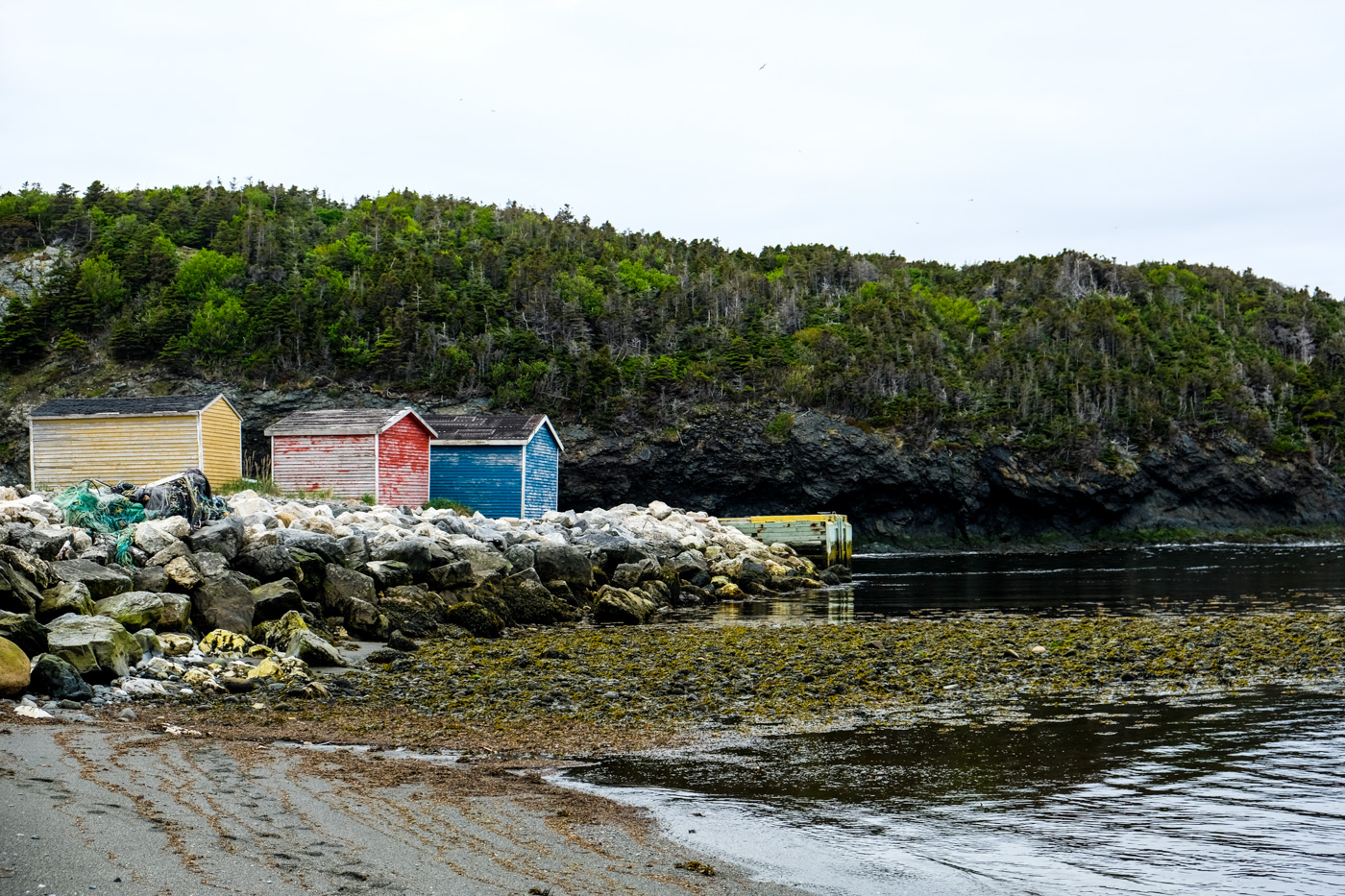 From the Tablelands it's a short but beautiful drive to the tiny town of Trout River, where we had some ice cream, walked along the shore, and then did one of our favorite hikes of the whole trip: the Eastern Point Trail. This is an easy and short trail once you get past the steep stairs at the very beginning, but every step offers stunning ocean views from bluffs high above the little town.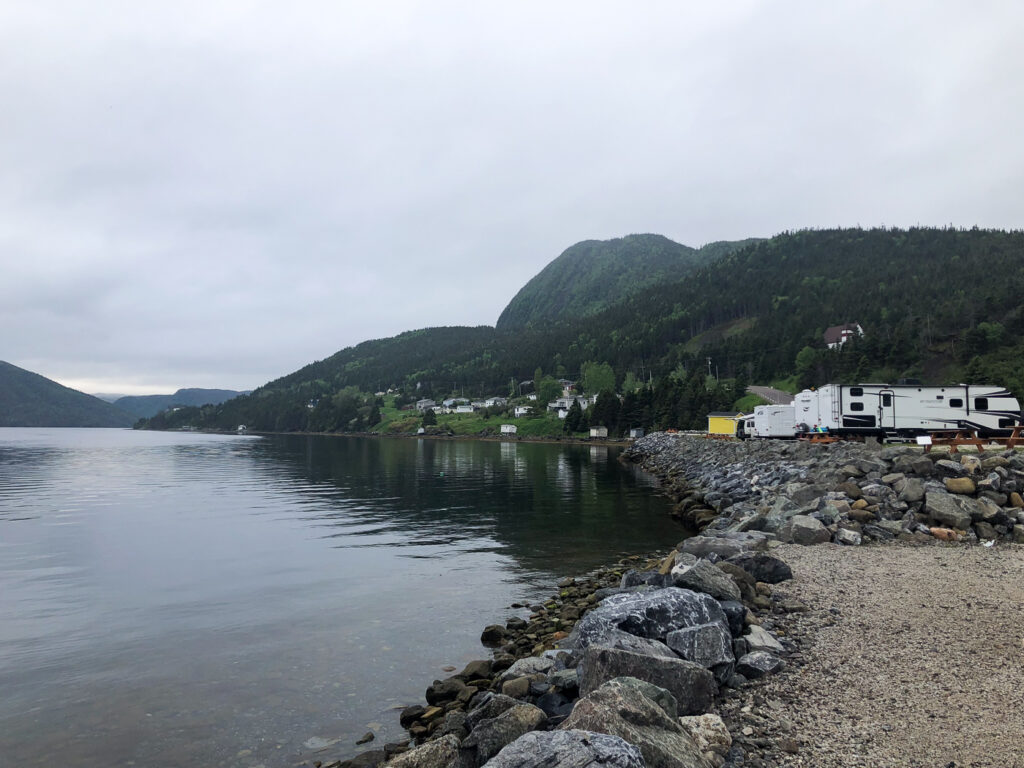 Suggested Campground: We loved the aptly named Water's Edge Campground. Like many of Newfoundland's campgrounds, this isn't much more than a patch of gravel along the highway, but the location and views more than make up for any shortcomings in the sites. We spent our mornings here drinking coffee while spotting whales just a few feet from us in Bonne Bay Fjord. They also offer activities like kayak rentals and boat tours. W/E sites are $35CAD.
Rocky Harbour, on the northern side of Gros Morne, is the biggest tourist town in the area, with lots of choices for shopping and restaurants. We came here one night to see the band Anchors Aweigh, who've been playing traditional Newfoundland music at the Ocean View Hotel several nights a week for many years. The shows often sell out and are for ages 19 and up only.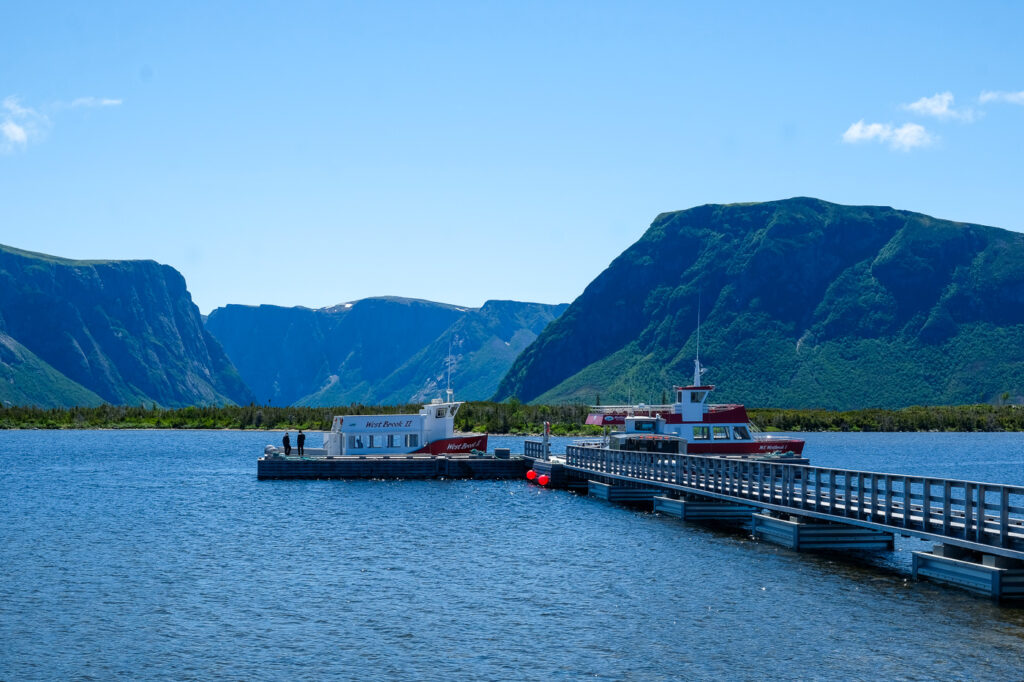 The Western Brook Pond boat tour is a very popular way to see one of Gros Morne's glacier-carved fjords up close. Getting to the boat dock requires an easy 3 km hike, where you'll get a preview of the spectacular views waiting for you from the boat.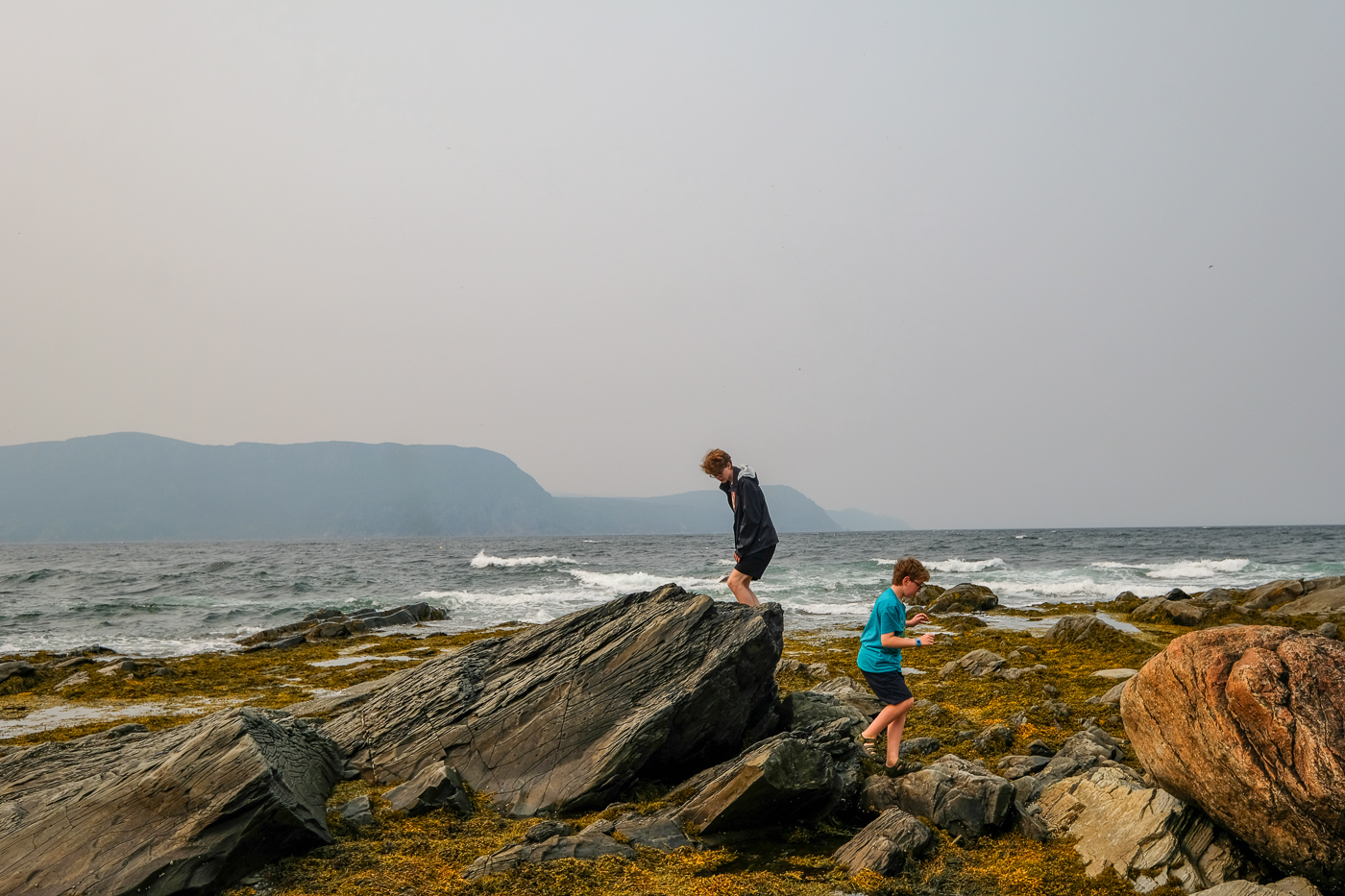 Try to time a visit to Lobster Cove Head Lighthouse at low tide; from the trail by the lighthouse you can go down to the shore for excellent rock scrambling and tide pooling. The lighthouse itself houses some great exhibits, including a lot of hands-on activities for kids.
Suggested Campground: The Gros Morne/Norris Point KOA was our base camp for exploring the north side of the park. Some reviews complain about tightly packed sites, and this is true of the full hook-up sites near the office, but if you can forgo a sewer hookup, nearly all the sites in the back of the campground are huge, private, and wooded, and some of them are right on the pond. The campground offers the usual range of KOA amenities like a playground, dog park, jumping pillow, a great walking trail around the pond, and planned activities. No pool (campground pools are exceedingly rare in Newfoundland), but swimming is allowed in the pond, and there are also kayak and pedal boat rentals available. Prices range from around $40-50CDN.
The Viking Trail is a scenic drive that will take you north from Gros Morne all the way to the northernmost tip of the island. June weather kept us from making it all way to the end of the road, but we definitely hope to return one day to see the recreated Viking settlement at L'anse aux Meadows and do some whale and iceberg spotting in St. Anthony.
We did go as far as Port Au Choix, though. This little town, about two hours from Gros Morne, is home to an archaeological site where you can learn about 6000 years of human habitation in the area, and some great hiking through limestone barrens, where you can spot some fragile arctic plants that are found nowhere else in the world.
Suggested Campground: We stayed in the parking lot of the Sea Echo Motel right in town, where spots with water and electric hookups are $20CAD. Or you can go with the Oceanside RV Park, right down the street and run by the local Lions Club. Both have great ocean views and can get very windy.
Most of western Newfoundland is remote and sparsely populated, but Deer Lake and Corner Brook both offer more of the trappings of civilization, like Tim Hortons and Walmart. We spent a couple of unusually hot days in Corner Brook and loved both the air conditioning and the atmosphere at the Sugar & Dice board game cafe and at the Hew & Draw hotel restaurant. The Insectarium in Deer Lake is a fun stop and one of the few good options on this side of the island for a rainy day.
Suggested Campground: Kinsmen Prince Edward Campground is a short drive from downtown Corner Brook and offers private pull-through, full hook-up sites, a very nice bathhouse, and several nice walking trails for $40CAD.
This is part one of a two part series. In the next post Gretchen will share all of her tips for the east side of Newfoundland, Canada.
Podcast: Play in new window | Download