A Huge Announcement About Our Next Book
We bought our first RV over 12 years ago and it changed our lives forever. Both of us were teachers at that time and we wanted to get out into nature and enjoy time in the great outdoors with our one-year-old twin boys. Purchasing an entry-level RV seemed like a great investment because we would be able to afford two or three vacations each year instead of one. We would also be able to take a weekend trip every month without breaking the bank.
Campgrounds were affordable when we started out as RVers and we loved that aspect of the lifestyle. It also made great sense to us. We were hauling our own accommodation behind us and were responsible to keep it functioning and running right. Camping should always cost less than a house rental or a hotel room for those reasons, right?
But as most of you know–camping has become quite a bit more popular and more expensive over the past few years. And that concerns us quite a bit. We want camping to remain budget friendly so that middle class families like ours can enter the lifestyle and enjoy time with their kids in the great outdoors just like we did. Even though so many campgrounds have raised prices, taking an affordable camping trip is still possible. You just have to know where to go.
With all of that in mind–we have a huge announcement to make!
Where Should We Camp Next? Budget Camping: A 50 State Guide to Budget-Friendly Campgrounds and Free and Low-Cost Outdoor Activities is coming out next spring. Pre-order your own copy today to show your support for our next book and help launch it out into the wide world of publishing. Pre-orders are incredibly important for books because it helps trigger the Amazon algorithm and gives the book more exposure within the Amazon store–where most of our books are sold.
This book has over 340 budget-friendly campground recommendations in all 50 states–and it is packed with sidebars about free and low cost activities near those campgrounds. It also has recommendations for budget camping gear and so much more! We sincerely hope you pre-order a copy today so that you will have it on the day it comes out.
Here is a brief excerpt from the introduction of the book to give you a flavor of what it offers and how it will help you find hundreds of amazing campgrounds and save you money along the way.
Budget Camping: 5 Major Ways to Save Money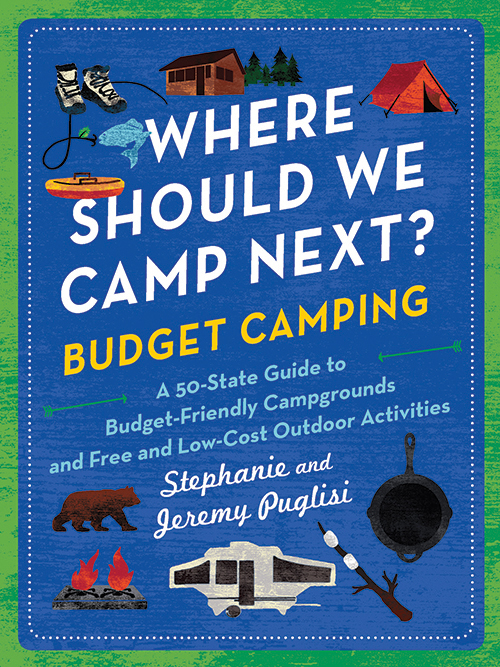 Campground Selection: Campground reservation fees are the number one way you can control your costs when planning a camping trip. If you are staying at multiple campgrounds over the length of a trip, think about the average nightly cost in order to stay on budget. On many of our trips, we will combine state or national park campgrounds with some private campgrounds, averaging out at about $60-$70 per night, well below what it would cost our family of five to stay in more traditional accommodations. 
Where Should We Camp Next? Budget Camping includes reviews of campgrounds in state parks, country parks, national forests, Army Corps of Engineers, national parks, and affordable mom and pop campgrounds across the country.
Limit Traveling Distance: The farther you travel, the more your camping trip is going to cost. Gas, tolls, and wear and tear on your vehicle can all add up, so picking a location close to home can significantly reduce the total cost of your camping vacation. 
Where Should We Camp Next? Budget Camping has around 6-10 campground recommendations per state–so there are plenty of great options for camping close to home.
Save on Equipment: Some folks are attracted to the low cost of a camping vacation and then go and blow their budget on a bunch of bells and whistles that they really don't need. These splurges can range from expensive tents to pricey RVs. We encourage everyone to keep these costs as low as possible until you know you will get enough value out of those purchases. 
Where Should We Camp Next? Budget Camping is packed with sidebars that include budget camping gear recommendations–RV Atlas favorites like the Estwing Fireside Friend, Toastite Pie Irons, and much more.
Control Food Costs: We save hundreds of dollars on every camping trip by eating at the campground instead of out at restaurants. With a bit of advance planning, we can keep our food costs the same as they are at home, if the budget is particularly tight. When we do eat out, we go during lunch service, which can cut the bill in half. 
Where Should We Camp Next? Budget Camping has affordable road food recommendations in many states–and also plenty of budget-friendly food hacks for saving money while you camp.
Free and Low Cost Activities: Maximize your enjoyment of the free to low-cost activities that camping provides. Every campground will have unique amenities, but many will offer fishing, hiking, and biking opportunities. Geocaching is a popular campground activity. We also pack our kayaks, paddleboards, or tubes if there are lakes or rivers nearby. We look for swimming holes and local festivals. Many campgrounds will offer a recreation schedule with free activities throughout the day for people of all ages. Some state parks will have frisbee golf courses or archery targets. It is absolutely possible to have an adventurous, jam-packed camping trip without spending a ton of money on activity fees. 
Where Should We Camp Next? Budget Camping has recommendations for free and low cost activities in every single state in the country. These free and low cost activities are near the campgrounds that are recommended in each chapter.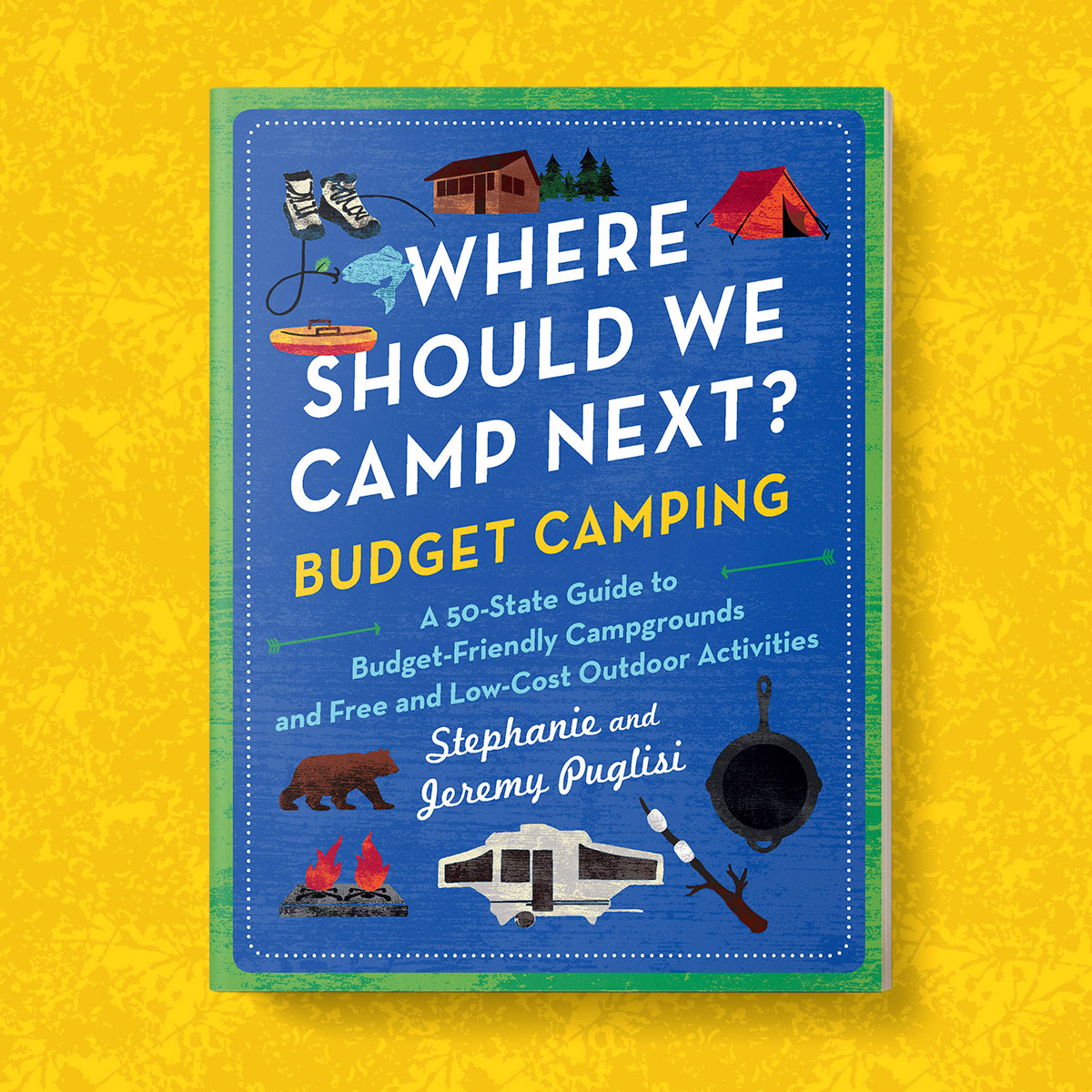 We are so excited to announce the release of our latest Where Should We Camp Next? book and we hope you pre-order your very own copy today!
See You at the Campground–Jeremy and Stephanie
Podcast: Play in new window | Download