Glacier National Park is one of the most iconic travel destinations in the United States. And St. Mary/East Glacier KOA may be the best base camp for exploring the east side of the national park.
Before we dive further into the campground review, it's important for folks to understand that Glacier National Park is huge. Epically huge. Plus, there is only one road that cuts across from east to west: the famous Going-to-the-Sun Road. So most people start their trip planning by picking a 'side' and developing an itinerary around that location.
Shellie Bailey-Shah, our guest correspondent from KidTripster.com, highly recommends staying at the St. Mary/East Glacier KOA If you choose to stay on the east side. At the beginning of this podcast episode, she walks us through why her family made that decision. So make you take a listen if you are struggling to commit to either the east or west side of Glacier National Park.
Campground Details: St. Mary/East Glacier KOA
The St. Mary/East Glacier KOA is a large campground with RV sites, tent sites, and cabin sites. There are many different areas of the campground and each might appeal to different campers. Make sure you listen to Shellie's take on where you might want to stay if you have kids and want to be in the middle of the action. Sites by the pool and camp store may be appealing for some. However, she also gives recommendations farthest from the camp store that will offer privacy and peace!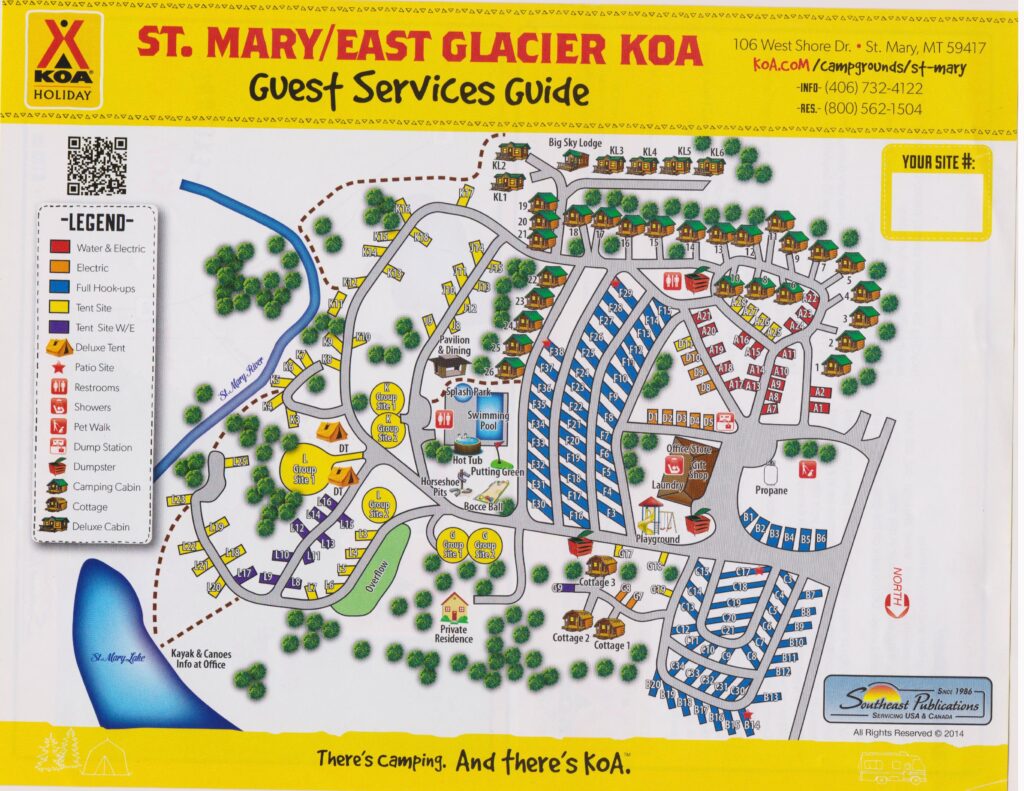 Glacier National Park is a top American summer destination, and the tourism season is incredibly short on account of the weather. These two factors combined mean that you must make your reservations as far in advance as possible. Especially if you want your pick of campsites. Note that this campground is only open from May 15th through September 30th.
Amenities and Activities: St. Mary/East Glacier KOA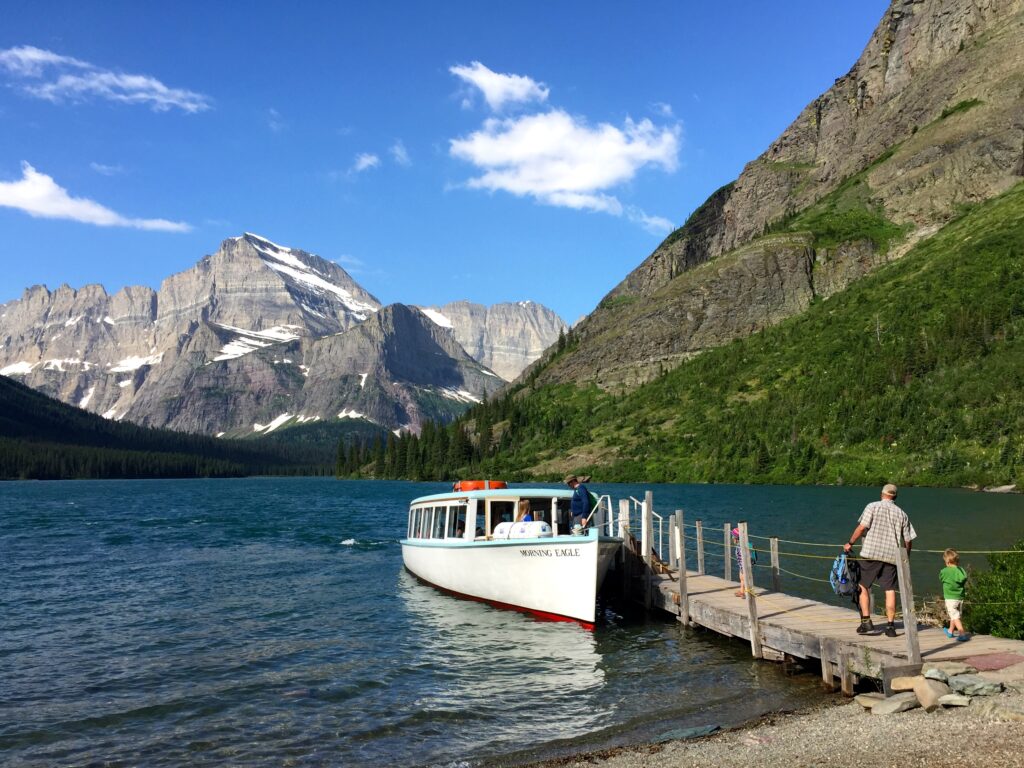 The St. Mary/East Glacier KOA is the perfect campground if you love resort-like accommodations after long days exploring in a national park.
This campground offers a pool, hot tub, and splash pad. Plus, there are bocce ball courts, horseshoes, and kayak and SUP rental. Shellie offered a really great tip to our listeners on this episode. Turns out that the wind really kicks up every afternoon around 3 pm. This means that if you want to enjoy the lake and the water rentals, you should probably do it in the morning.
One of the best features of this campground (in our humble opinion) is the on-site food options. We love the idea that you can come back from hiking a glacier and order a pizza for dinner. There's also an espresso bar and boxed lunch options for your daily excursions. If you are exploring with younger kids, you know amenities like this can make all the difference in the world!
And one of the best features of this campground in Shellie's opinion is the on-site pet sitting/boarding option. For $20 someone at the campground will visit your RV and take Fido on two short walks throughout the day. Since dogs are not allowed on the trails in Glacier National Park, this is an amazing option for all of us that travel with our furry family members.
Regional Highlights: St. Mary/East Glacier KOA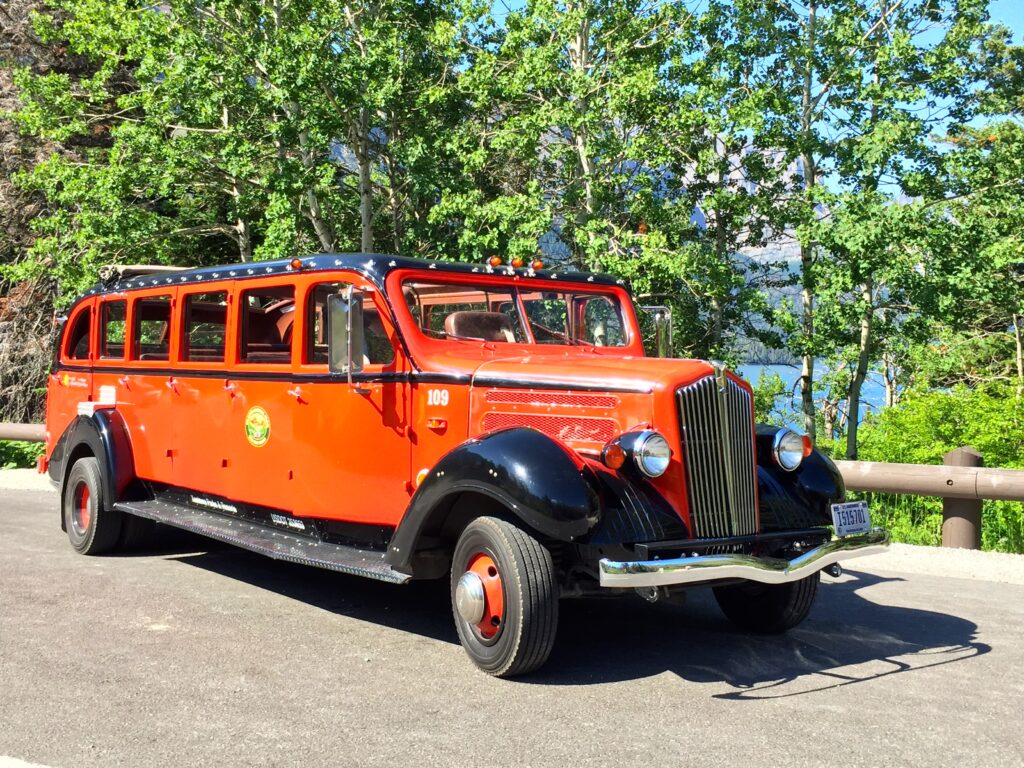 This is one of Shellie's favorite national parks that she has ever visited. And she's visited a lot of them. In the second segment of the podcast, Shellie really encourages everyone to plan their trips to this bucket list destination immediately. The sad fact is that the glaciers are disappearing rapidly, and now is the time to see them.
Shellie's family decided to hike Grinnell Glacier. There's some tricks to making this a family-friendly hike that involve a boat ride, so make sure to listen to her insider tips for turning a 12-mile hike into a 7.5-mile hike. You can also visit Glacier Park Boat Company's website for details about pricing and reservations.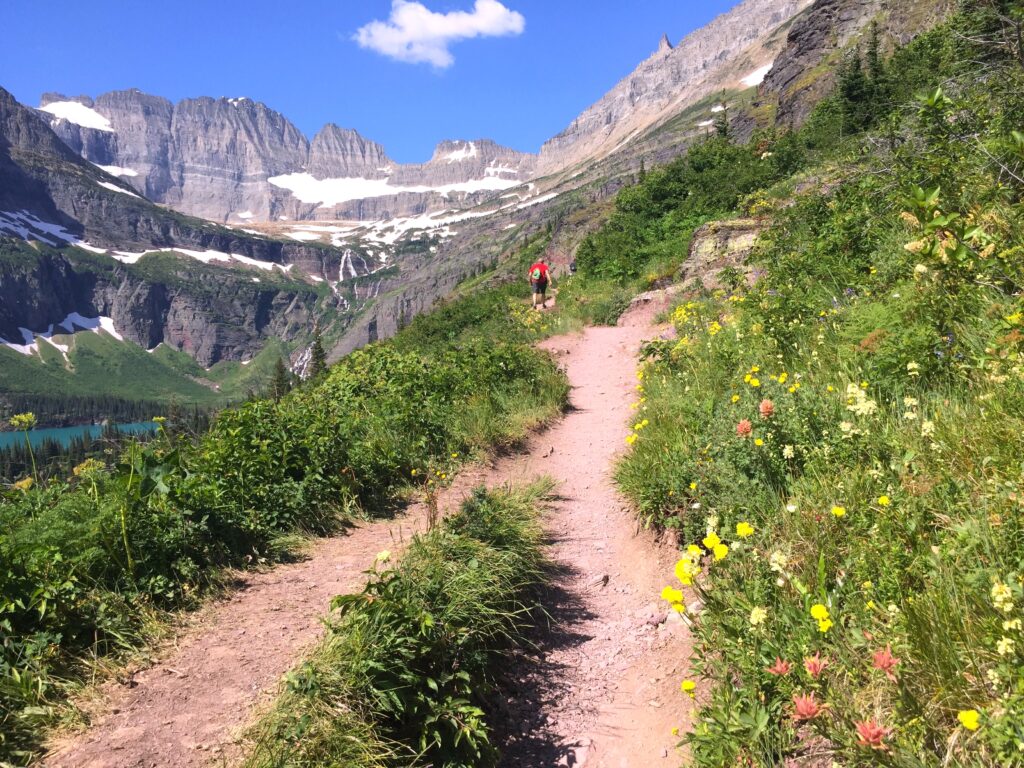 There are also a ton of options for exploring the famous Going-to-the-Sun Road. Of course you can drive yourself (NOT in an RV!). However, we highly recommend thinking about some of the tour options that are available. The Red Bus tours are a popular option. Who wouldn't want to see the gorgeous views from old fashioned station wagons with open tops???
If you are planning a trip to Glacier National Park, make sure you check out Shellie's article on Kidtripster.com, which will offer you even more advice and insider details.
And if you are planning to stay on the west side of Glacier, check out Brett's review of the Fish Creek Campground.
Now go see those glaciers!
See you at the campground,
Stephanie + Jeremy
Podcast: Play in new window | Download