We all know Lodge cast iron skillets are the best, but which is the best for YOU? We put three of their skillets through a rigorous camp cooking showdown to decide which was our favorite and to help you make a perfect match for your family.
In our minds, there are three skillets in Lodge's lineup that should be considered when you are shopping for home or the campground: the Classic, the Chef's Collection, and the Blacklock. We have been testing all of them in the 10-inch range. We really do love all of them! Each has a lot of pros, and maybe a few cons, to consider based on personal preferences.
Hear our full review of these Lodge cast iron skillets by clicking play on the media player above or by searching for The RV Atlas wherever you find your favorite podcasts.
Comparing Cast Iron Skillet Sizes
When comparing Lodge Cast Iron skillets, one thing we really didn't take long to decide was which size was the best for us. For our family, the 10.25-inch skillets are perfect. Not larger or smaller. Just like Goldilocks finding the things that are "just right," you have got to find the just right size for you.
The 10.25-inch skillet truly should be a great fit for most families. If you go smaller, you really only have room to cook for one. If you go larger, you'll find that the skillets are really heavy and don't fit as well on the burner. Larger ones tend to heat unevenly unless you preheat the skillet in the oven or move it around a lot. We're just not interested in that kind of effort, frankly.
Now, if you are cooking over a campfire or a bed of coals, then a 12-inch skillet becomes more appealing. Though, in those cases, we would just use our Lodge Cast Iron Cook-it-All. It's the Swiss Army Knife of skillets (hear more about it here). But, for regular meals at home, the 10.25-inch skillet is the best for us…and we suspect it will be the best for you, too.
The Classic Lodge Cast Iron Skillet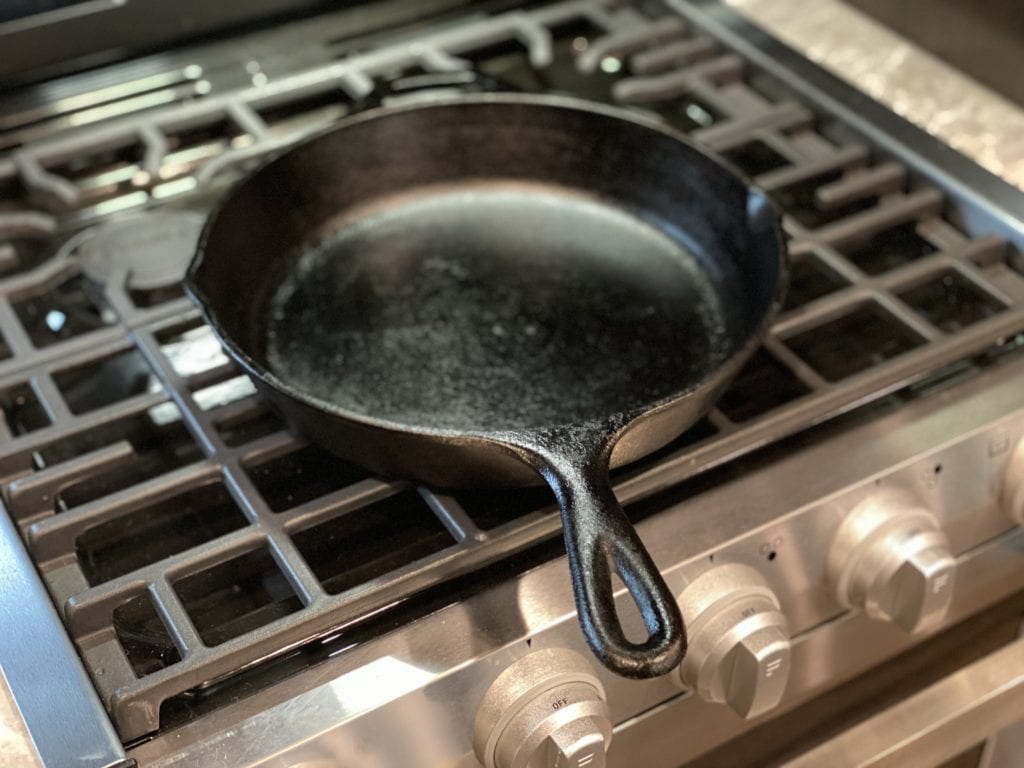 First up, let's look at the Classic Lodge cast iron skillet. The 10.25″ skillet retails for $20.95 on Lodge's website, but you can often get it for around $15 in big box stores and elsewhere.
Lodge points out that the Classic skillet has been "hailed as an 'essential kitchen tool'" by Martha Stewart and that it is often considered a "favorite go-to skillet for years to come." We have had one of these for 15 years! We think ours came out before they started pre-seasoning them. Luckily, the Classic now comes ready to use. Ours has gotten a lot of wear and tear over 15 years, and it has been durable and functional for us.
Here are some stats from the Lodge website:
Fits

5 eggs 

Cooking Surface Area

53.43 

Great For

dinner for two 

Weight:  5.35 lbs.

 

Volume:

0.20 

Width:

10.68 in. 

Height:

2.0 in. 

Length:

16.12 in.
PROS: The value is, of course, outstanding. Add to that the durability. It's cheap enough that you don't mind tossing it around in a storage bin. It doesn't need to be treated with much care to last and work great. We also really like the pour spout.
CONS: The handle, which projects straight out from the body, gets pretty hot (like, as hot as the pan). Common sense can win the day here, but if you are going back and forth between this and regular skillets, it's easy to accidentally grab the handle. Also, if you have young kids, you may want to add a silicone sleeve to cover the hot handle. This is also a pretty darn heavy skillet.
The Lodge Chef Collection Skillet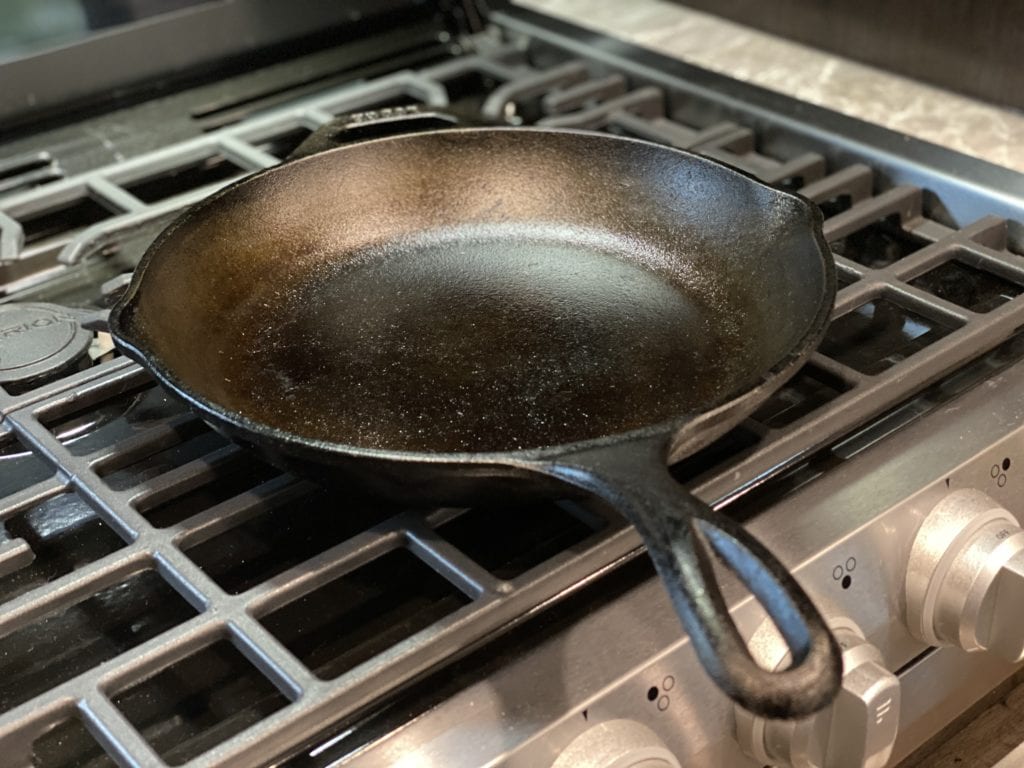 For just around $10 more, you can upgrade to the 10-inch Lodge Chef Collection Skillet, which retails for around $27 on the website. We think there is truth in advertising here, as this has more thoughtful features that go above and beyond the Classic.
What makes the Chef Collection skillet different from a Classic Lodge cast iron skillet? The Chef Collection has a bigger pour spout, which makes it easier to use. The handle has more of a curve to it, which makes it easier to lift and move. Plus, it is a little lighter–not by much, but it is enough to feel the difference.
We bought this skillet about six months ago and do really like it. It has a much more elegant design and overall look than the Classic skillet. And, the price difference is only around $6, so you aren't paying much for the upgrade.
Here are the stats from Lodge:
Fits

4 eggs

Cooking Surface Area:

44.16

Great For

dinner for two 

Weight:

4.61 lbs. 

Width:

10.81 in. 

Height:

2.56 in. 

Length:

16.63 in
PROS: The curved sidewalls make scooping food out with a spatula easier and smoother. The curved and raised handle stays significantly cooler than the handle on the Classic. As we mentioned earlier, this skillet is a bit lighter than the Classic. It's also not as wide and the main body of the pan is shorter.
CONS: The lower side wall on the Chef's Collection really doesn't work for us. It seems like we are a little too messy and don't have a functional use for the lower side wall. We're not making delicate sauces and what not. But, if you are, you might appreciate this feature.
The Lodge Blacklock 96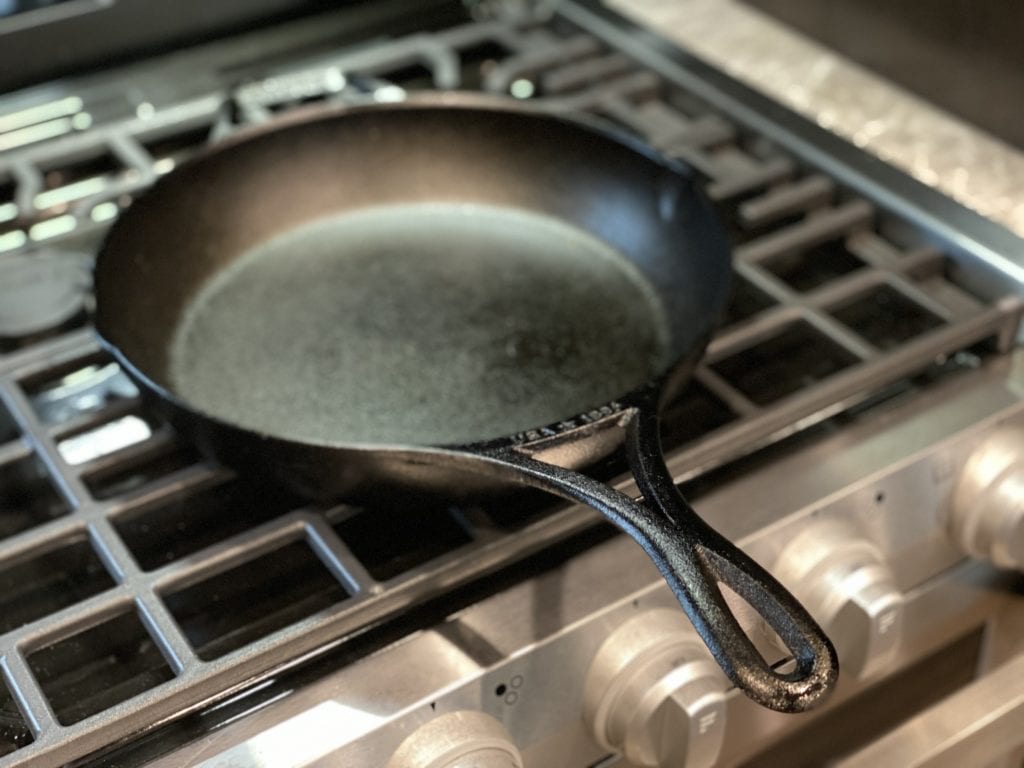 The Lodge Blacklock 96 10.25-inch skillet is a major upgrade from the Classic and the Chef's Collection, and you'll pay for those upgrades. It retails for $60 on the Lodge website. 
We talked a lot about the special Lodge Blacklock line previously (find it here). This commemorative lineup has great aesthetic appeal. Plus, this skillet comes triple seasoned. It is designed to be much more lightweight than traditional cast iron. They really tried to honor the traditions, while looking toward the future.
Here are the stats from Lodge:
Cooking Surface Area:

58.46 

Great For

dinner for two 

Weight:

4.61 lbs. 

Volume:

0.31 

Width:

10.7 in. 

Height:

2.9 in. 

Length:

17.4 in.
PROS: This is a very attractive skillet. The design and aesthetic appeal is excellent. The packaging and boxing is also super nice, which makes it great for gifting (or fun when you gift yourself). The triple seasoning is actually awesome–this is so non-stick and maintenance free it is ridiculous. The Blacklock skillet looks brand new after each use and doesn't need re-seasoning at all. At least thus far. The lighter weight than the Classic is nice. The curved and raised handle does an absolutely amazing job of not getting hot to the touch. If you have small kids and cook near them, you'll especially appreciate this feature.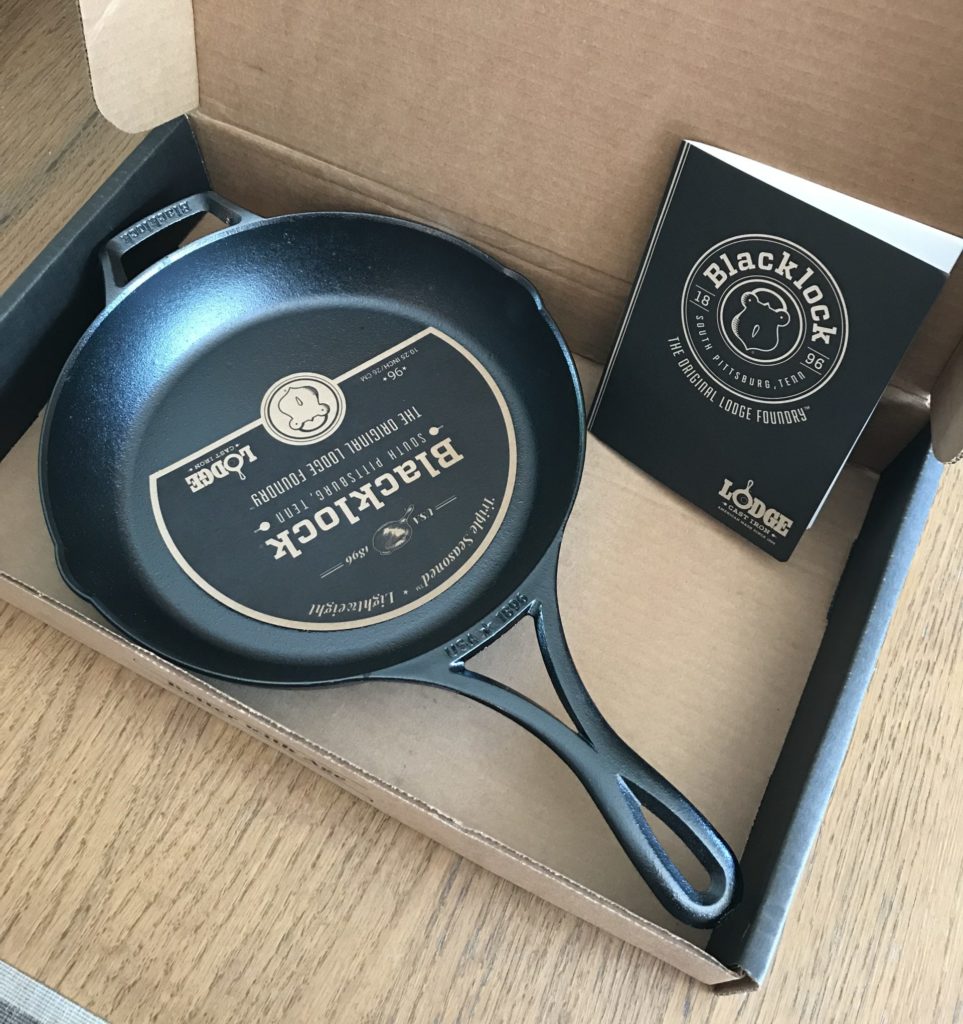 CONS: First, it has to be said this skillet is about three to four times the price of the classic. We also find the thin handle uncomfortable to hold in your hand in the normal way, especially as compared to the weight of the pan. Jeremy actually turns his palm up to hold it to make more comfortable. At first, he thought he was being kinda wimpy about this issue. Then he watched Cowboy Kent Rollins on YouTube review this skillet, and he also mentioned it as a problem. So, it's definitely something to consider. If Cowboy Kent Rollin says so, it's true.
Comparing Lodge Cast Iron Skillets: Our Pick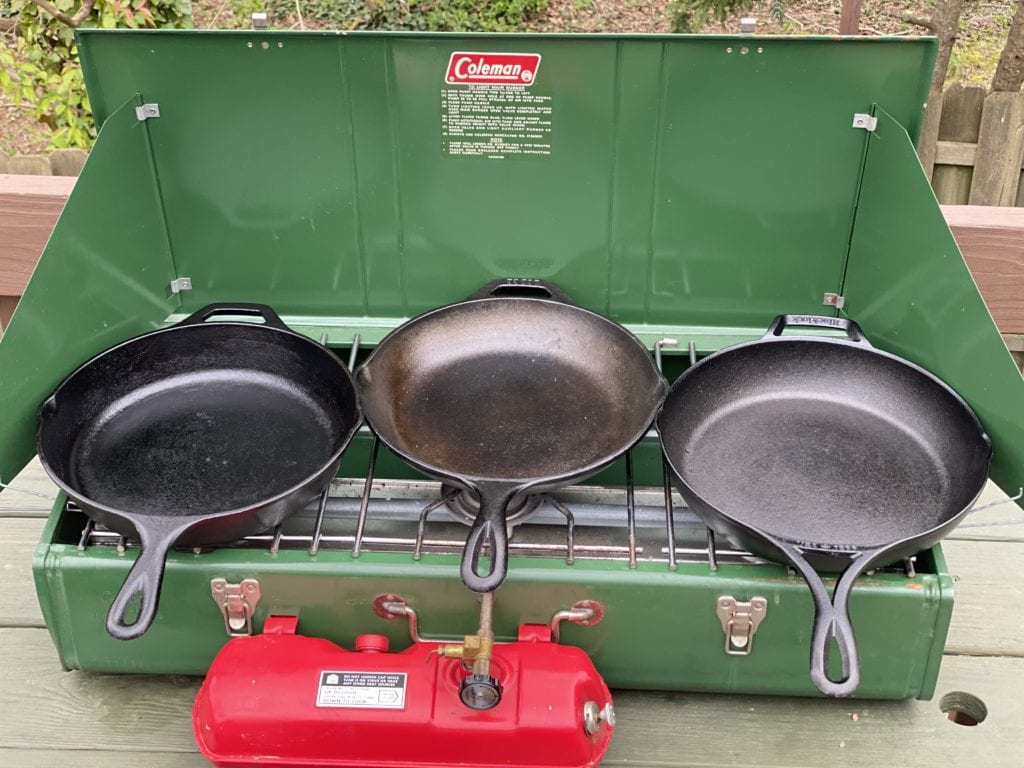 Which of these three Lodge cast iron skillets is the best? The Classic, the Chef's Collection, and the Blacklock have distinct features and unique pros and cons. For us, the Classic truly accomplishes all we need! We suspect the same is true for most home cooks and most campers. The price point and the ease of use can't be beat. Throw on a silicone handle cover, if the hot handle is a concern, and cook away! You can use it and abuse it for years.
For a gift or for a treat to yourself, the Blacklock is truly nice. If you'll use it a lot or if the specific upgrades are important to you, then the price is worth it.
We hope we've made it easier to find the Lodge cast iron skillet that will be "just right" for you family.
See You at the Campground,
Jeremy + Stephanie
Podcast: Play in new window | Download