More and more tent campers and RV owners are bringing portable fire pits like the Solo Stove camping with them. But why are they bringing Solo Stove fire pits to the campground if they have fire pits there already? And what Solo Stove models are good for camping? Let's take a look at this relatively new phenomenon and then briefly review each of the Solo Stove models in case you want to toss one in the back of your truck and join the party. So why are some tent campers and RV owners bringing a Solo Stove with them when they camp?
It's probably because they have become accustomed to having a much less smoky campfire at home, and they want to have that same experience when camping. As a side note–we find Solo Stoves to be close to smokeless when they are operating with high heat and dry, properly stacked firewood. We do not consider them to be completely smokeless.
We also think people bring portable fire pits with them because campground fire pits can be gross and filled with charred wood, broken glass, and the remnants of someone else's idea of a good time.
So using a Solo Stove can be less smoky, cleaner, and more sanitary.
Additionally, several of the Solo Stove models are very lightweight and easy to move–so you have flexibility when positioning them around your campsite. Sometimes campground fire pits can be in the most inconvenient locations. We find all of these reasons to be quite compelling–and we understand why some campers are choosing to bring fire pits to campgrounds that already have them. Now let's take a look at the Mesa, Ranger, Bonfire, and Yukon models, and share our pros and cons for each.
Use coupon code RVATLAS10 for $10 off a minimum $100 purchase at solostove.com. This article contains affiliate links. Our opinions are entirely our own and based on our experience using each of these products.
Solo Stove Mesa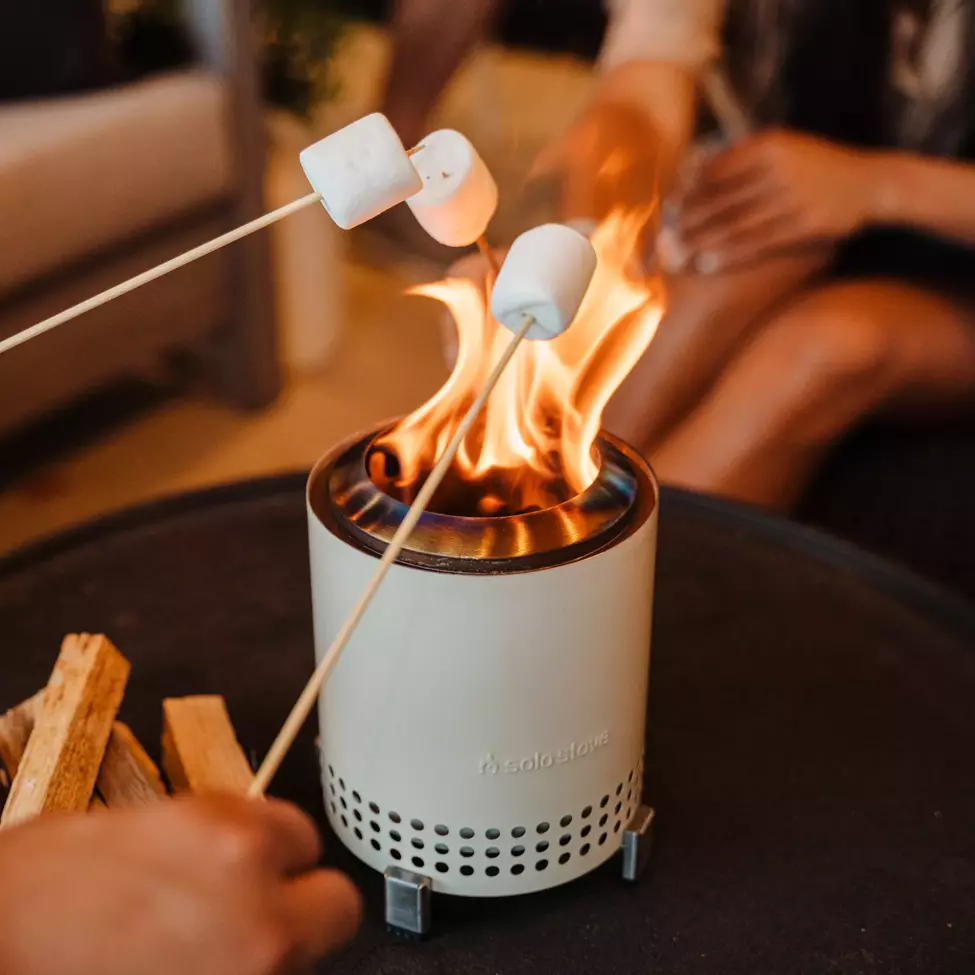 Let's get this out of the way real quick: the Solo Stove Mesa is really small. It's diminutive size has surprised many people that have ordered it without taking a good look at its dimensions. It is 6.8′ inches tall, 5.125″ inches in diameter, and weighs 1.4 pounds. So it can easily fit in the palm of your hand. If you set up camp chairs around the Mesa and light it up you will look really silly. So what is it for? And is it even a fire pit? You can call it whatever you want (Solo Stove calls it a tabletop firepit)–but we are calling it absolutely adorable. It It is also totally functional for select uses.  The wide range of color options and reasonable price point also make it super giftable for birthdays and during the holiday season.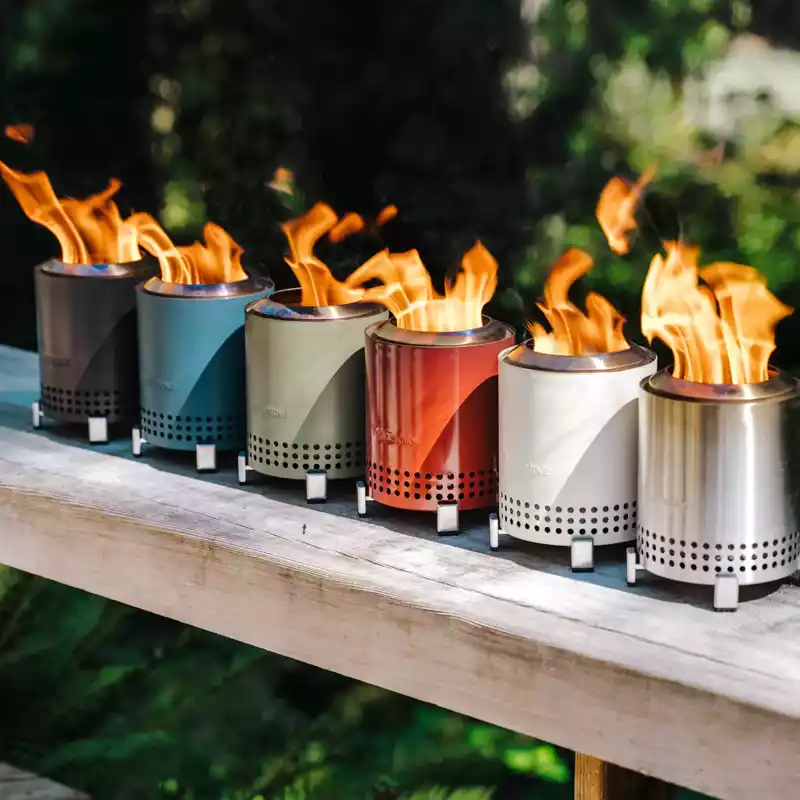 Most obviously, the Solo Stove Mesa is a s'mores making machine. If you have ever gone through the fuss of building and lighting a campfire just to make s'mores then you can immediately see the genius of the Mesa. We plan on keeping our Solo Stove Mesa in the RV all season long so it is available for s'mores on nights when we don't want to have a campfire. The Mesa is also great for setting up on a tabletop and creating some campfire vibes on nights that might be too hot for a regular campfire. We have heard some campers call the Mesa a gimmick, but we think it is a great piece of gear.
Solo Stove Ranger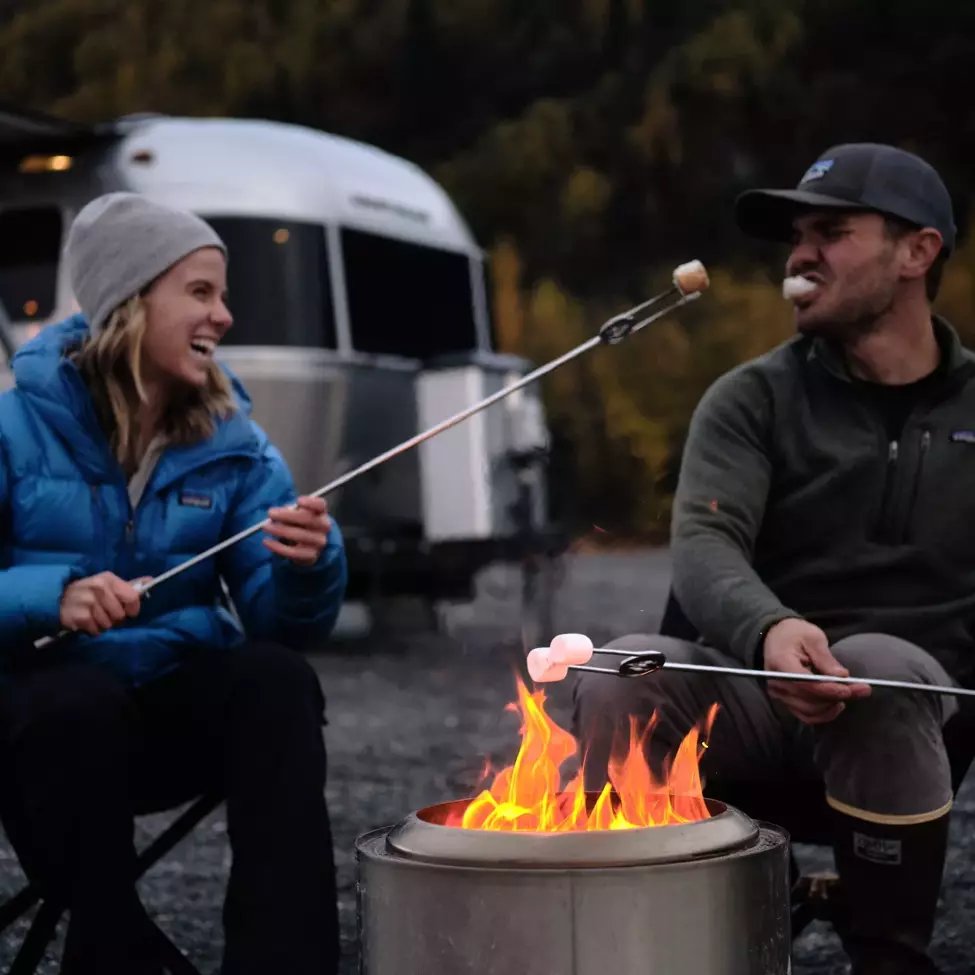 We think the Solo Stove Ranger hits a sweet spot for solo travelers and couples that have limited storage space. Two people can easily sit around the Ranger and stay toasty warm. This modestly sized fire pit is 12.5 inches high, 15 inches in diameter, and it weighs 15 pounds. It is easy to store in the back of a truck or SUV and it can fit in the exterior storage areas of many different RVs–but certainly not all of them. If you are hell bent on storing it inside your RV's cargo area we recommend taking some measurements first.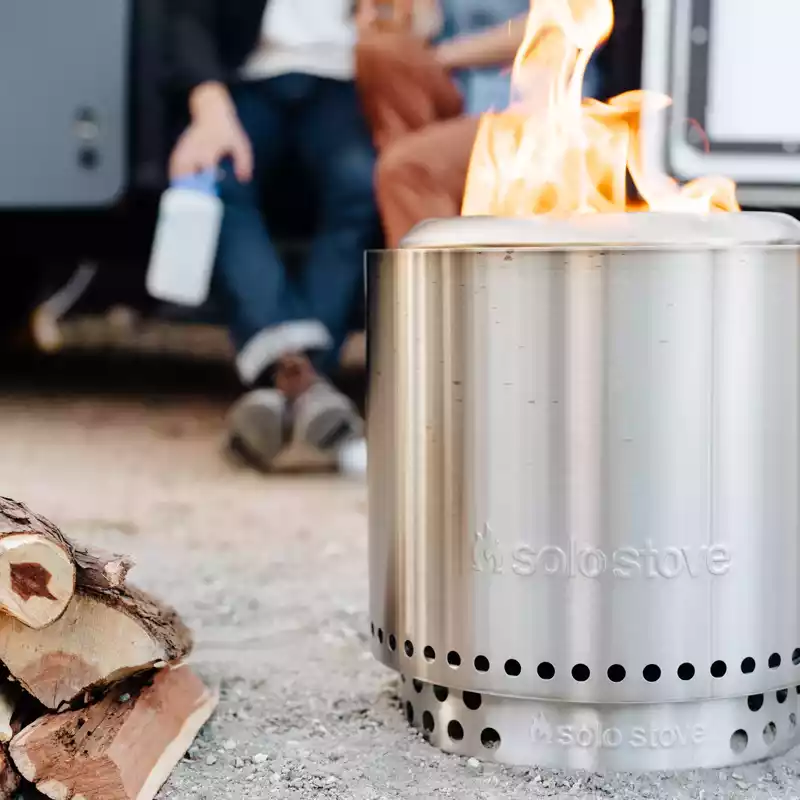 If your camping group has three or more members–we think that you might want to look past the Ranger and check out the Bonfire. But if you want a fire pit that is easy to move, easy to store, and easy to use–then the Solo Stove Ranger might be a perfect fit for you–and that special someone you like to cozy up with around the campfire. Don't forget to use coupon code RVATLAS10 for $10 off a minimum $100 purchase at solostove.com.
Solo Stove Bonfire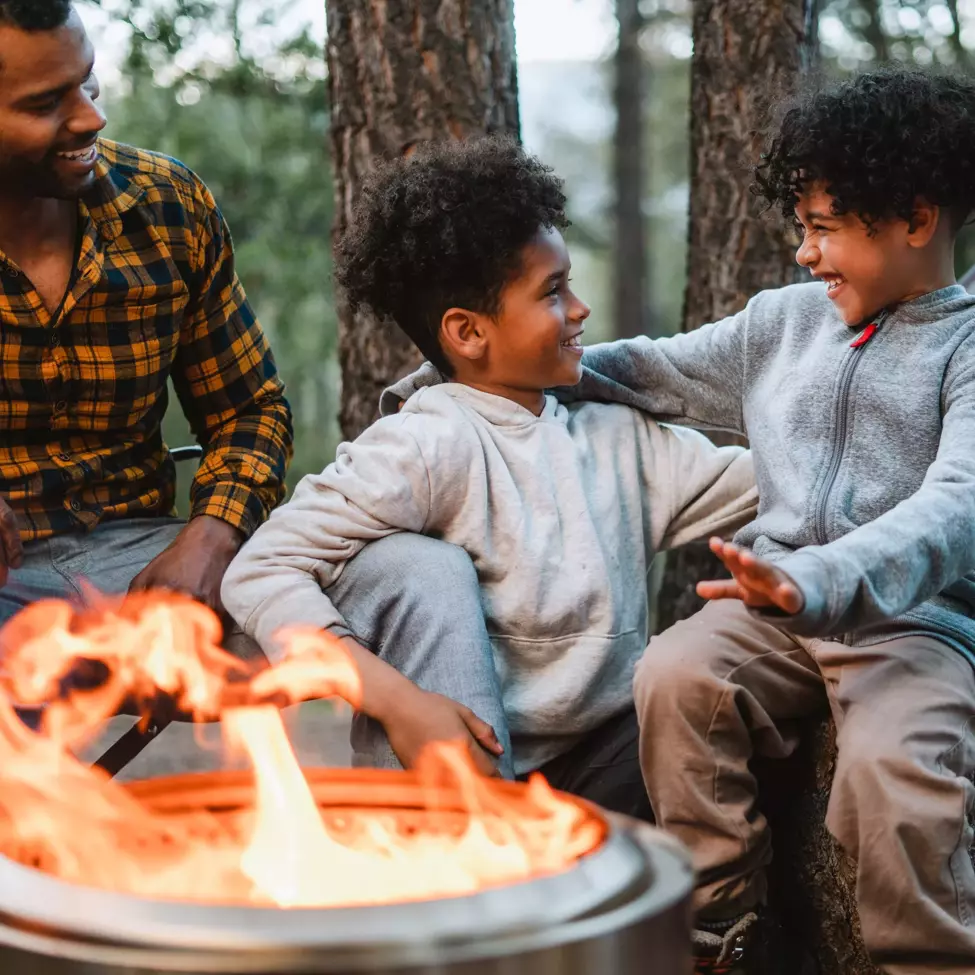 The Solo Stove Bonfire is our favorite option for camping in the entire Solo Stove lineup. Four people can sit comfortably around the Bonfire, and it is still easy to transport and store. It is 14 inches tall, 19.5 inches in diameter, and it weighs in at just 23.3 pounds. Very few people will find the Bonfire difficult to carry and set up at the campground. The other thing that many people love about the Bonfire is that its just-right size is good for home and away. This fire pit makes sense in your backyard or in the backcountry. Many people that we know use it in multiple different locations and feel that it is a good value for precisely that reason. You can use it in many different situations–so it gets used a lot–thus easily justifying the purchase price.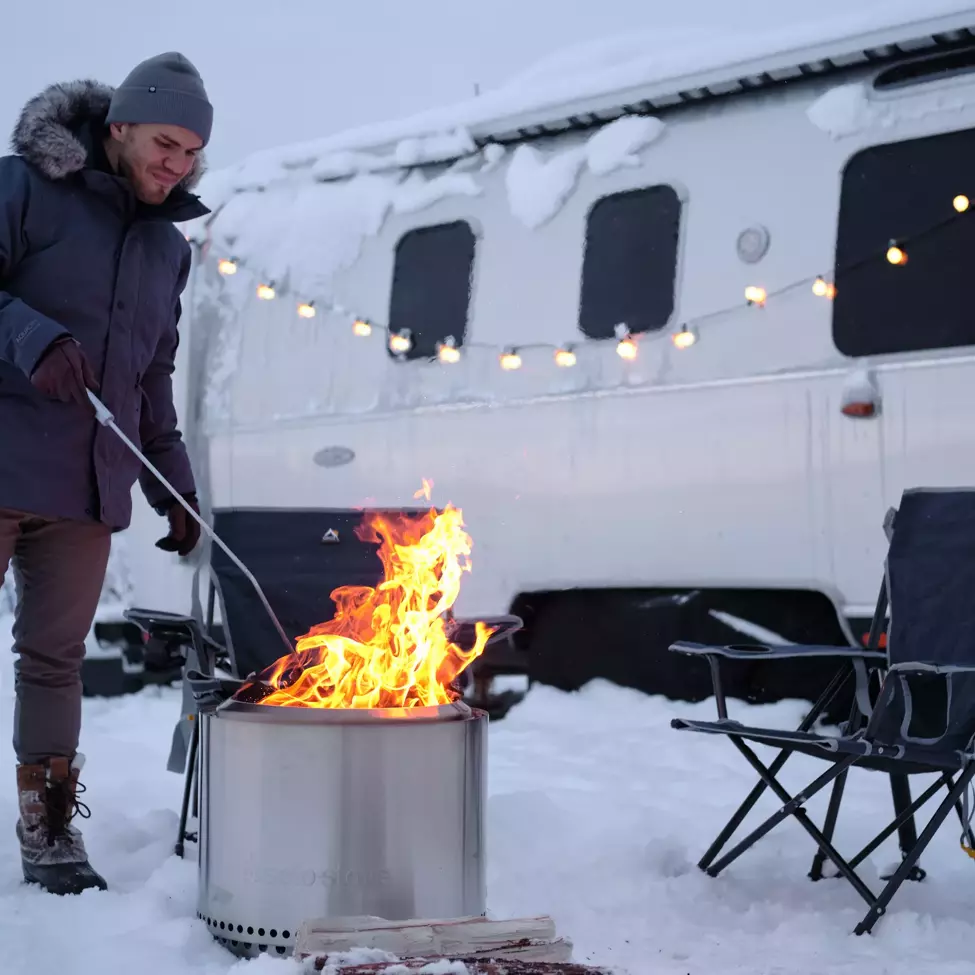 We know dozens of campers that own the Solo Stove Bonfire, and the vast majority of them love it.  A few of them complain that most of the heat radiates upwards instead of towards those sitting around it. There is a grain of truth to this–but you can't have it all can you? Part of the design that makes the Solo Stove virtually smokeless also makes the flames radiate upwards instead of dancing along the sides of the fire. We find that you can easily keep the Solo Stove Bonfire ripping hot if you consistently add wood over the course of your campfire.
The Solo Stove burns wood very efficiently–so you don't need a ton of firewood to get it going–you just need to add wood as you go. So in this case, if you are willing to give your campfire the attention it deserves, then you can actually have it all. Because it burns wood so efficiently it is also possible to have shorter fires that are still very hot. For us, this is the Solo Stove's secret superpower. We find that traditional fire pits need tons of wood to get hot–but then take forever to burn all of that wood–and you have to sit around the fire forever to let it die down safely. Or you have to douse the fire with water and ruin the wood and create a sloppy mess. The Solo Stove burns the wood down to ashes quickly and efficiently so it is easy to clean and always ready to go for your next campfire.
Solo Stove Yukon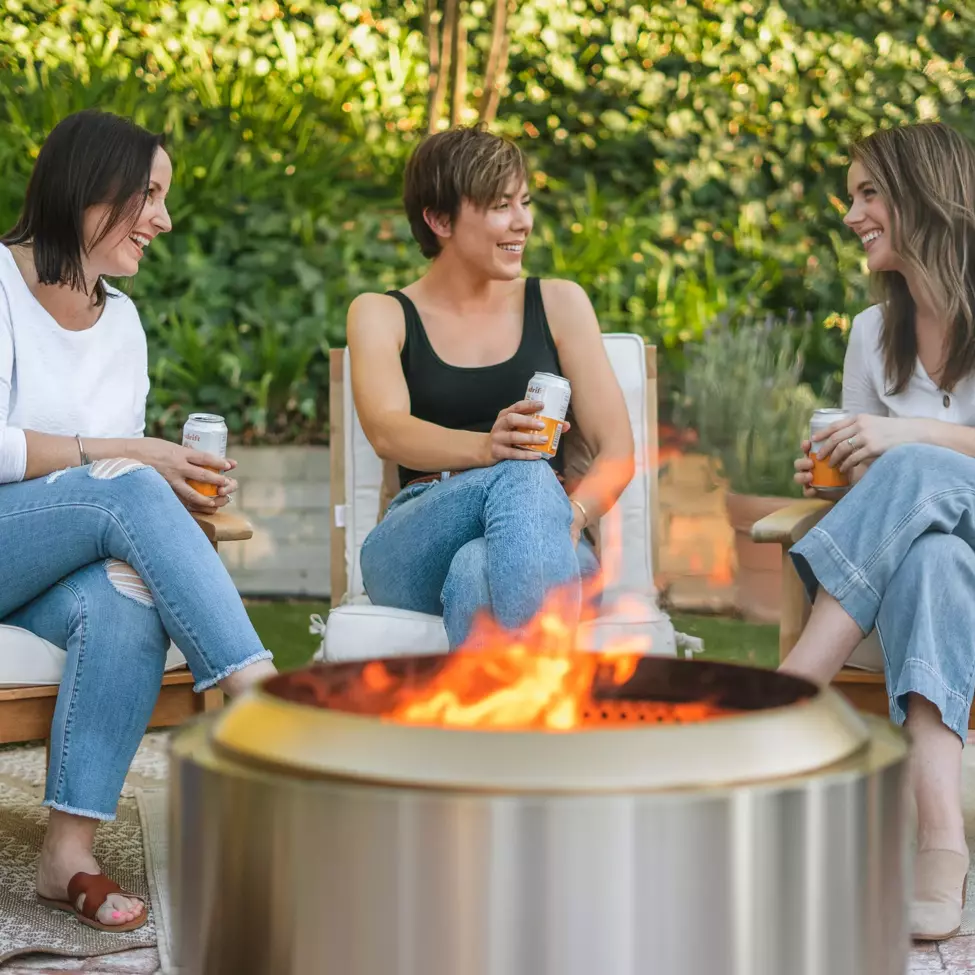 The Solo Stove Yukon is significantly larger than the Bonfire, and most people will not want to use it for camping. It is definitely more of a permanent backyard fire pit than the Bonfire or the Ranger. The Yukon is 17 inches tall, and a whopping 27 inches in diameter. It also weighs in at 41.6 pounds–so it certainly won't be easy to lug around to the campground.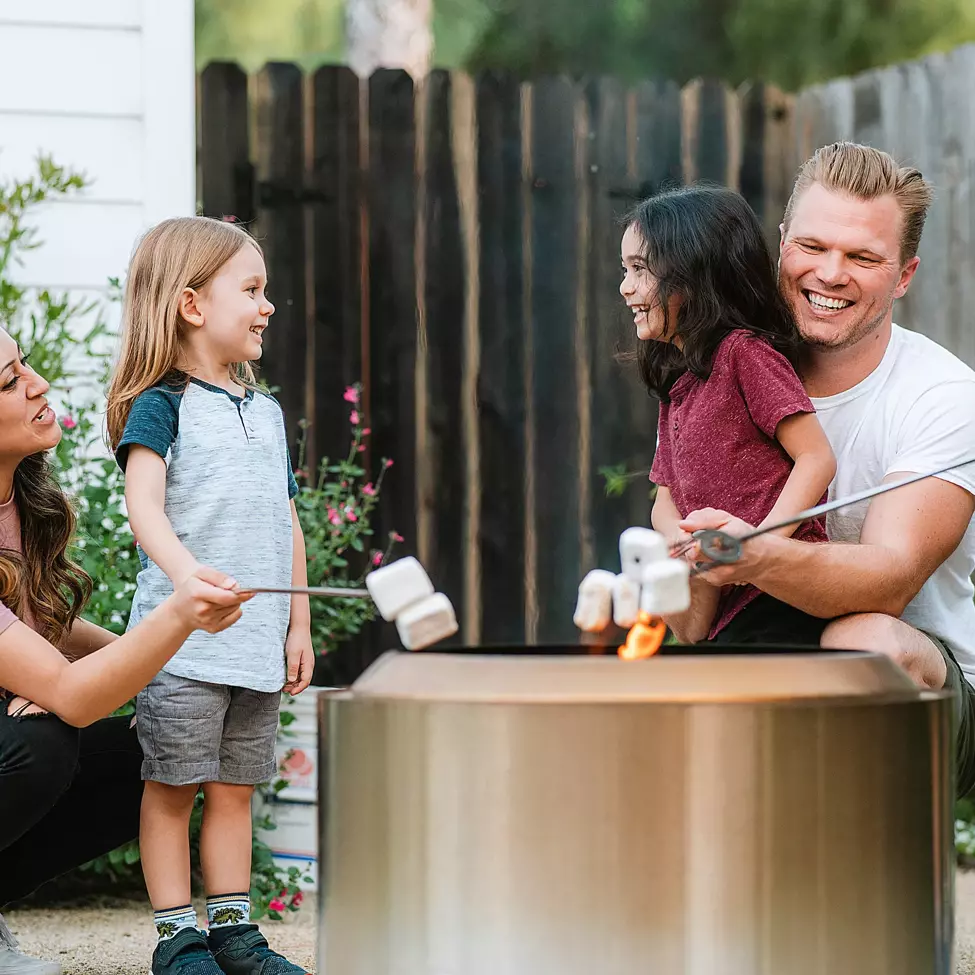 However we do think that the Yukon works incredibly well for those RV owners that have seasonal sites where they park their rigs for the entire year. We know many seasonal campers that own Yukons and keep them at their campsites in a permanent location–and they love having them. But we certainly know more campers that have a Yukon in their backyards and a Ranger or a Bonfire stored away inside their campers or on a shelf with their tent camping equipment. Yes–many of the Solo Stove owners we know have purchased two of them. A very solid indication that Solo Stove is making great products for at home, at the campground, or both.
Don't forget to use coupon code RVATLAS10 for $10 off a minimum $100 purchase at solostove.com.