I'm not exactly a fashionista, but I do get a lot of questions about my wardrobe whenever Jeremy posts a picture of me over on Instagram or Facebook. I think this is because I'm fairly seasoned at tracking down those staple camping clothes that are the perfect cross between practical, comfortable, and stylish. I've made clothing recommendations in the past on our gear guides, but I decided it would be better to have a dedicated blog post that I could update each season with any new finds.
What makes a great camping clothes? I have a capsule wardrobe at home, but my day to day clothing does not necessarily translate well to the campground. So I've pretty much created a second capsule wardrobe for camping and outdoor recreation. I'll keep this blog post updates each season with any new favorite wardrobe additions.
Here are my quick rules for creating a capsule wardrobe…
Pay attention to the articles of clothing that you wear all the time, and try to replicate that fit and style.
Splurge a little on the wardrobe staples like jeans, jackets, and boots. They'll last you awhile.
Look for deals on items that you'll want to refresh more often like t-shirts and tank tops.
Stay mostly neutral with your staples and then fill in with some color from graphic tees and other accessories.
Donate articles of clothing that you don't regularly wear. If it's not in regular rotation, pass it on!
Fall Favorites for 2019: Camping Wardrobe Recommendations
High Waisted Jeans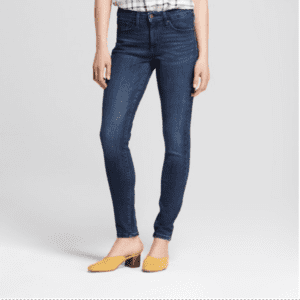 These are a MUST for me at the campground since I am always bending down to chock the wheels or add wood to the campfire. I hate hiking up my pants all the time, so low rise is O.U.T.
This fall I'm mostly sporting a pair of Universal Threads gray high rise skinny cropped jeans and Universal Thread dark skinny leg jeans.
Hiking Pants
Columbia Pilsner Peak Pull On Cargo Pants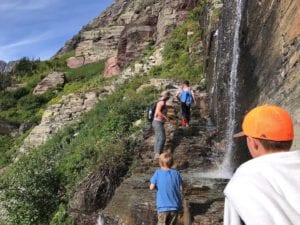 I'm really picky about hiking pants and have only found a few pairs over the years that I really love. These ones from Columbia are my new favorites. They've been in very heavy rotation and I should probably buy a second pair right now because I miss them when they are in the wash.
Leggings
Columbia Women's Back Beauty Highrise Knit Leggings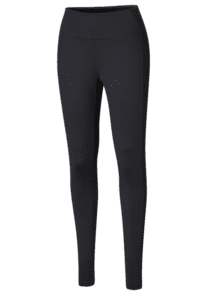 I like a new pair of ankle-length leggings to wear in the fall with a pair of boots. I just found these ones from Columbia that are super comfortable and supportive. The only downside is that they don't have a 'phone pocket' like some of my other favorite leggings do. You can buy them online at Cabelas.com.
The Basic Tee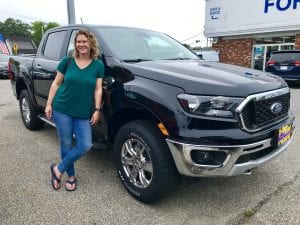 Even if you have a capsule wardrobe, it's okay to refresh certain pieces every season. I buy a few of these t-shirts from Target at the beginning of each season because I am obsessed with the way they fit. And since they are so affordable, I can get some fun seasonal colors, wear them into the ground, and then pass them on when I'm ready to move on.
The Graphic Tee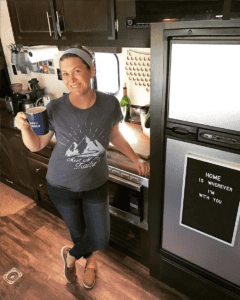 I always refresh my wardrobe with a couple of fun graphic tees from Bass Pro and Cabela's at the beginning of the season. This Meet Me at the Trailhead is my current favorite. You can find this one and many more at this link on Cabela's website.
Long-Sleeve Button Down Denim or Flannel Shirt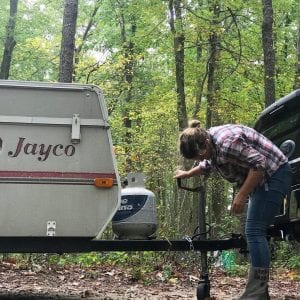 I live in these during the fall months, often layering them with a t-shirt underneath and a vest or jacket on top. You can find some great options from the Natural Reflections line that I like over on this page at Cabelas.com.
Lightweight Sweatshirt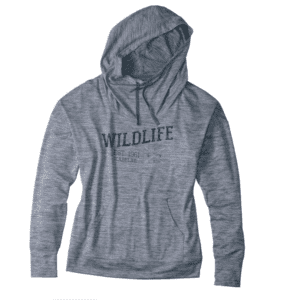 Fall is tricky with those cool mornings and warm afternoons. I love a really lightweight hooded sweatshirt for those weird in-between temperatures. Here's the one I'm wearing right now…
Lightweight Jacket
Women's Embroidered Canvas Jacket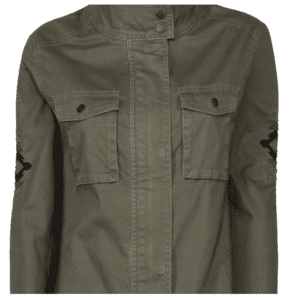 This is the new version of the jacket I bought a couple years ago and wear all the time. I think the embroidery element that they added is adorable. I'm also loving this new corduroy jacket and thinking of grabbing one on my next visit to Bass Pro or Cabela's. Again, I'm really enjoying this new Natural Reflections line.
Rain Jacket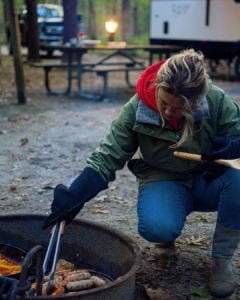 It's unfortunate but true: every fall camping wardrobe has to have a decent rain jacket. I have two that I love. One is more lightweight for warmer rainy weather, and the other is lined for those chilly, wet days.
Boots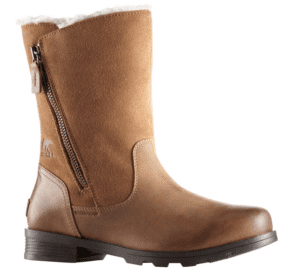 Comfortable, slip on boots are my main footwear while camping in the fall. Sorel tends to be my go to brand because they are a good balance between lightweight and sturdy. Plus, they last forever. I like a mid calf boot best, but this page has some other great options.
Duck Boots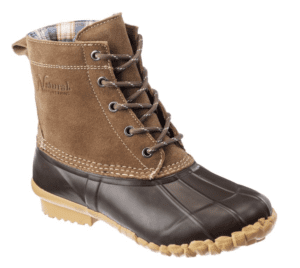 Are you even a camper if you don't have a decent pair of duck boots for walking around a muddy campsite?
And that's pretty much a wrap on my fall camping wardrobe recommendations. The actual contents of my capsule wardrobe will change often. But these are the basics that keep me comfy at the campground. If you have any favorites, leave a link in the comments below, or share with us over on Facebook! You can find our private Facebook group here.