We've got a pretty long history with this white chicken chili. About twenty years ago, Jeremy and I spent a lot of time in Ohio. I was going to college in Michigan and Jeremy would drive out for long weekends at our friends' house in Akron. Andrea and Mark were such wonderful hosts to us, stepping in as our college Mom and Dad, and they would spend all weekend feeding us the comfort foods we needed so desperately.
One of Andrea's favorite meals at the time was a White Chicken Chili, and we enjoyed it often enough that it became a staple. At some point, she gave me the recipe and it's been in regular rotation for decades in our home.
This recipe ended up on our campground menu mostly because it is so easy and so comforting. But I also love that I can make it in the dutch oven, slow cooker, or Instant Pot. I have done it many times all three ways, depending on the amount of time I have to prepare the meal. To be honest, I mostly use my Instant Pot these days and my slow cooker probably has a film of dust on it. However, I prepared it in the crock pot for years and can guarantee it is just as yummy either way.
I'm writing the recipe as you would do it in a dutch oven. Below the recipe, you can find the notes for the slow cooker and Instant Pot.
Something to note about my recipes. I am by nature a 'little bit of this and little bit of that' cook. I make my measurements nice and even for the campground, and call it a day!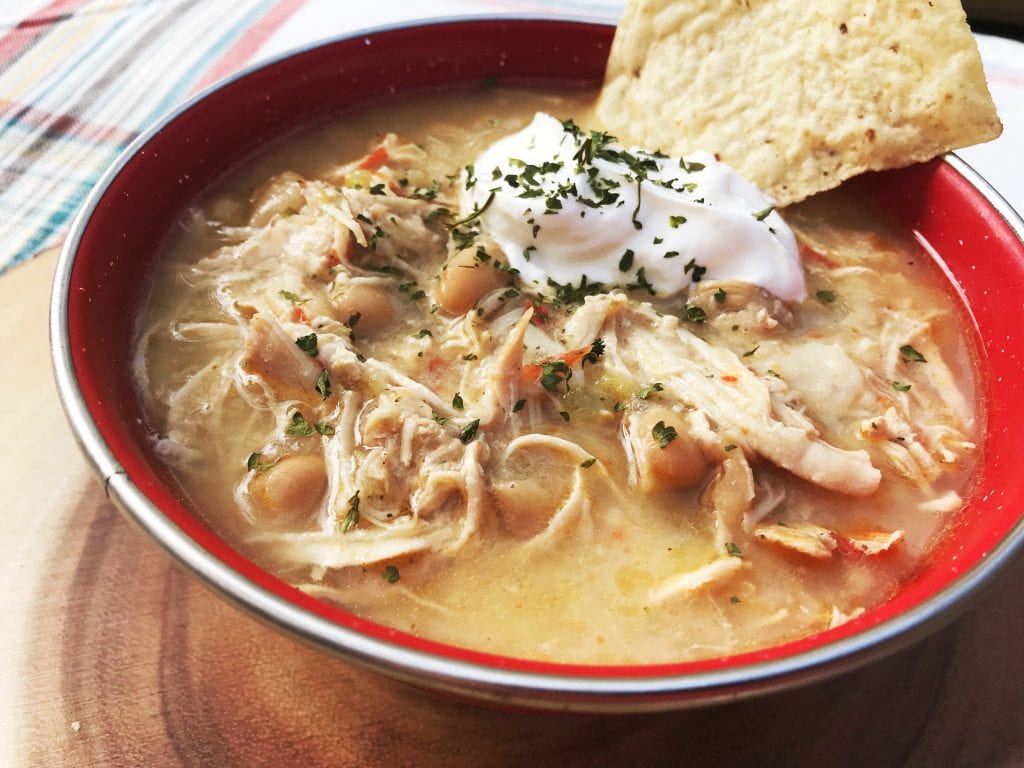 Ingredients for White Chicken Chili:
1 package of chicken breast (1-1.5 pounds)
1 medium white onion, chopped
1 green or red pepper, chopped
3 cloves of garlic, minced
1 large can of white beans (northern or cannellini), drained
1 small can of diced green chilis, drained
1 teaspoon cumin
1 teaspoon chili powder
1 teaspoon salt
1 teaspoon black pepper
1 pinch of ground red pepper (adjust to personal spicy preference)
1 box of chicken broth (or 4 cups)
Sour cream, shredded cheese, tortilla chips, and cilantro if desired
Directions for White Chicken Chili in the Dutch Oven:
Heat the dutch oven and add a tablespoon of oil. Brown the chicken breast for a few minutes on each side and then remove from the pot. Add the onions, pepper, and garlic to the pot and sauté until soft. Add the chicken back into the pot and then add the spices and stir until combined. Then add the beans, green chilis, and chicken broth. Bring to boil, then reduce the heat and let simmer for an hour.
Remove the chicken breasts and shred with two forks. Add the chicken back into the pot and stir.
Serve with a dollop of sour cream, shredded cheese, and cilantro if desired. Our family crumbles up tortilla chips for a topping as well!
Directions for White Chicken Chili in the Slow Cooker:
I know some folks like to brown their meat or sauté their veggies before putting them in the slow cooker. I'm way more lazy than that. When I do this White Chicken Chili in the crockpot, I literally throw every ingredient in and set it on low for 8 hours. I have, in face, put the chicken in while still frozen. So take that fussy chef.
After 8 hours, remove and shred the chicken, and then serve as recommended above.
Directions for White Chicken Chili in the Instant Pot:
When I make this in the Instant Pot, I take advantage of the sauté function and sauté the onion, pepper, and garlic until soft. Then I add the rest of the ingredients, place in the chicken breasts,  and pour in the chicken broth. I then set it to high pressure for 30 minutes. The most important thing is to let it naturally depressurize. If you do a forced release, you could wind up with tough meat.
Remove and shred the chicken, and then serve as recommended above.
Side note: Some folks reduce the amount of liquid used in a recipe when cooking in the Instant Pot. That's because liquid doesn't really 'cook off' in the pressure cooker like it would on the stove, and some things can get too soupy. However, I have used an entire box of chicken broth with this recipe and ended up with a nice hearty stew. It's up to your personal preference. 
We hope you enjoy this yummy chili as much as we have over the years. For more amazing campground recipes, check out this cast iron gem from our friend Kate Dunbar!
See you at the campground,
Stephanie