It was pretty much love at first sight when we walked into the Grand Design Imagine 2800BH. We knew that it wouldn't be the perfect RV for our family–because after 12 years of RVing we don't think that the perfect RV exists. At least not for us. If we purchased an RV with every single feature that we wanted–then it would be too long–and it wouldn't be perfect for us. We know that every RV has its compromises–so we were looking for something that checked off a lot of boxes–but not necessarily all of them.
The Grand Design Imagine 2800BH checked off more boxes for us than any of the other contenders did. This 32 foot trailer hit a sweet spot for us when it comes to towability, comfort, interior and exterior storage, and fit and finish. Considering the reasonable price point, it is fair to say we were impressed.
Let's take a tour of the Grand Design Imagine 2800BH and share what we love about it, and talk about a few things that might be pain points for us.
To listen to Stephanie and Jeremy talk about why they bought a Grand Design Imagine 2800BH on the RV Atlas podcast–click on the media player above or subscribe to The RV Atlas wherever you get your shows.
The Spacious and Comfortable "Retro Funky" Interior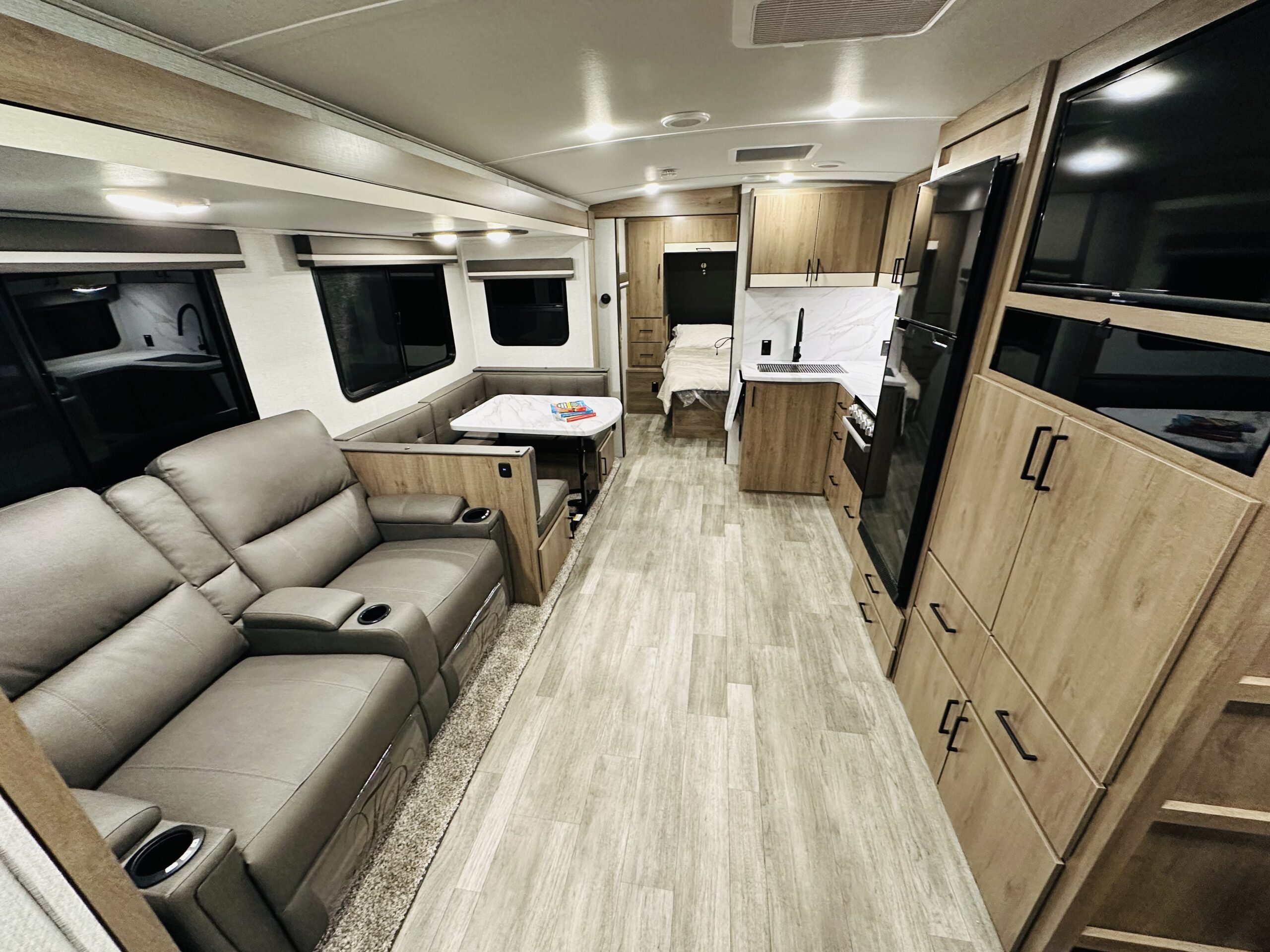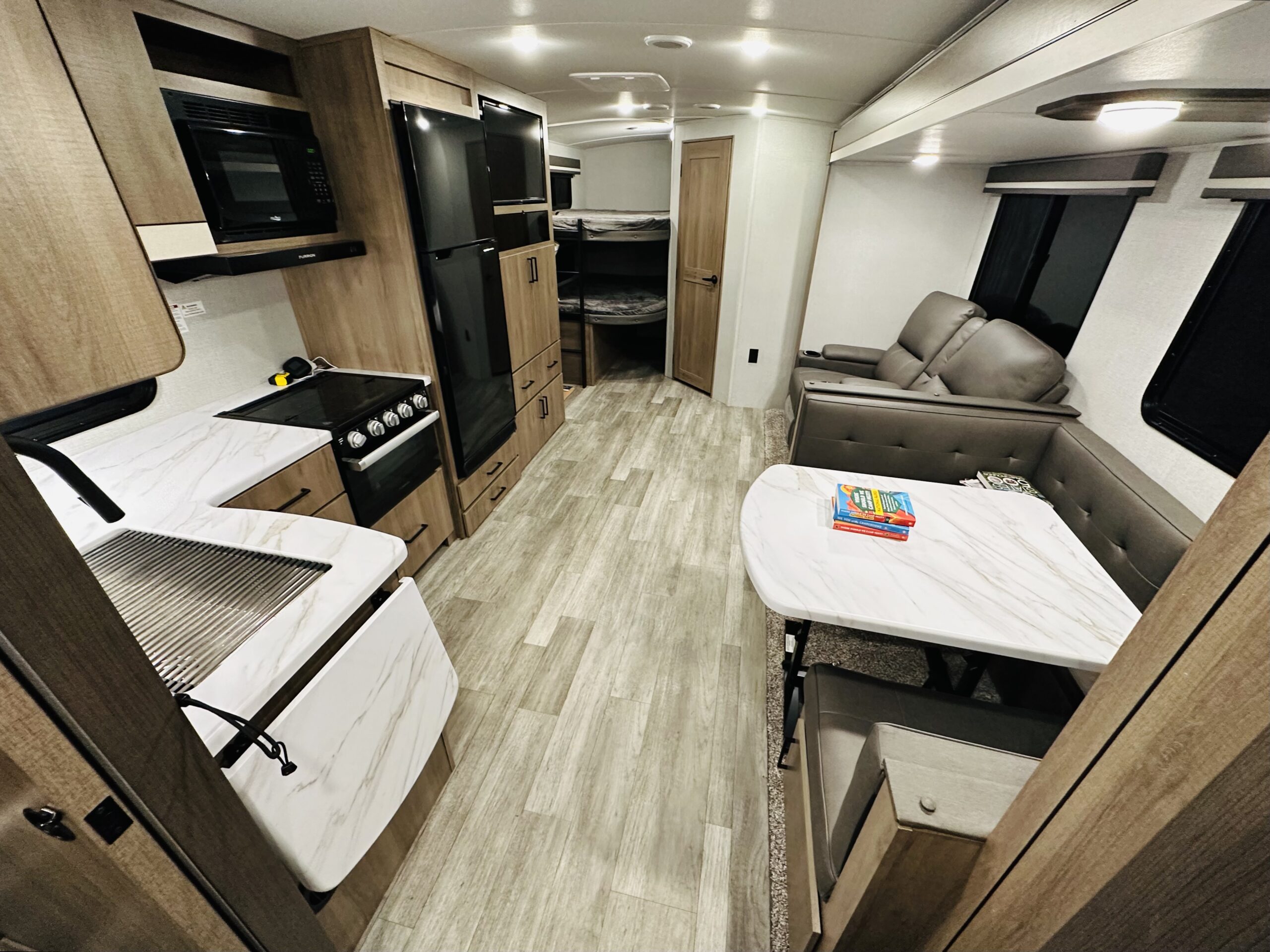 Light "farmhouse" interiors have been all the rage in the RV industry for the last few years–but we never really loved that style. Stephanie likes mid-century modern and Jeremy likes anything with the cabin/outdoorsy look or anything from the 70's. So the Grand Design Imagine's retro-styled interior (with medium colored woods and off white countertops) worked for both of them. Jeremy likes to call the interior style "retro funky" and it makes him want to play Sly and Family Stone or Van Morrison while he is hanging out inside of it.  The interior color palette will also hide some stains and messiness from the kids, but it is not dark or oppressive.
A Kitchen That Works for our Family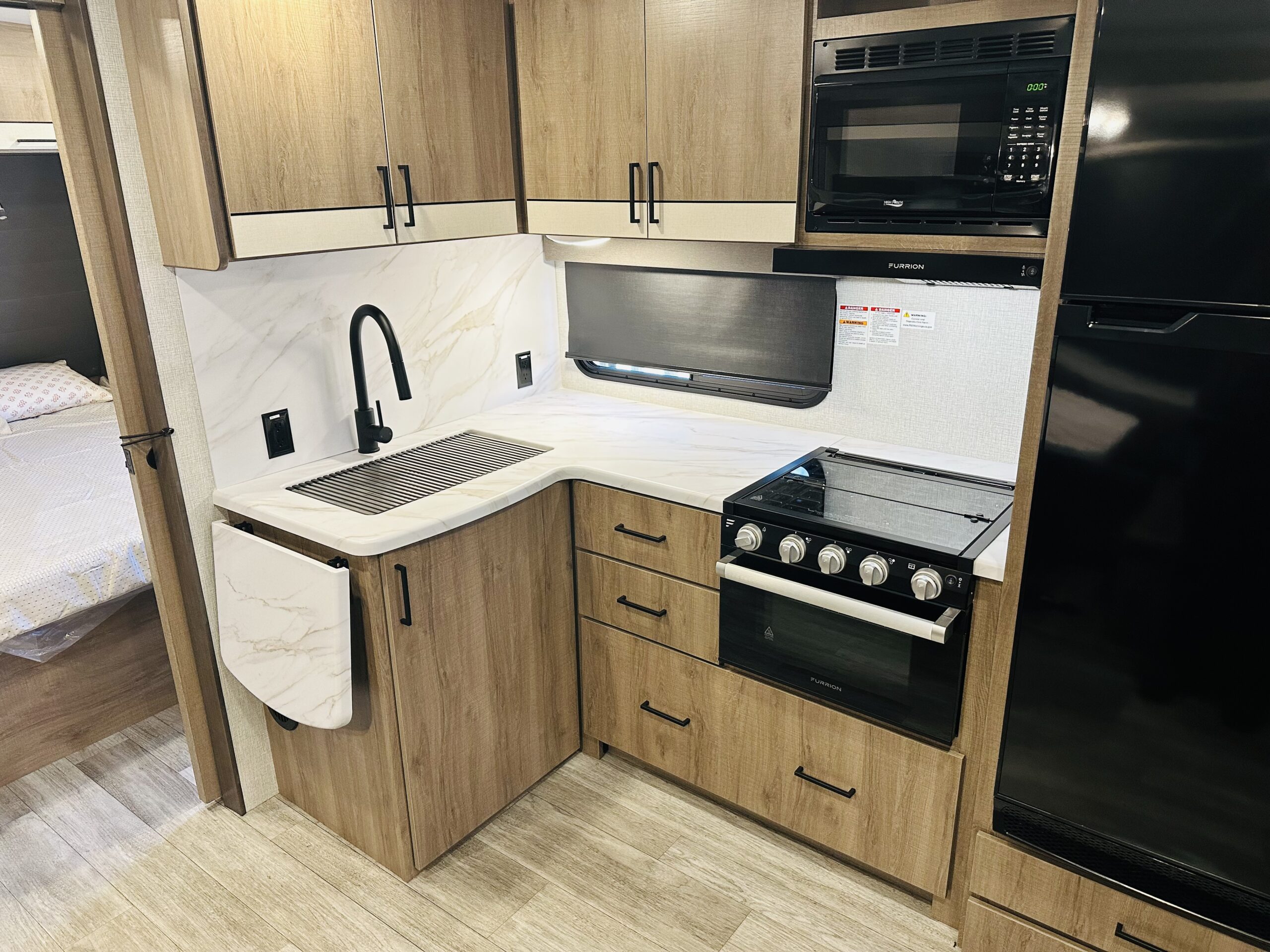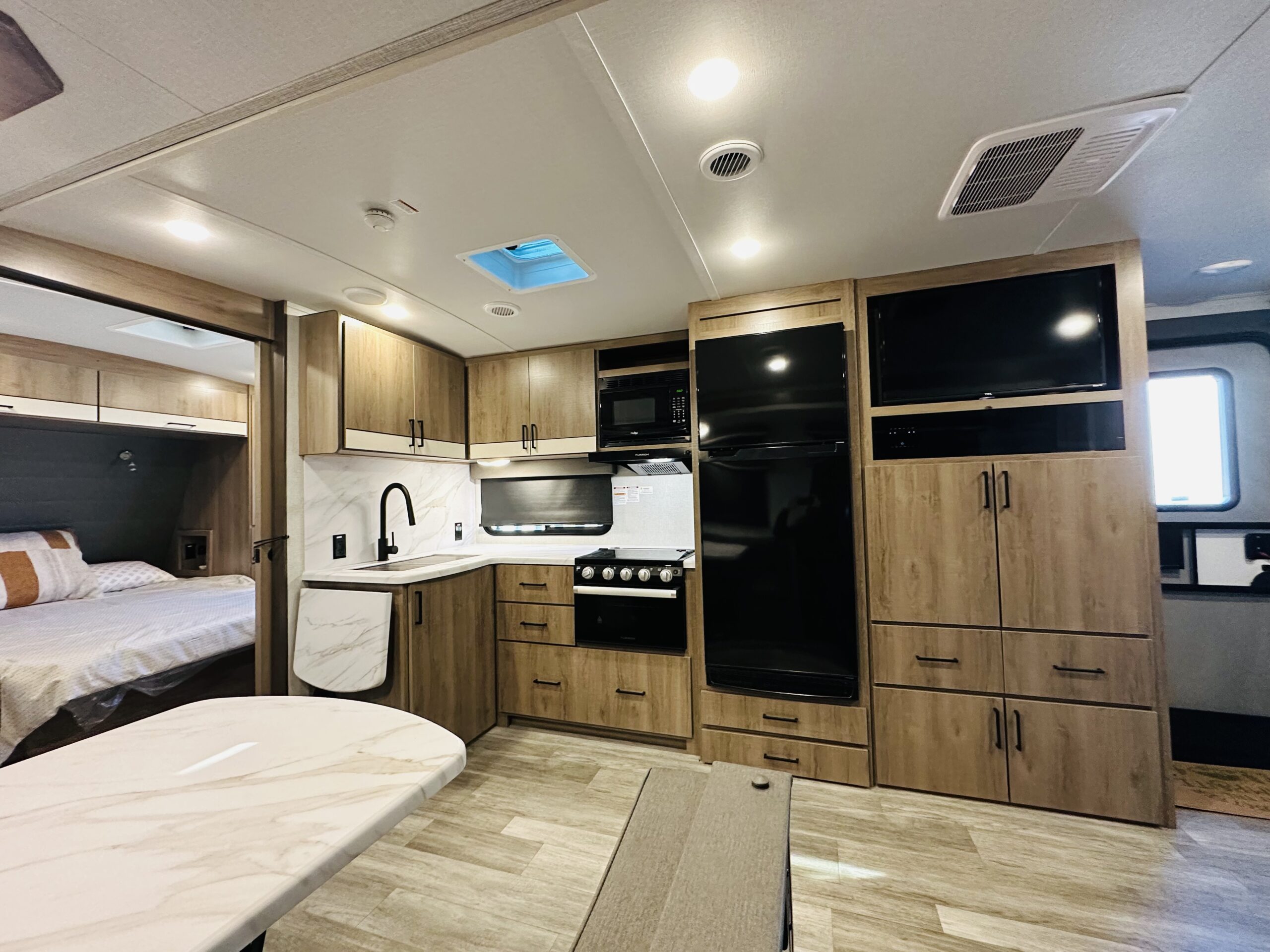 Our last RV was a 22 foot model, and the one before that was 32′ 11″.  The 22 foot Ember did not have any counter space and there was extremely limited pantry space. The RV we had before that was a Jayco Eagle HT 264BHOK and it had a spacious kitchen with tons of counter space and lots of cabinetry. The Grand Design Imagine has a similar floorpan and a similar kitchen. The counter space and cabinetry in the Imagine 2800BH fit our family almost perfectly. The only thing it is lacking is a dedicated space for a garbage can. We will just flip up the extendable countertop and place a garbage can underneath it. We have started to stock the kitchen in the Imagine 2800BH already–and it seems to be holding all of our stuff with room to spare.Stephanie just needs to pick out a garbage can that looks nice. Jeremy's first choice was roundly rejected.
Comfortable Sleeping and Seating Areas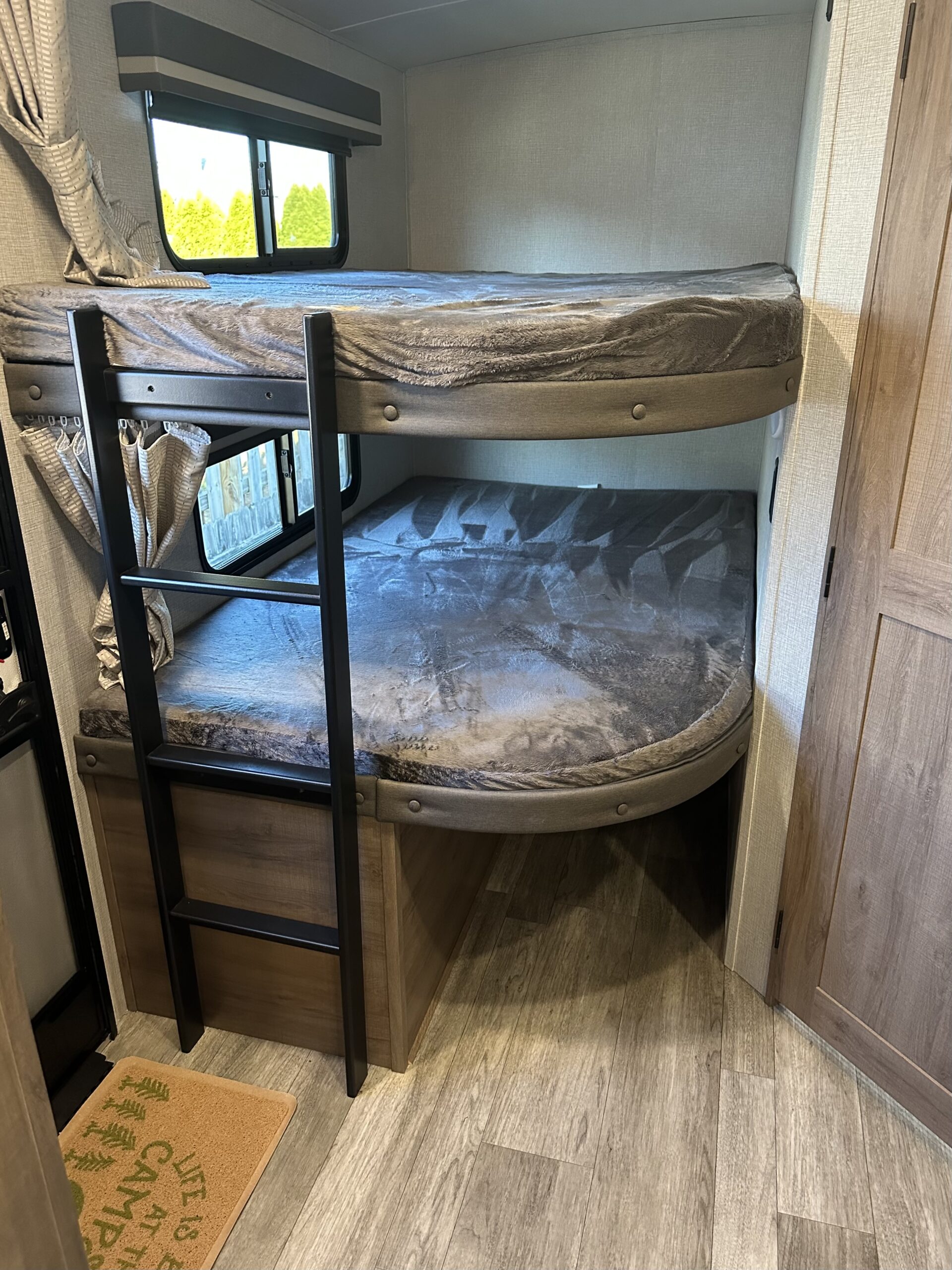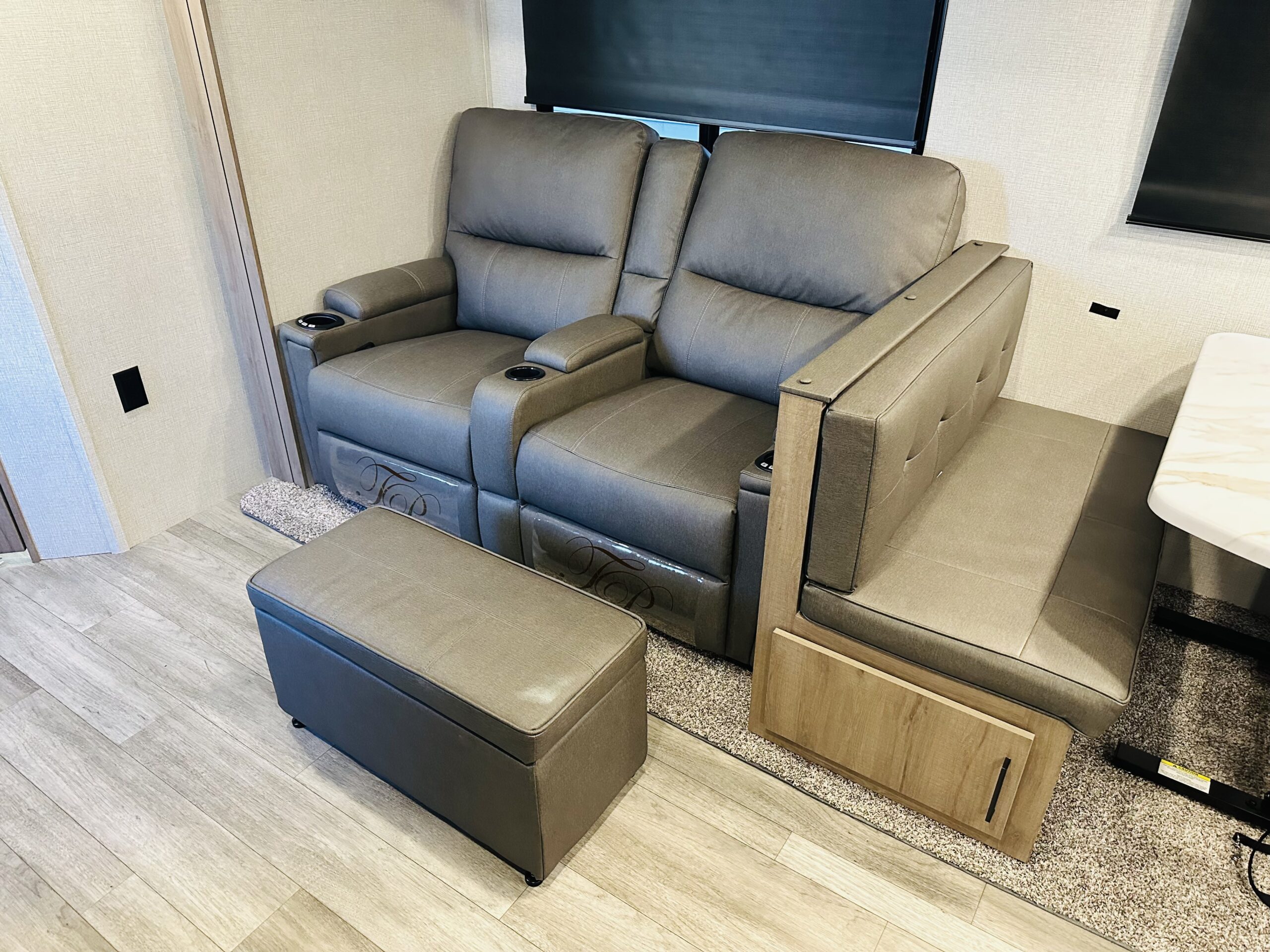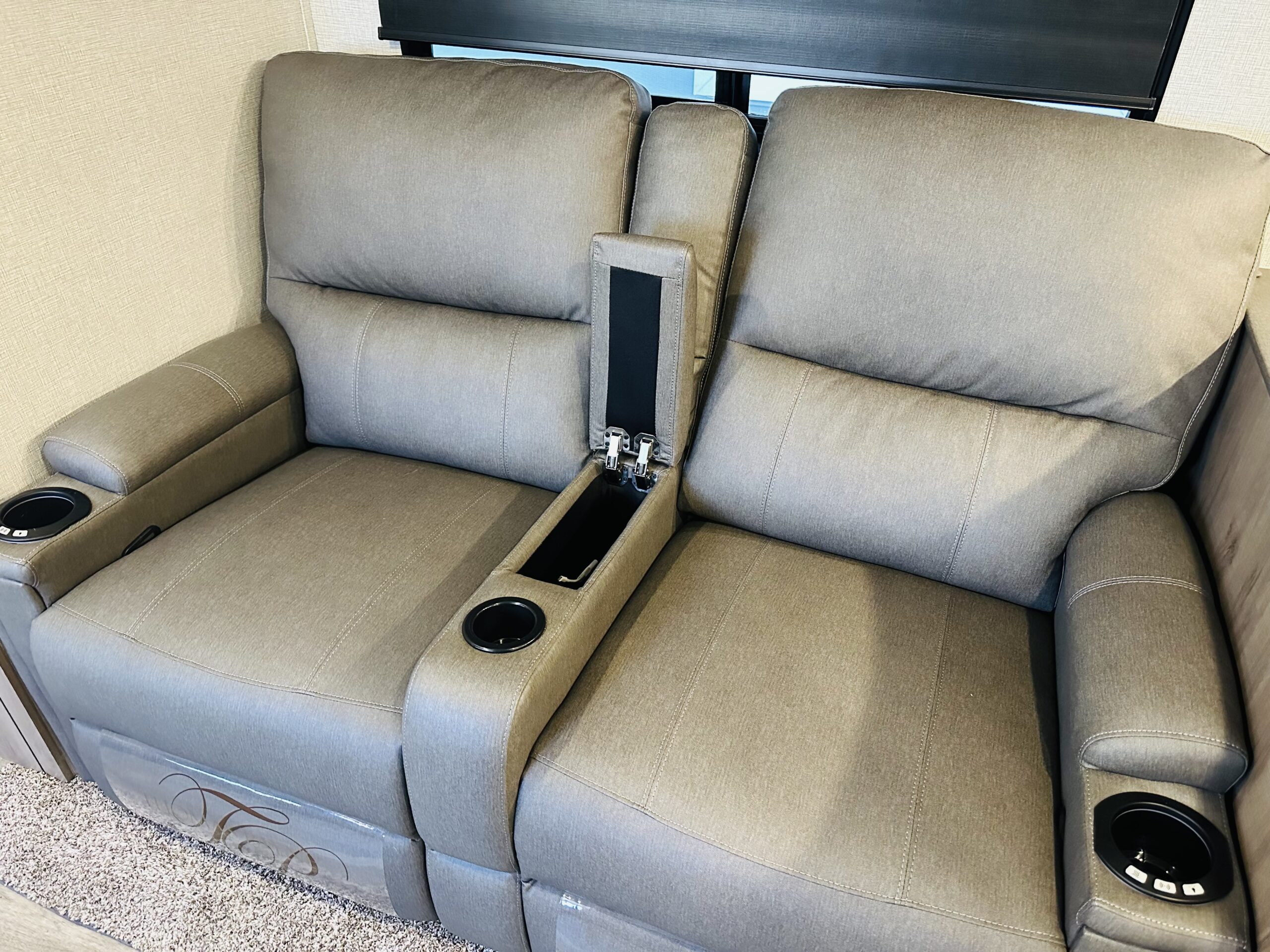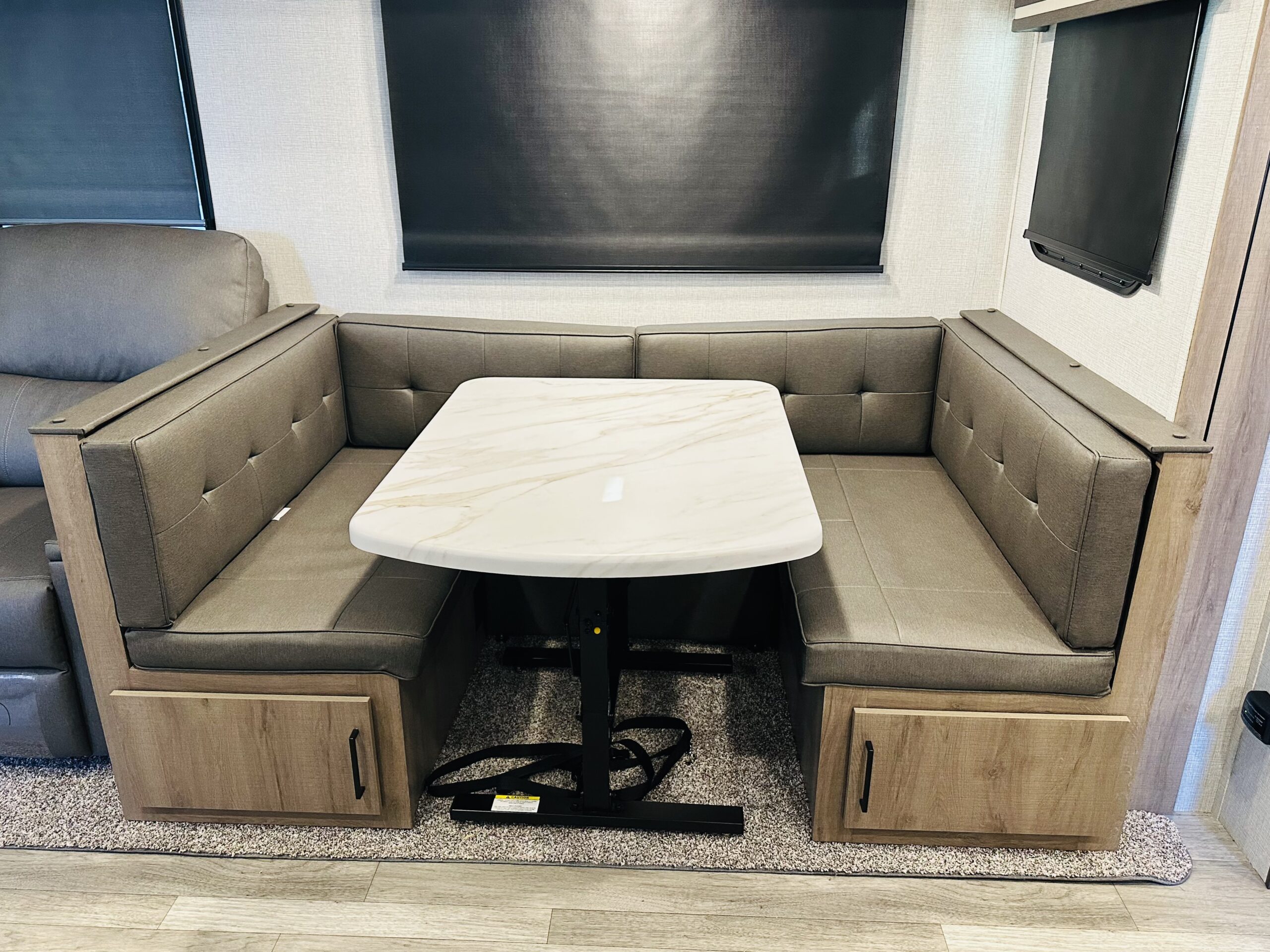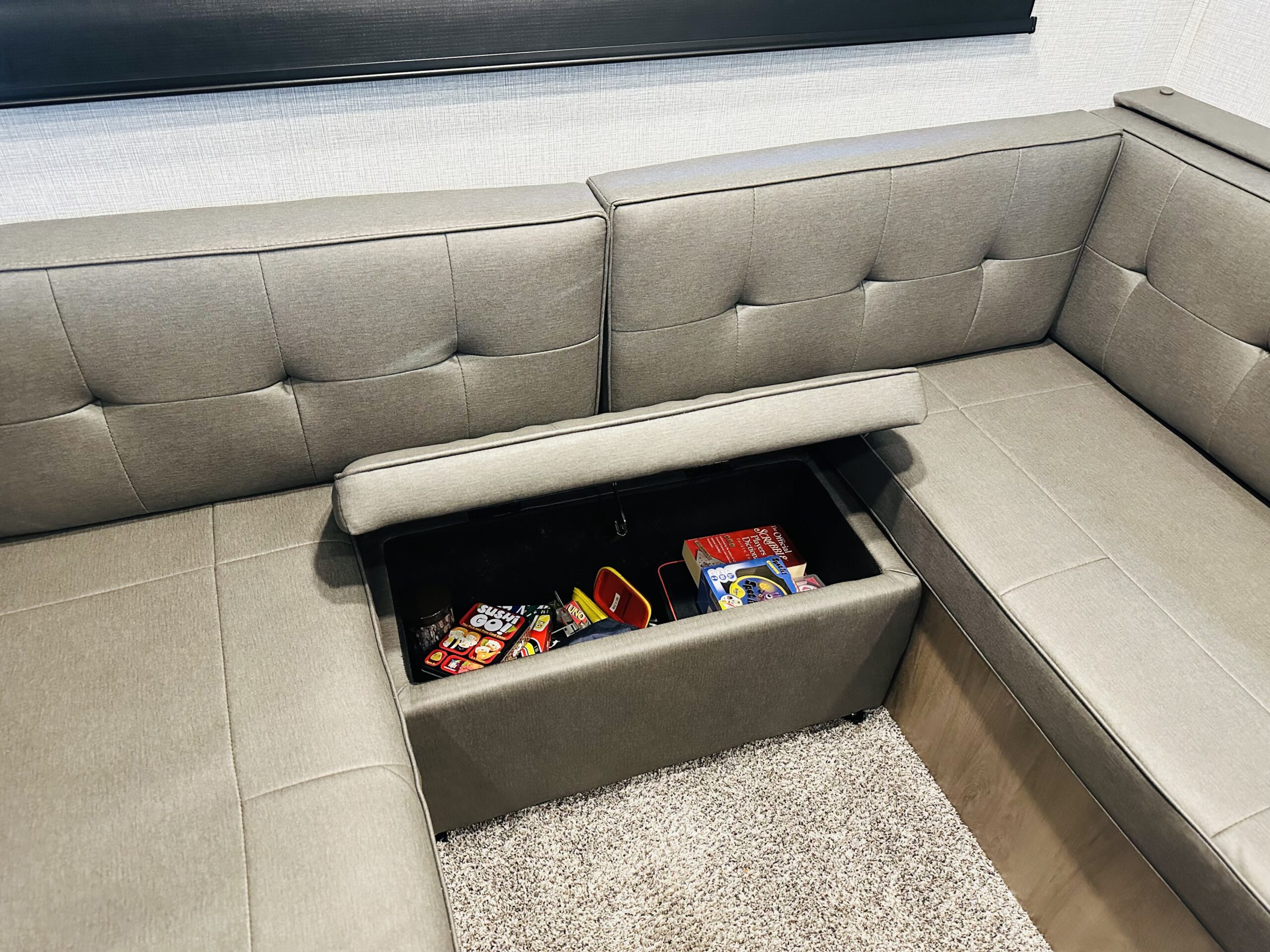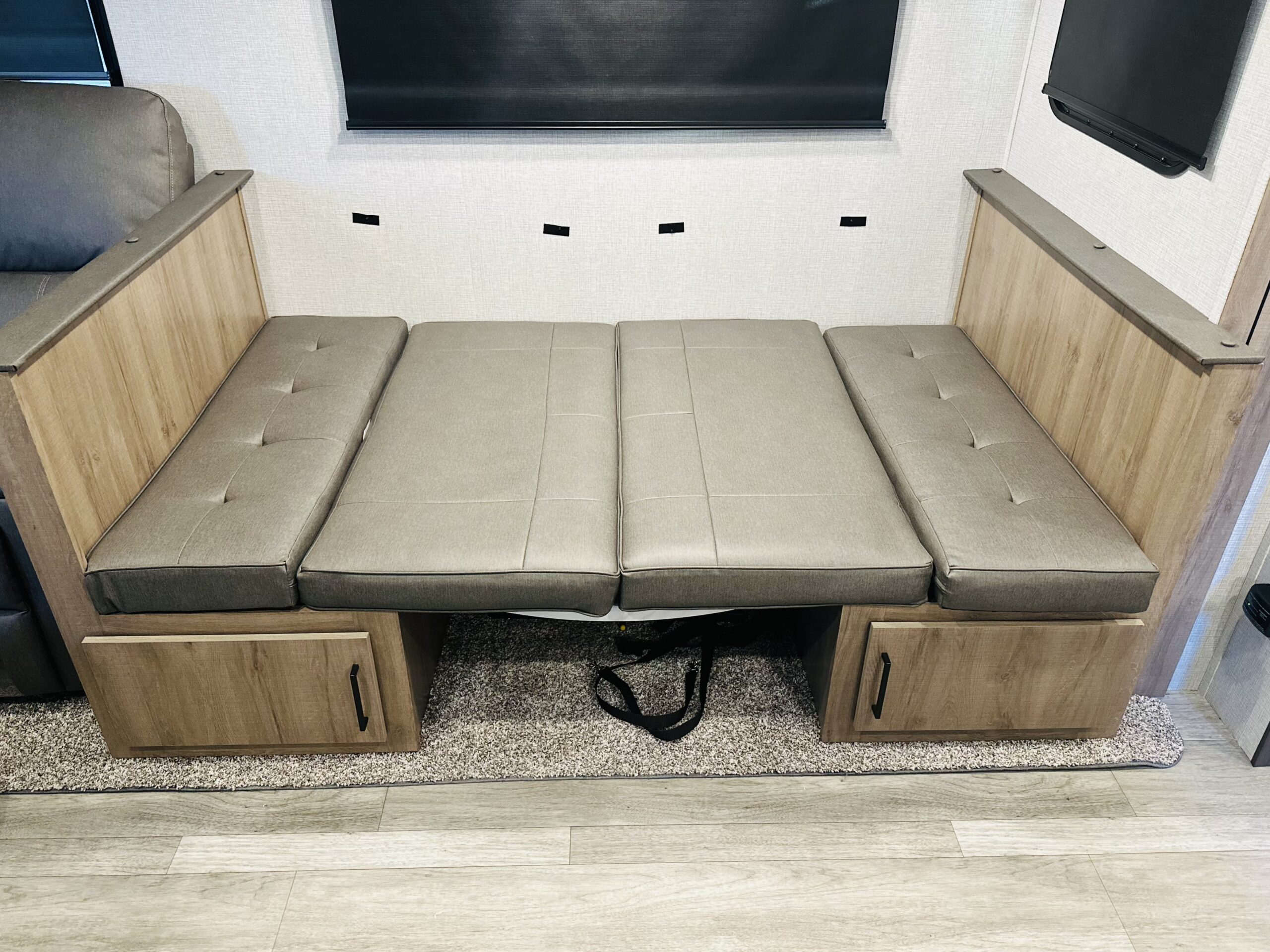 We are a family of five that likes to keep our RV's relatively small–especially when compared to other RV's that are made for family's our size. Our favorite RV's always tend to be closer to 30 feet than to 40 feet. This is because we like camping in state parks and national parks that can't always accommodate larger rigs. Jeremy also really likes to tow rigs that are closer to 30 feet because they are significantly easier to maneuver than rigs that are approaching 40 feet. We have only towed the Imagine home from the dealer at this point—but it tows like a dream and really hits a sweet spot for us.
The compromises we make by getting somewhat smaller RV's always have to do with seating and bedding. We could go bigger and get a quad bunkhouse of some kind–but we choose to make some compromises instead. We plan on using the dinette in the 2800Bh as a semi-permanent bed by keeping it folded down and adding a foam mattress on top of the couch cushions. We will only transform it back into a dinette on a rainy day when we really need the seating. Otherwise–this will be a bed for one of our kids. Losing the dinette might seem like a huge compromise for many families–but it is not for us. We are outside all day when we are camping, and we eat all of our meals outside at the picnic table. When our kids are in bed falling asleep at night we will still have two comfortable theater seats for reading.
We don't think we will miss the dinette. After all, our Jayco Eagle HT 264BHOK didn't have one either. RV dinettes often become cluttered with lots of odds and ends scattered around on them. But that can't happen if you don't have one.
Lots of Thoughtful Interior Storage Spaces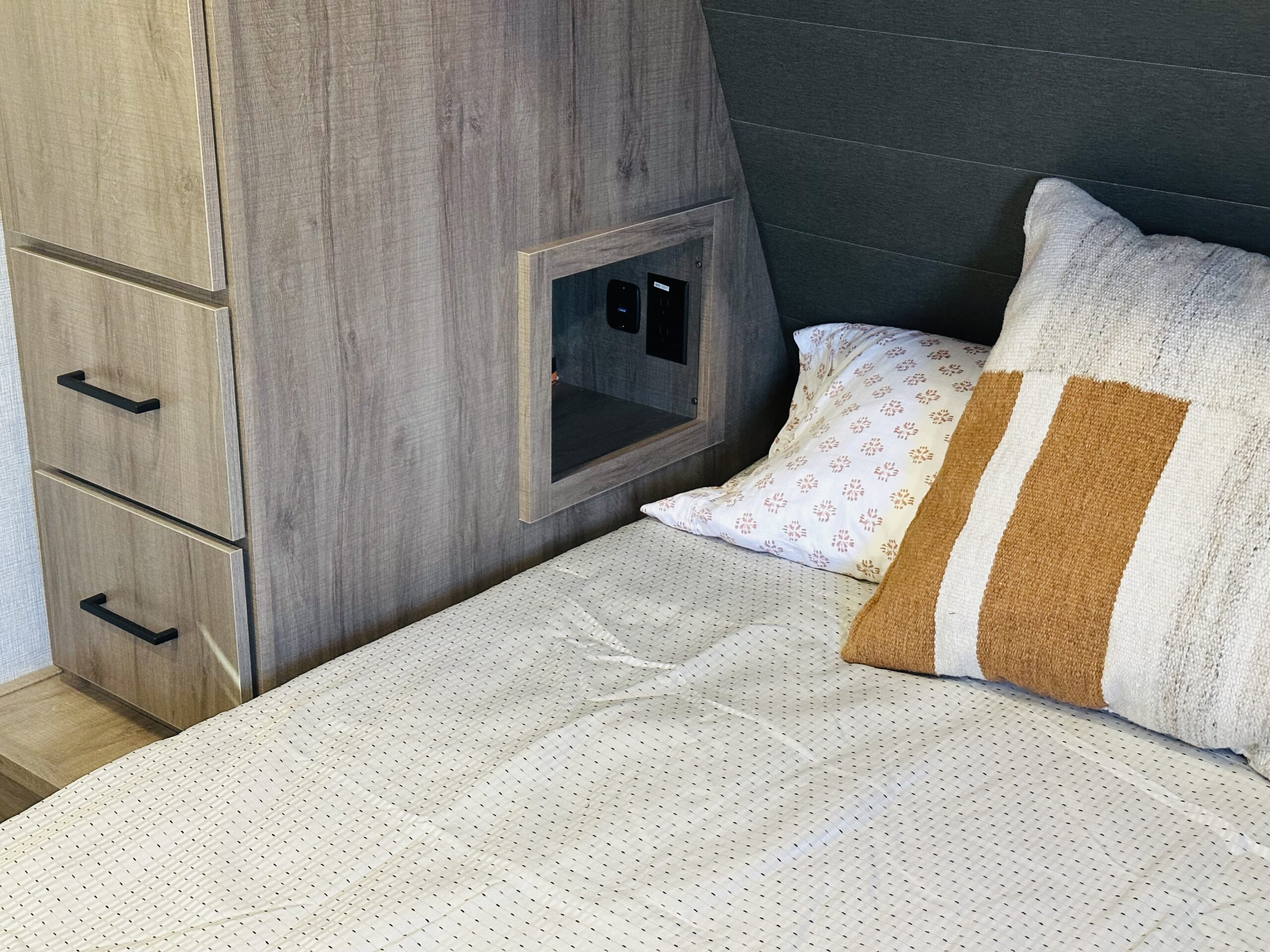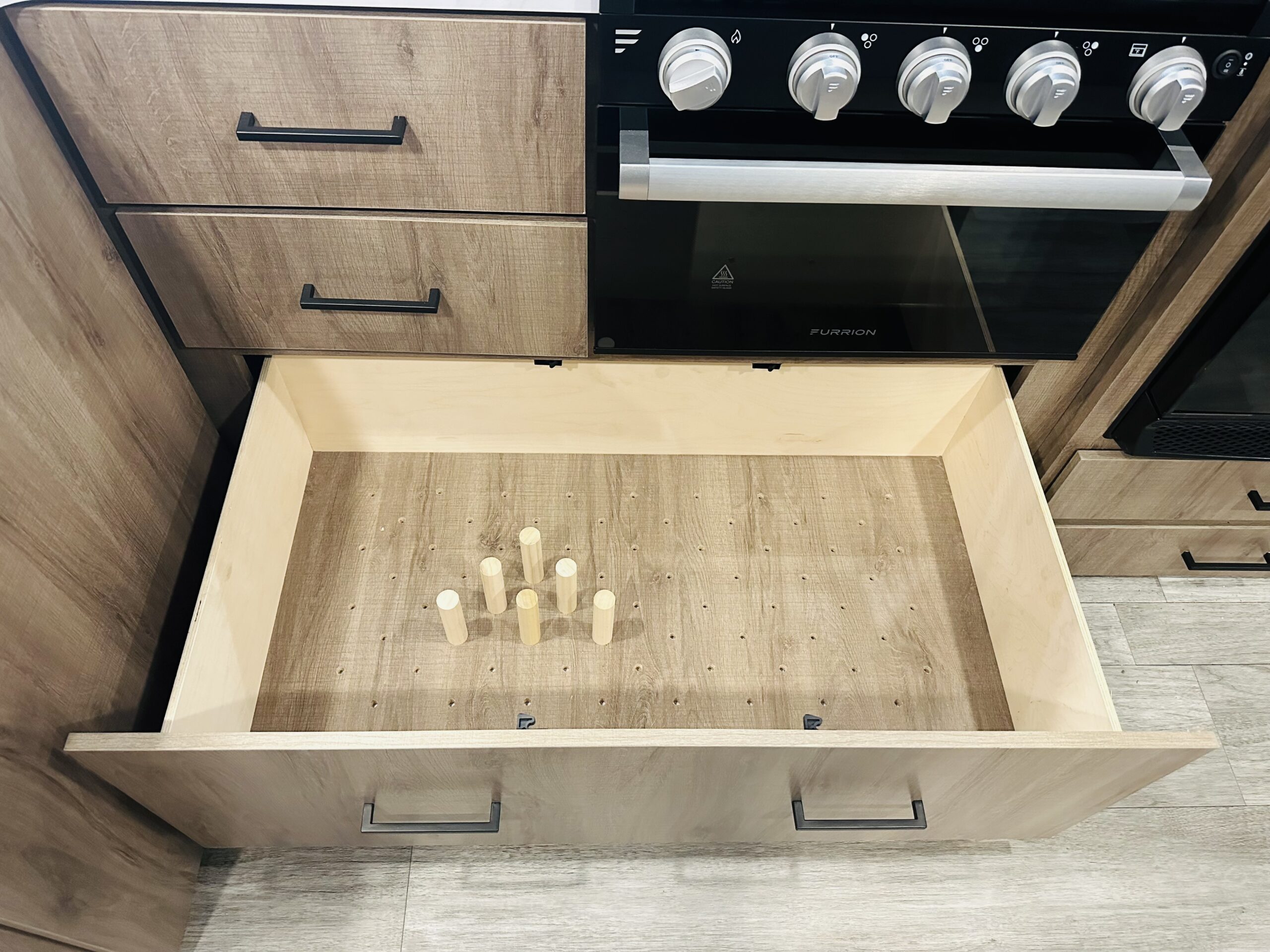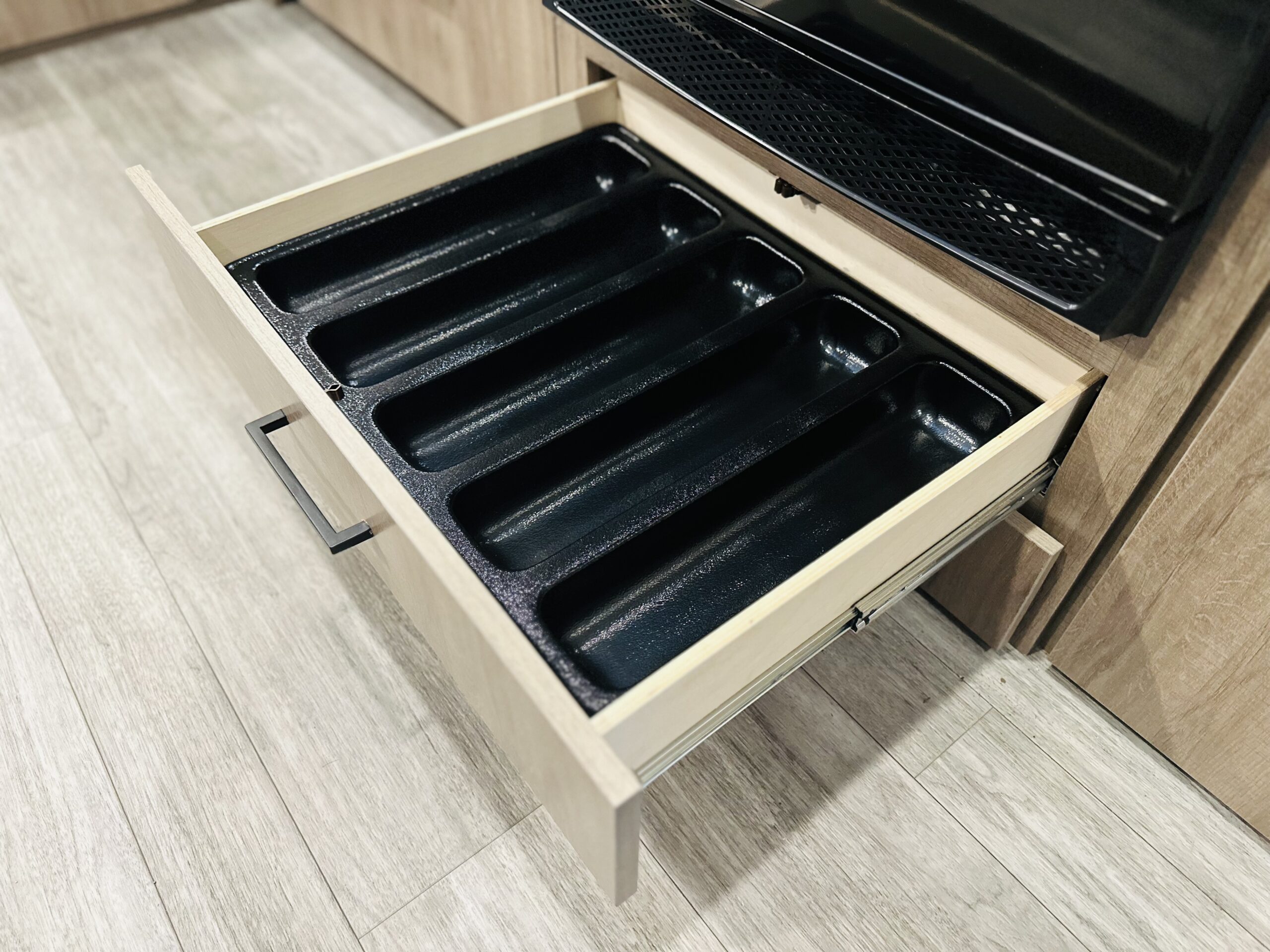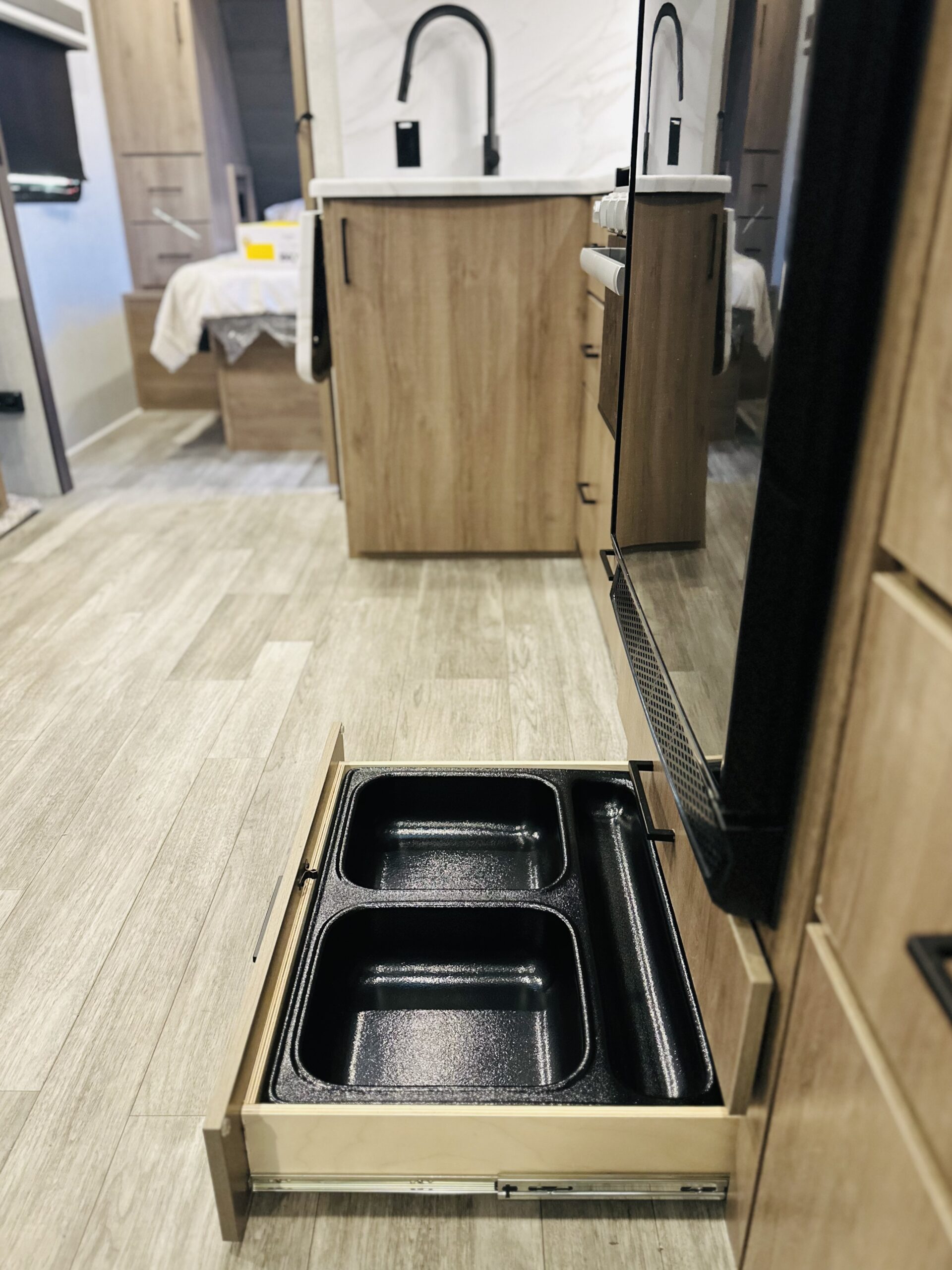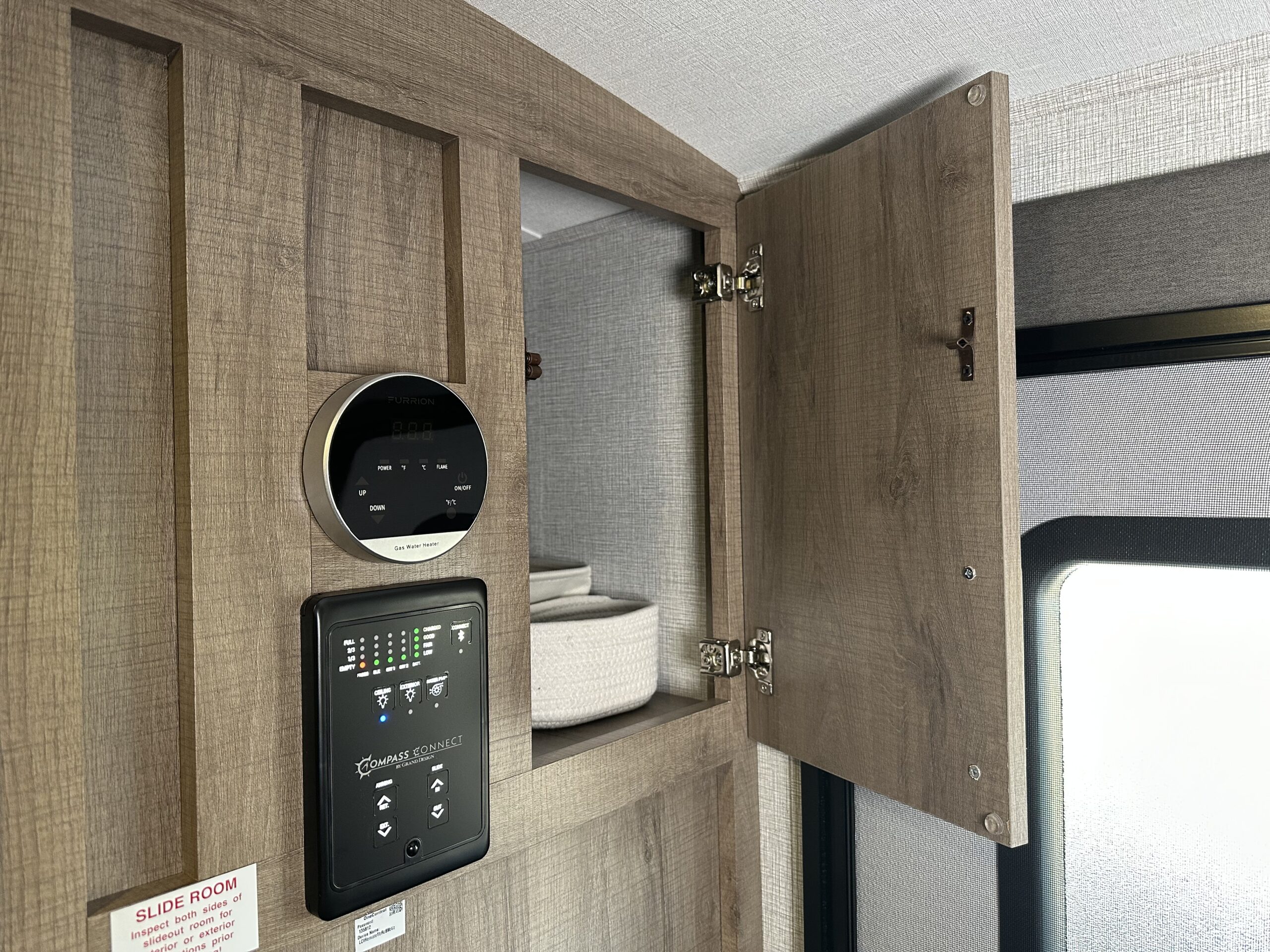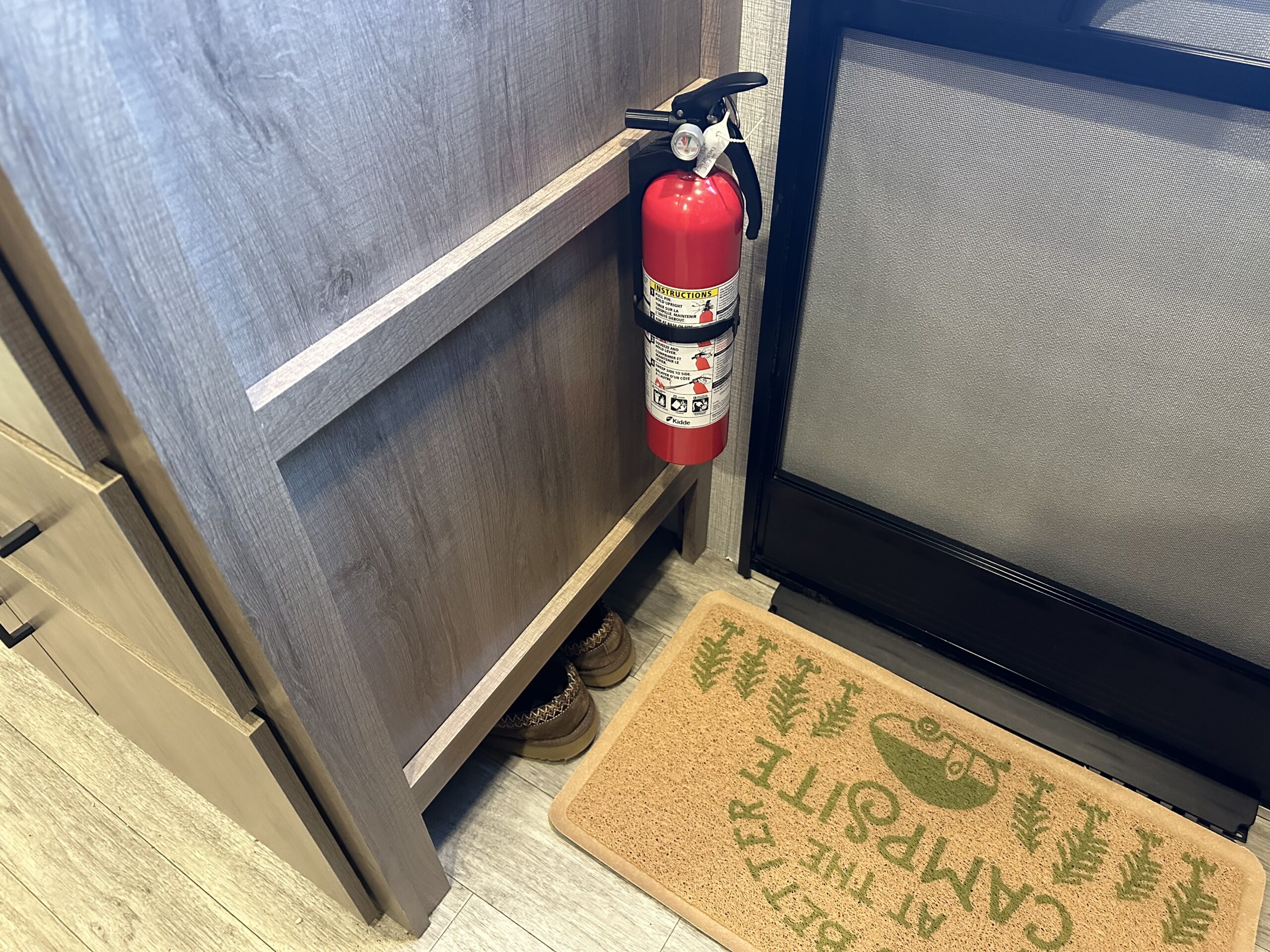 One of the things that impressed us the most about the Grand Design Imagine 2800BH is all of its thoughtful storage areas. It feels like real RV owners contributed to the the design of this floorpan. All of the storage cubbies are well placed and very, very practical. The storage cubbies next to the bed with USB ports and 110 outlets are the cat's meow. We also love the trifecta of thoughtful storage touches in the kitchen. The drawers for wine bottles and dog bowls are a super nice touch–and the large bottom drawer for pots and pans with wooden pins (to keep things from moving around) is very useful and functional. The little storage cubby right by the front door will be great for keys, dog leashes, flashlights, campground maps, and more. The shoe cubby on the floor is also terrific and will help keep at least a few pairs of smelly boy sneakers out of site and out of mind.
A Bathroom Fit For an RV King?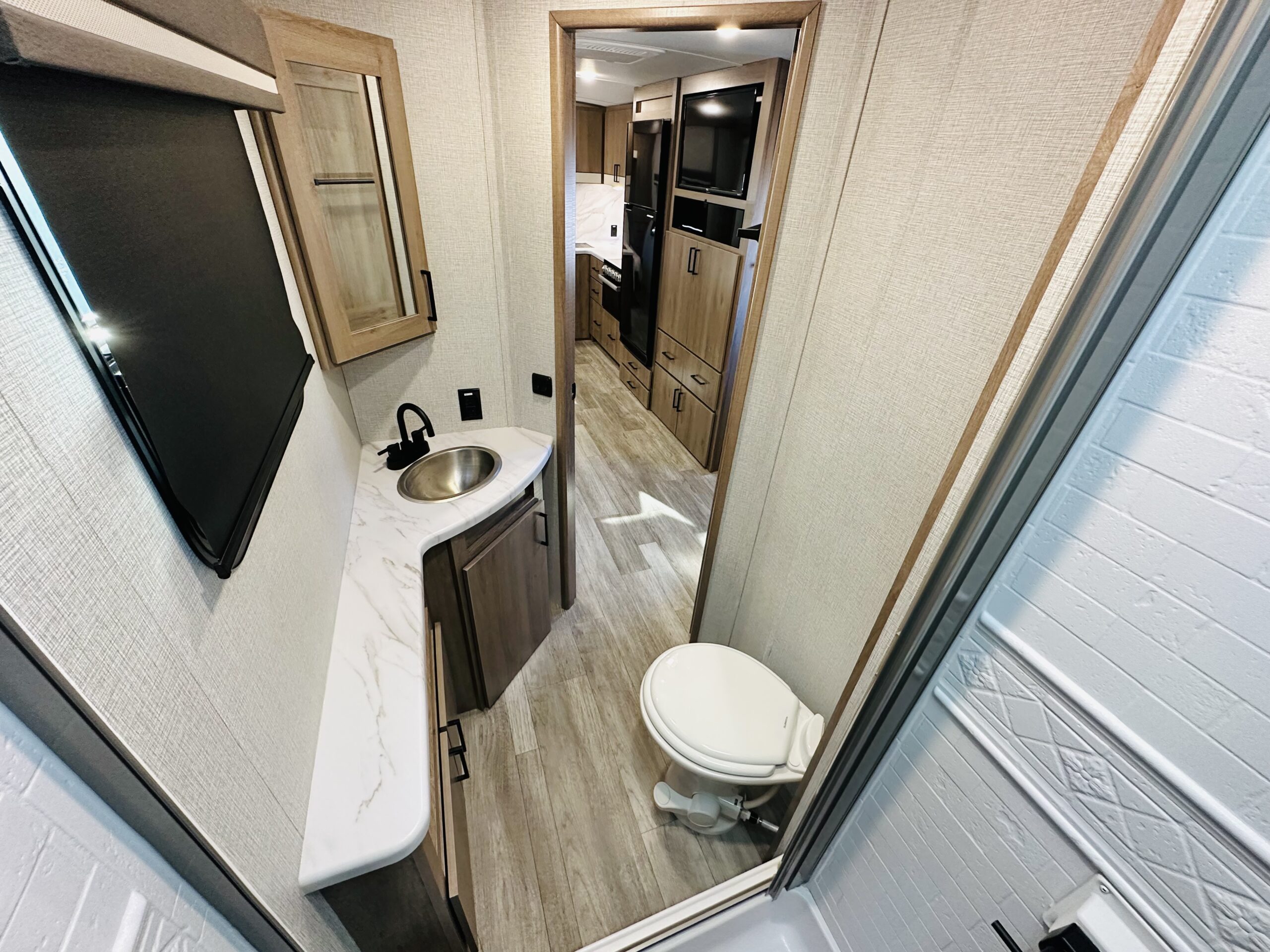 The bathroom on the Grand Design Imagine 2800BH is pretty darn functional for a 32 foot trailer. There is plenty of leg and knee room around the throne and there is a fair amount of space for towels and toiletries. But the medicine cabinet is pretty small and the sink is really small. There is extra space and cabinetry for toiletries though–and hopefully the boys don't make a mess and spill water everywhere around that little sink.
A Stylish Exterior With Spacious Storage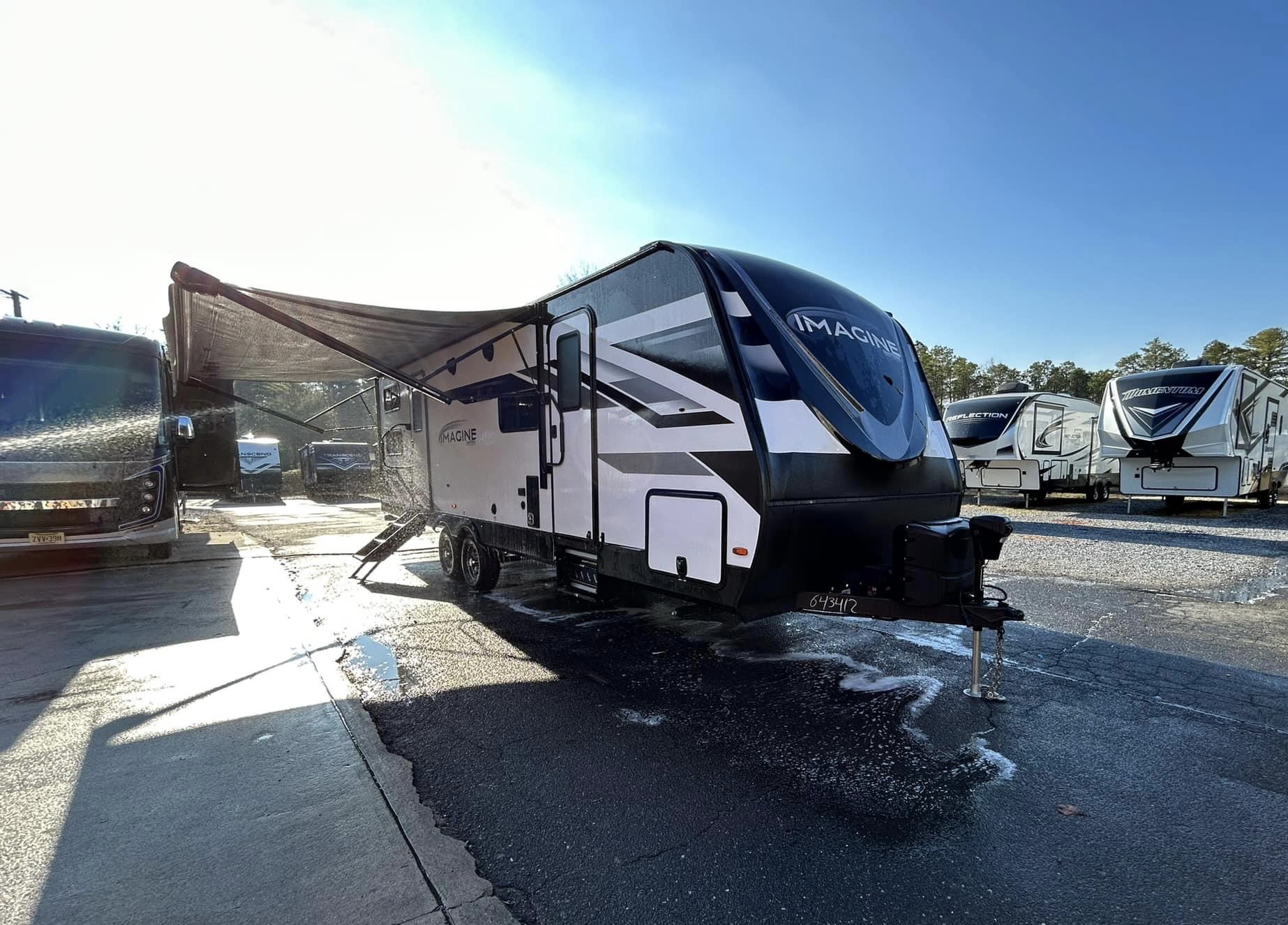 We also love the front cargo bin on the exterior of the Imagine. The Imagine has a drop-down chassis–which means the floor does not continue straight across the extreme front of the rig–instead the floor drops down–creating cavernous storage that will really help this family of five bring all of their gear with them to the campground.
The outdoor kitchen is nothing special–and we removed the mini fridge and griddle to create more storage space. Jeremy likes to cook while facing outwards towards the campground so he can see all of the smiling faces and be social while preparing meals. So the slide out griddle tray had to go and go quickly. He just does not like cooking that close to the camper–and he does not like facing the camper while he cooks.
The spacious awning on the 2800BH is also a huge plus. We love to sit under the awning for dinner and/or games after a long day of mucking it up at the campground.
We have high hopes for our Grand Design Imagine 2800BH–but we surely do know it won't be perfect. What fun would that be anyway? Part of the joy of RVing is being resourceful and making things work in a small space. We are pretty sure that we will all be case with our Imagine. We hope to make many happy memories camping in it.
Are you considering purchasing a Grand Design Imagine 2800BH? Feel free to drop any questions in the comments below. We would be happy to answer them if we can!
See you at the campground!
Jeremy+Stephanie
Podcast: Play in new window | Download