For the nature lover who wants to be surrounded by mountains, trees, beaches, and streams, the Smithwoods RV Park in Felton, California, just might tick all of the boxes. Tucked under some towering Redwoods, this private campground is in the Santa Cruz Mountains. It's also just 15 minutes from the beaches and boardwalks of the oceanside town of Santa Cruz.
Our guest correspondents, Karen and David Toste, of The Camping Playlist, love that this park is less than an hour's drive from where they live and work in Silicon Valley. Yet, it feels worlds away due to the campground's quiet, rustic vibe. They think RVers traveling along the California coast or those seeking a getaway in the Redwoods will be equally charmed by Smithwoods RV Park.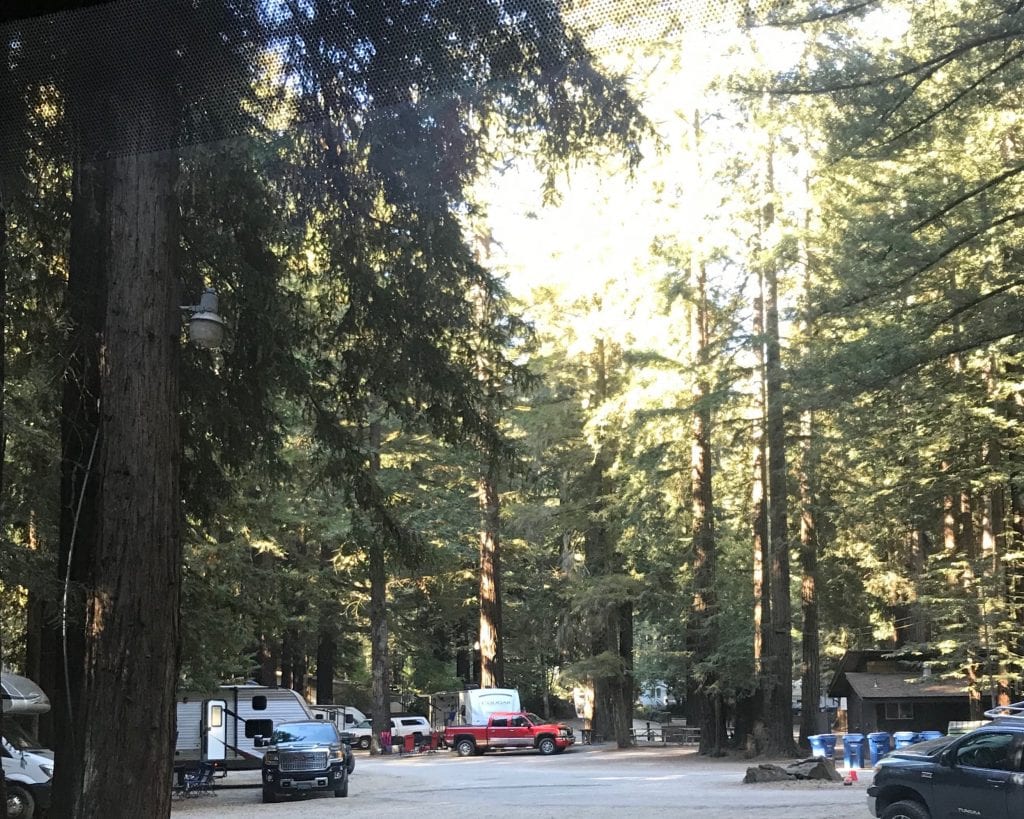 Campground Details for Smithwoods RV Park
Smithwoods RV Park is a small, private campground, which has been family owned and operated since 1920. It is within 100 miles of some of California's most beloved spots, including San Francisco, Napa, Carmel, and Big Sur. The small town of Felton is just minutes down the road.
Smithwoods RV Park offers approximately 100 campsites. Most are back-in sites with full hookups. Some longer sites have 50 amp services and are more big rig friendly. Expect to pay around $55-65 a night. Karen and David highly recommend snagging a spot in the area known as the Point, if you can. These premium sites above the San Lorenzo River are their favorite.
Karen and David recommend getting reservations in this park in advance. However, you might be pleasantly surprised by how easy it is to get a site on short notice, other than around holidays and weekends with special events.
Due to its mountainous location,you'll want to call ahead or check the website for directions. Some GPS units/apps don't send travelers on RV-friendly routes.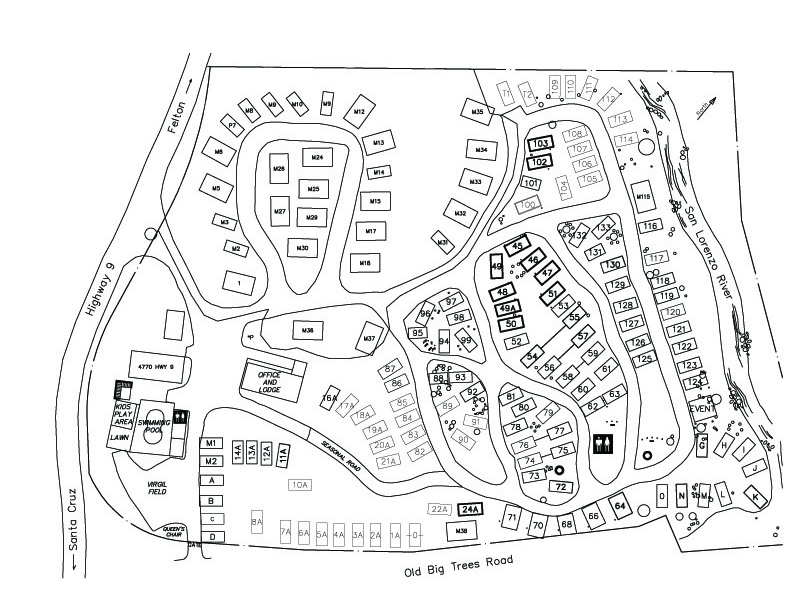 Campground Amenities in Smithwoods RV Park
On their last visit to Campground of the Week, Karen and David told us about a private park with tons of amenities and family fun. They point out that Smithwoods RV Park is quite different from that park. However, the natural beauty and serene environment are amenities in and of themselves.
Smithwoods RV Park is connected to Henry Cowell State Park by a short trail. This park is known for its family friendly swimming holes along the San Lorenzo River. After a day of hiking and exploring Henry Cowell, travelers can relax in Smithwoods RV Park's heated pool.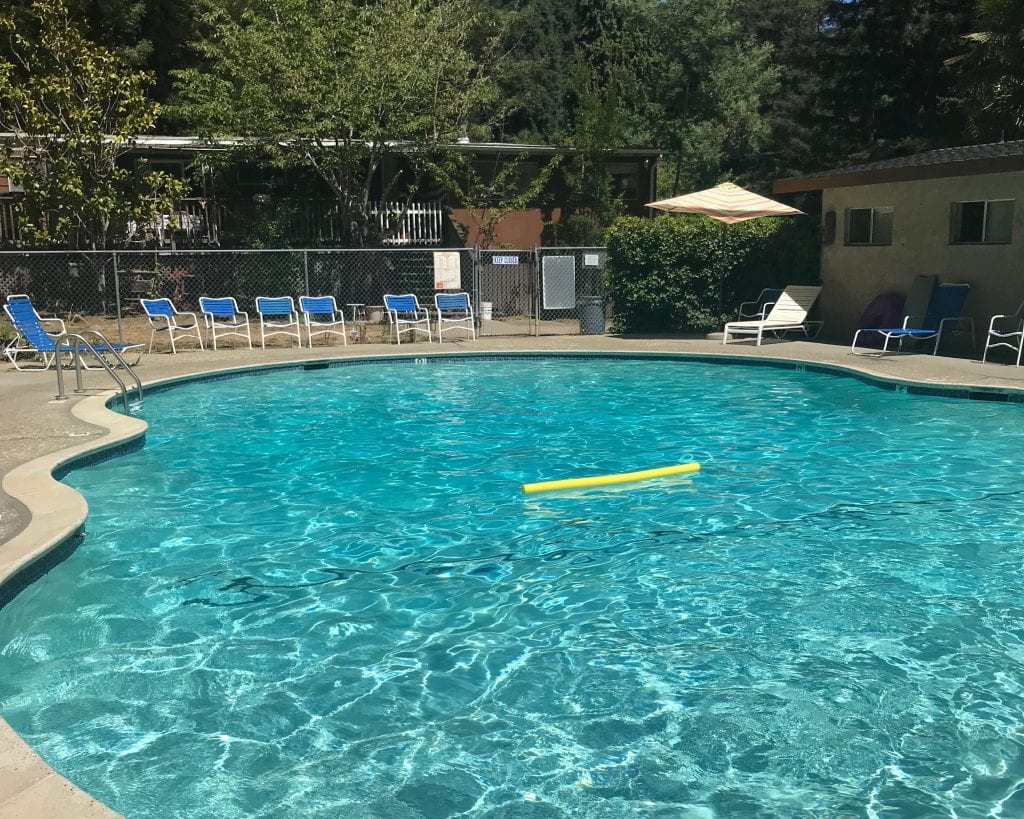 Smithwoods RV Park doesn't offer a traditional playground. Instead, the campground has a cool, unusual play area with bits of rubber tires, toy dump trucks, and a hollowed-out tree stump. Karen and David said their kids loved this unique area. You'll also find a small billiard area, a ping-pong table, group fire pit, and a baseball diamond. While it's nothing fancy, it does offer old-fashioned family fun.
Another amenity that is also a throwback to earlier days is the Wi-Fi and cell phone connectivity. Campground Wi-Fi is only available for basic access at the office/rec-room area. Cell service was also iffy. Karen and David reporting very limited to no connection, depending on their location in the campground.
What the park lacks in digital connectivity, it makes up for with human connectivity. The customer service is amazing. Karen and David said they felt that everyone they interacted with went above their expectations. The family ownership shines in the staff and sense of pride. Relax and soak it all in until your 1 pm checkout time.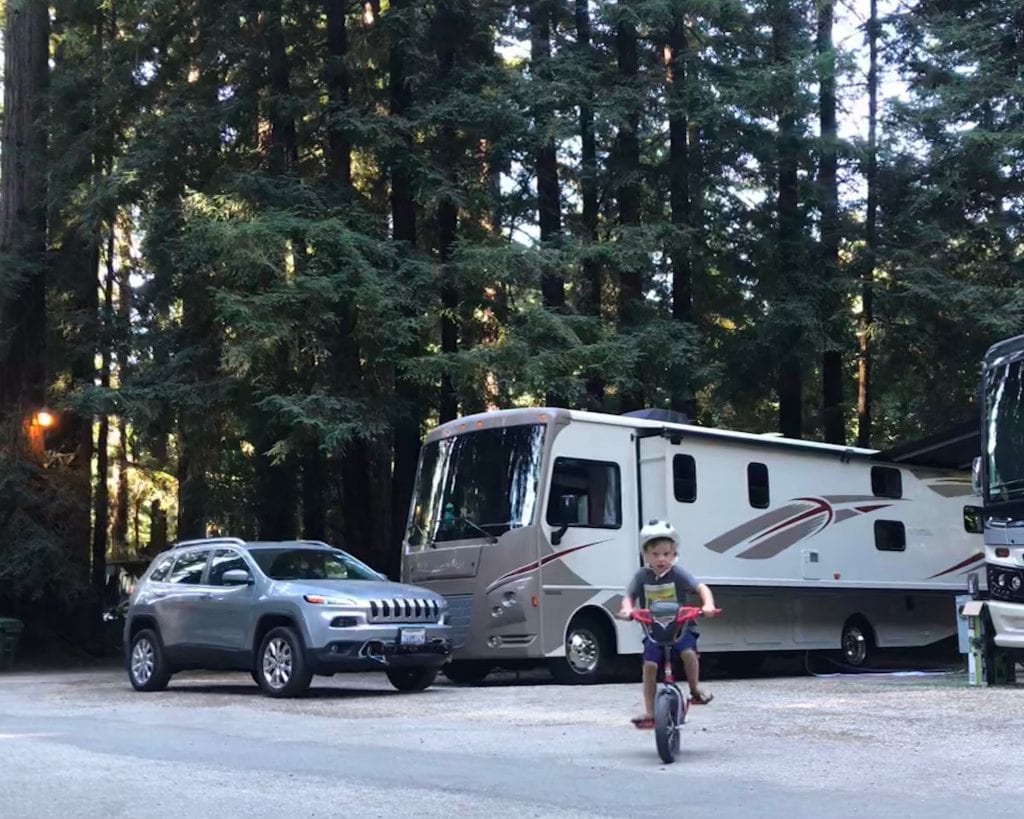 Regional Highlights near Smithwoods RV Park
As mentioned earlier, the natural landscape is the star of this region. Karen and David recommend a visit to Henry Cowell State Park. This park's 40 acre Redwood forest has trees dating back 1500 years. Take your swim clothes and enjoy a splash in the river. As noted earlier, there is a trail connecting Smithwoods to the state park, and it's easy enough for young kids to handle.
Just minutes from the campground, you'll find Roaring Camp Railroad. This attractions offers a variety of train rides that will take you through the Redwoods or into Santa Cruz. Check the event calendar before you go since you might find concerts, visits from Thomas the Tank Engine, or adult-friendly activities like the Brewgrass Festival on the schedule. While in Smithwoods RV Park, listen closely, and you might hear the train whistles.
Nearby Santa Cruz is known for its classic boardwalk, complete with ocean views, fun rides, and arcades. Karen and David recommend grabbing a bite at Pleasure Pizza and making a visit to the Mystery Spot, known for its gravitational anomalies.
A BIG thank you to David and Karen for coming on the show and telling us about one of their favorite campgrounds. You'll find them as The Camping Playlist on Instagram, Twitter, and Facebook. Listen to their actual playlists over on Spotify @thecampingplaylist.
See you at the campground!
Stephanie + Jeremy
Podcast: Play in new window | Download