We have been following Sequoia+Salt on social media for several years. Their stunning custom camper van conversions have a unique look and vibe all their own. That look and vibe is inspired by surf trips to Baja, Mexico and road trips to Sequoia National Park in California–and life in and around the famous beaches of the Jersey Shore. The interiors are light, bright and airy, and the pride of craftsmanship is visibly apparent in every inch of these vans. Just looking through Sequoia+Salt's Instagram account fills us with wanderlust and a desire to escape into the great outdoors–whether that be to the beach–or to the mountains.
Our interest in Sequoia+Salt's journey as a company in the #vanlife and RV space has also been sparked by their proximity to us right here in the Garden State. Their headquarters in Manasquan, NJ is just a few miles away from us.
The RV Atlas Meets Sequoia+Salt at Hershey
We were thrilled to get to meet Chris Shashaty at the Hershey RV Show this past fall. Chris and his wife Sara are the co-owners and co-founders of Sequoia+Salt. We looked up from our table in the Giant Center where we were selling our Where Should We Camp Next? books and Chris was there to say hello. Since then we have visited their headquarters and checked out a bunch of their vans in person. They are even more impressive when you step inside of them. Looking at pictures can only get you so far. Photographs show you how beautiful they are. But when you step inside you can feel the quality of the build and the sturdiness of the craftsmanship.
To say that we are impressed with Sequoia+Salt would be a massive understatement. We are in love with what they are doing and can't wait to see them grow into a true next generation RV manufacturer right here at the Jersey Shore. We love to see independent RV companies building quality products that they stand behind with integrity and passion–and this is one of those companies. One of the few.
To be quite frank–it gives us hope for the future of the entire industry.
To listen to Jeremy interview Chris and go into detail about Sequoia+Salt's product offerings–please click on the media player above. Or subscribe to the The RV Atlas wherever you get your favorite podcasts.
Sequoia+Salt's Origin Story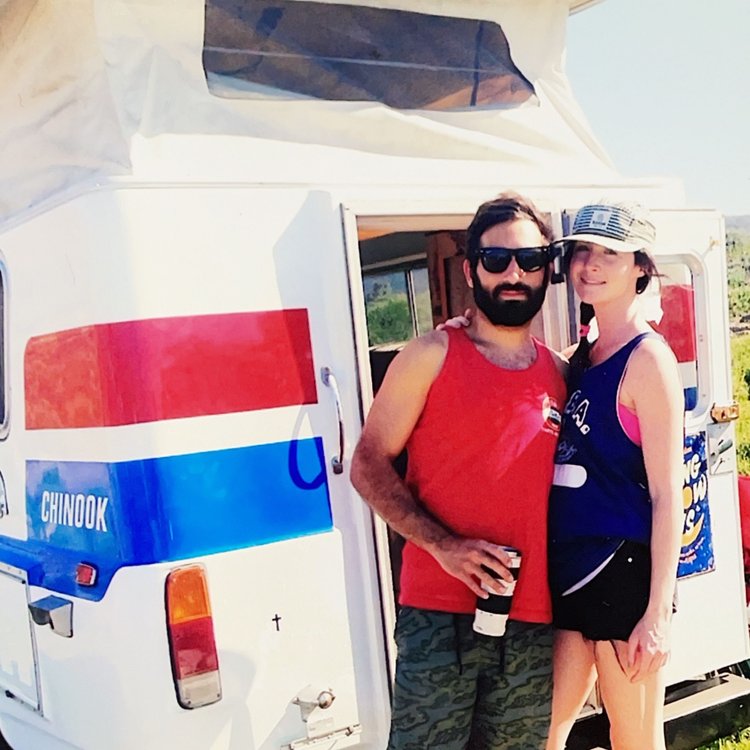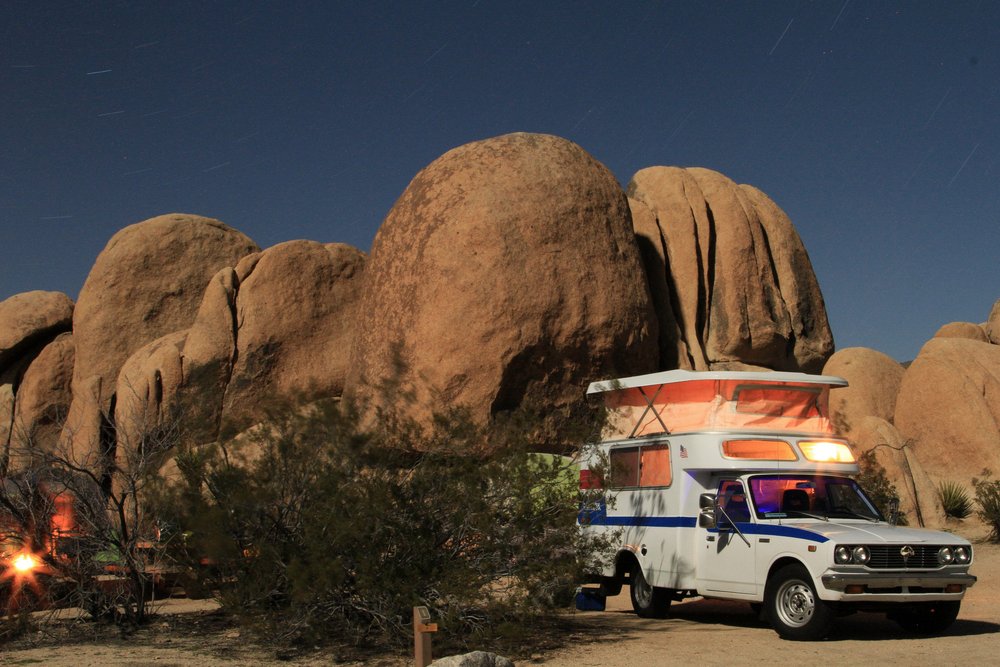 The visionaries (and co-owners and co-founders) behind Sequoia+Salt are Jersey Shore natives Chris and Sara Shashaty who met here in the Garden State–but found themselves living and working in Southern California in the years leading up to Hurricane Sandy in 2012.  After Sandy hit the Jersey Shore Sara found herself heading back home because her family home had been destroyed. Chris stayed behind in California where he was working as a photographer and filmaker.
He soon found himself becoming burnt out from all of the moving around for his work. So he started looking into buying a used van to live in while he worked on film projects around the state. He purchased a (very) used Toyota Chinook and moved around the state following his work wherever it led him. After about 8 months Sara (who was back home in New Jersey) questioned whether they were still dating. Chris told her that he would be "home the next day." It was a bit more complicated than that–but he did end up back home at the Jersey Shore very soon after.
Chris and Sara soon bought a Ram ProMaster and started a Photo Booth business out of the van. They also started renting the van on Outdoorsy. During the pandemic their Photo Booth business slowed down and he also ended up working as a salesperson at Colonial Airstream in New Jersey. All of these experiences led Chris and Sara to take a huge leap of faith and open Sequoia+Salt–a van conversion company that is making waves in Manasquan, New Jersey. The company recently earned RVIA certification for all of their vans–so they are officially an independent RV Manufacturer operating here at the Jersey Shore.
Sequoia+Salt's Van Conversion Process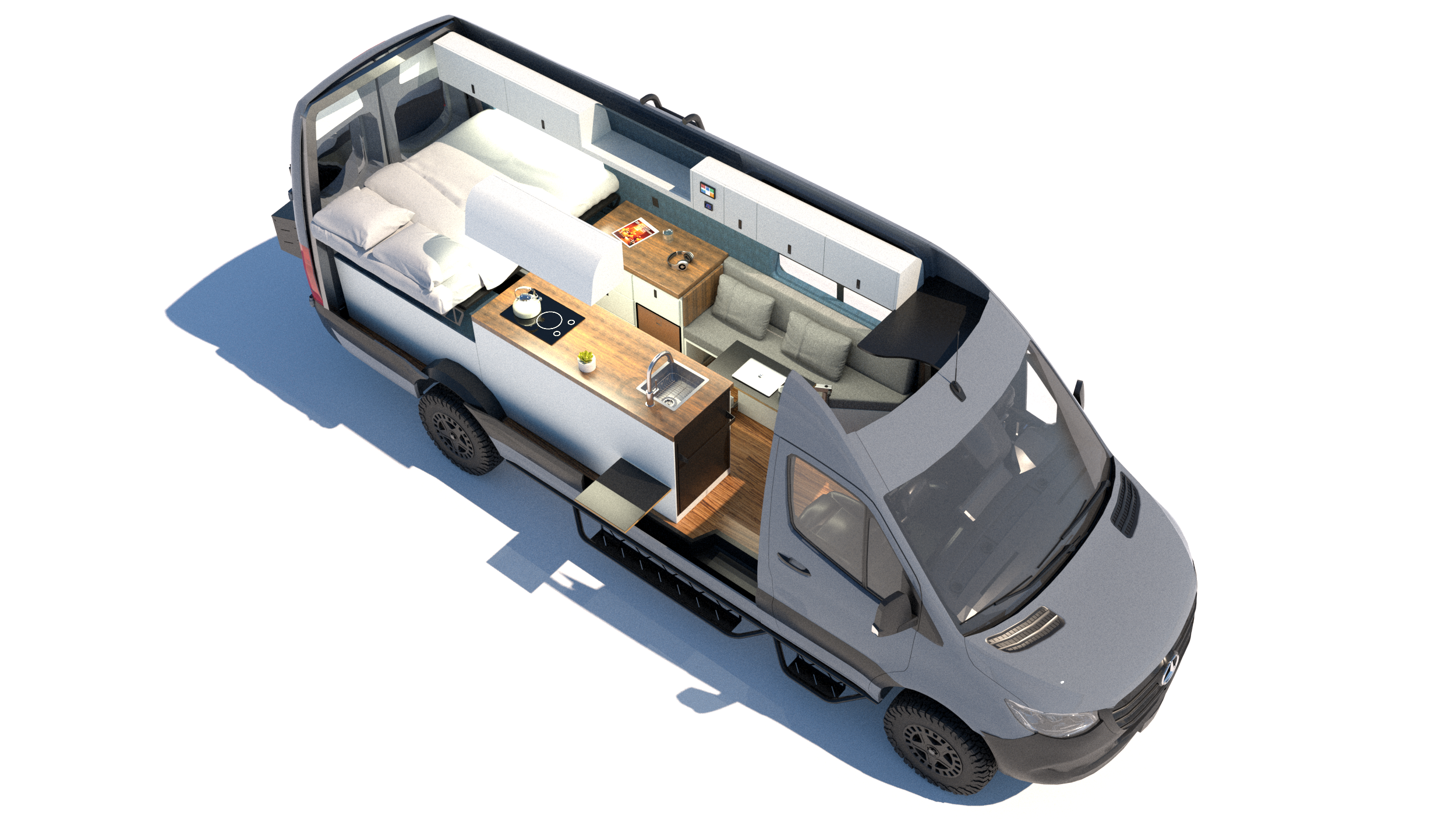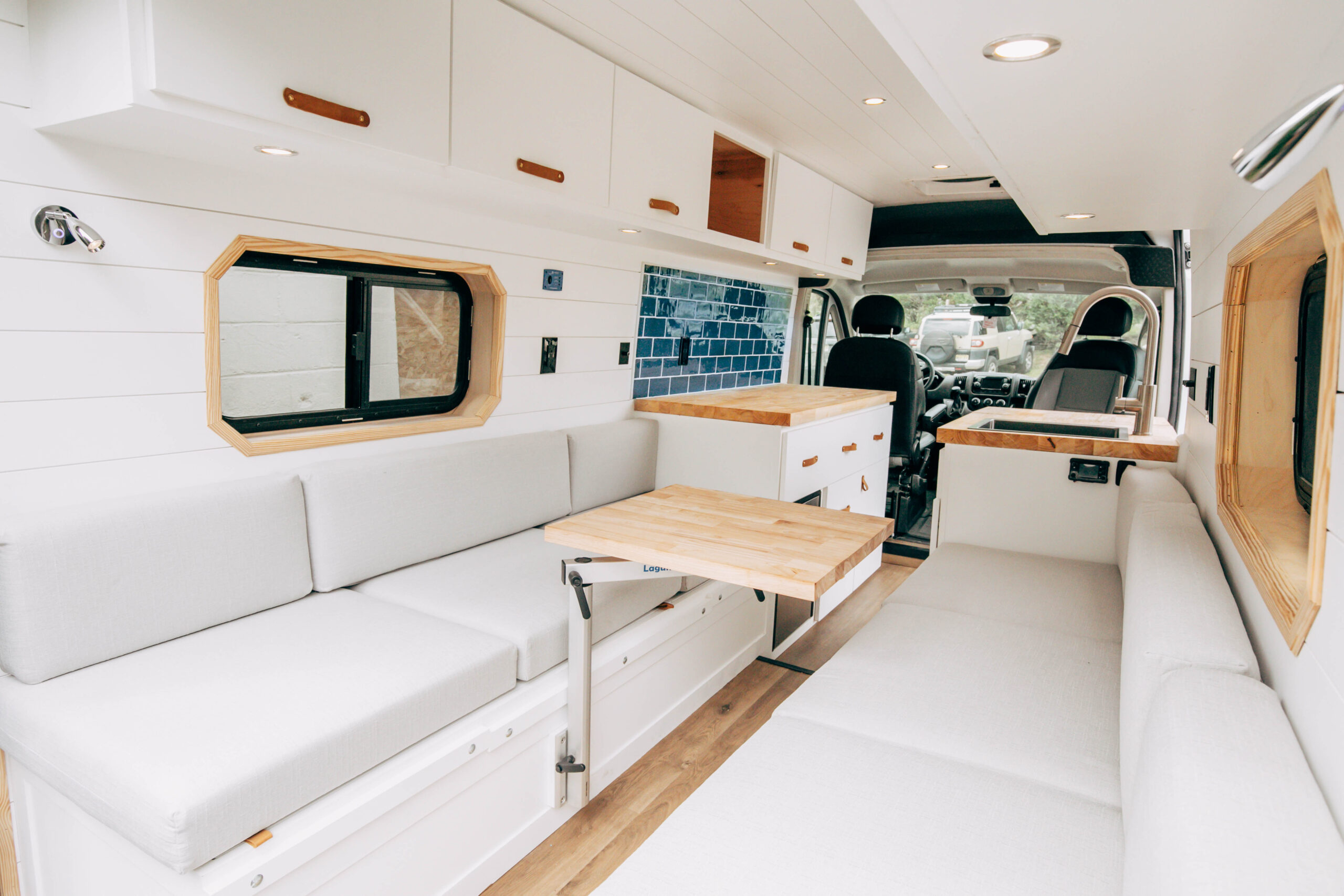 Sequoia+Salt currently does custom van conversions on the ProMaster, Sprinter, and Transit chassis. But they are also focusing on building their own brand specific floorpans called "Stoke," "Raritan," and "Highpoint."  Every van that Sequoia+Salt builds starts with a conversation between the future owners and Sara about what they want to achieve with their van build. This process is personal and creative and begins with drawings and ends up with digital renderings. To find out more about their van conversion process please click here.
Keep reading to find out more about each of Sequoia+Salt's floorpans. For complete details about all of their features (including information about their on-board power systems) please follow the links to each floorpan's homepage on sequoiasaltvans.com.
Sequoia+Salt: Stoke Build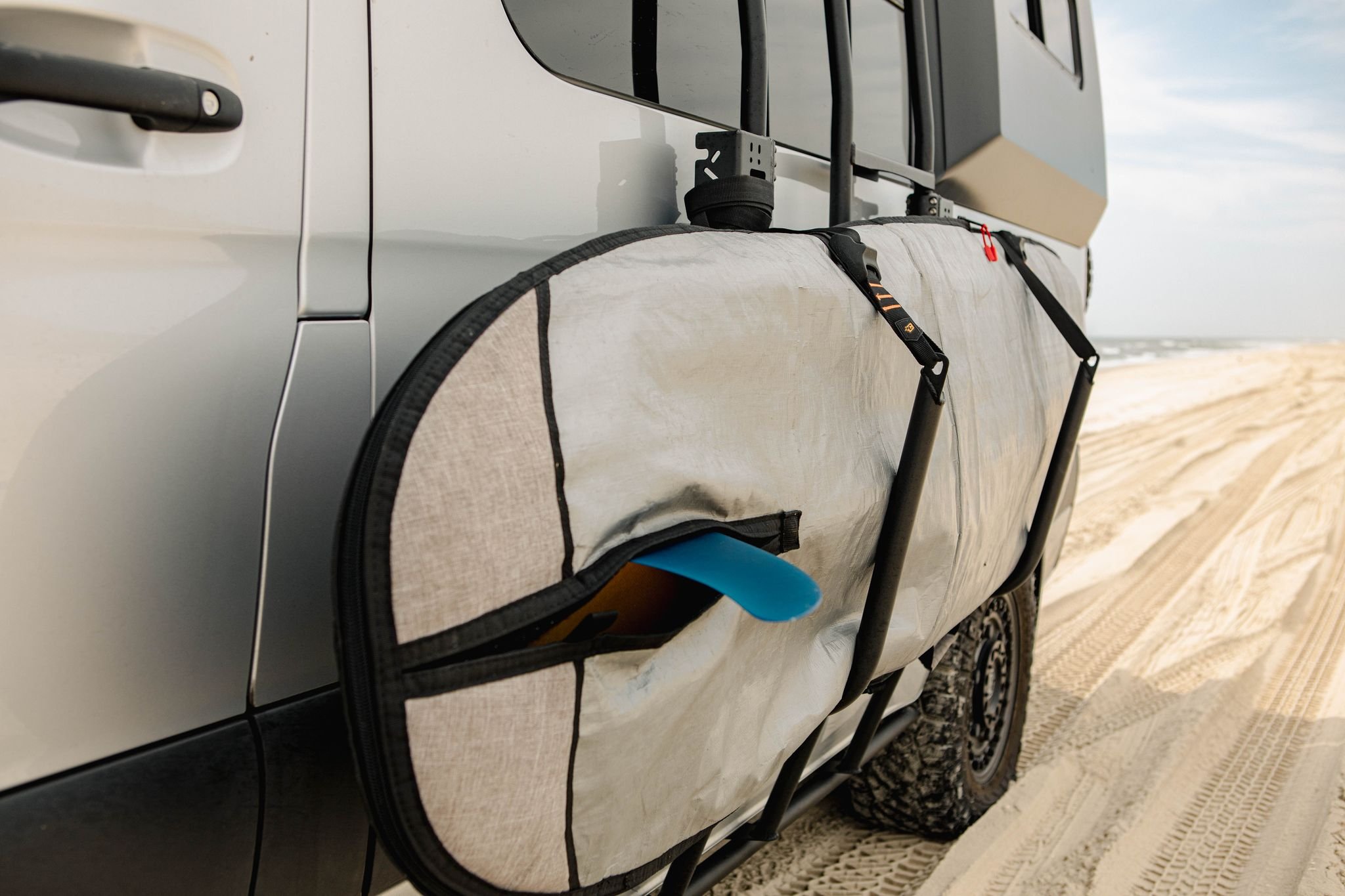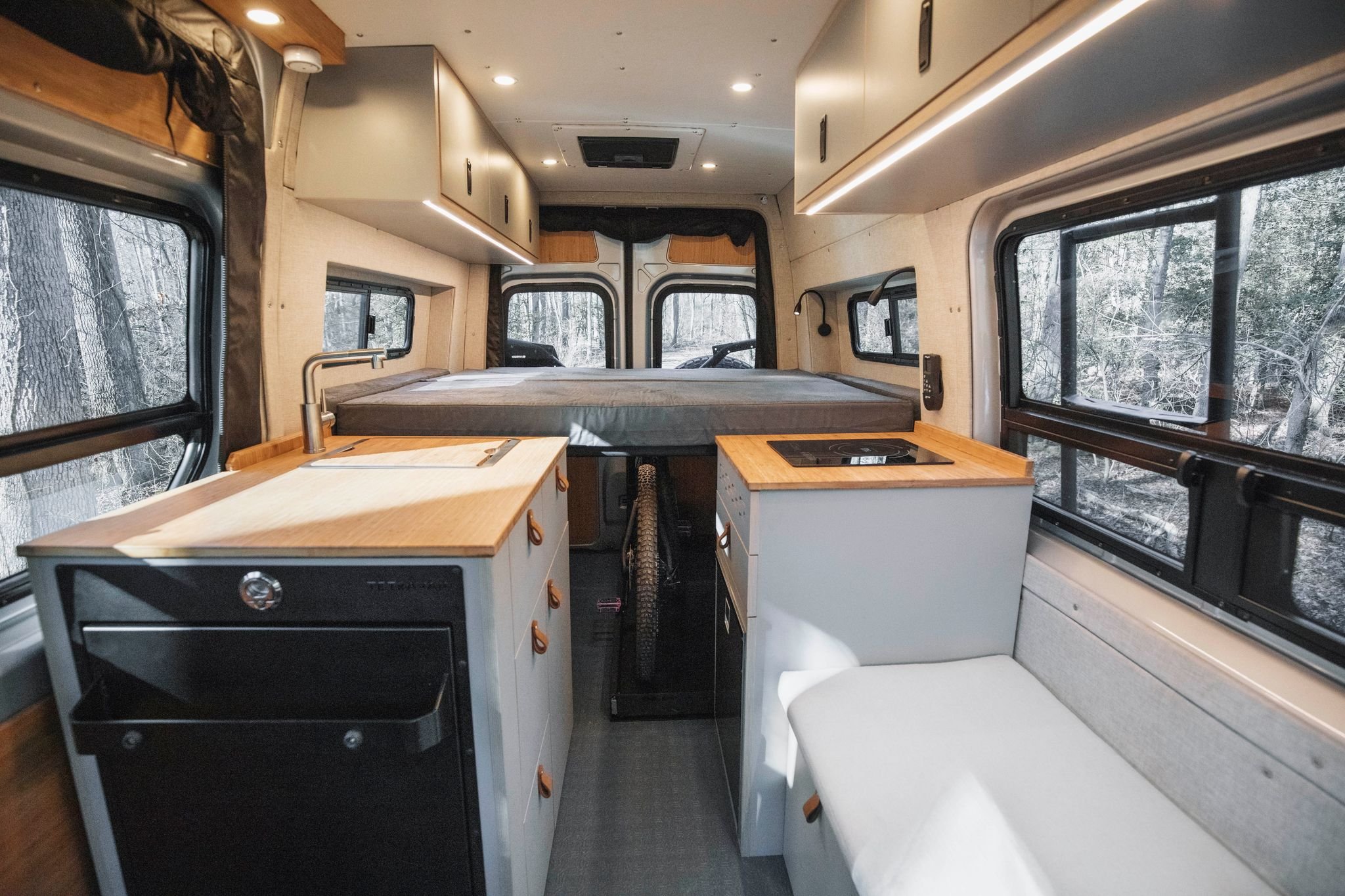 The Stoke Build uses the Mercedes Sprinter chassis and is designed for adventure on or off-road. Stoke has a rugged look but is still comfortable and filled with conveniences like a single induction burner, a sink with a solid amount of counter space, and a lounge seat that is cozy for reading and relaxing at night. You can find out more about the Stoke Build and its other features right here.
Sequoia+Salt: Highpoint Build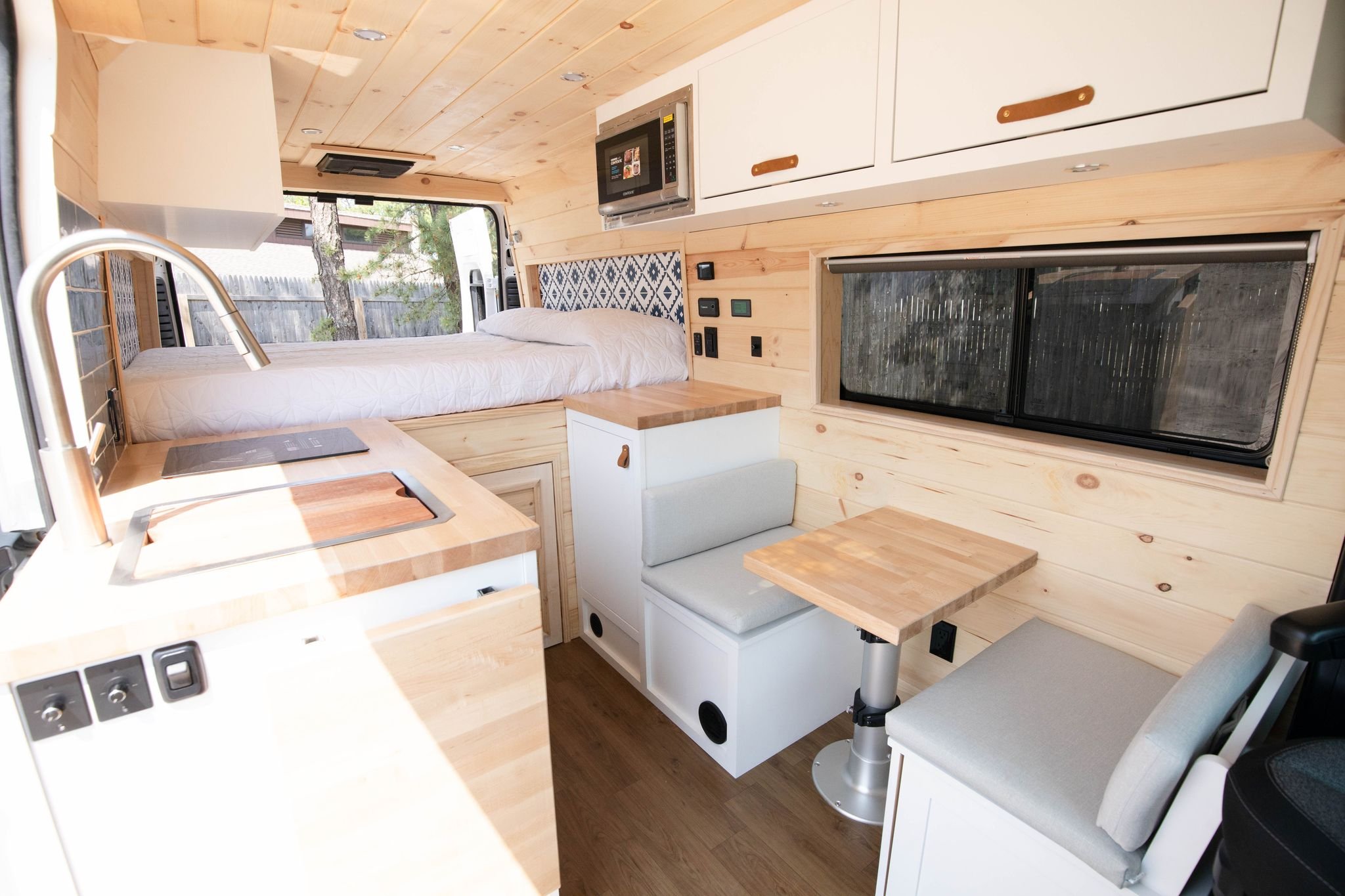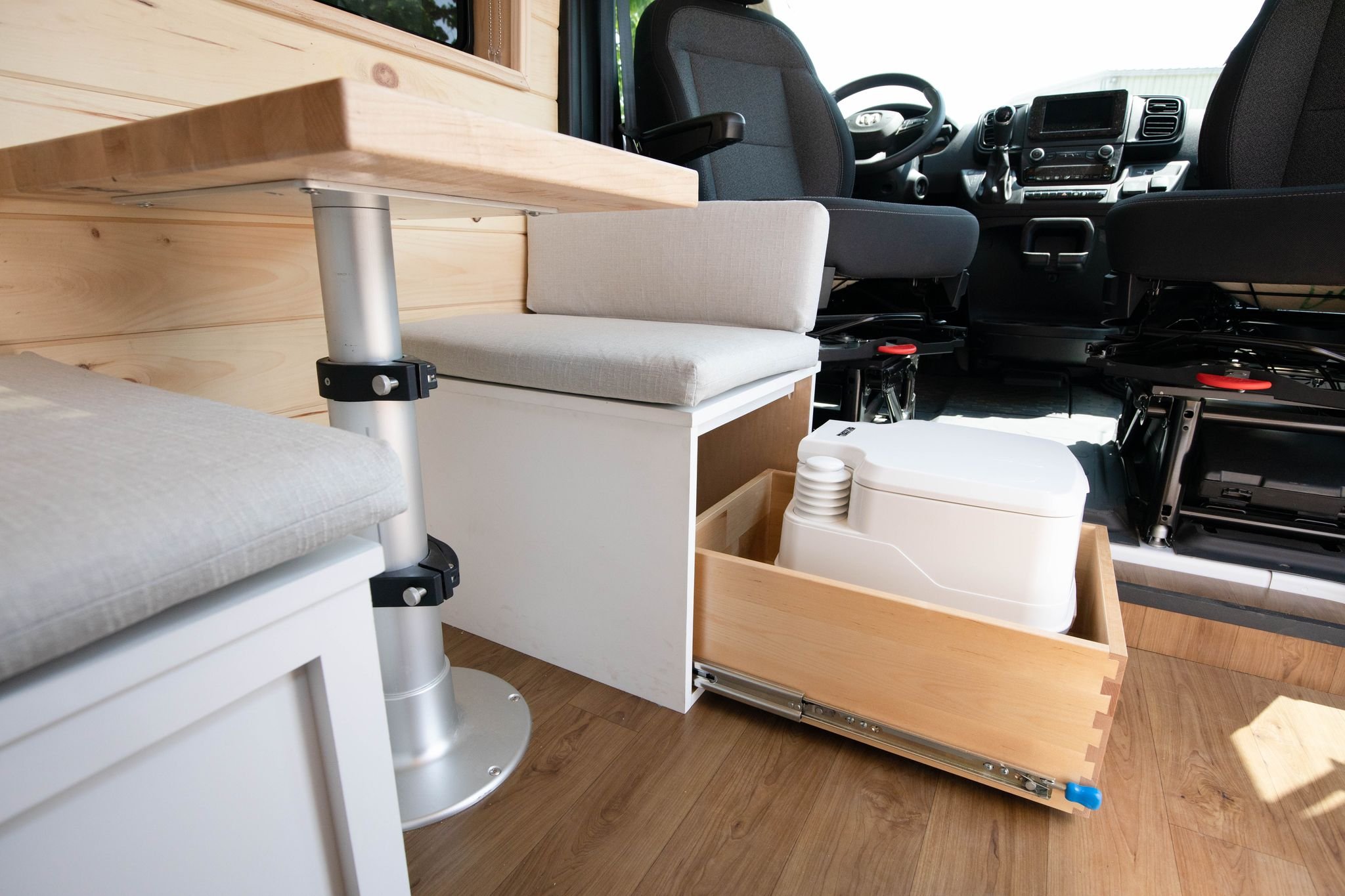 The Highpoint Build can be created on a ProMaster, Transit, or Sprinter chassis. It offers real livability for those that take long road trips and want a home away from home. There is a dinette table for two, a galley kitchen with sink and single burner and a 6.5 gallon galley water system. You can find out more information about the Highpoint Build and all of its features right here.
Sequoia+Salt: Raritan Build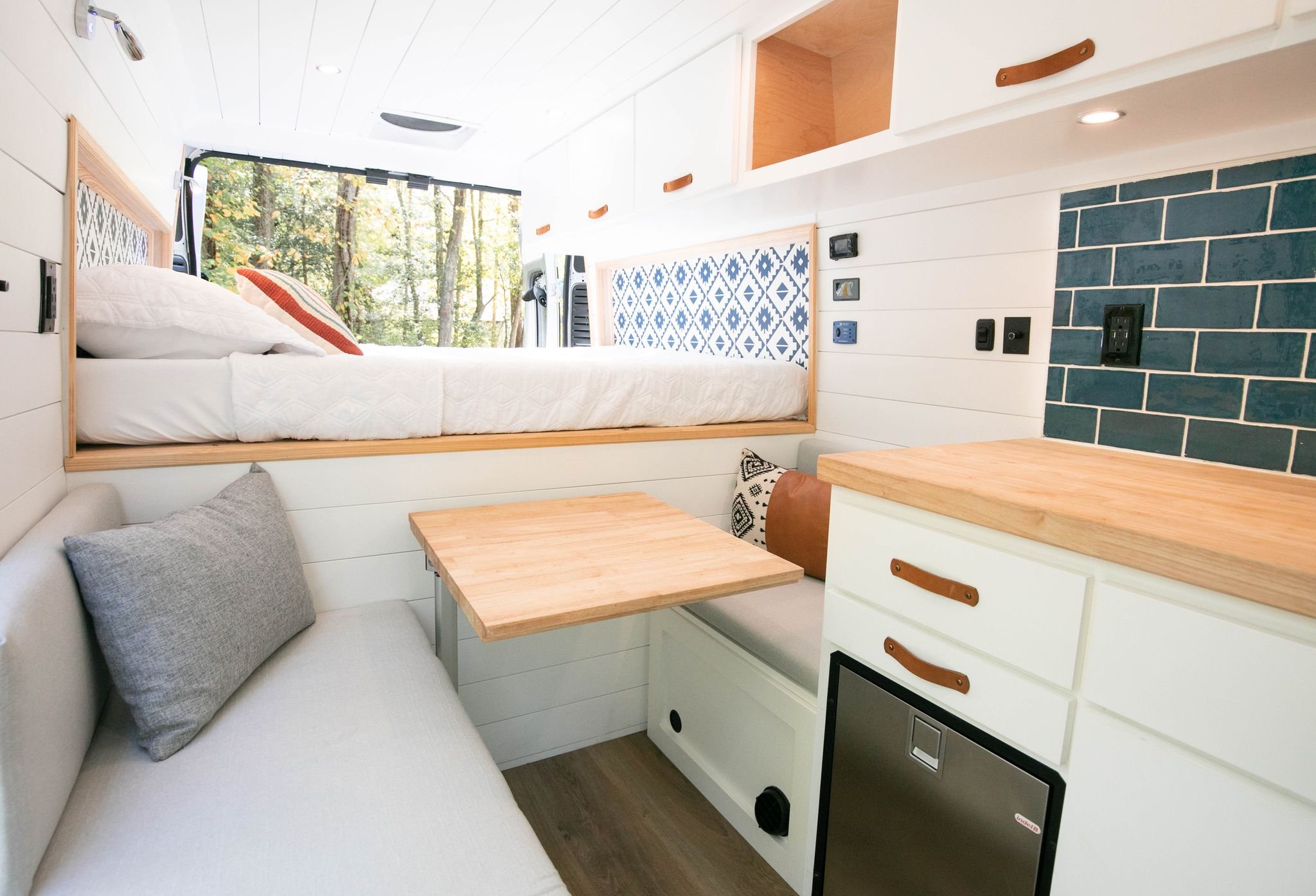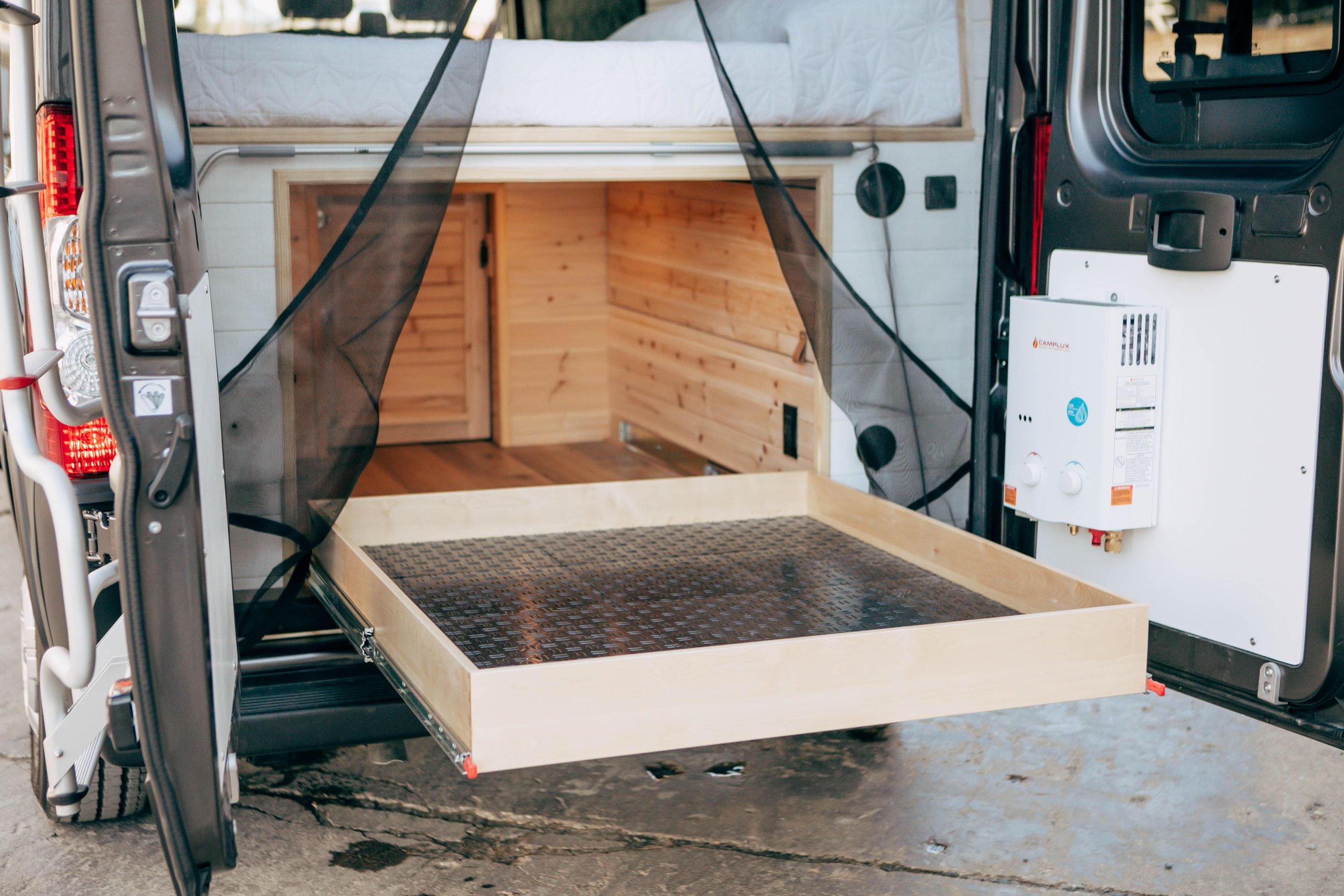 The Raritan Build was Sequoia+Salt's first floorpan and continues to be a bestseller for the company. This floorpan (which can be built on the Sprinter, ProMaster, and Transit Chassis) has two bench seats with a Lagun Table in between that is situated right next to the bed. Once again, this floorpan includes a galley kitchen, a slide-out toilet drawer, and plenty of storage. To find out more about the Raritan Build please click here.
Optional Upgrades from Sequoia+Salt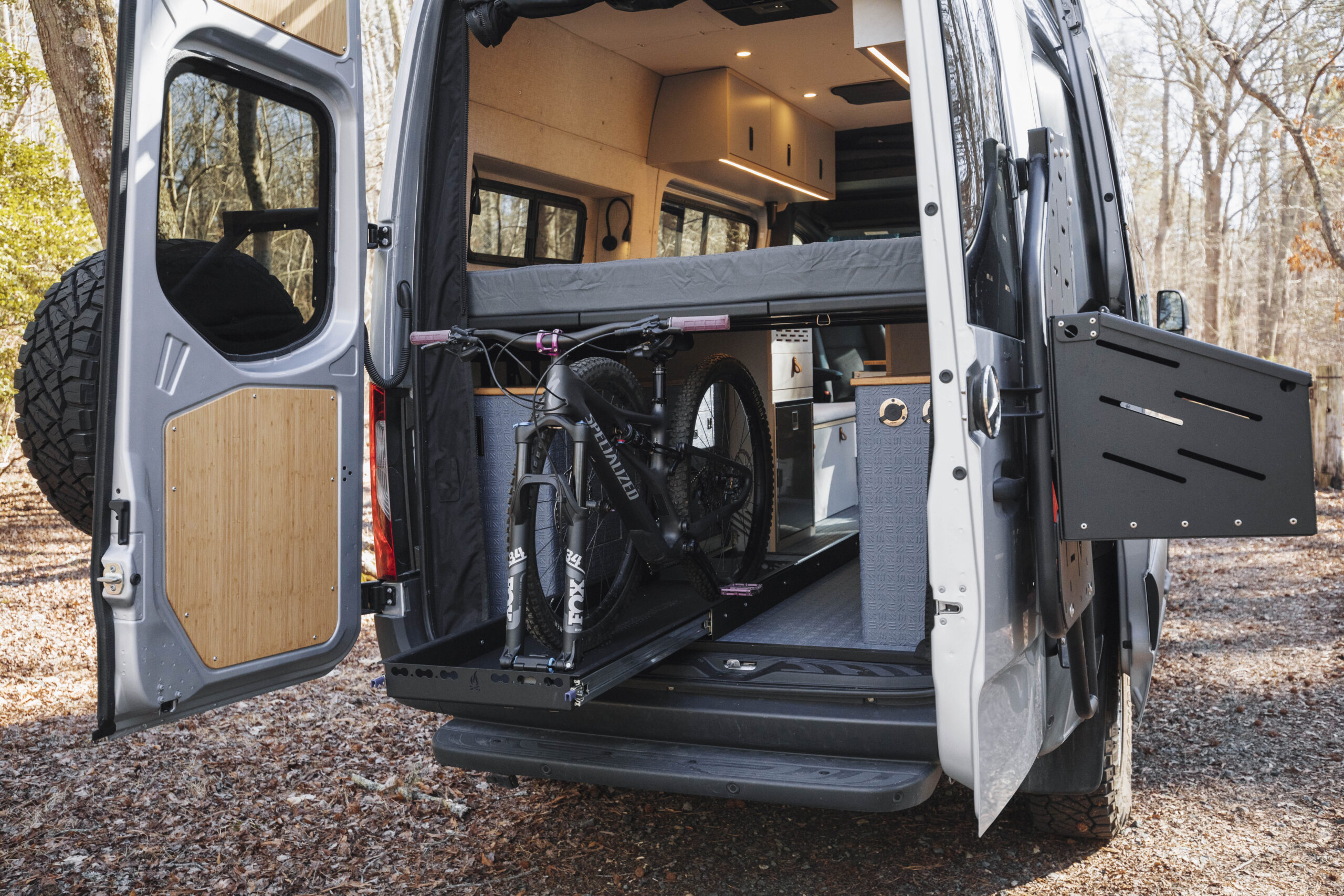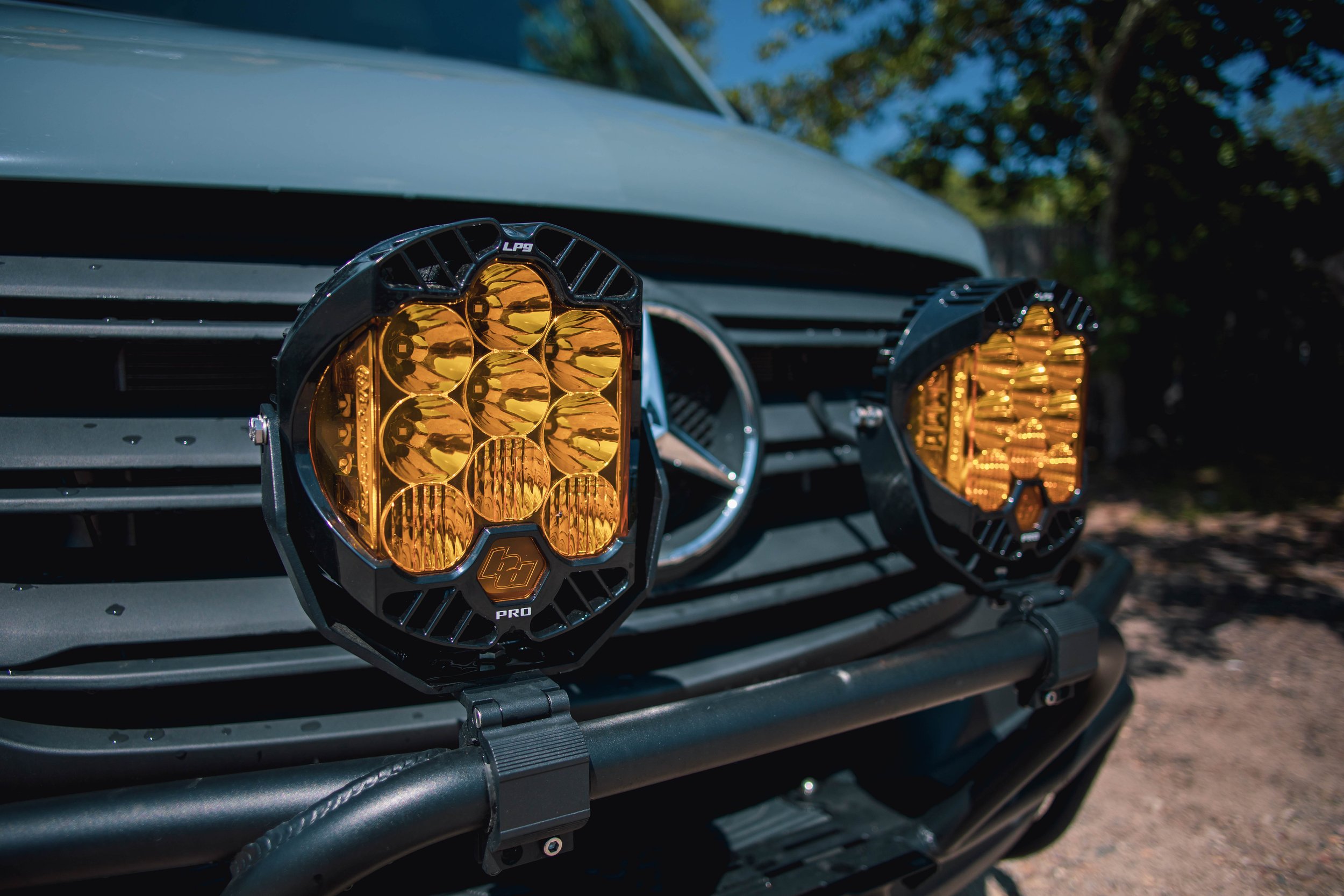 Upgrades galore are available on any Sequoia+Salt floorpan. Please look under each build description (links above) to find out more about adding accessories and equipment to personalize your van so that it is ready to go for your next great adventure.
To find our more about Sequoia+Salt head on over to their website. Or give them a call at 732-357-3483. Also make sure you are following them on Instagram at @Sequoia_Salt. Just be forewarned–you may fall in love with this company if you do.
We certainly did.
Our van life dreams have never been stronger–and they have never felt so close to home.
Podcast: Play in new window | Download