Years ago we lived just minutes away from a Trader Joe's grocery store and we shopped there at least two times a month, if not more. After we moved, it became a 30-minute journey to the nearest TJ's, which was entirely too far for our normal weekly grocery shopping trips.
So our visits have become less frequent, but we still try to squeeze in a trip every once in a while most often before we head out on a longer RV trip. Why? Because Trader Joe's offers us fun, convenient food at ridiculously reasonable prices. Here are just some of our favorite items from Trader Joe's that we love to stock up on when a camping trip is on the calendar.
You can listen to us talk in more detail about these items by clicking on the play button at the top of this article. Or search for The RV Atlas in your favorite podcast app like Apple Podcasts, Google Podcast, Stitcher, or Spotify!
Note: We've included almost every item we mention in the pictures below, so you can see what the labels look like and more easily hunt them down on your next TJ's visit. There is the unfortunate fact that not every item is available in every store across the country. We apologize in advance if we get your hopes up about something you can't track down.
Trader Joe's Spices, Seasonings, and Pastes
           
We definitely like to enjoy fresh, homemade food at the campground. But we want everything to be a little more convenient when we're relaxing on an RV trip. At home, we have a drawer full of every herb and spice imaginable. I keep it a lot simpler in the toy hauler, relying on Trader Joe's delicious spice mixes to bring the flavor to the picnic table. Here are some of our favorites…
Everything But the Bagel Seasoning
21 Seasoning Salute
Chile Lime Seasoning
Seasoning Salt
I also always travel with their ginger paste, minced garlic, and balsamic glaze which can be used for about a bazillion delicious soups, sandwiches, salads, and grilled dishes.
Trader Joe's Crackers, Chips, and Dips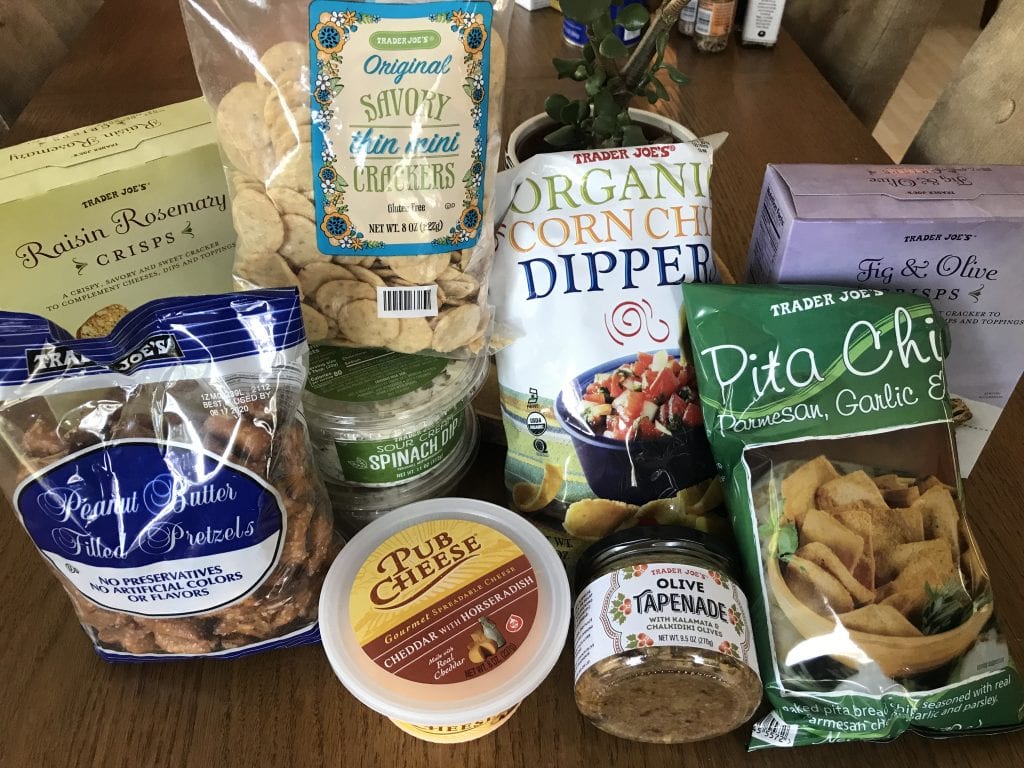 For some reason, my three tiny terrors demand complete meals, multiple times a day. But if it were up to me, I would probably subsist entirely on Trader Joe's crackers, chips, cheeses, and dips while at the campground. They have so many delicious options, but here are some of the very best…
Chips and Crackers
Raisin Rosemary Crisps
Fig & Olive Crisps
Mini Rice Crackers
Corn Chip Dippers
Pita Chips
Dips
Horseradish pub cheese (but really, any of the pub cheeses!)
Olive tapenade
Spinach dip
Trader Joe's Hiking Snacks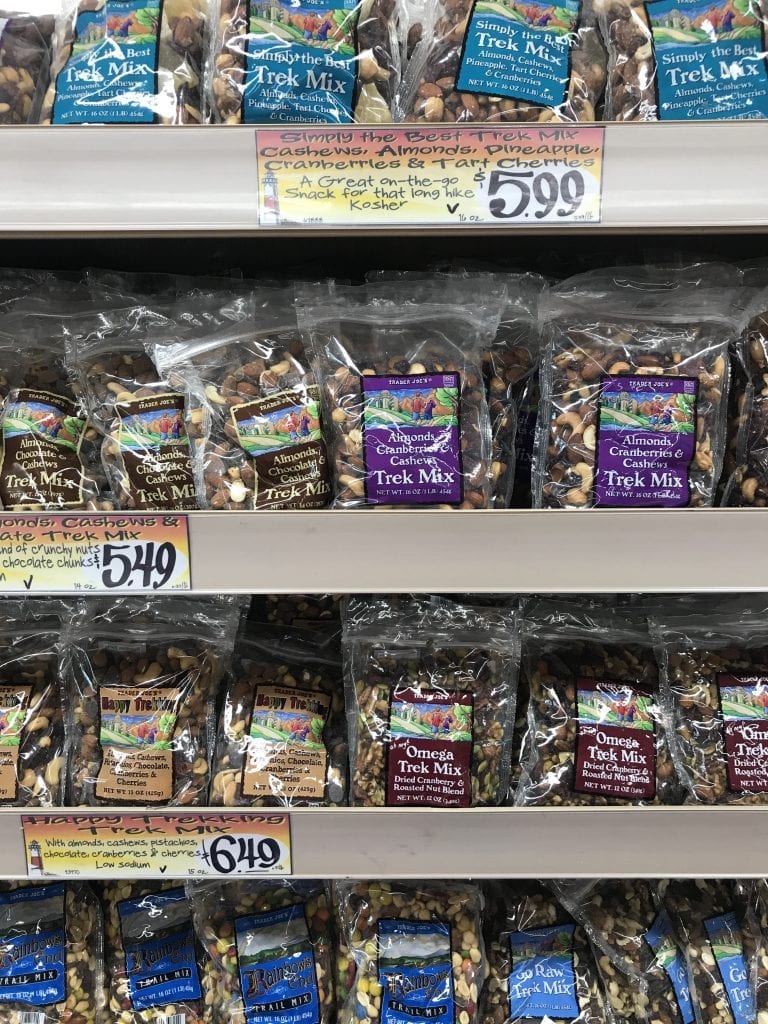 Many of our camping trips include hiking adventures. I love that I can find delicious but healthy snacks at Trader Joe's that everyone will enjoy on top of the mountain. If you've been to the dried fruit and nuts aisle, you know that there is something for everyone. And the prices are ridiculously affordable compared to other grocery stores. Our family favorites are…
Rainbow Trail Mix
Dried apricots
Peanut butter filled pretzels
Clif Bars (I know, I know, you can find these anywhere. But they are under $1 a bar at TJ's!!!)
Trader Joe's Treats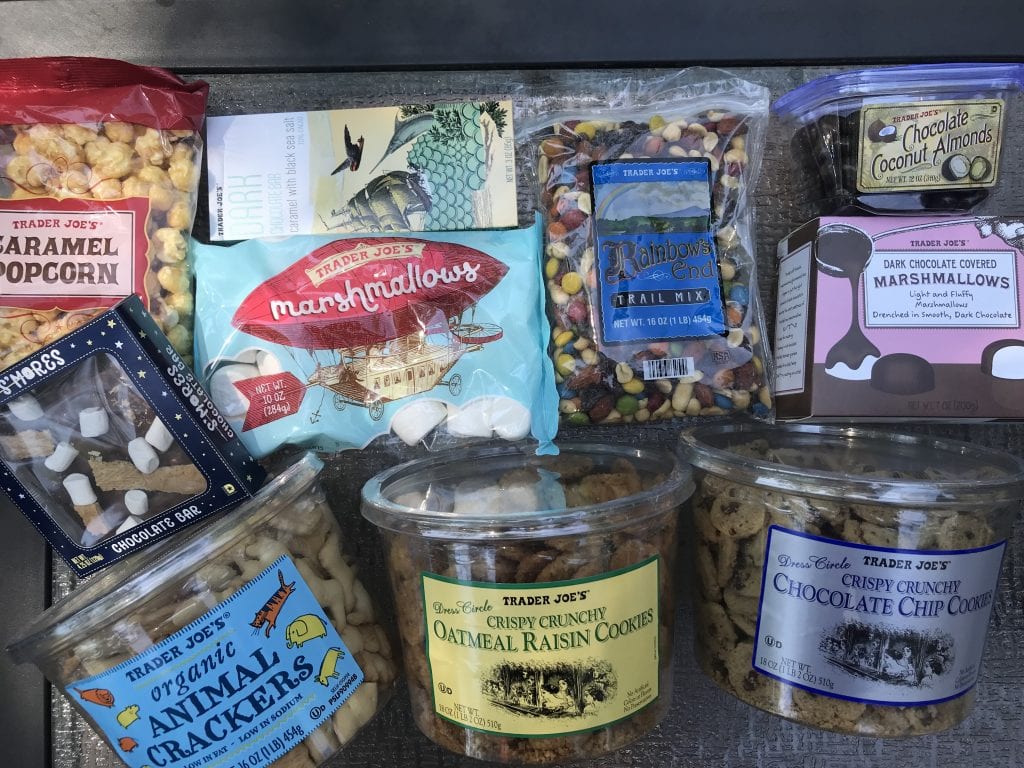 Our podcast listeners know that I'm not a big fan of sugary treats. I would take a big plate of nachos over cake any day of the week. But that doesn't mean I deny my family the small pleasures in life. We definitely indulge in a few more sweets at the campground and here are some of the shining stars according to the rest of our camping crew…
Mini Crispy Chocolate Chip Cookies (in the bucket)
Crispy Oatmeal Raisin Cookies (in the bucket)
Animal Crackers (in the bucket…see the pattern???)
Caramel Popcorn
Chocolate Coconut Almonds (ohmygosh)
S'mores Stock Up List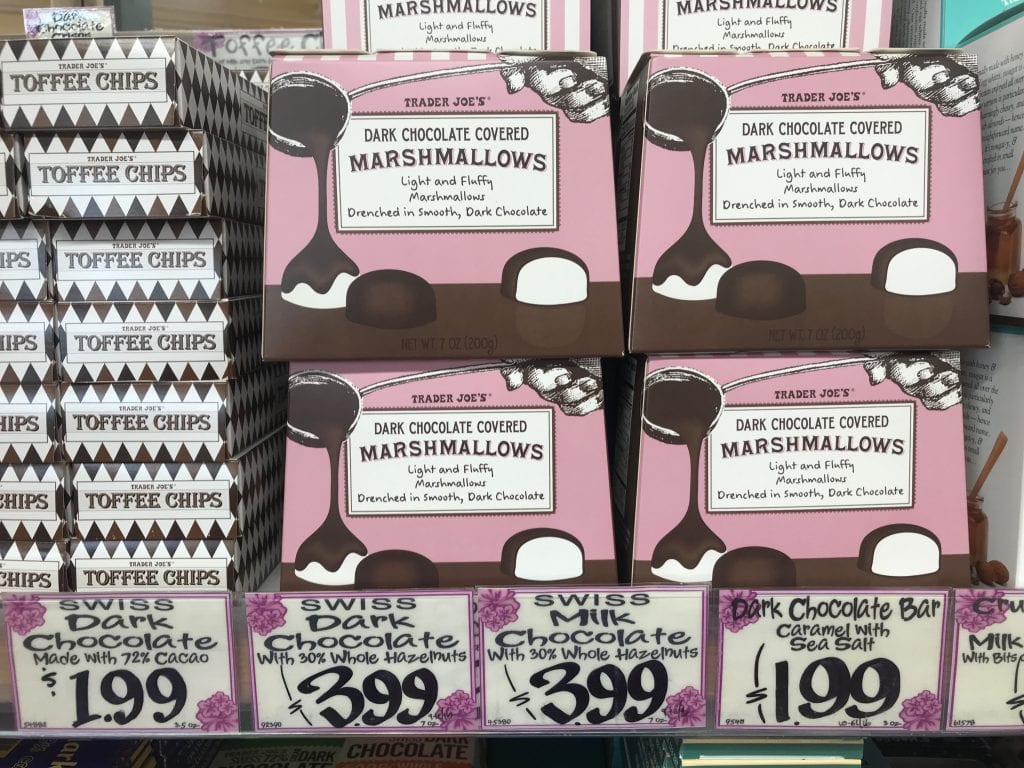 You can't go camping with s'mores supplies, right? I mean, I could…but the rest of family would revolt. You can, of course, get the s'mores basics like graham crackers, marshmallows, and chocolate. But Trader Joe's also lets you get a bit more fancy if you prefer. They actually have Dark Chocolate-Covered Marshmallows and a huge array of specialty chocolate bars.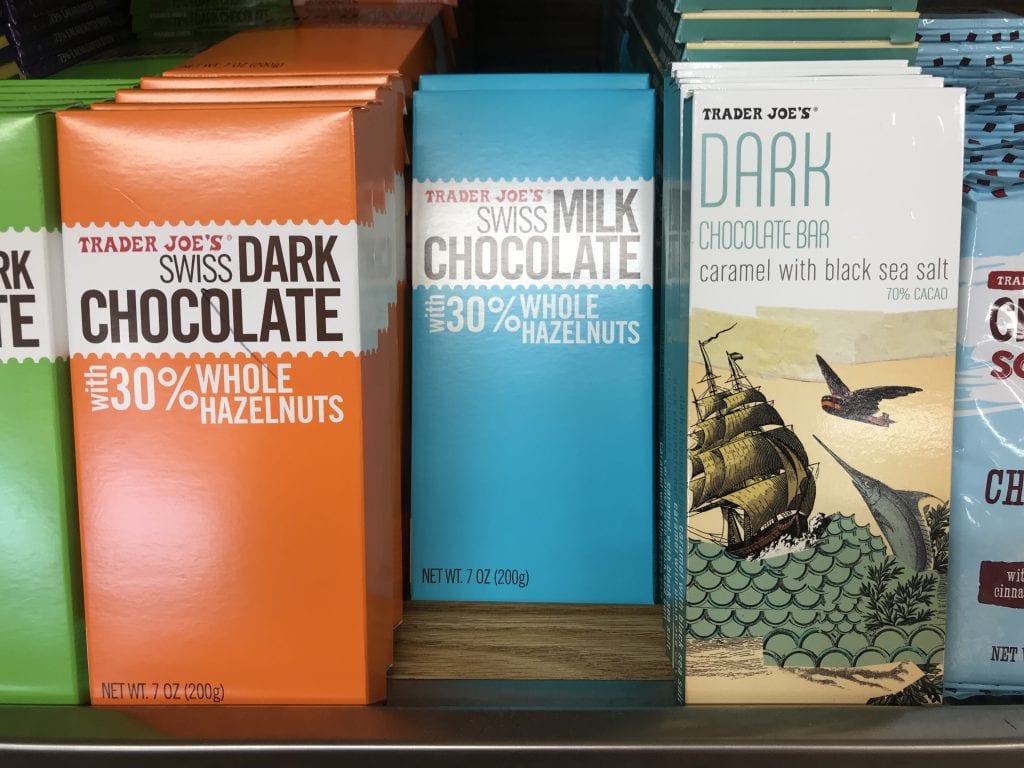 If you want even more idea's for upping your s'mores game, check out our podcast episode on amazing s'more recipes. Or skip s'more making all together and just buy the prepackaged version: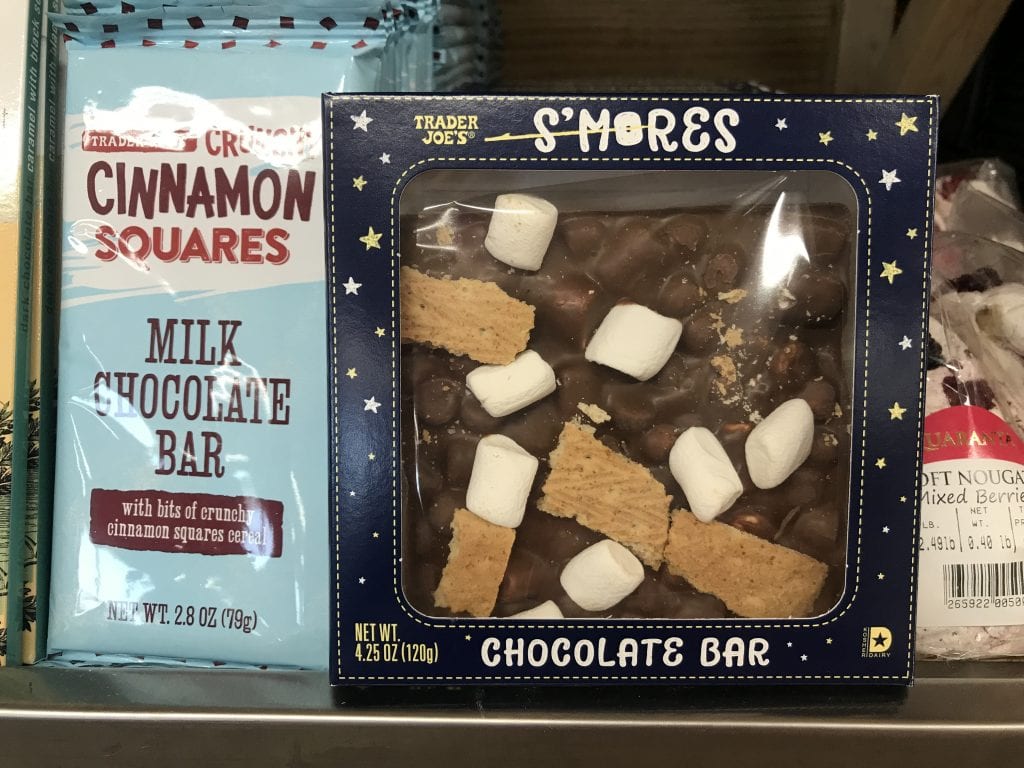 Trader Joe's Beverages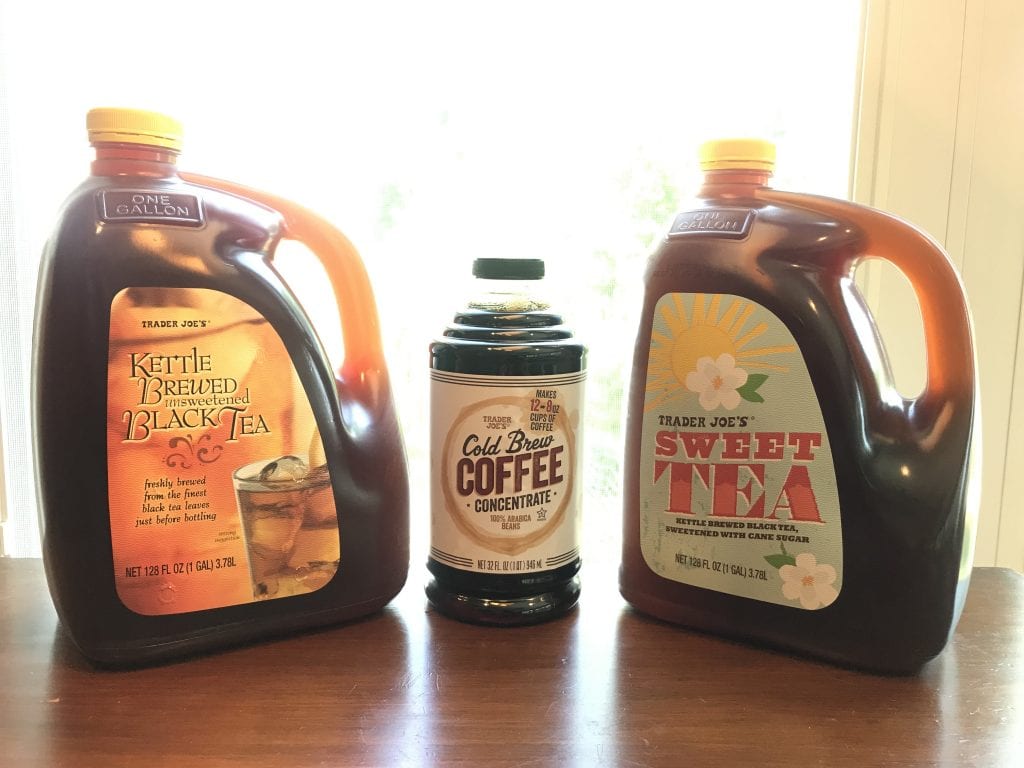 When our kids say they are thirsty at home, we tell them to get a drink of water. But at the campground, we splurge and always have a big cooler full of cold beverages. The flavored Sparkling Spring Waters are delicious and refreshing. Jeremy likes to make his own 'half-n-half' by combining Trader Joe's Unsweetened Black Tea with a bit of the Sweet Tea.
New Items!!!
We never, ever leave TJ's without at least one new item to try. On our most recent trip, we picked up their Cold Brew Coffee Concentrate. What a great idea for summer camping or dry camping. You can use the concentrate to make an iced coffee. Or heat water and add a bit of concentrate to make a cup of coffee that is so flavorful and robust. Beats instant coffee any day!
And we found a new family favorite when we decided to try this Buttermilk Protein Pancake Mix. Wow! We were digging the Kodiak Cakes, but these blow them out of the griddle in our humble opinion.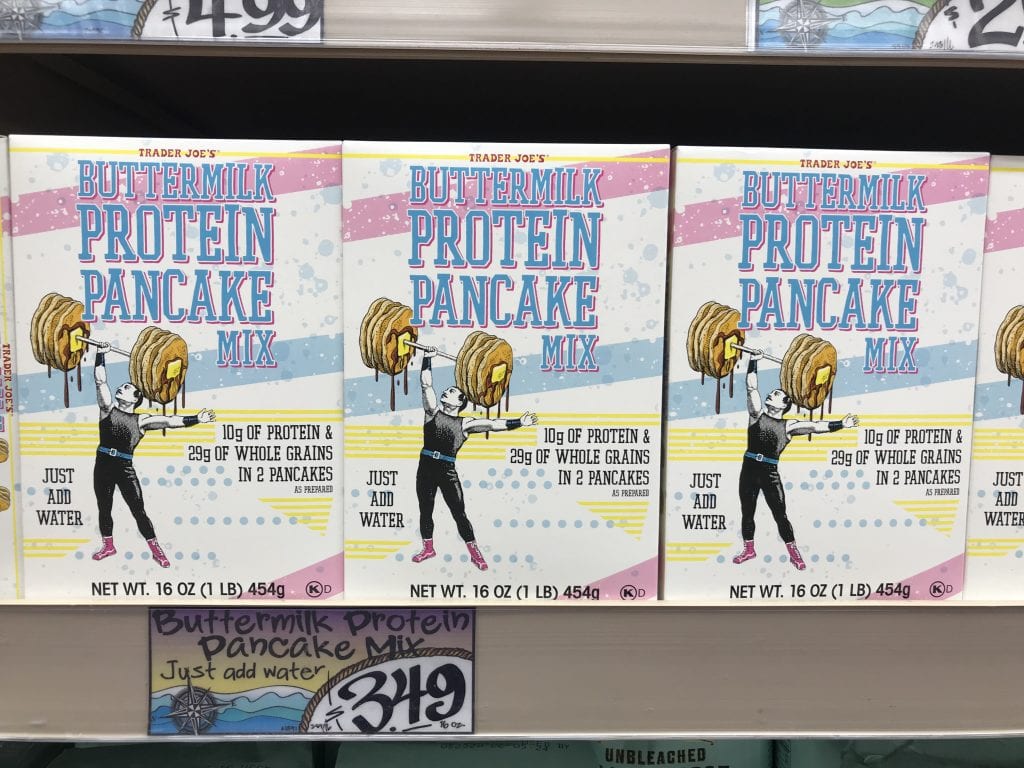 We know there are a million amazing items that we didn't get to list in this article. So go ahead…tell us what you cannot believe is missing from this list. It will probably end up in our cart on our next trip to Trader Joe's. Need to find your nearest TJ's fix…click here for their store locator.
See you at the campground,
Stephanie
Podcast: Play in new window | Download