Will the RV Atlas crew end up in a Jayco Eagle HT one of these days? We must admit, the Jayco Eagle HT 264BHOK and 284BHOK have captured our attention. The 264BHOK was the "Family Friendly" category winner at the RVX Reveal in Salt Lake City this past winter. It's easy to see why this particular floorpan wowed the judges at RVX. It wowed us too. For a rig that clocks in at just under 33′, with a UVW of 7410 lbs. it packs in a ton of features and amenities–with very few compromises.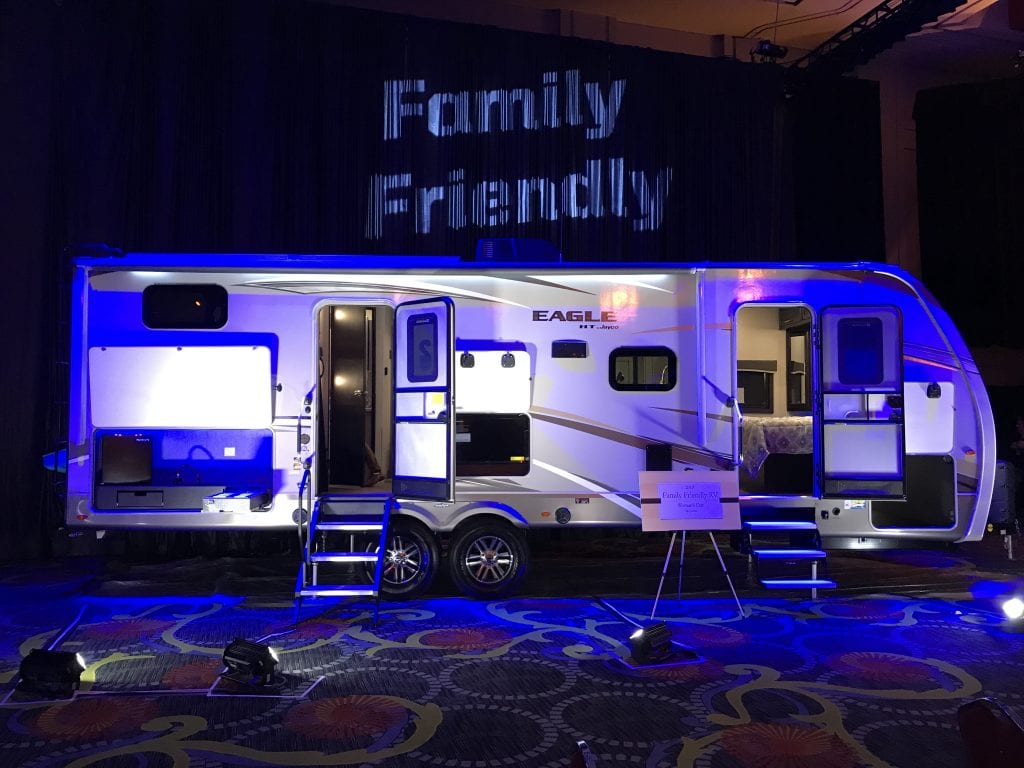 Chris Barth, the product director behind Jayco's Eagle HT line likes to call this model a "flat floored fifth wheel." And for good reason. This model, and all of the models in the Eagle travel trailer lineup have fifth wheel like luxuries and amenities. This type of "flat floored fifth wheel" actually fills a huge gap in the travel trailer market. If you are looking for something a bit more luxurious than a typical "stick and tin" trailer, but don't want to step up to a fifth wheel, we think you'll find the 264BHOK more than appealing.
To listen to our interview with Chris Barth, Jayco's Senior Director of Product Development, about the award winning Jayco Eagle HT 264BHOK, click on the media player above. Jayco is a longtime sponsor and partner of the RV Atlas podcast. Our opinions are always are own.
Filling A Gap In The Travel Trailer Market
10 years ago, when our love affair with #rvlife was just getting started, we noticed that there were plenty of affordable travel trailer options in the 15K to 30K range. But if you wanted something fancier and more residential you had to step up into a fifth wheel. Or you could get an Airstream for almost 100K.
The broad price point range, from about 30K to 80K was dominated by the Fifth Wheel market. So if you wanted a more luxurious and amenity packed travel trailer, but didn't want an Airstream, you were, to some degree, out of luck. Thankfully, that is no longer the case.
Enter Jayco's Eagle and Eagle HT travel trailer line. They are certainly a step up in price from the 20K to 30K travel trailers that many of us own. But they are about half the price of an Airstream. They are also damn good looking trailers with fresh and modern interiors, and enough features and tech to make you forget that you're not in a high end fifth wheel. Let's take a look at some of our favorite features in the Jayco Eagle HT 264BHOK, with a starting MSRP of $48,443.
Our 6 Favorite Features in the Jayco Eagle HT 264BHOK
Spacious and Functional Kitchen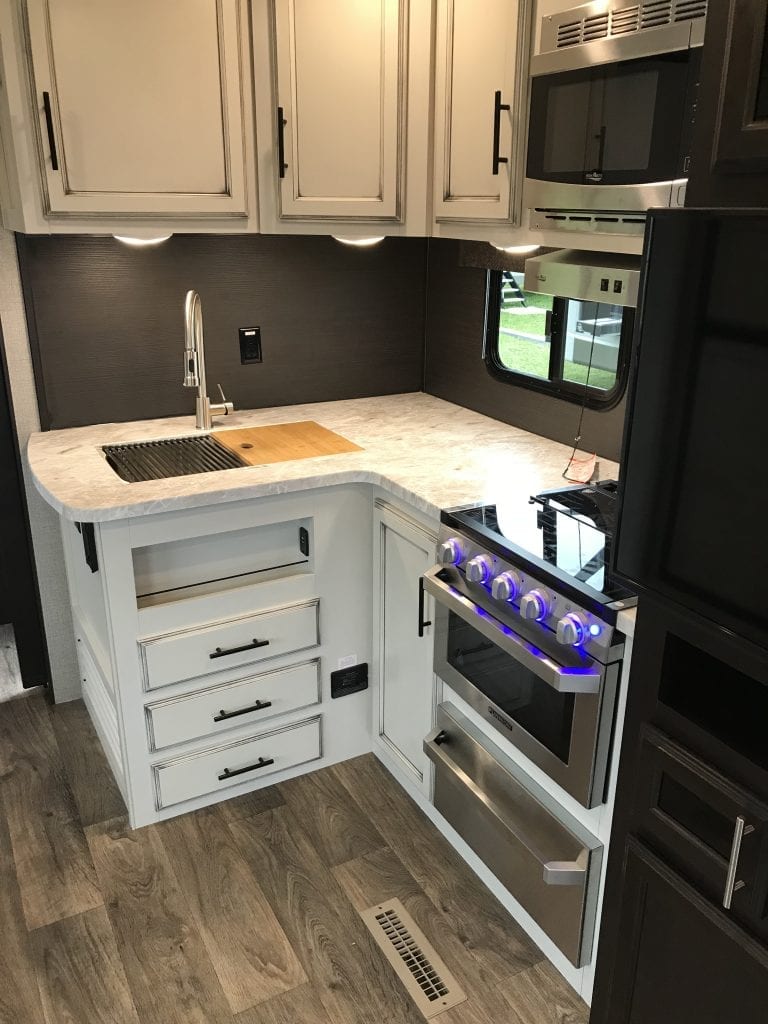 Many bunkhouse travel trailers in the 30′ to 33′ foot range have small kitchens with limited counter space. This is one of those uncomfortable trade offs that families with kids often have to make. But folks with more kids need more storage for food and more space to prep that food, right? This Eagle makes no compromises in the kitchen. There is ample counter space and plenty of storage. The kitchen looks like many kitchens in mid sized fifth wheels. And check out that Modern Farmhouse interior! It's gorgeous right? The "American Tradition" interior is also available for those who like darker colors. Or those who worry their kids will dirty this up right quick!
A Real Bedroom, Not A Closet!
Our first bunkhouse travel trailer was a White Hawk 29SQB. We loved a lot of things about it, but we never loved the bedroom. It was separated from the main living space by a flimsy curtain and there was very little room to walk around the bed or get changed. It felt like a closet. Many bunkhouses travel trailers have the same "closet like" master bedrooms. This compromise is made to afford the space for the bunks in the back. The master bedroom is another area where the Jayco Eagle 264BHOK makes no compromises. This master bedroom has a real sliding door (that locks!) and plenty of room to walk around the bed and get changed in the morning or before bed.
To see Jeremy and Stephanie Walk Through the Jayco Eagle HT 264BHOK (and other award winning RV's at RVX) watch the video below!
Join us live with RV Family Travel Atlas for a closer look and exclusive tour through a few RVs featured at #RVReveal.

Posted by Go RVing on Tuesday, March 12, 2019
Rear Cargo Door and Interior Storage
We love the rear cargo door on this Eagle. Our current Toy Hauler allows us to easily pack SUP's, kayaks, and bicycles. If we ever sold the toy hauler we would still like to have some of that cargo carrying capability. The 264BHOK would give us the ability to still store our kayaks inside of the rig, inside of racking them on the truck or rear bumper of the RV. The Eagle's bottom bunk flips up to create space to store those bikes or kayaks. The rear cargo door makes this kind of gear easy to get in and out. Everyone know that bikes and kayaks can be a pain to pack. Not in this Eagle.
Chaise Lounge Option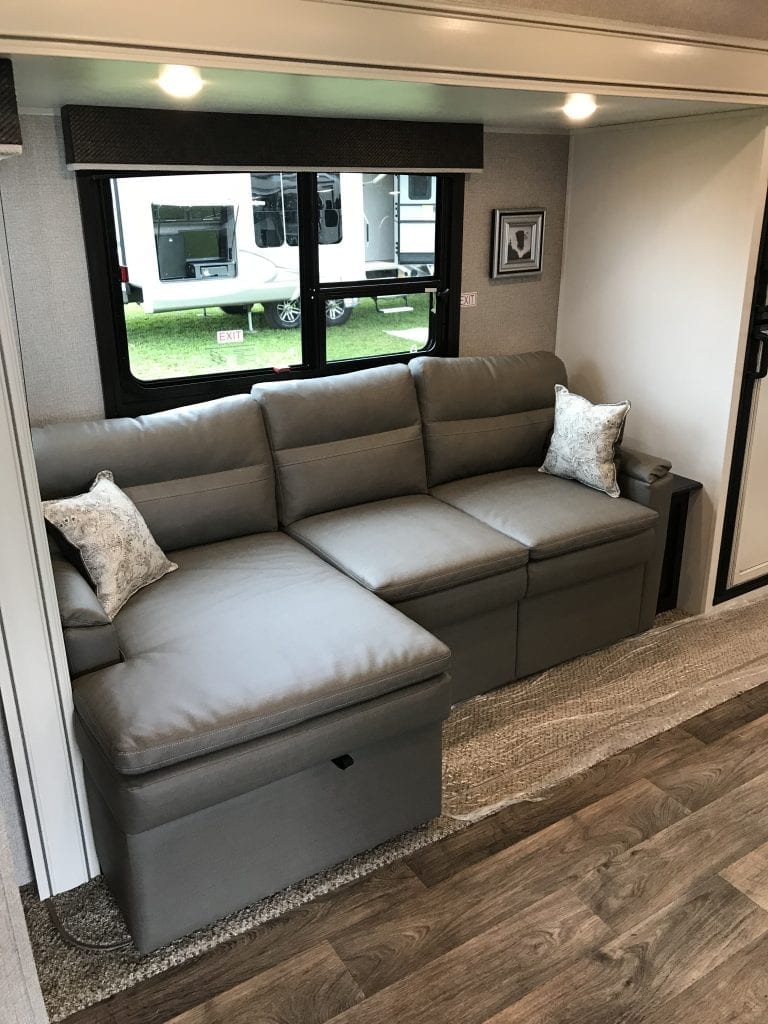 We are not huge fans of the U-Shaped dinette here at the RV Atlas. We think that they are actually more cramped and uncomfortable than booth dinettes. But the U-Shaped dinette is mischievous and deceptive! It tricks the RV shopper into thinking it is more spacious than its booth counterpart.  But to be honest–we don't really like having a dinette table inside an RV at all. We almost always eat outside. When we eat inside we use dinner trays on our laps. It works well for us even though some of you might think we are crazy. So we REALLY love the chaise lounge option in this Eagle–we would choose this over the U-Shaped dinette any day!
At this point we really should mention the one shortcoming (or trade-off) that the Jayco Eagle HT 264BHOK has–particularly for those who travel with 2-3 kids. The rig has limited seating. You can't get a dinette and a couch. It's one or the other. Seriously, at under 33 feet you just can't have it all. Though this Eagle comes close. You could, of course, jump up to the Eagle 284BHOK if you want more seating. Of course you are also adding more length and more weight. Check above for a side by side comparison of the 264BHOK and 284BHOK floorplans. Note that you can swap out the U-Shaped dinette on the 264 for the chaise, and you can swap out the couch/dinette combo on the 284 for a ridiculously awesome party couch.
AHHH-Mazing Outdoor Kitchen!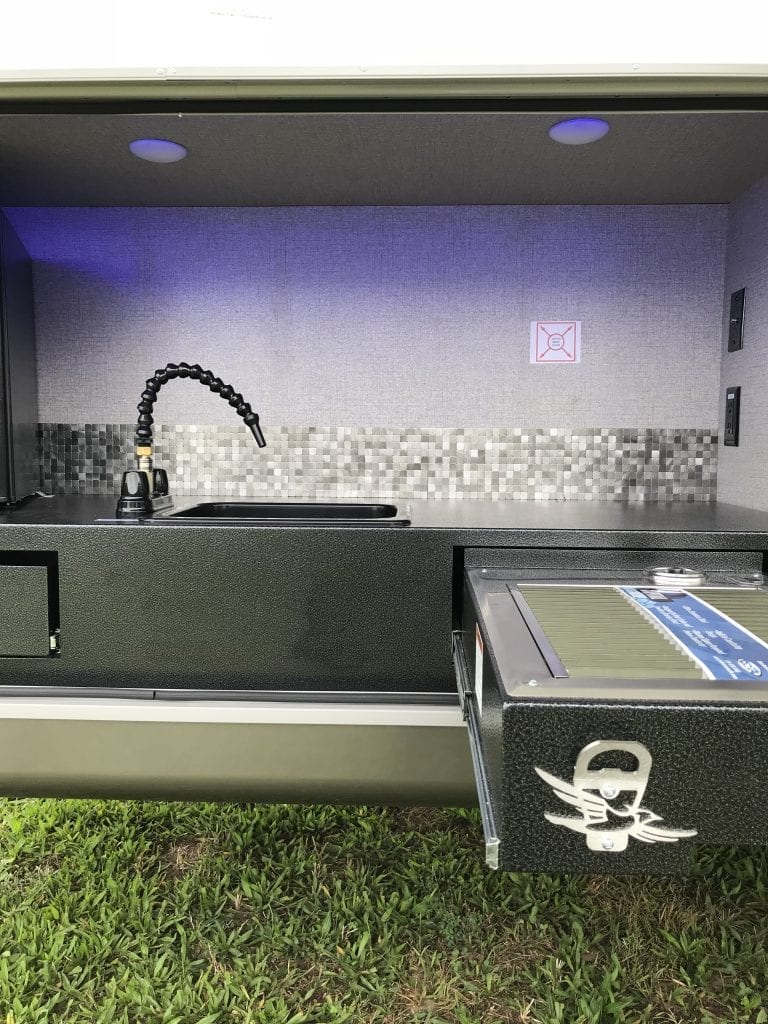 The outdoor kitchen on this Eagle is also ridiculously nice. Build quality will survive the zombie apocalypse and there is plenty of counter space for meal prep and additional appliances like a coffee maker. You could also mount a TV here if that is your thing. Because of the drop frame chassis this outdoor kitchen is easily reachable for campers of any height. We have seen a few seasonal campers build semi-permanent decks because their outdoor kitchens are so high off the ground.  Not a problem on this Eagle. Not even close.
I also really love that Jayco bottle opener! Our toy hauler did not come with one of those…
Fifth Wheel Styled Docking Station
We also love the exterior docking station in the front storage compartment. Most travel trailers have their hookup connections spread out across the rear side of the coach. The Eagle line puts everything together in one convenient place, also providing protection from the elements. This is truly a fifth wheel feature that is sooooo nice to see in a travel trailer. This feature makes me jealous! For real!
To see Chris Barth walk through the Jayco Eagle 264BHOK click on the video below.
It's official! Our 2019 Eagle HT 264BHOK won the Family-Friendly category at RVX! Join us LIVE with Senior Director of Product Development, Chris Barth as he highlights some of the winning features. #LetsJayco

Posted by Jayco on Tuesday, March 12, 2019
There are so many other features that we love about this Eagle, including the spacious bathroom, but these are the six features that have us most excited about this model. We have decided that our next rig should be smaller than our current 34′ Toy Hauler, and perhaps a bit more luxurious–and this Eagle might just fit the bill.
Of course the brand new 2020 Jayco Greyhawk 31F Class C motorhome is pretty darn nice, too…
See you at the campground,
Jeremy + Stephanie
Podcast: Play in new window | Download