When we bought our first RV about a decade ago, we had no idea how important the dealer would be in providing a great RV experience. We've purchased a few RVs since then, and learned a lot about the RV industry.
One of the most important lessons we learned was that buying from a great dealer is a bigger decision than most people realize. The quality of the dealership will shape so many milestones, from learning how to use your RV to receiving timely service during your warranty period. When we bought our second RV, we paid as much attention to the dealership reviews as we did to the RV manufacturer reviews. We wanted to buy a Jayco from reputable, well-reviewed family dealership. And we've been happy time and time again that we made that choice.
Over the years of blogging and podcasting, we've worked hard to communicate that message to our readers and listeners. However, it is so hard to get first time buyers to look beyond the price tag and make a more holistic decision about where to buy an RV. So we asked Dale Tea, a second generation RV dealership owner, to come on the show and talk about what a quality dealership looks like. Dale owns and operates Town and Country RV Center in Clyde, Ohio and is passionate about providing the best possible experience for his customers.
Our conversation with Dale was so. much. fun. You can listen to the complete interview by clicking the play arrow at the top of this article. Or you can find The RV Atlas podcast in your favorite podcast app, like Apple Podcasts, Google Podcasts, Stitcher, or Spotify. You can even ask Alexa to play The RV Atlas podcast!

The Story of Town and Country RV Center: A Family Tradition
Dale's father started Town and Country RV Center back in 1971 when the family rented a Winnebago motorhome and drove to the South Bend RV Show to purchase their first inventory which included three or four tent trailers. The business kept growing and really took off when they began selling Jayco's in 1982. Town and Country RV Center has been a Jayco dealer ever since, and Dale really digs into why he is so loyal to that brand on the podcast. He explains that the Jayco family has always cared deeply about their dealers, and he passes on the care to his customers. That's how it should work at a great RV dealership.
Tips for RV Shoppers from Dale Tea, Owner of Town and Country RV Center
Dale was great at breaking down what makes the difference between a great RV dealer experience and a disappointing one. He also had a few tips that we had never even considered! Here are some of his words of wisdom…
Always look at the used RV inventory when choosing an RV dealer.
This piece of advice really blew our minds. Dale says that the used RV inventory should match the brands of RVs that the dealer sells. Why? This signals that the dealer is getting repeat business from returning customers eager to upgrade their RVs. He also encourages folks to look at the condition of those RVs. How do those brands hold up to a few years of RVing? Are they in good shape or falling apart?
This has been true to our experience. Here is a picture from a few years back of our family trading in our Jayco for another Jayco at our beloved dealership. And, yes, the owner of the dealership took this pic.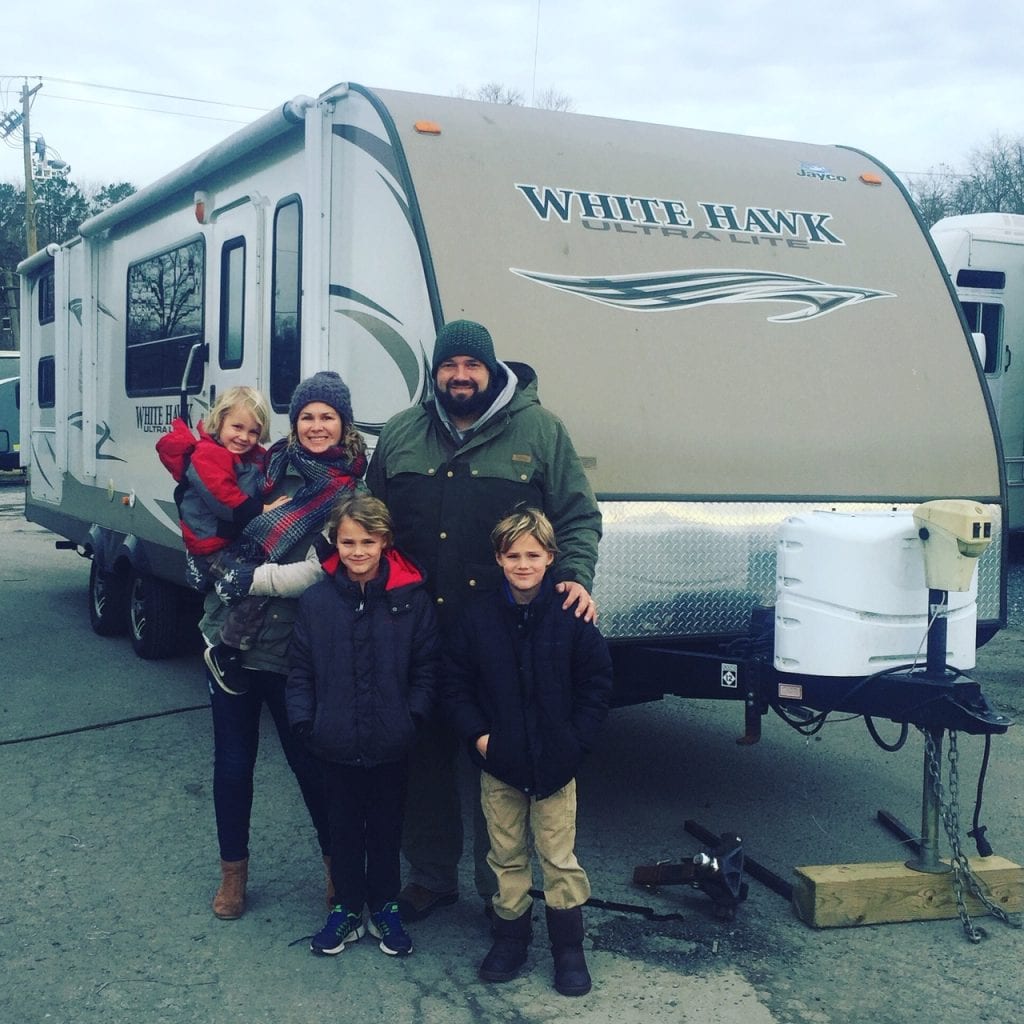 Balance Price with Value
Dale talks about how hard it is to get customers to see beyond the cash-and-carry price of RVs, but the RV industry is a service-related industry. No matter how amazing your RV is, it's going to need service, just like your sticks and bricks home. When you buy an RV, you have to look beyond the sticker price and consider the service relationship in the future.
RV dealers that do not support robust service departments might be able to offer rock bottom prices. But they won't be there for you when you need something serviced under warranty over the next two years. Rock bottom pricing might also signal less attention to detail when it comes to a PDI, or Pre Delivery Inspection. First time buyers might not realize that RVs don't arrive ready to go from the manufacturers. Dealers are responsible for doing a lot of the 'finishing' work including battery and propane installation, systems testing, and cleaning.
Town and Country RV Center spends about six hours on a typical PDI and that's reflected in the price. But we believe from our own experience that it's worth every penny.
Demand a Quality Walk Through
Another part of the RV buying experience is the 'walk through', and the quality of these can vary dramatically. We know this from first hand experience with our own amazing family dealership. A great walk through is going to take about two hours or more, and it will cover every single RV system from the water heater to the black tank to the slides.
Unfortunately, not all dealerships do this, and the impact on user experience is tremendous. It's a bit of a learning curve to understand how to operate an RV. The dealer needs to be a partner in that process.
Understand that Dealers Give their Own Customers Priority in Servicing
This is something that HAS to be addressed for first time RV buyers. You can buy a Jayco RV from any dealer and get it serviced under warranty at any other Jayco dealer. However, people are shocked to find that the servicing times might be undesirable if they did not buy from the servicing dealer. This is just a harsh reality. Dealers have limited service bays and limited man hours. They always give priority to the customers that actually bought off their lot. So if you bought from that bottom-dollar pricing outlet a few states away, you'll probably have to wait in line.
Great Dealers Camp and Understand the Value of RVing
The best dealers understand their customers' experiences because they actually RV. Have conversations about camping with your dealer, and see if their eyes light up and the stories start to flow. Dale told us about camping vacations that he took with his children to Yellowstone and other bucket list locations. He knows what people are dreaming about when they buy an RV.
We couldn't be more grateful to Dale Tea for coming on the show and talking to us about finding a quality RV dealership experience. If you are in the Ohio area, please do go visit Town and Country RV Center and tell them we said ? ! We believe strongly that the dealer relationship is an important part of everyone's RV experience. These tips from Dale will help everyone find that match made in heaven.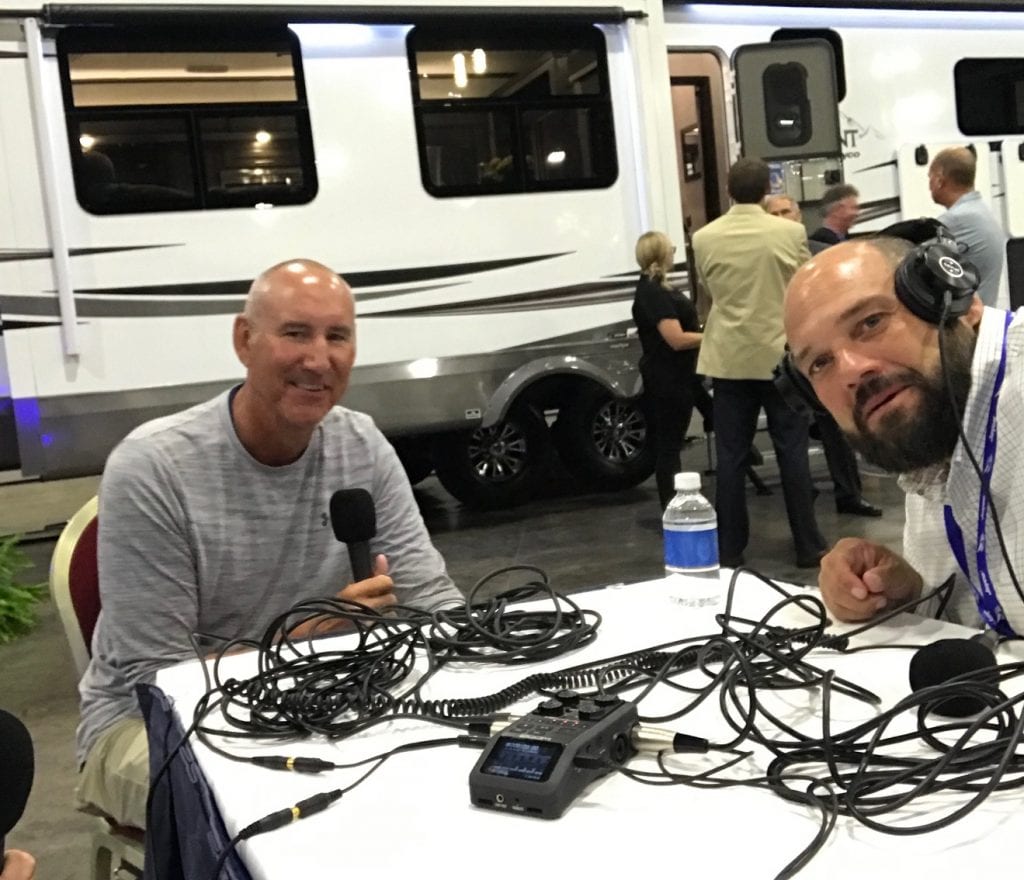 We talked to Dale while we were attending the Jayco Homecoming event in Las Vegas, Nevada. To hear more about this event and all the brand new Jayco 2020 RVs, check out our episodes on trends and Class Cs!
And we'll see you at the campground,
Stephanie + Jeremy
Podcast: Play in new window | Download