I have been watching the Jayco Class C motorhome lineup closely for years. If Stephanie and I ever make the jump into a motorized unit it would be into a Redhawk or a Greyhawk, that is, if the kids are still around! If we wait to buy a motorhome until after the boys head off into college, I think a Melbourne on the Sprinter chassis would do just fine, thank you very much!
When we first started RVing about a decade ago we noticed that Class C's tended to be the best option for families who wanted a motorhome. Why? Because many floorplans offered bunkbeds and pretty much all of them offered a huge bed over the cab. We were so interested in the Class C option that we decided to rent a few of them over the past couple of years to see if they would really work for us.
Our conclusion? They did. They really, really did.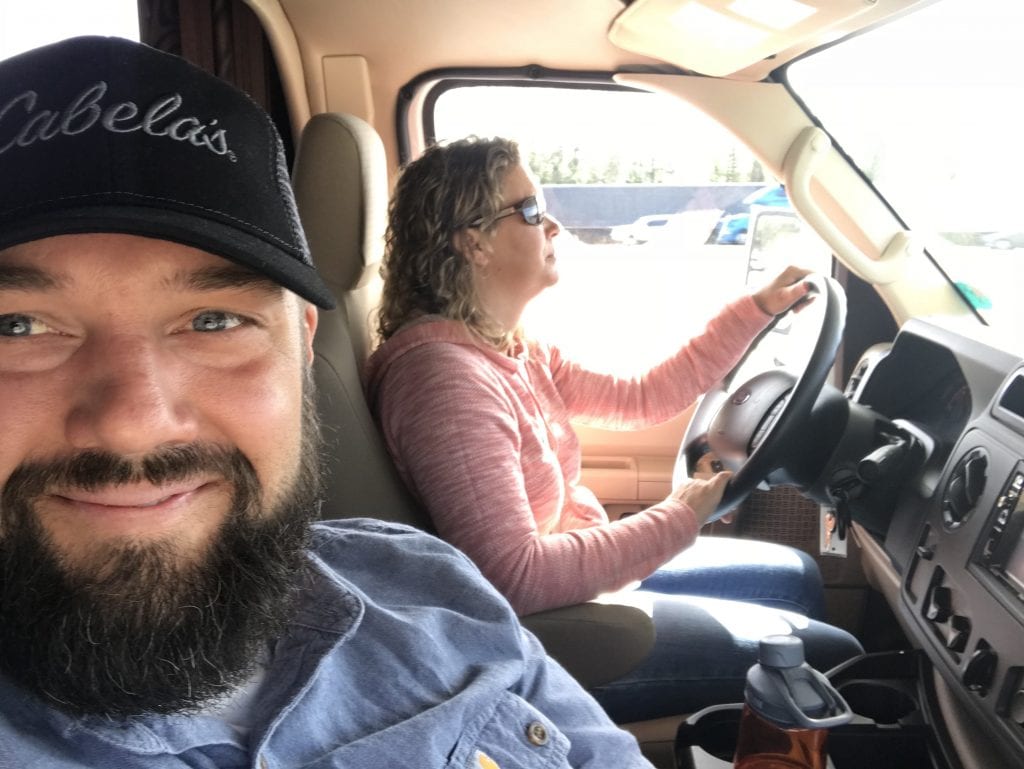 Why We Love Class C Motorhomes
Now we love so many things about Class C motorhomes. The first thing that Stephanie and I both love is how easy they are to drive. Driving a C didn't really feel that much different than driving our F-250.  Class C motorhomes are much more maneuverable than we expected. We learned this right off the bat after having to turn one around in a parking lot. Visibility and site lines were better than expected. We felt completely in control both times were rented a Class C.
Fuel economy on the Ford E-450 chassis was an unsurprising 8 miles per gallon. This is the same fuel economy that we get with our gas F-250 and our 34ft. Toy Hauler.  But the gas tank on a typical C is about 20 gallons bigger than the one on our truck, so we would have to stop for gas quite a bit less if we purchased one.
To listen to our complete discussion of pros and cons of a Class C click here!
So when it comes to RV window shopping, Class C almost always tops the list. That's why we were excited to check out the complete lineup of 2020 Jayco Class C motorhomes at Jayco Homecoming in Las Vegas. Our interest is more than just academic. We can see ourselves in a Redhawk or Greyhawk with the kids in tow, and we can see ourselves in a Melbourne after they fly the coop. And now, after spending some time in the luxurious 2020 Jayco Class C Seneca 37L, Stephanie can easily envision herself relaxing in a Super C.
Our Podcast Interview With Jayco's Ryan Eash
During our time at Jayco Homecoming in Las Vegas we were lucky to grab an interview with Ryan Eash, the Director of Product Development for the Jayco Motorhome Group. Jayco's 2020 motorhome lineup is drop dead gorgeous from the bottom to the top and Ryan and his team deserve much credit for enhancements in both technology and design. Ryan oversees all of Jayco's motorhomes, but we wanted to zoom in and talk specifically about the entire Jayco Class C lineup.
To listen to our interview with Ryan Eash, please click on the media player above. Or you can subscribe to The RV Atlas in your favorite podcast app. Check us out on Spotify, Apple Podcasts, Google Podcasts, or virtually anywhere else you listen.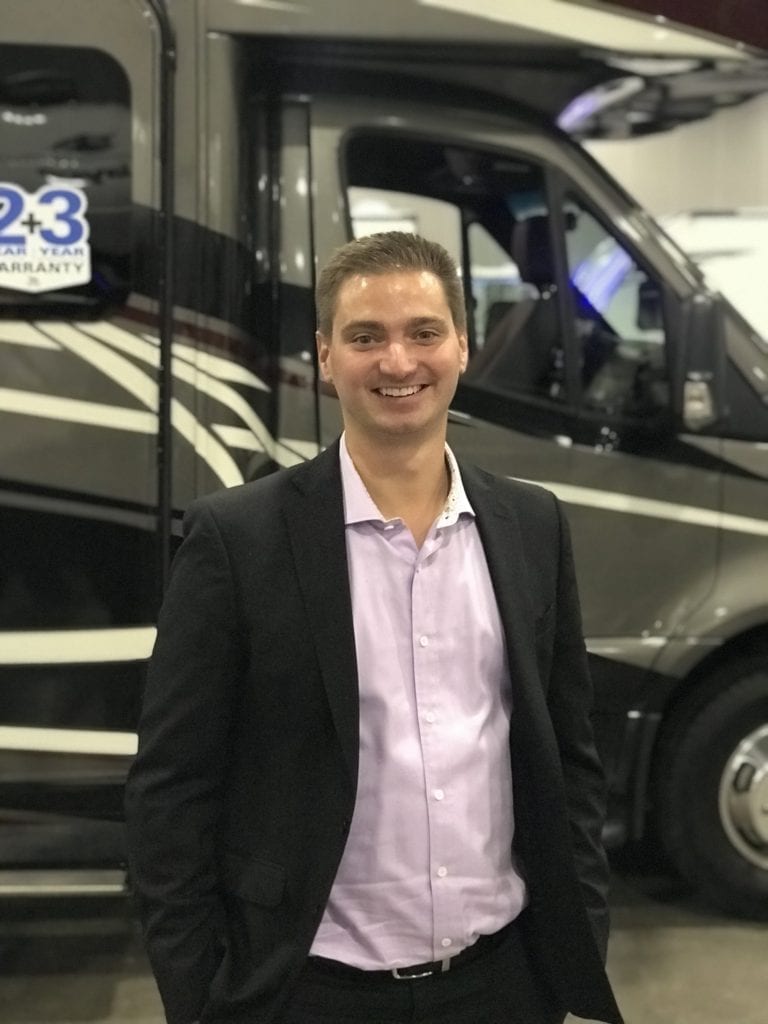 During our interview Ryan also talked a lot about listening to customer feedback and responding to this feedback. The end result? Vibrant new interiors, a flexible range of floorplans, and more options in the under 30ft range. We often judge an RV or an entire product lineup with one simple criterion. Would we consider buying one? When it comes to the Jayco Class C motorized lineup the answer is a resounding yes!
Watch Ryan and Stephanie do a walk through of the Jayco Redhawk 31F (AKA the one Jeremy wants!) below.
Watch Ryan do a walk through of the brand new 2020 Jayco Greyhawk and Greyhawk Prestige below!
Here is an overview of the Jayco Class C lineup for 2020–including mention of our personal favorites. There is really something for just about everyone. The Redhawk lines are budget friendly and packed with value, the Greyhawk will hit a sweet spot for many motorhome shoppers, and the Melbournes and Senecas will please those who want luxurious features and elegant interiors.
Redhawk SE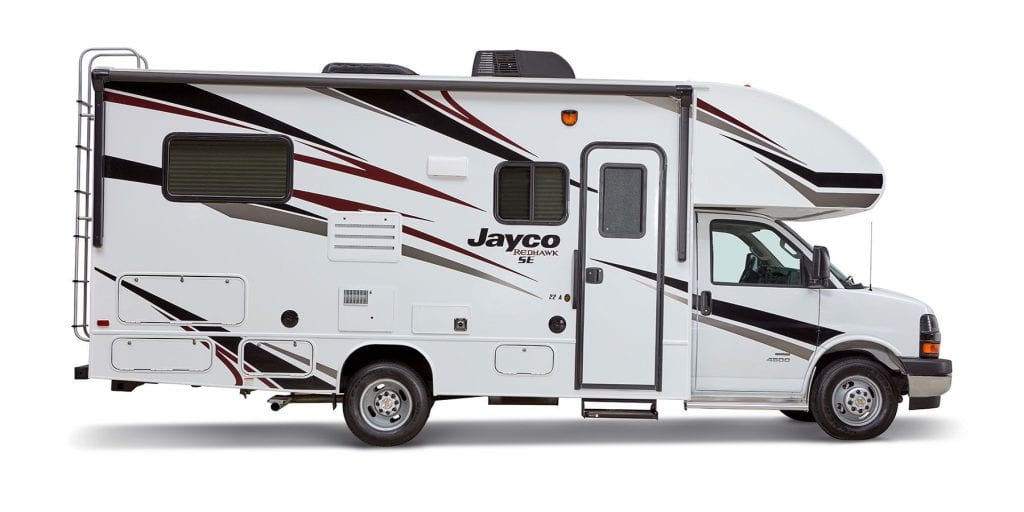 To view interior photos of the Redhawk SE please click here.
The Redhawk SE is built on the Chevrolet 4500 Chassis and offers three floorplans at an affordable price point. For those that want a smaller motorhome, two of the floorplans, the 22A and 22C, clock in at around 25ft.
Redhawk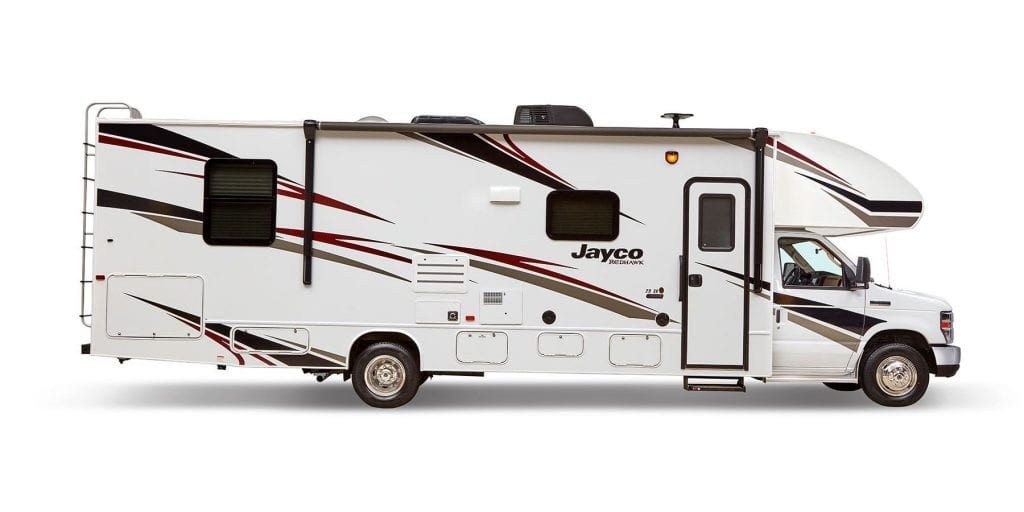 To view interior photos of the Redhawk please click here.
The Jayco Redhawk is built on Ford's long running and ever-reliable E-450 Chassis. The Redhawk lineup provides affordable price points and a wide variety of floorplans that will please both couples and families.
Greyhawk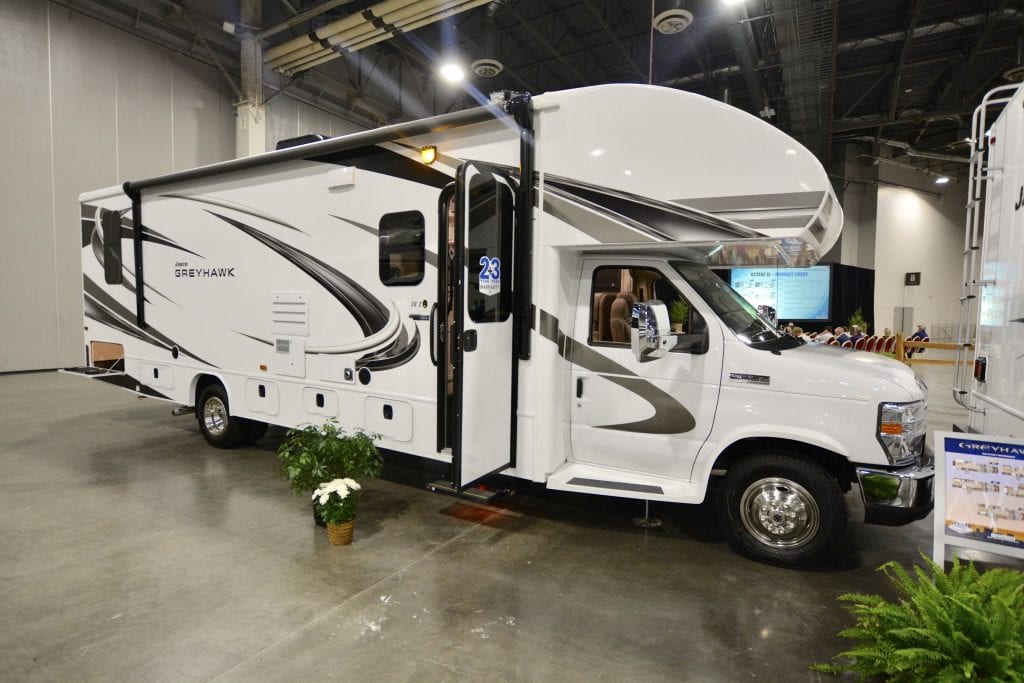 To view interior photos of the Greyhawk please click here.
The Greyhawk lineup serves as the big brother to the Redhawk. The Greyhawk offers even more standard features than the Redhawk, such as a fiberglass roof and automatic leveling jacks.
Greyhawk Prestige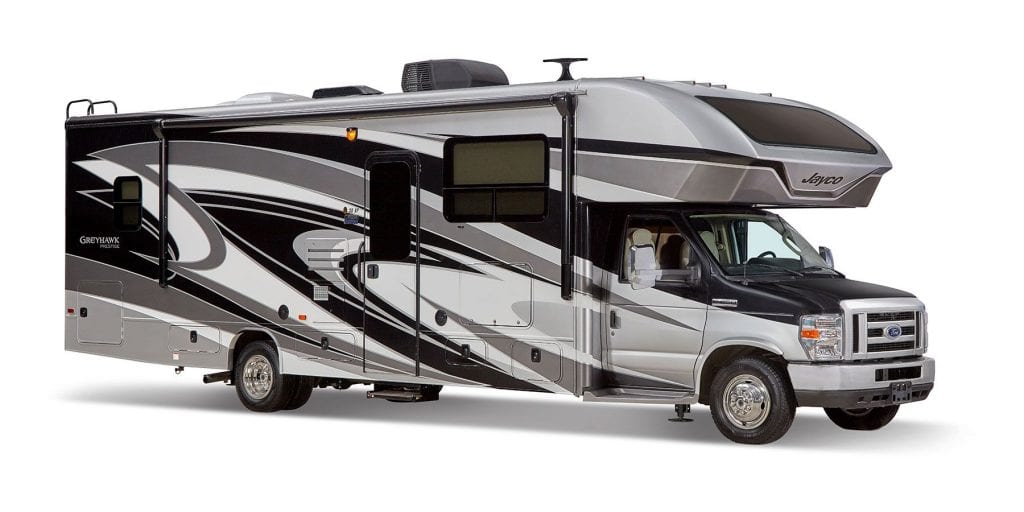 To view interior photos of the Greyhawk Prestige please click here.
See that beautiful automotive bonded panoramic front window pictured above? You'll have to step up to a Greyhawk Prestige to get one. But imagine the incredible views of stars and mountaintops that you will be able to enjoy from the main cabin of the rig!
Melbourne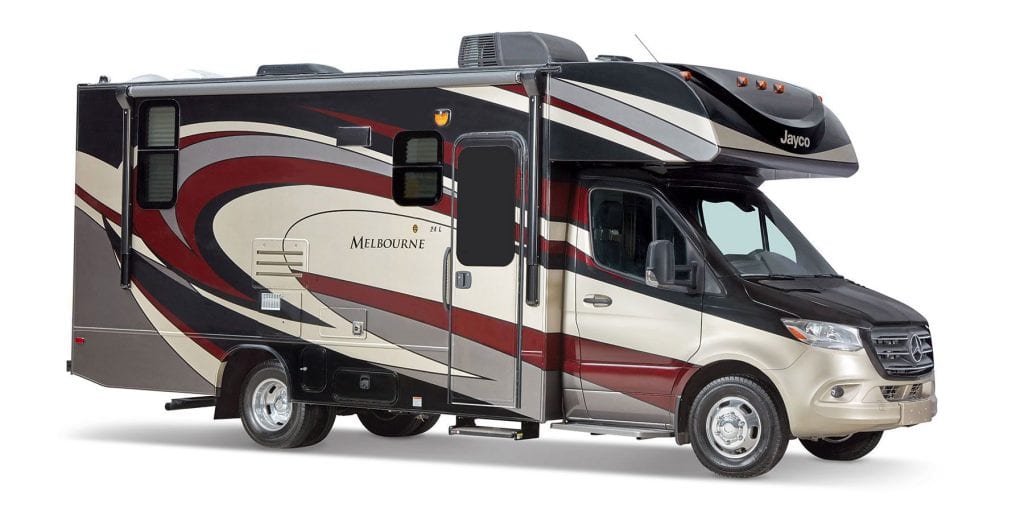 To view interior photos of the Melbourne please click here.
Once the boys move on to college I will be potential customer #1 for a Jayco Melbourne. The Sprinter chassis is iconic because of its long term quality, and it is practical because of its impressive MPG.
Melbourne Prestige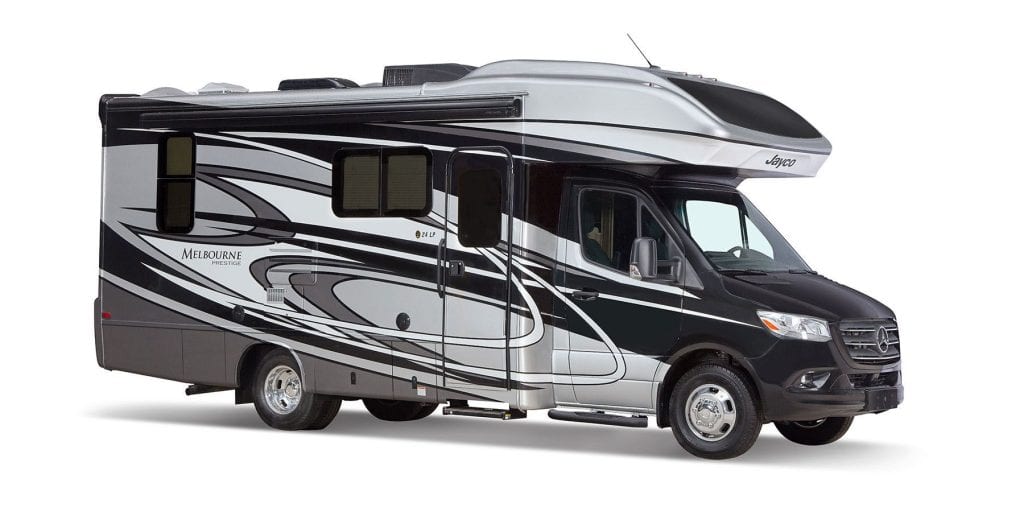 To view interior photos of the Melbourne Prestige please click here.
When the boys are in college I may not be able to afford the Melbourne Prestige, but nobody is gonna stop me from dreaming. That automotive bonded panoramic front window lights up the interior and allows you to enjoy stunning views while drinking your morning coffee.
Seneca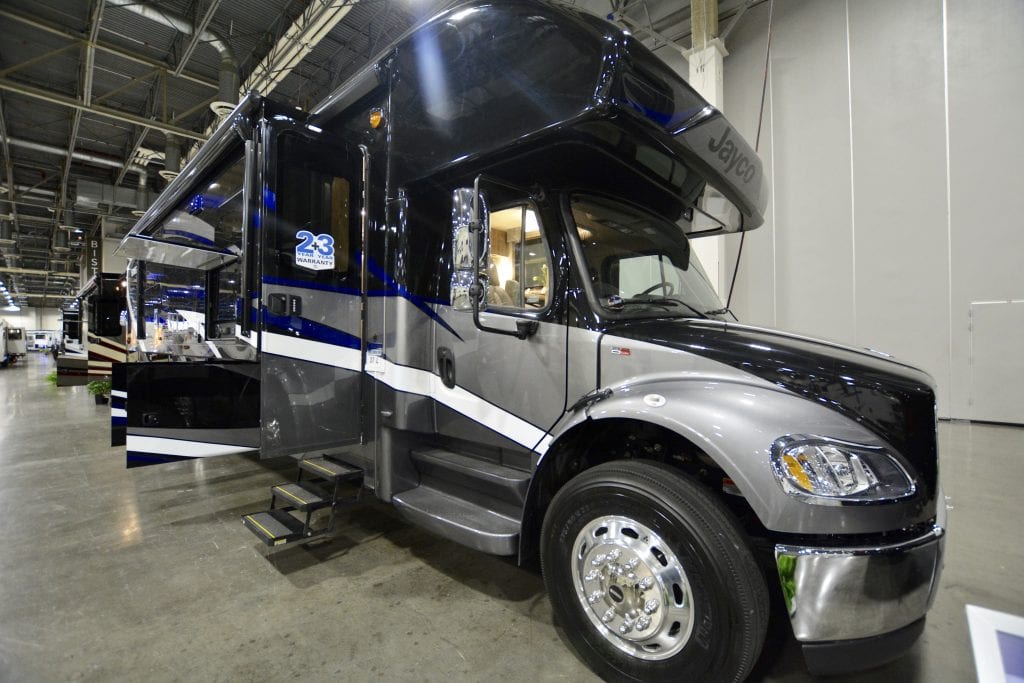 To view interior photos of the Seneca please click here.
Stephanie was wowed by the 2020 Jayco Seneca. She loved the elegant and spacious interiors and wanted to curl up and read a book in the elegant bedroom–which was even more comfortable than our room in the Venetian!
Are you dreaming about owning a Class C motorhome? Tell us what you are looking at in the comments and feel free to ask any questions about Jayco's 2020 motorized lineup! And don't forget to listen to our interview with Ryan Eash in the media player at the top of the page.
See you at the campground,
Stephanie + Jeremy
Podcast: Play in new window | Download