We know how much you all love campground reviews, so we are excited to bring you a few from our spring break trip, starting with the Wilmington KOA Holiday in Wilmington, NC. This was a perfect layover on our way down to Myrtle Beach, especially since we wanted to explore downtown Wilmington, which we've heard a lot about but have never seen.
Spring break feels more like summer in Myrtle Beach, making it a great spot to hang for us Jersey folks in April. Truth be told, we didn't have to add a stopover in Wilmington, but we are glad we did, especially for a short stay. This KOA was cute, and downtown Wilmington was filled with great shops and places for food and drink.
To hear Jeremy and Stephanie (yes, Stephanie!) give a full review of the Wilmington KOA Holiday, press play on the player above or look for The RV Atlas wherever you find your favorite shows. 
Wilmington KOA Holiday Campground
During Spring Break, we visited the Wilmington KOA Holiday. We spent two nights at this charming KOA, located off Route 17 in Wilmington, North Carolina. It's near the highway, but the road noise within the camp ground was not bad because of all the trees. We were there the week of Easter in a nice pull-through site.
Let's talk about the rates. It cost $100 for Thursday night, and Friday night was $105. As you know, campground prices have been rising, so this wasn't entirely out of the expected, especially since it was Easter week. However, this seems a little more like resort-level pricing. Our KOA Value Kard was especially appreciated.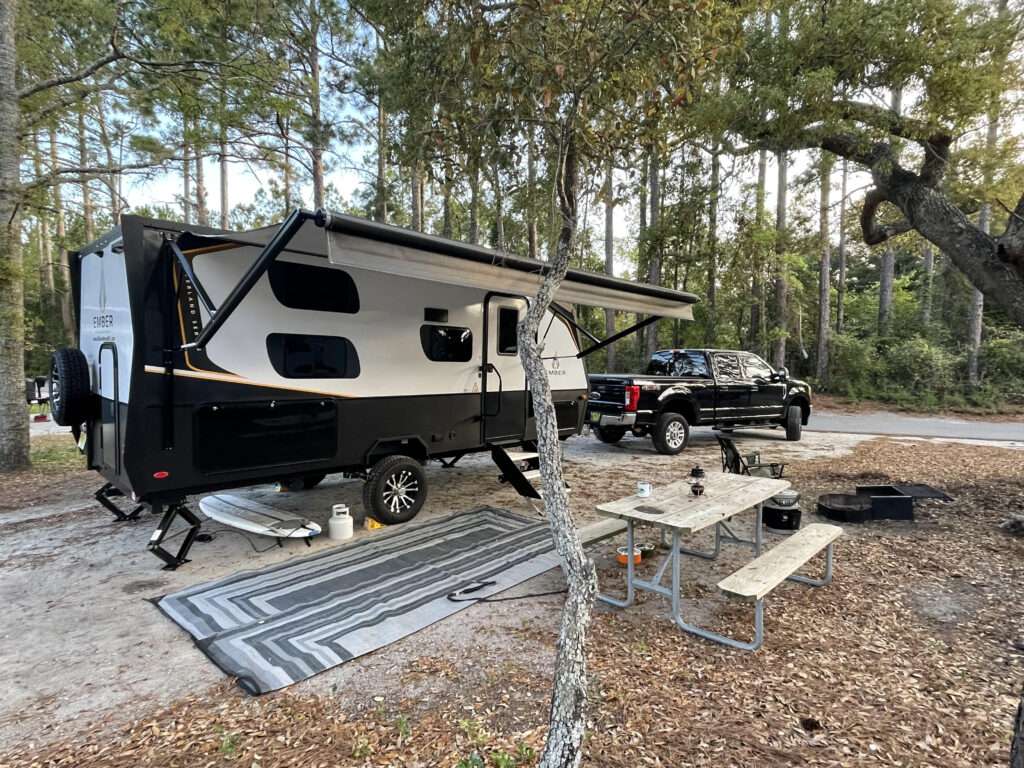 The deluxe sites have great patios and fire pits, which would have been great. We didn't have one of those but definitely would book one in the future.
The pool at the Wilmington KOA Holiday was nice but not very large and not heated. Plus, it closed at 6 o'clock in the evening, which was a little too early for us. Again, for that resort-level pricing, we would like to see longer hours at the pool–especially during spring break.
One nice thing we appreciated at the Wilmington KOA Holiday was the outdoor common area. Honestly, this was one of the better ones we have seen at a KOA! It had corn hole, gaga ball, giant chess, horseshoes, volleyball, a cooking area, and much more. There's a group gathering area. Plus, Stephanie even noticed an herb garden! The kids had a good time making use of amenities. Other accommodations included great tent sites and some cabins.
Downtown Wilmington, North Carolina
Downtown Wilmington is nearby, and it lived up to what we had heard about it. First, there's plenty of parking to be found, even for our Ford F-250! We probably could have parked an RV downtown! So, that was a win.
The riverwalk was adorable with nice shops and places to eat. For some reason, there were a lot of pet boutiques. Pet lovers won't want to miss this. Jeremy enjoyed an independent book seller called Papercut Books. The kids loved the Fork N Cork restaurant, which had delicious burgers.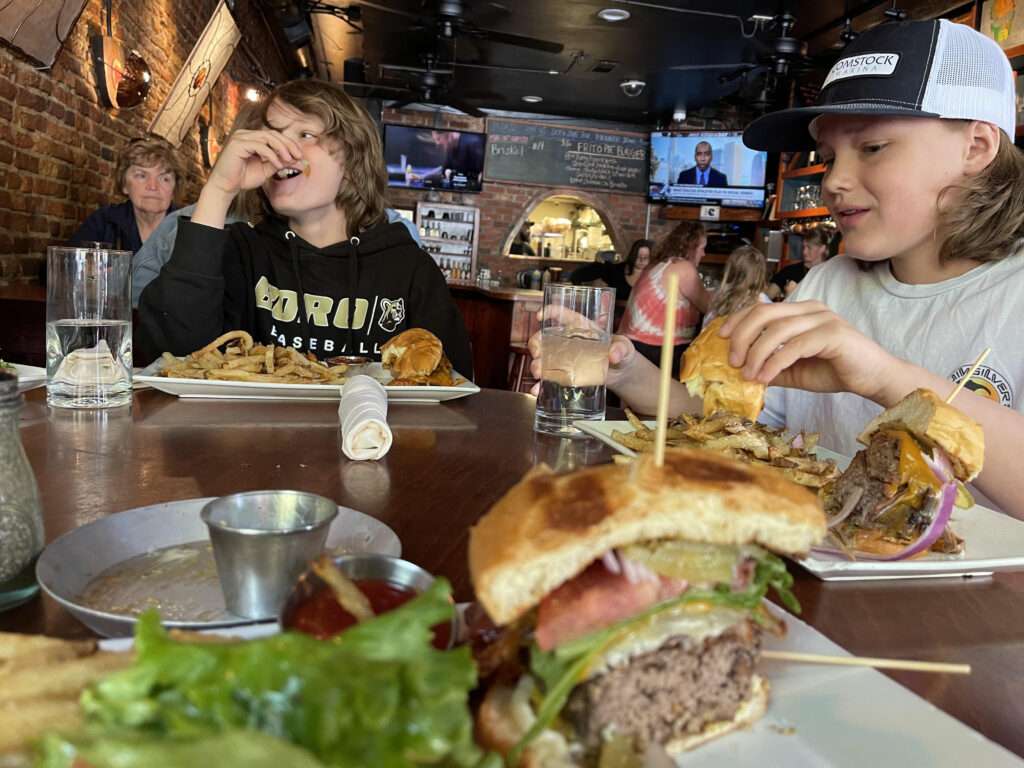 We also went to the Battleship North Carolina. This is one of the best military ships for the way it was set up with interpretive displays and hands-on machinery and weaponry. If you go to downtown Wilmington and don't check out the battleship, you're missing out.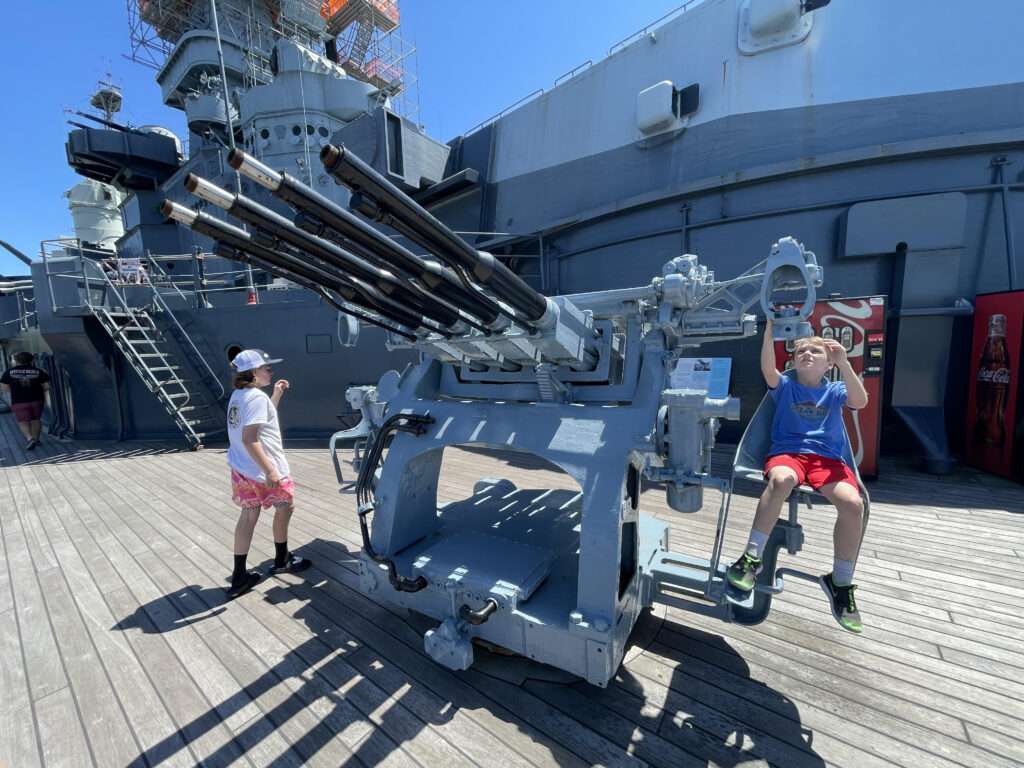 The Wilmington KOA Holiday is a nice place to spend a couple of days. It's not a resort-level campground with big amenities, so it wouldn't be the kind of place where we would spend a whole week. But, we would stop there again or would visit every year or so if we lived closer.
See you at the campground,
Jeremy + Stephanie
Podcast: Play in new window | Download