Lakewood Camping Resort in Myrtle Beach, South Carolina, is one of the biggest RV campgrounds in the country. We are excited to bring you a campground review since it is in Myrtle Beach, the camping capital of the East Coast (in our opinion!). This resort is more like a small town for campers. With a lazy river, waterslides, sports courts, indoor and outdoor pools, and so much more. It's nonstop fun.
Lakewood Camping Resort is located at the southern end of the Grand Strand near Myrtle Beach State Park and the pier, but not too far from town. This is a destination RV resort, so many people check in and don't leave. We stayed for five nights and really wanted a place where we could relax and play on the sand and in the pool. We wanted the total RV resort package, and this resort truly delivered!
To hear Jeremy and Stephanie's full campground review of Lakewood Camping Resort, click play on the media player above or look for The RV Atlas wherever you find your favorite shows!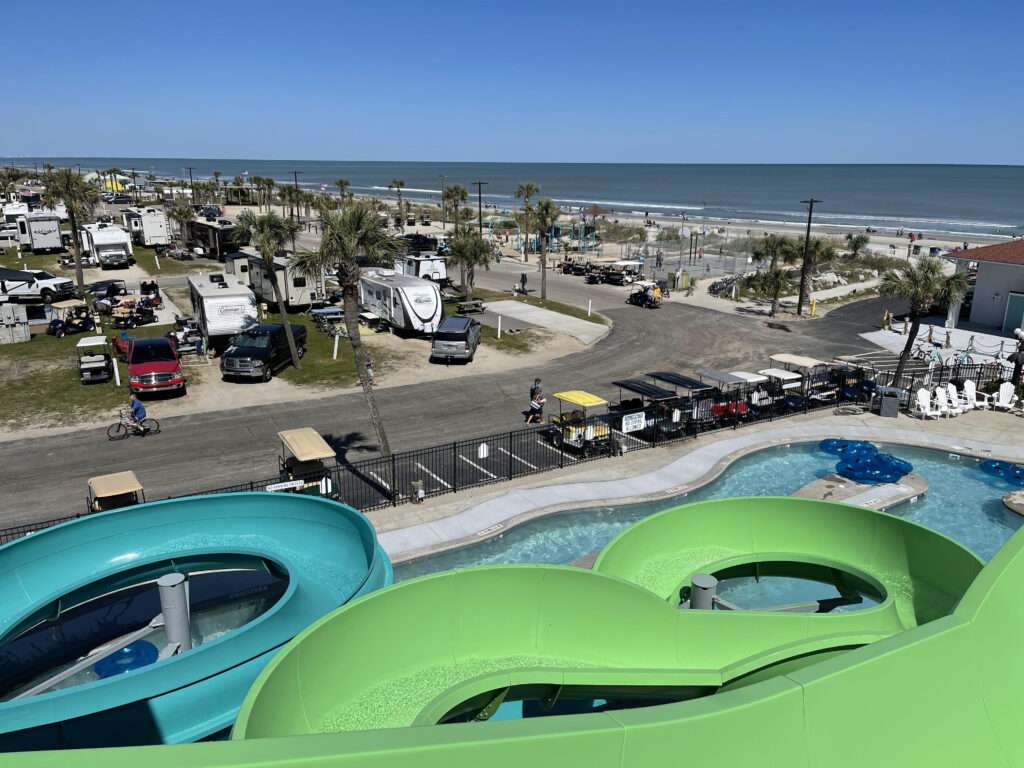 Beachfront Camping at Myrtle Beach
Lakewood Camping Resort is true beachfront camping. Like we said above, it's like a camping city–everything you need is right there. It's more of a planned community, with campsites for the RVs and tents, cabins, condos, and more. It's one of those destinations you can visit with non-RVing family and friends for a true group destination.
You can nab an oceanside site here for less than $100, which we felt was very reasonable for the beachfront location. The only disadvantage to having an oceanside camping spot is that it's very busy on the promenade that goes right by those spots. However, we chose this space because it was near the basketball courts, where the boys could play nearby. If you want quiet, you might not want to be beachfront. Another thing to note is that they have some great trees and shade, which you don't always find at beachfront campgrounds.
Things to Do at Lakewood Camping Resort
Lakewood Camping Resort is full of stuff to do! The lazy river is relaxing, and the waterslides are fast and fun! The pool is also large and spacious. They have a large arcade, an information center, a big pool, and of course, the beach. The campground also offers bike, paddle board, and kayak rentals at the trading post. If you like to play sports, there are volleyball, basketball, and shuffle board courts.
The camp store is well stocked. Plus, they have a huge laundromat. When you get hungry, visit the food truck area. We especially loved the Italian ice!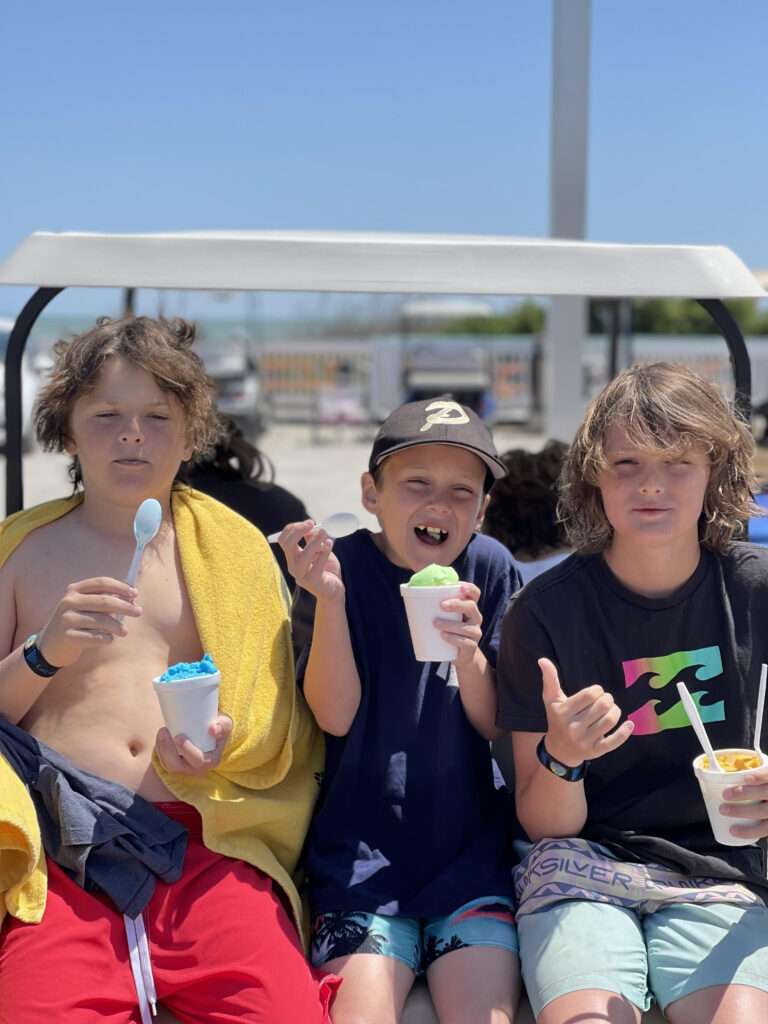 Making Family Memories at Lakewood Camping Resort
Our family made great memories at Lakewood. Stephanie enjoyed sitting on the beach watching the kids surf, as well as having a shuffle board tournament with the boys. Jeremy will always remember cooking big meals for the whole crew on the Blackstone griddle.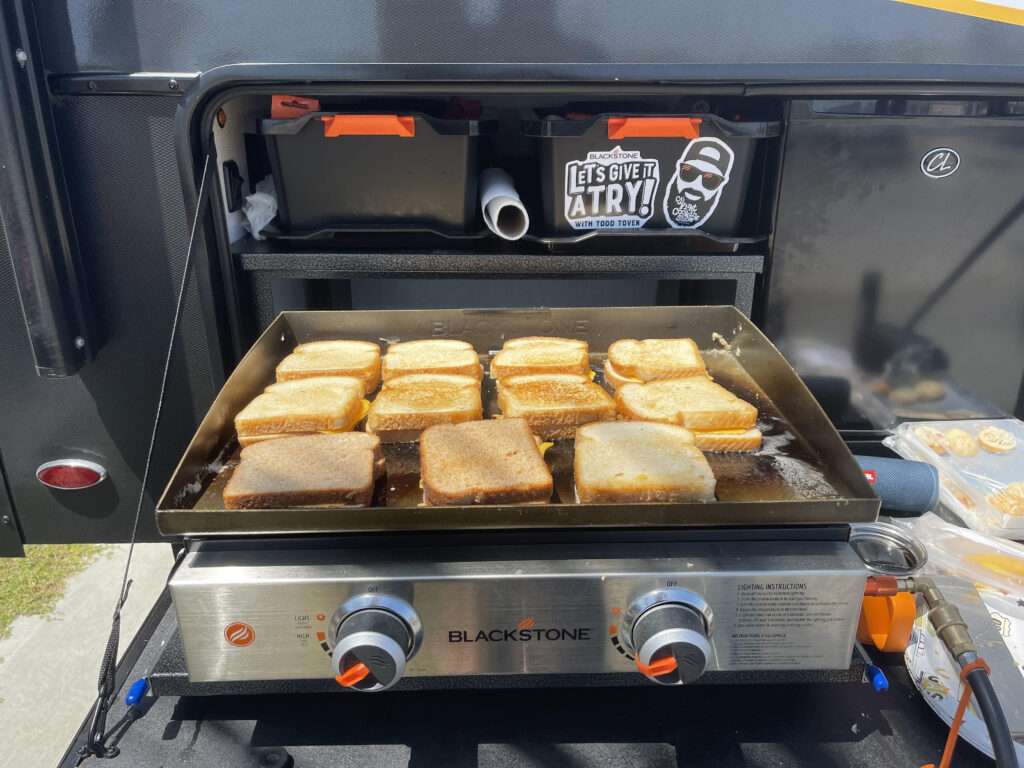 Check out this previous post for things to do in Myrtle Beach, South Carolina.
All of Myrtle Beach is full of adventures, but Lakewood Camping Resort is truly the type of destination you can spend an entire week and not feel compelled to leave the campground. We will probably be back to make more memories in the future.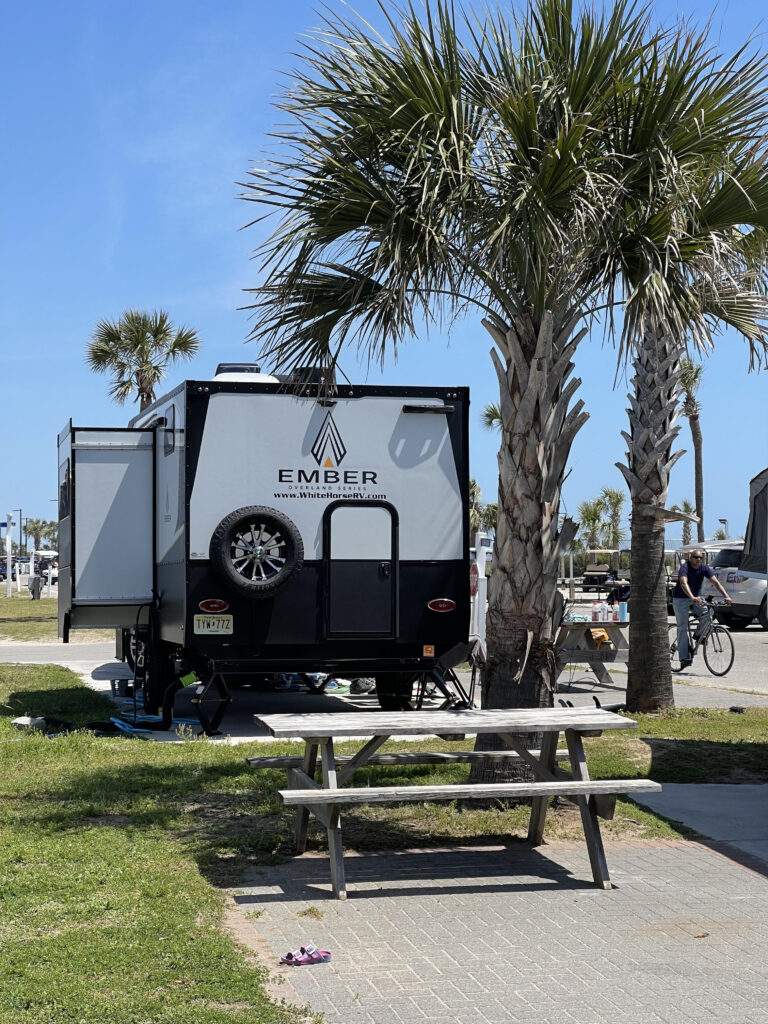 See you at the campground!
Jeremy + Stephanie
Podcast: Play in new window | Download