Jellystone Park at Birchwood Acres was one of our favorite campground discoveries this summer. It also happened to be close to home. This Yogi Bear campground in the Catskills region of New York State ticked off so many boxes for our family. They have great amenities and activities for families. But it also has a woodsy, country setting with lots of shade and natural beauty.  At just about two hours from New York City this Jellystone is a great option for families in the tri-state area who want an inclusive resort level camping experience that is close to home.
Campground Details at Jellystone Park at Birchwood Acres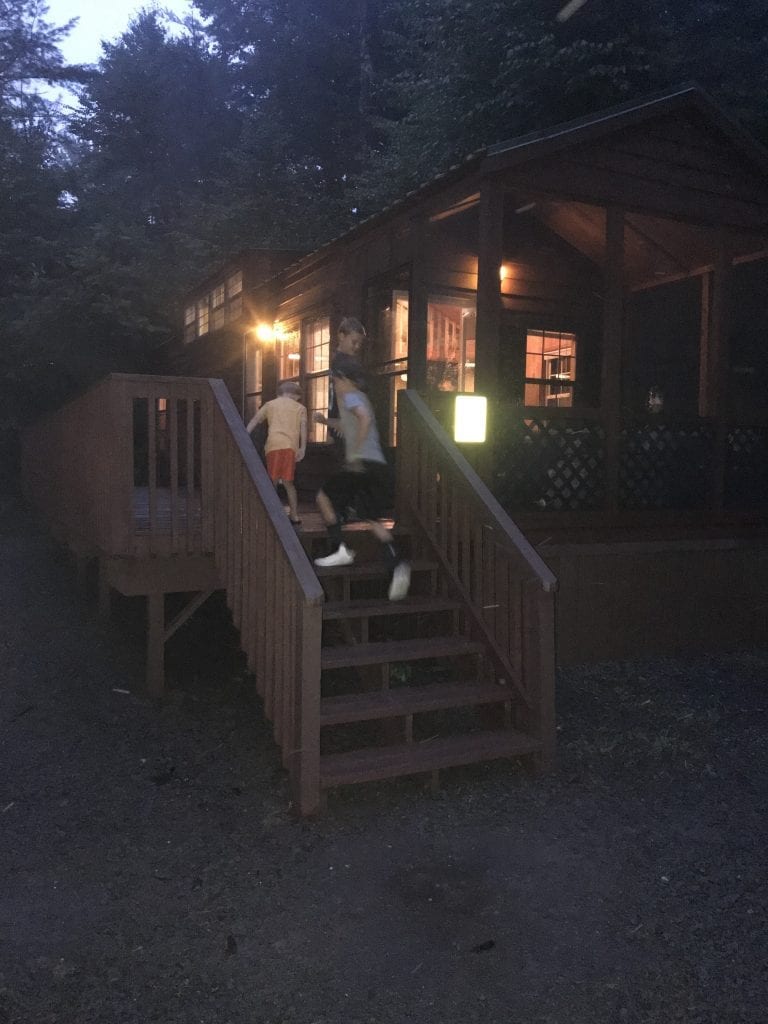 Their are a wide variety of sites and cabins at Jellystone Park at Birchwood Acres. The campground slopes up a hill and many of the sites are back ins with a fair amount of room for a private campground. It's all about the position of your site at this campground. Do you want to be near the pool? Tucked away in the woods? Or directly across from the playground  so you can watch your kids play from your site? Their are many options. Our favorite sites where the new premium sites with concrete pads located across from the playground.
We actually stayed in a cabin at Jellystone Park at Birchwood Acres. We loved the entire section of the campground with the premium cabins with decks and screened in porches. This cabin where tucked away in the woods in a quiet section of the campground away from all of the amenities and family fun. It made for a perfect match. We had the quiet and privacy of a state park campground with all of the off the hook amenities of a Jellystone right around the corner. There were thick woods in between each of the cabins and lovely woods behind them. If you are looking to share a vacation with friends or family members without an RV it would be hard to think of a better campground!
Amenities at Jellystone Park at Birchwood Acres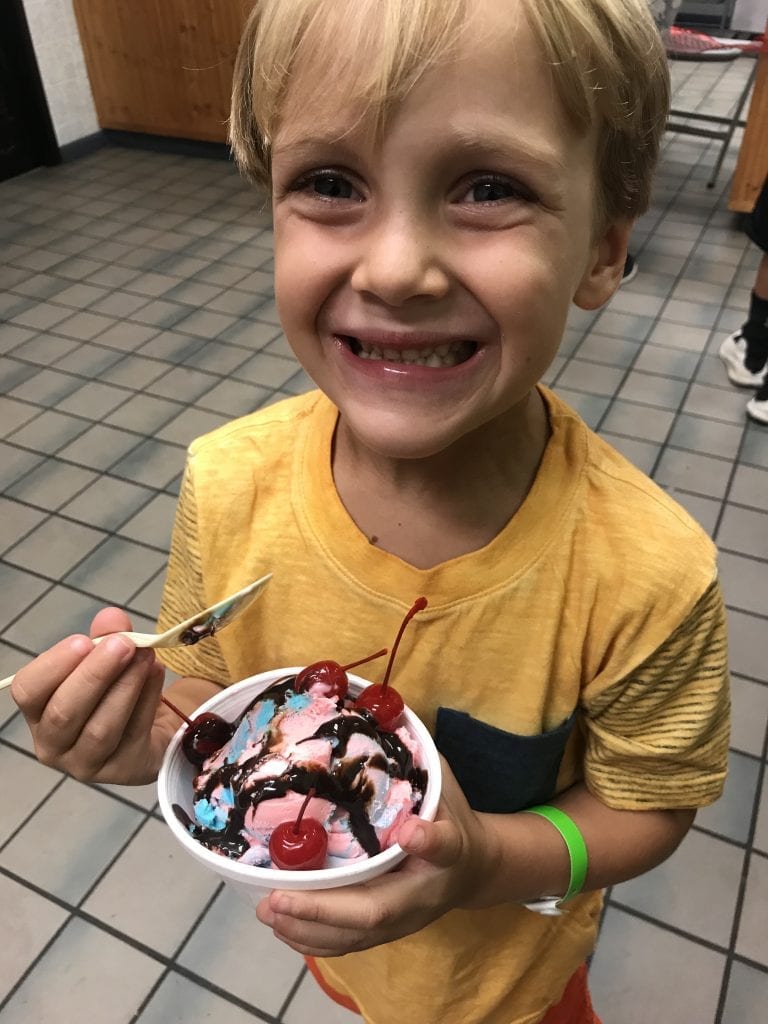 The amenities at Jellystone Park at Birchwood Acres were excellent in just about every way. The pool and water zone area was an absolute blast. Our kids went down the waterslide dozens and dozens of times each day. There was also ample seating and shade. The Pic-A-Nic basket was close by (but across the street) for lunch. You could spend all of your time at the pool if you wanted to, but you would be missing out on so much else. This campground has a bounce pillow, large playground, full basketball court, softball field, human foosball, laser tag, fishing, and boat rentals–and more. Almost all of these amenities are included in your camping fees.
The camp store was also excellent and well stocked with supplies and Yogi Bear merchandise. We were able to pick up bread and eggs and milk when we ran out. The staff at the desk were friendly and informative. The young staffers running the snack bar were also so super friendly to our kids. The ice cream was delicious and reasonably priced. They also had a great selection of toppings.
Activities at Jellystone Park at Birchwood Acres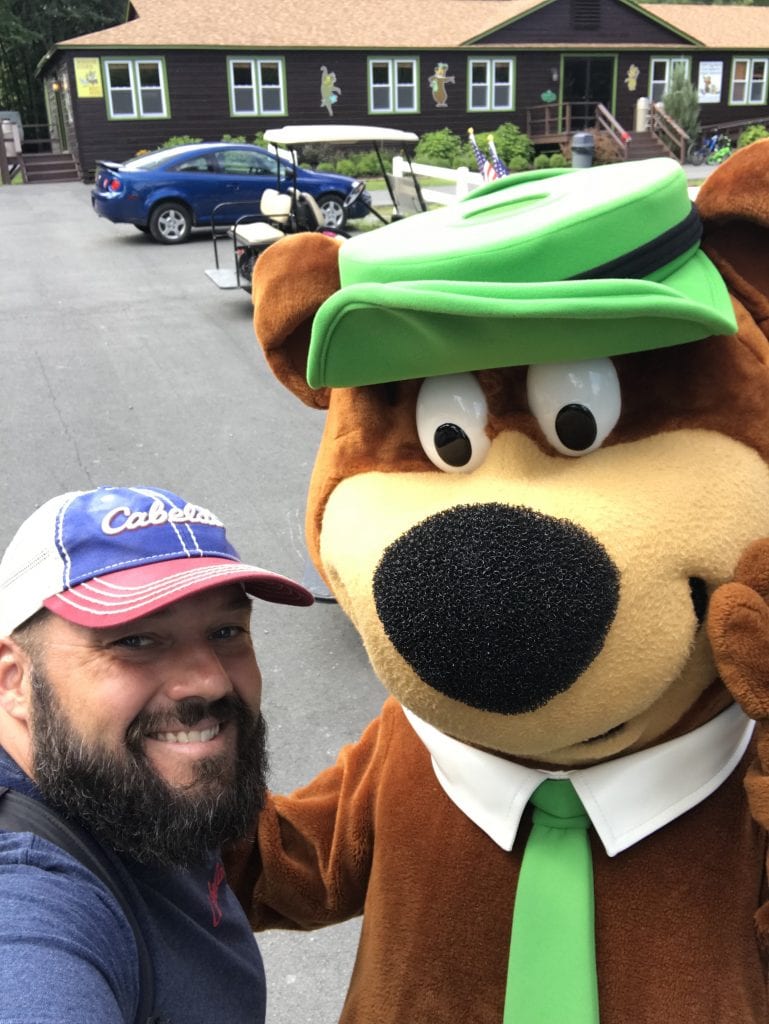 The recreation staff at Jellystone Park at Birchwood Acres was absolutely awesome. They knew our kids by name by the end of the weekend. We played in an awesome family kickball game on Saturday, and organized laser tag on Sunday. The boys also played in a very long, grueling, but super fun Ga Ga Ball tournament. But the highlight of the weekend may have been the organized human foosball tournament. We have never seen this activity at any campground and it was an absolute blast! The young staffers kept the games running smoothly and kept the kids from arguing with each other!
Every week at Jellystone Park at Birchwood Acres is a themed week. We were there for Christmas in July. We were happy to have missed the "Kids Get Revenge" on their parents weekend! Sounds fun, but maybe a bit exhausting!
Overall Impressions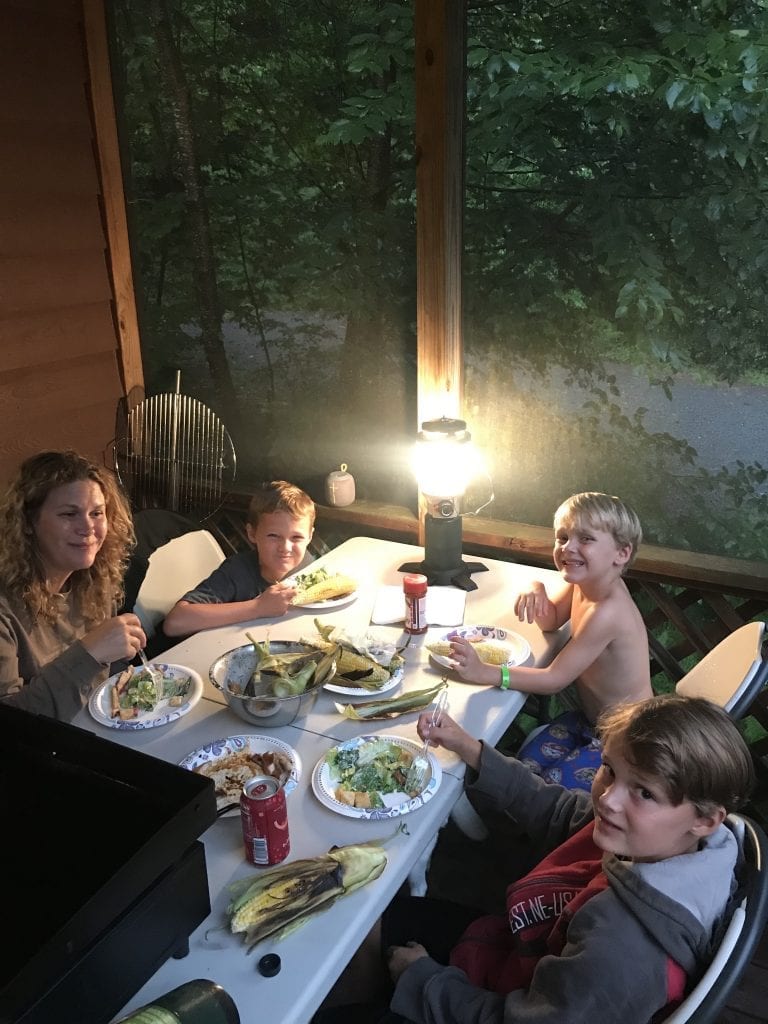 Jellystone Park at Birchwood acres is one of our new favorite Yogi Bear campgrounds. The combination of the country like setting with the resort level amenities was truly exceptional. This campground is only a few hours away from us, and we plan on returning as soon as we possibly can.
Podcast: Play in new window | Download