Part of the fun of spring is stocking up on all of that spring camping gear. It's time for one of our annual favorites: the spring gear guide. This time, we are doing it a little differently. Our friend Phil Travaglia is joining us to give you some great recommendations.
Phil is like a Zen minimalist. He's not someone who buys all the gear. Instead, he buys a few items and thoroughly uses them. If he recommends something, you can know it comes from his heart.
To hear more about this camping gear guide, press play on the media player above or search for The RV Atlas wherever you find your favorite podcasts.
Phil's Camping Story
Phil and his wife started off camping in tents. Once they had their kids, they endured some trials and tribulations, but they still enjoyed it enough to eventually get a pop-up camper. They did it the smart way and purchased a used camper, without too high of an investment.
Phil's family used the pop-up enough to get a little tired of the setup required, so they upgraded to a Jayco 174BH. It was just the right size and price for their family. Phil was so kind when he sold the pop-up that he put in a bunch of elbow grease, threw in some extra supplies, and sold it for a super reasonable price, so that the new owners would, hopefully, start their camping experiences off on the right foot. We could not love this more.
We've had so much fun camping with Phil and his family, and we are so excited to have him share his wisdom for this camping gear guide.
Coleman Collapsible Oven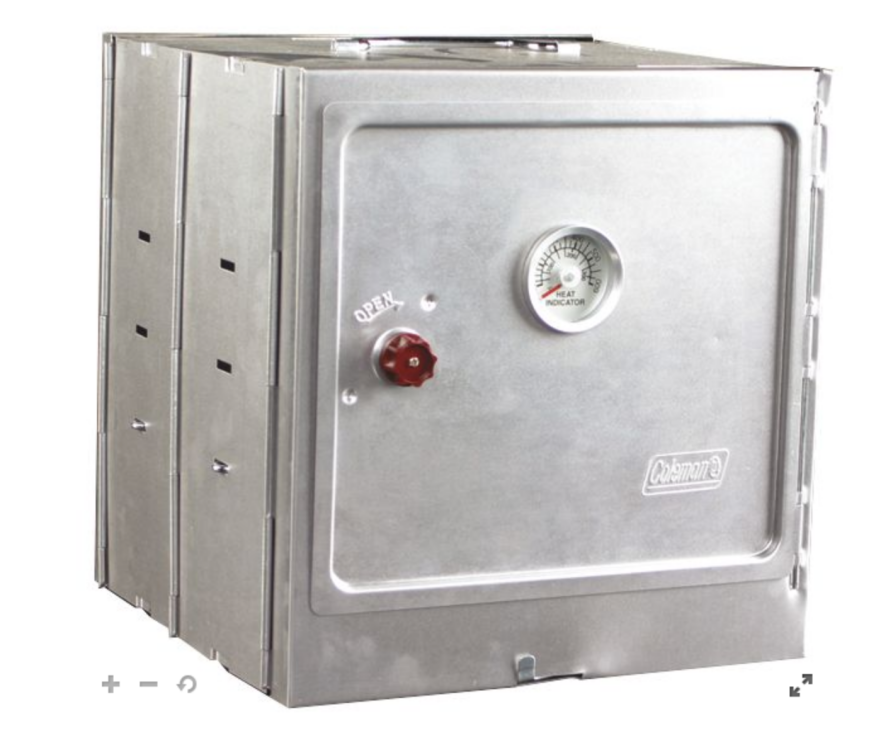 The Coleman Camp Oven is a classic piece of camp equipment. This nifty little oven folds down to be the size of a coffee table book. When opened, you can put it on your Coleman Liquid Fuel or propane camp stove to do some baking in the great outdoors.
In order to help it heat more evenly, he recommends buying a small pizza stone (less than 10″). Phil appreciates how rugged and functional this is. Plus, at around $35, the price can't be beat! Just be careful that you don't find yourself filling your garage with vintage Coleman camping gear like someone we know.
Stromberg Carlson RV Bumper Mount CL-100 Clothes Line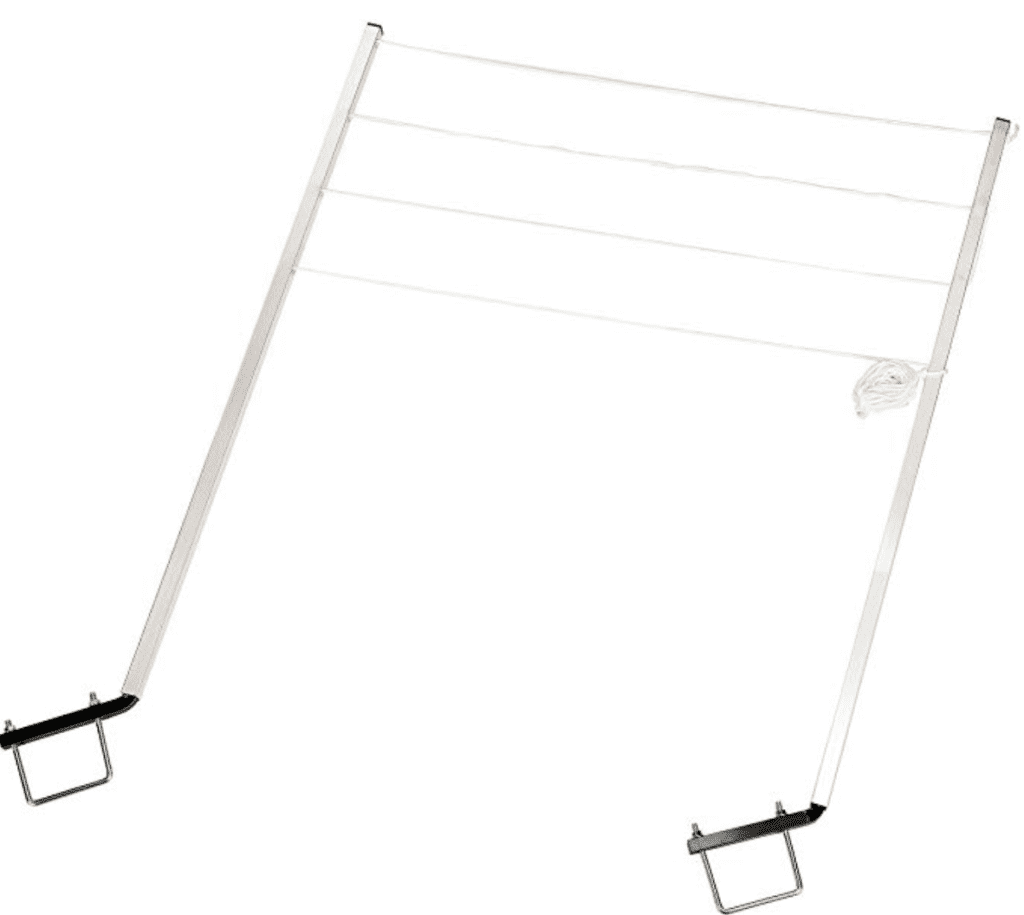 We are so happy that Phil wants to share the Stromberg Carlson RV Bumper Mount CL-100 Clothes Line since we used to have one and can vouch for its handiness (we only quit using it because there wasn't a spot for it on our toy hauler).
This clothes line mounts to your 4-inch bumper (may be available for 4.5 inch as well). It's constructed from two 48-inch aluminum tubes (square) that mount to steel posts.
Phil really appreciated how easy it was to mount and how easy it is to use. It's nicely designed to work around your spare tire, ladders, and etc. Phil says there is sufficient surface area for their family of four. Again, it's reasonably priced at around $36.
Husky 5-Compartment Connect System Tool Caddy Small Parts Organizer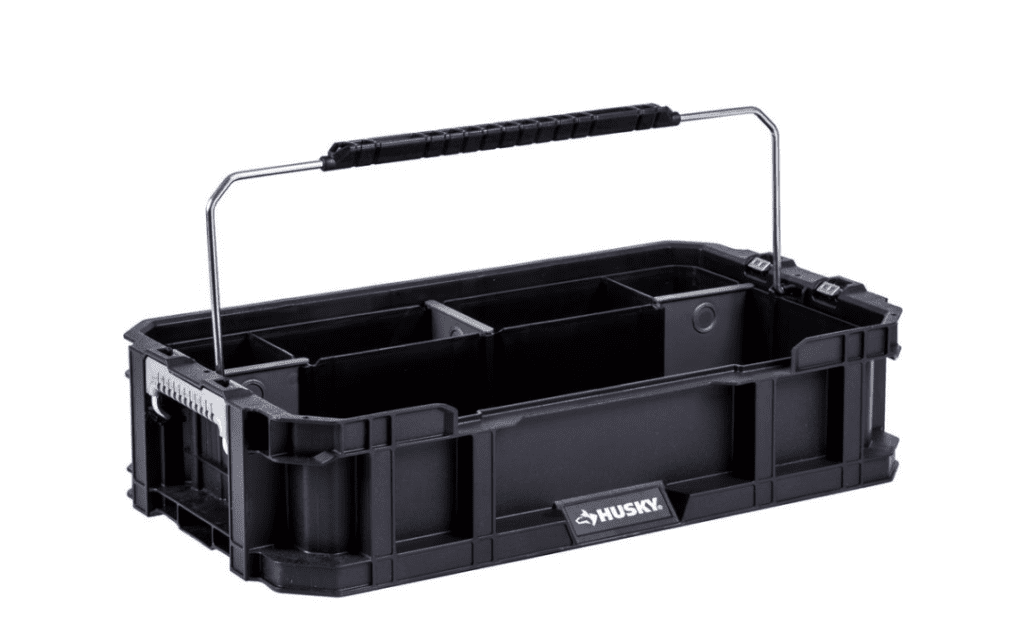 Home Depot's Husky 5-Compartment Connect System Tool Caddy Small Parts Organizer (Model/Item #235588) is super handy! These durable interlocking/ stackable tool boxes are great for storing just about anything. Phil likes how the removable compartment dividers can be moved to fit various sized items. Plus, the handle feels solid and sturdy.
This tool caddy has a low profile and can easily fit into many types of areas or storage compartments. If you're looking for something that will slide into one of those low horizontal storage areas that many trailers have, this just might be your bet.
I know it's already a running theme, but this tool organizer is nicely priced at $14.95 each (sold individually).
Truma LevelCheck Propane Level Indicator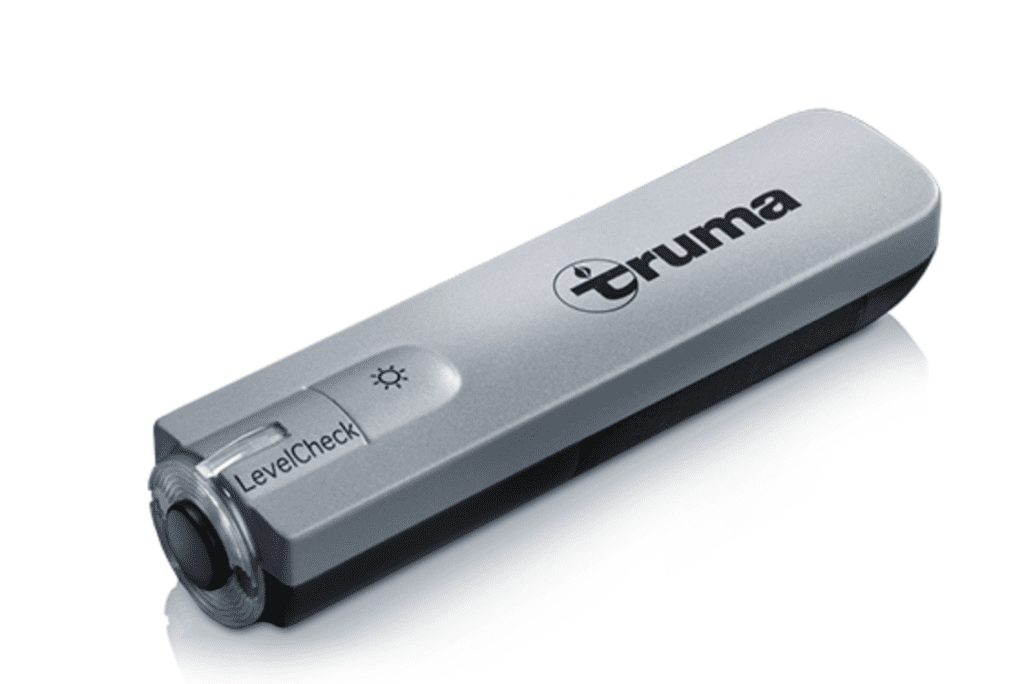 The Truma LevelCheck Propane Level Indicator is another handy product. Surely, you've stood there looking at your propane tanks wondering just how much propane you have left. Maybe you spend time awkwardly tapping the side or pouring water on your tanks…all to no avail. This Truma Propane Level Indicator takes all of the guess work out.
Phil says he especially appreciates this for cold weather camping since it lets him make sure he has enough propane to heat his rig for the night, something he appreciates after running out on a previous trip. You don't want to risk cold nights or frozen water pipes.
The Truma Level Indicator uses ultrasound to detect the propane level within the tank. It's easy to use. Just place it against the tank at the top, press the button, and watch the indicator as you slide towards the bottom of tank. A green light indicates propane and a red light means none.
The price point is $69.99 at Truma.com (available on Amazon for a higher price).
To hear more about this camping gear guide, press play on the media player above or search for The RV Atlas wherever you find your favorite podcasts.
Nebo Z Bug Lantern and Light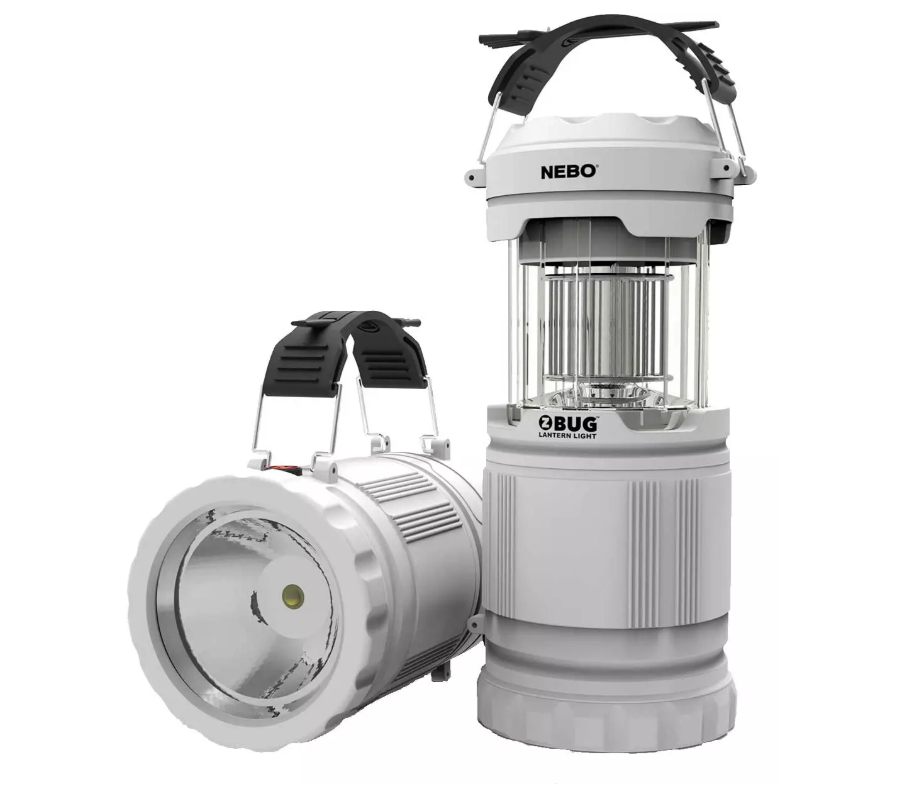 Do you ever find yourself yelling at the kids to shut the trailer door before they let all of the bugs inside? Phil has found the solution for this: the Nebo Z Bug Lantern and Light. This product has several settings, with a dual function as flashlight and bug zapper.
Phil's family likes to use it at night in the camper. It draws all of the bugs to it. He says his family does not wake up with bug bites in the morning. Plus, the blue bug zapper light acts as a night light for the kids.
You can find this for $29.95 at Dicks Sporting Goods and Dicks.com.
Bauer Hypermax 20V Handheld Vacuum and Cordless Power Inflator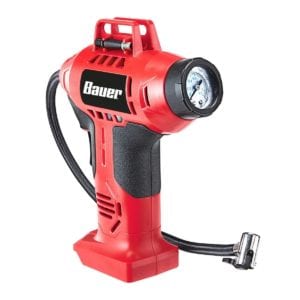 Phil uses the Bauer Hypermax 20V Handheld Vacuum and Cordless Power Inflator for all kinds of uses. He says it is perfect for topping off tires and his his air lift suspension before heading on the road and for filling bike tires and basketballs
This vacuum/inflator uses a construction-grade 20V lithium ion battery that offers a long run time. The inflator is capable of 160 psi and has an easy-to-read pressure gauge on back. The vacuum is very powerful, as well. Plus, it comes with several attachments that make it perfect for cleaning the camper.
Both tools are sold without the battery and charger, but they are interchangeable with the same 20V system. Batteries come in different sizes with different price points. You'll appreciate the rapid charge time since there's not much down time.
These can be found at Harbor Freight stores and at Harbor Freight.com for the following prices: Inflator $24.99; Vacuum $44.99; 3.0Ah High Capacity Battery $44.99; 1.5Ah Compact Battery $24.99; Charger $22.99
We really appreciate Phil sharing these GREAT recommendations for our spring camping gear guide! Until you can hit the road for your first camping trip, maybe doing some spring gear shopping will get you in the mood.
See You at the Campground,
Stephanie + Jeremy
Podcast: Play in new window | Download