The Santa Cruz North/Costanoa KOA is a unique offering under the KOA moniker. Described as an "eco-friendly resort," this park offers resort-level amenities within a more traditional campground atmosphere. Located halfway between Santa Cruz and Half Moon Bay, this KOA has an excellent location for exploring the beauty and charm of the Pacific Coast.
Karen and David, from The Camping Playlist, didn't initially think they'd enjoy camping in private campgrounds, but places like the Santa Cruz North/Costanoa KOA helped to change their mind. On this episode, they describe why this KOA won them over.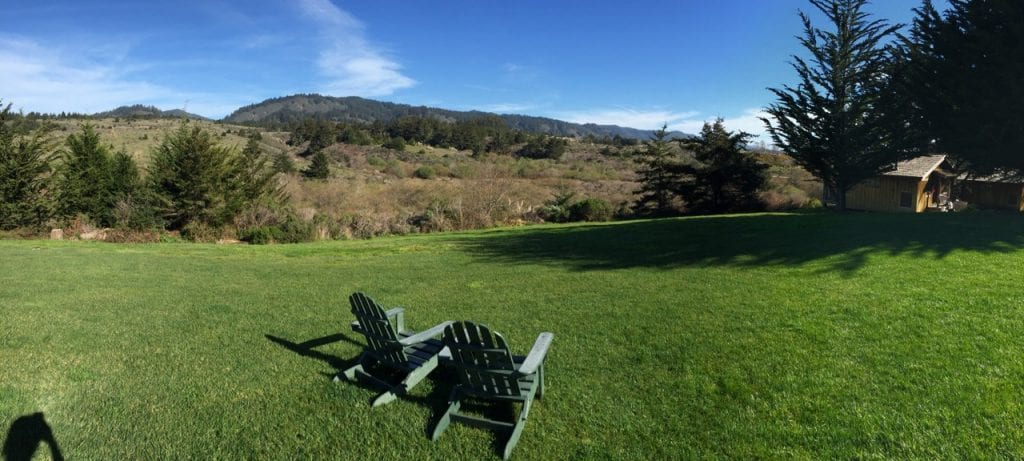 Campground Details: Santa Cruz North/Costanoa KOA
The Santa Cruz North/Costanoa KOA is located in Pescadero, CA. It's situated about an hour south of San Francisco and within thirty minutes of Santa Cruz and Half Moon Bay. The campground is located beside the Costanoa Lodge and shares many amenities with it.
The Santa Cruz North/Costanoa KOA offers 90-100 campsites. David appreciated that the sites are not super manicured like you might find at some resort-style campgrounds. Instead, they maintain more of a natural campground feeling. Cabins and tent bungalows are another popular offering at the Santa Cruz North/Costanoa KOA. You'll find 10-15 cabins and approximately 50 tents of various configurations scattered throughout the property. (These are actually reserved through the Costanoa site.)
This area has become incredibly popular in recent years, making it harder to get campsites at the last minute. David and Karen recommend booking a few months in advanced, if possible, though snagging a site a few weeks out isn't unheard of. Expect to pay $85-125 per night, depending on the season and the type of spot. While this might sound high to some travelers, this range is quite normal for the California coast, especially near the Bay Area.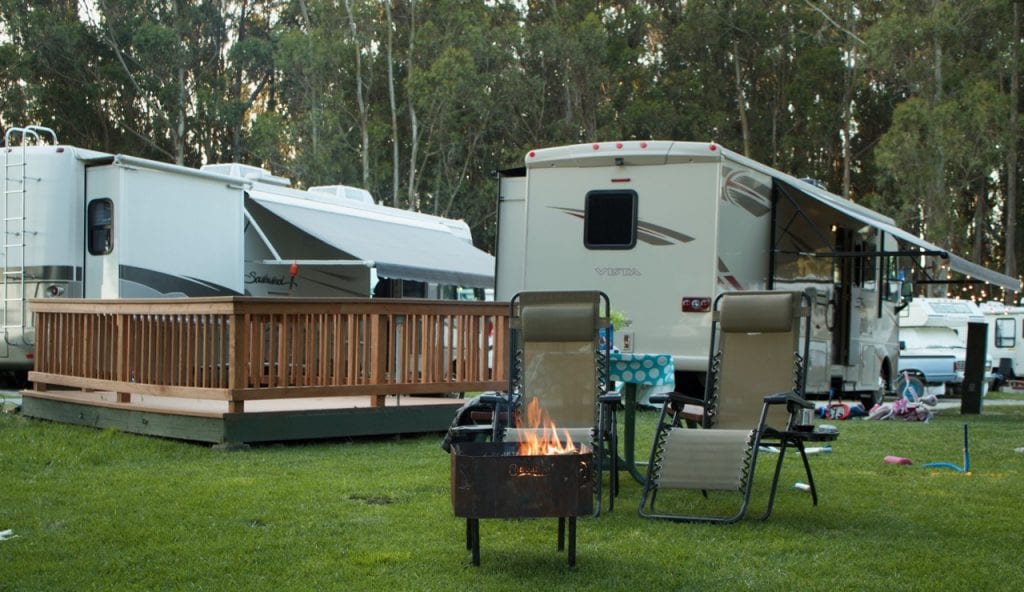 Campsite Details: Santa Cruz North/Costanoa KOA
The first thing you must know is that all of the campsites at the Santa Cruz North/Costanoa KOA are rather tight; however, Karen and David have found that some areas are much more preferable than others. Here's their breakdown:
Seaside Loop: This is the most popular area in the park, likely because the sites are the most spacious and some offer ocean views (while the KOA isn't directly on the ocean, it is just across the highway and visible from the higher hills). This loop has 20 or so sites at the front of the park. There's a nice grassy field in the middle of the loop, giving the kids a place to play. These are the most expensive sites.
Eucalyptus Loop: While less expensive and less popular than the Seaside Loop, David and Karen say Eucalyptus is their favorite. Though you might have to extend your awning over your neighbor's hookups, these sites offer one major benefit: a back deck with ocean views! The small wooden platform behind the campsite is a nice place to set up a tent or pop up your camping chairs. Enjoy the grass and shade, and bring on the campfire. Karen and David especially love the sites at the bottom of the loop. Seriously, check out these views: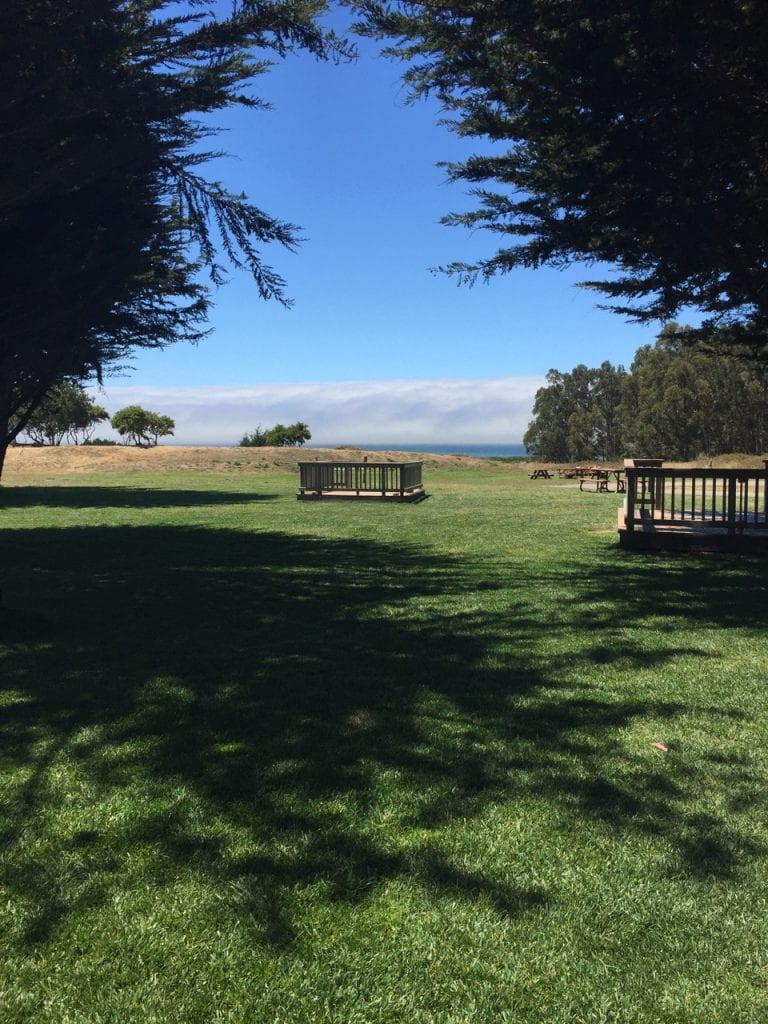 Whales Loop: This area has around 20 pull-thru sites with concrete or gravel pads. Benefits include partial ocean views, wider sites, and trellis coverings for the hookups, making them less of an eyesore. The drawback is that there isn't a grassy area or deck. Karen and David recommend snagging the first spot if you can (it usually books a year in advance) since it has the best water views.
Coastal Village Loop: This area is very similar to the Eucalyptus Loop, with some cabins mixed in. The only drawback Karen and David have noted is that the grass is drier in the hot summer months than in the other loops.
Campground Amenities: Santa Cruz North/Costanoa KOA
As mentioned earlier, the Santa Cruz North/Costanoa KOA shares its amenities with the Costanoa Lodge. Adults will love the onsite spa, which offers massages and a hot tub (for spa guests only). They might also want to enjoy a nice meal at the Cascade Restaurant + Bar, which features farm-to-table California coastal cuisine. Some produce is even grown onsite. For a more casual experience, check out the Pine Tent. Open spring through fall, this open-air eatery and bar often features live music. Karen and David point out that the outdoor deck has great views of the playground, meaning the parents can keep an eye on the kids while enjoying a glass of wine.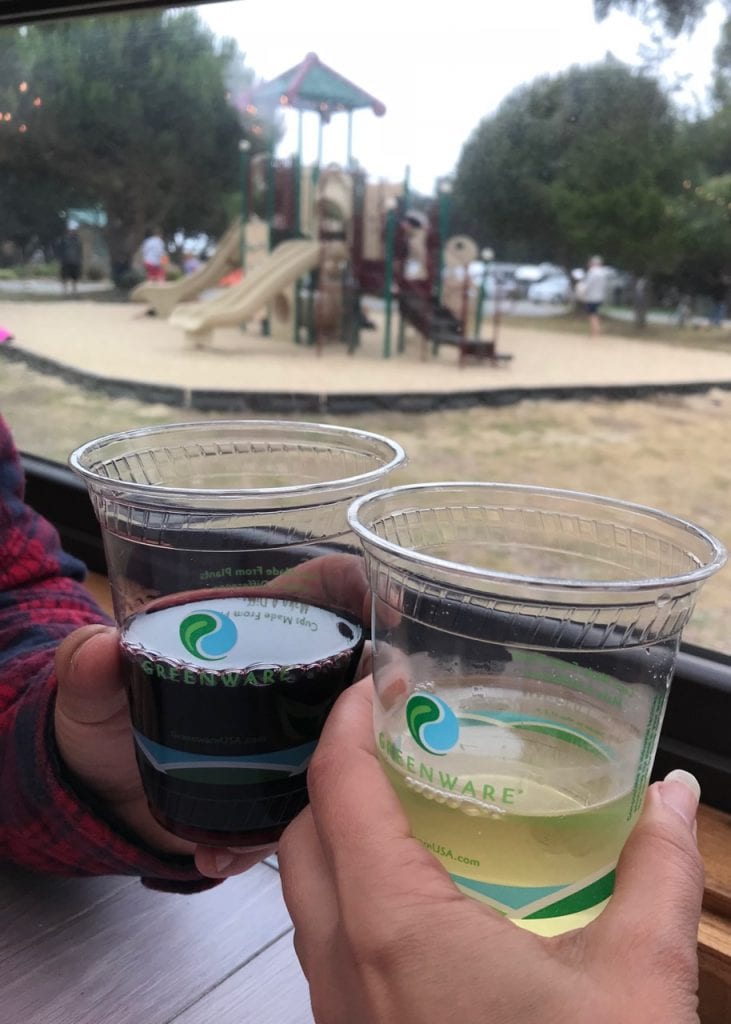 Speaking of the playground, kids will also appreciate the many amenities of the Santa Cruz North/Costanoa KOA. They can take their pick from the large playground, grassy playing areas, giant chessboard, and more. Karen and David said they even had a rec tent set up with a turntable and games the last time they visited. Plus, during the summer months, you might find a vendor onsite with climbing walls and gravity jumpers (for a fee). On Sunday mornings, they've traditionally offered a falconry program.
If you need to pick up some items while at the Santa Cruz North/Costanoa KOA, you'll find a small camp store that doubles as the KOA office and a larger general store, shared with the lodge.
One thing to note: Prepare to disconnect during your stay. WiFi and cell service are both lacking in the park. WiFi is offered, but the service is spotty. Your cell signal may only be 1-2 bars, as well. A phone at the office may be used in case of emergencies.
Finally, there are natural areas fringing the park. If you, your pets, or your children venture into the taller weeds, they may encounter tics. Plus, you should keep food products put up at night, so you don't attract skunks and etc.
Local Highlights Near Santa Cruz North/Costanoa KOA
The ocean is right across the street; however, it is not easily accessible. You'll have to cross a highway and through some sand dunes to reach the water, so don't try to set out for a walk with your beach gear in tow. Instead, head to one of the nearby public beaches. There are tons lining the highway.
The Pigeon Lighthouse is nearby.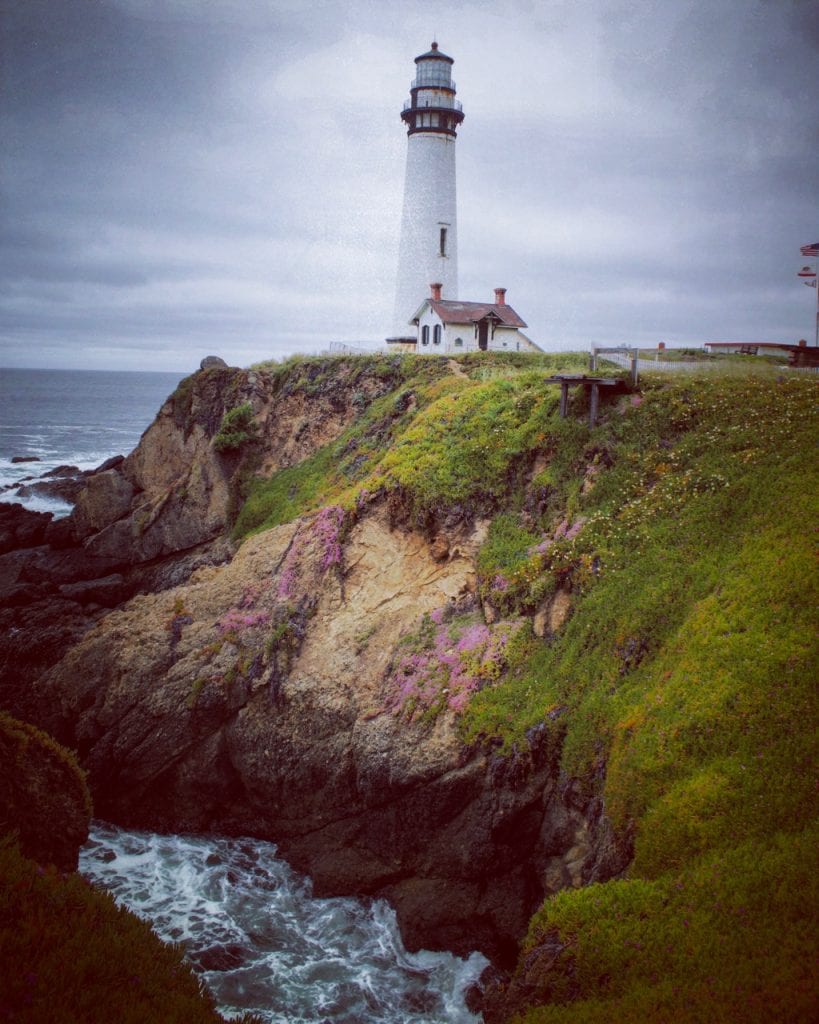 Pescadero is a cute little town nearby. Karen and David recommend the Downtown Local for coffee and for exploring the nifty vintage shop. They also enjoyed grabbing food and drinks at Duarte's Tavern. They recommend making recommendations.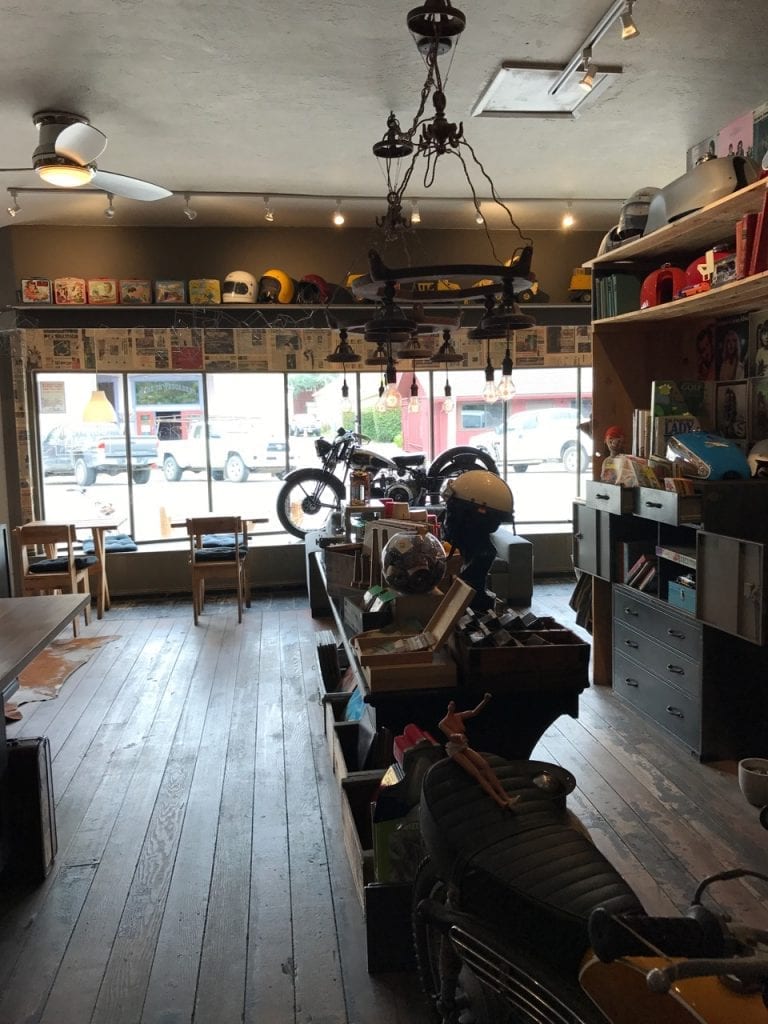 Play with the goats and pick up some great cheese at Harley Farms Goat Dairy. Seriously, who doesn't love a baby goat?
Take a 30-minute drive to explore Half Moon Bay. This town is a little bigger and livelier than Pescadero. It's home to the Mavericks surf competition.
Near Half Moon Bay, Lemos Farm is a great place to take the littles for some rustic farm fun, complete with hay rides, pony rides, train rides, petting zoo, and more. They even offer goat yoga!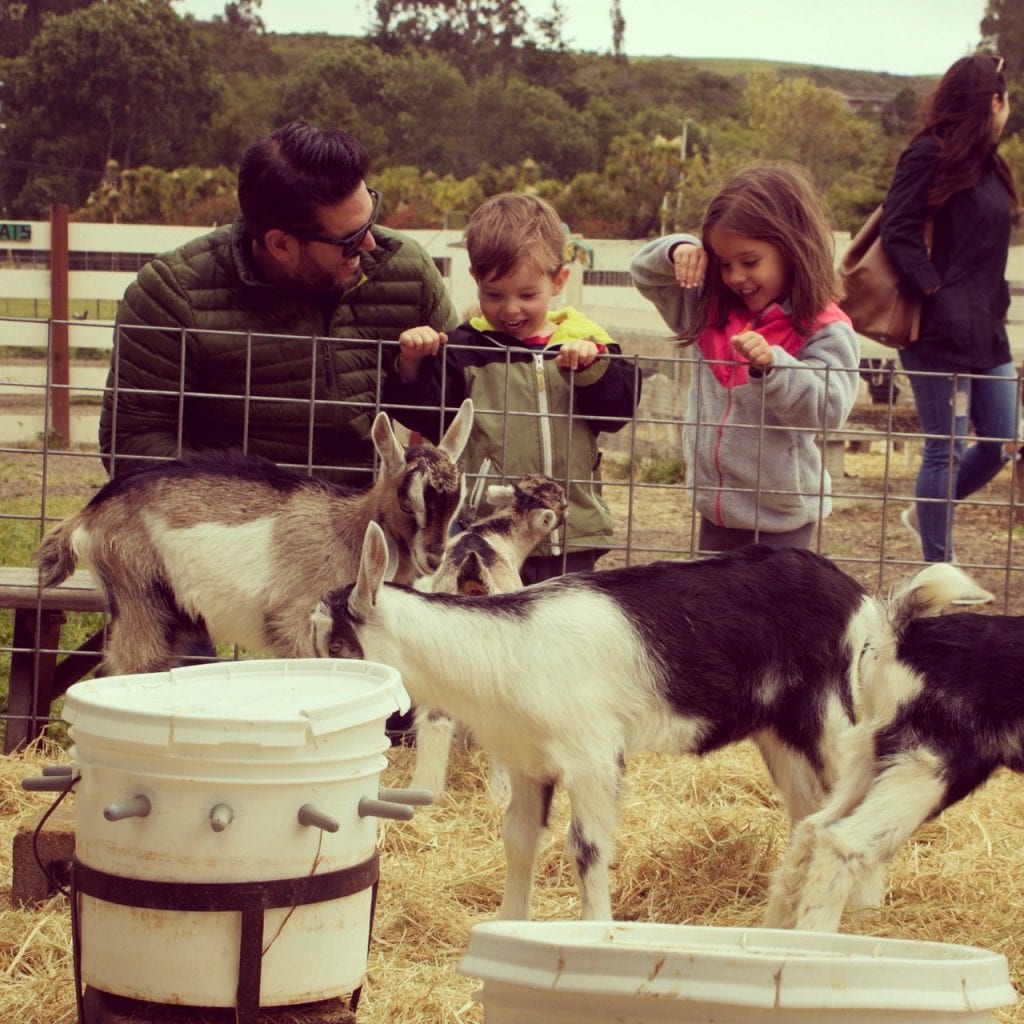 Hearing about the Santa Cruz North/Costanoa KOA makes us wish we lived much closer to the California coast! We want to thank Karen and David for sharing this amazing campground with us. Check out their photos on Instagram and find their playlists on Spotify by looking for @thecampingplaylist.
See you at the campground,
Stephanie + Jeremy
Podcast: Play in new window | Download