Healthy RV travel may not be a big concern for you if you only take a few camping trips every year. It's perfectly fine to embrace the vacation mindset for a special one-week family RV trip in the summer.
But for those of us that spend a LOT more time on the road, healthy RV travel can be a real struggle. Some folks have a hard time bringing those great routines from home and adjusting them to suit the RV lifestyle. Lucky for us, James and Stef Adinaro from The Fit RV are back on the show with more tips for staying fit and healthy while RVing in the upcoming year.
To check out more of the great resources from The Fit RV, visit their website and their YouTube channel which are both chock full of RV-friendly workouts and healthy eating tips.
Healthy RV Travel: Tips for Staying Healthy on Long Traveling Days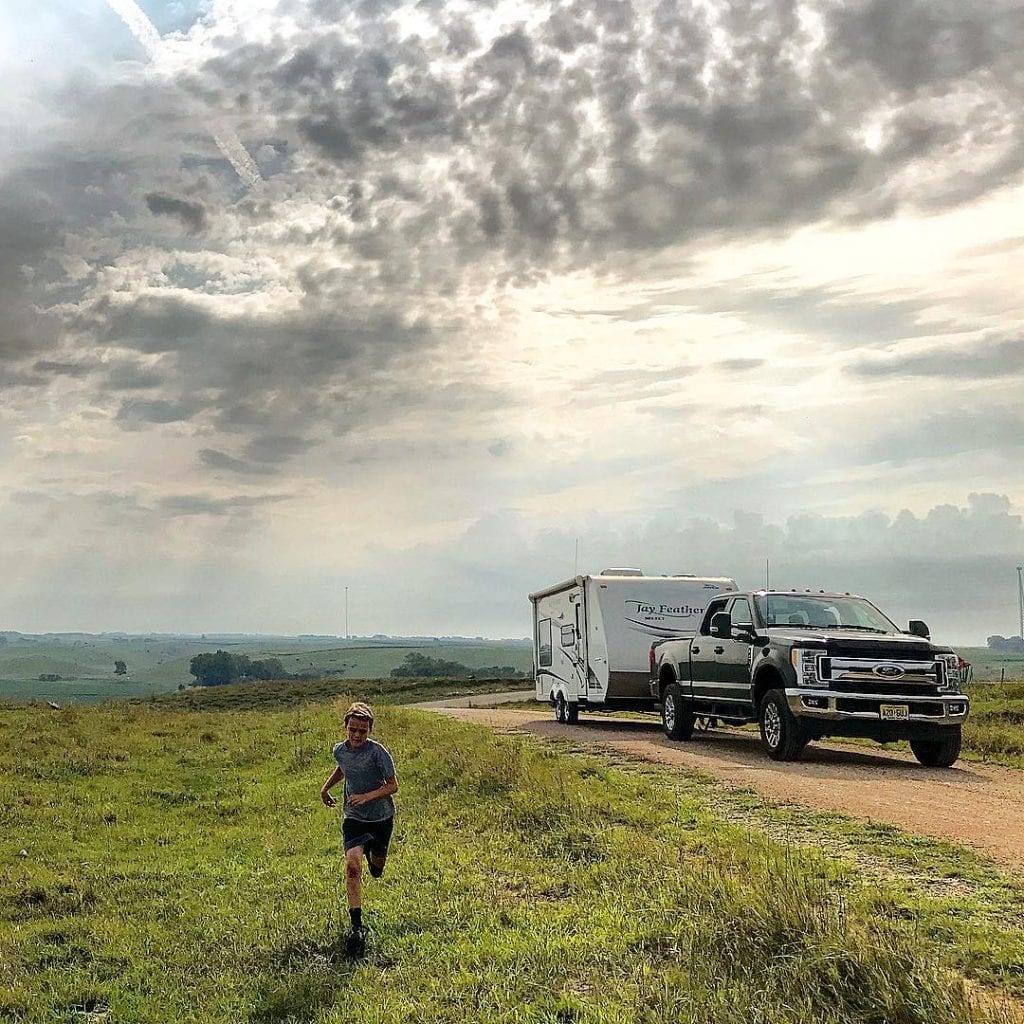 A simple glance at your fitness tracker will remind you that long traveling days are rough on anyone's activity levels. James and Stef recommend some easy ways to make sure your body doesn't suffer from too much time in the truck or RV…
Embrace Rest Stop Recharges
It's easy to want to charge through a long drive with as few stops as possible. The Fit RV folks recommend stopping every two hours to give your body a much needed dose of movement. A simple round of jumping jacks at a rest stop will do just fine. But you can also make these breaks a lot more fun by planning ahead and finding fun and interesting stops along your route. James and Stef use websites like Roadside America to plan visits to places like the Largest Ball of Twine in the World. Good times.
Don't Eat and Drive
This tip is a little shocking for most of us, who pack lots of snacks to get us through long drives. But mindless eating can be a real trap in the car, much like snacking in front of the TV. Save your meals to enjoy during those frequent activity breaks.
Pay attention to Proper Driving Posture
Having your seat properly adjusted will help drivers avoid pain and even injury on long driving days. Recline your back rest to 100-110 degrees. Make sure you have appropriate lumbar support for even pressure along the spine. You can also use a seat cushion adjusted for even pressure on the back of your legs. Next, adjust your steering wheel down and toward you, so you can comfortably hold the wheel at 9 and 3 o'clock while keeping your elbows down and avoiding pressure on the shoulders. Do everything you can (including removing your wallet from your back pocket!) to keep your body even and centered while driving.
Healthy RV Travel: Tips for Staying Fit While Away from a Normal Workout Routine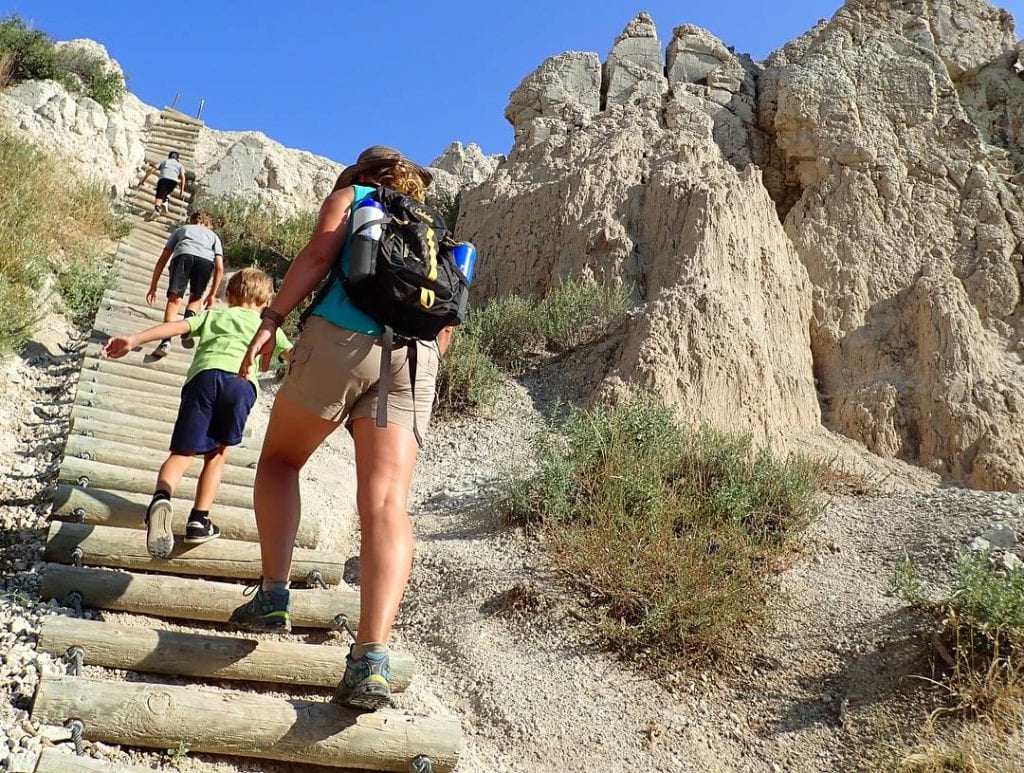 Plan Your Trips Around Activities instead of Locations
Here's an important mindset shift: start with the activity that you want to enjoy while RVing and plan from there. In other words, think about whether you would like to hike, bike, or kayak and then find a place to visit that will support that adventure. This way, you are starting your RV trip with the expectation of enjoying great active experiences.
Pack Your Fitness and Active Gear
If you take the time to bring along your healthy RV gear, you are much more likely to have an active RV trip. In addition to packing your bikes and hiking shoes, consider investing in some RV fitness equipment like these resistance bands recommended by James and Stef. A simple yoga mat and some printed routines from The Fit RV would work just fine as well.
Here's a link to the resistance bands we talk about in this episode…
Try Weekly Activity Planning
This might have been our favorite strategy from this segment of the podcast. James and Stef recommend making an to do list of six activities that you will do in the upcoming week. An example of this would be: 2 bike rides, 2 hikes, 1 resistance band workout, and 1 bodyweight workout. Don't assign days to them, just look for opportunities to check them off your list. Who doesn't like crossing things off a to-do list???
If you need some great examples of pre planned campground workouts, Stef has a bunch of printable ones here!
Healthy RV Travel: Eating Healthy While on the Road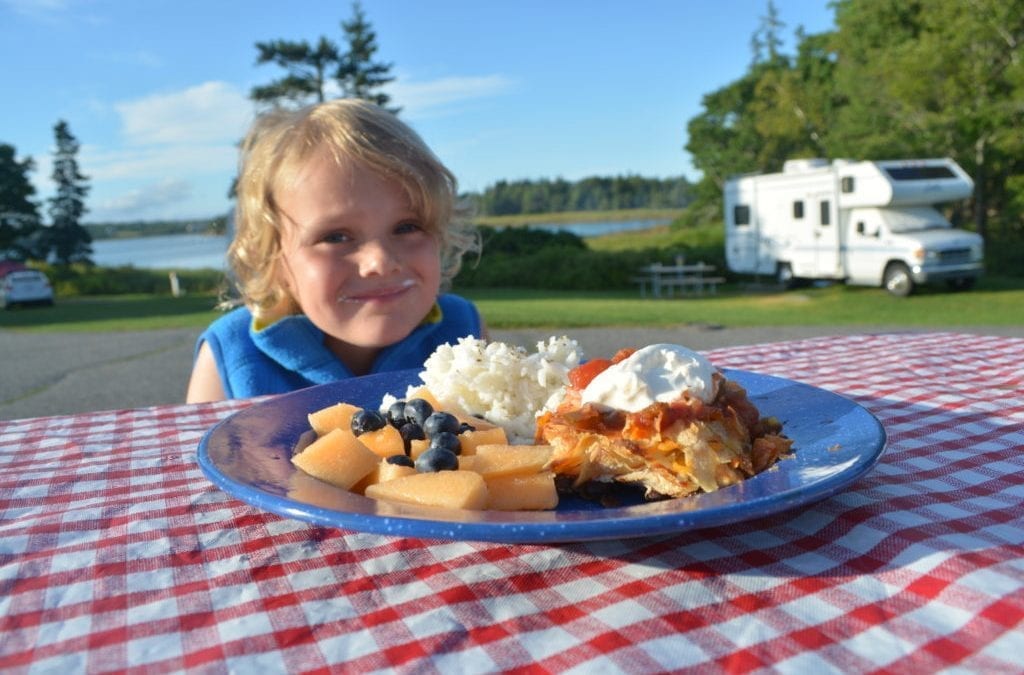 The vacation mindset REALLY creeps in when it comes to food on an RV vacation. We love how James and Stef are super down to earth when it comes to their healthy eating advice.
Seek out Local Fare Options
We can wholeheartedly get behind this piece of advice. Wherever you travel, find the local farm stands, seafood markets, or farm to table restaurants. This will ensure that you are eating delicious, but fresh and healthy food, instead of the processed stuff we sometimes rely on while RVing.
Be Adventurous with Your Food
If you see a fruit or vegetable that you've never tried, buy it! Food adventures can keep healthy eating from feeling boring.
Make Portable Snacks Ahead of Time
Want to avoid eating that whole bag of roasted almonds around the campfire at night? Make pre portioned bags ahead of time to keep your snacking under control. And make sure you have some healthy snacks that you love at your finger tips. This will help you avoid those gas station junk food meltdowns.
Enjoy a Treat!!!
Stef really believes that labeling any food as 'good' or 'bad' sets us up for having unhealthy relationships with food. Practice balance and enjoy a dessert or treat in moderation.
The best thing about talking to James and Stef is that they offer us so many positive suggestions for helping our bodies feel better while we have these amazing RV adventures. As much as we love our RV vacations, it can be a struggle to stick to those healthy routines while traveling. The Fit RV understands that staying healthy can be fun, and they inspire us to get out there and explore.
If you need a little more Fit RV inspiration, make sure you check out all the goodies on their website and You Tube channel!
See you at the campground,
Stephanie + Jeremy
Podcast: Play in new window | Download