The San Francisco North/ Petaluma KOA is nestled in Sonoma County, right off Highway 101 in Northern California. It's about 40 miles (35 minutes) north of San Francisco and the Golden Gate Bridge and 40 miles (35 minutes) west of Napa Valley Wine Country. The campground is centered in a beautiful part of the Bay Area–what locals consider the North Bay. 
It was so lovely to have David and Karen Toste from The Camping Playlist come on the show and review on of their favorite family campgrounds for quick weekend getaways!
Campground Basics: San Francisco North/ Petaluma KOA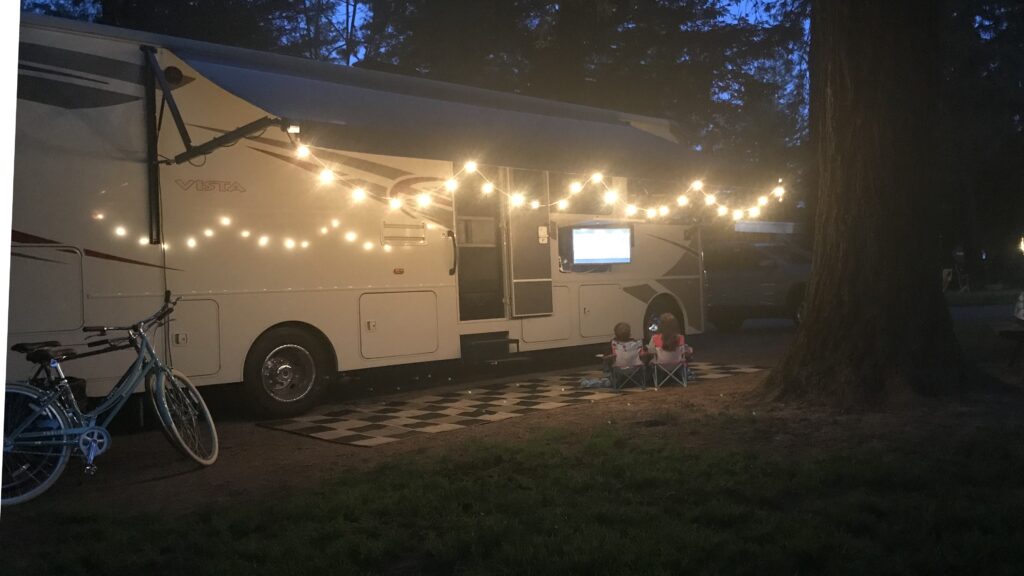 The San Francisco North/ Petaluma KOA is a large campground by Northern California standards. It has 200+ RV spots and about 30-40 cabin rentals along with some tent sites. There are a variety of options: Pull-thrus and back-ins, as well as some recently remodeled extra wide spots with paved patios. They market these paved sites as perfect for entertaining larger groups of family or friends.
Most of the spots are full hookup but there are a few water and electric only. There is one important note about the new spots with the paved patios; these aren't technically full hookup sites. These are water/electric with "VIP septic service". This basically means that when your grey and black tanks get full, you call over to the front office and they come over to pump out your tanks. These sites were remodeled on the previous tent camping location so there must have been some reason they couldn't get sewer hookups there. This may or may not be something you want to bother with, so make your reservations accordingly.
The physical appearance of the campground is nice and clean. You can tell it's been there for a number or years by the trademark pyramid shaped general office.  It's also important to note that it fits in nicely with the surrounding area, which is known for wineries and breweries but it also has its fair share of farms in the nearby area.  In late winter-early spring, the rolling hills are very green since the North Bay gets more rain than the South Bay. The campground itself is well maintained with a large campground staff.
Pricing and Reservations: San Francisco North/ Petaluma KOA
The pricing may high to some visitors, but it's not by Bay Area KOA standards. This is California and everything is expensive here. Some folks outside of the area may get sticker shock.  On an average peak summer weekend one of the patio sites is going to run you about $120-125 a night, standard pull thru will be about $100 and a back-in full hookup somewhere around $80-90.  You can easily book online or via the KOA app, or just by calling the office 7 days a week. 
Bonus Tip: you can lock in a spot for an extra $20. Weekends will book up in the summer and definitely during holidays. We don't recommend driving up without a reservation unless it's during the week.
Road noise not an issue here. The new patio sites were built on the old tent area and have far less shade than some of the other sites. These sites are also near the pool. This might not be a problem on a normal weekend, but on busy holiday weekends we noticed that they could get a bit noisy during the day, as they have had DJ's playing music at the pool.
Campsite Details: San Francisco North/ Petaluma KOA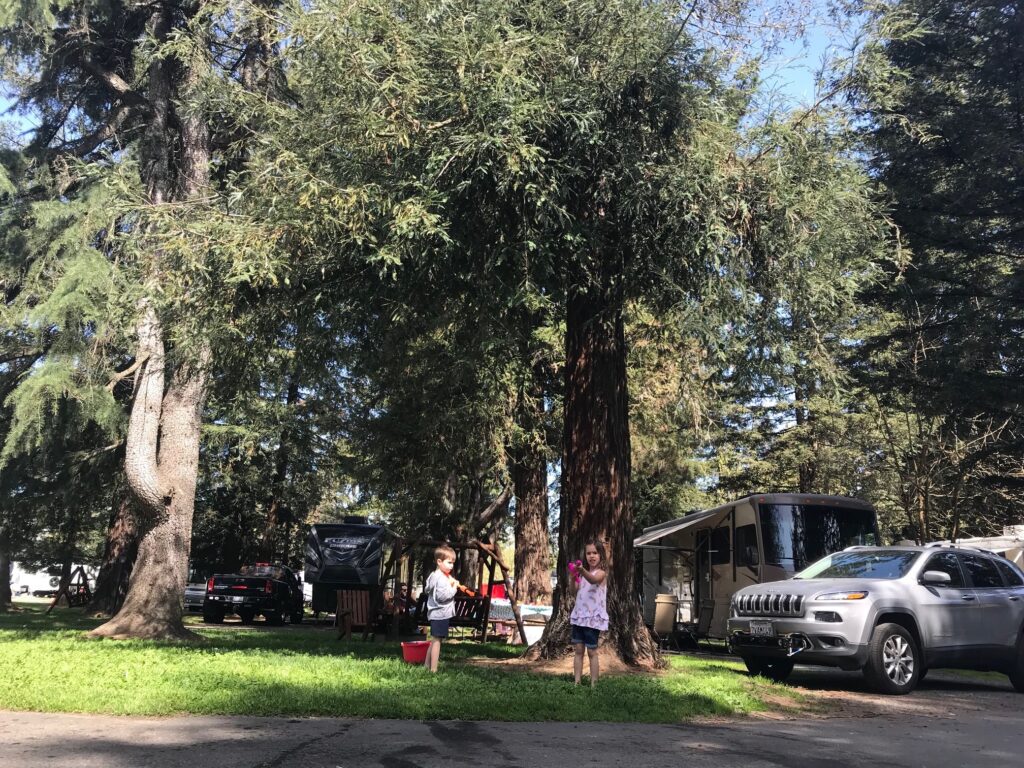 The pull thrus at the center of the campground are by far David and Karen's favorites. They offer mature trees and a lot of shade with lengthy spots. You may want to ask for an end site. These are great and come with a large grassy area next to your rig along with a swing bench and two wooden chairs next to a fire pit. It's a perfect area to gather with the family for a campfire. End sites at the top of the row will get you away from the noise and entry traffic but if you're ok with being closer to the action then the bottom of the row should be fine.
Campground Activities and Amenities: San Francisco North/ Petaluma KOA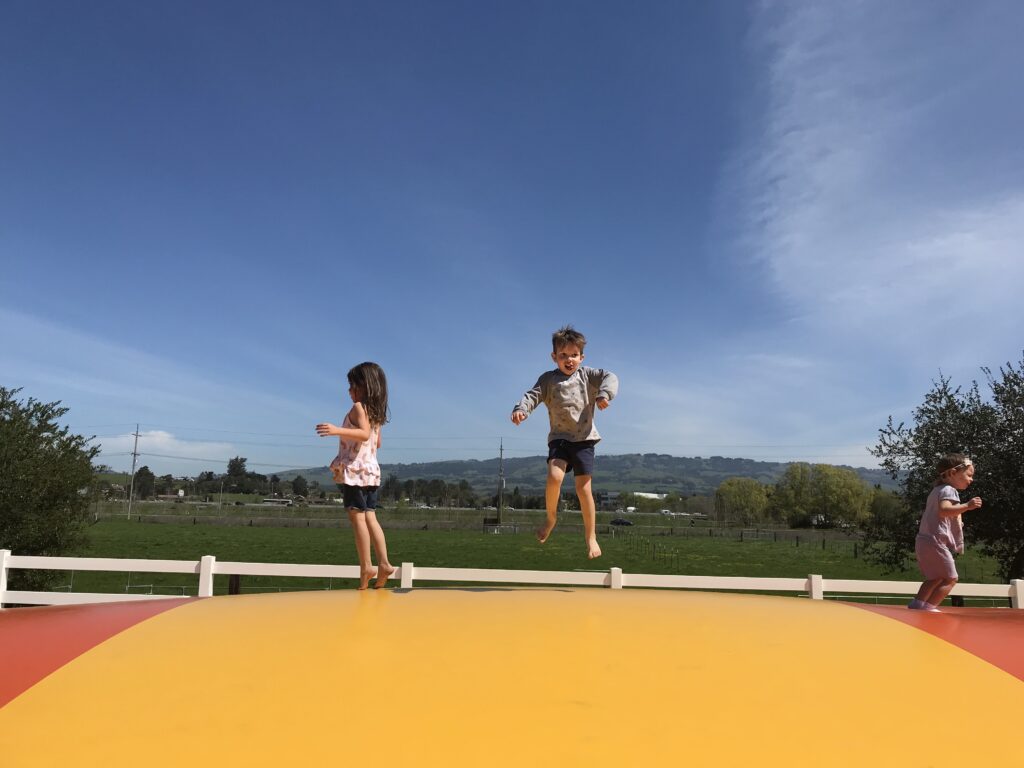 This campground has lots of amenities to enjoy. There's the typical KOA jump pillow, but also a rock-climbing wall and a petting farm with goats, chickens and rabbits. They have a large playground and a smaller one on the opposite side of the park (perfect for ages 3 under). There's a large pool with a hot tub, a recreation and arcade room, and another large tent where they host activities like karaoke and dancing for. They also have a shop loaded with kid-friendly treats for purchase, including Icees , toys and games…and a good beer and wine section for the parents.
Organized activities have never been in shortage at this KOA. They typically have themes for holidays, but also seem to have at least something every weekend.  In the summer months they have movies near the pool and occasionally have face painting on the weekends. David and Karen have also enjoyed shaved ice and cotton candy machines for the kids.
David and Karen's kids also rocked out with a DJ at the pool for few hours playing top 40 family-friendly music. Train rides and hayrides occur frequently, at least for a few hours each day. 
Regional Highlights near the San Francisco North/ Petaluma KOA
Lagunitas is kind of like a mecca for craft beer, IPAs, etc. Not only can you tour their brewery, they also have a great taproom which has live music every night. They serve food and it's totally kid friendly with a ton of space for them to run around. There is also a store. It's only 1.5 miles away from the campground.
Downtown Petaluma is small and quaint with a lot of shops and restaurants. Brewsters is a great family friendly place to eat and drink. If you're not a beer lover you can easily find a glass of pinot or chardonnay. There is often a wait for the covered eating area, and the outdoor area was first come first serve. 
If you want to get a little of the Napa experience but are with the kids, David and Karen recommend V.Sattui. It has a deli, great wines and a large grassy area where you can picnic with the family. It does get crowded on the weekends (as does all of Napa). October/November is crush season, so it's extremely crowded but the colors throughout Napa's vineyards are spectacular.
San Francisco
It's hard to pick just a few things from this iconic city, but David and Karen recommend visiting the Golden Gate Bridge where you can hike the Marin Headlands where you'll see some of the iconic views of the bridge. Once you get to the bridge you're only a few minutes from the heart of the city. Of course, no one should miss Market Street or Haight & Ashbury.
A big thanks to David and Karen from the Camping Playlist for sharing their love of this amazing area with us. Want to check out our other California campground reviews? Click Here!!!
In addition, for more resources on planning an amazing trip to San Francisco, California, check out what our friends from over at Kidtripster have to say here and here.
We'll see you at the campground!
Stephanie + Jeremy
Podcast: Play in new window | Download