The
2018 Florida RV SuperShow
was jam packed with over 1,550 towable and motorized RVs. There is truly something for every RV shopper at this exciting annual event. So we decided to send our trusted RVFTA correspondents to scour the fairgrounds and find their rig picks of the show.
On this episode Kate Dunbar, Casita Dean, and Keith and Tia Sims join us to share their favorite finds from five days of RV shopping. From solo girl campers, to empty nester dream machines, to family-friendly small motorhomes, we are covering a huge range of RVs.
There's a joke that every RV owner is always shopping for their next RV. The 2018 Florida RV SuperShow was the perfect example of that. RVFTA correspondents fanned out in every direction, and came back ridiculously excited about what they found. If you think the RV industry is just pumping out the same ole, same ole, you haven't been looking hard enough!
Segment One: Kate Dunbar's Rig Picks from the 2018 Florida RV SuperShow
Kate Dunbar of Kate's Curious Kitchen came to Tampa with a singular goal. She was determined to narrow down her list for a new trailer that she could tow on her solo camping adventures. Right now Kate has a beautiful vintage Shasta. She wants to upgrade her safety and towing experience by purchasing a double axle trailer.
Here are her three top choices after shopping at the 2018 Florida RV SuperShow…

Important Specs:
5,600 pound UVW
Dual axle
great cabinet storage
1000-watt inverter
dual propane tanks
split bathroom
TONS of windows
We recorded an entire walk through of this trailer while we were at the show, so check it out if you want to learn more about why Kate is all hearts for this Airstream. Pop some popcorn and enjoy the show!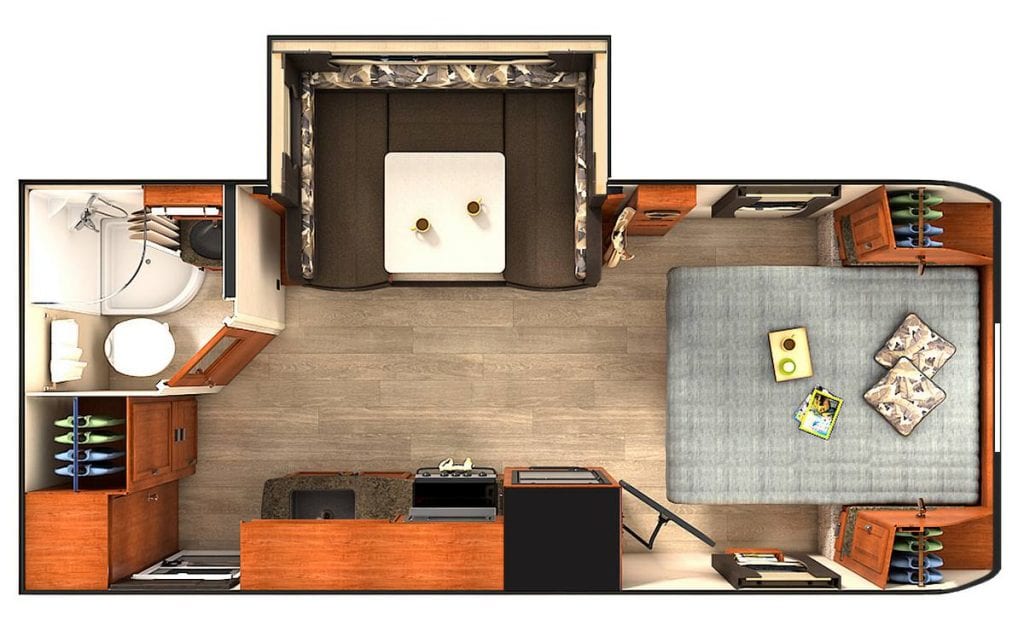 Lance has done a lot of redesigning over the past year, and their travel trailers are attracting a ton of attention. The quality of build is enough to satisfy Kate's exacting standards, and attention to detail is the way to her heart.
Important Specs:
4080 pound UVW
Dual axle
rear entry to main living space
storage
slide out dinette
screen door with privacy shade
two propane tanks
solar kits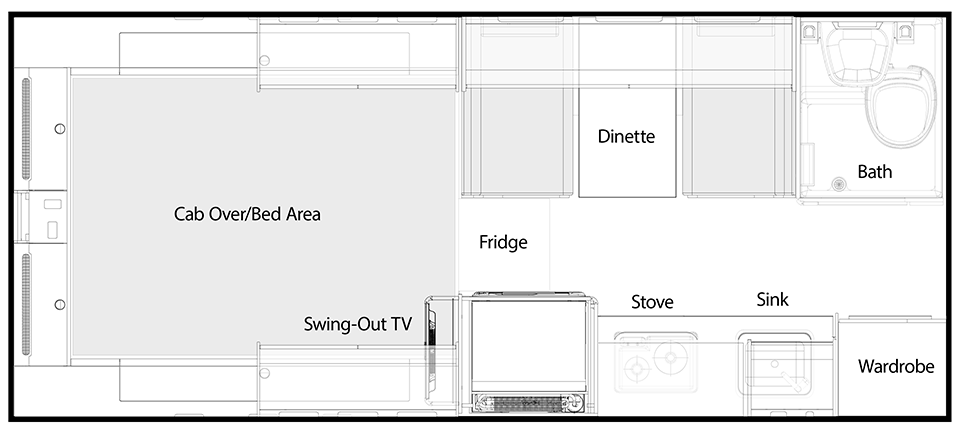 Kate was NOT expecting to fall in love with a truck camper. But one look at this NuCamp Cirrus and her jaw dropped. If you have any preconceptions about truck campers, you need to tour this one. It has intelligent design and trending style.
Important Specs:
2540 pounds UVW
2 20-pound propane tanks
Access to bathroom while driving
Lots of windows
Great sized tanks
comfortable dinette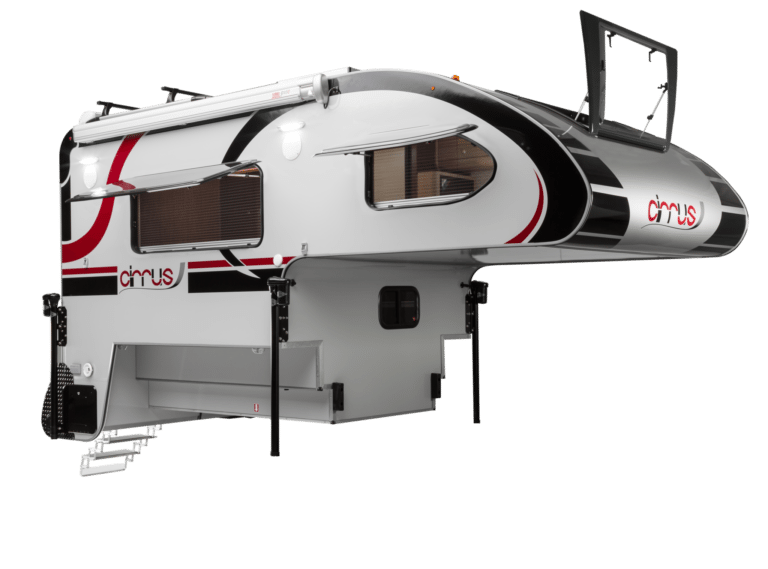 Segment Two: Casita Dean's Rig Picks from the 2018 Florida RV SuperShow
Everyone's favorite fiberglass correspondent arrived at the 2018 Florida RV SuperShow looking toward the future. Dean and Laura love their Casita travel trailer, but they are looking to retire in about 5 years and take more RV adventures. They feel a small motorhome will suit their needs a bit better at that time. So Casita Dean shared his top four small Class C picks from Tampa.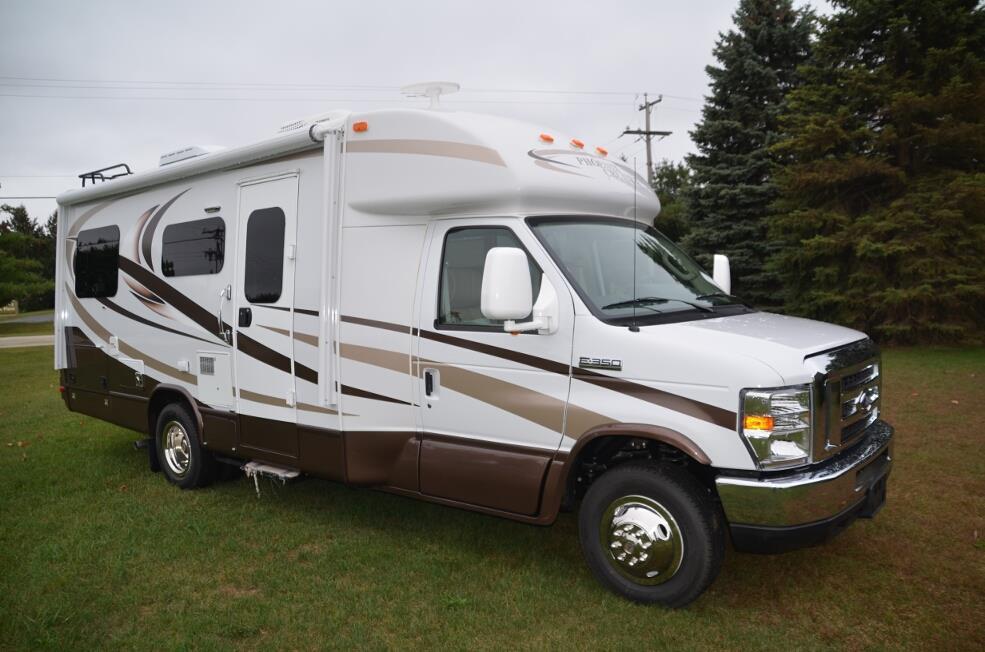 Top Selling Points:
4 floorplans under 25′ on the Ford Chassis
Buy direct from manufacturere
Lots of customization options
balance of quality and price
Favorite models: Phoenix Cruiser 2100 or 2400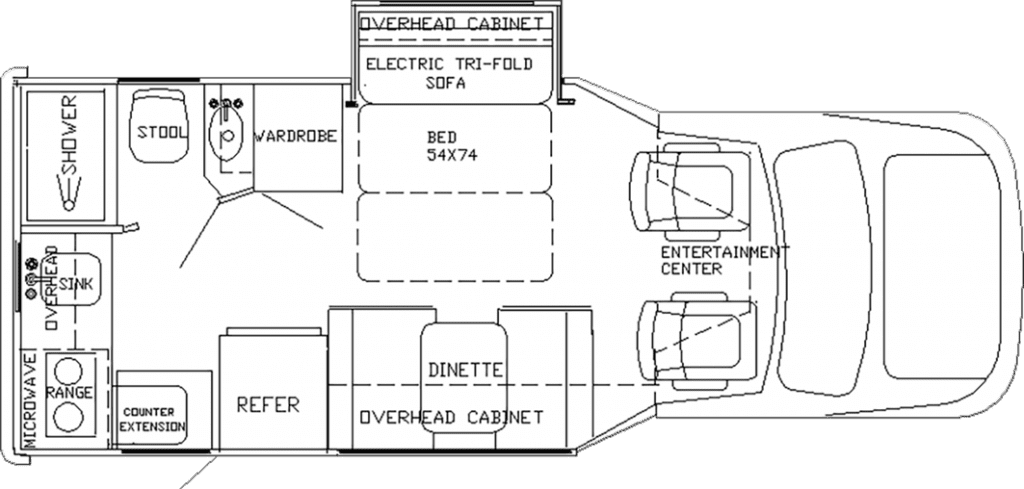 Top Selling Points:
Ford Chassis options available
Range from 23 feet to 27 feet
Bodies are one-piece molded fiberglass
Favorite model: Coach House 220 TB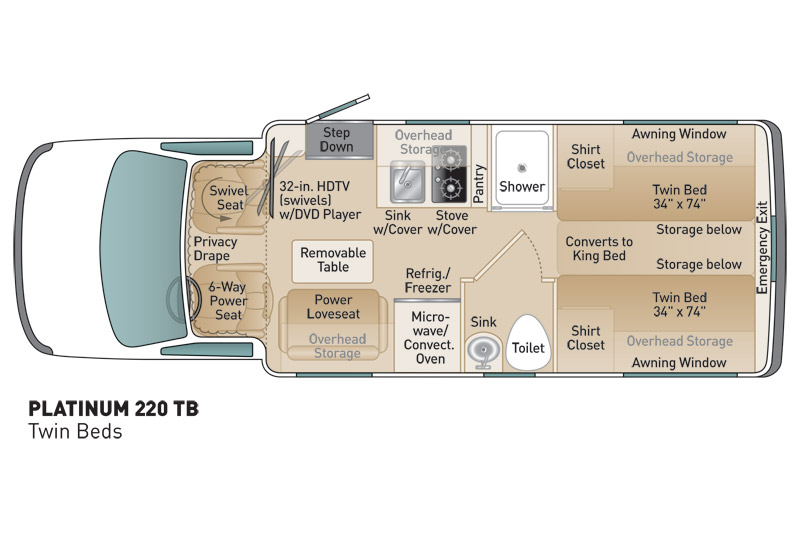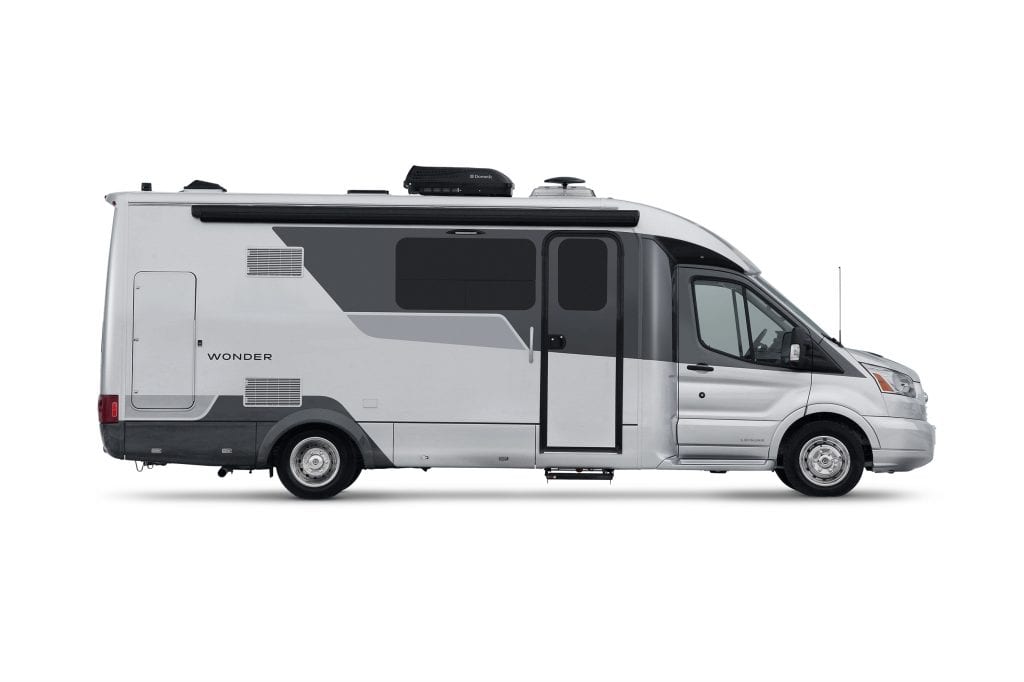 Top Selling Points:
Wonder model is on the Ford Transit hassis
Favorite model: 24 FTB with no slides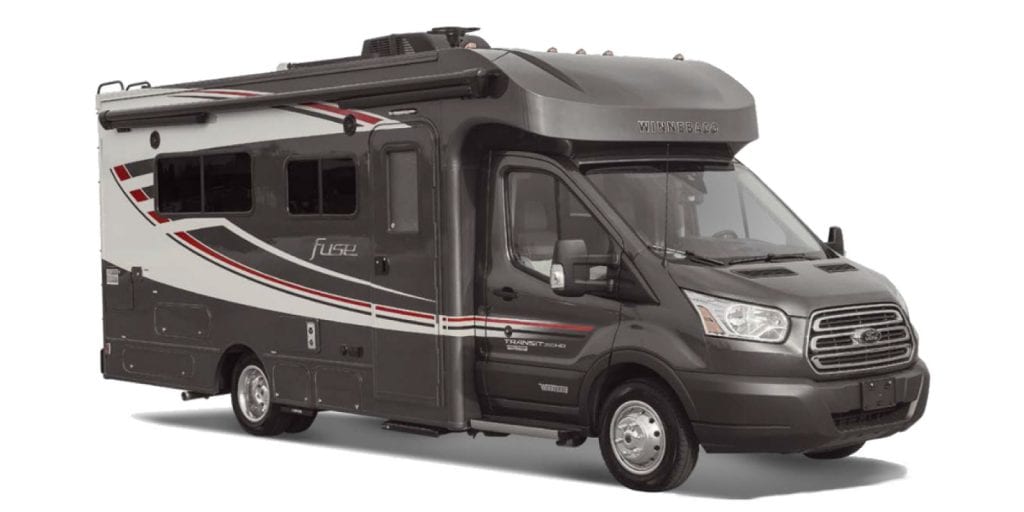 Top Selling Points:
Affordable price point
Ford Transit chassis
Two floor plans
Favorite model: Fuse 23A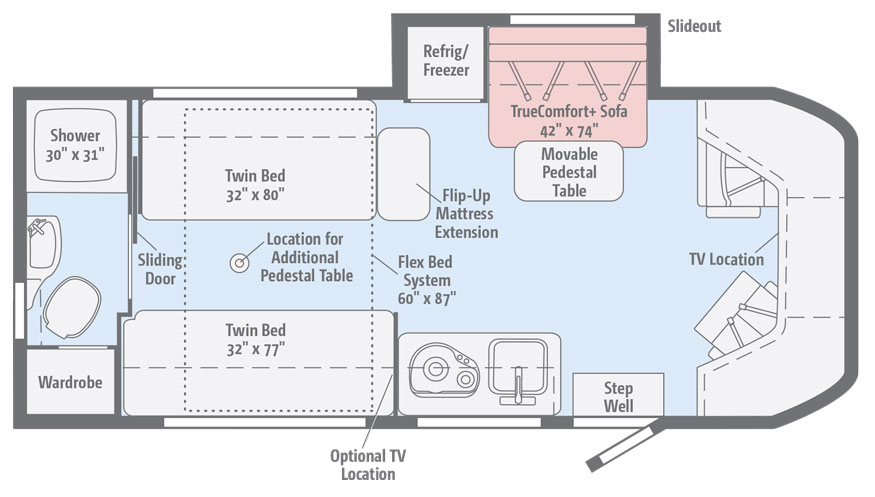 Segment Three: Keith and Tia Sims' Rig Picks from the 2018 Florida RV SuperShow
Keith and Tia love their Class A motorhome, but they are considering the benefits of having something that is smaller and a bit easier to maneuver in certain traveling conditions. The challenge was finding something that would suit Tia on her girl camping getaways, but also fit the whole family for an RV adventure. Here are three picks that they are considering.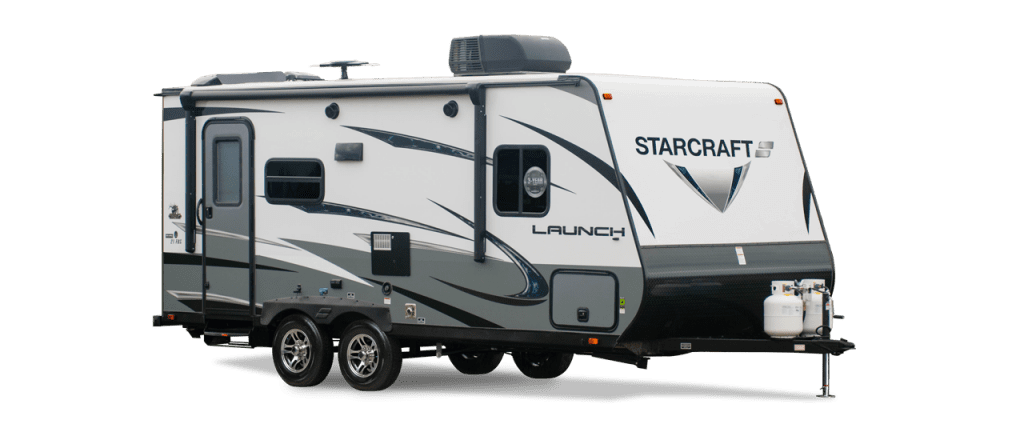 Top Selling Points:
SUV towable
Lots of sleeping options
open living space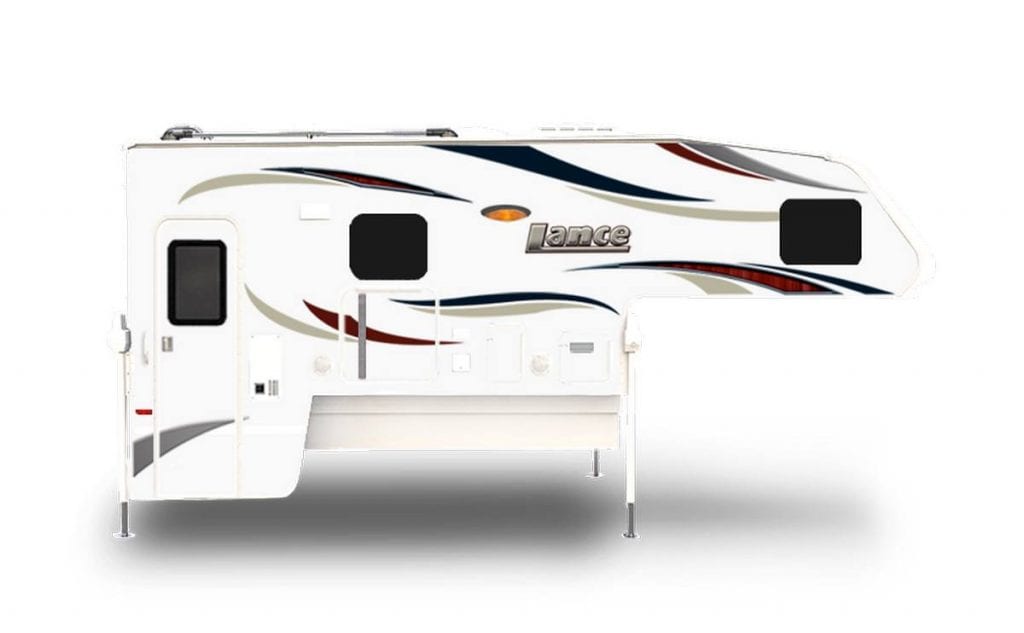 Top Selling Points:
Compact
Easier than bumper pull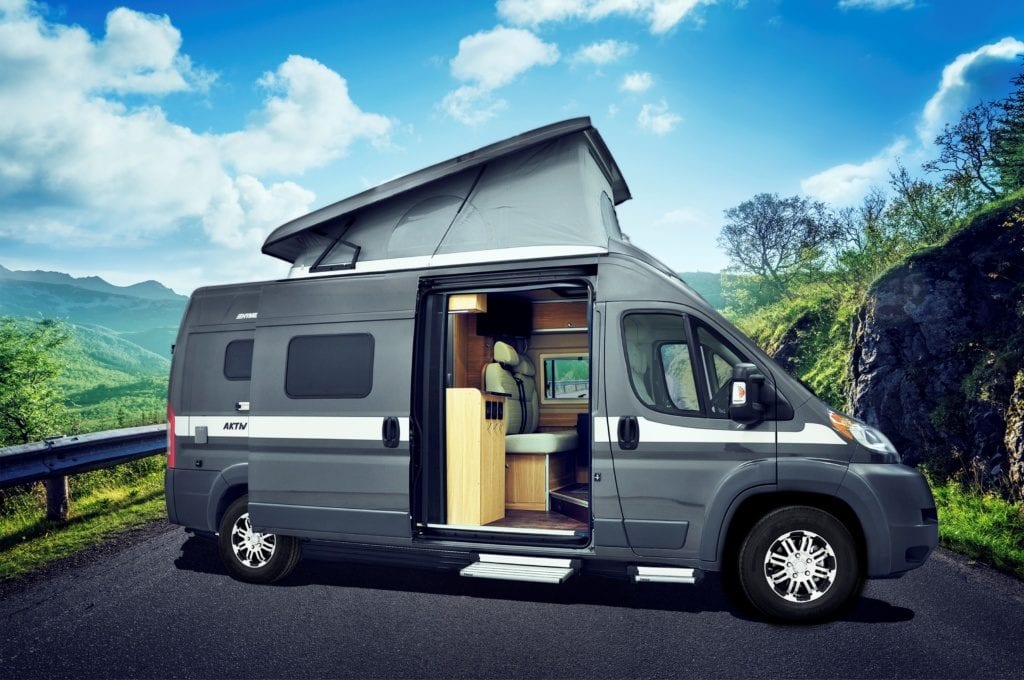 Top Selling Points:
Motorized rig
room for the family of five
comfortable sleeping for the kids
Other Resources and Links from this Episode
Gear Hall of Fame: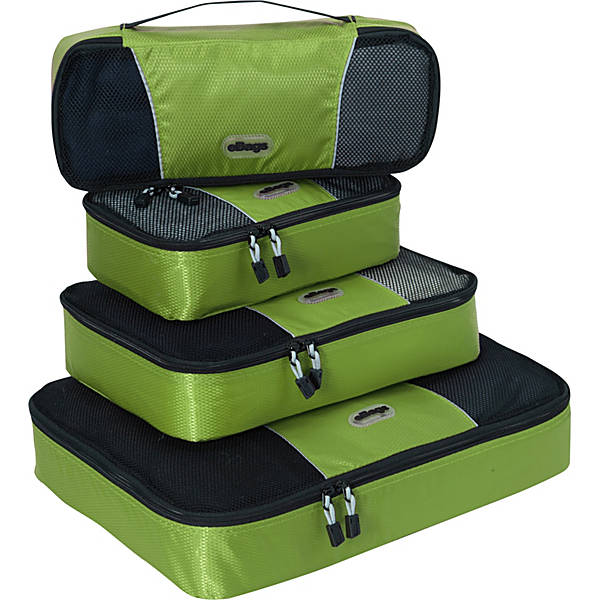 We inducted the eBags Packing Cubes into our Gear Hall of Fame this week. We have used these on EVERY SINGLE RV TRIP for over five years. They look as good as new and keep our RV as organized as possible with a family of five. We have also heard from so many listeners that these packing cubes have transformed their RV organizations. All the heart eyes for this simple, affordable product. Listen to hear our complete review.
Cabela's pick of the Winter: Women's Coldspring Coat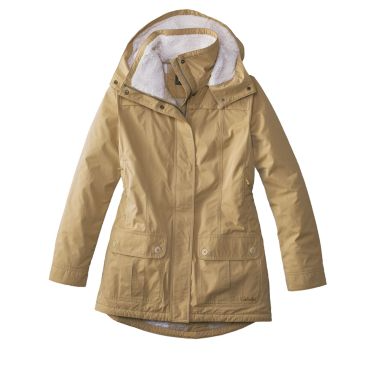 A big thanks to our sponsors for supporting weekly content for all our RV fools!
See you at the RV Show!
Stephanie + Jeremy
Podcast: Play in new window | Download