The RV rental market is bigger than ever, so we want to share all the things you need to know about renting an RV. Why might you want to rent an RV? What are your different options for RV rentals? And what do you need to know to have a successful RV rental experience?
We've done quite a few RV rentals over the last couple of years, so we are sharing all the things we've learned!
Now some folks might be confused about why would rent RVs when we have our own one sitting in the driveway. So a little backstory might be in order. We rented our first RV in 2017 from Lazydays in Tampa, Florida. We wanted to go to Disney World straight from the Florida RV SuperShow, but we only had a week for vacation and there was no way we were towing our personal RV all the way to Florida from New Jersey. The RV rental from Lazydays was the perfect alternative, and it opened us up to more rental experiences over the last couple of years.
In the years since, we rented one more time from Lazydays and we also rented from Outdoorsy and a private outfitter in Florida named Meacham's. On this podcast episode, we talk about all the options out there and which might be the best fit for your needs. You can listen to the whole episode in Apple Podcasts or your favorite podcast app!
Why Should I Rent an RV?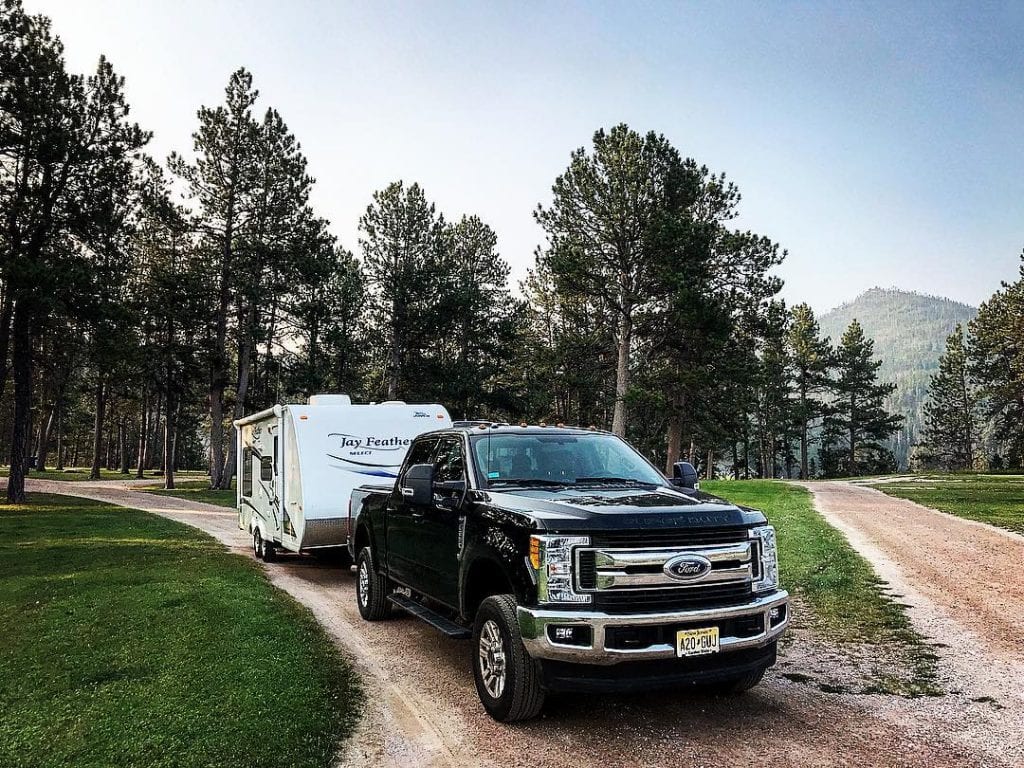 There are many reasons why you might want to rent an RV, whether you are considering an RV purchase or already own one yourself. Here are five of the reasons we discuss on this podcast episode…
Are you considering buying an RV and want to try the experience first?
An RV rental is a really smart way to get over any apprehension about the RV lifestyle. Some folks are thinking about buying an RV that have never even stayed overnight at a campground! Even though a rental isn't the same as having your own rig, it's a great way to get a feel for the lifestyle and make an educated guess about whether it's right for you. 
Do you want to buy an RV but are unsure of which type?
An RV rental can help you decide between a larger and smaller unit, or even a towable or motorized unit. We've kicked around the idea of downsizing in the future, and renting a 20-foot hybrid was a great way to test out whether we could be comfortable in such a small space. We now know that we would look for something a bit bigger…maybe in the mid-20s.
Do you want to vacation with friends or family that already own an RV?
A rental is a great way to join your RVing friends and family at the campground. We camp at a local campground that only has two cabins. The cabins are in a remote environment and often sold out. Friends of ours have asked to use our own Penny the Pop Up rental so they could join us at the campground.
Do you love traveling by RV, but can't justify the investment?
Maybe you've crunched the numbers and just can't seem to come out ahead on spending the money to own an RV. When you consider storage, maintenance, and insurance costs, it might just be economical for you to rent whenever you would like to use the RV. Think of how much you would use the RV in a given year, compare the cost of a rental from a few different sources, and compare that to a purchase. You might be surprised at the results.
Do you want to maximize vacation time and minimize traveling time by flying and renting an RV?
Sometimes we have a very limited window of vacation (say 8 days) and want to visit a far-away destination (say South Dakota). We've realized that we can have an RV vacation anywhere in the country, even if we don't drive there ourselves. 
RV Rental Companies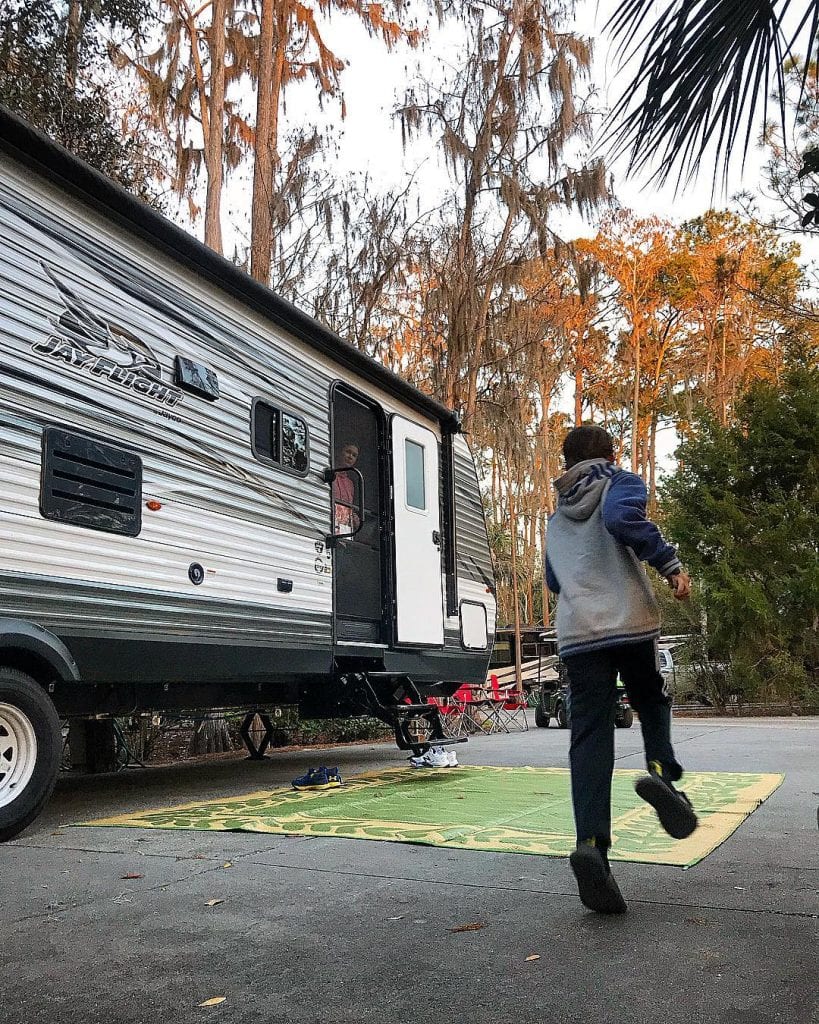 One of the reasons why we are so enthusiastic about RV rentals is because there are more options out there than ever before. We particularly appreciate the range of cost as well. Folks can find carefully curated, concierge-quality rental experiences or inexpensive peer to peer rentals. There are small towables and large motorized options. So where can you find a good fit for your RV rental adventure?
Large Corporate RV Rental Options
Cruise America: This company has been around since the 1970s and is a great option for folks that want to be baby-stepped through an RV rental. The rigs are simple and basic, designed to streamline the renter experience. There are over 120 locations around the country. You'll pay a higher price with Cruise America, but you'll get concierge service.
El Monte: El Monte is another old timer in this market, and was established in 1970. They have about a dozen locations near major cities around the US, and then about a dozen more in Southern California. They have a wider range of RV model options than Cruise America, and the branding tends to be a bit more subtle.
Road Bear: Road Bear has been around for decades, and they also have customer service dialed in. They only seven locations, but they are near major American cities like New York, Denver, and Los Angeles. You'll pay a premium and receive a lot of support in planning your rental adventure.
Peer to Peer RV Rentals
Outdoorsy: Outdoorsy is a peer-to-peer RV rental service, connecting RV owners in the US and Canada with potential rentals. You'll find RV options of every class and size. You'll also find a wide variety of price points. Outdoorsy does background checks on renters and provides a $1 million dollar insurance policy along with a rental, giving peace of mind to both parties. You can also pay extra for emergency roadside assistance.
RVShare: RVShare is similar to the Outdoorsy model, with thousands of privately owned RVs available for rent throughout the US. They also offer insurance and 24-hour roadside assistance. The website is very user friendly and offers a ton of resources for first-time renters.
RV Rental Outfitters
There are also a variety of private companies that provide rental services near major American destinations like Glacier National Park, Yellowstone, and Yosemite. Many of these companies have been operating for years, and provide everything you need to have an adventurous camping experience in bucket-list locations. Some will even book campgrounds and excursions for you.
We recently used one of these companies at Disney. The company is named Meacham's and delivered the camper, set up the campsite, and included a free golf cart since we paid in full when booking. We had an amazing experience renting from Meacham's and asked if they would give our listeners and readers a discount. The owners offered $50 off if you use the code RVFTA19. This shows the personal level of service that is often available when you use these local outfitters.
RV Dealerships
Many RV dealerships maintain a fleet of RV rentals. Sometimes they provide optional kitchen and linen kits for an extra fee, but we have found dealer rentals to be less well stocked in general. This might be a better option for folks looking to rent near their home base, as we find they are often not stocked as well as other rental options. 
Important Reminders about RV Rentals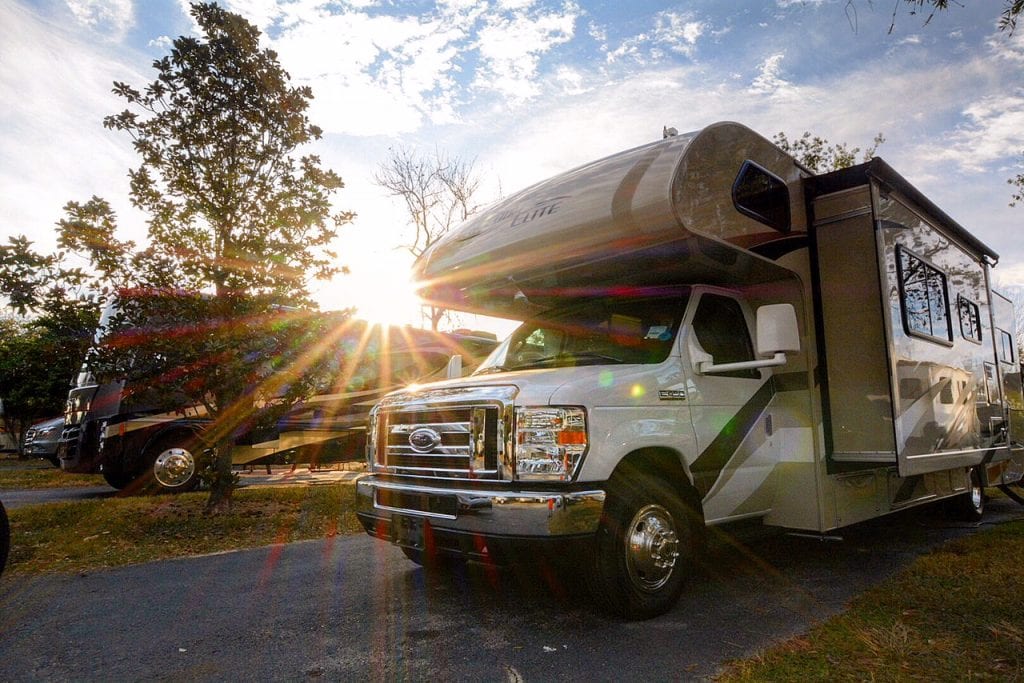 We've learned a lot from our personal experiences renting RVs. Plus we've had some good surprises and some unfortunate surprises along the way. Here are the things we now know are important to remember when planning your own RV rental.
Be prepared for a steep learning curve.
If this is your first rental, you'll have to learn quite a bit to operate the unit. It's a house on wheels, after all. RVs have heating systems, sewer systems, and water heaters. Some have generators and convertors. It gets so much easier, but the first rental experience can be overwhelming.
It's not usually cheaper than staying in a hotel or Airbnb.
Oftentimes the cost of a campsite plus the rental will equal the cost of a budget hotel. Renting an RV should be more about the experience than a cost-saving measure.
There's a wide range of price points and quality.
You'll find old pop up campers for $50 per night and brand new motorhomes for $350 per night. Pick one that matches the experience you wish to have.
Pay attention to what is included in a rental.
Some will include linens and bedding, but some won't. You probably don't want to provide your own cups, utensils, and coffee maker. I've learned this the hard way, and now specifically look for rentals that include everything. The South Dakota rental even had paper towels and all purpose cleaning spray. It was fabulous.
Read the reviews carefully.
Some rental companies provide concierge service, walking you through every step of the process and even providing vacation planning support. Some owners seem to leave renters to fend for themselves.
Look for detailed information about insurance and roadside assistance.
The best rental companies have all the legal work done for you. Beware of privately renting off of Craigslist and not being covered in case of an accident.
Some rentals are pet friendly and some are not.
If you want to travel with your furry family members, make sure to track down a pet-friendly rental. This is one of the best perks of RV travel, but don't assume all rentals will welcome Fido. Our South Dakota rental wasn't listed as pet friendly, but we contacted the owner and vouched for our sweet Maggie. The owner was happy to let us bring her along.
There are a lot of reasons to rent an RV and there are a ton of rental options out there. We hope this episode helps you navigate all of those choices a little better and makes your RV rental experience a bit more of smooth ride.
And whether you are in your own rig, a rental RV, a cabin, a yurt, or a glamping tent…
We'll see you at the campground!
Stephanie + Jeremy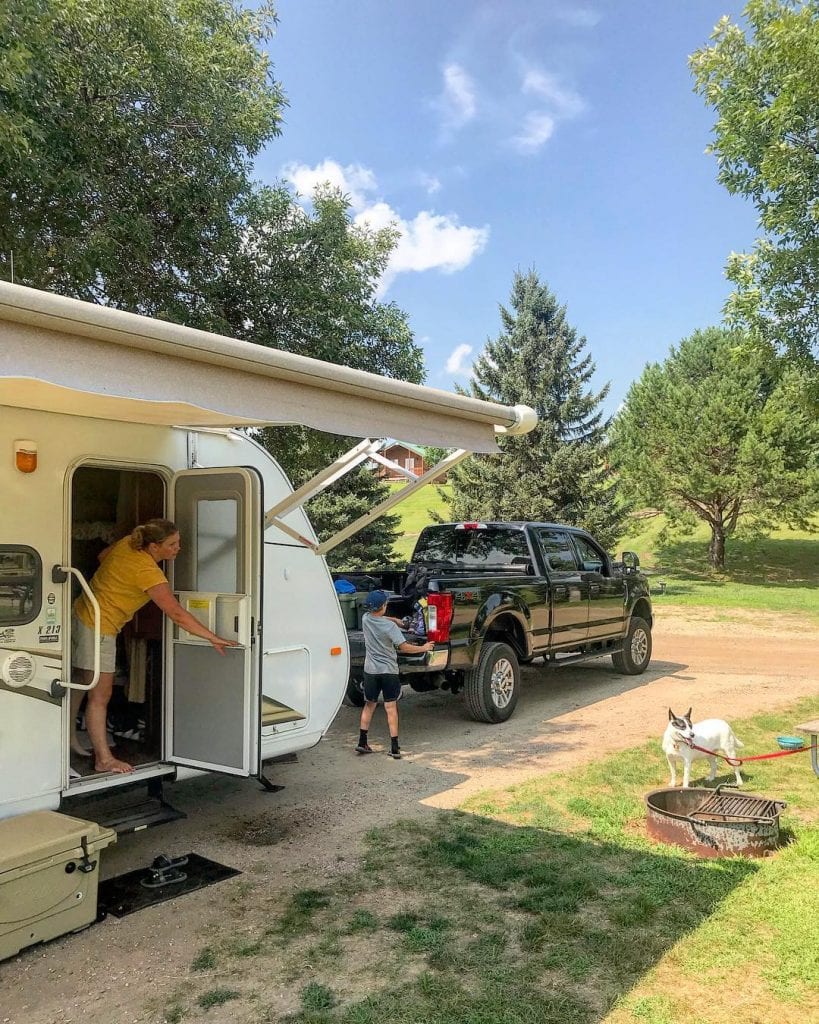 Podcast: Play in new window | Download