Disney's Fort Wilderness Campground Resort holds a magical spot in many RVers' minds as THE ultimate campground destination. Its reputation transcends almost any other campground in America.  But, what if you want to go to Walt Disney World Resort without a camper in tow? Should you rent an RV and stay at the Fort, or should you stay in a resort hotel?
Since we love everything about the "wilderness" theme, we decided to have a little smackdown between the campground and its sister resort hotel, the Wilderness Lodge. Is one cheaper? More convenient? More magical than the other? Let's take a look.
Option #1: Renting an RV and Staying at Fort Wilderness Campground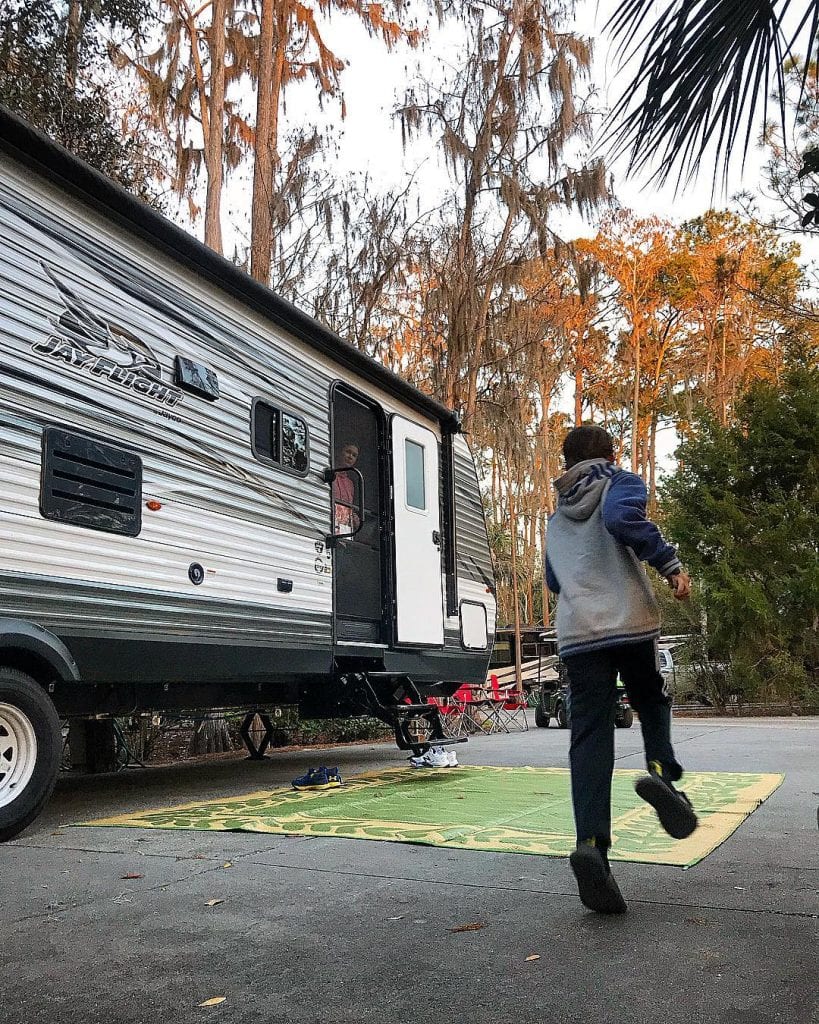 For a couple of years, our family was been lucky enough to leave New Jersey's cold, grey winter behind and head off to the Florida sunshine for appearances at Tampa's RV SuperShow. We opted to add in a few days at Disney, and thus, a tradition was born. This year, even through we weren't planning to attend the SuperShow, we just couldn't get Disney off our minds.
For our first Disney stay back in 2017, we ran the numbers and realized we could rent a Class C motorhome from Lazydays and book a Premium Site at Fort Wilderness for around the same cost as renting a hotel room at a Disney Resort. Since we wanted to experience the famous Fort Wilderness magic for ourselves, this seemed like the best choices for these reasons:
We knew an RV would give our family of 5 more space than a hotel room.
The campground offers more even more room by extending the living space far outside of the RV's walls.
Jeremy had fond memories of camping at Fort Wilderness as a kid, and he wanted to take our boys.
As a family, we enjoy the campground experience more than the hotel experience.
We really wanted to rent a Class C to see how we liked it. (Plus, we were moving from Tampa to Orlando, so it was nice to have a home on wheels that we could use at both locations.)
Ultimately, we paid $225 per night for the Class C rental and about $150 a night for Premium Site at the Fort for a total of $375-400 per night. You can read all about that rental experience here.
This worked really well for us and we rented from Lazydays again in 2018. However, this year we knew we weren't doing the Tampa leg of the trip. We realized we could go straight to Disney from the airport and wouldn't even need a car. Instead of hauling a rental into Fort Wilderness ourselves, we loved the idea of just showing up at the campground to find a rental already onsite for us.
Since we had already heard amazing things about Meacham's RV Rental, it was an easy decision to rent from them. They have a wide variety of trailers to select from, and not only do they haul them to Fort Wilderness, they also do all of the campsite setup (including the awning, hoses, TV, and even your camp chairs and outdoor rug).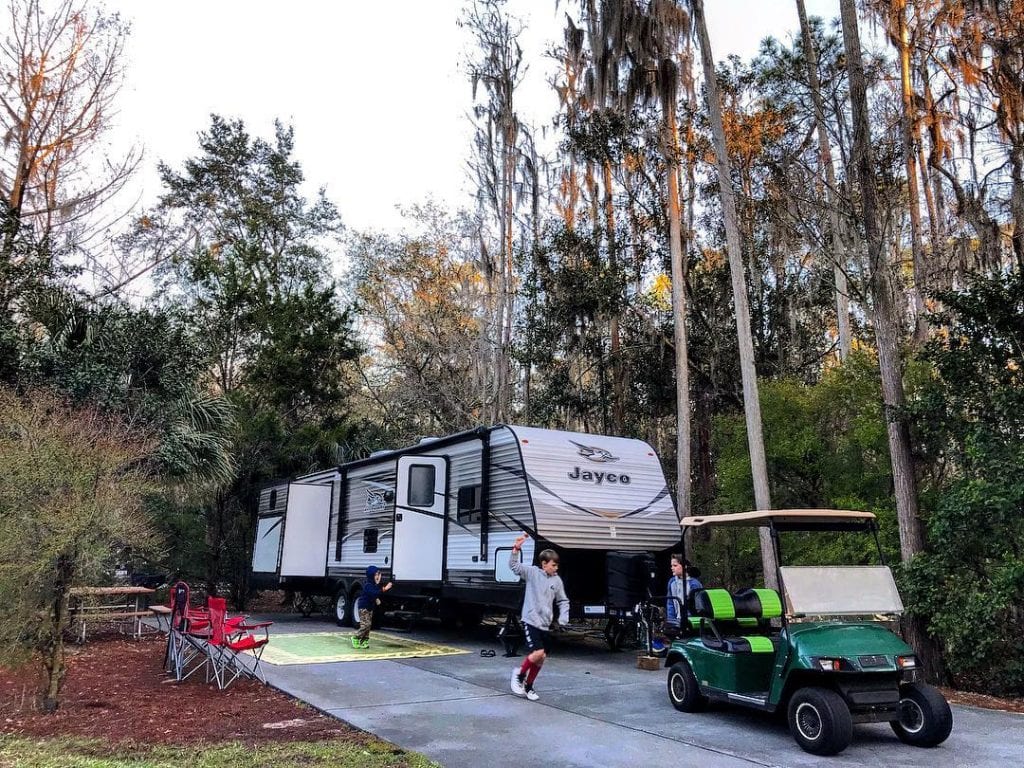 We opted to rent their biggest travel trailer, the Jayco 32TSBH, a 37-38 ft. triple slide bunkhouse. We rented it for six nights and paid approximately $215 per night. It's important to note that Meacham's charges less per night as you add more nights. So, a three-night rental of the same RV would have been more like $355 per night. Since we paid in advance, we even received a free golf cart rental delivered with the RV. In total, we paid $215 a night for the RV, plus $160 a night for a Premium Site for a total of $375.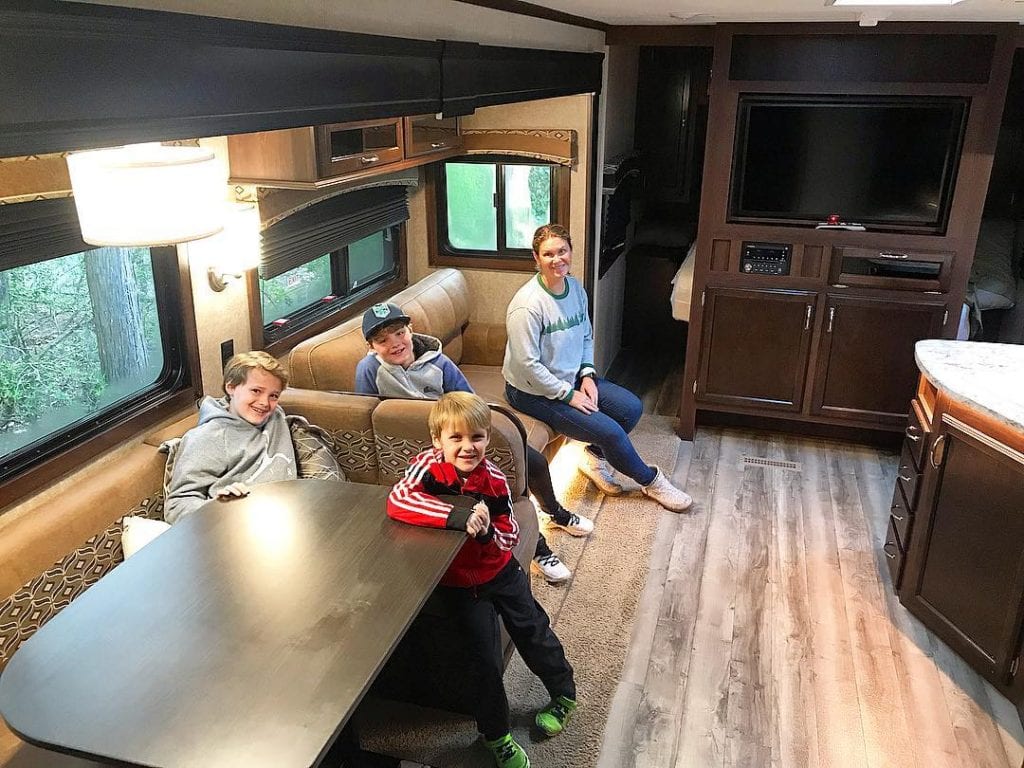 So, would we do it again? Absolutely. Our site was gorgeous. The price was a bit lower than other Disney onsite resorts, especially for a room with space for five. Plus, Meacham's was just as awesome as we had heard. We loved that we could pick out the exact trailer we wanted to rent. They bring a lot of experience to the plate, and they are even a Disney-preferred rental company. Also, our unit was exceptionally clean, and it was well staged and stocked with linens, towels, dish soap–all the little things you need. They even had Mickey cartoons playing on the television.
Most importantly, Meacham's is offering a special RVFTA discount! Use coupon code RVFTA19 for $50 off your rental!!!
What will the future bring? We just don't know yet. While Jeremy could go to Disney every winter forever until the boys leave home, Stephanie is dreaming of other locales. But, maybe, just maybe, she was won over by another vision for the Disney trip. All it took was a stop at the grand Wilderness Lodge (more on that later!).
Pros of Staying at Fort Wilderness Campground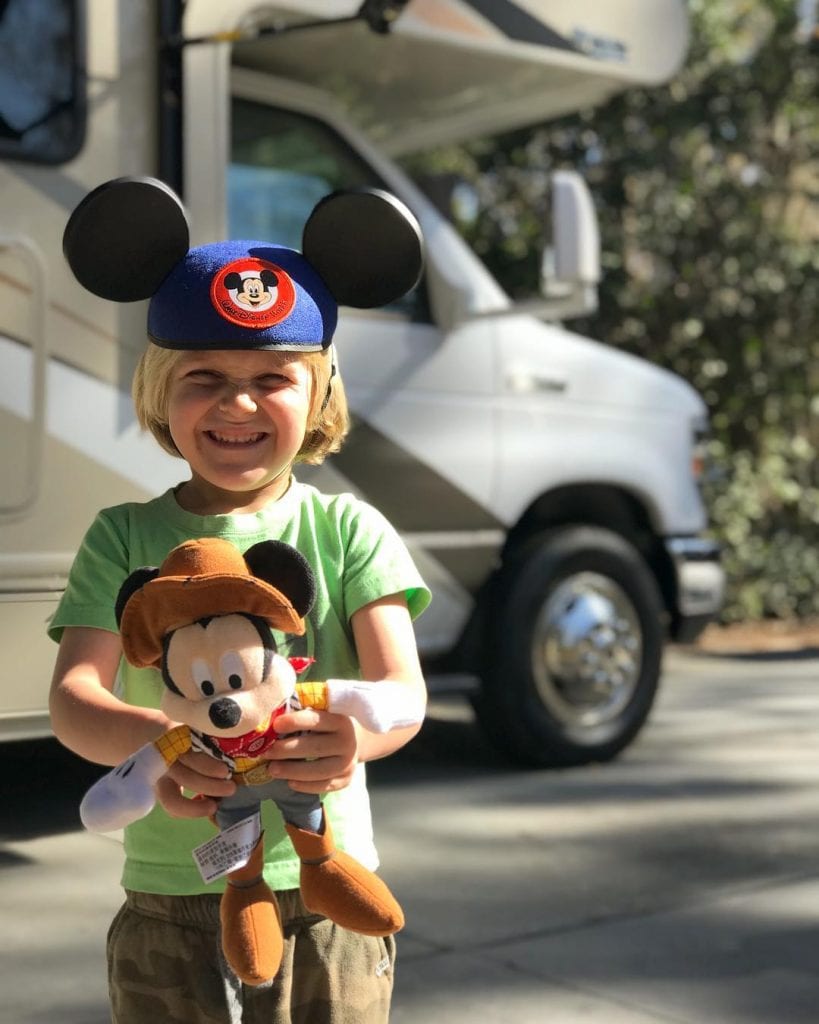 Why do people LOVE the Fort so very much? Here's our list of 11 reasons we do:
It has a beautiful natural campground setting, which is perfect for relaxation after busy day in the parks.

Most sites–especially the Premium Sites–are large and private.

Driving around golf cart and checking out sites and RVs is an awesome part of the fun.

We love taking the boat to Magic Kingdom.

Our boys love the massive pool, the hot tub, the waterslides, and the playground.

The Chip and Dale Campfire Sing Along and movie nights add even more onsite fun.

The fabulous Hoop-Dee-Doo Revue is right at the campground.

The Trails End Restaurant is a great place to eat and is convenient.

Trading Post stores are awesome.

There's a gorgeous environment for walking. It's quiet and peaceful, especially when compared to much of Disney

Fort Wilderness really offers a top-notch resort experience in so many ways–the Magical Express, bell service, food service, van to site, etc.
Cons of Staying at Fort Wilderness Campground
For our family, not hauling our own trailer to Disney does make staying at the Fort a little more difficult. In addition to that drawback, here are a few more:
At the end of the day, we are spending a lot of money to camp. $300-400 a night really does equal resort pricing to be a campground. We started to think a lot more about this this year.

No matter how big the rental RV is, we still find ourselves with a very small bedroom for mom and dad and very small bathrooms. There was no private place for mom to get showered and dressed.

Fort Wilderness is more removed from the parks and transportation than the resorts on boat and monorail line. 

The pool, hot tub, and amenities are great for a campground, but they don't quite rival the resort pools, which have much more of a wow factor.
Option #2: Staying in Wilderness Lodge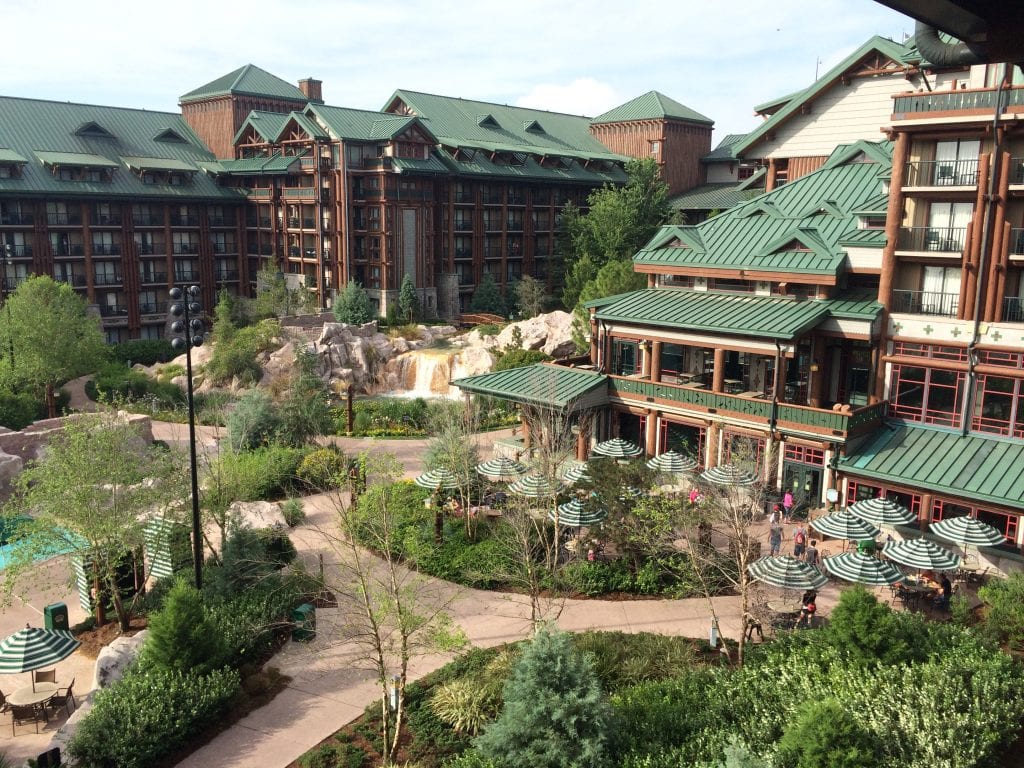 We went to Wilderness Lodge for dinner and fell in love with this place. Now, we are considering mixing things up next winter and taking the plunge with a stay at the Lodge. The Wilderness Lodge is modeled after the iconic national park lodges found in places like Yellowstone and Yosemite. It's truly beautiful and captures the essence of what we love about our nation's national park history.
Pros of Staying at Wilderness Lodge
Everything is a tradeoff, and after three stays at Fort Wilderness, here are the things that are tempting us to try out a different type of Disney resort experience if we return again next year.
It really does seem like like a grand Western lodge, with a grand lobby and tons of cozy gathering places. We could easily spend a night gathered around a fireplace looking around for hidden Mickeys.

There are more dining options than at Fort Wilderness. While the options at Fort Wilderness are great, there aren't a ton of choices. At Wilderness Lodge, you can take your pick from 

Whispering Canyon Cafe, the Geyser Point Bar and Grill (which has sweeping water views), Artist Point (which has a Snow White character dinner), Roaring Fork, and Territory Lounge.

The pool is pretty epic, designed as a waterfall that cascades into the pool. There's even a shooting geyser a short walk away.

The Sturdy Branches Health Club offers a deluxe spa experience, with a sauna, massages, facials, and more. It was Stephanie's birthday while we were there, and we know she'd love to spend a future birthday relaxing here.

You still get boat service to the Magic Kingdom, like at the Fort.

There are kid-friendly rooms with bunk beds that range from 330-500, which is comparable to renting an RV and booking a campsite at the Fort.

There's bus service to parks right outside of the lobby door.

It's easily walkable to Fort Wilderness for all of the entertainment offerings there.
Cons of Staying at Wilderness Lodge
Though we fell hard for Wilderness Lodge, we know it might not be the best option for our family. Here are a few of the reasons why:
The kid-friendly rooms in our price range only sleep four!! This is a huge BUMMER. Some people just say that they have four and sneak in the extra kids, but we're not comfortable with that.

Rooms that can sleep our family of five are out of our desired price range, renting for almost $700 a night!

It's definitely more crowded and bustling than the Fort. Would we miss having a quiet campground escape?
The Verdict?
Who knows where next year will take us?! We love the idea of stepping out of our usual zone and staying at Wilderness Lodge. Or maybe it would be more reasonable to rent a cabin in Fort Wilderness Campground or stay at the Polynesian. As with anything Disney, the possibilities are endless. That's just part of the magic!
No matter what we end up doing, we'll keep you posted. And until then…
We'll see you at the campground,
Stephanie + Jeremy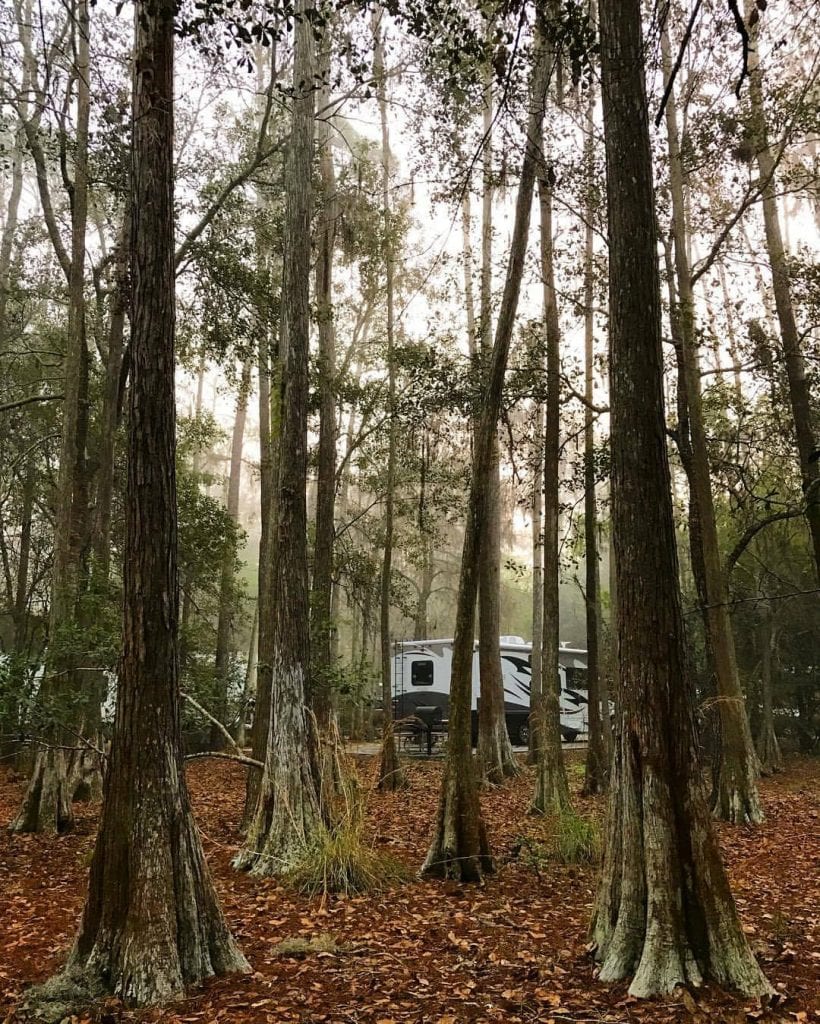 Podcast: Play in new window | Download