Last year we installed an entire solar power system on our Octane Toy Hauler. We added panels, batteries, an inverter, and a solar controller. Our partners at Go Power walked us through the whole process and taught us a ton about solar power systems along the way.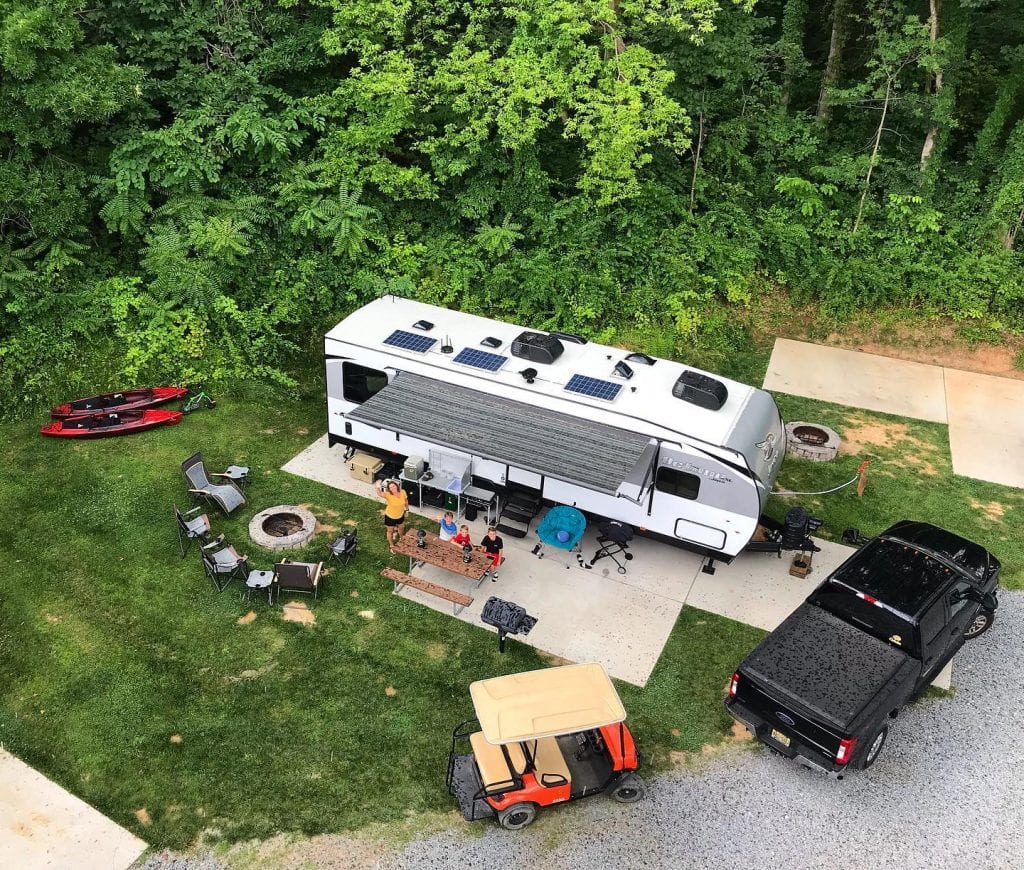 But recently we got to thinking about all those folks out there that don't want or need so much solar power on their RV. Maybe they are interested in a smaller, lighter, more affordable option.
So we invited Mark Spilsbury from Go Power back on the show to walk us through the basics of portable solar power kits. And as always, he gave us the info we needed without making us feel like big solar dummies. For that we are truly grateful.
You can listen to Mark's entire rundown of portable solar power kits by clicking the play button at the top of this article. Or you can find The RV Atlas in your favorite podcast player. You might also want to check out our last interview with Mark, Solar Power 101, where we talked about all the basic solar lingo in beginner's terms. 
You'll also want to download Go Power's RV Solar Reference Guide, which is a great *free* resource for anyone thinking about adding solar to their RV. You can find that ebook at http://gpelectric.com/ebook.
Permanent Panels or Portable Solar Power Kits?
You need to ask yourself some questions when deciding between installing permanent panels or investing in a portable solar power kit.
How often do I need solar power when RVing?
Some folks dry camp or camp off grid all the time. If you are going to be relying on solar power for most of your camping, you'll probably want to invest in a more robust system. However, if you combine a mixture of dry camping and RVing with hookups, a portable solar power kit might be a better option.
How much power do I want when dry camping?
Our permanent panels and solar power system allows us to use everything in our RV except the air conditioner. With ample sunlight, we can use all the 12 volt and 120 volt appliances, including our refrigerator and convection oven.
Some RVers just want to keep their house battery charged and use the 12-volt appliances in the camper. For these folks, portable solar power kits are a great way to go.
Go Power has two great tools for determining how much solar power you need to RV the way you want to. First use their Solar Sizing Worksheet to identify your AC and DC appliances, and how much your personal daily power draw will be. Then use their online calculator to figure out your weekly amp hours. Lastly, they help you connect that amp draw to an appropriate solar power set up.
How much do I want to spend?
Here's the bottom line. As a general rule, portable solar power kits are going to be less expensive than permanent solar power installs. Our system included panels, an inverter, batteries, and a solar controller. But we also had to factor in the cost of labor for the install.
Many RVs these days are completely wired for solar. This means you can buy a portable solar power kit and connect it to your camper in minutes. This makes it a more affordable option all around.
Where do I camp?
If you park your RV in wide open spaces, your roof-mounted solar panels will have no trouble collecting lots of power from the sun. However, if you camp in more wooded or northern areas, portable solar panels can be easily moved in order to maximize time in the sun.
What Equipment is included in Portable Solar Power Kits?
Of course, you can buy everything for a solar setup a la carte. But all inclusive kits are a great option for keeping it simple. It's important to note that most portable solar power kits do not come with batteries. Many folks will be expecting to use the 'house' battery already on their RV. Others will want to increase their energy storage by purchasing additional batteries.
Solar Panels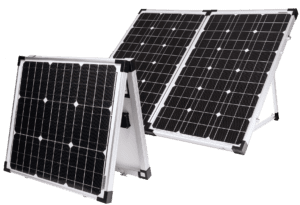 As expected, portable solar power kits come with solar panels, which collect energy from the sun. Any energy collected needs to be stored in connected batteries. Remember, solar panels only collect the energy…they don't store it! Go Power offers 90-watt, 130-watt, or 200-watt panel kits.
Solar Controller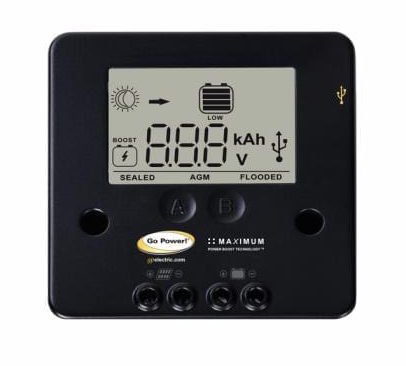 A solar controller regulates the charging of the battery by the panels. It prevents your batteries from being overcharges. The display will also allow you to easily see how much power you have available.
Connectivity Cables
A portable solar power kit will come with a range of connectivity options, including battery clamps and quick connect cables. Here's an example of the accessories that the Go Power 90-watt solar power kit includes…

Carrying Case
It's important to store and protect your panels while not in use. Make sure your portable solar power kit comes with a high-quality storage case.
If you are in the beginning stages of researching solar power for your RV, we highly recommend this RV Solar Reference Guide. Other great resources from Go Power include:
A big thanks to Go Power for helping us bring educational and accessible solar content to our listeners and readers!
See you at the campground,
Stephanie + Jeremy
Podcast: Play in new window | Download