The Cavendish area of Prince Edward Island is filled with all the touristy trappings of a summer beach resort: mini golf, roadside amusement parks, and crowded beaches. There's also a whole lot of Anne of Green Gables-themed sites, as Cavendish was the inspiration for Avonlea, the fictional village that was home to the wildly popular heroine.
But if you venture off the main drag, you'll also find tranquil walks through forest and marsh, charming little fishing villages, and plenty of spots to enjoy the ocean without the mobs. Cavendish is also the home of Prince Edward Island National Park and an excellent National Park campground that deserves a spot on everyone's must visit list.
Listen to The RV Atlas podcast episode with Gretchen Holcombe from BoxyColonialontheRoad.com to hear more about each of these Prince Edward Island attractions. All the beautiful images in this post are by Gretchen and you can read more of her Nova Scotia reviews here. Just hit the play button at the top of this article, or listen in your favorite podcast app!
Where to Stay on Prince Edward Island: Cavendish Campground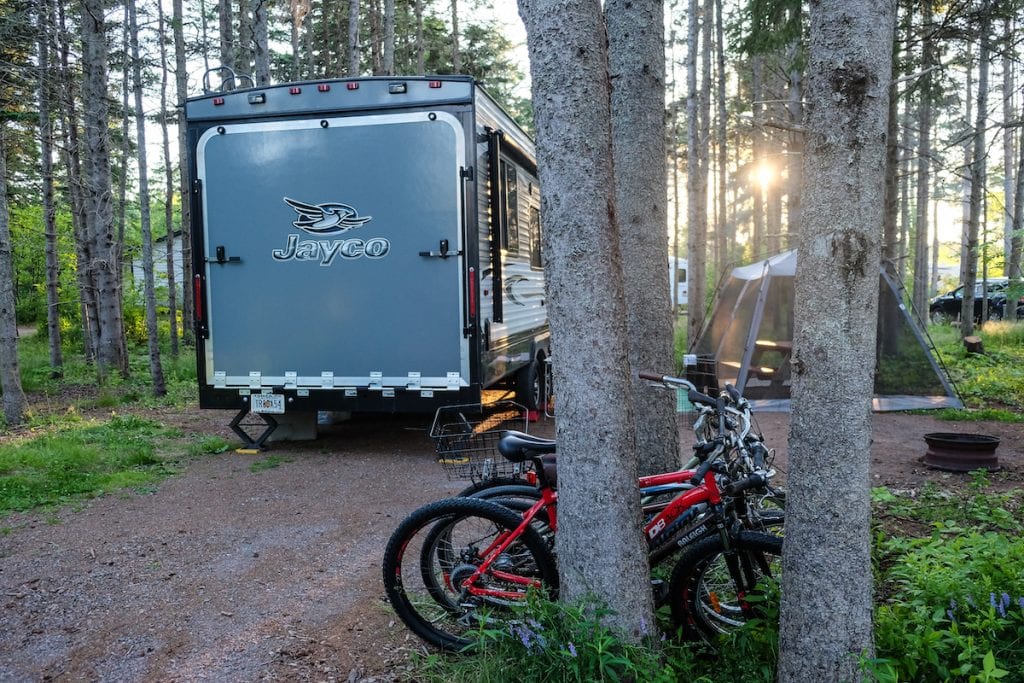 Cavendish, with over 200 sites, is the larger of the two campgrounds inside Prince Edward Island National Park. Visitors traveling with a tent or a small RV can get one of the more open sites near the beach, while those with larger rigs can stay in a private, wooded full hook up pull-through site a little farther inland (but still an easy walk to the ocean). Sites range from $32-35CDN/night, and the campground does fill up during the summer months, so make sure to book well in advance.
The campground has nicely updated bathhouses and laundry rooms, a playground, and beach access. During July and August, there are campfire programs by the beach a couple of nights a week.
Cavendish Campground has a prime location right in the middle of the action. It's a 1.1 km walk or bike ride to popular Cavendish Beach and a very quick drive to all of the main Cavendish tourist attractions, dining, and shopping. It's also a very easy, 40 minute drive to PEI's capital of Charlottetown.
What to Do Near Cavendish on Prince Edward Island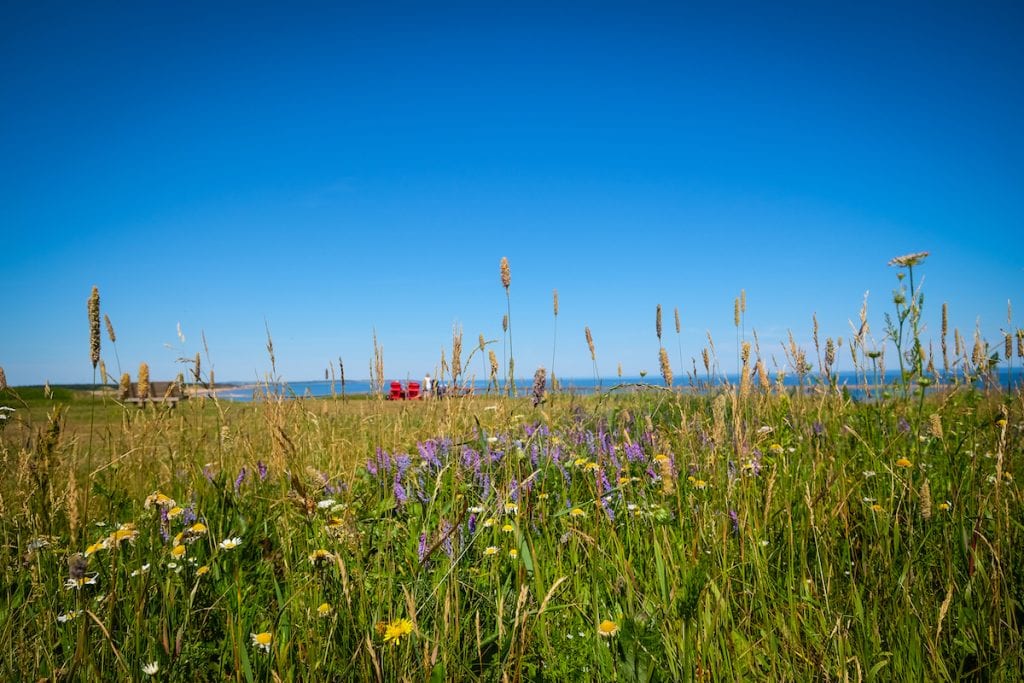 Biking
You can access the Gulf Shore Way paved bike path right from the campground (just past Cavendish Beach) and take the 10km ride along the ocean out to North Rustico Beach and the little fishing village of North Rustico Harbour. Grab some lunch at one of the restaurants there, enjoy some beach time, and then head back. There are plenty of great spots along the way to stop and explore the coastline.
Hiking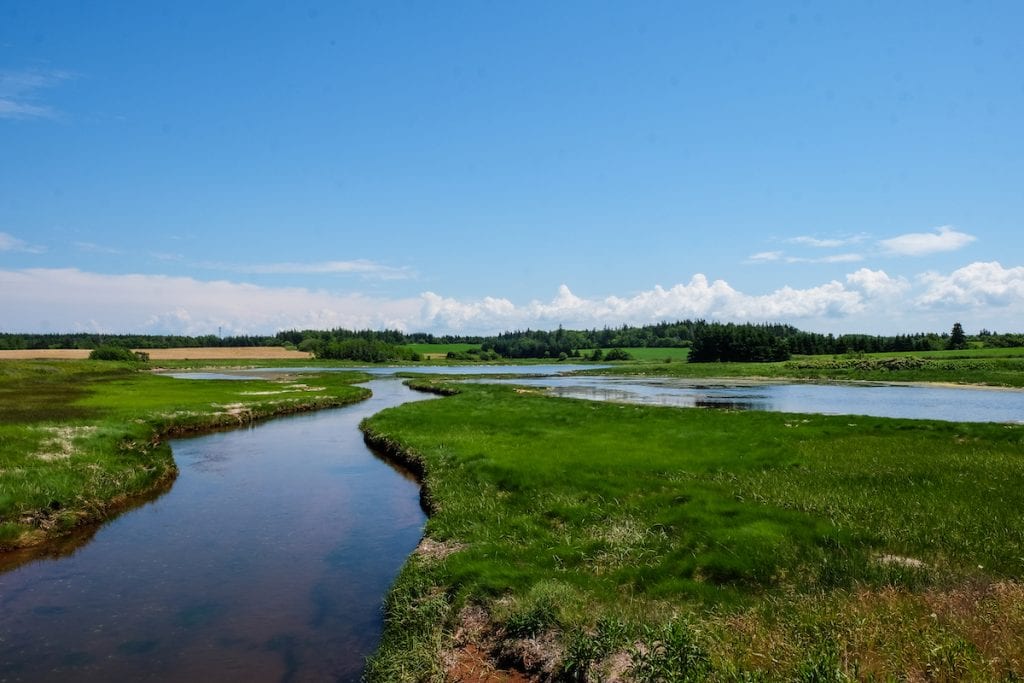 There are a number of trails in the National Park. The Homestead Trail, adjacent to Cavendish Campground, is open to hikers and bikes, and makes an easy 6.5 km loop along the shore and through the marshes, with some great wildflower viewing along the way.
Beaches
There are several area beaches to choose from. Cavendish Beach is the most well known, and offers tons of room for playing in the sand, lovely dunes, bathhouses, and an ice cream shop when you're ready for a break from swimming.
Green Gables Heritage Place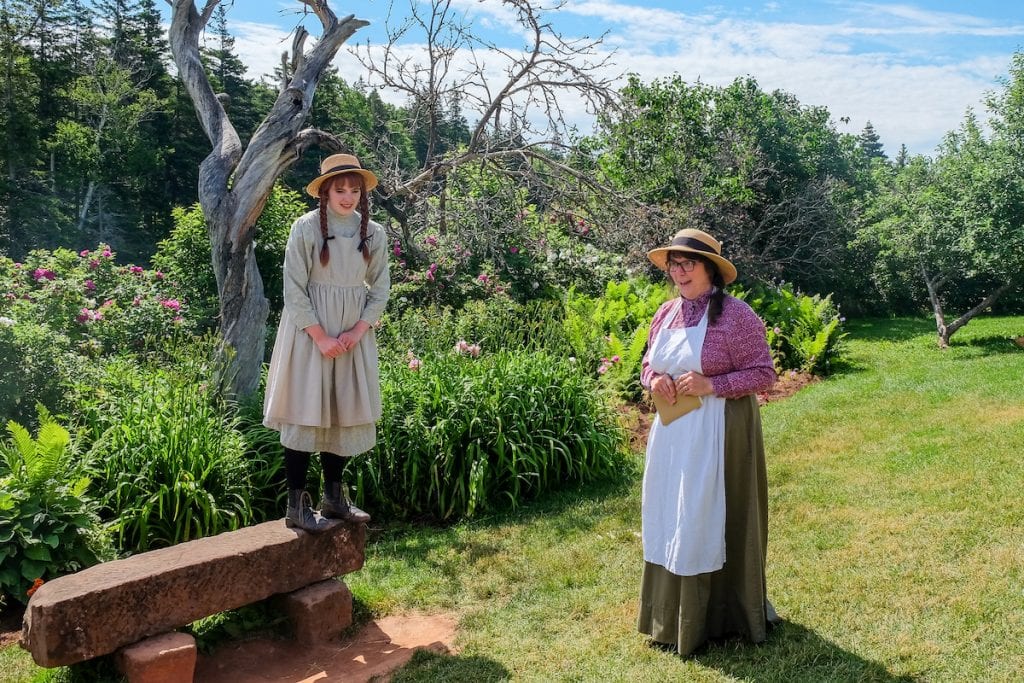 Anne wasn't a real person, but Green Gables itself was based on a real house that the author, Lucy Maud Montgomery, visited often when she was growing up in Cavendish. Today the house is restored to look just as Montgomery described it in the books, and it's open for tours. There are two short nature trails at the site as well and extensive programming during July and August. Check out Field Day with Miss Stacy or a Sunday Picnic complete with ice cream making. And, of course, Anne herself is on hand for pictures or to join in with visiting kids in some old-fashioned games.
Sandspit Cavendish Beach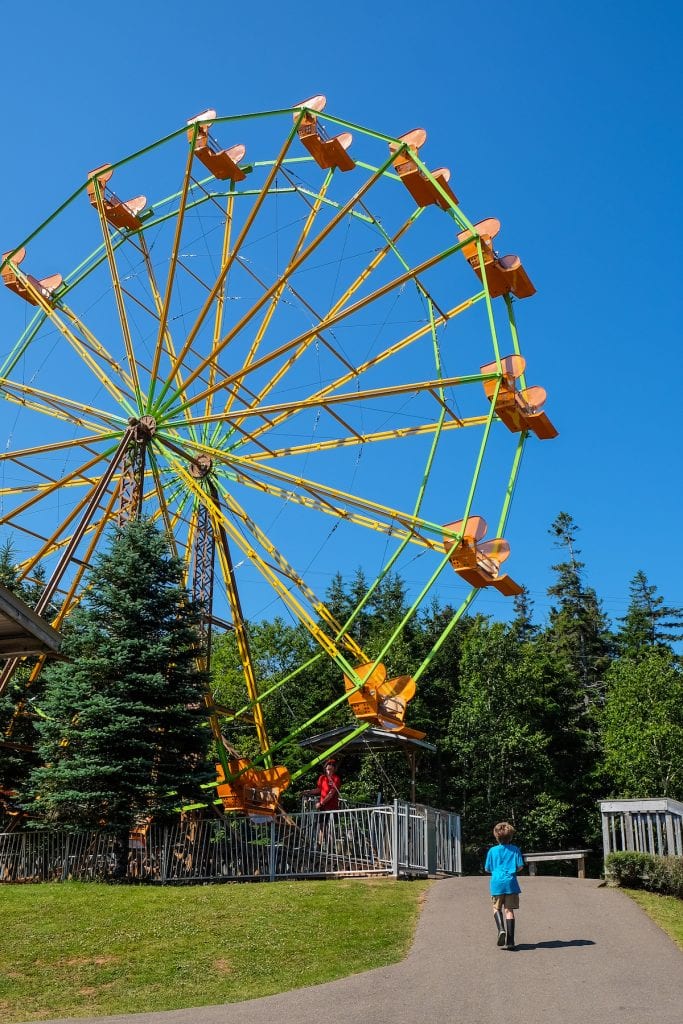 Kids will spot the Sandspit amusement park's roller coaster from the road and will likely pester their parents relentlessly until granted a trip there. You can buy a coupon book to do just a few rides, a daily or weekly unlimited pass, or a pass that's also good for admission to other attractions in the area, like Ripley's Wax World of the Stars and Mariner's Cove Miniature Golf. Rides here are your basic roadside amusement park fare like the scrambler and a small ferris wheel. Younger kids will find plenty to excite them, but older kids might find the thrills a little tame.
Where to Eat Near Cavendish, Prince Edward Island
The Lost Anchor is a great seafood option, right on the main road and very close to Cavendish Campground.
There are several restaurants in Avonlea Village (themed to look like the fictional village where Anne lived), including a burger place, MooMoo Grilled Cheesery, or excellent Neapolitan style pizza at Piatto Pizzeria.
In North Rustico, try the well-reviewed Blue Mussel Cafe, or, for a more casual meal, check out On the Dock Eatery, which serves up a great fish and chips and also has a small fisheries museum in the same building.
For more information on planning an RV adventure in the Nova Scotia, check out our Greetings from Nova Scotia podcast episode. Plus, you can read our review on Graves Island Provincial Park, one of the prettiest campgrounds we've ever visited. 
We'll see you at the campground!
Stephanie + Jeremy
Podcast: Play in new window | Download