We recently returned from our first international RV trip to Nova Scotia, Canada, and are excited to share the details of our amazing trip.
We learned a lot about our neighboring country in just a short couple of weeks, but before we dive in, there's something very important to understand.
Nova Scotia is big.
Seriously.
Everyone always talks about the region of Nova Scotia and Prince Edward Island like it is a single destination. But we learned during our visit that it would be impossible to see even just the highlights without having the luxury of months to spend there.
At first this stressed us out. We were trying to figure out how to 'see it all'. Then we remembered that isn't the point of travel for us. We wanted to get a taste of Nova Scotia, experience a new destination, and most likely dream about a return trip.
This episode focuses on our time near Halifax and our time up near Prince Edward Island. We couldn't see it all, but what we did see was lovely and amazing. So we are excited to share it with all of you.
Segment One: Lessons Learned About Nova Scotia, Canada
In this first segment, we have a little fun talking about our first RV trip to Canada. We loved the beautiful scenery and gorgeous weather, but the wonderful people were really the star of the show. Here are the 10 things we learned about Nova Scotia on our RV trip…
Crossing the border into Canada is really very simple if you do a little research and keep it simple. You can find all the regulations here: http://www.cbsa-asfc.gc.ca/travel-voyage/menu-eng.html. We had our passports, Maggie's current vaccination records, and reservation documents. We also made sure that our truck and trailer registration and insurance documents were up to date. Lastly, we didn't travel with firearms, alcohol, meat, dairy, or produce. Canada has plenty of grocery stores so it was no big deal to stock up once there.
Canadian Border Crossing Agents are charming and handsome. Well, at least all the ones we met were. We had read about not doing any small talk, etc. etc. Meanwhile, our agent chatted with us about his favorite type of pen.
The Trans Canada Highway was an incredible easy drive from the border of Maine in New Brunswick into Nova Scotia. In fact, we opted to return on that road instead of using Route 1 to drop down into Maine since it was so easy to navigate with an RV.
Tim Horton's lives up to the hype. We love trying out ALL the regional things even if that means a trip to a fast food joint. Tim Horton's was the perfect place to stop along the highway for a cup of coffee and lunch. The boys started to beg for Timmy Horton stops by the end of our trip!
Canadians (at least the ones in Nova Scotia) are the friendliest people we have ever met in our travels. No one is trying to be super hip or cool. There's no over the top hospitality. It's just straightforward friendliness that we experienced over and over on our trip.
When a Canadian tells you that a place will be crowded, it just means there might be another person or two there. And maybe only 20 empty parking spots.
Canadians are quiet, and if you are American you will probably be the loudest person no matter where you go.
There's water everywhere, but you might not go in that much. The ocean and bay are COLD, and often choppy from the wind. There wasn't as much kayaking and swimming as we expected.
The Provincial Parks are beautiful, affordable, big-rig friendly gems. Make sure to check out our reviews of Graves Island Provincial Park and Amherst Shores Provincial Park over on Campground of the Week. We'll also review a campground from the Bay of Fundy National Park which was an amazing unplanned stop on our trip.
Being in Nova Scotia for Canada Day was a special treat that we won't soon forget. The patriotism, festivities, and hospitality gave us all the feels.
Segment Two: Halifax and Wolfville in Nova Scotia, Canada
For the first part of our trip, we camped in Graves Island Provincial Park and explored nearby Halifax, Peggy's Cove, and Wolfville. Here are some of the highlights…
The Citadel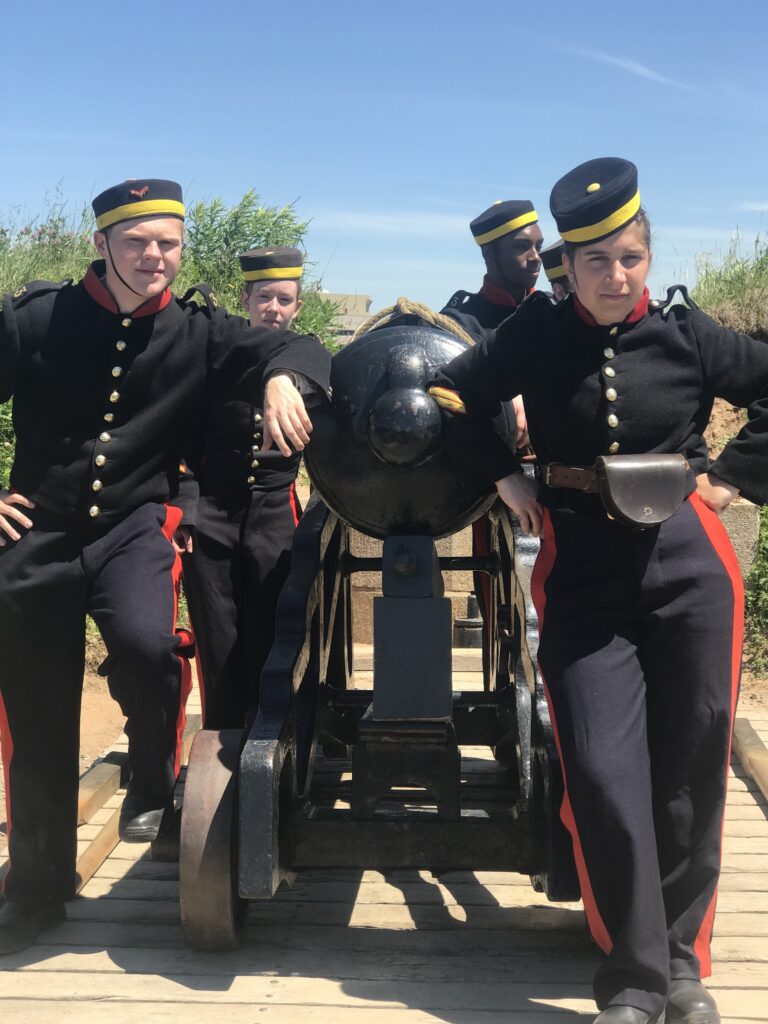 Make this your first stop in Halifax. If you pay to park, you can leave your vehicle there while you explore the rest of downtown. Tours are included with the price of admission and run on the hour…except at noon which we learned when we conveniently showed up at about 11:30 am. Ugh. Make sure you watch them fire the cannon during your visit.
Halifax Harbor
We ate a lovely meal on the outside deck of the Stubborn Goat Beer Garden. The chowder was rich and delicious, and they had a ton of local craft beers on tap. There's also an outdoor food court with lots of different options if you aren't interested in table service.
After lunch we enjoyed live music on the waterfront and then did a little shopping at Maps and More, a travel themed store.
Peggy's Cove Village and Lighthouse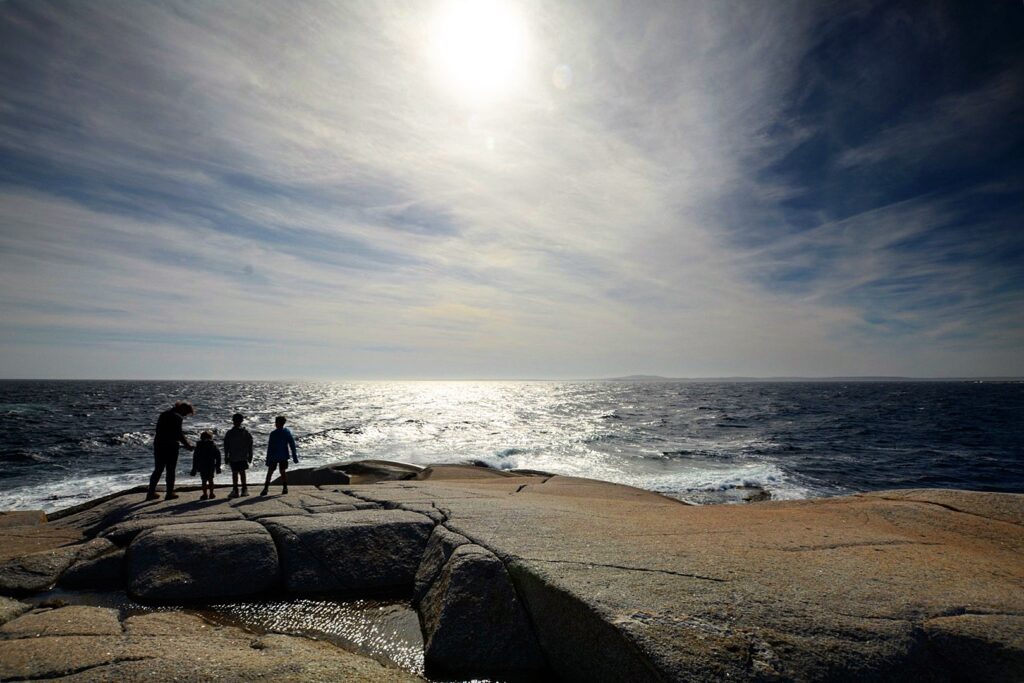 This is where you want to go for those iconic shots of the Nova Scotia coastline. Peggy's Point Lighthouse is one of the most famous lighthouses in Canada. The brightly colored fishing shacks make for great photo ops as well. We had one of the best surprises of our trip when we found U-Cook Lobster, a food truck parked in front of the Breakwater Inn. They served us what ended up being the best lobster rolls we have ever had. And yes, we have eaten lobster rolls at some of the most famous locations up and down the New England Coast.
Wolfville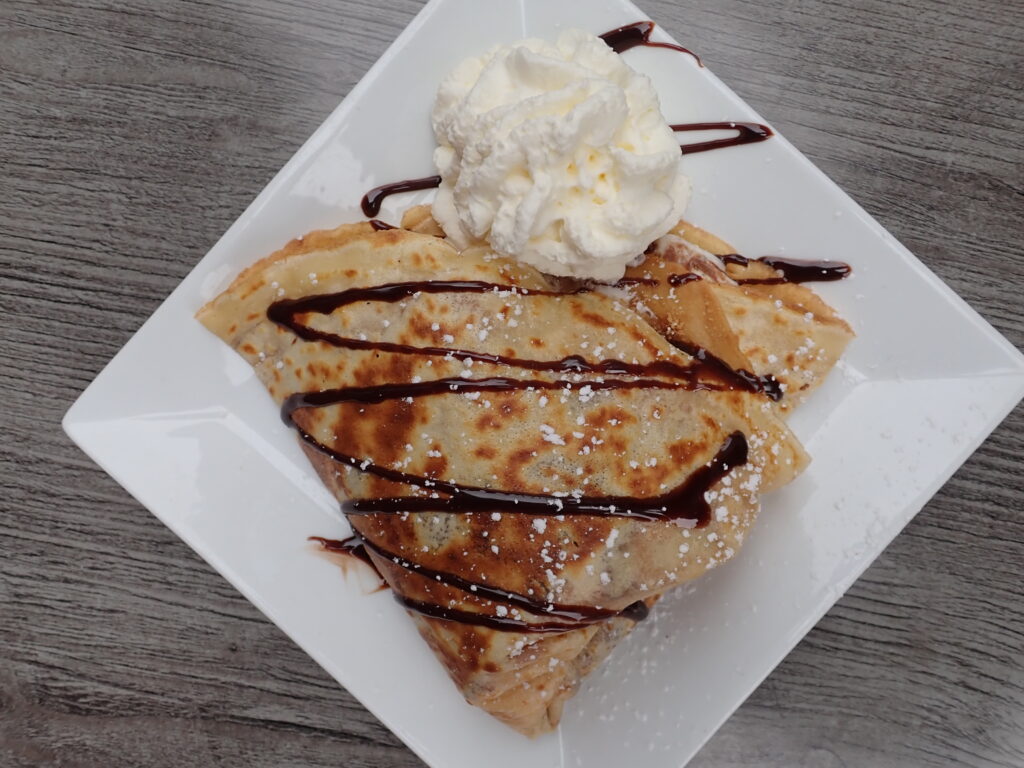 North of Halifax is the college town of Wolfville, where we had the most delicious crepes ever at the Naked Crepe Bistro. We followed that up with some coffee at Just Us Coffee House, and then sampled cider at the Annapolis Cider Company. Yes, a bit glutinous, but also completely delicious. We worked off some of the treats with a long walk along the edge of Cape Blomidon.
Segment Three: Amherst Shores and Prince Edward Island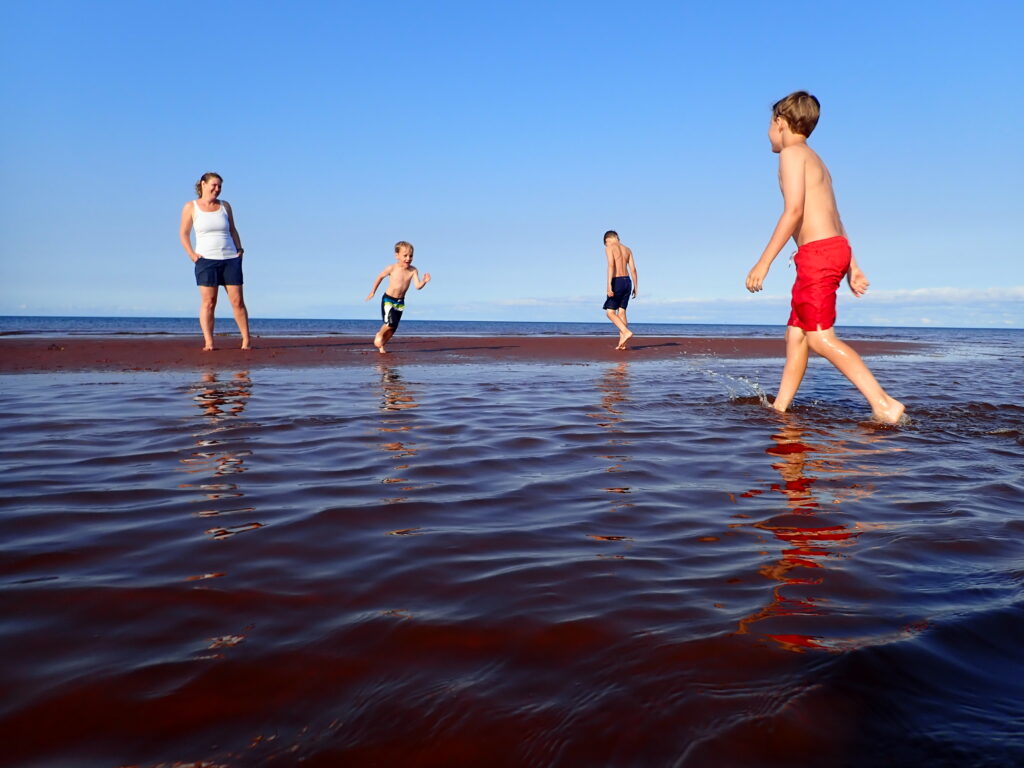 Leaving Graves Island, we headed north to Amherst Shores Provincial Park which we thought would be a good base camp for getting into Prince Edward Island for a day trip.
Joggins Fossil Cliffs: A Unesco World Heritage Site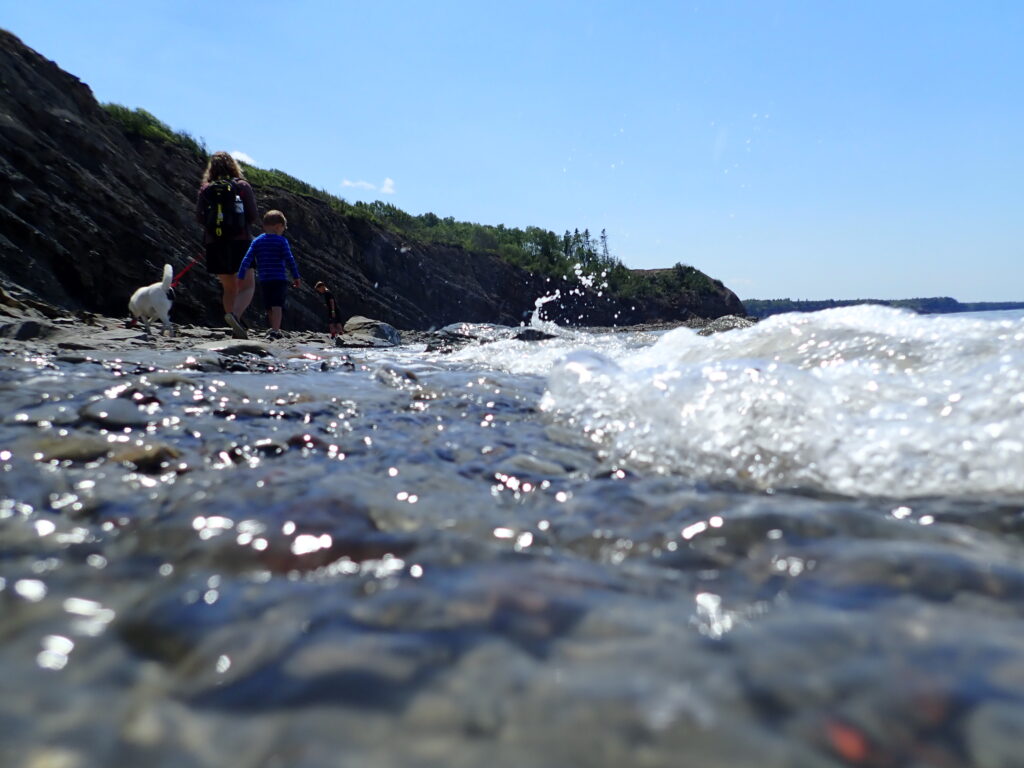 This is a must-visit destination in our opinion if you are in this area of Nova Scotia. The property comprises about nine miles of coastline along the Bay of Fundy. Take a guided tour and learn about the fascinating history of coal and the fossil record in this region.
There is a cafe with soup and sandwiches on site. You'll want to make sure to check the tides ahead of time and visit during low tide when you can take a beautiful walk along the water's edge.
Prince Edward Island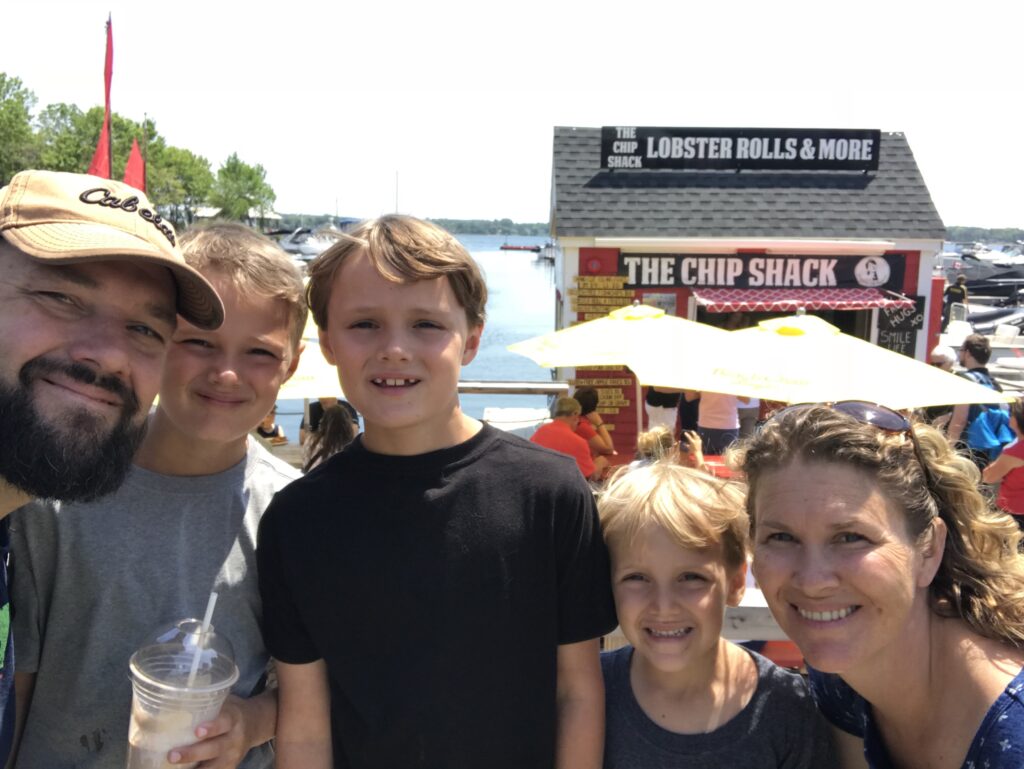 We had one full day to explore this quaint island, and we packed a lot of great stuff in. After crossing the Confederation Bridge, we headed straight to Charlottetown and ate yummy food at The Chip Shack followed by a cup of joe at Receiver Coffee and Ice Cream at COWS Creamery.
Then we drove to Prince Edward Island National Park and spent the afternoon at Brackley Beach. Of course, most folks will do all the Anne of Green Gables attractions while here, but it just isn't a big draw for our family. Instead, we ended the day in the little town of North Rustic, where we ate at the Fisherman's Wharf Lobster Dinners and enjoyed the Canada Day festivities.
A big thank you to the Nova Scotians who welcomed us with open arms and helped us enjoy our first Canadian RV experience so very much.
Until next time!
See you at the campground,
Stephanie + Jeremy
Podcast: Play in new window | Download