Live oak trees dripping with Spanish moss and a unique antebellum history set the stage for your stay at the Mount Pleasant/Charleston KOA.The ambiance of this campground perfectly matches the romance and charm of the nearby city of Charleston. Plus, central South Carolina's beautiful beaches beckon from nearby.
After our stay at the campground James Island County Park during a previous visit to Charleston, we were hard pressed to imagine a better place to park our rig (check out our full review of it here). However, the Mount Pleasant/Charleston KOA not only rose to the challenge, it blew it out of the water. It easily landed on our list of favorite campgrounds of all time. We are so pleased to know there are two fantastic RV parks to choose from in one of our all-time favorite cities.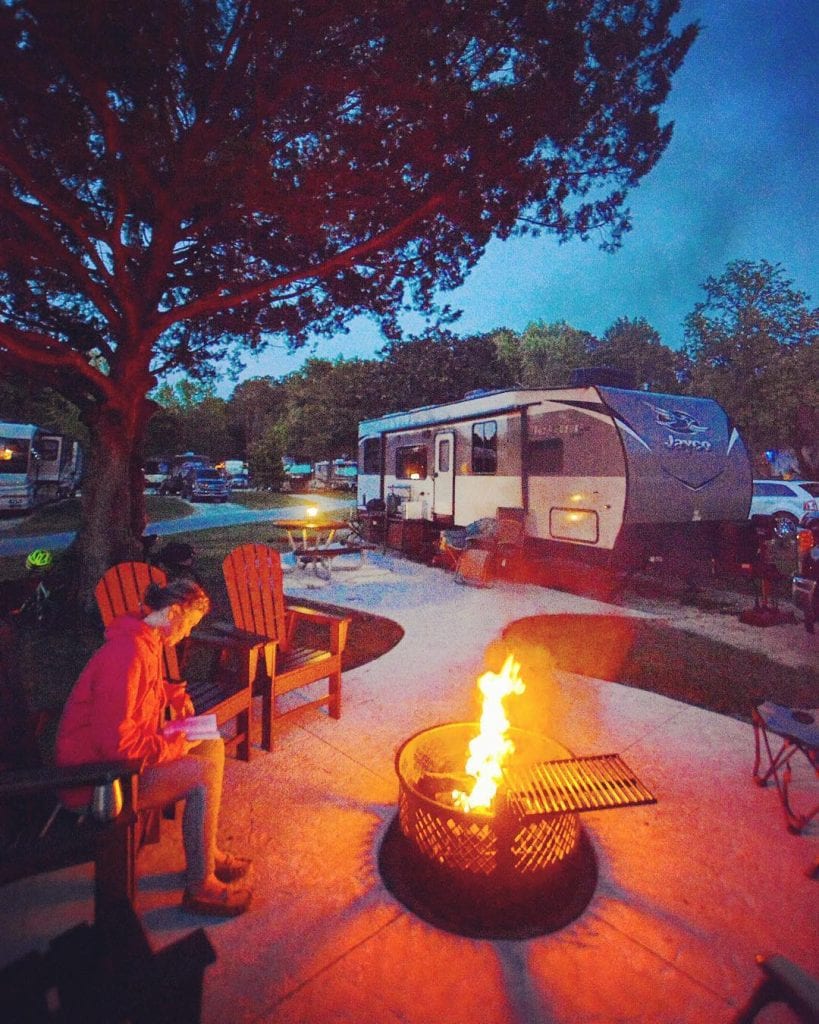 Campground Details: Mount Pleasant/Charleston KOA
The Mount Pleasant/Charleston KOA is just 15-20 minutes northeast of Charleston. The location off Route 17 is close, but not too close, to downtown Charleston, and it's also very convenient to the popular beach communities of Sullivan's Island and Isle of Palms. 
In recent years, KOA has rebranded many of its properties, designating them as Journeys (perfect for quick, overnight stops), Holidays (a great basecamp for exploring a location, while enjoying some upgraded amenities), and Resorts (prime parks packed with enough fun to make the campground an attraction in and of itself). The Mount Pleasant/Charleston KOA is branded as a Holiday, and it's a perfect example of that designation. The campground provides an excellent basecamp for Charleston, while still being a fun place to come back to each evening.
The beauty and history of the South Carolina Lowcountry shine through in the Mount Pleasant/Charleston KOA, starting with the fact that it was built on the grounds of a former plantation. The park has preserved a huge portion of the property, providing wagon rides to the historic plantation house. The small campground footprint is surrounded by a 30-acre fishing lake, a stunning nature preserve, and manicured grounds. While some private RV parks pack in as many sites as possible, this KOA leaves a large portion of the property open for exploration an play.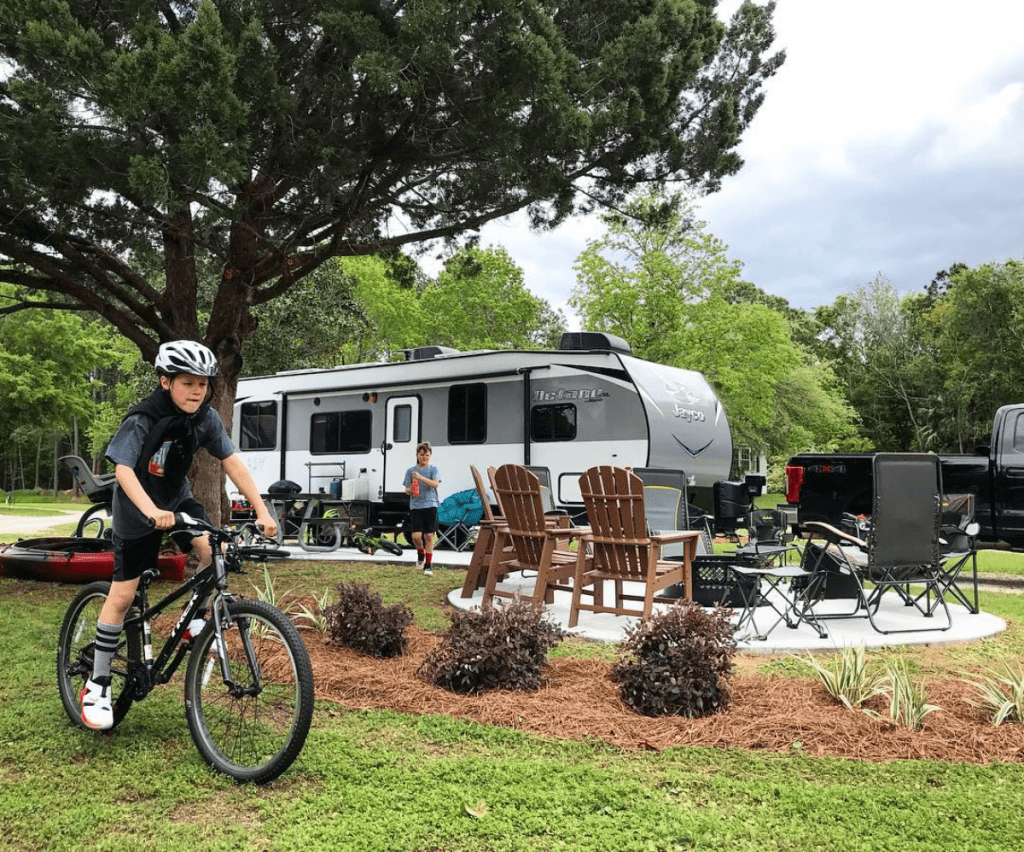 Campsite Details: Mount Pleasant/Charleston KOA
The Mount Pleasant/Charleston KOA is a medium-sized campground, offering fewer than 100 sites. Campsites vary in size and amenities, with the most plush option being KOA's new deluxe patio sites. We opted for one of these, and were not disappointed. Our site (#4, off Swamp Fox Row) was gorgeous and spacious. It came complete with chairs, a fire pit, and a round picnic table divided into two zones–a fire pit area and a picnic area (see photo above).
The other pull-thru and back-in sites also looked very nice and reasonably sized. Thanks to the huge fishing lake, the Mount Pleasant/Charleston KOA has some lovely waterfront sites. There really isn't a bad area of this campground!
As with any RV park located near a prime destination, you can expect to pay prices on the higher end. Deluxe patio sites are upwards of $90 a night, while regular 50-amp, full hookup sites might run closer to $75. Just remember, you are camping in an urban area outside the very expensive city of Charleston.
Campground Amenities: Mount Pleasant/Charleston KOA
While parents might be happy just to have a campground oozing with beauty and charm, we all know the kids look for the amenities and activities. And, yet again, the Mount Pleasant/Charleston KOA exceeds expectations in every way!
This Mount Pleasant/Charleston KOA offers:
a 30-acre fishing lake

a pool

2 nice playgrounds 

a recreation hall

a dock and boat rentals

disc golf

a beautiful KAMP K9, right on the water

gaming areas (basketball, volleyball, ping pong, and more)

hiking trails through the wooded nature preserve

narrated wagon tours of the Oakland Plantation (not to be missed!!)
pancake breakfasts (on Sundays in the summer)
a seasonal rotation of activities
plus, a splash pad is coming!
We were pleased to note that the WiFi signal was strong, and we were able to broadcast a Facebook Live chat for Go RVing. You can get a peak at the campground, and hear more about why we love urban camping in this video…
Plus, the customer service was outstanding. The Mount Pleasant/Charleston KOA had one of the nicest, most helpful staffs ever. We've never seen a larger maintenance and grounds crew at a campground. They even blew off the concrete pad every day.
Insider Details: Mount Pleasant/Charleston KOA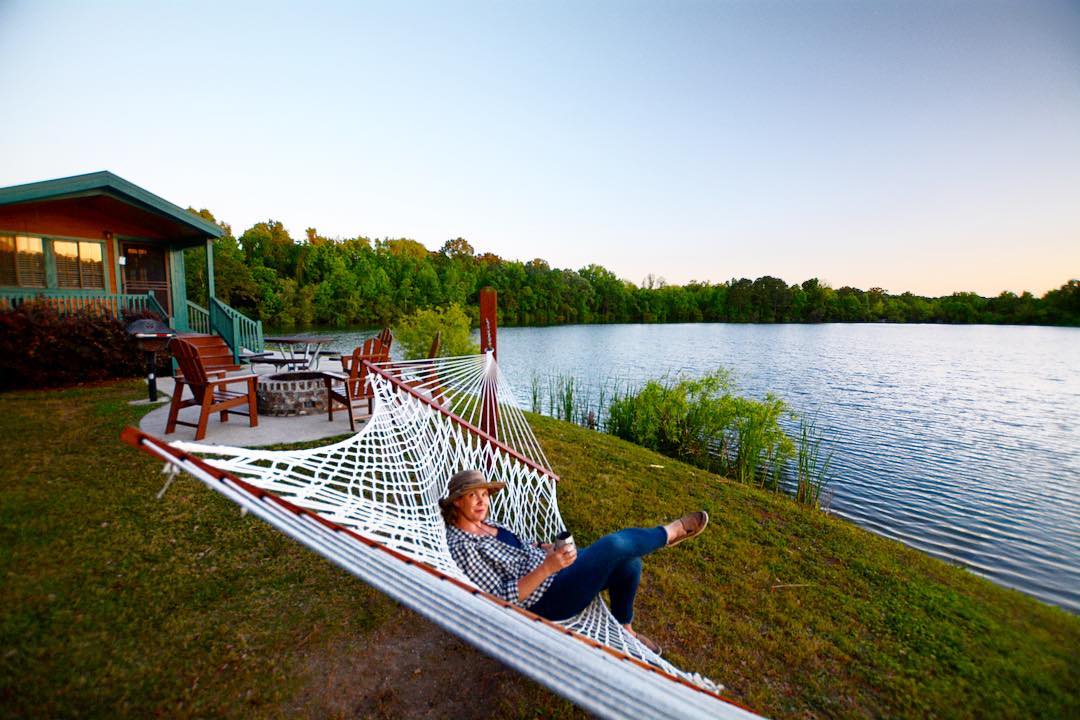 There are so many things that made us fall in love with this campground. First, it is open year round. Do note that summers are exceptionally busy. If you can make it there in the spring, the weather is especially heavenly! We loved being able to bike ride to Starbucks and nearby shops. Plus, there's tons of good food right in Mount Pleasant. We enjoyed Paige's Okra Grill (amazing regional fare!) and Tidal Grounds Coffee. As you can tell, the Mount Pleasant/Charleston KOA is the complete package!
Don't forget to check out our recent paired RVFTA podcast episode detailing 23 Things to Do in Charleston, SC or our older podcasts and articles Greetings from Charleston, SC and 6 Standout Restaurants in Charleston.
See you at the campground,
Jeremy + Stephanie
Podcast: Play in new window | Download