Who doesn't love eating a delicious breakfast at the campground? We certainly do! Some mornings we keep it light and simple, especially if we are heading out for a hike or an active adventure on the water. But other mornings we love to laze around at the campground and make a big breakfast. There is simply nothing quite like the sound and smell of bacon sizzling on the Blackstone, or the simple pleasure of flipping a huge pancake onto a child's plate. Emily Vikre's brand new book The Family Camp Cookbook is absolutely jam packed with delicous camping breakfasts that will satisfy your entire family.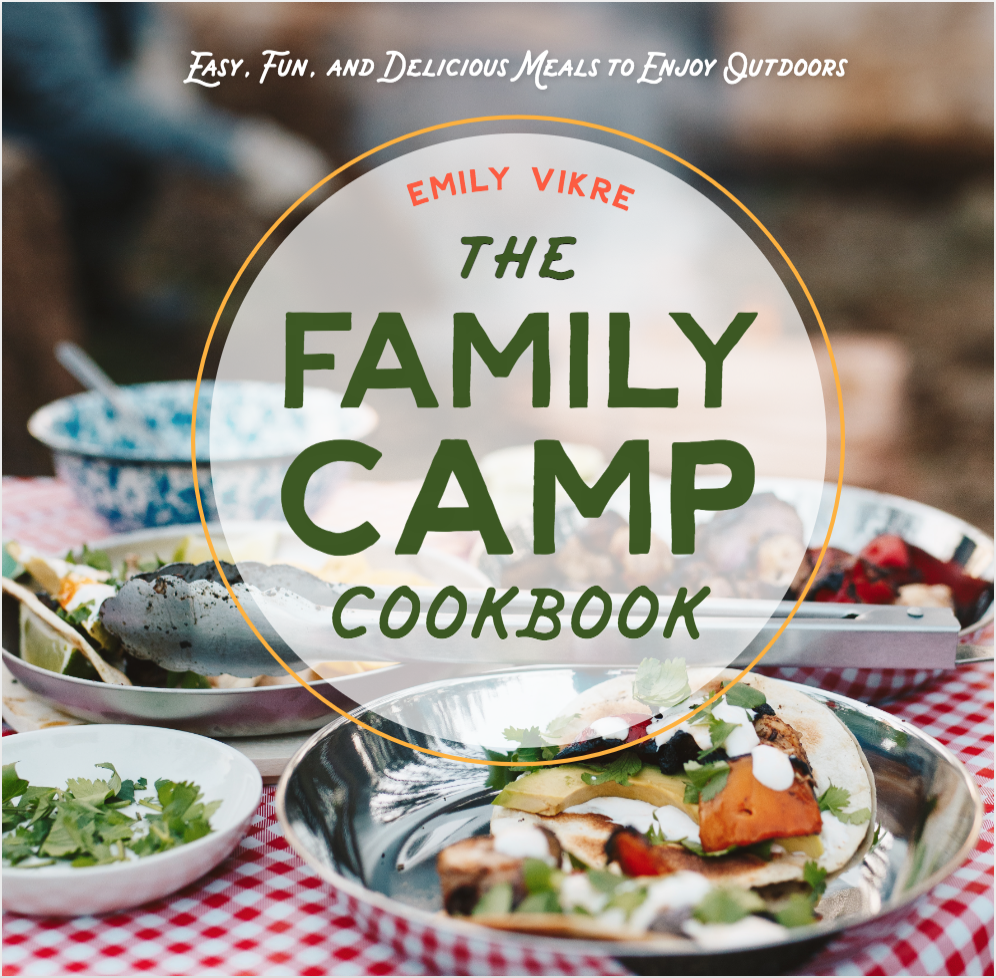 This delightful book also includes chapters on "Lunches and Foods on the Go," "Dinner," and "Treats and Drinks." But the focus of the latest episode of The RV Atlas podcast is on camping breakfasts. We were pleased to invite Emily on the show to share six of her favorite camping breakfasts from The Family Camp Cookbook. Each and every one of them made us incredibly hungry and we plan on making all of them at the campground this year!
Emily is the author of Camp Cocktails: Easy, Fun, & Delicious Drinks For the Great Outdoors and of the aforementioned The Family Camp Cookbook: Easy, Fun, and Delicious Meals to Enjoy Outdoors, both published by Harvard Common Press. She is also the co-founder and CEO of Vikre Distillery, "an award-winning craft distillery in Duluth, Minnesota."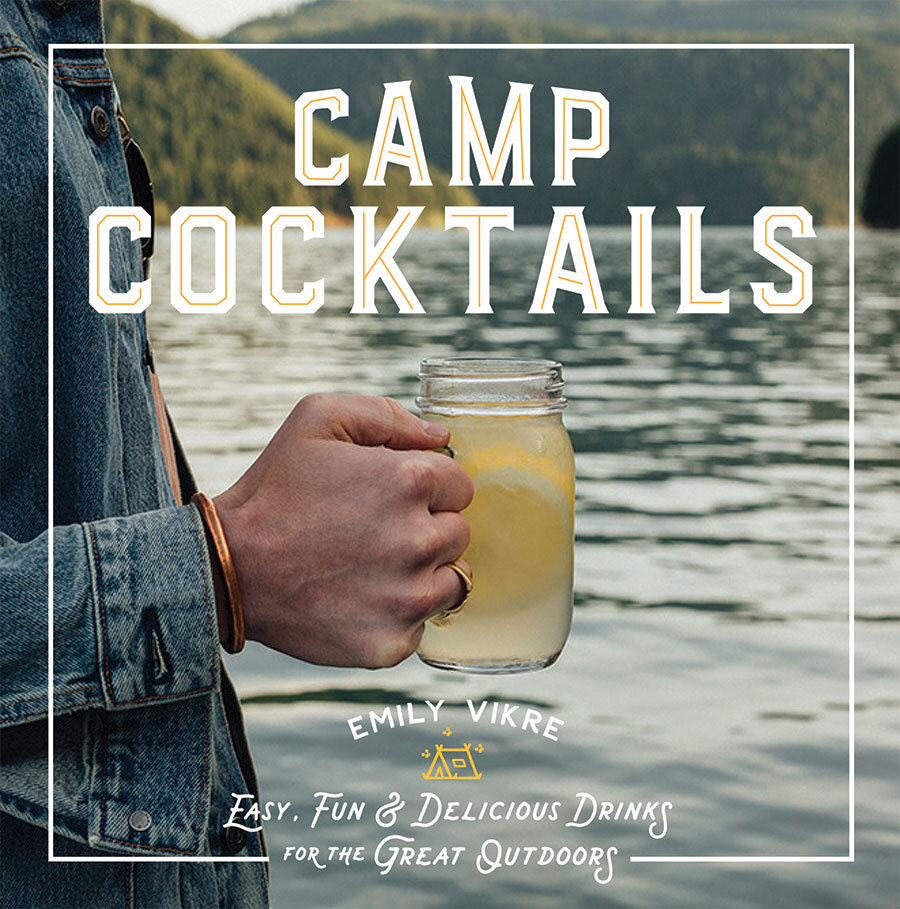 To listen to Jeremy interview Emily Vikre about six amazing camping breakfasts from her new book, The Family Camp Cookbook, please click on the media player above. Or subscribe to The RV Atlas podcast wherever you get your shows!  Or read on for two great sample recipes that we have excerpted from Emily's book! To check out all of the amazing recipes in The Family Camp Cookbook, or Camp Cocktails, click on the links and purchase copies for your own camping library today!
Recipe and text for both recipes below by Emily Vikre. Excerpted with permission from the author and publisher.
The Best Fluffy Pancakes (Makes about 16 pancakes)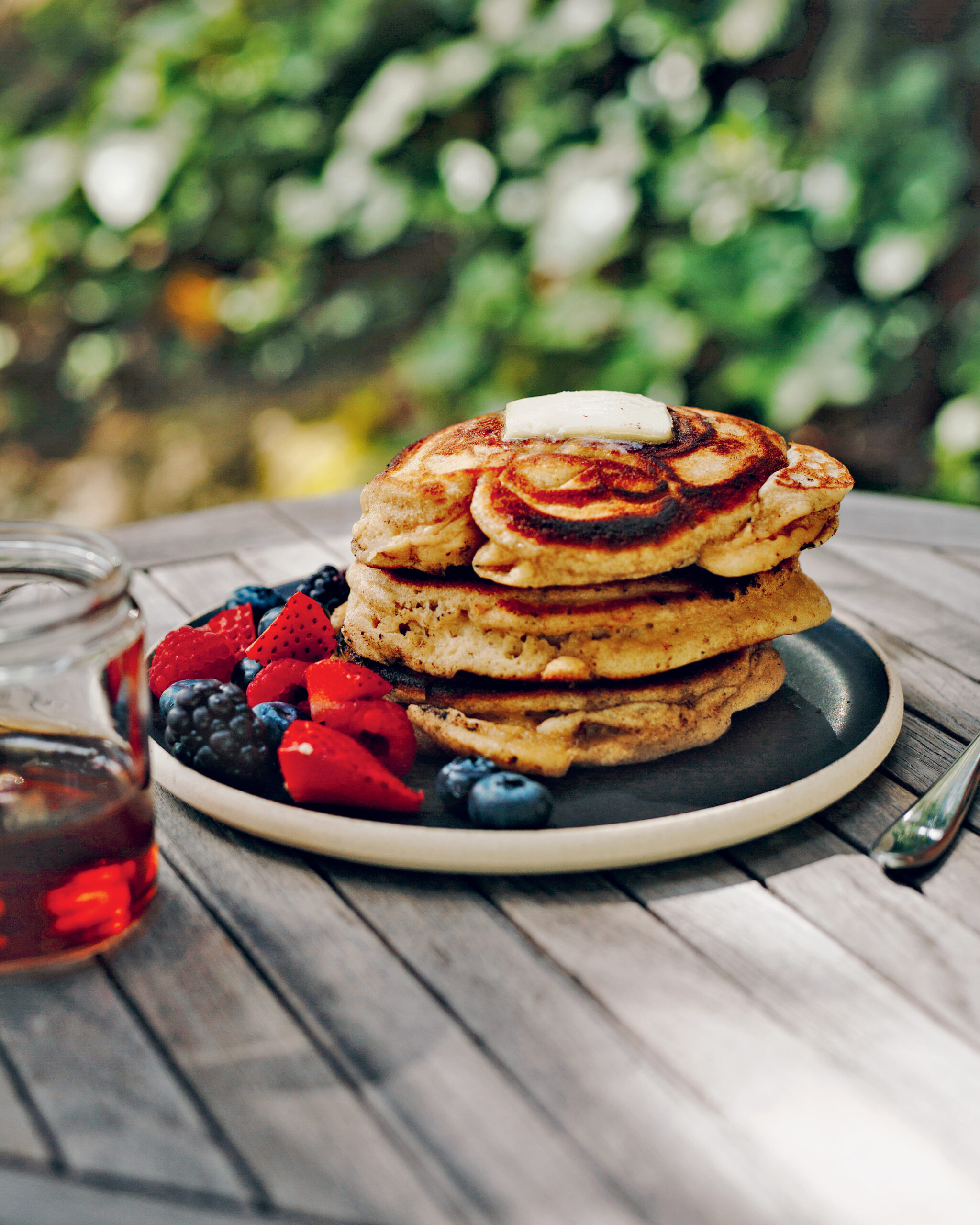 I grew up with Norwegian pancakes, which differ from American pancakes in a whole host of ways. To wit, they are not at all fluffy. They are thin and eggy, rather crepe-like, in fact. They are usually spread with jam. And, they are usually eaten for supper, not breakfast. Anyway, the only time we had American pancakes was when we were camping and my dad was cooking them. They were most definitely made from a mix. I never liked them much. Many years later, I was writing a regular food column on breakfast, and I decided it was time to reintroduce myself to American pancakes with an eye toward finding a recipe I loved. After trying many, many pancakes, I came down in the yogurt pancake camp. A thick, whole milk yogurt makes the batter fantastically rich and tangy, yielding a fluffier and more flavorful pancake.
Ingredients
Dry Ingredients
1½ cups (188 g) all-purpose flour
½ teaspoon salt
2 teaspoons baking powder
½ teaspoon baking soda
½ teaspoon cinnamon
Wet Ingredients
2 large eggs
2 cups (460 g) full-fat thick yogurt
(Greek yogurt works particularly well)
¼ cup (50 g) sugar
1 teaspoon vanilla
(if you haven't brought vanilla, you can omit this, but I
do think it really adds to the flavor) Butter for frying
Make It
At Home
Stir together all the dry ingredients until well combined and place themin an airtight container with a sealable lid or sturdy bag with a zip closure.It's a good idea to label your container with thename of the recipe (ask mehow I know).
In Camp
1. In a mixing bowl, stir together the eggs, yogurt, sugar, and vanilla (ifusing) until smooth. Gently stir in the dry ingredients until just barelymixed in. Seriously! Stop while it is still lumpy! The fluffiest pancakescome from batter that has been mixed no more than is absolutelynecessary.
2. Heat a cast-iron skillet or frying pan over medium-low heat. Add a goodchunk of butter and let it melt and foam. Then, add plops of batter inapproximately quarter-cup (61 g) scoops. Leave about 2 inches (5 cm)between each pancake, since they spread as they cook.
3. Cook the pancakes until lots of little bubbles appear across the top ofthe uncooked batter and their edges have begun to set, about 2 minutes.Then flip the pancakes and cook until golden brown on the secondside, about another minute. Serve the hot pancakes immediately to thewaiting campers. Repeat with the remaining batter, using more butter as necessary.
Chilaquiles (Serves 4)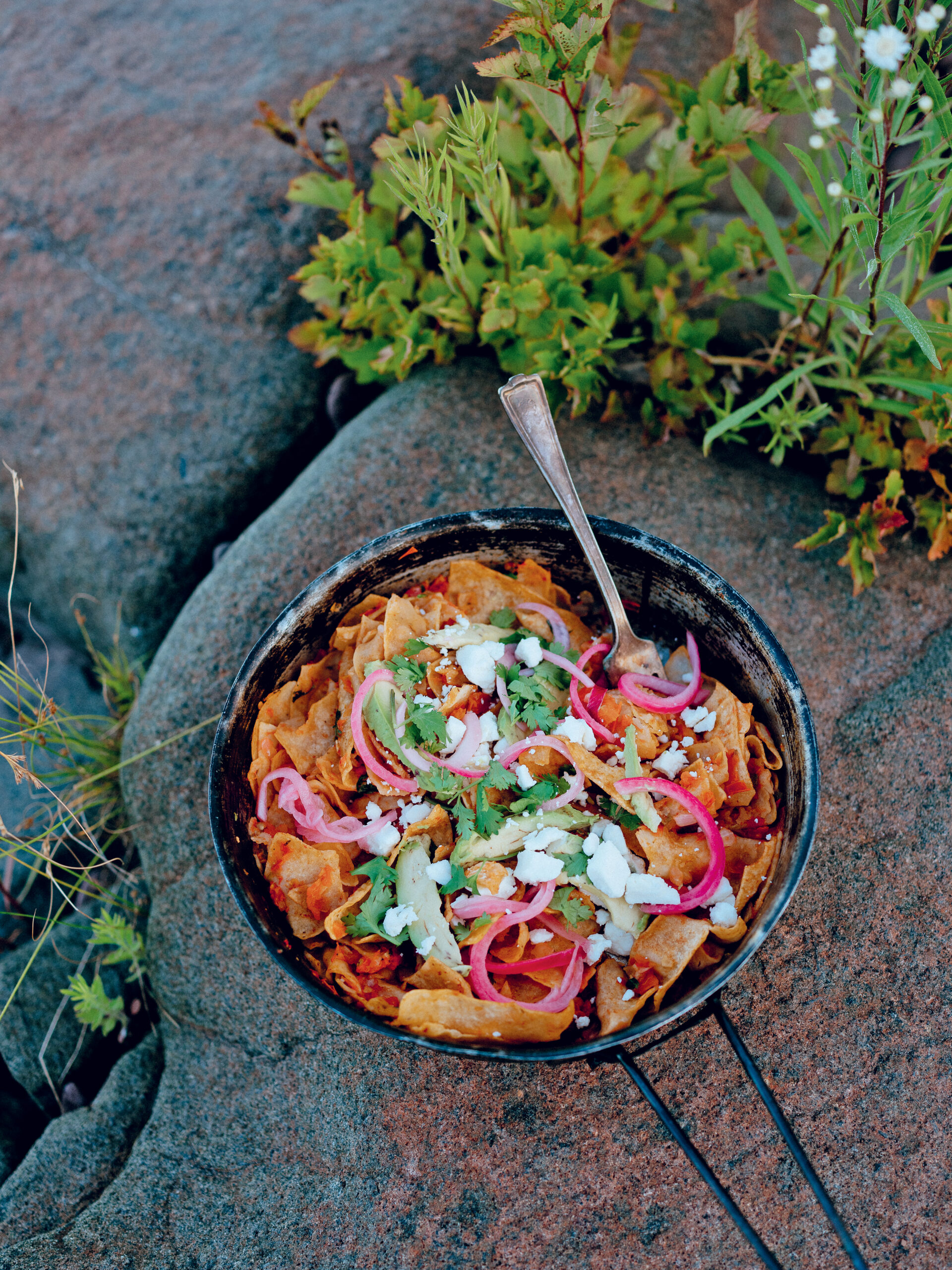 Can there be a greater endorsement for a dish than "it's chips and salsa for breakfast"? I think not. Chilaquiles, a traditional Mexican dish, is fundamentally fried tortillas coated in a brothy salsa. But for camping, you can use store-bought salsa and chips to make chilaquiles that are ready in a matter of moments! Topped with a fried egg, avocado slices, and fresh cheese, this is the most perfectly satisfying start to any day. But, it also makesa great speedy dinner, and you can easily swap out toppings for other favorites (think meats, beans, or veggies)!
Ingredients
2 cups (520 g) store-bought salsa
(tomato or tomatillo, depending on if
you prefer chilaquiles rojos or verdes!),
at whatever level of spiciness your
family likes
¼ cup (60 ml) water
8 cups (208 g) tortilla chips
1 tablespoon (14 g) butter
4 eggs
Salt
Avocado slices, queso fresco, and
cilantro for serving (optional)
Make It
1. In a large skillet over medium-high heat, bring the salsa to a simmer. Stir
in the water to loosen the salsa, then simmer for about 2 minutes.
2. Add the tortilla chips and stir well to coat, then cook until the chips are
warmed through, 2–3 minutes. Transfer the chilaquiles to plates.
3. Return the pan to the heat and add the butter. When the butter has
melted and foamed, crack in the eggs. Sprinkle with salt. Fry the eggs
to your desired level of doneness, then slide an egg onto each plate
of chilaquiles.
4. Add avocado, queso fresco, and cilantro (or other toppings!) as desired.
Podcast: Play in new window | Download