Fall may very well be the best time of year for cooking at the campground. The crisp air and cool nights make it perfect for firing up your camp stove or cooking over a live fire. When October and November roll around we love to break out our skillets and Dutch ovens from Lodge Cast Iron and spend time cooking with family and friends in the great outdoors.
If you are a veteran camper you almost certainly own a few pieces from Lodge Cast Iron that you use at home or at the campground. If you are a new camper you should certainly consider getting a few pieces from Lodge to start a camp kitchen of your own.
This week on the RV Atlas podcast (and here on the blog) we are talking about building a starter set of cast iron pieces and great fall recipes from Lodge Cast Iron. Our guest is Kris Stubblefield, who works as a chef for the iconic Tennessee company. Kris appeared on the show several years ago when Lodge debuted its Blacklock Collection.
To listen to Jeremy interview Kris about building a camp kitchen and cooking up great fall recipes at the campground click on the media player above or subscribe to The RV Atlas wherever you get your favorite shows. Or keep reading to see his recommendations for great gear and fall recipes from Lodge!
Great Camping Gear from Lodge Cast Iron
Building your first camp kitchen does not have to break the bank. A few essential items will go a long way. Here are 5 pieces of cookware from Lodge that will work perfectly as a starter set for your next camping adventure.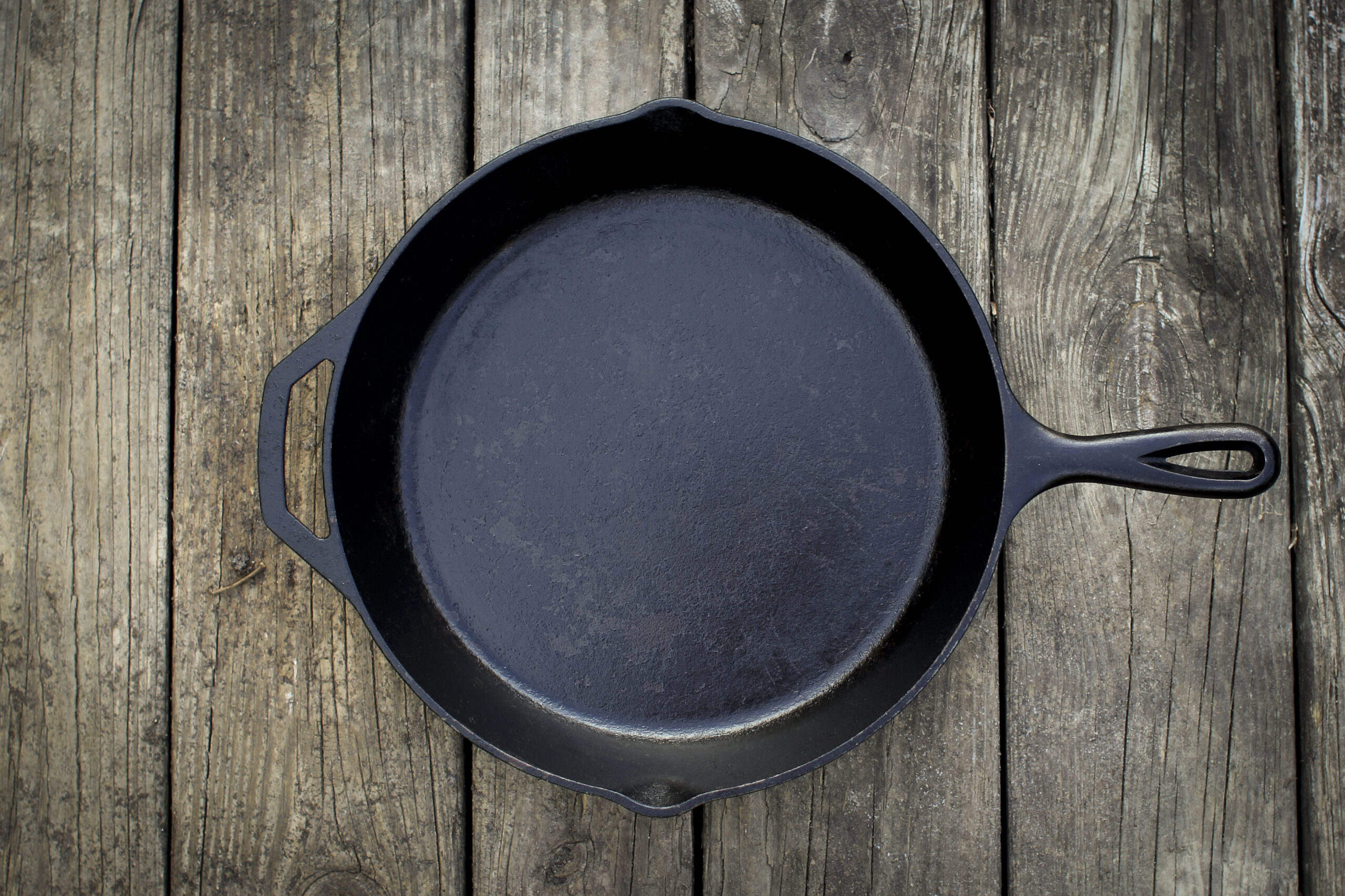 Chef Kris recommends Lodge's 12″ skillet as the ultimate starter piece for an outdoor camp kitchen. This skillet is durable, affordable, and has plenty of space for cooking up delicious meals for the whole family.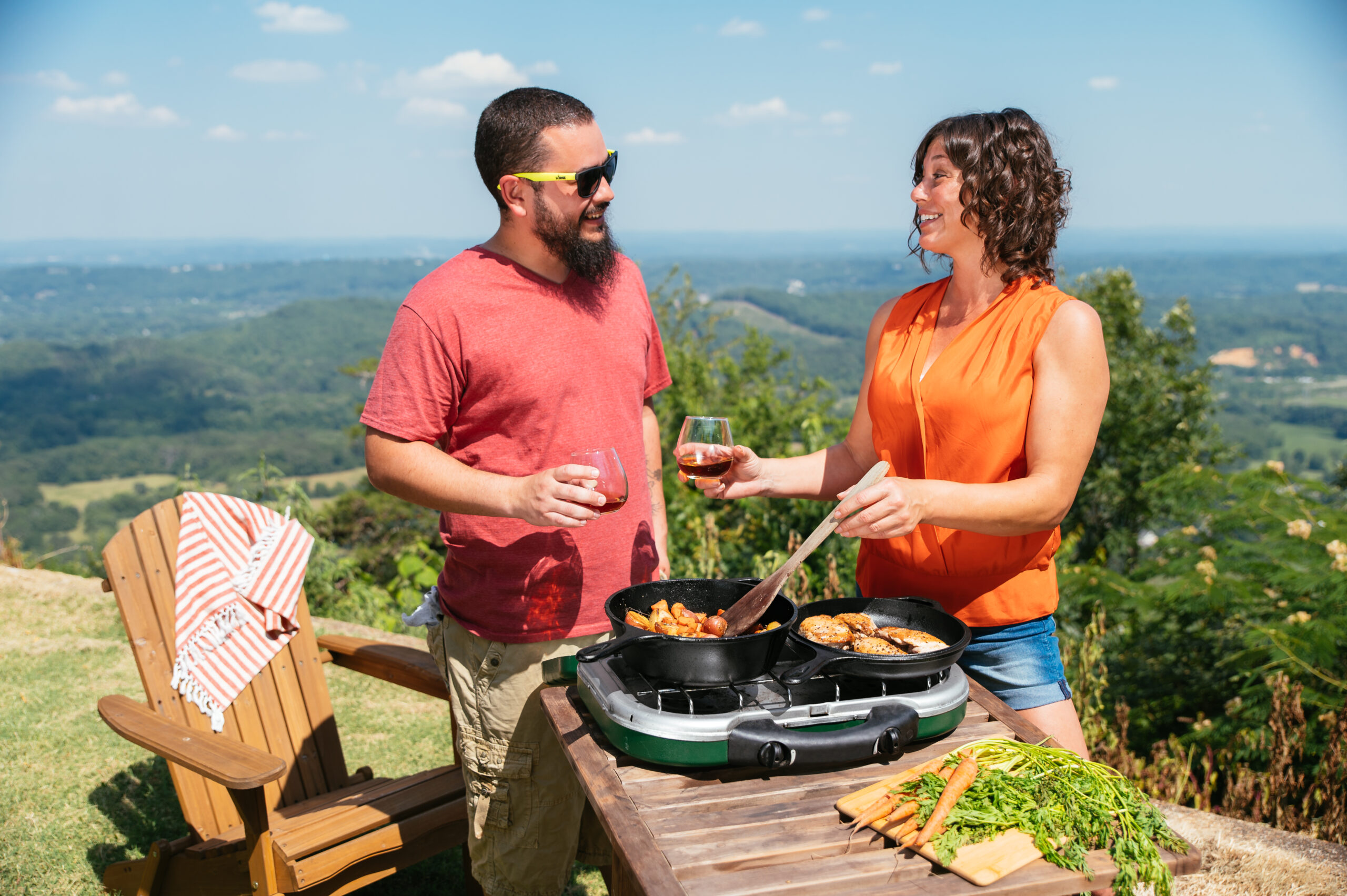 If you are looking to get the most bang for you buck when starting a camp kitchen then Kris recommends getting Lodge's budget priced 3.2 Quart Combo Cooker. This set gives you a standard skillet, a deep skillet, and a Dutch oven for one affordable price.
Lodge's 15" Carbon Steel Dual Handle Pan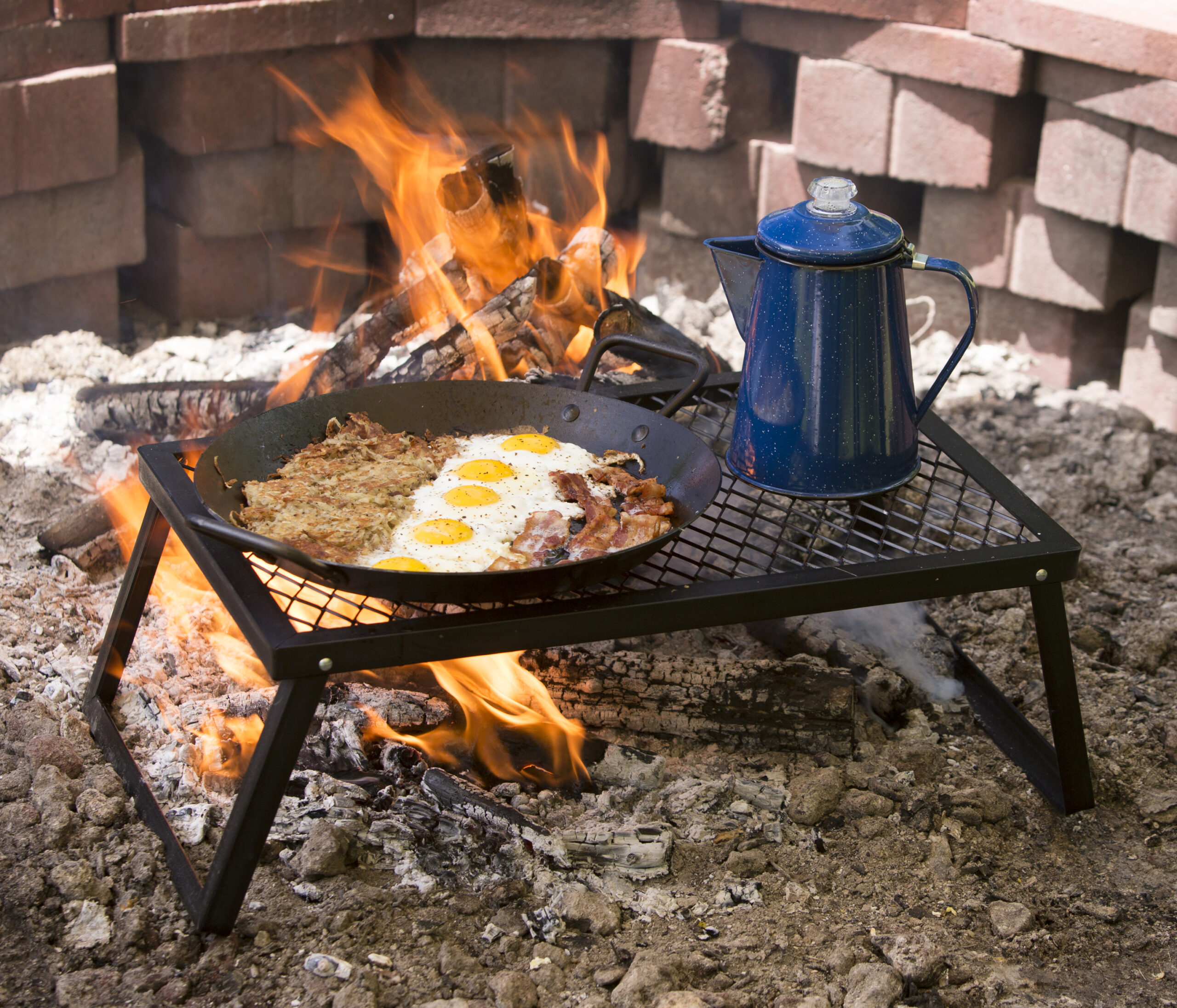 Kris considers Lodge's 15″ Carbon Steel Dual Handle Pan to be the perfect paella pan. This lightweight piece heats up quickly and is perfect for dishes with meat, seafood, or even just veggies and rice.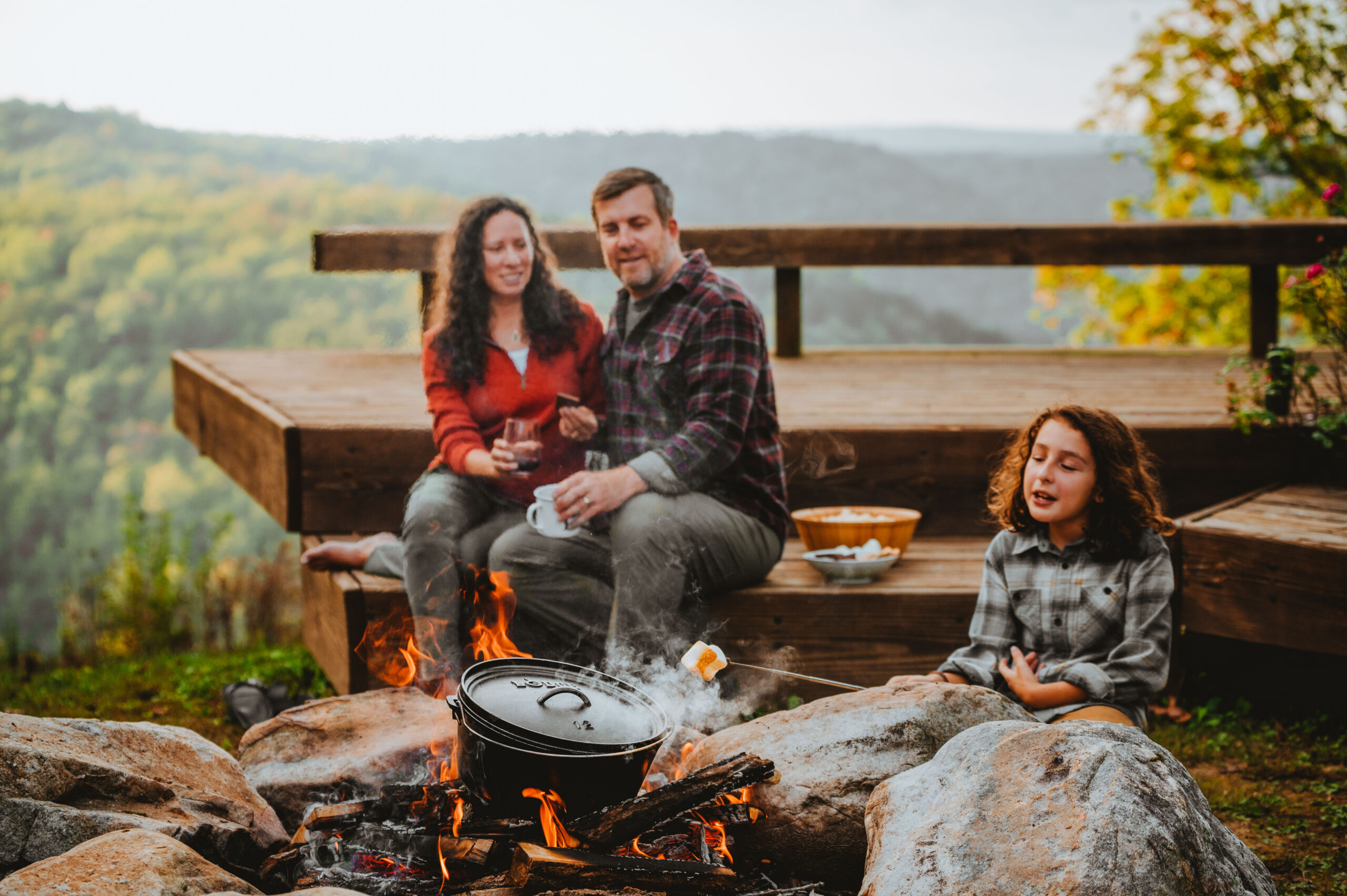 If you are looking for a more traditional Dutch Oven that is built with camping in mind then Kris recommends Lodge's 12 inch 6 Quart model. Picture yourself making a cobbler or stew in one of these at the campground on a crisp fall night. Does camping get any better than that?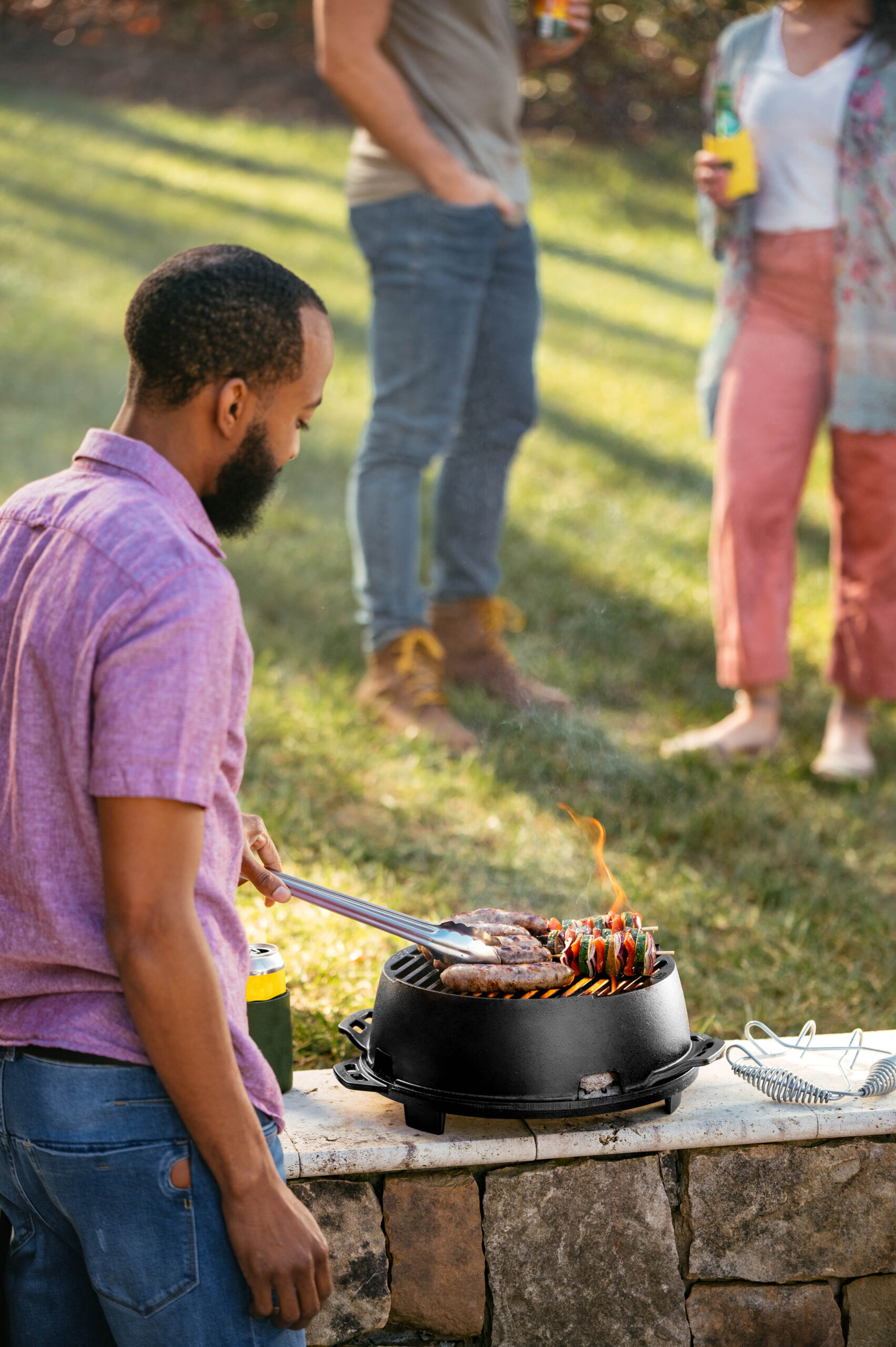 Kris also loves Lodge's Cast Iron Kickoff Grill. Whether you want to grill burgers, dogs, brats, or veggies–the Kickoff Grill has got you covered!
Best Fall Recipes from Lodge Cast Iron
Now that you have some great recommendations for your camp kitchen it is time to start meal planning. Here are five of Kris's favorite recipes from Lodge's legendary collection.
Grilled Smash Potatoes With Warm Bacon Vinaigrette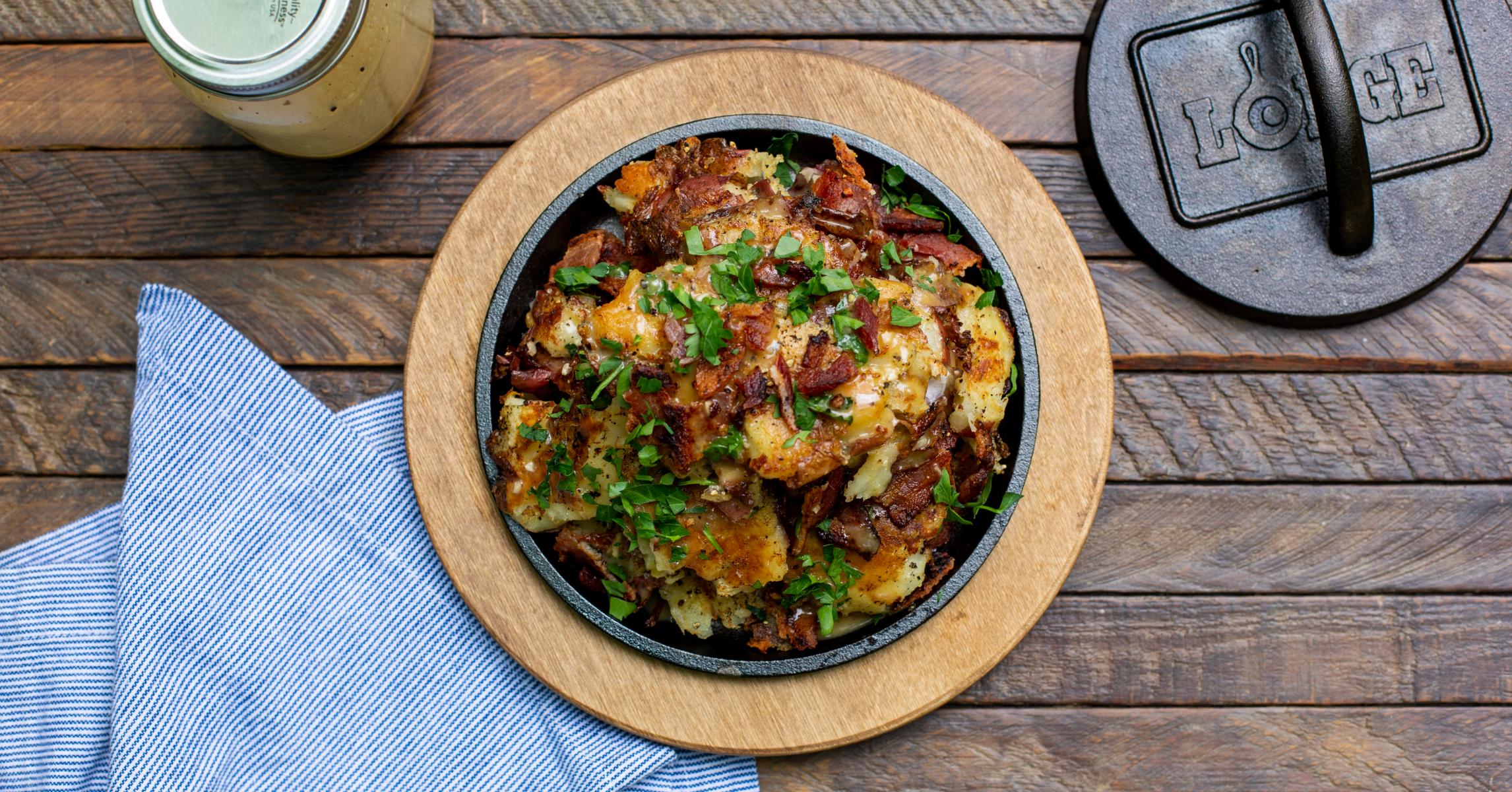 You had us at bacon on this one Kris! You can find this crowd-pleasing recipe here.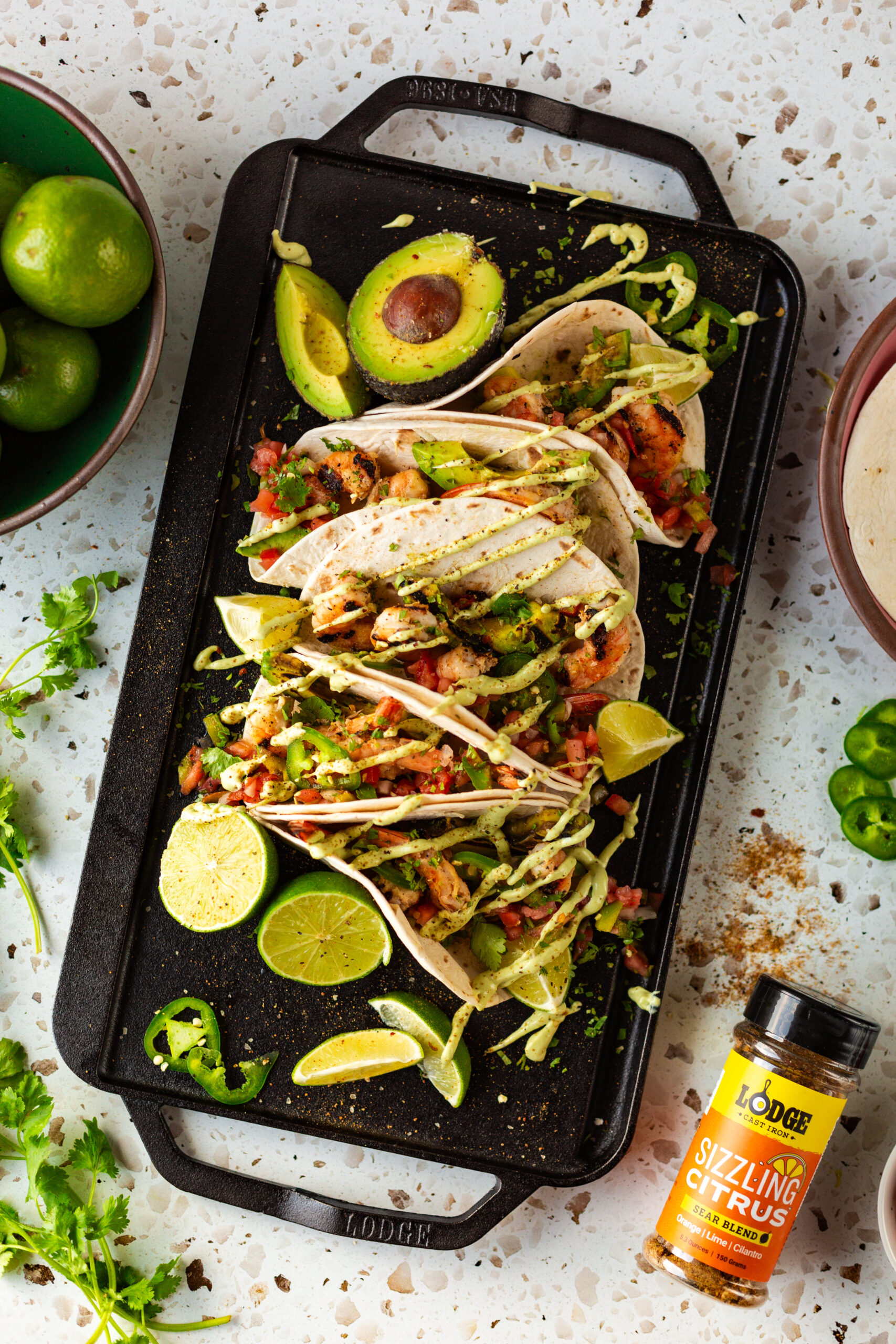 Campground cuisine does not have to be all burgers and dogs. Try these delicious shrimp tacos next time you are cooking in the great outdoors!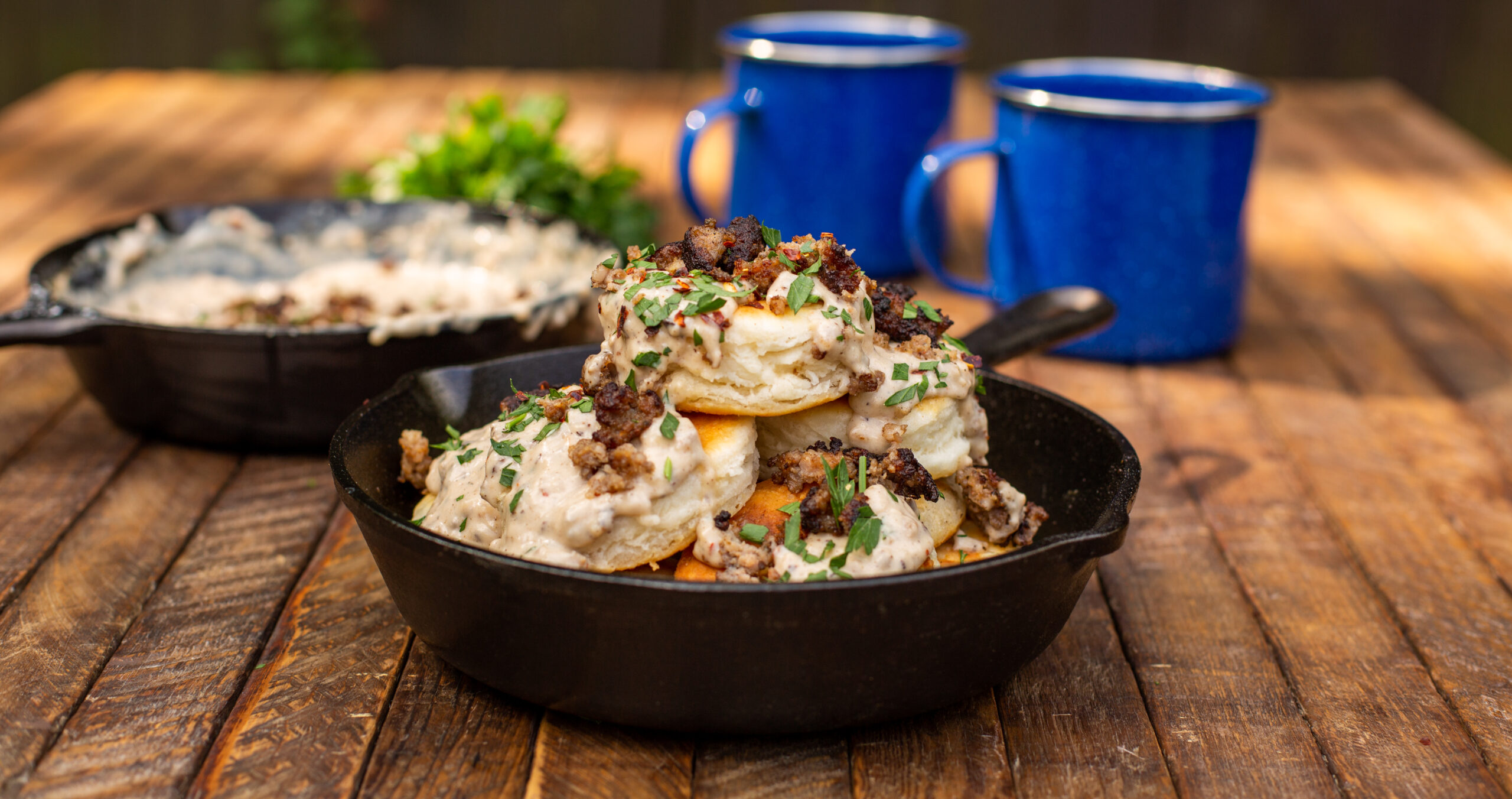 Fall is definitely a great time for comfort food and Lodge's Stovetop Biscuits and Gravy will keep you warm and cozy on those crisp fall days!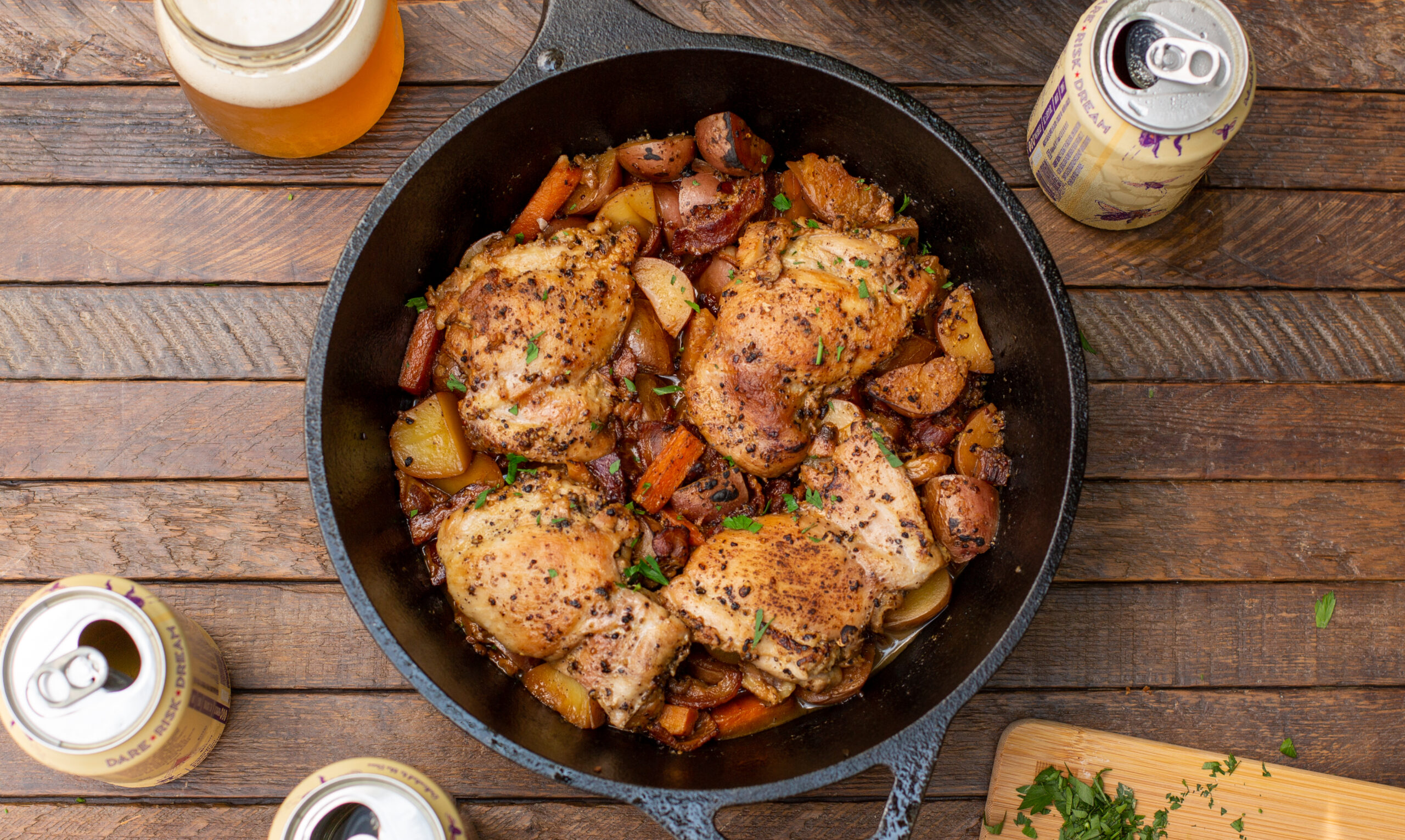 Lodge's Beer Braised Chicken with Potatoes and Carrots is another crowd pleaser whether it is served at home, or at the campground. Though we prefer serving it up under a sky filled with stars. Find this delicious recipe here.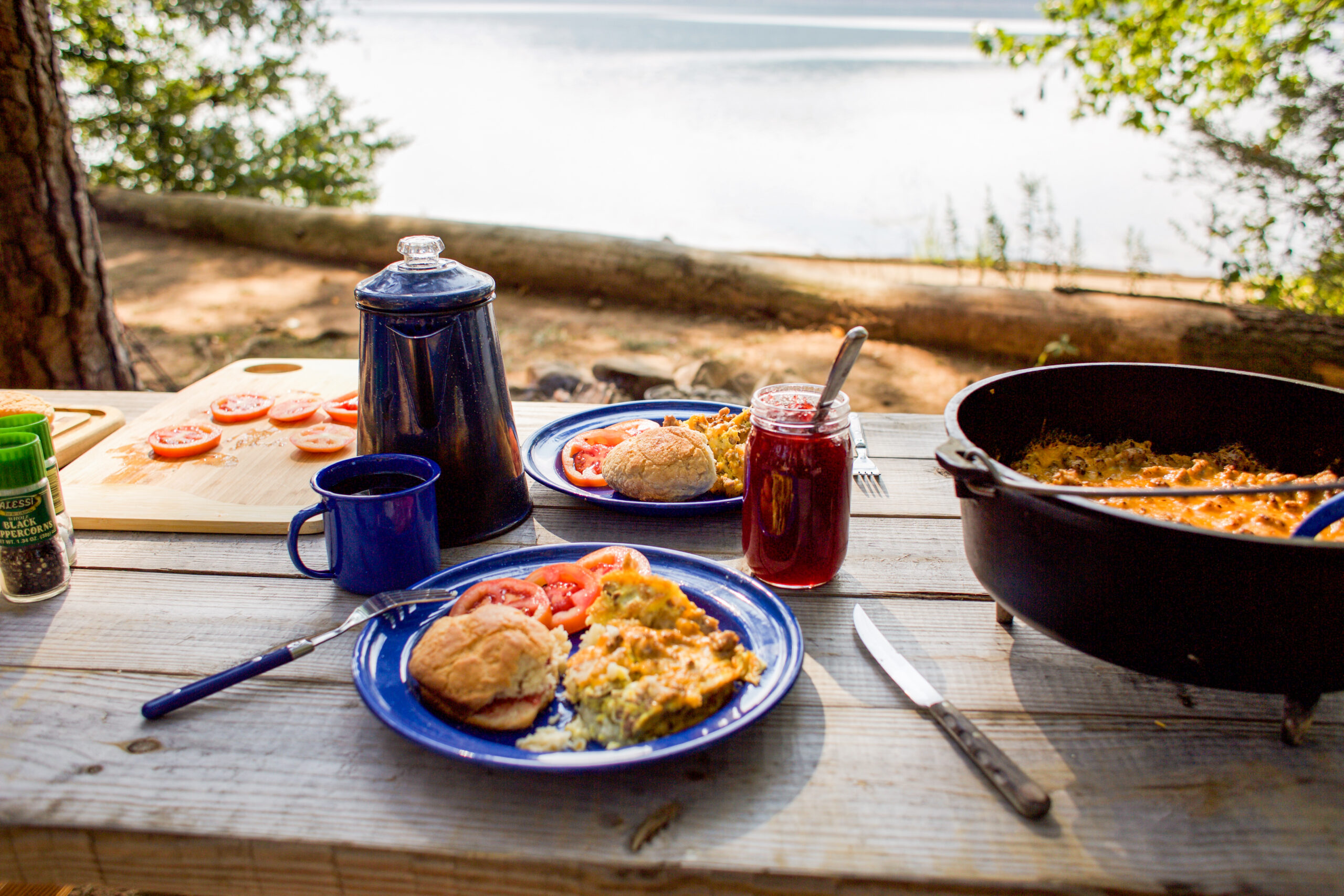 Lodge's Mountain Man Breakfast recipe is the iconic company's most popular recipe of all time. It's easy to see why. This hearty one-pot crowd pleaser is perfect for a family camping trip.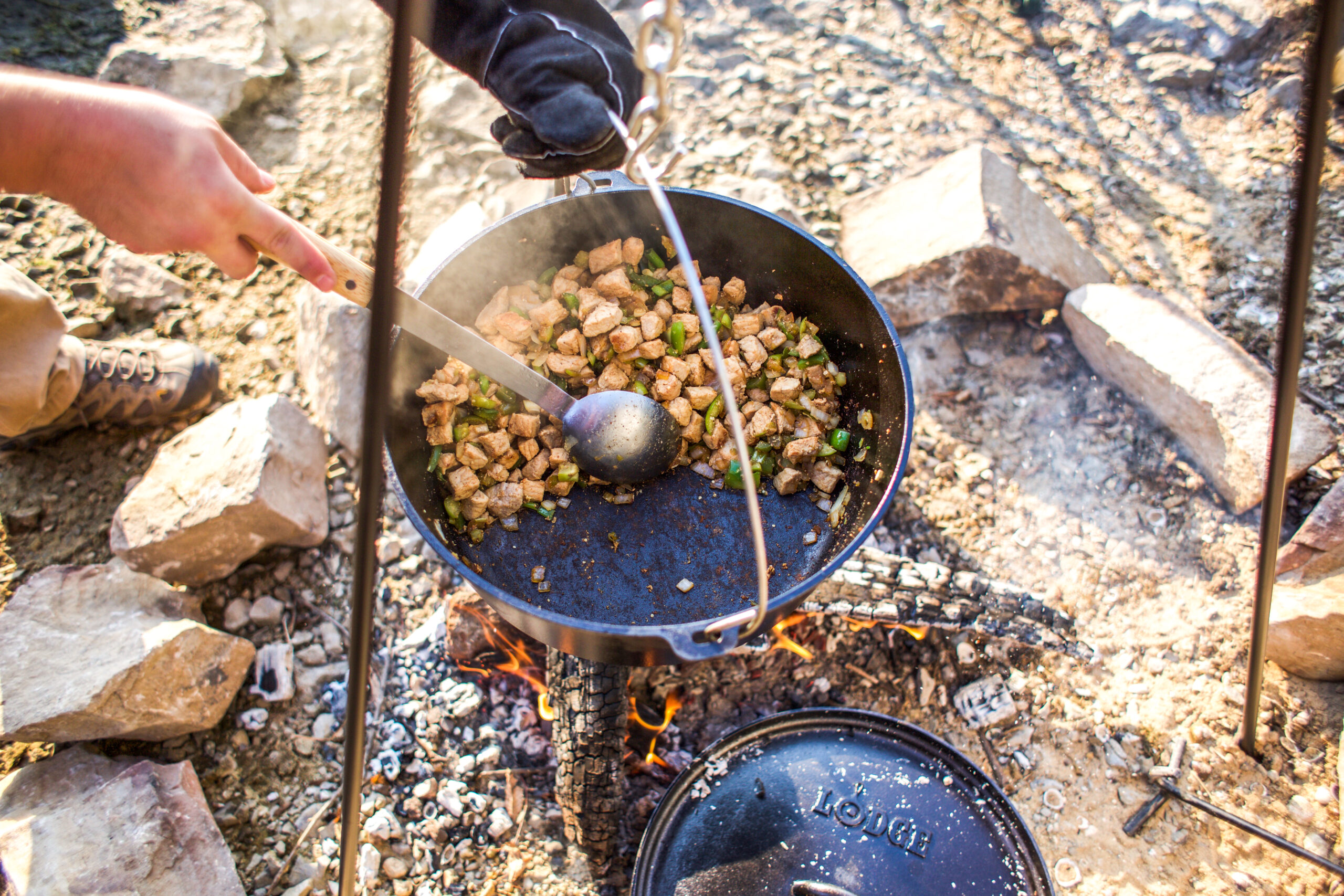 Want to turn up the heat a little bit during your next camping adventure? Then make sure you try Lodge's Campfire Chili Verde recipe–it's a Dutch Oven classic!
Thanks to our friends at Lodge Cast Iron and to Chef Kris for sharing such great gear recommendations and such great recipes!
Podcast: Play in new window | Download