Is the future of RVing going to be electrified? The dynamic team at Lightship RV certainly thinks it will be. This startup, which is based out of San Francisco and Colorado, made an impressive debut with the launch of their L1 prototype at SXSW in Austin, Texas in March of 2023. The buzz around the L1 has continued as this all-electric travel trailer has embarked on a media tour across the American West.
Lightship may be a newcomer in the world of RVing–but the launch of their L1 travel trailer was incredibly polished–and the early feedback from consumers and media has been enthusiastic. It's not hard to see why. The L1 is beautiful both inside and out and its power systems have the potential to be complete game changers in an industry that could certainly use a little shaking up.
Everything about Lightship RV seems to exist and operate outside of industry norms. This is no surprise when you consider that both of the company's co-founders are Tesla alums with impressive resumes in the automotive industry. To say that they are both thinking differently about manufacturing RV's would be an understatement. We like that they are bringing their electric vehicle expertise into the RV industry–and we also like that they both truly love road trips and camping. In fact, two epic road trips figure prominently into the origin story of Lightship.
To listen to Jeremy interview Lightship Co-Founders Ben Parker and Toby Kraus please click on the media player above or subscribe to The RV Atlas podcast wherever you get your favorite shows.
Meet the Co-Founders of Lightship RV
Ben Parker is the Co-Founder and Chief Product Officer of Lightship. Before the pandemic started Ben set out on a 6,000 mile road trip across the American West (in a Winnebago Class C) to do some soul searching and business research into RV culture. He incorporated Lightship from the road that very summer.
Toby Kraus is the CEO and Co-Founder of Lightship and he cut his teeth in the EV industry with both Tesla and Proterra. Toby's background is in both engineering and economics and he, just like Ben, is a lover of the great outdoors.
Ben and Toby worked at Tesla at the same time–but they did not know each other during those years. They were introduced later through their mutual Tesla network and quickly discovered that they wanted to work together and bring Lightship to life. They met for the first time in real life just minutes before departing on a road trip with a rented RV. They had a blast on the road trip and ran into a bit of trouble as well. You can read about that story here.
Say Hello to the Lightship L1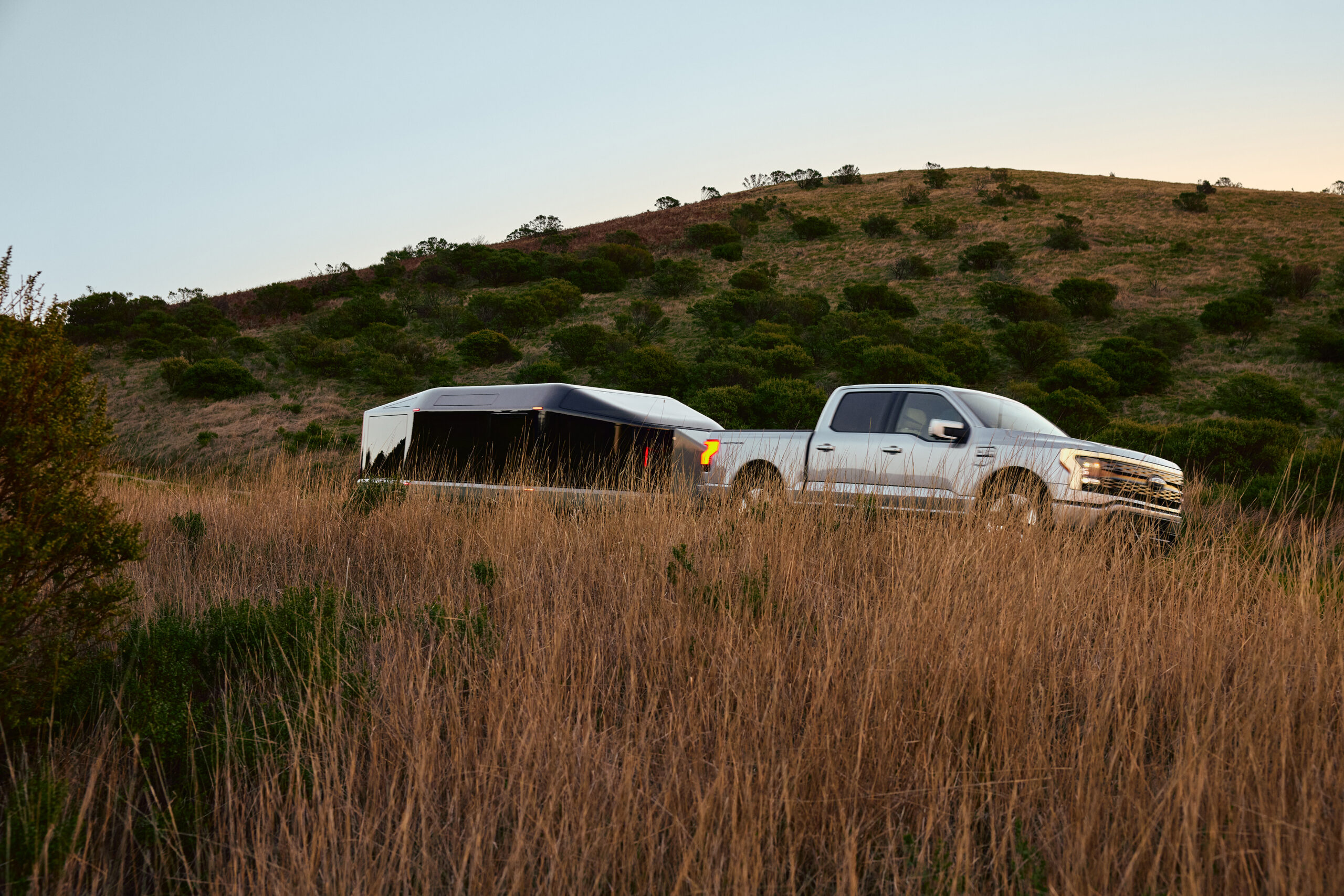 Lightship's first product, which has not gone into production at the time of this writing, is the Lightship L1. This is a travel trailer unlike any other we have seen before–and it certainly has the potential to change the RV industry forever. We thought we would like the L1 and have been following Lightship's story very closely–but after taking a deep dive into the unit and its most promising features we think its fair to say that we are infatuated. Let's take an initial look at some of our favorite features.
Our Favorite Features on the Lightship L1
Road Mode and Camp Mode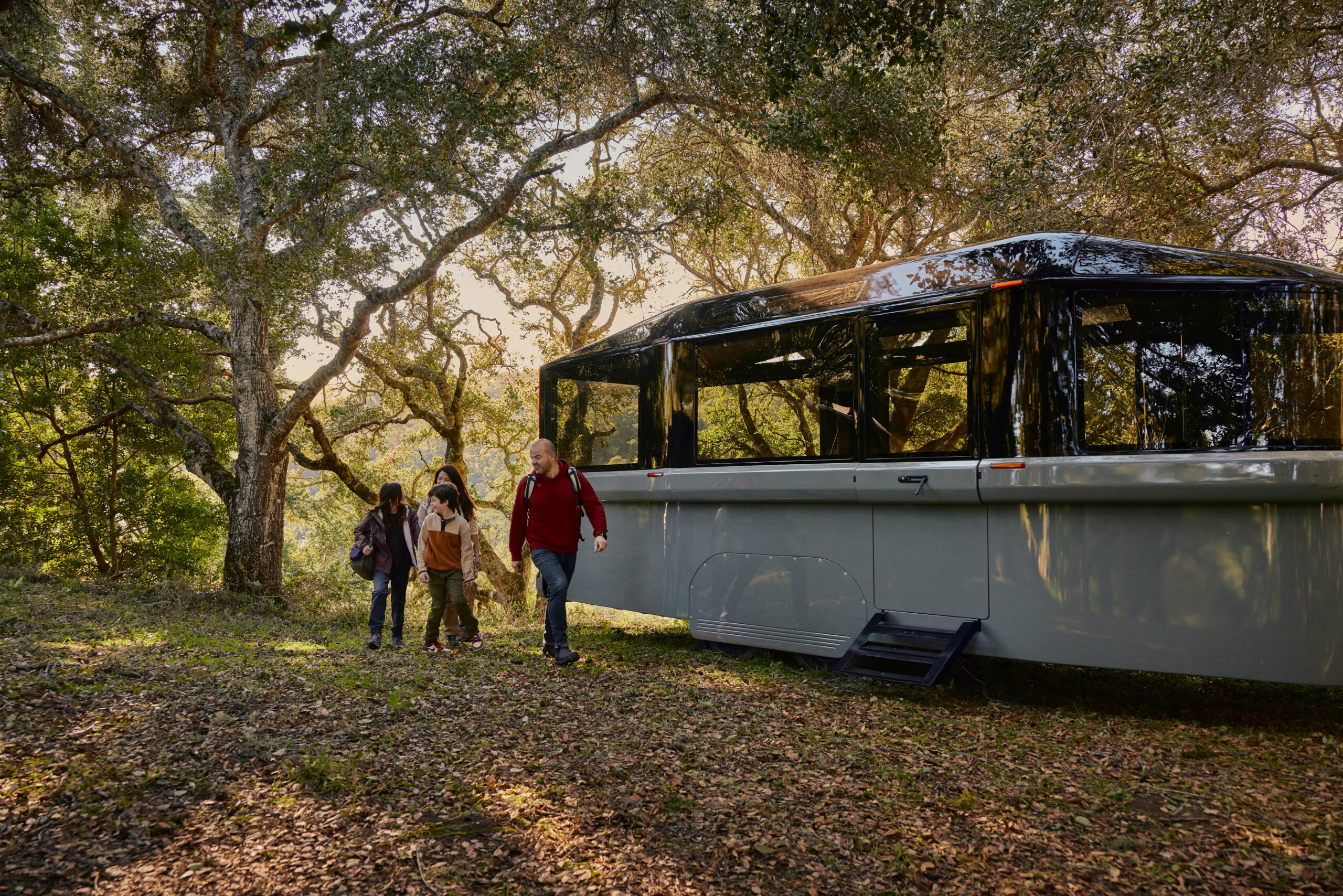 The Lightship L1 almost looks like two different RV's with two different personalities. When the L1 is compressed down into "Road Mode" it is sleek and aerodynamic with a design that minimizes MPG loss when towing. When it is opened up into "Camp Mode" (with the touch of a button) the interior becomes spacious and filled with light. The L1 has an impressive 7'6″ of interior height that helps create an uncrowded living space with plenty of room for kicking back and relaxing in an open and airy environment.
Aerodynamics and Range Assist

The Lightship L1's Range Assist may be its most intriguing feature. Range Assist is an electric powertrain that the company claims will allow the trailer to propel itself and achieve near-zero range or efficiency loss for the tow vehicle. According to Lightship this means that "a 300-mile range electric vehicle (EV) used to tow the L1 remains a 300-mile range EV, and a 25-mpg gas truck remains a 25-mpg gas truck."
Seven Days of Off-Grid Capability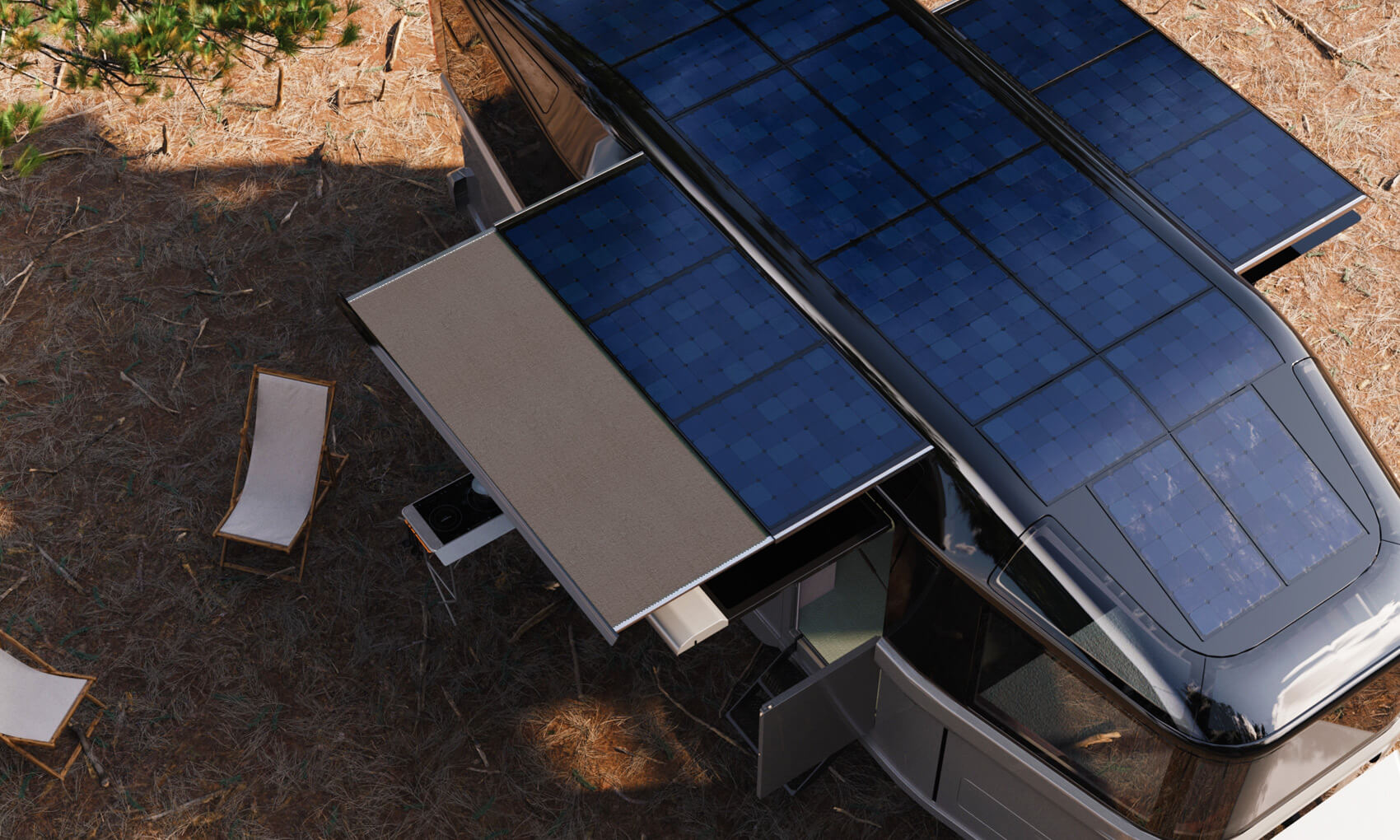 Final specs on the solar panels and battery bank have not been made public yet–but Lightship is claiming that the L1 while have 7 days of boondocking ability with the appliances in use. This is impressive and will certainly be appealing to those that love to camp without hookups on public land.
Panoramic Windows
The interior height of the L1 when in "Camp Mode" allows for an impressive array of windows that flood the coach with natural light. The only RV that we have seen with such beautiful windows is an Airstream–and in an Airstream those windows do not wrap all the way around the coach. The Lightship L1's windows wrap all the way around–giving campers a panoramic view of their campsite if they want it. The windows are not closed with curtains–instead they have a privacy mode that can be turned on with the touch of a button.
Convertible Lounge/Sleeping Area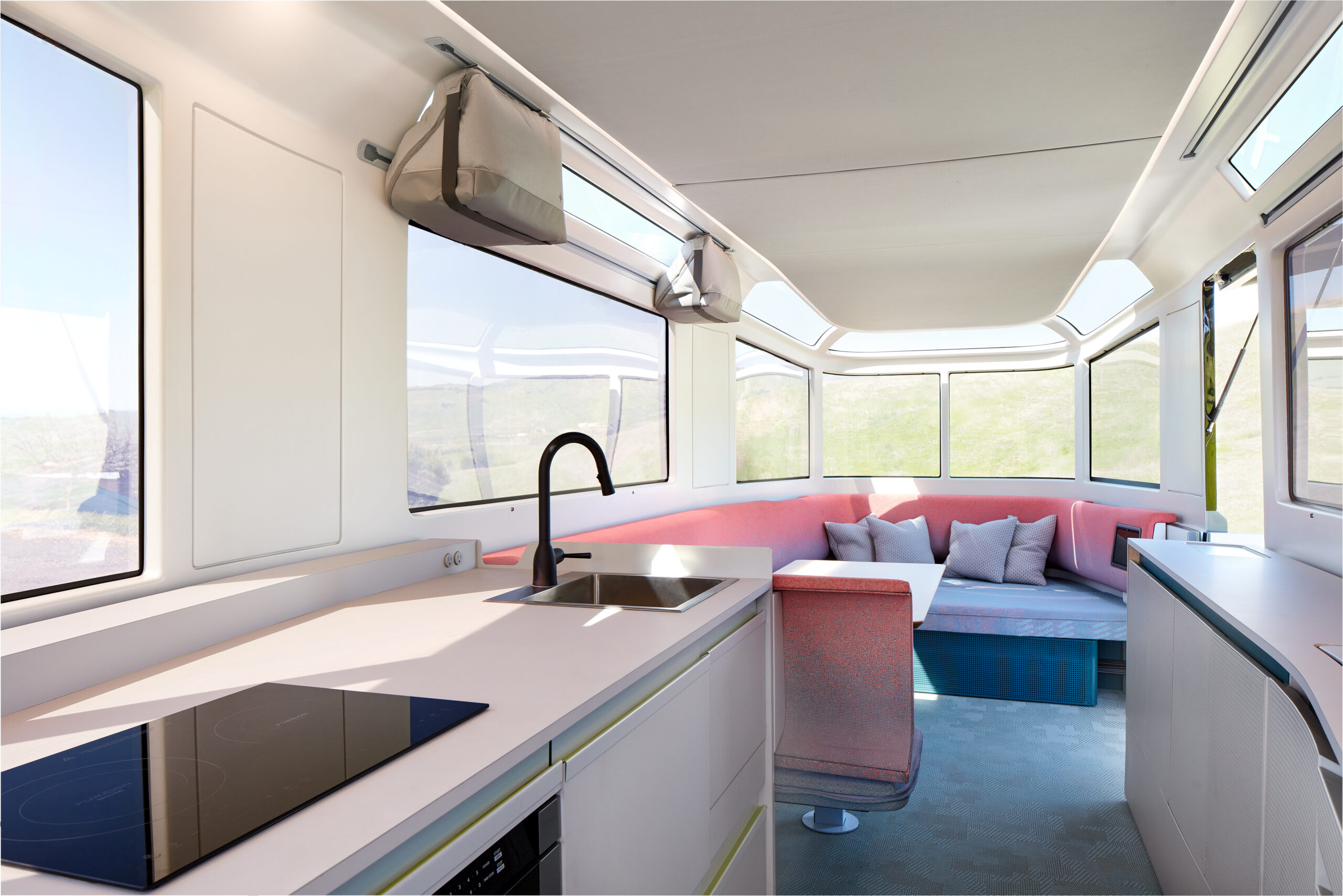 The convertible lounge and sleeping area in the L1 is stylish and practical–and it is fairly easy to convert back and forth. Two adults and two small children can sleep on the lounge when it is converted and Lightship will also offer drop down bunks that will be mounted to the ceiling that will be able to sleep two more. So the company is saying that the L1 will sleep 4-6 people depending on how it is configured.
Indoor and Outdoor Kitchens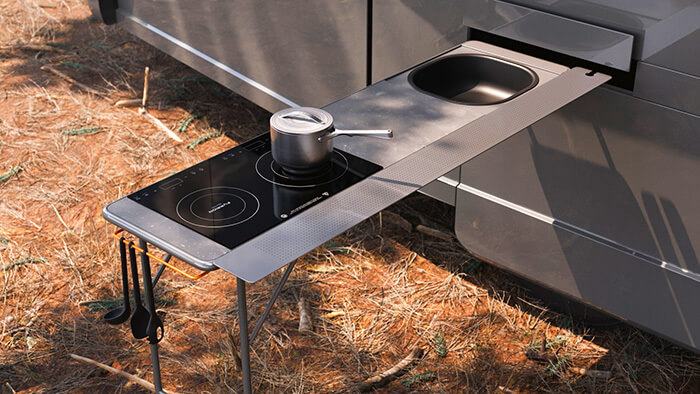 The Lightship L1 has a spacious interior kitchen with an electric cooktop and an outdoor kitchen that looks very straightforward and practical. The storage below the interior kitchen is also thoughtful–but owners may also need to use some of it for their clothing and gear. The kitchen includes a dishwasher–which is a brilliant touch that will certainly please those campers that dislike washing dishes at the campground.
Spacious Spa-Styled Rear Bathroom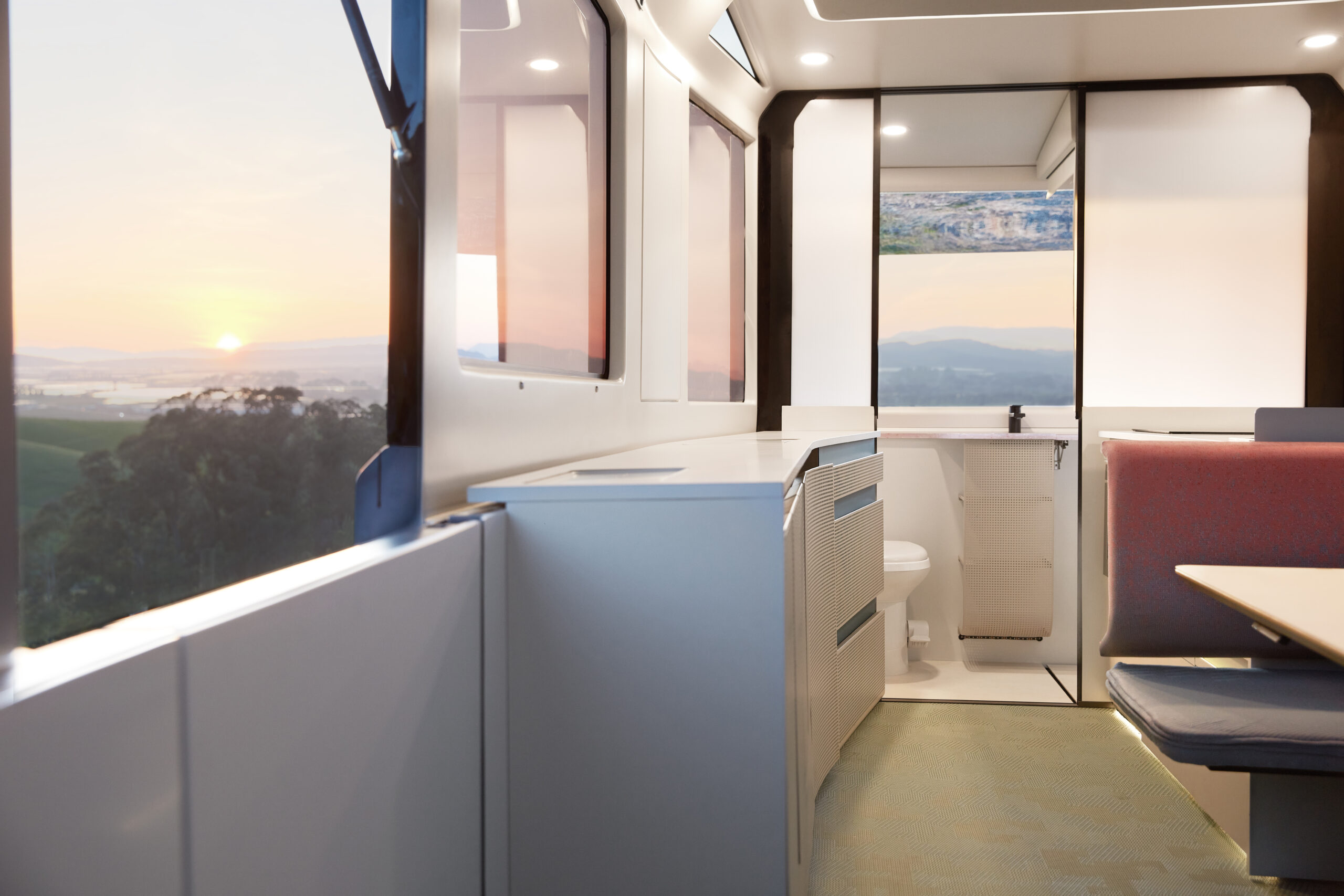 The bathroom at the rear of the Lightship L1 runs across the entire coach and is very spacious for a trailer that is under 30 feet long. It has a shower head that is mounted to the ceiling and plenty of thoughtful storage touches and attractive design features. The rear mirror also flips up and allows for an "almost" outdoor shower experience if you are camping in a private location.
This is just an initial look at the Lightship L1. There is plenty more to learn about this potentially game-changing RV--and we are here for it. We are rooting for the company's success and will continue to cover them on our podcast and here on our website. For a complete tour of the L1 with Lightship RV co-founder Ben Parker check out the video below.
Podcast: Play in new window | Download