If you need gear for your camp kitchen, a camping-themed book, or camping-related decorations for your home, you are in the right place! This is Jeremy's holiday gift picks! We did Stephanie's picks in the previous episode so check that out, too.
To hear more about holiday gifts for the camp kitchen and more, click on the media player above or look for The RV Atlas wherever you find your favorite podcasts.
Gifts For the Camp Kitchen
Weber Traveler  ($349.00)
The grill will likely become the center of your camp kitchen. While we love our Blackstone, for a traditional grill, we recommend the Weber Traveler. Like everything made by Weber, the Traveler is well made. We just gave our first Weber Q to Shawn the Camera Guy. It's eight years old and still works like a charm.
Like the name implies, the Traveler is perfect for tailgating or camping because it is on a foldable kickstand. You simply place your foot on the bottom, pull the release lever, and it slowly and safely folds down on its own. Then, it locks into place. You can roll it around on the wheels and put it away easily.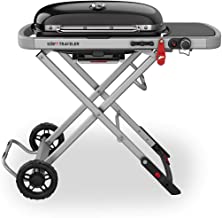 It has one burner like the Weber Q, but it has a wider temperature range. There is also a user friendly Weber grease pan to make clean-up quick and simple. It's not exactly small, but it will fit in a large RV storage area or in the back of a pick-up.
As a really nice add-on to the grill, I would recommend the next item on this list.
Weber Small Premium Tool Kit ($29.99)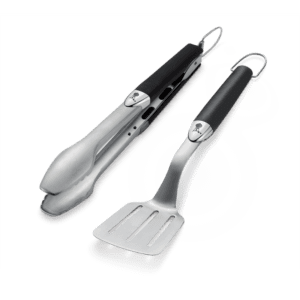 Whether at home or on-the-go, the travel size Premium Tool Set is a must have for any grilling enthusiast. The compact angled spatula and hands-free locking tongs are two of your camp kitchen everyday essentials – whether flipping burgers in the deep woods or turning salmon on your city balcony. I'm going to give you the part number, because this small tool kit looks the same as the large one in pictures, but it is better for RV kitchens and camp cooking. The part number is 6645.
Blackstone RV Quick Connect ($59.99)
No need to pack extra propane when you purchase the RV Propane Quick Connect. With 15 feet of hose, you will be able to cook all your meals next to your RV! It's designed to fit the 17″ and 22″ griddles, but it fits the other standard propane grills in your camp kitchen.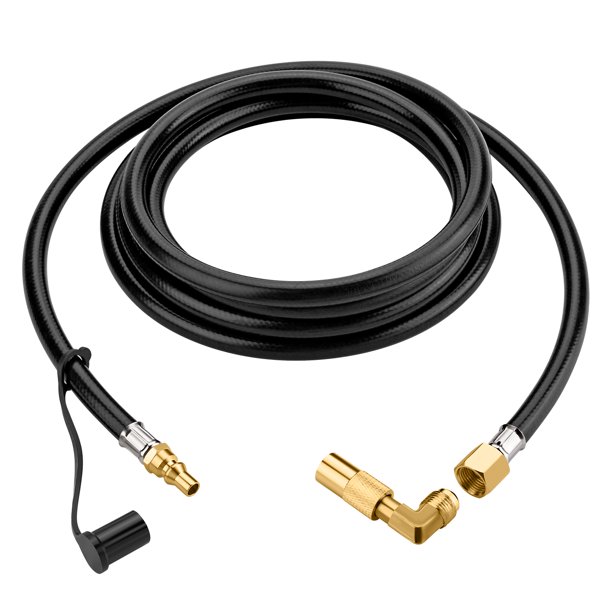 Yeti Rambler 20 Ounce Tumbler with Magslider Lid
We packed this Yeti Rambler with us on our fly-and-camp Yellowstone and Tetons Trip. This tumbler kept my coffee hot for at least three hours.  Also, the Rambler 20 oz. is durable stainless steel with double-wall vacuum insulation to protect my hot coffee or cold ice water.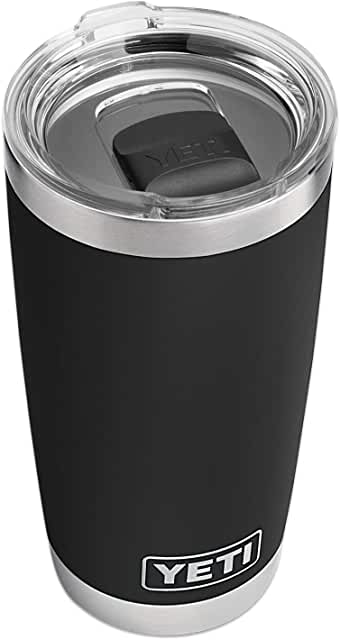 The Yeti and its lid are dishwasher-safe for easy cleaning. While the magnet on the included MagSlider lid adds an additional barrier of protection for keeping drinks contained and preventing heat or cold from escaping, this magnet component is not leakproof and will not prevent spills. 
I would also like to say that when it comes to coolers, the RTIC and Yeti products are neck and neck. However, in drink ware, there is no comparison. Yeti is the hands down winner!
Books and Media Gifts
Maybe camp kitchen gear isn't your thing. As writers and voracious readers who love the outdoors, we are always looking for something to read. Here are some gift ideas for people who like to camp and read:
Subscription to RV Magazine
Initially, I was very disappointed to see Trailer Life and Motorhome magazines fold and become one new magazine, RV Magazine. However, now I have grown to really love RV Magazine.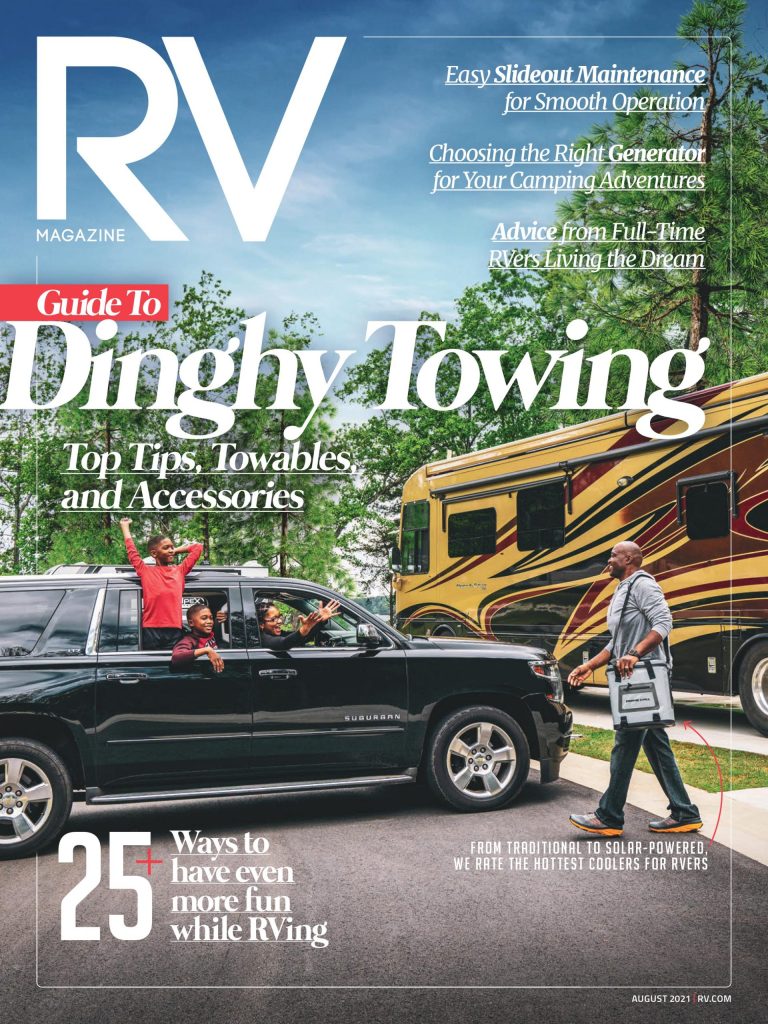 They cover great places to travel, delicious food, and gear. You will also see some of my articles in there. You will also see articles by our correspondent, Kerri Cox.
Camp Cocktails: Easy, Fun, and Delicious Drinks for the Great Outdoors by Emily Vikre ($19.89)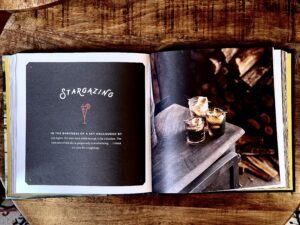 Do you have a camping buddy or family member that loves to mix their own drinks in the great outdoors? Emily Vikre's wonderful Camp Cocktails book will make a perfect stocking stuffer for them.
The book starts with an informative chapter on "camp cocktail basics" that includes sections on transporting spirits, cocktail techniques, and recommendations on purchasing camp-friendly barware. Yet, the photos and instructions for mixing the drinks are the star of the show here. From the Grilled Orange Cobbler to the Campsite Mojito to the Salted Hazelnut Hot Chocolate, this book surprises and delights its reader on every single page.
Subpar Parks: America's Most Extraordinary National Parks And Their Least Impressed Visitors by Amber Share ($19.49)
I recommends this smash hit book by Amber Share (based on the viral Subpar Parks Instagram account) because it makes me laugh out loud every time I pick it up. It's hard to imagine someone leaving a one-star review of a national park—but apparently lots of people are not very impressed with "America's best idea."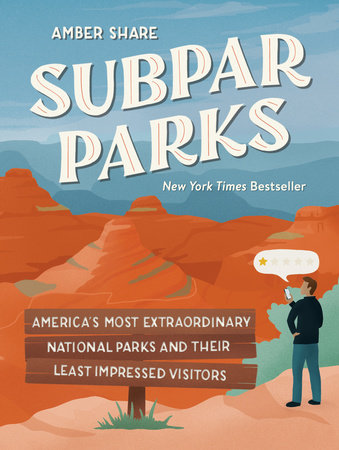 This book takes snippets of those one-star reviews and pairs them with charming illustrations of the parks. The results are hilarious and brilliant. Every. Single. Time. Be sure to listen to our interview with Amber.
RV Hacks: 400+ ways to Make Life on the Road Easier, Safer, and More FUN! by Marc and Julie Bennett (Less than $15)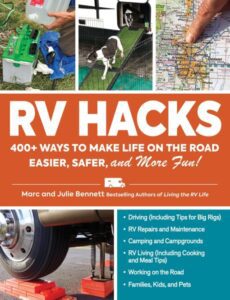 This book is full of hacks on driving, RV repairs, camping, campgrounds, and RV living. It's also good to have around the camp kitchen because of the cooking and meal tips. If you want to work from the road, it has information about that, or if you are traveling with kids or pets, there are pointers about making that easier, too.
Also, we are honored when people give our books as gifts, so I'll mention these two:
See You at the Campground: A Guide to Discovering Community, Connection, and a Happier Family in the Great Outdoors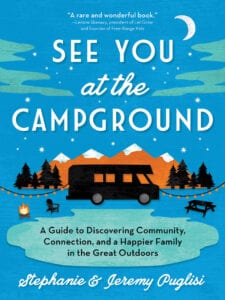 This camping classic covers just about everything you need to start RVing with family and form friendships along the way. We share the ways in which camping has helped us form connections with others and offer up our best tips and tricks for trip planning, meal prep, buying an RV, renting an RV, and so much more!!
Where Should We Camp Next!: A 50 State Guide to Amazing Campgrounds and Other Unique Outdoor Accommodations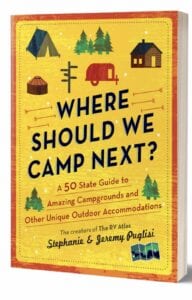 This epic guide reviews over 300 campgrounds that are our five to ten favorites in every state. We cover state parks, national parks, resorts, glamping, and much more. It was the bestselling family camping guide all summer and fall with more than 50,000 copies in print! Sidebars include recommendations for food, family fun, and outdoor adventure.
Gifts for the Home
Protect the Parks Fatwood Starter Crate at Betterwoodproducts.com  ($89.00)
These gorgeously designed wood crates have national parks illustrations on the side of the box and contain 13 pounds of fatwood. Glacier, Grand Canyon, Yellowstone, and the Great Smokies are all represented.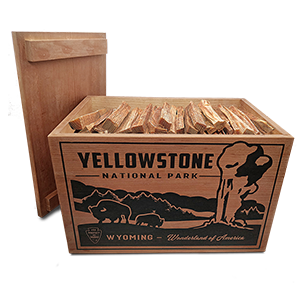 This Fatwood wood crate is a gorgeous decoration for your home if you have a fireplace or an outdoor fire pit. It's a little large to be something I would keep in an RV. Crates are also available for Glacier, Great Smoky Mountains, and the Grand Canyon!
Everything Made by Cat Made Studios
I'm big on buying souvenirs on trips, and when you have your own RV, you can pretty much grab any kind of souvenir and bring it home. However, when we do our fly-and-camp trips, I often see something that I can't fly home with. When we were in Jackson Hole, one of the cool shops had products by Cat Studio which you can find on catstudio.com.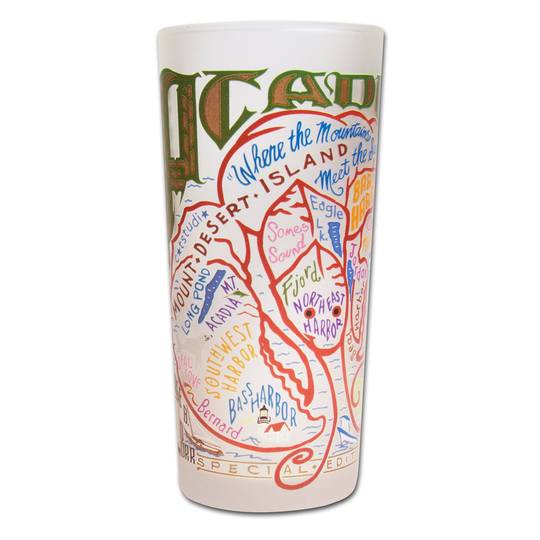 They have amazing travel, national park, and destination themed pillows, dish towels, glasses, fine art prints, thermal bottles, thermal tumblers, beach towels with colorful-and-quirky travel-themed original art works. They also have those travel maps with place names and drawings and local iconography.  
Lodge Cast Iron Cookware Storage Tower ($99.00)
I own too much cast iron. It's a problem, and I only really want to keep one skillet and one Dutch oven in the RV at any given time.  Cast Iron is heavy and hard to store–so this Lodge Cast Iron Cookware Storage Tower is a nifty solution. I think I have about a dozen skillets and two dutch ovens on there.
Jeremy's and Stephanie's Favorite Gifts of the Show
If I (Jeremy) had to pick one thing to be my pick, I would say support your authors and get Marc and Julie Bennett's RV Hacks or Amber Share's Subpar Parks. Stephanie would like to check out Cat Made Studios and pick out something like the tumblers with images from the parks to help the family remember their trips together.
We hope this list helps you find something great to gift this holiday season!
See you at the campground,
Jeremy + Stephanie
Podcast: Play in new window | Download