Have you ever visited a campground where you never had to leave it to have a full-fledge vacation? That has has been our experience at Yogi Bear's Jellystone Park in Williamsport, Maryland. We have stayed here twice–and only left the campground to get gas. This park is packed with so many amenities and activities, you'll never want to leave!
Jellystone Williamsport (previously known as Jellystone Hagerstown) is located near the charming, historic town of Williamsport. Sadly, we can't tell you a lot about what to do in the area since we spent all of our time at the campground; however, we can tell you why this Jellystone should be tops on your list if you are looking for a place to hang and play with the family.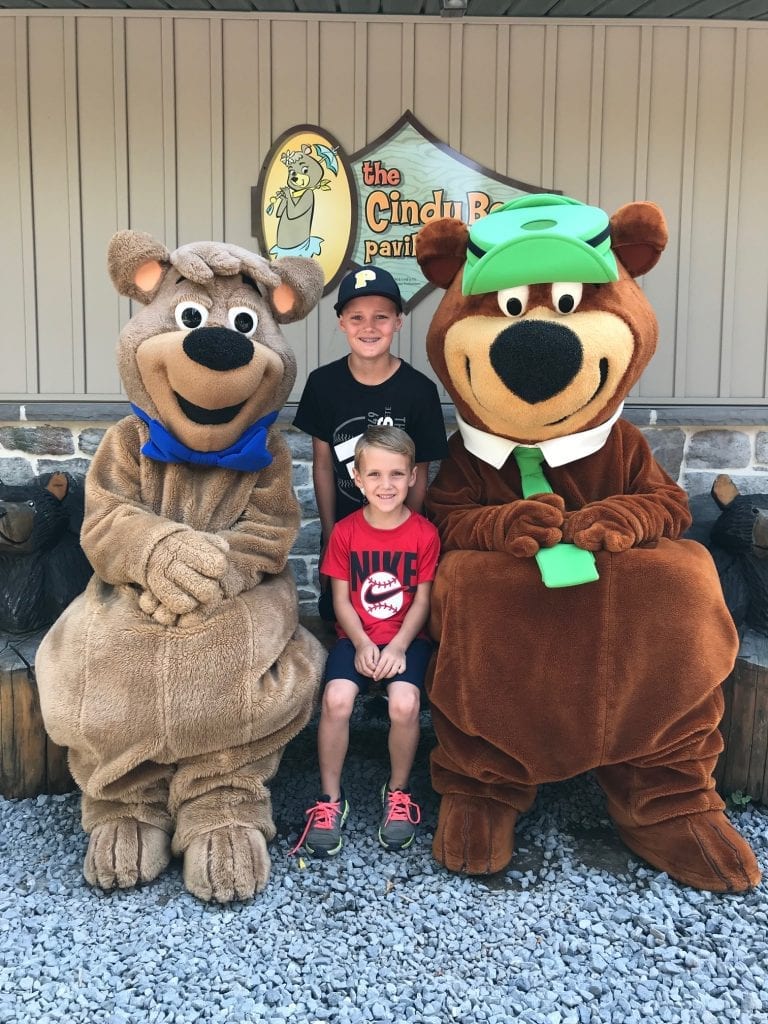 Camping Areas at Jellystone Williamsport
Deciding to book a spot at the Jellystone Williamsport is the easy part. Deciding which area to camp in is harder. Check out this campground map below for a visual of the layout: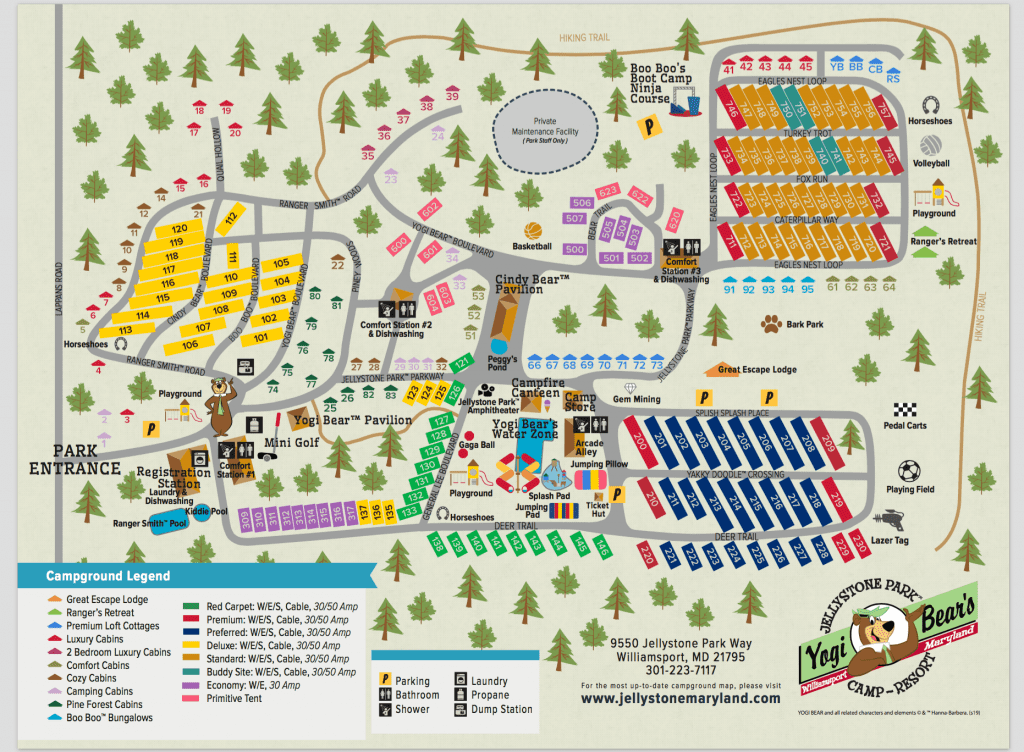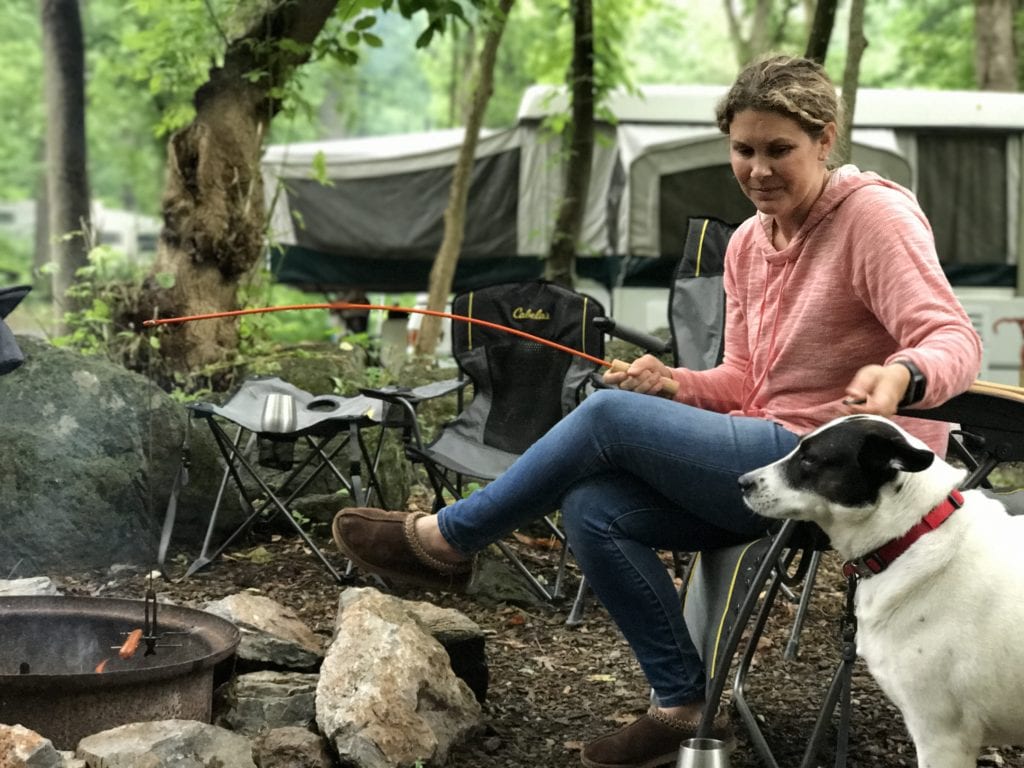 When you pull in to the welcome station, to your left there is an area that looks more like a state park, with ample trees and shade. The sites are fairly private, and you are in a very quiet section of the park. While it's further from the main activities, the older pool is nearby. One negative is that it can be difficult to maneuver a bigger rig in and out of this area. It's better for those who are in a 30-foot rig or less. (On the map, look for the yellow sites.)

Nearby, you'll find a really cool row of tent sites or sites for small pop-up campers. If we were tent camping, we would not hesitate to pick one of these. They are shady and quiet. (Look for sites 74-81 on the map.)

In the far corner, you'll find a very nice section of pull-thru sites. These large, somewhat spacious sites offer easy parking for big rigs. If you're traveling with friends or families without RVs, there are also a few cabins nearby. (Look for the orange sites in the top right of the map.)

If you are looking to be close to the action and want a pull-thru site, you'll find this near the front of the park. You can easily walk to the main amenities. Also, if your kids are older, you might feel comfortable letting them play alone. Most of these campsites are pull-thru with easy access. Sites 220-230 back up to the woods and are large and beautiful. (These sites are marked mostly in navy blue on the map.)

Running through the middle road of the campground along the main artery is a long row of cabins. We've said it before, and we'll say it again, we LOVE Jellystone cabins.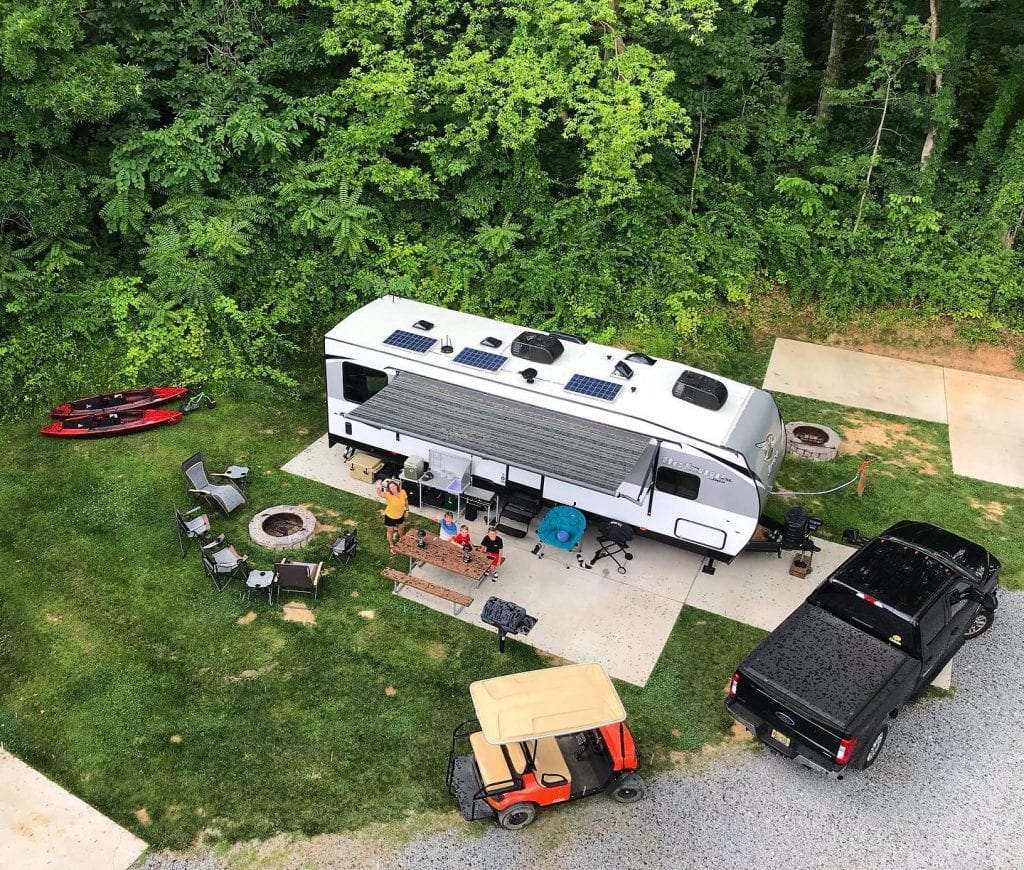 Amenities at Jellystone Williamsport
As we said above, you can visit the Jellystone Williamsport and never, ever run out of things to do. There's so much to do, we can't even fit all of it in this blog post, but you can learn more on the Jellystone Williamsport website.
First up, let's talk waterslides. The big slides are fast and fun! Nearby, there's the splash ground with water sprays, smaller slides, and a zero-entry pool for little ones. Parents can even relax in the water seats with hydro-therapy jets.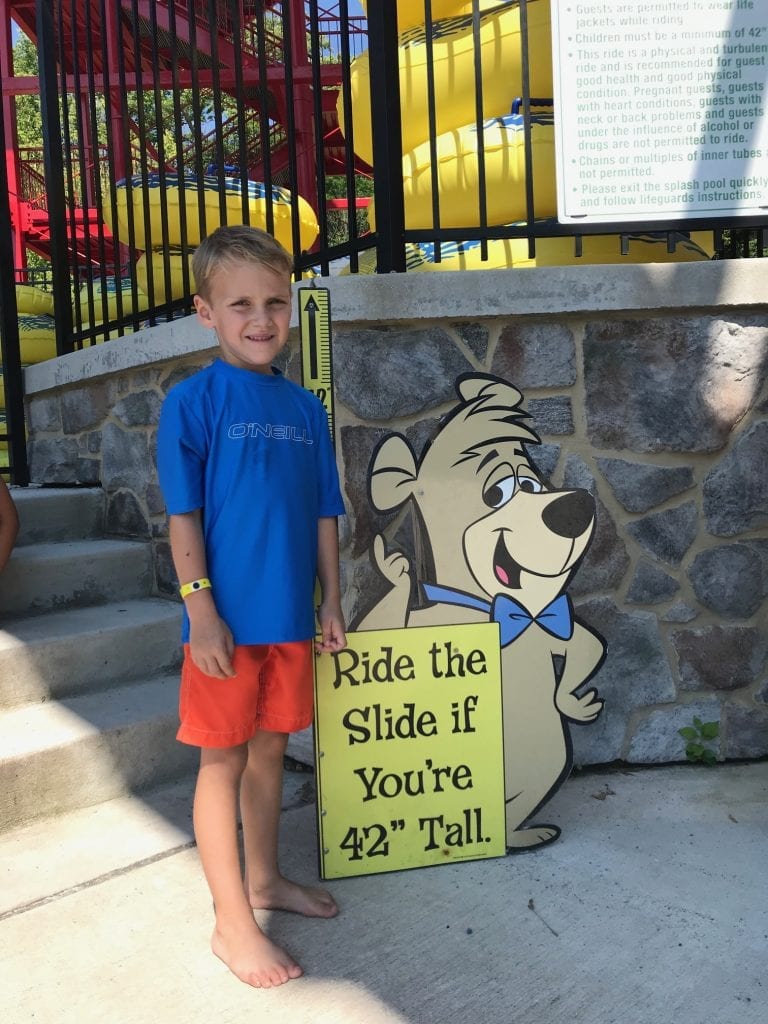 There are two pools. The main one by the Water Zone is definitely a little underwhelming, at least compared to the rest of the fun stuff surrounding it. This pool is not heated, so if you're visiting a little earlier in the summer, you might find it to be chilly. The older pool near the back of the park is heated, and it's a nice, quiet spot to relax.
For the aspiring ninja in the family, a visit to Boo Boo's Boot Camp is a must. This activity does involve an extra fee, but it was so fun, we went more than once. The Boot Camp consists of an obstacle course and parkour steps. Another activity that involves a fee is lazer tag. This high-tech hide and seek is exceptionally done, but bring your bug spray!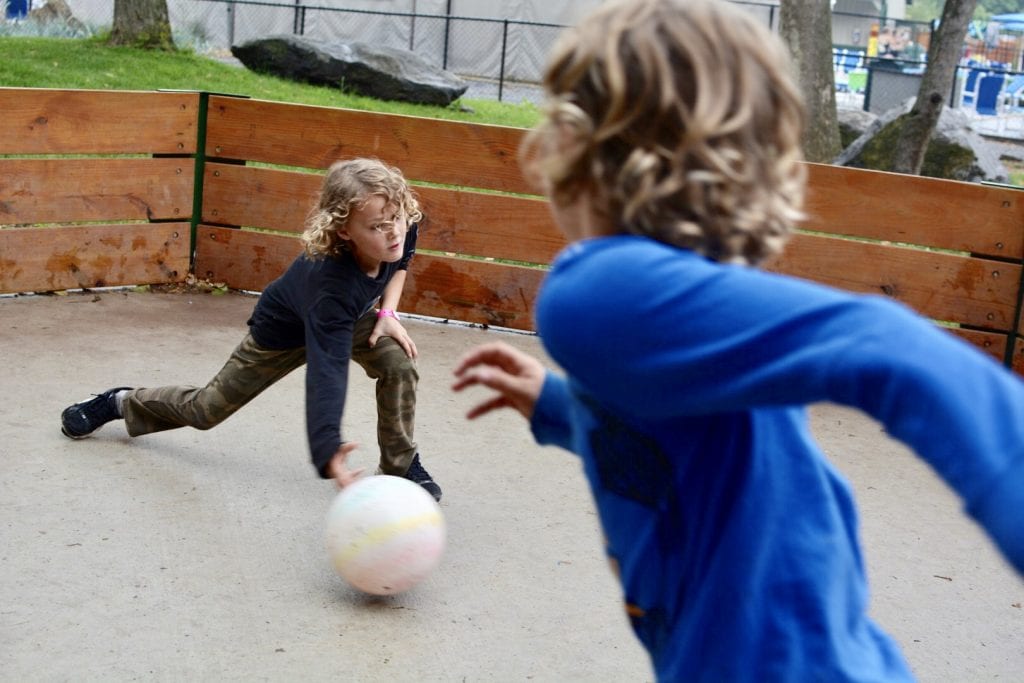 If you know us, you know our boys love gaga ball. The Jellystone Williamsport has two great gaga ball pits. In fact, all of the more traditional campground amenities are top notch here. You'll find three playgrounds, mini golf, jumping pads, sports courts, and so much more.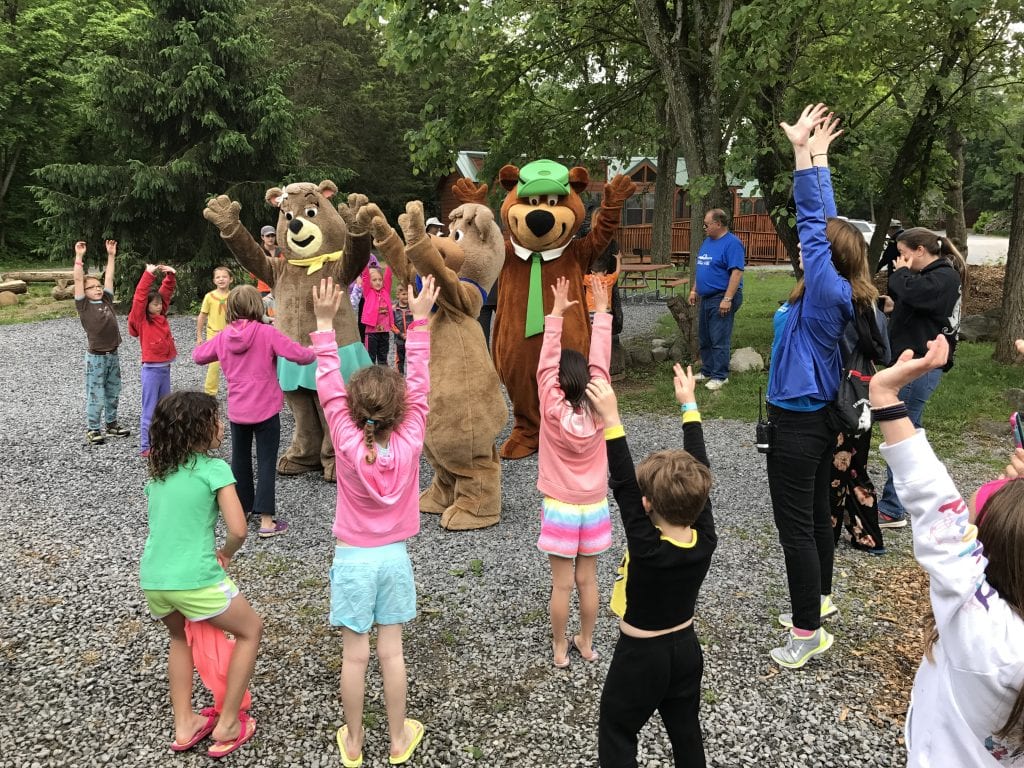 You'll also find a full-on activities schedule of planned events. There are outdoor movies, hay rides, pony rides, arts and crafts, character meet and greets, Yogicise (morning exercise with Yogi), cartoons, and more! Some are free, while others include a fee.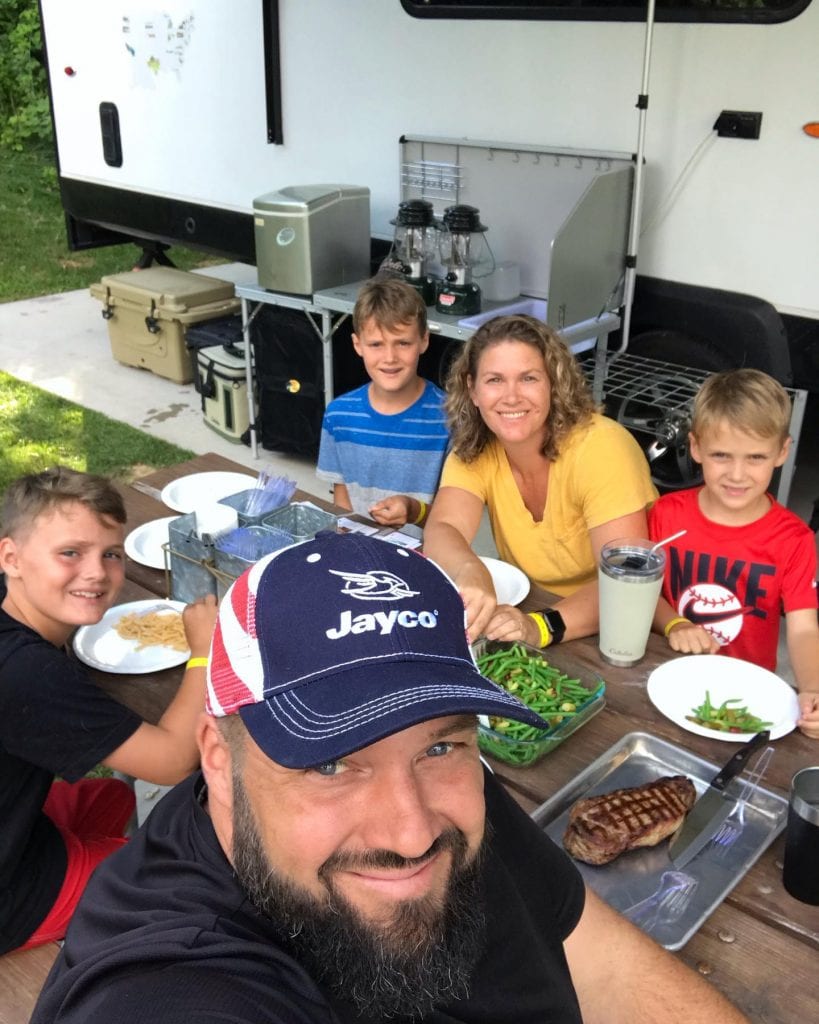 Add-Ons Items at the Jellystone Williamsport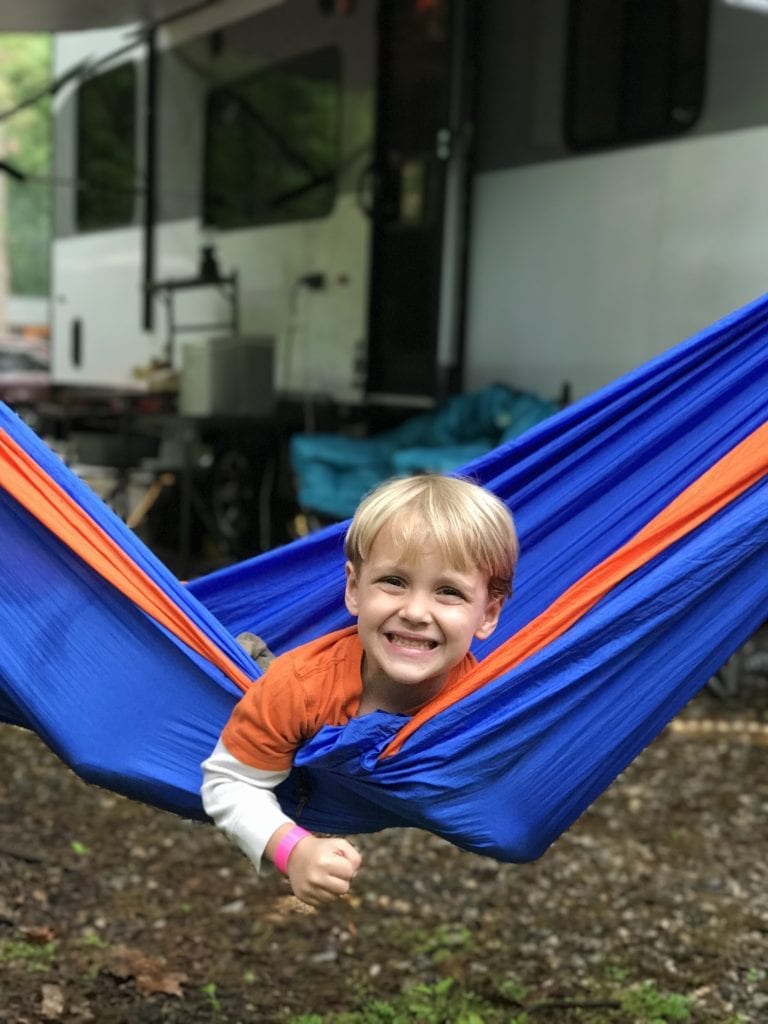 Rentable hot tubs…need we say more?! The Jellystone Williamsport offers a bunch of fun add-on items for an extra fee. You can rent golf carts, hammocks, pool cabanas, and more. If want to blow your kids' minds, schedule a personal bear visit from Yogi or Cindy Bear. Be sure to think ahead and book these with your site since they can (and do) run out.
Pro Tips for Visiting Jellystone Williamsport
Be sure to sign up for the Club Yogi Rewards Program. Your kids will get small birthday surprises. Plus, you can earn points toward free nights.
Plan your visit to include weekdays, if you can. This kind of park can be very busy, and even more so on the weekends. If you add some weekdays to your stay, you'll find lighter crowds.
Check the website to see which amenities are open and which activities are available during your stay. If you are visiting during the shoulder seasons, you won't find all of the same activities and amenities that are available in the summer.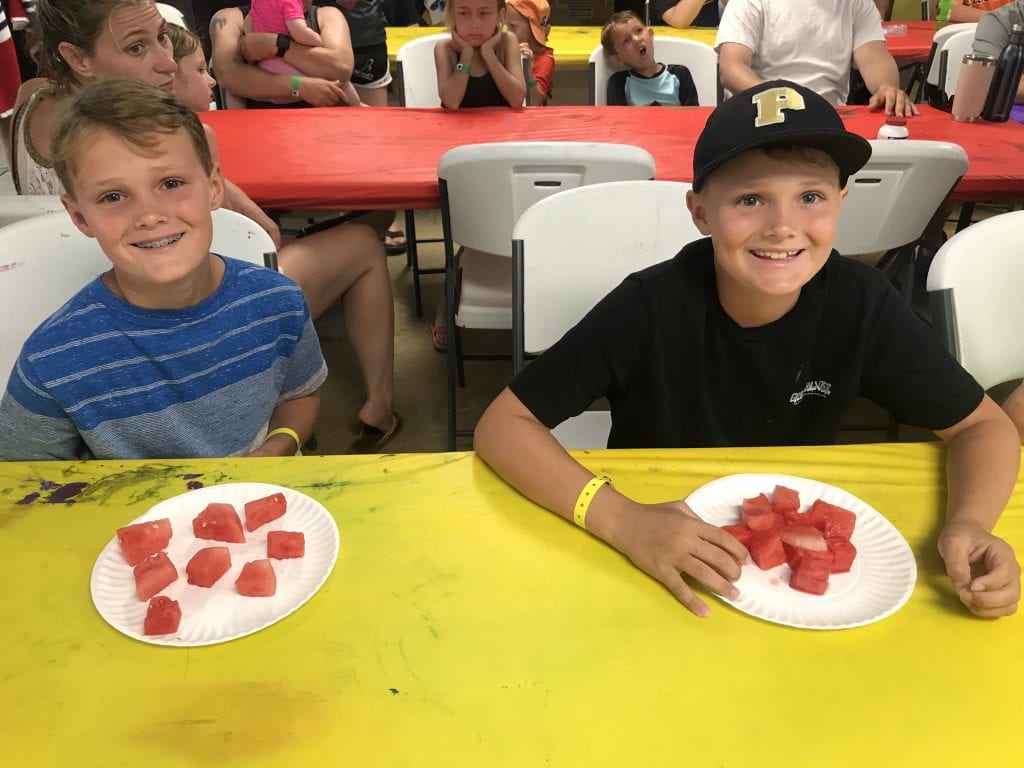 The Jellystone Williamsport is the perfect place for our family to play. We hope your family loves it just as much as we do! If you can't get to this Jellystone, be sure to check out our reviews of other exceptional Jellystone resorts, including Jellystone Mill Run, Jellystone Luray, and Jellystone Park at Birchwood Acres.
See you at the campground,
Jeremy + Stephanie
Podcast: Play in new window | Download