Jayco is introducing a new line of small, lightweight trailers aimed at outdoorsy travelers–and we couldn't be more excited! The 2021 Jayco Jay Feather Micro Series includes five floor plans, specially designed for more rugged adventures. These new trailers will be the lightest in Jayco's lineup and towable by many types of SUVs.
What can we say? We LOVE this Micro series.  Even if our family of five isn't exactly the target demographic. We know the RV market is diverse enough to have all kinds of travelers, and manufacturers are making all kinds of rigs to appeal to them. Micro will have strong appeal especially to solo off-grid adventurers, couples wanting to hit the mountains or the beach, and young families looking for non-stop fun in the great outdoors.
While we've come to expect family-friendly trailers from Jayco, we were curious to see how they would answer the call for lightweight, but rugged rigs. And, in true Jayco fashion, they've knocked it out of the park, without leaving their family-friendly DNA behind. Two of the five new floor plans are bunkhouses. Plus, each will sell for a reasonable price, even with many upgraded features.
To hear more about the 2021 Jayco Jay Feather Micro Series, click play on the media player above, or look for The RV Atlas wherever you find your favorite podcasts.
Go Power Solar and the Jayco Jay Feather Micro Series
Jayco wants the Jay Feather Micro to take you wherever you want to go–with or without hookups. These trailers come with features and options to make off-grid adventures possible and comfortable. You can find the full list of amenities here.
If you are bound by an electrical cord, it is hard to get away from the typical campground. For true freedom to roam, you will want solar power. However, many consumers are really confused by the electrical systems in RVs, and they get even more confused when they start looking at solar options.
Thankfully, the Jayco Jay Feather Micro Series makes solar easy. The lineup comes prepped for roof-mounted solar panels by industry leader Go Power. You can easily add the Solar Power Package, which includes a 190W solar panel and 30-amp controller. Most importantly, the Micro trailers come pre-wired for an inverter. Adding an inverter allows you to use your 110 outlets for all kinds of applications from charging your phones overnight to making coffee in the morning.
Now that we have traveled with an inverter, we won't go back. This makes dry camping and boondocking SO much more enjoyable because we have enough power for the luxuries we enjoy. Tank size is also really important for an off the grid rig like the Micro. The current 166FBS prototype has a 55-gallon freshwater tank, which is absolutely gigantic for a rig that's only about 20 feet long.
More Feature and Upgrades on the Jayco Jay Feather Micro Series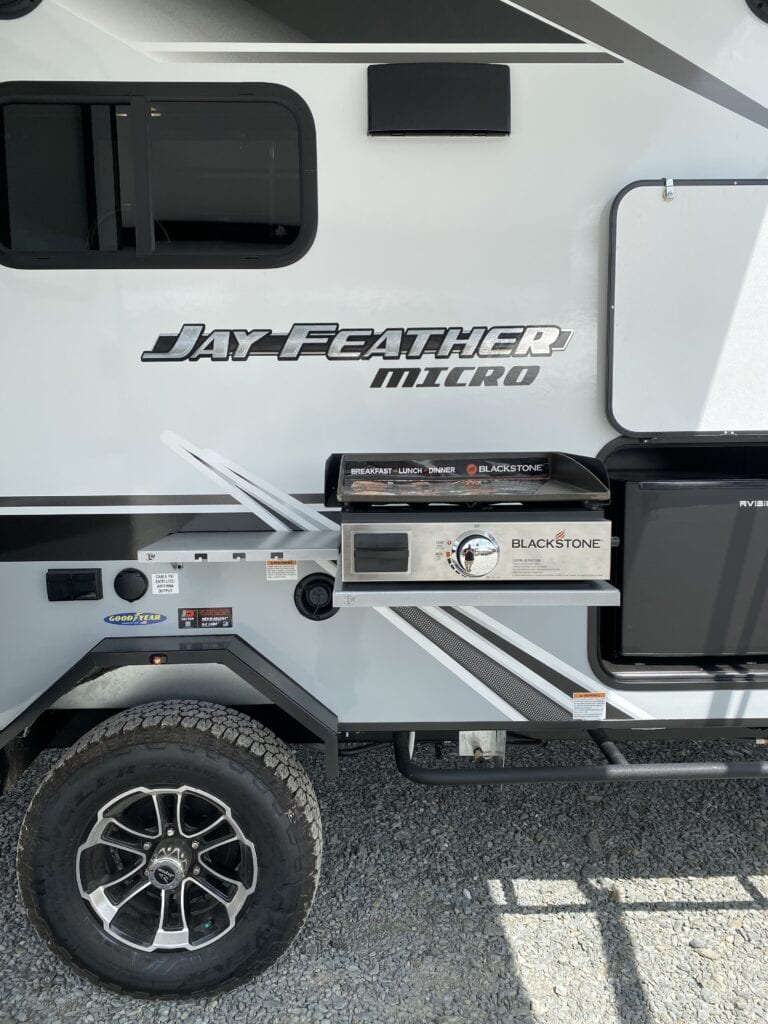 Even from a first glance, it's easy to see that the Jayco Jay Feather Micro Series is more rugged than your average trailer. First, they come with powder-coated nerf bars that extend out from the base of the trailer. These help you reach the Thule roof rack system or the 2-bike storage rack (both available as upgrades). A rugged removable ladder extends off the rear.
The body of the Jay Feather Micro trailers is constructed from Azdel composite materials, which creates a stronger, waterproof exterior. Again, this is a feature that shows the quality Jayco is putting into these units. You'll also see that in the 16″ Goodyear off-road tires, which are topped off by reinforced wheel wells. You've got great ground clearance for those trips off the beaten path.
Jayco also has an exclusive deal with Blackstone Griddles and is currently integrating their products in a variety of places in their lineup–including Micro. Of course any RV owner can buy a Blackstone and throw it down on a picnic table or a grill stand–but Jayco is taking this way further. The Blackstone griddles that come with Jayco's 2021 units have integrated stands and heat shields that are sturdy and thoughtfully placed and designed.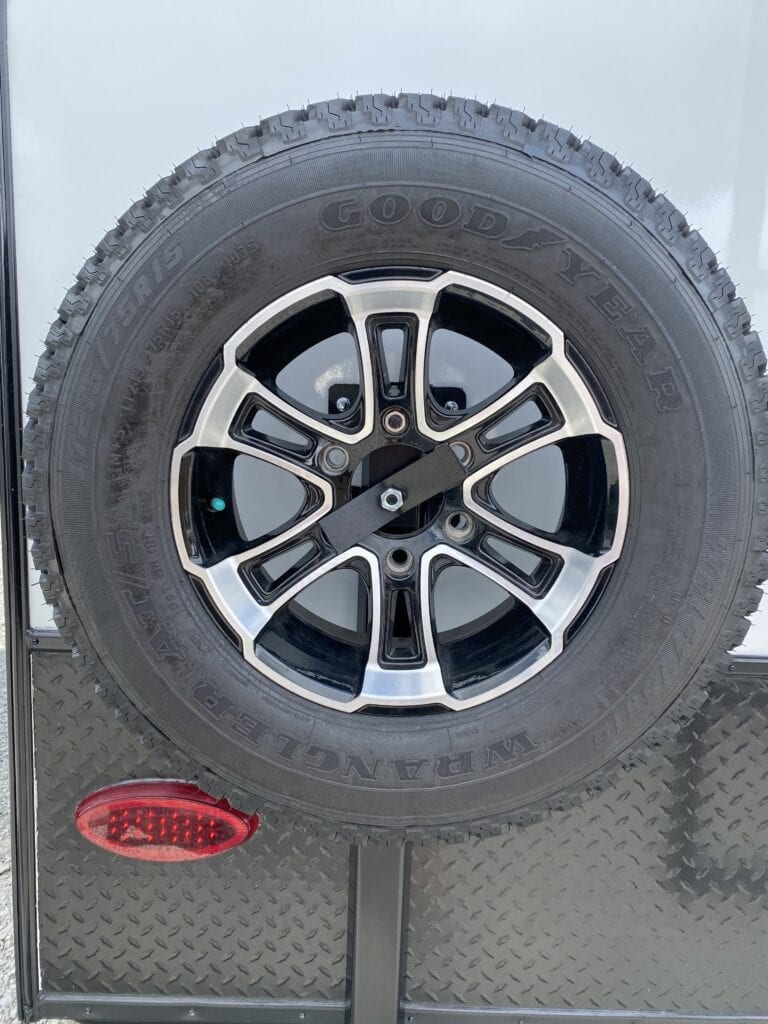 Another great feature of the Jay Feather Micro trailers is the MORryde steps. This is a feature you'd expect to find in a high-end trailers–certainly not at the price point for these Micros. We really like to see these kinds of upgraded features becoming standard in Jayco's 2021 lineup.
Jayco Jay Feather Micro Series Floor Plans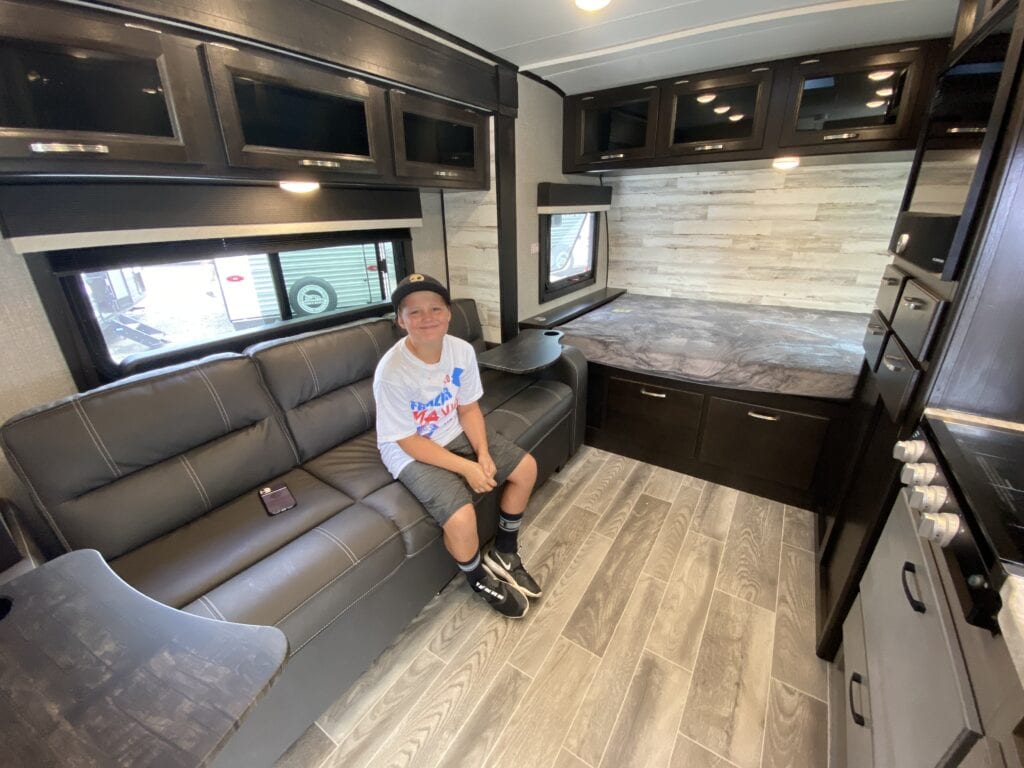 Want to take a look at a Jayco Jay Feather Micro? You're going to have to wait just a little bit. In the meanwhile, you can check this great preview video from Josh Winters from Haylett RV (he talks more about the new lineup here). Or, you can check out a prototype if you get lucky. So far, Jayco only has a prototype of the 166FBS, but you will start seeing others soon.
Let's take a quick look at the five floor plans.
Who is the Market for the Jayco Jay Feather Micro Series?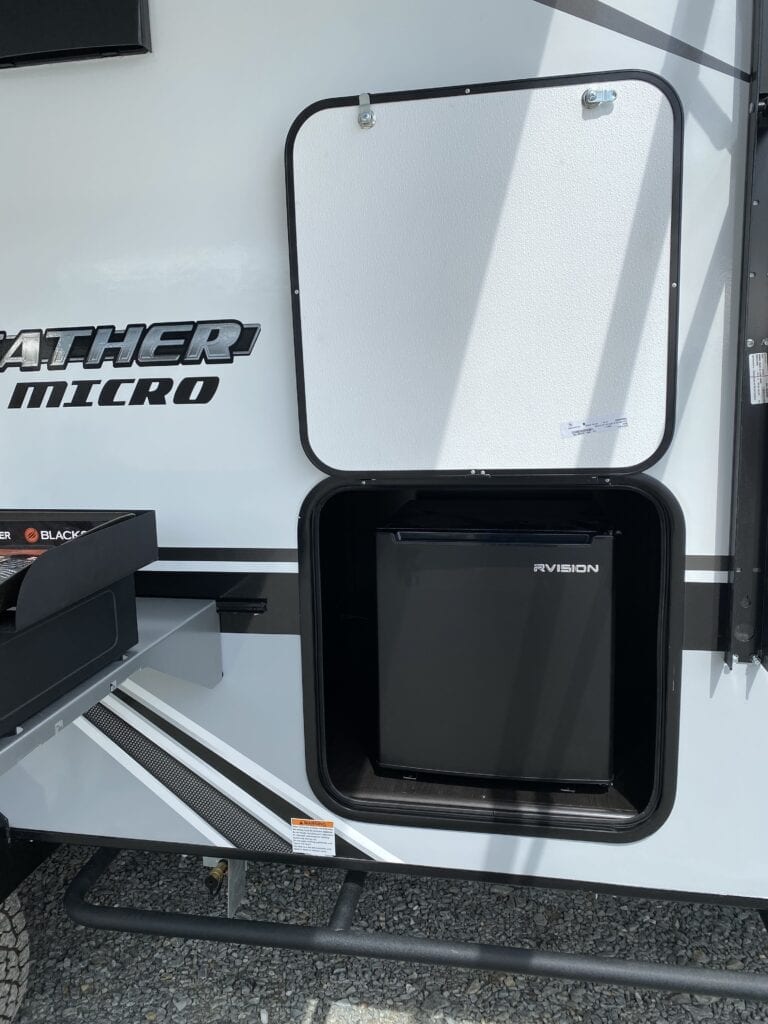 So what type of consumer is going to gravitate towards the Micro? You know the type.  Adventurous campers who love loading up their gear for rugged adventures, maybe with kayaks or bikes in tow. They want a trailer that will give them some comfort, while not holding them back. The Micro lineup will surely appeal more to the state and national park campers than those heading off to deluxe RV resorts.
Overall, many couples and young families will appreciate the price point, the thoughtful design, and the quality construction of the Jayco Jay Feather Micro Series. We are excited to see these trailers come to fruition. Maybe one day soon you will see us at the campground in one of them.
Stephanie + Jeremy
Podcast: Play in new window | Download