If you're a foodie who likes to have great eats while staying at amazing campgrounds, this article and podcast episode is for you! We are taking you to great burger joints around the country and telling you where to camp nearby. And, we've brought in America's foremost hamburger expert to share his expertise.
George Motz is known for his film and book Hamburger America, as well his television series Burger Land and his burger bible The Great American Burger Book.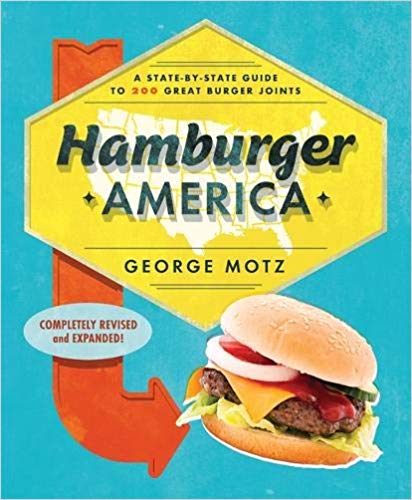 He's sharing his favorite burger joints with us, and we've done the research to find terrific places to stay nearby. Brace yourself! This is bound to make you hungry…
To listen to our complete discussion with George, click on the play arrow at the top of this article. Or you can subscribe to The RV Atlas in your favorite podcast app like Apple Podcasts, Google Podcasts, Spotify, and Stitcher. 
Best Burger in San Antonio
Where to Stay? If you're heading to San Antonio, the San Antonio KOA is a top pick. It's a lovely oasis located just 10 minutes from downtown. Packed with amenities, well-maintained campsites, and natural beauty, this park was KOA's Campground of the Year in 2015. It offers RV sites, cabins, and tent sites, but more importantly this KOA is only 8.8 miles from Chris Madrid's.
Where to Eat? Chris Madrid's is an epic burger joint. You might find a long line, but don't let that worry you. In fact, that should tell you that this is THE place to eat. For a special treat, George recommends trying the Tostada Burger. This beast is topped with homemade refried beans, melted cheddar cheese, and house-made corn chips. Insider tip for RVers: If you are just passing through, go ahead and drive your RV to Chris Madrid's, you'll find a huge parking lot.
Best Burger in Memphis
Where to Stay? Yogi Bear's Jellystone Park™ Camp-Resort Memphis is a top spot for families–and for foodies. This park is packed with water features, activities, and amenities for the kids. Bring your RV and choose from one of the many campsites, or if you're traveling without your RV, the Jellystone cabins are always a great option. This park is just five miles from Memphis, putting you in a prime location for exploring the city and its restaurants.
Where to Eat? George has two great recommendations for burgers in Memphis. Check out Alex's Tavern if you're up for a dive bar (note: this one is not kid friendly). This place is packed with local charm, from the two jukeboxes to the colorful owner. As for the meat, George recommends the Greek burger, which pairs perfectly with an ice-cold PBR. If you're exploring Beale Street, Dyer's Burger is a top pick for lunch or dinner. Dyer's is known for their deep-fried burger, which is one of the best burgers George has ever eaten (and if you haven't caught on yet, he has eaten A LOT of burgers).
Best Burger in Mount Airy, NC
Where to Stay? The Fancy Gap KOA is a campground we just adore. Located just off the Blue Ridge Parkway in southern Virginia, this campground is cool and scenic, thanks to its mountainous location. Plus, it is located near Mount Airy, NC, which was the inspiration for the town of Mayberry in the Andy Griffith Show.
Where to Eat? Our family had an utterly charming visit to The Snappy Lunch when we visited Mount Airy. Plus, the food was amazing. George agrees. What sets The Snappy Lunch's burgers apart is that they are breaded. The bread gets beefy and crispy–and tasty. Plus, everything is super cheap. If you want to feel like you've stepped back in time to Mayberry, grab a meal at the The Snappy Lunch.
Best Burger Near Philadelphia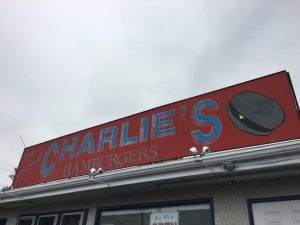 Where to Stay? While not technically in the city of Philadelphia (or even in the state of Pennsylvania), the Philadelphia South/Clarksboro KOA is a top pick for visiting the City of Brotherly Love. Located just over the state line in Clarksboro, NJ, this campground is scenic and exceptionally well maintained. Plus, there are a ton of activities and amenities for families to enjoy.
Where to Eat? In nearby Folsom, PA, you'll find Charlie's Hamburgers. If you've had your fill of cheesesteaks, head to Charlie's for a bag of burgers. George usually doesn't eat ketchup on his burgers, but he noticed all the locals were getting it at Charlie's. He recommends doing as the locals do, and you can't go wrong. These are tasty, classic burgers.
Best Burger in Elkhart, IN
Where to Stay? Elkhart, IN, attracts a ton of RV fanatics, thanks to its located near the RV/MH Hall of Fame and many, many manufacturers in the industry. If you're in town for a factory tour or for some repair work, check out the Elkhart Campground. It's a solid choice.
Where to Eat? Take a break from all of the RV action in Elkhart, and grab a burger at Heinnies. Their long-time secret recipe includes chopped onions mixed into the burger, adding tons of juice and flavor.
Best Burger in Woodstock
Where to Stay? The Quechee/Pine Valley KOA is a gorgeous campground, located just 15 minutes outside of Woodstock, VT. With the Quechee Gorge and the rest of the Upper Valley of Central Vermont nearby, there's tons of natural beauty to explore in the region. 
Where to Eat? The White Cottage Snack Bar is classic American ice cream shack, offering delicious burgers and (surprisingly) seafood. George recommends topping your burger with white American cheese, something you can't always find elsewhere, and he says their fried clam bellies are some of the best in the state. Dine on the outside patio, which overlooks the nearby river.
Now that your mouth is watering, you can get busy planning the ultimate burger road trip with these recommendations from George Motz. If you want to savor all of his burger content, find him on Instagram (@motzburger) or check out his website. And, don't forget to pick up your copy of The Great American Burger Book: How to Make Authentic Regional Hamburgers at Home or Hamburger America: A State-By-State Guide to 200 Great Burger Joints. Or, check out his film Hamburger America: One Man's Cross-Country Odyssey to Find the Best Burgers in the Nation. 
Plus, if you love eating while camping as much as us, check out our interview with legendary Road Food author Michael Stern!
See you at the campground,
Stephanie + Jeremy
Podcast: Play in new window | Download