Want to Know how to grill the perfect burger? We do, too. So we reached out to Weber's Head Master Griller, Kevin Kolman, and asked for his best tips.
We Know It's Easy to Make Bad Burgers
It's really easy to make bad burgers at the campground. Trust me, I know. I used to overcook and under season my burgers every time. By overcooking I mean to say that I charred the living hell out of them–and I didn't actually put any seasoning on them at all. They looked and tasted like burnt hockey pucks. I usually burned the rolls as well, just to be consistent and make sure that every bite of the burger was completely dried out. When I think of those burgers now I am deeply ashamed.
Because I finally know how to grill.
My sons beg for burgers now–whether we are at home or at the campground. I shape the patties using a press. I season them with my favorite spice blend. And I never burn them. My burgers have a good reputation among family and friends. But I still want more. I want to achieve burger legend status. I want to be able to grill the perfect burger every single time. I want to be able to grill a burger like Weber's Head Master Griller, Kevin Kolman!
How to Grill the Perfect Burger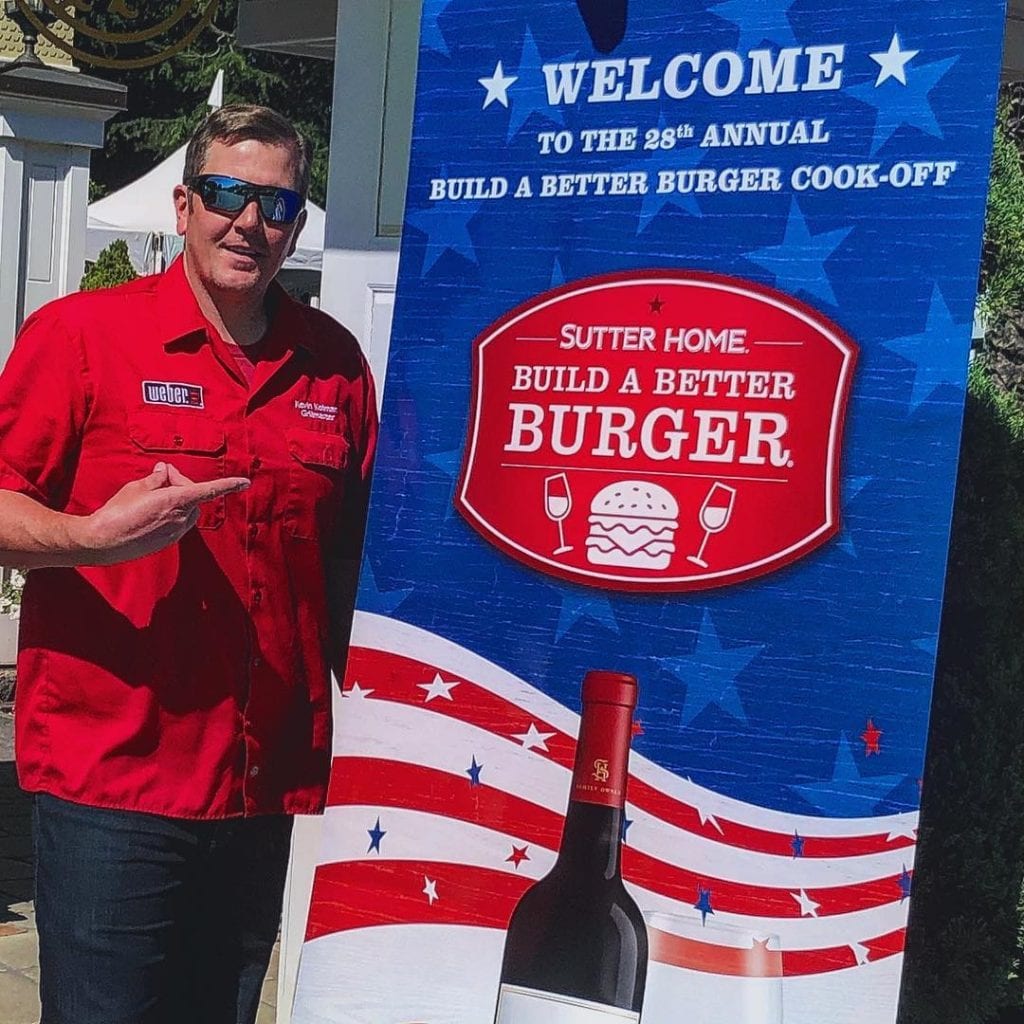 So I called him up and invited him onto our podcast to teach all of us how to grill a burger to perfection every single time.  Kevin is a smoke master, pit master, grill master, World Record Holder, BBQ Ninja, BBQ Whisperer and a Jedi master of Burgers! He is an absolute authority on all things grilling. Kevin also happens to be a super friendly guy. When Stephanie and I interviewed him he had just returned from a Burger competition in Napa Valley, so all things "burger" were fresh in mind!
Here are Kevin's tips for grilling a perfect burger every time. Who is ready to take their burger grilling game to the next level? I know that I am!
Preparing the Grill
Clean your grill up before heading to the campground! Nothing can ruin your camping mojo more than opening up your grill a few minutes before dinnertime and finding a filthy grates and a belly full of charred debris. You need to give those grates a scrub down and clean up the interior of your grill at home before packing it up for a trip. You should also fire it up and make sure everything is working properly. Finding out your grill is broken at the campground will make you a grilling chump, not a champ. And remember, the goal is legend status and nothing less!
Preheating the Grill
Preheat your grill on medium or medium high so that your grill temp reaches 425 to 450 degrees. Make sure you don't OVERHEAT the grill because you could burn your burger on the outside and undercook it on the inside.
Choosing the Meat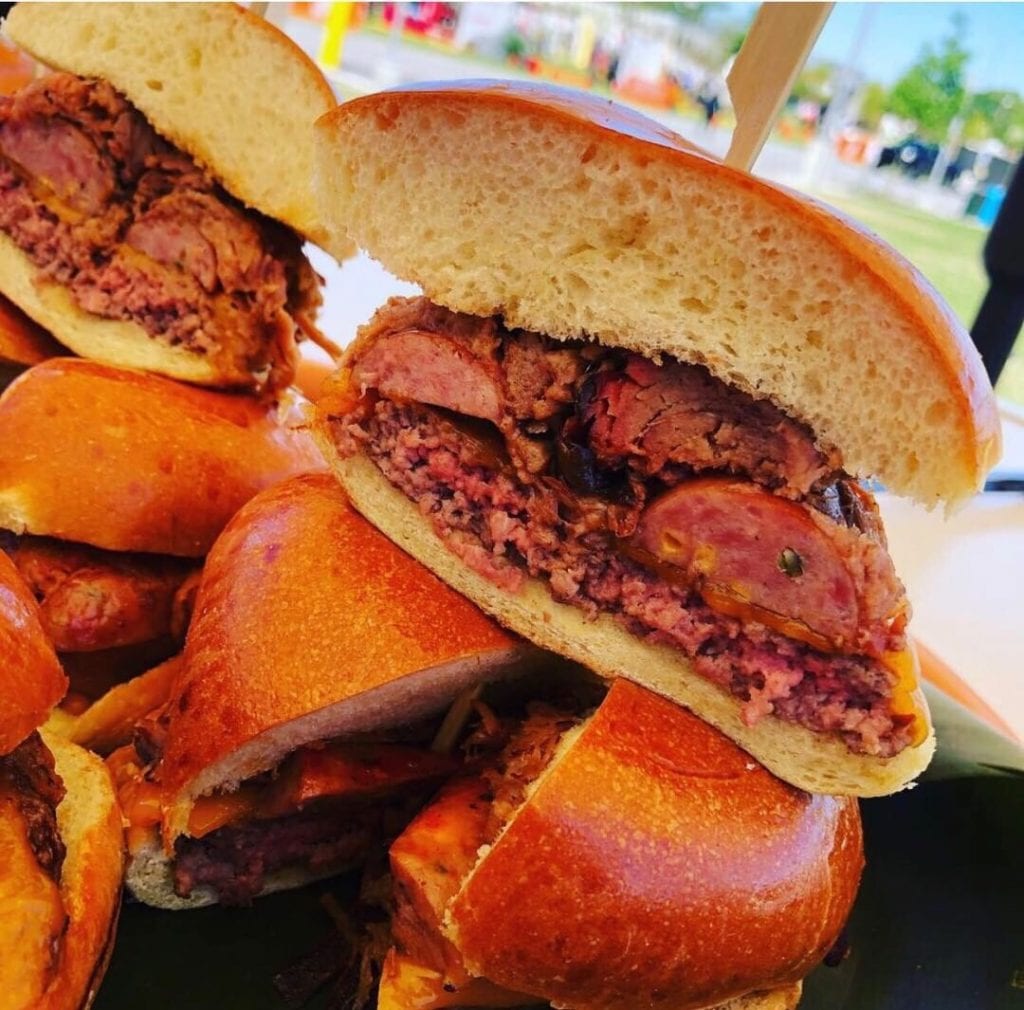 Kevin recommends an 80/20 mix but he won't judge you if you like 90/10. His perfect blend combines brisket and bacon. Cultivate a good relationship with your butcher to make a mix like this happen.
Seasoning the Meat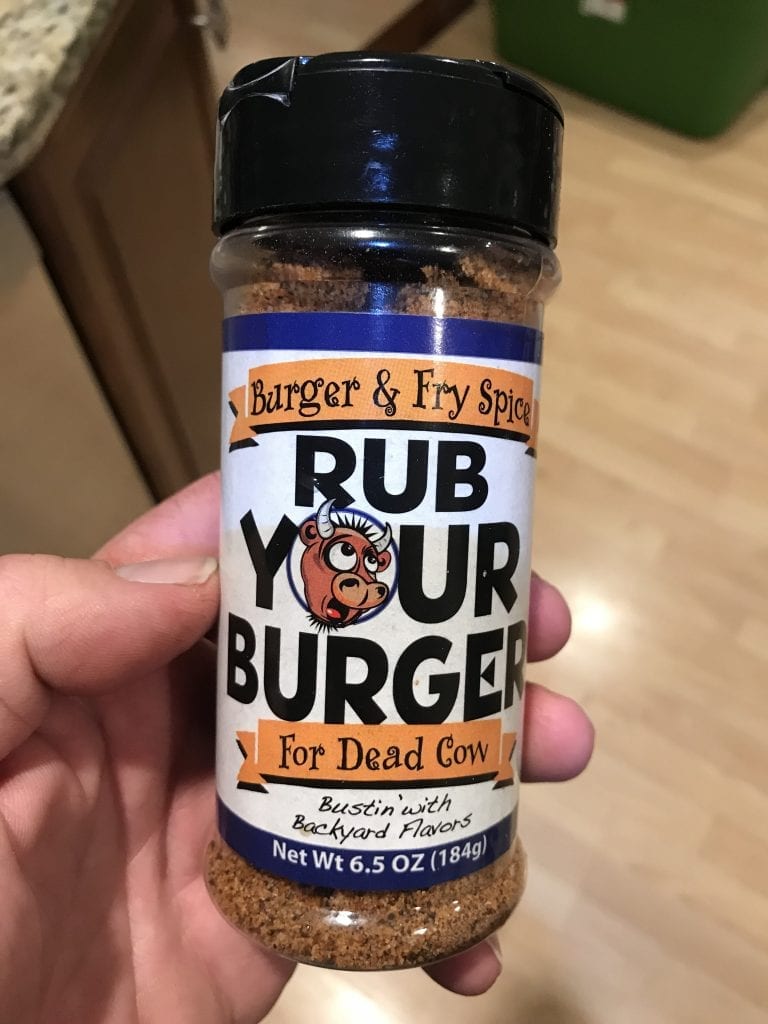 Basics like salt, pepper, granulated garlic, paprika, add tremendous flavor to a burger. Especially when your seasoned burger hits the hot grates and the magic of caramelizations happens. Kevin also recommends adding flavors to the inside of your patty before cooking. Think onions, bacon, ketchup, red wine, BBQ sauce, and more! Time to get creative and make a burger that is uniquely your own!
Shaping the Burgers
You should use a burger press to form patties that are consistently sized. This will REALLY help you cook your burgers to a consistent temperature so that some are not burned while others are left undercooked. Also make sure to add a liberal "steakhouse dimple" to the top of your burger with your thumb. This helps keeps your burgers from looking a meatball and being undercooked on the inside.
Placing the Burgers on the Grill
If you have the room, set up your burgers on one side of the grill and leave the other side empty. When it is time, flip your burgers onto the empty side where the heat is maximal and the grates are hot and clean and ready for searing.    Only one flip is necessary!!!
Time and Temperature
This all depends on the size and thickness of your burger! Have a game plan before hand and remember that practice makes perfect (and so does a meat thermometer).
Adding Cheese to the Burgers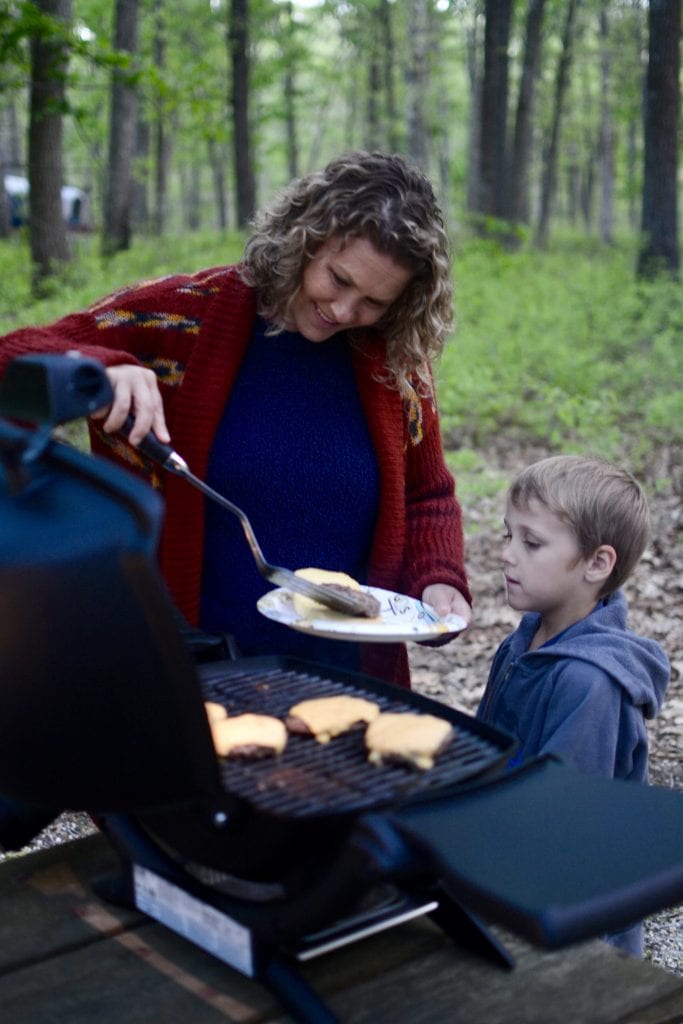 Place your cheese on the burger one minute before the burger is going to be removed from the grill. Serving a burger with unmelted cheese is a total bummer! The smiles on your kid's faces will disappear and your grilling legend status will be put on hold. Maybe forever.
Let the Burgers Rest!
Let your burgers rest for 3-4 minutes so the juices can settle back into the burger! Your kids may be ravenous but good things and juicy burgers come to those who wait!
To watch Kevin share some of these tips and more click below:To
To learn more about Kevin and check out some of his favorite recipes click below:
http://https://www.weber.com/US/en/kevin-kolman/weber-26112.html
And also check out our complete guide to smoking and grilling with Casita Dean.
Do you have any tips for making perfect burgers? Leave them in the comments below,
See You At the Campground!!
Stephanie + Jeremy
Podcast: Play in new window | Download