Hither Hills Campground
We have wanted to visit and review Hither Hills Campground, in Montauk, New York for years! But from our home at the Jersey Shore it could take 3.5 hours(or 6 hours) to get there, depending on traffic. We would also have to tow our RV over the George Washington Bridge. We have towed over the GW before–but it is not exactly fun. Our buddy Phil Travaglia camps at Hither Hills on the regular and we finally decided to have him on for a review. We are so glad we did. Phil loves camping at Hither Hills and he loves exploring Montauk. His passion for this beautiful place really comes to life in our interview with him.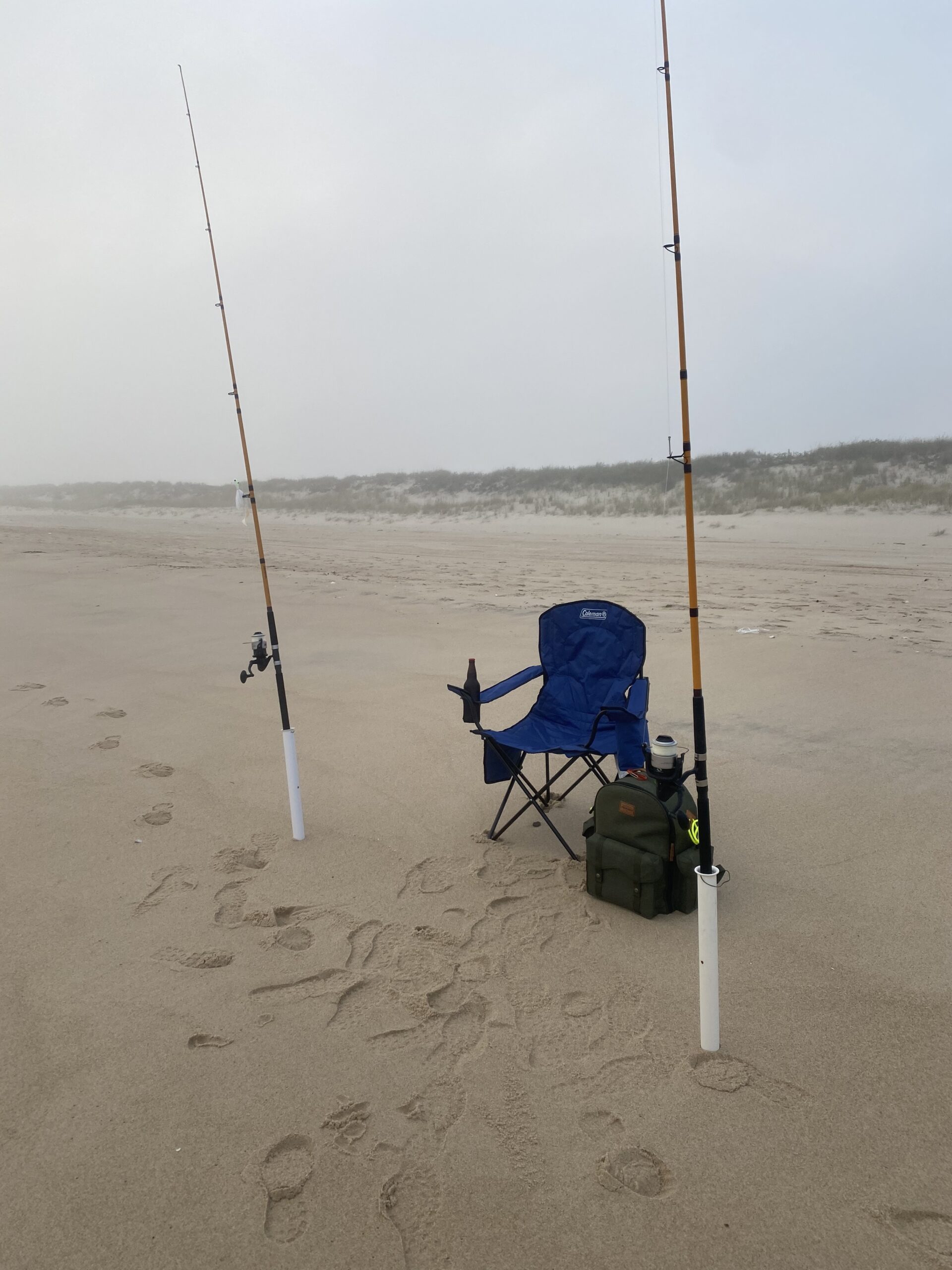 During Phil's last trip to Hither Hills he met the team behind Sunny Day Camper Rentals. He was very impressed with their rental service and wanted to recommend it to anyone who doesn't own an RV and might want to camp on Hither Hills, or anywhere on Long Island. Sunny was also kind enough to provide a few of the pictures below! All Thank you Sunny!! All other photos are by Phil! To ready more about Sunny Day Camper Rentals scroll down to the end of the post.
To listen to Phil and Jeremy discuss Hither Hills Campground click on the media player above. Or just keep reading Phil's great guest blog post to find out all of the information you need to visit Hither Hills and Montauk.
Guest Post by Phil Travaglia:
Layout of Hither Hills Campground 
The campground is divided into two main loops: the East Loop and the West Loop separated by a roundabout and a beachfront visitors center. The East loop and West are predominantly RV sites. Then there is a smaller "Tent only" loop called the "J Loop". This loop does not allow generator use. The visitors center (pre-Covid) has a large community room geared towards environmental education for kids. There are "hands on" learning tables and the campground has a permanently staffed environmentalist who provides educational programs and hikes for the campers. 
All of the sites are considered oceanfront sites. The campground is separated from the ocean by a single row of dunes that run the length of the campground. You hear the ocean literally from every site. The camping is dry camping with water spigots interspersed throughout the campground for filling your tanks. They have designated hours when you can run your generators and the location is excellent for those who have solar set ups. 
The majority of the sites are listed for 30 foot rigs . The sites right up against the dunes are for smaller rigs up to 20 feet and there are seventeen sites that I counted that can take 40 foot rigs. There are four bath houses with showers. Personally, I have only checked out two of them. The West loop bath house is likely the original bath house for the park. It is older, but it is clean and well maintained. The East loop bath house is much newer and is very nice. Also, this one is clean and well maintained with modern shower stalls.
There is a nice camp store on the grounds during the peak season. There is a very nice playground as well as a baseball/ softball field, basketball and some of the nicest oceanfront beach on Long Island.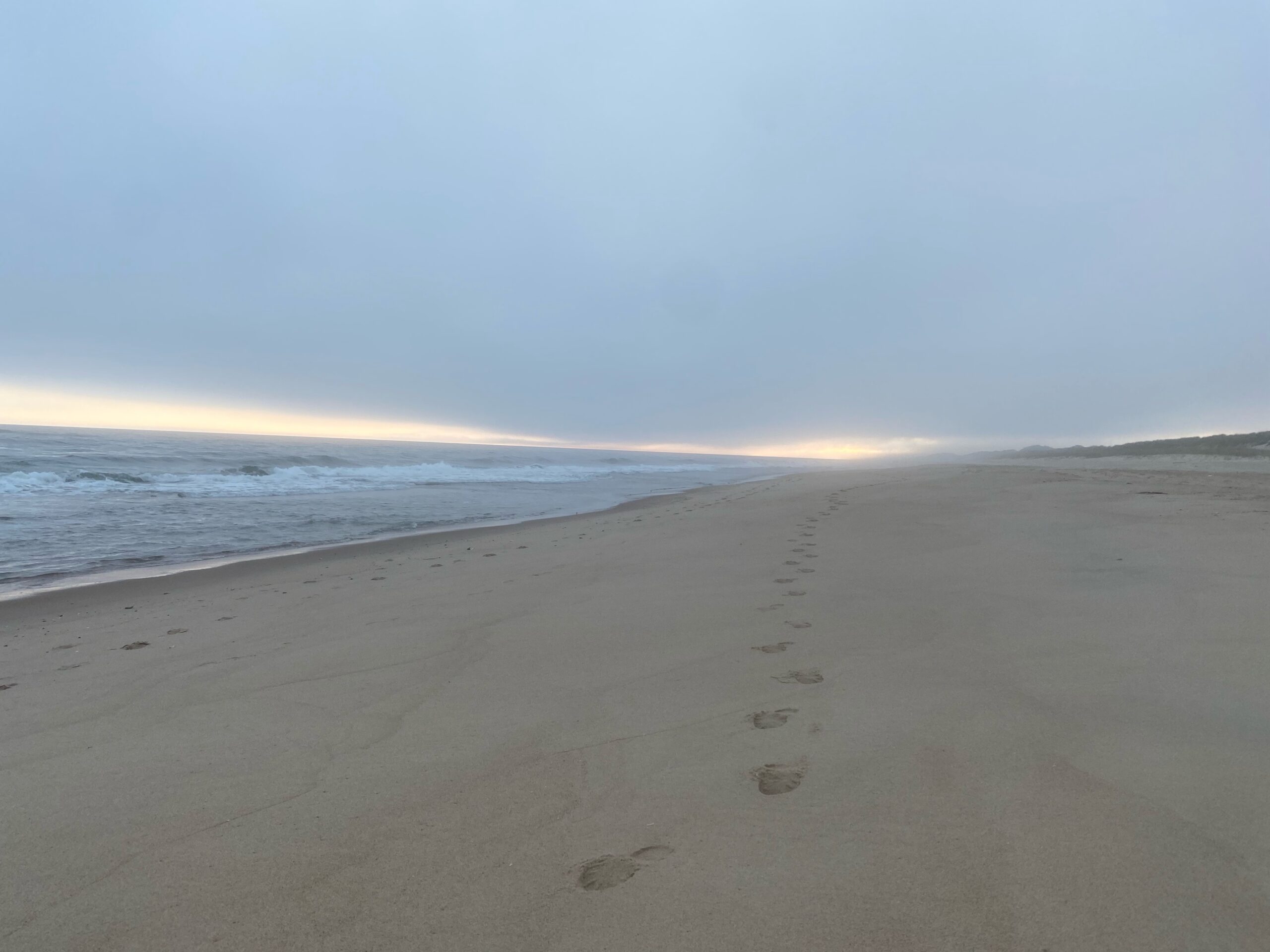 Tips for Visiting Hither Hills Campground During Peak Season
There is a seven night minimum for renting campsites at Hither Hills during peak season which runs from Memorial Day to Labor Day. Camp fires are also not allowed during this time. I asked about this and was told that they do this during the peak season for a few reasons: One is to cut down on the smoke… The layout of this campground is flat with low bushes and trees (typical for beach camping on the East Coast) during the peak season the campground fills up and the smoke from everyone's fires can become a bit much for some. 
The second reason is fire prevention. The campground is very exposed as you would imagine and the grass and brush can become very dry Combine that with fires and wind and there is the potential for a brush fire. 
Hither Hills Campground offers organized activities such as: sandcastle contests, beach volleyball and environmental education programs to name a few. The camp store is open, however, I have not been in it. I've been told, they have the essentials… Like, breakfast and lunch sandwiches as well as serve ice cream.
Tips for Visiting Hither Hills Campground During the Shoulder Seasons
There is a two night minimum.  Any single night openings are let out on a first come first served basis. Camp fires are allowed but they must be in raised containers. The camp store is closed during the shoulder seasons, but not to fear… there is a great bagel shop about a half a mile from the campground called Goldeberg's Bagels. They have excellent coffee and the best everything flagels I've ever had. 
There are no organized activities at this time.
Getting Reservations at Hither Hills Campground
All reservations are made via the Reserve America reservation system. This is an extremely popular campground and sites fill up almost immediately once reservations are open. You can reserve sites up to nine months in advance. The fee for New York state residents is $35/ night. The Fee for Non-residents is $70/ night  Also, there are the Reserve America fees as well for changing, cancellations etc. 
Things To Do Around Hither Hills Campground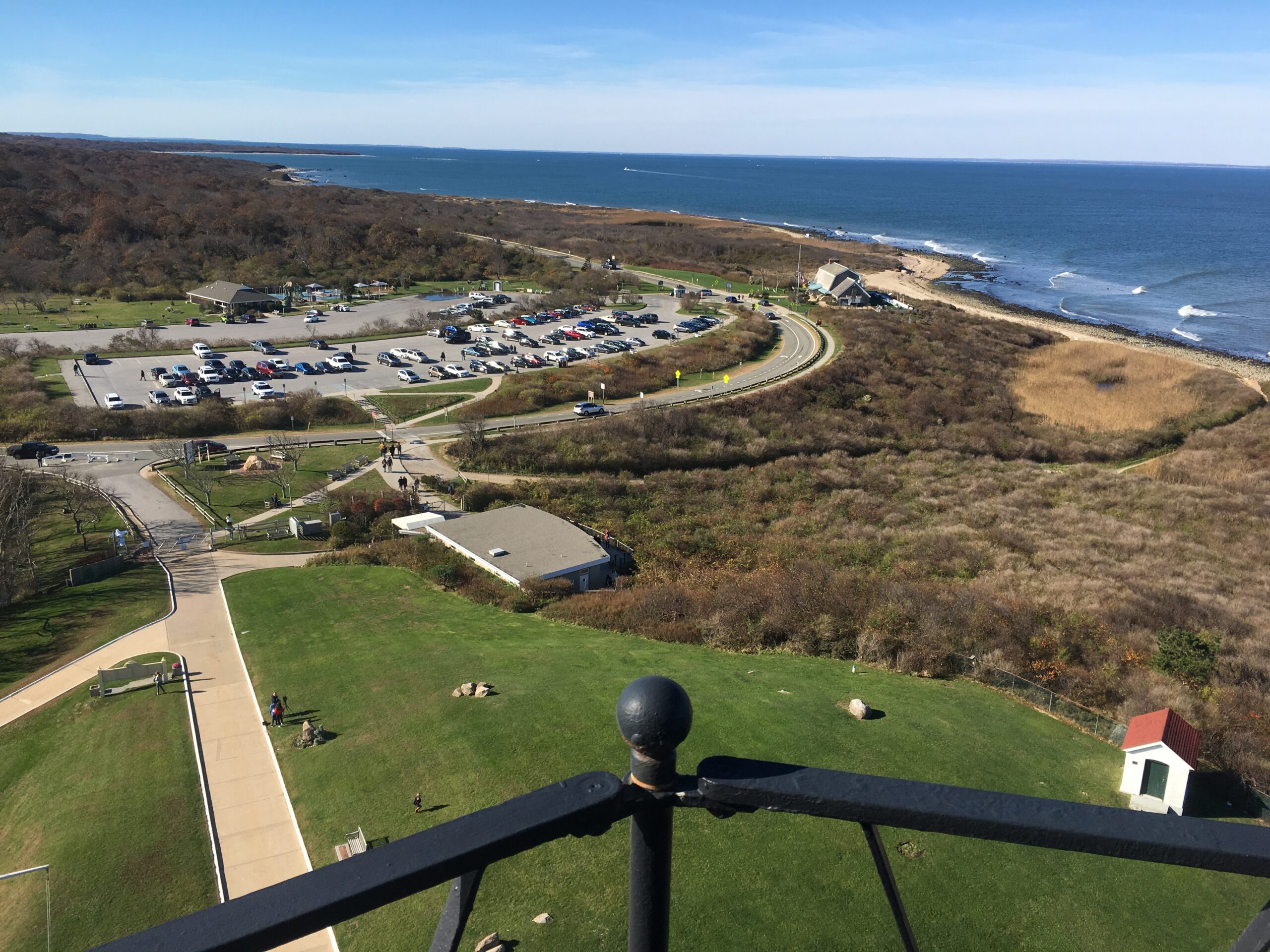 There is an over abundance of things to do in this area of Long Island. If you head East from the campground, you head directly into the town of Montauk. You will see beautiful country and you may even recognize some landmarks from the television series "The Affair" i.e you will pass the horse stables featured in the show on the left side of the road heading into Montauk. Montauk itself is a charming town with great food, culture and history. It also has a variety of local shops. Continue through Montauk for about 4 miles and you come to the Montauk Lighthouse. The Montauk lighthouse is a National Historic Monument. It is the fourth oldest lighthouse in the United States and was the first lighthouse built in New York State. It was commissioned to be built by congress under George Washington in 1792. 
The lighthouse also has a wonderful museum, gift shop and three and a half acres of grounds and structures to explore. Currently, the museum and the lighthouse are closed due to Covid, However, a curator told me that the grounds are open for a self guided tour for a reduced admission fee. Parking at Montauk State Park (which is right next to the lighthouse) is free if you show your Hither Hills window tag at the gate. There is a separate visitor center located next to the lighthouse with a nice viewing deck overlooking the ocean. It is a nice structure with seating, restrooms and food available. 
Montauk State Park has many great hiking trails in the immediate area surrounding the lighthouse which give you direct access to the coastline (where you will often see seals and on the rare occasion–whales). They even have scheduled winter seal hikes for those listeners that don't live too far and are looking for an outdoor day trip.
Just before the entrance to the lighthouse, you will see a sign for Camp Hero State Park. This is a unique and very popular attraction. It is actually the grounds of an abandoned WWII coastal defense station. There are several structures still intact including a giant radar dish and the soldiers barracks. Apparently, this was established to detect enemy vessels approaching the U.S. I was told that you cannot go into the buildings , but you can explore the grounds around them. It is recommended that prior to visiting, you should do a little research about the facility. There is not a lot of actual on-site information available about the structures. A little pre-visit reading makes the whole experience much more interesting. 
Another popular place to visit while out in Montauk is the Ditch Plains Beach area. This beach is a well known surfing beach located on the Montauk peninsula. There even are local shops where you can sign up for surfing lessons if you're feeling adventurous. Shadmoor State Park is also known for its hiking trails which run along the bluffs of the coast line. 
There is horseback riding, tennis, golf, cycling in the area. Also, one of my favorites, the fishing charter boats. You can charter a fishing trip on one of the many locally owned fishing boats for a great day on the water. The captains of the boats really know the local waters and always seem to find the fish. There are also restaurants in the area like the Star Island Grill that will cook your catch! The deckhands filet your catch and you can actually bring it to the restaurant and they prepare it for you! 
 My buddies and I used to go to a great Chinese place called the "Wok and Roll" with our catch and they would prepare our favorite Chinese dishes using our fish. Sadly it is no longer open, but there are places that still do this. If you ask the deckhands, I'm sure they'll be able to name a few. 
Food and Shopping in Montauk and Surrounding Towns
There are too many amazing places to eat to mention them all. It is safe to say, there is no shortage of dining during the summer and early shoulder months. There is a variety of shopping and dining in the area. One area that combines them both is the Gosmans' dock area. There they have a great waterfront restaurant, a fish market and plenty of shops right on the water. The fish market at Gosmans' Dock makes daily deliveries to the Fulton Fish Market in NYC and actually supplies a great deal of the East Coast with fresh seafood. 
Don't forget the surrounding towns. These include the Hamptons and the quaint little town of Sag Harbor. As with Montauk, you will find an abundance of shops and restaurants. There is so much to do in each of these towns you'll have to come back again and again.
Phil's Personal Notes 
The Shoulder seasons have been the real secret for us. There are more sites available and for the most part, Long Island weather is fairly mild in the fall and the spring. This may be the way to get out here and decide whether you would like to spend a week in the summer. There are very little, if any bugs during these seasons. 
The East End of Long Island is beautiful in the fall with many seasonal activities (pumpkin picking, wineries etc.) My absolute favorite thing about this place is the night sky. There is very little light pollution this far out on the Island and the night skies are second to none. When the camp fires are out and the moon is up, it feels like you are in a planetarium, we bring the telescope every time. 
Sunny Day Camper Rentals 
There is a great way to consider checking this campground out without too much work. There is a locally owned camper rental business called Sunny Day Camper Rentals – Link: 
I have been to Hither Hills Campground about five times and every time I've been there, I have always seen campers from Sunny Day. On our last trip, I had the chance to speak briefly with Sunny and she told me that they set up and break down the campers. Pretty much all you do is show up. The campers looked like they were clean and well maintained. They have different types and sizes including pop-ups and hybrids. You can even rent generators and other camping equipment!
This is a great option if you do not want to drag your rig across the bridges to get to Long Island (if you are coming from out of state or upstate.) The East End of Long Island is New York's own Cape Cod. There is so much food, shopping, history and culture to experience and Hither Hills gives you a great way to experience it.
Podcast: Play in new window | Download