If sledding down giant hills of sand sounds like your kind of fun, you'll want to visit Great Sand Dunes National Park in south-central Colorado. And, if you do, you'll want to stay right at the heart of the beauty and the action at the Piñon Flats Campground. This park is home to the nation's tallest sand dunes, set against the epic beauty of the Sangre de Cristo Mountains. Here, snow-capped mountain peaks rise above the golden dunes.
Shellie Bailey-Shah, editor of KidTripster, and her family have visited an amazing number of national parks–44 to be exact–and they place Great Sand Dunes National Park in their top five. She came on the show to describe why they fell in love with this park and the Piñon Flats Campground.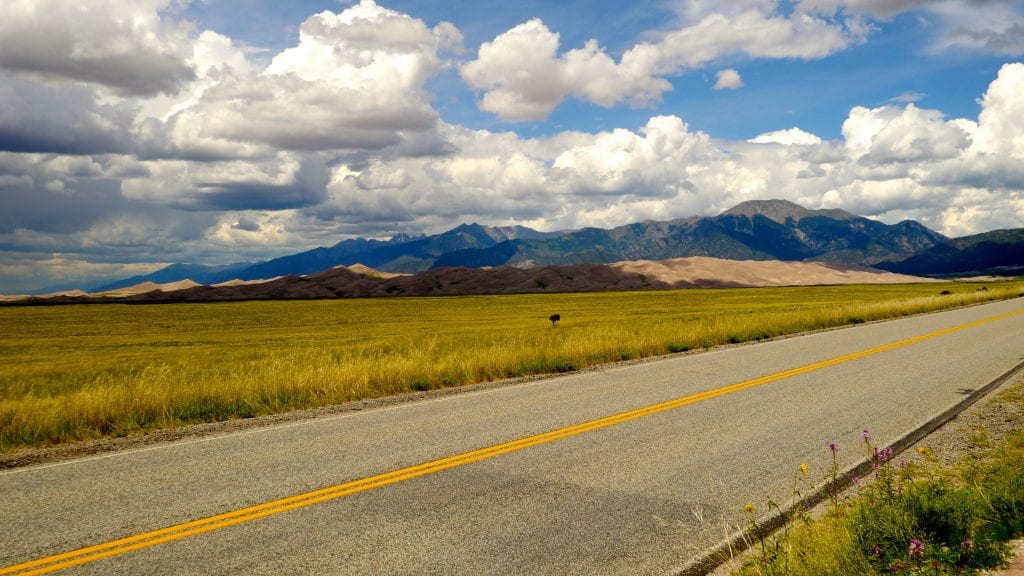 Campground Details: Piñon Flats Campground
Great Sand Dunes National Park is located in south-central Colorado. It's about a 3-hour drive southwest of Colorado Springs or a 4-hour drive from Denver. Piñon Flats Campground is the only place to stay right in the national park.
Open April through October, this campground offers 88 sites for tents and RVs. Expect to find dry camping only, as campsites do not have water, sewer, or electric hookups. The campground does offer modern restrooms with flush toilets, running water, dishwashing sinks, and water spigots. There is also a dump station onsite. Campsites are divided among three loops and most are back-in. Check out this map for more details.
It is important to note that rigs must be under 35-feet long to book a stay at Piñon Flats Campground. If your rig is too long, or if you are seeking a different experience, there are other parks nearby. Shellie notes that a commercial RV park (the Great Sand Dunes Oasis) is located just outside the gate and a primitive campground (Zapata Falls) is a short drive away in the Rio Grande National Forest. Several other RV parks can be found within 40 miles, and the NPS site offers a list describing several. However, Shellie absolutely recommends staying onsite at Piñon Flats Campground, if you can.
Aside from being close to the sand dune recreation, Piñon Flats Campground also offers natural beauty. Campsites are surrounded by piñon pines and sagebrush, and some have amazing views of the surrounding mountain peaks or rolling sand dunes.
Booking Details: Piñon Flats Campground
Campsites are very reasonably priced at Piñon Flats Campground at $20 per night. Reservations are made through the recreation.gov website. You can make reservations up to six months in advance. Since this is a popular national park, sites do book up well in advance, especially during the summer travel season.
Late May and early June is a peak season at Piñon Flats Campground. During this time, the Medano Creek flows readily through the Great Sand Dunes, providing another epic way to have fun in the park. During this time, all of the campsites will be reserved well advance, and most of the campgrounds within 30 miles or so will be full, too.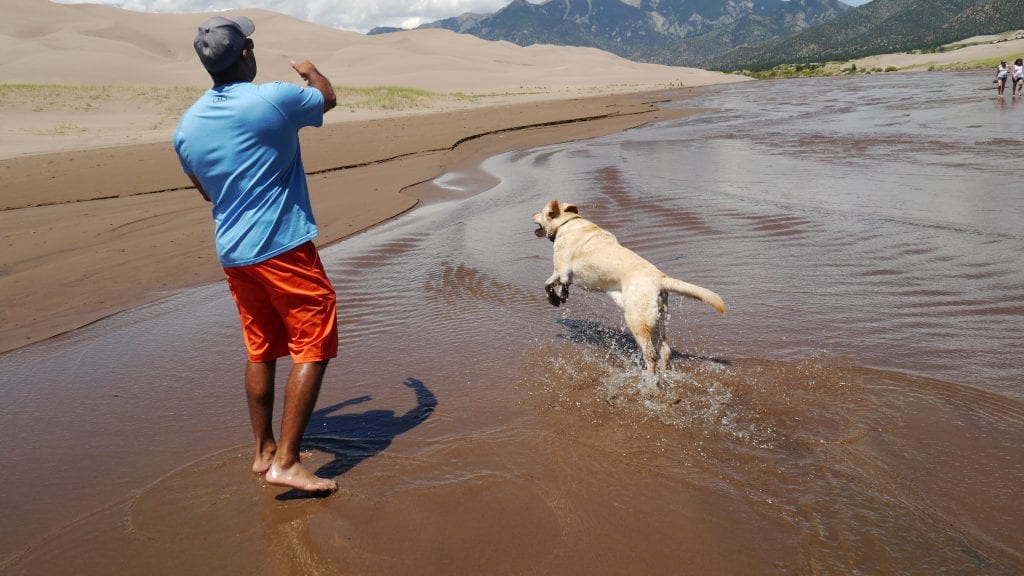 Amenities: Piñon Flats Campground
As mentioned early, you'll be roughing it at Piñon Flats Campground. In addition to having no hookups, you may have spotty cell phone reception since this is a remote area. Shellie did note that Verizon users might pick up a signal near the visitor center or at the campground; however, it's best to expect to be mostly unplugged during your stay.
A camp store is located between Loop 1 and Loop 2 of the campground, offering basic amenities during the summer months. Outside the park gate, you'll find the Oasis Store, but expect to travel almost 40 miles to the town of Alamosa for larger grocery stores. Again, the NPS site does a great job of describing the options. Similarly, there is a small restaurant outside the gates; otherwise, you'll have to travel 20-30 miles. Overall, Shellie recommends coming prepared with everything you need for a self-sufficient stay in the park.
Aside from exploring the dunefield, the main activity offered onsite is the ranger programs. Stargazing is popular in the summer, and there are occasional programs at the amphitheater. You can participate in the Junior Ranger program onsite, and Shellie said her boys especially enjoyed the extra Night Explorer badge offered in the park. She also recommends viewing the movie at the visitors center to learn more about how these massive sand dunes came to be located in Colorado.
Recreation: Piñon Flats Campground
As you might expect, the Great Sand Dunes are the star of the show during your stay at the Piñon Flats Campground. You can walk right to them from the campground; however, Shellie recommends starting early if you're visiting in summer since the sands can heat up to 150°F. Your best bet is to start at sunrise.
Inside the park, you won't find any designated trails. Instead, you just make your way across the dunes any way you wish. At 699 feet in height, High Dune isn't the tallest in the park, but it's close and it's accessible. Expect to spend up to an hour hiking to the top. Though this sounds daunting, Shellie saw several families with young children making the climb (some were having to carry the little ones, though). The highest dune (Star Dune) reaches 750 feet, but it involves a 5-hour roundtrip hike, making it much less accessible.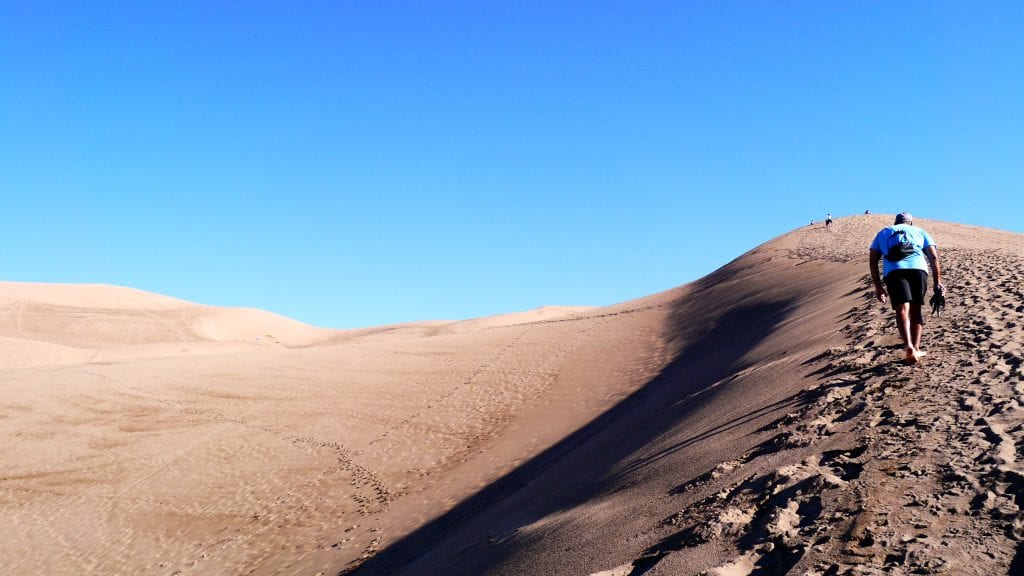 Aside from hiking on the dunes, the most exhilarating way to experience them is with a sandboard or sled. Shellie points out that you can't bring your own since typical boards won't work on the sand. Instead, you can rent boards at one of several location near the park. The NPS site offers several tips for sand sliding success.
If you work up a sweat from playing on the dunes, if you're at the park in the right season, you can cool off in the waters of Medano Creek. During May and June, the creek reaches peak height, allowing you to float. Sometimes, a strange phenomenon known as a "surge flow" happens, producing rippling waves in the water.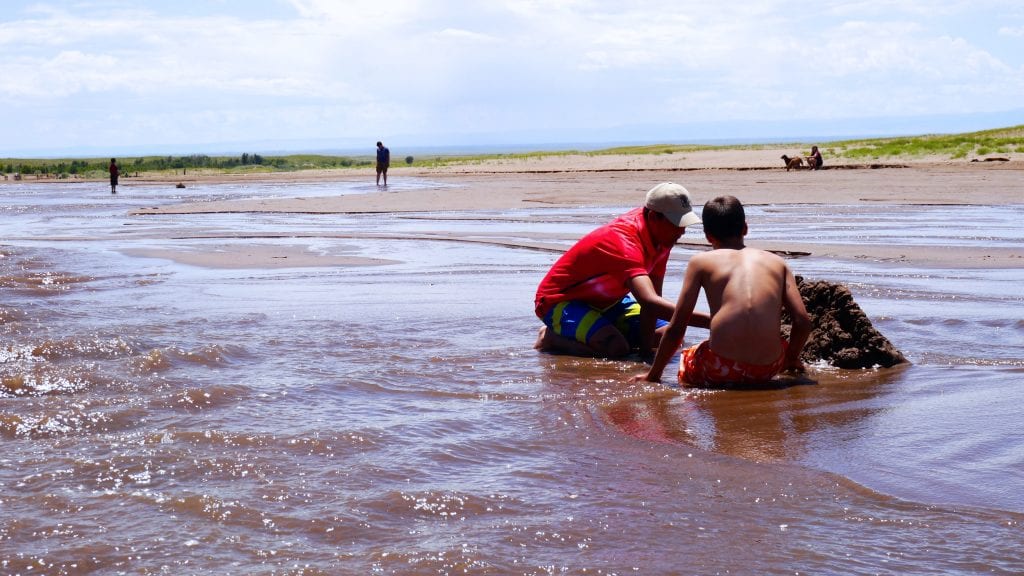 Shellie's Top Tips for Exploring Great Sand Dunes National Park
Bring plenty of water. You will be in a hot, sunny landscape.
Don't forget your camera. The views from the dunes are spectacular.
Bring socks. Your sand board or sled will get hot.
Remember to only use rental boards or sleds. Their waxy bottoms work best for propelling you down the sand.
Rent your boards and sleds the night before if you plan to hit the dunes at sunrise. Thought this is more expensive, it helps you get on the sand much earlier.
If you're visiting during the full moon, be sure to get out and explore at night. It's amazing.
Dogs are allowed on the dunes and in the creek; however, only take them on the sand when it is cool enough not to burn their paws.
Zapata Falls Recreation Area is another great area to explore nearby.
You can combine a trip to the Great Sand Dunes with Rocky Mountain National Park and/or the Black Canyon of the Gunnison National Park, as Shellie did on her family's quest to hit all of Colorado's national parks.
Check out more of Shellie's tips and stories over on her post about the Great Sand Dunes on KidTripster.
We want to thank Shellie for sharing this awesome, bucket list park with us! It sounds like a great place to take the teens and tweens, especially if you have some reluctant travelers on your hands. Shellie shared some great advice for traveling with this age group over on RVFTA #216 RV Travel with Teens and Tweens.
See you at the campground,
Jeremy + Stephanie
Podcast: Play in new window | Download